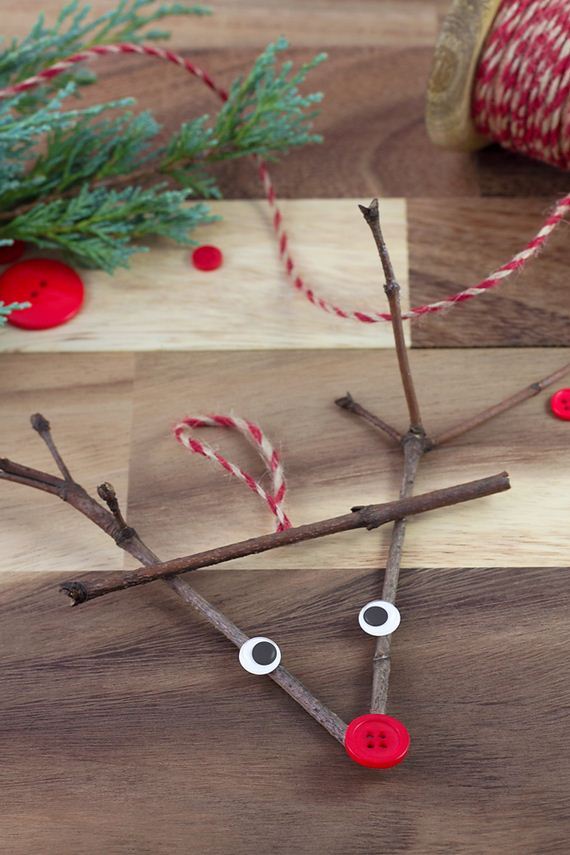 Cool DIY Christmas Ornaments For Kids
Cool DIY Christmas Ornaments For Kids
---
Today we're sharing 25 of our favorite simple and colorful DIY ornaments that are perfect for kids.
1. Twig Reindeer Ornament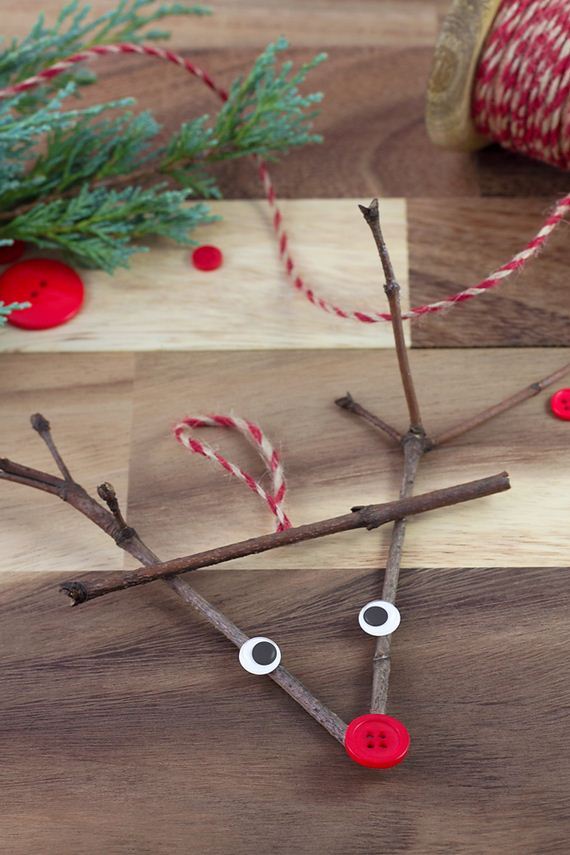 This adorable reindeer ornament is easy for kids to make themselves, and it can also be made from items that you may already have lying around the house. Have the kids go out in the backyard to collect some sticks to get started. Check out the tutorial over at Fireflies and Mudpies.
2. Marbled Clay Ornaments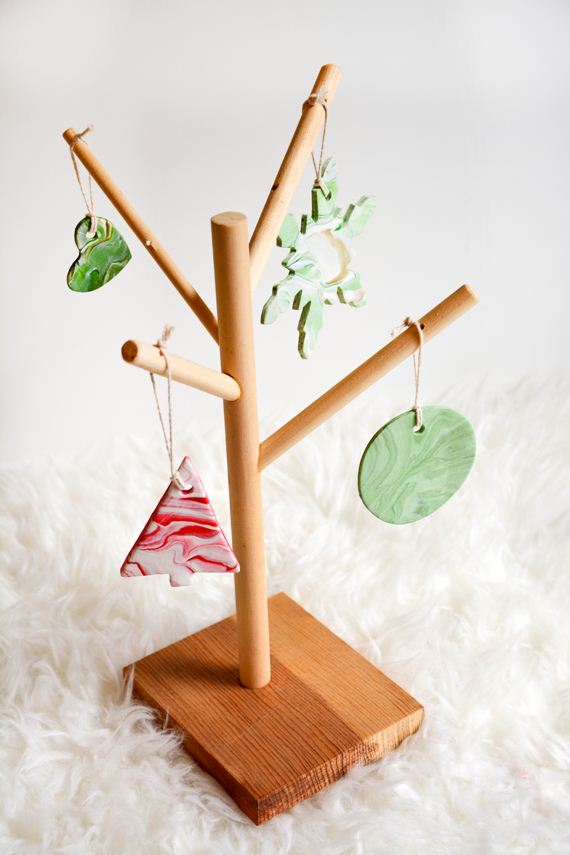 These marbled clay ornaments are another great project for kids to make themselves. The marbling will be lots of fun for them to do, and the shapes can be made using cookie cutters. Head on over to Minted's blog Julep to check out the full tutorial for this project.
3. Chalkboard Ornaments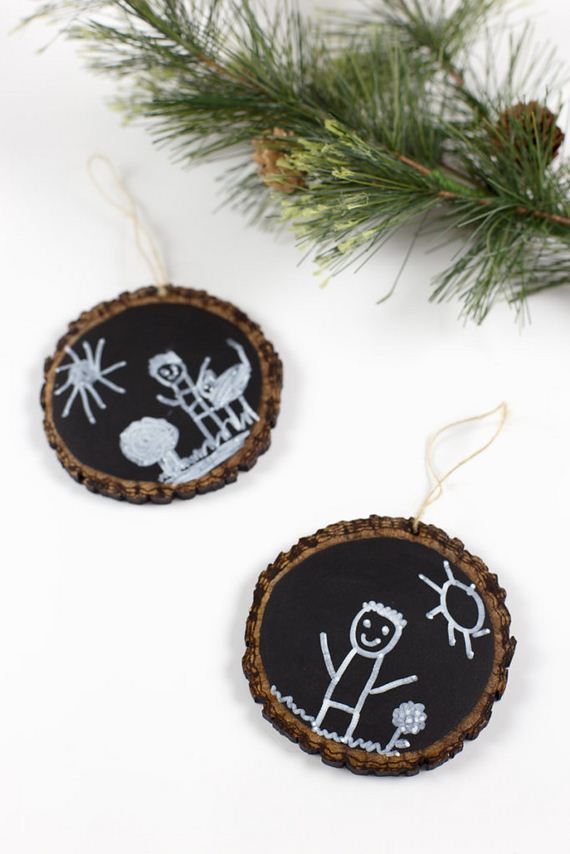 These chalkboard ornaments are easy for kids to make, and they can be re-decorated every year too! Just grab some black chalkboard paint and some wooden slabs to get started. Make your way over to Fireflies and Mudpies to find out all the details of this DIY.
4. Snowman Ornaments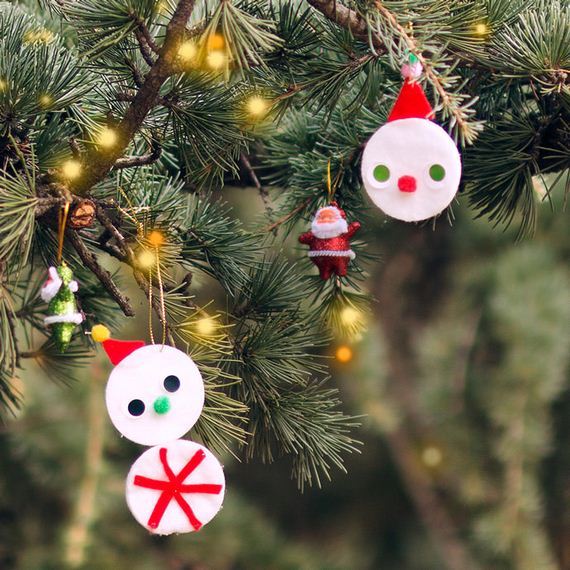 These cute little snowman ornaments are fun for children to create, and they also make for very convenient ornaments thanks to their lightness and kid-friendly softness. And here's the coolest part – they're made out of cotton pads! Head over to Handmade Charlotte to check it out.
5. Glittered Clay Ornaments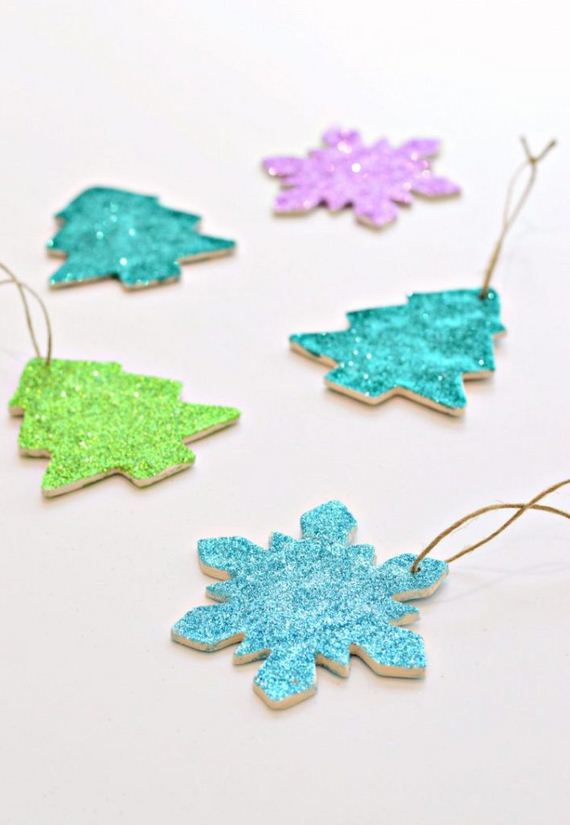 There's something about glitter that kids just love… so they're sure to enjoy making these glittery clay ornaments. The shapes are made using Christmas cookie cutters. Make your way over to Your DIY Family to find out all the details of this simple holiday project.
6. Color Sorting Ornaments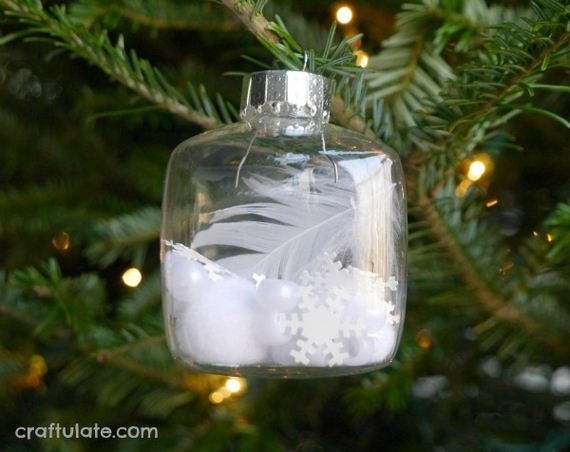 This ornament project combines crafting with learning, helping kids learn to sort and separate different colors. Collect a big pile of multi colored items, and have the kids sort them and fill each clear ornament with a different color. Check out all the details at Craftulate.
7. Mini Disco Ball Ornaments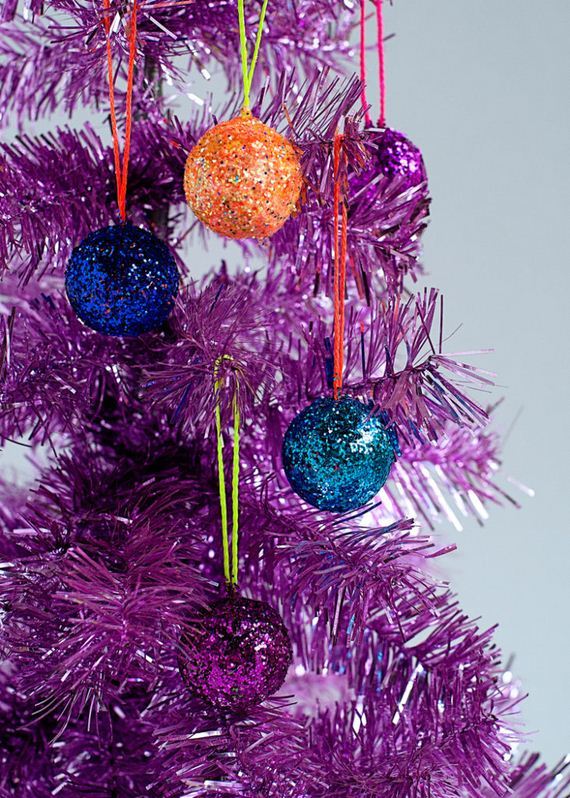 This fun project involves lots of glitter, Mod Podge and some other household goods. The key is to create many layers of glitter so the ornaments look super sparkly. Make your way over to Hello Happy Studio to check out the instructions for this fun project.
8. Easy Snowball Ornament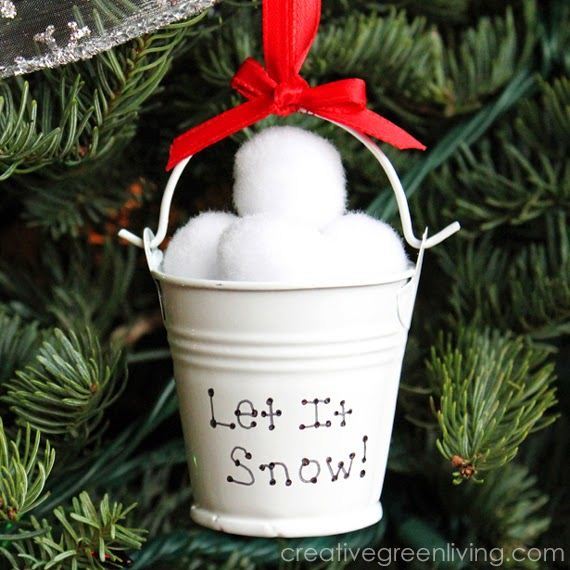 This ornament has a wonderfully whimsical look, and it's super easy for little ones to make. Just grab some white pom poms, glue, a miniature bucket and some other items to get started. Head over to Creative Green Living to check out the full tutorial.
9. DIY Lacing Ornaments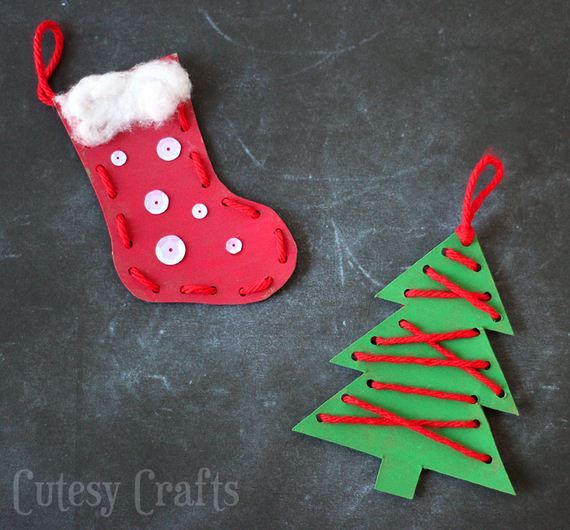 These paper ornaments are another great project, especially for younger children. Threading yarn in and out of the holes will help children exercise their dexterity skills. Head on over to Cutesy Crafts to check out all of the details of this festive ornament project.
10. Stamped Clay Ornaments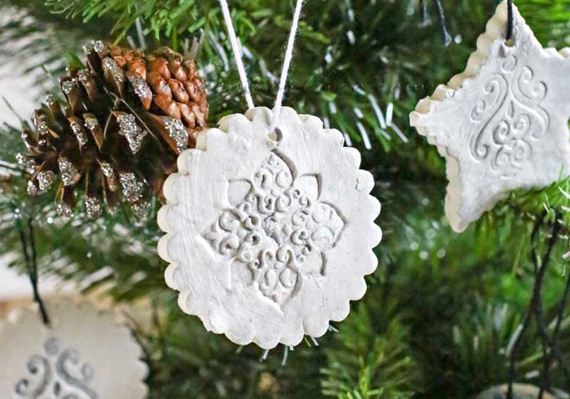 Clay is a very versatile material, making it perfect for kids' Christmas crafts. These ornaments are made by rolling out clay, cutting with cookie cutters, stamping and then painting once they're baked. Head on over to Kleinworth & Co. to check out the tutorial.
11. Recycled Star Ornament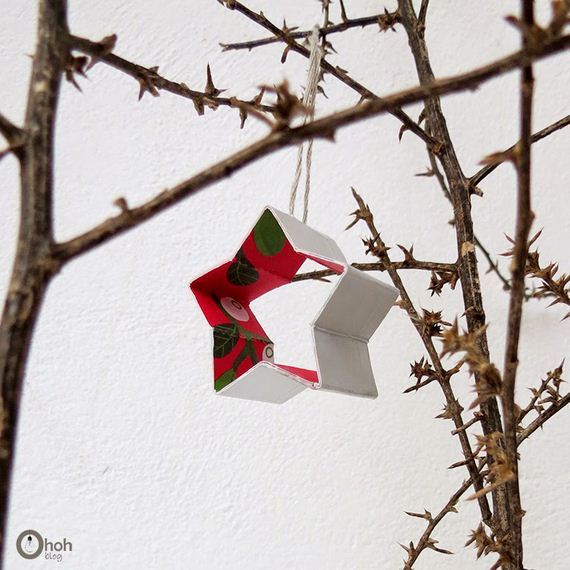 Believe it or not, this ornament is actually made from a recycled juice carton. The inside is covered with decorative paper, while the outside is painted. Then it is folded into a simple star shape. Make your way over to Oh Oh Blog to check out the full tutorial for this easy DIY.
12. Pom Pom Ornament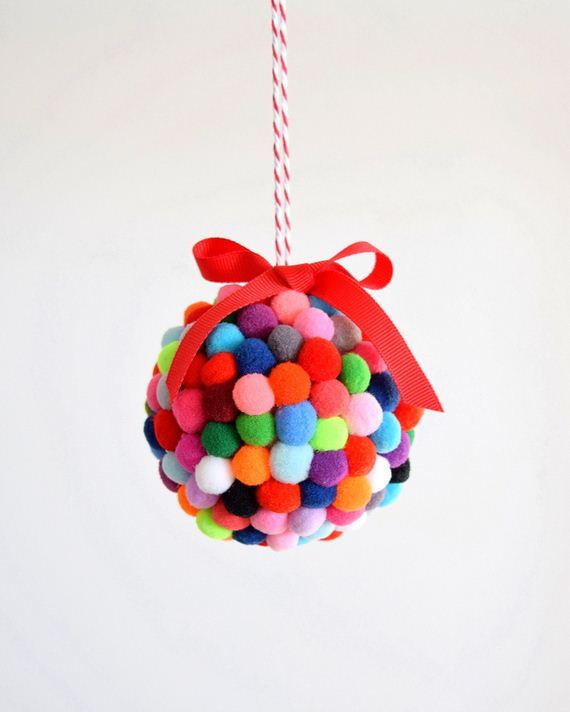 This colorful ornament is super easy to make, simply grab a package of multi-colored pom poms, some glue and a round styrofoam ball to get started. Top it with a pretty red ribbon for some festive flair. Head over to Northstory to check out the full tutorial.
13. Yarn Wrapped Ornaments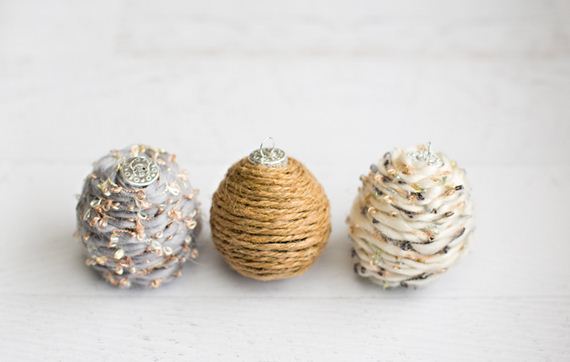 If you have lots of scrap yarn lying around your craft room, then this might be the perfect project to do with your kids. Simply grab some old ornaments, glue and lots of pretty yarn and begin wrapping! Check out all of the instructions over at Hello, Wonderful.
14. Clay Owl Ornament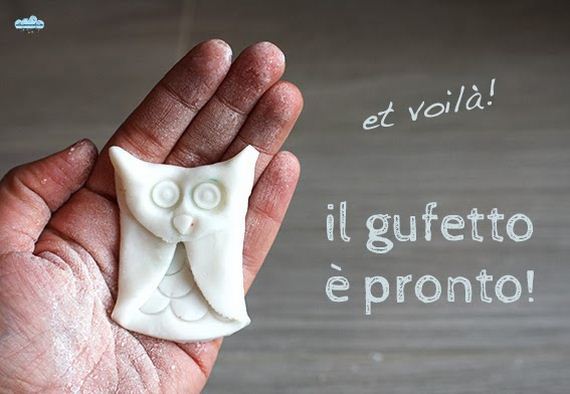 Here's another clever way to use clay to create a pretty Christmas ornament for the tree. And thanks to the simple process, older kids will have no trouble at all creating the owl shape. Head on over to Quando Fuori Piove to check out the tutorial (use Google Translate if you don't speak Italian).
15. Straw Star Ornaments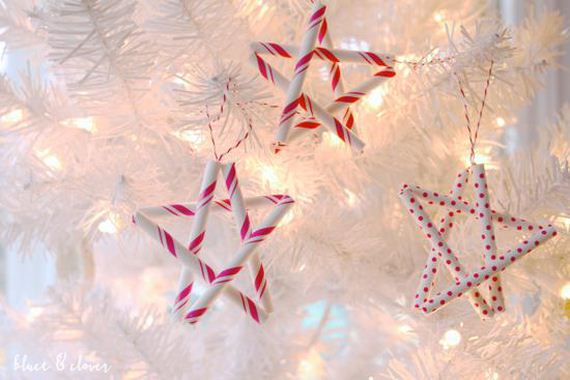 These red and white star ornaments are actually made out of something very simple – paper straws. Grab a few with fun patterns that your kids like and help them cut and fold their way to beautiful star ornaments using this awesome tutorial from Bluet & Clover.
16. Simple Wood Bead Ornaments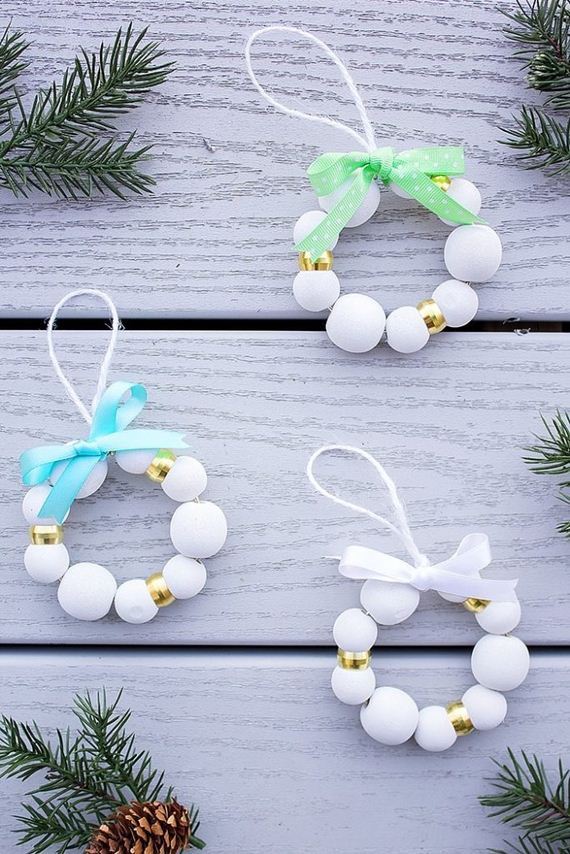 These round beaded ornaments are made from simple wooden beads painted white, compression sleeves (found at the hardware store) and a few other simple materials you probably already have. Make your way over to A Pretty Fix to check out the full photo tutorial.
17. Star Wars Ornaments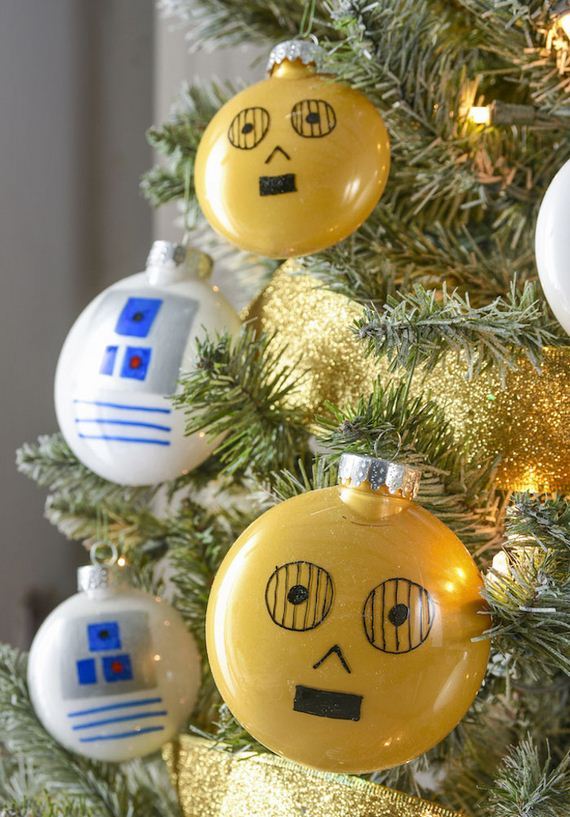 If your kids are into Star Wars, then they're sure to love these awesome Star Wars themed ornaments. All they'll need are some paints, markers and a steady hand to draw with. Head on over to DIY Candy to check out the tutorial along with more photos of this cleverly-themed tree.
18. Melted Crayon Ornaments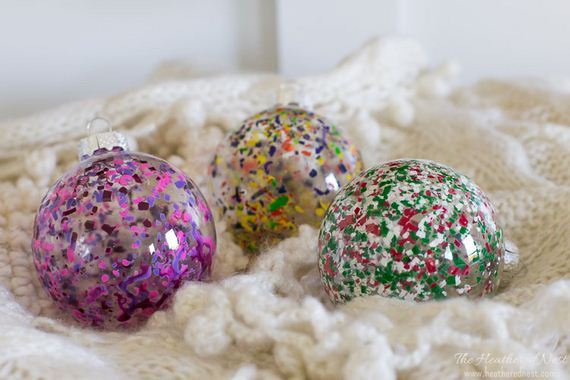 For some reason, kids always love melting crayons. So this fun tutorial will show you how to take small crayon shavings and transform them into beautifully colorful Christmas ornaments for the tree. Check out the tutorial along with additional photos over at The Heathered Nest. 
19. DIY Circus Animal Cookie Ornaments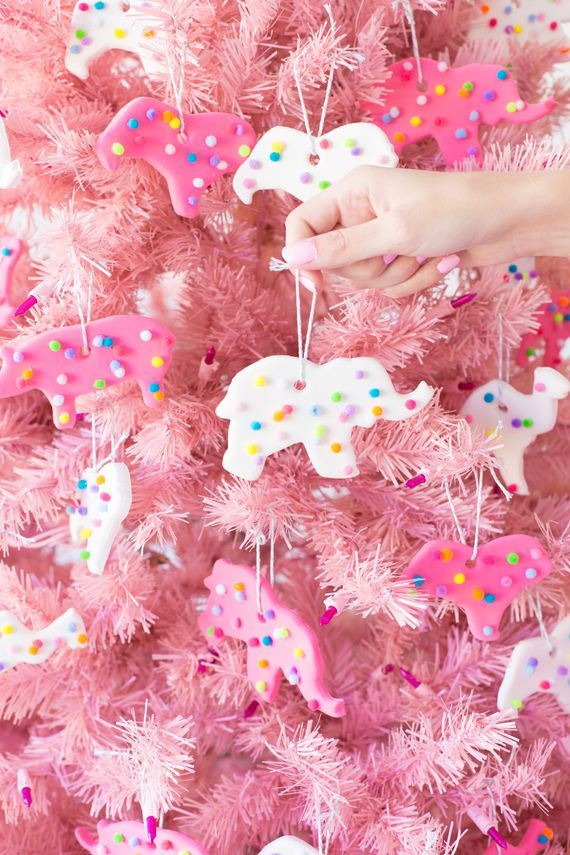 Although these aren't actually cookies, they sure look like them… don't they?! These fun circus animal ornaments are made with clay and cookie cutters, then finished with tiny pom poms that are glued to the surface. Head on over to Studio DIY to check out the how-to.
20. Easy Paper Ornaments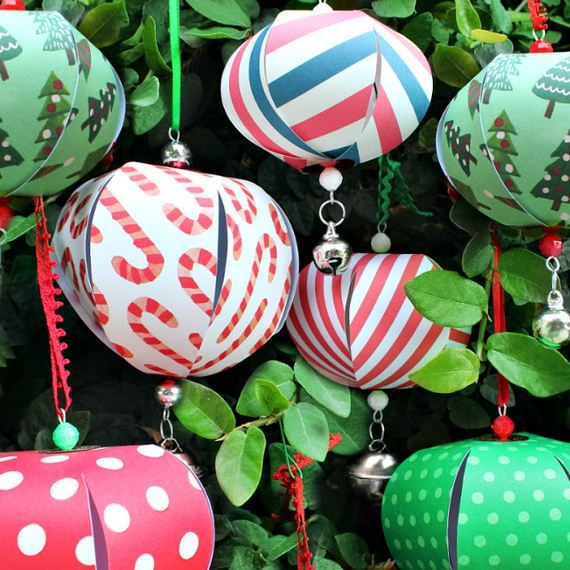 These ornaments are great because they are made with scrapbook paper – which means that the sky's the limit as far as colors and patterns are concerned. So grab some bells and beads and get to work, using this easy tutorial from Mark Montano.
21. DIY Donut Ornament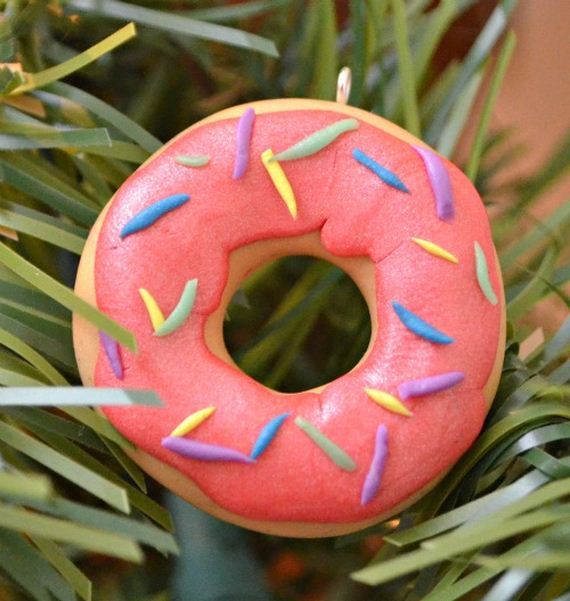 If your kids are donut fans, then they'll love this whimsical donut ornament tutorial. Here again, the main material is clay… and then it is fashioned into a donut shape by hand. Head on over to One Artsy Mama to find out all the details on this fun project.
22. Clothespin Reindeer Ornament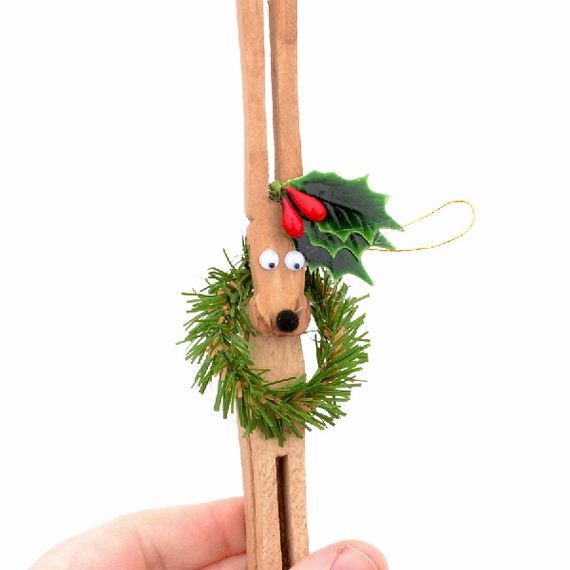 This impossibly adorable little reindeer is made with a couple of old fashioned wooden clothespins, some googly eyes, artificial greenery and a couple of other simple materials. Check out the full (and easy!) tutorial over at Dream A Little Bigger. 
23. Tinsel Ornaments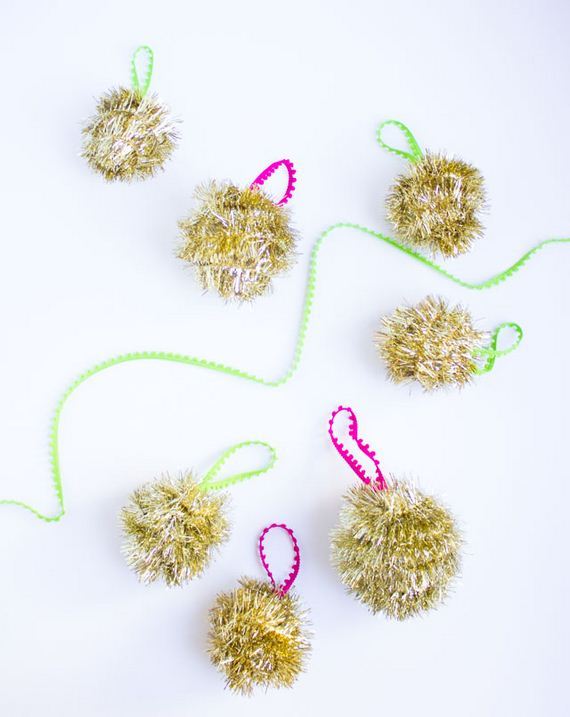 These sparkly ornaments are super fun, and incredibly simple for the kids to make as well. Just grab some tinsel garland, glue and a few styrofoam spheres from the craft store to get going on these festive ornaments. Check out the how-to at Design Improvised.
24. Sprinkle Ornaments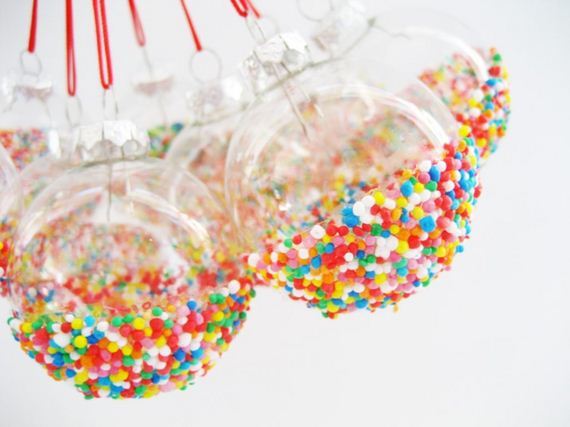 This colorful project is one of the easiest on the list, and the kids will certainly love the fun process. The sprinkles are actual candy, so they'll have fun taste-testing them too. Head on over to Adorablest to check out the simple tutorial and many more images to inspire you.
25. Rudolph Ornaments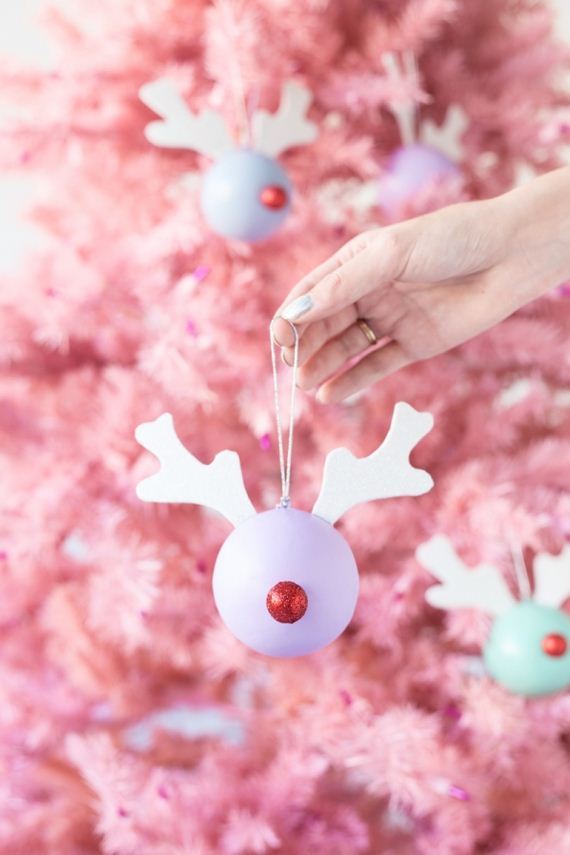 This last ornament is made to look like Rudolph the Red Nosed Reindeer, by using sparkly red pom poms or foam spheres from the craft store. Simply cut out a pair of antlers from craft foam and glue everything on. Get the full how-to over at Studio DIY.
---
---