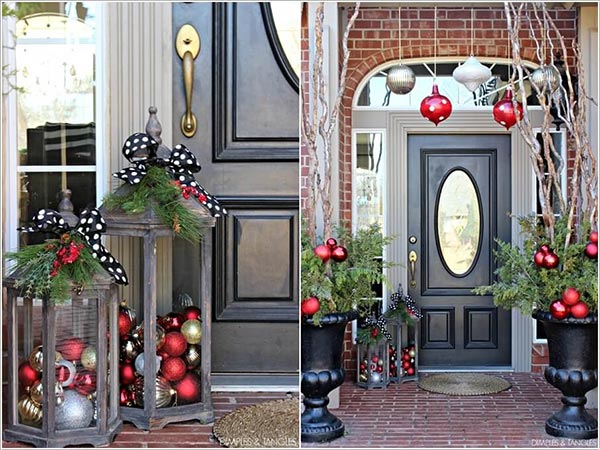 15 Amazing Christmas Decorating Ideas For Your Entrance
15 Amazing Christmas Decorating Ideas For Your Entrance
---
Ahead, you'll find simple and chic Christmas entryway decor ideas for both inside and outside.
1. You can make your own letters and decorative signs to hang on your door and welcome the family or let in the Christmas spirit.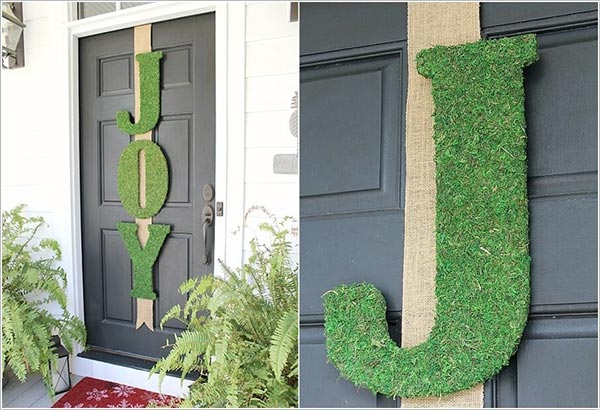 Image via: uncommondesignsonline
2. For the more daring, you can try to turn your front door into the entrance of a magical world by mixing many of the elements of this article.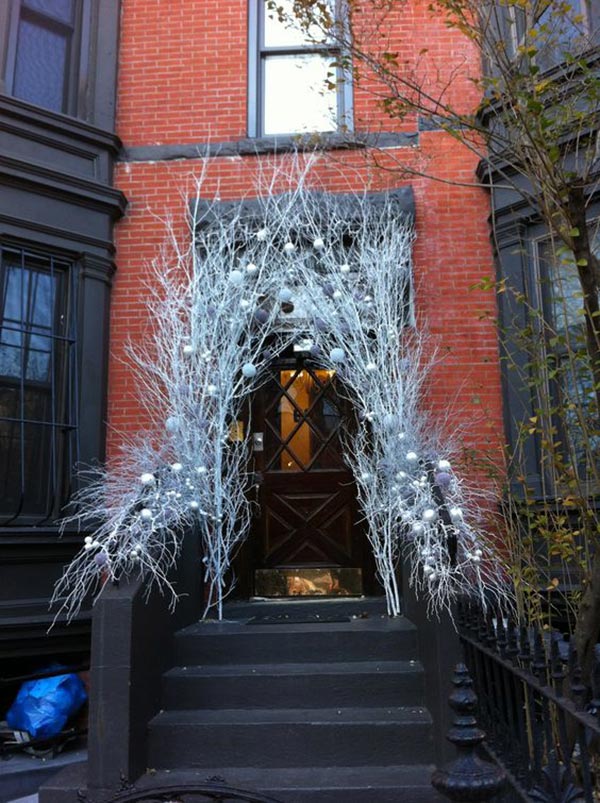 3. You can create your own garland in new and original ways: instead of circular crowns take the opportunity to make them triangular as if they were Christmas trees.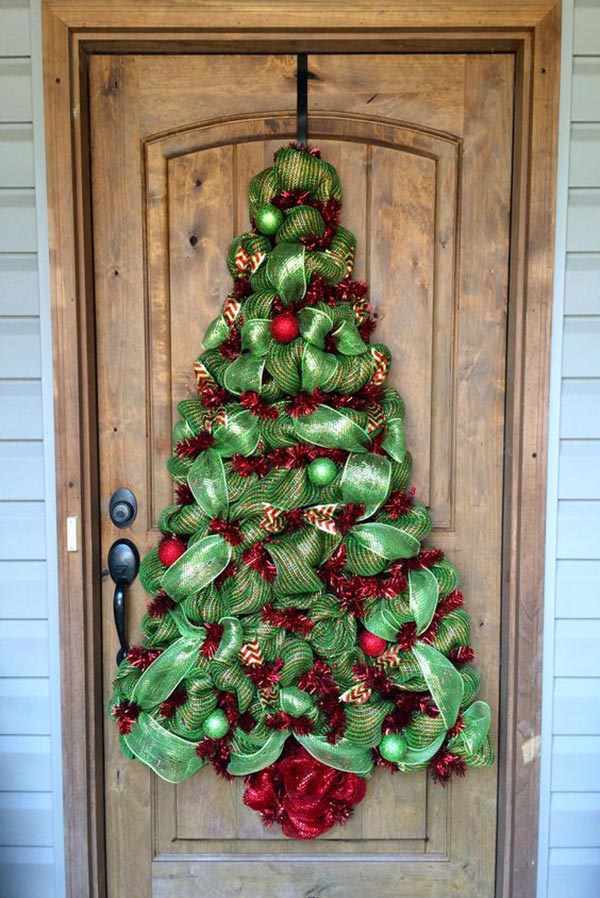 4. You can make combinations of Christmas wreaths to decorate the door, wrap them with ribbons or place them as if they were snowmen.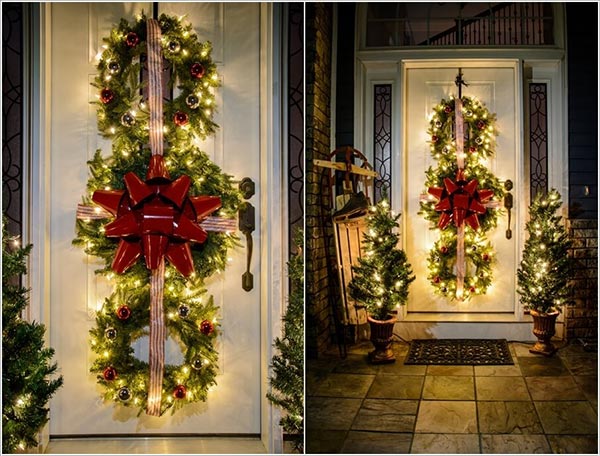 Image via: decorandthedog
5. With paper you can make figures to hang on the door and on the windows, such as snowmen, and you can light them from behind!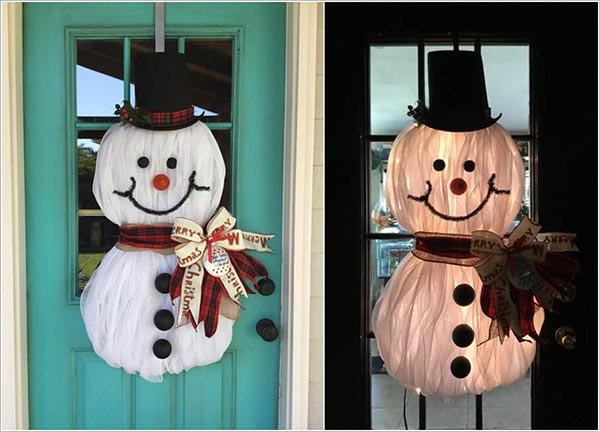 6. Use old wooden sleds as decoration for the outside, you can glue fir branches or other decorations like ice skates.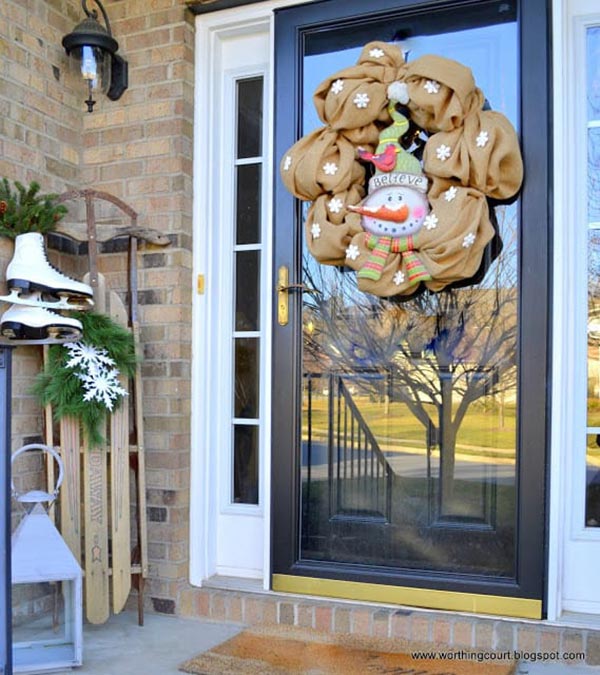 Image via: worthingcourtblog
7. Make snowflakes to hang on the porch or front door, glued to the glass. You can make them out of paper for the interior and foam or some type of plastic resistant to snowfall and humidity for the exterior.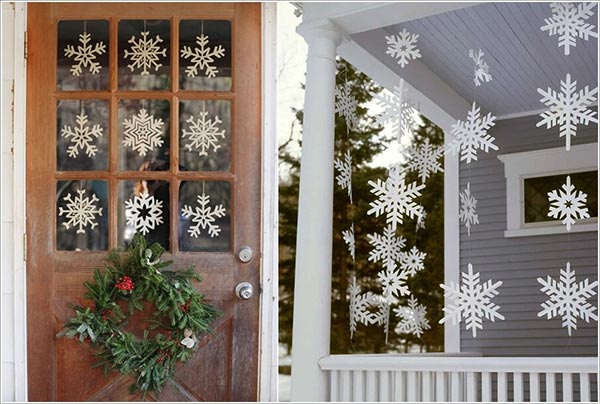 Image via: smallmeasure , marthastewart
8. You can use hanging pots from the ceiling of the porch or even in the hall, but turn it into a Christmas decoration: fill it with fir branches, tree balls, mistletoe, and lights to give a natural and warm atmosphere to your entrance.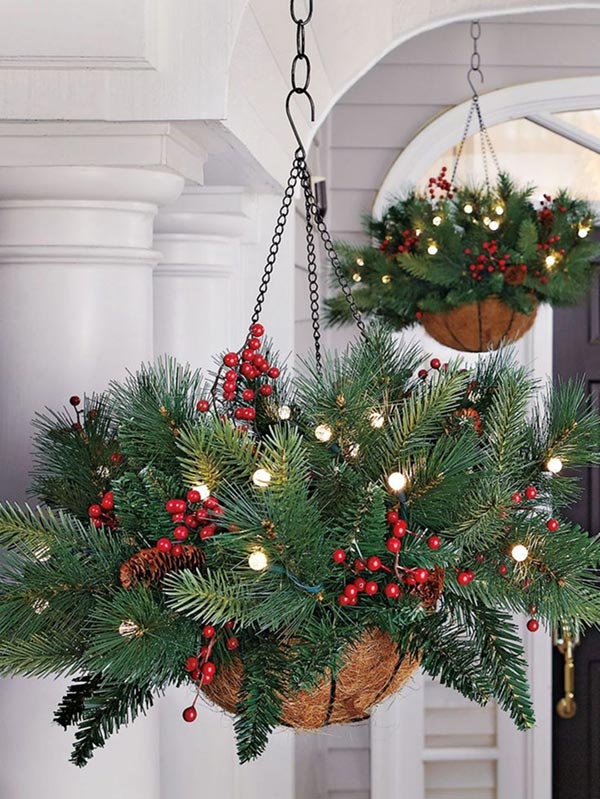 Image via: goodsgn
9. You can make large candle holders to place on the porch or in front of the front door, to decorate with natural lighting during the long winter nights. Make the holders with natural elements for a more rustic style.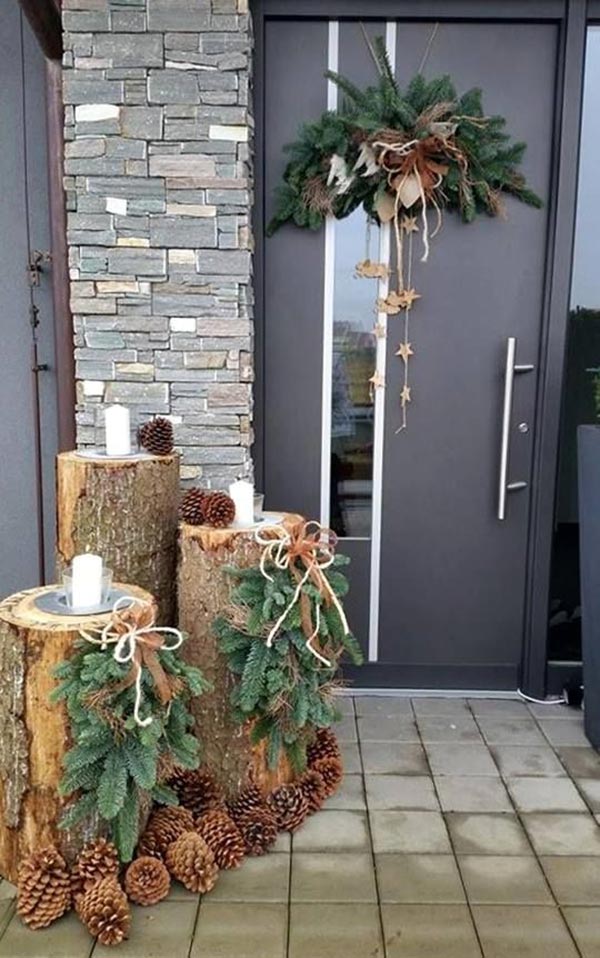 10. You can use empty painted pots to plant pine trees decorated with lights that make your driveway shine.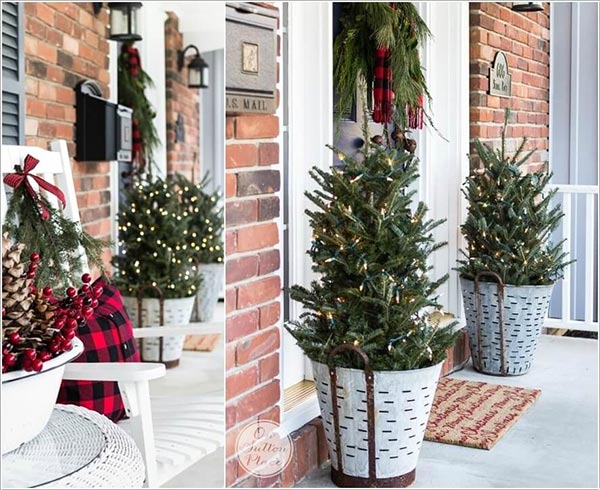 Image via: onsuttonplace
11. You can choose to give it a more classic look with lights in front of the door. But this time, you can use light curtains to cover the door and tie the loose ends into giant red bows.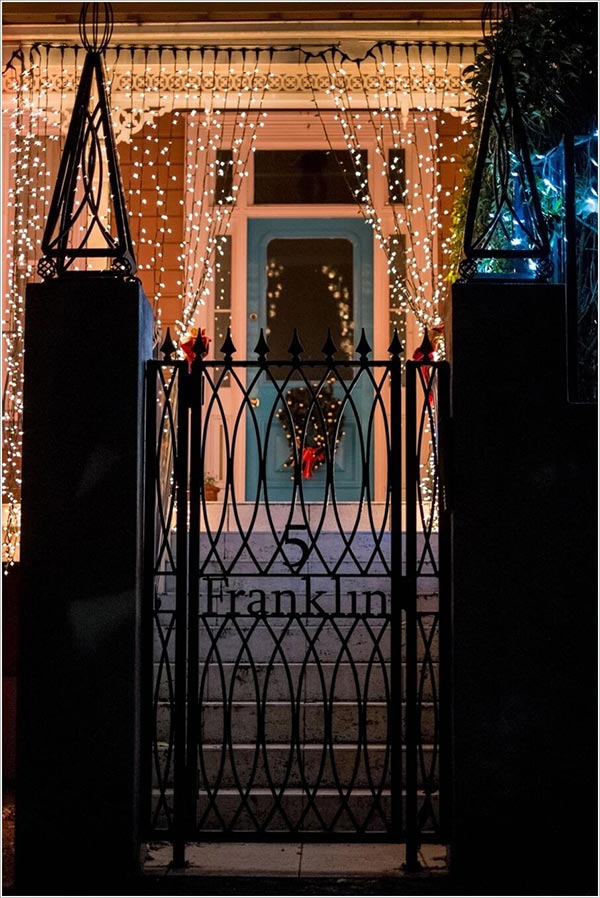 12. You can decorate the main porch with Christmas balls, for example, you can place them in the bushes by the door or in giant candle lamps.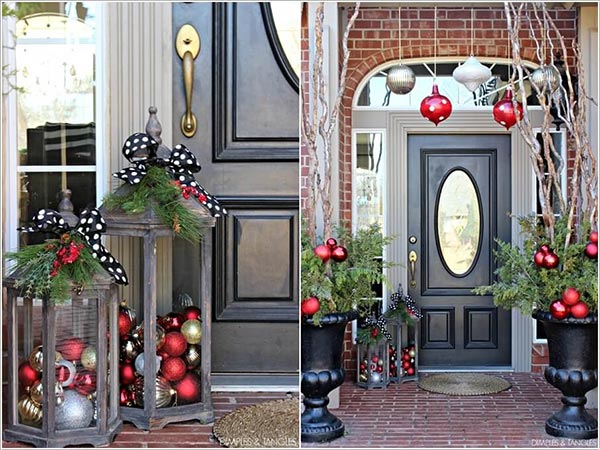 Image via: dimplesandtangles
13. Wrap the front porch columns with Christmas lights or garlands.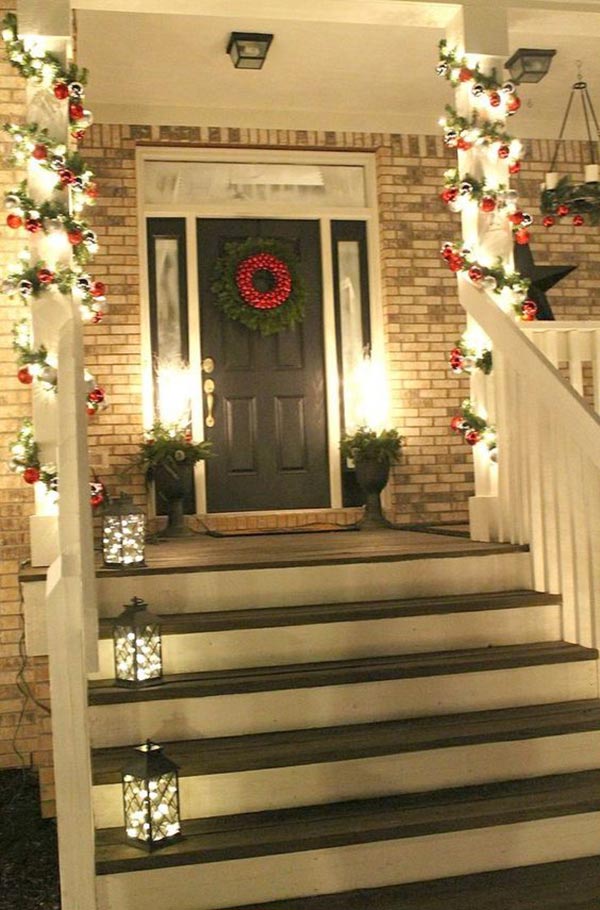 14. With a very long and wide piece of cloth, wrap the door as if it were a gift. You can even put a giant bow in the center!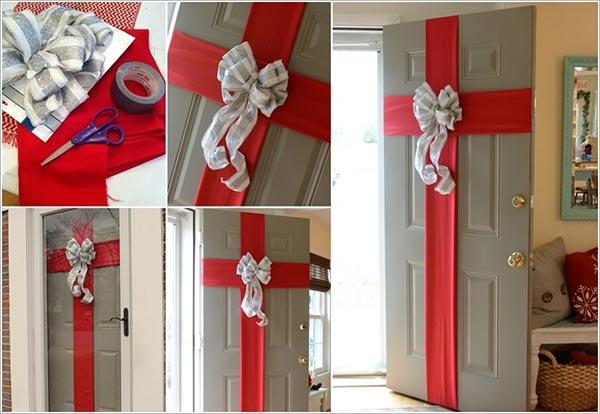 Image via: naptimedecorator
15. Decorate the door frame with bright colored garlands, Christmas motifs, fir branches, and tinsel.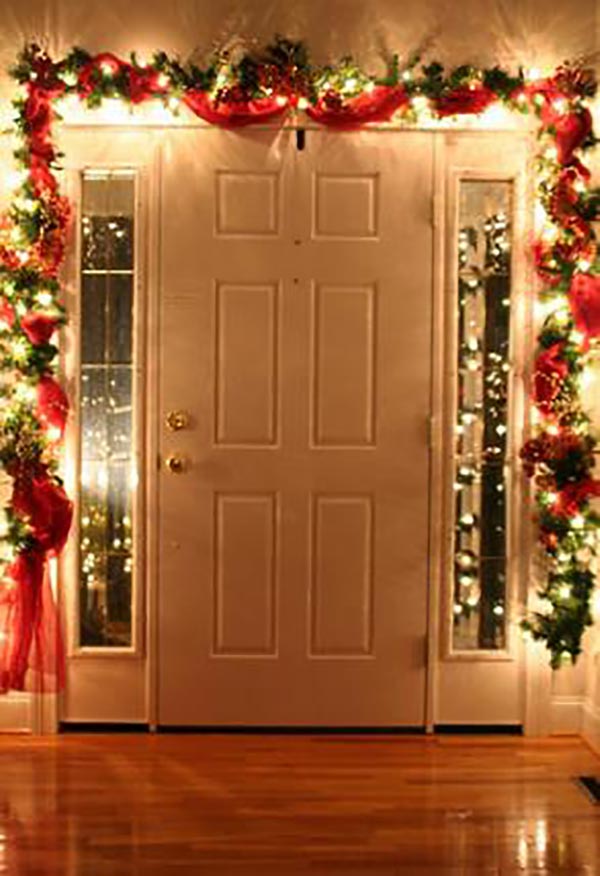 Image via: flickr
---
---