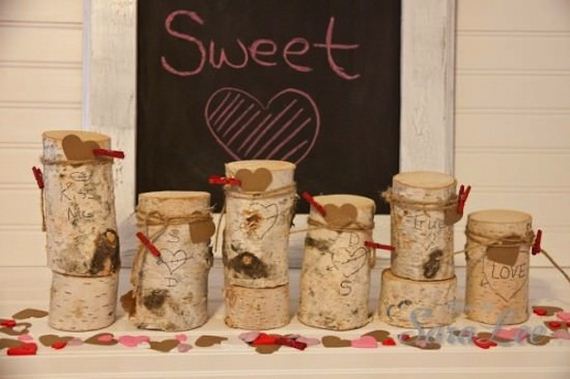 Amazing DIY Valentine's Day Decor Ideas
Amazing DIY Valentine's Day Decor Ideas
---
Check out these 15 awesome homemade Valentine's Day crafts that make perfect decor for your home, your workplace, or just about any other place you can get your hands on.
1. Felt heart Valentine Trees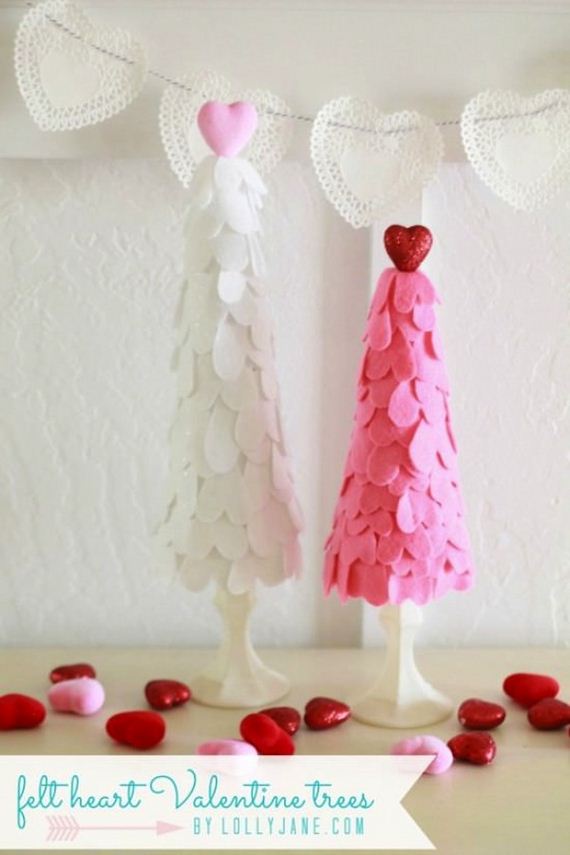 Christmas has trees and some people even set up Easter trees, but have you ever heard of a Valentine's Day tree? We hadn't either, but now that we've seen these adorable little felt hearts layered into a tree shape on The Lettered Cottage, we're extremely glad that we know they're a possibility! We adore the idea of putting a sparkly foam heart on top where you'd put a star at Christmas.
2. Quilted Valentine heart pillow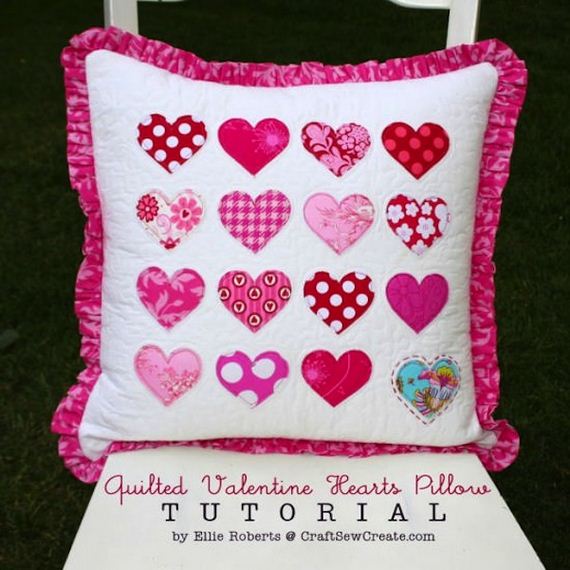 Are you a sewing enthusiast with a penchant for quilting and you're looking for something fun and simple to celebrate your favourite holiday with? Then check out this quilted heart pillow cover from Craft, Sew, Create! It's easier than you might expect to make, right down to the adorably ruffled edge.
3. Ombre yarn letters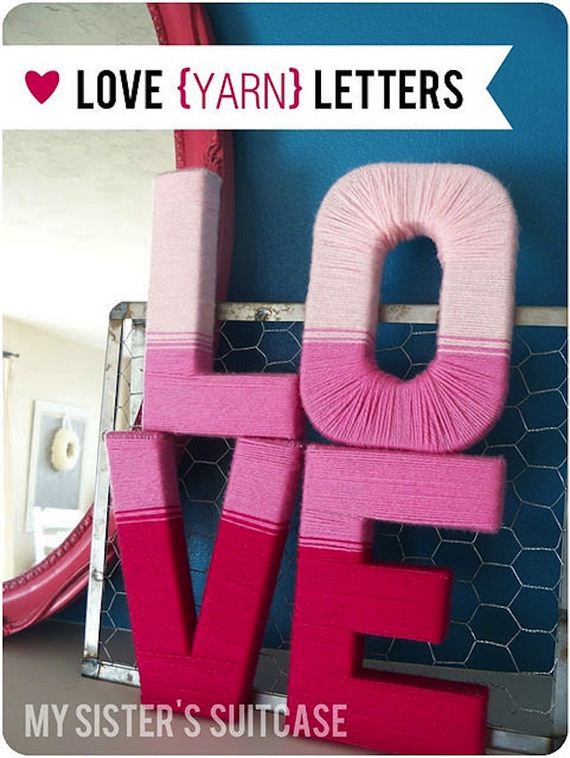 Are you looking for something awesome to make with your kids that will still make lovely looking decor but is easy and fun for them to do with you? Perhaps you're a knitter and you're looking for a way to use up some of your spare yarn stash? Then yarn wrapping crafts are the perfect idea! My Sister's Suitcase suggests wrapping cardboard or foam letters in Valentine's colours to create a pretty pink and red ombre.
4. Valentine's Day glitter letters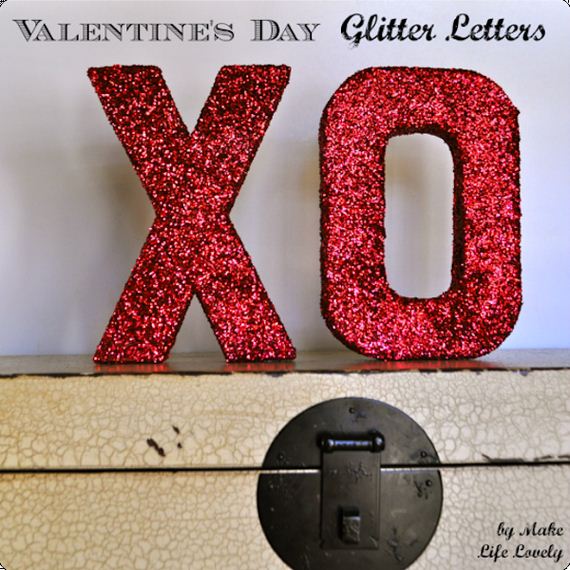 Do you love the idea of creating big festive letters that you can spell out Valentine's Day messages with, but you're not much of a yarn crafter and don't feel like wrapping? Then try something a little more flashy instead! Tip Junkie suggests covering your letters top to bottom, back to front, in pure glitter. We love the red sparkle here but think it would also look pretty in pink!
5. Love note pillows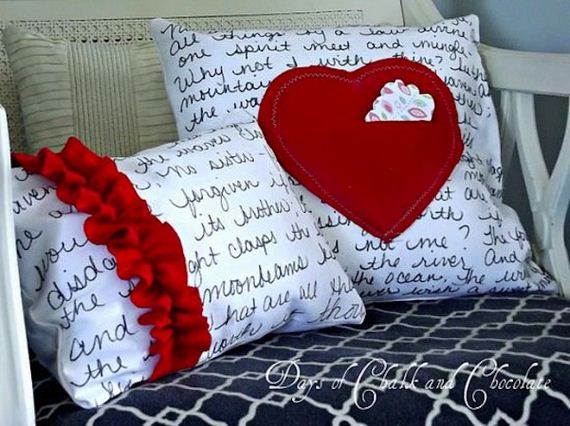 Did you love the idea of making an adorable Valentine's Day pillow but you're not a huge quilter and you'd like a style that's a little bit more chic? Then perhaps this beautifully printed hand writing pillow with a heart patch or frill is more your style! Chalk and Chocolate guides you through the process of making it happen.
6. Felt hearts in a vase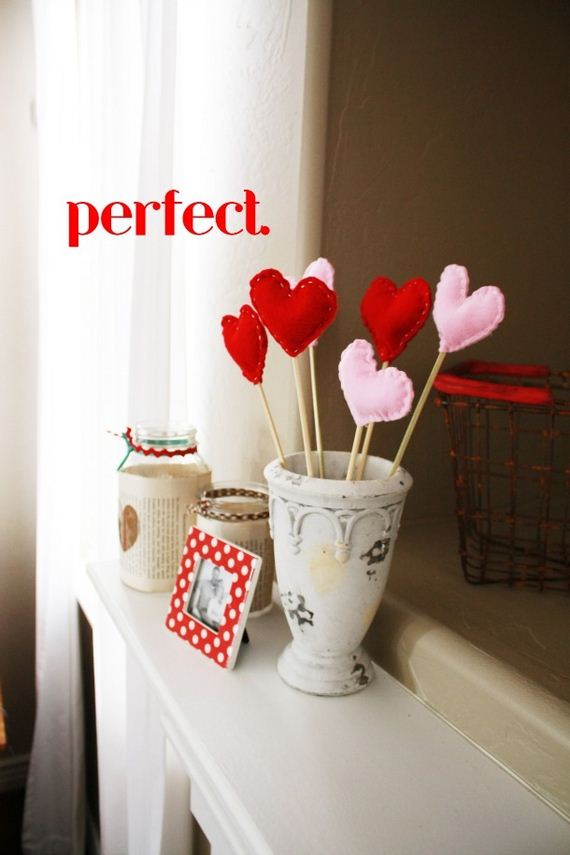 Did you cut yourself a few too many felt hearts when you were making your felt heart Valentine's Day tree and you're wondering what to do with them because you think they're too cute to throw out? Then check out what The Sits Girls suggest doing with your spares! These adorable little stuffed felt hearts on little dowels make a perfectly festive alternative for your favourite vase over flowers, just in case you're allergic or not feeling a big bouquet right now.
7. Valentine Vignette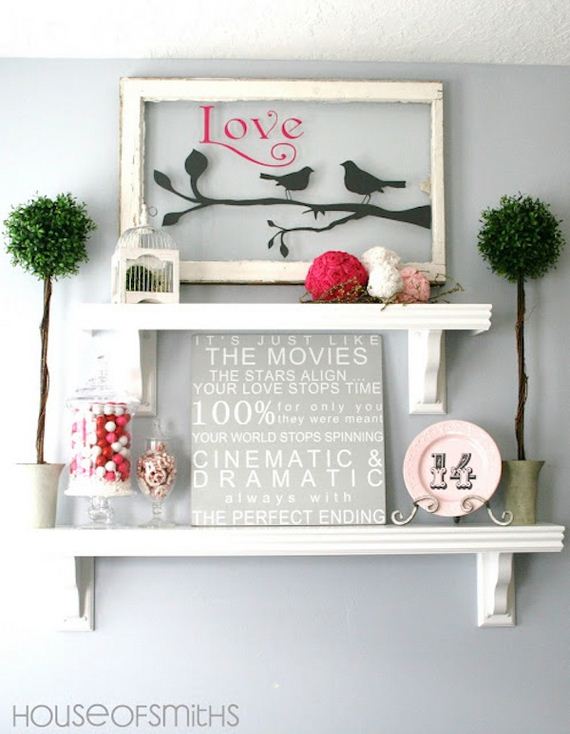 Have you always loved glass painting, whether you're doing it freehand or stenciling and tracing shapes and letters? Then here's a great opportunity to do that for Valentine's Day specifically! The House of Smiths suggests picking a pretty old vintage window frame and painting a loving message or silhouette picture across the glass for some unique seasonal decor.
8. Sheet music letters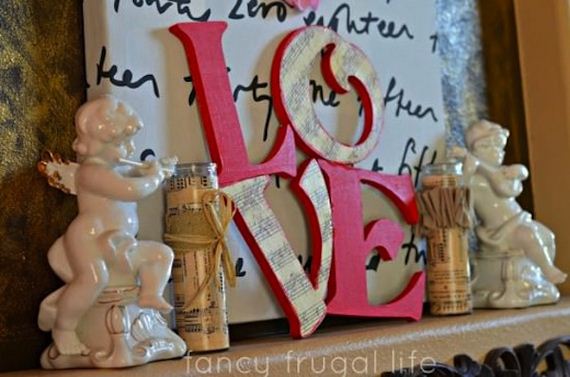 Are you still not over the idea of making cute Valentine's Day letters, but neither of our previous suggestions quite did it for you? Well, here's one more alternative to the idea, just in case! Fancy Frugal Life suggests printing out the sheet music to your very favourite love song and decoupaging the page onto wooden letters, alternating those with bright red or pink painted letters for a romantic touch.
9. Sweetheart birch centrepiece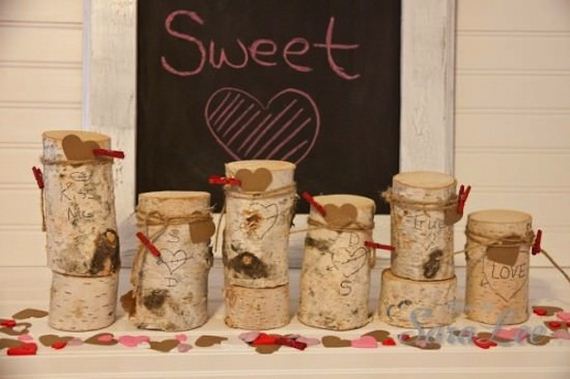 Has your taste in DIY decor always been a little more natural and rustic than the bright colours that many of your crafting friends often display for the holidays? Then incorporate that into your Valentine's Day decor by making a craft that's reminiscent of the days in high school when you'd carve your initials next to those of your crush into the side of a tree! Sweet Little Gals suggests wrapping twine or jute string around the wood pieces as well, attaching little paper and felt hearts to amp up the Valentine's Day feel.
10. Valentine's mason jars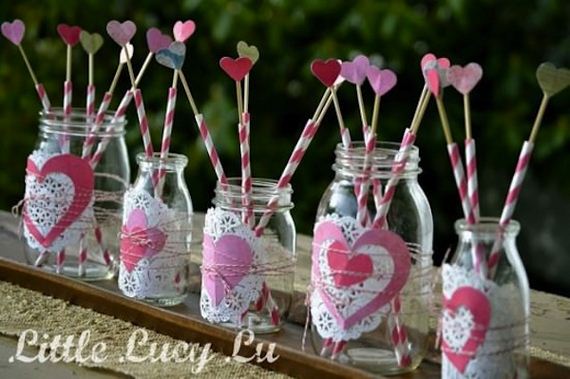 Did you like the way the vase of felt flowers on dowels looked above but you'd rather make a smaller version that looks a little more homemade than a pre-made decorative flower vase? Then try making this mason jar version that's a little more kitschy! Instead of using dowels and felt, Little Lucy Lu used heart shaped punched paper and adorable striped paper straws.
11. Ombre glitter candles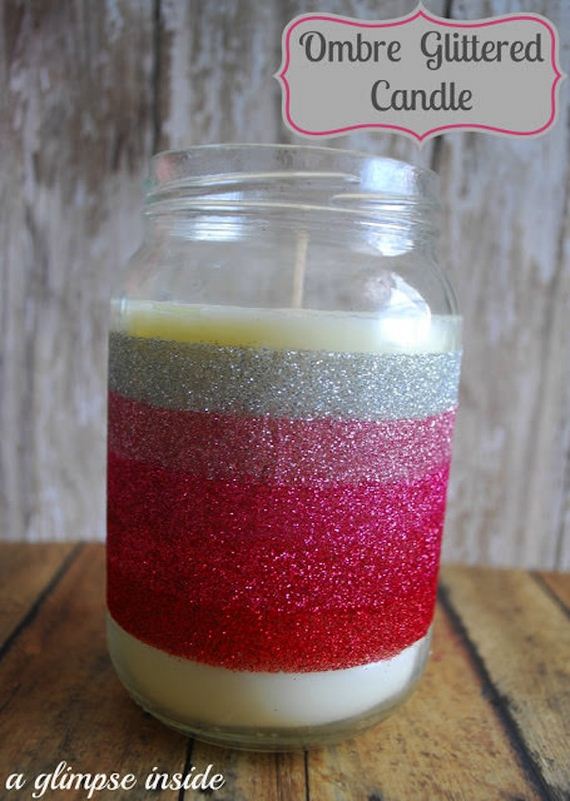 Have you always been a candle enthusiast no matter the season, filling your home with one wonderful scent after another and enjoying the relaxing glow? Then there's no reason not to incorporate your love for candles into your DIY Valentine's Day decor! A Glimpse Inside shows you how to glitter the jar or vase the candle comes in (or even the candle itself) with festive ombre stripes!
12. Valentine's Day banner from book pages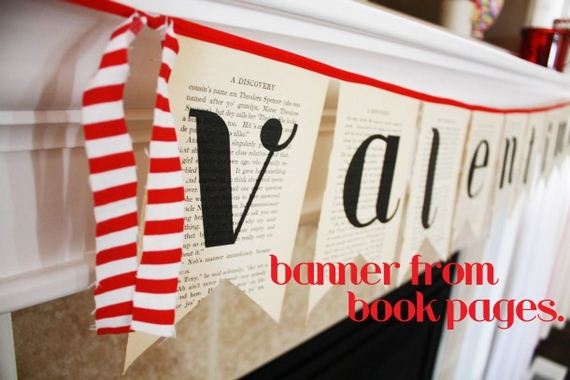 Do you love a good romance novel? Then salvage that box of old romance books you walked past on the sidewalk the other day and turn the ones that are too damaged to read into cute DIY Valentine's Day decor! The Sits Girls suggest painting, stenciling, or stamping a cute Valentine's message out, one letter on each page. String them like a garland and add ribbons as you please!
13. Pom pom Valentine centrepiece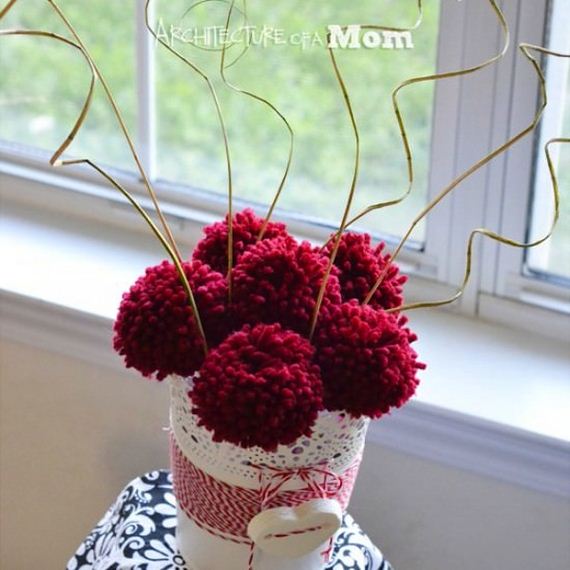 Do you like the idea of making yarn crafts but you're not sure you have the room for a whole saying full of letters anywhere in your home? then contain your yarn crafts to a smaller space by making little red pom poms and putting them in a vase like flowers! We love the way the suddenly look just like fluffy little blossoms. Architecture of a Mom shows you how it's done!
14. Blooming Valentine centrepiece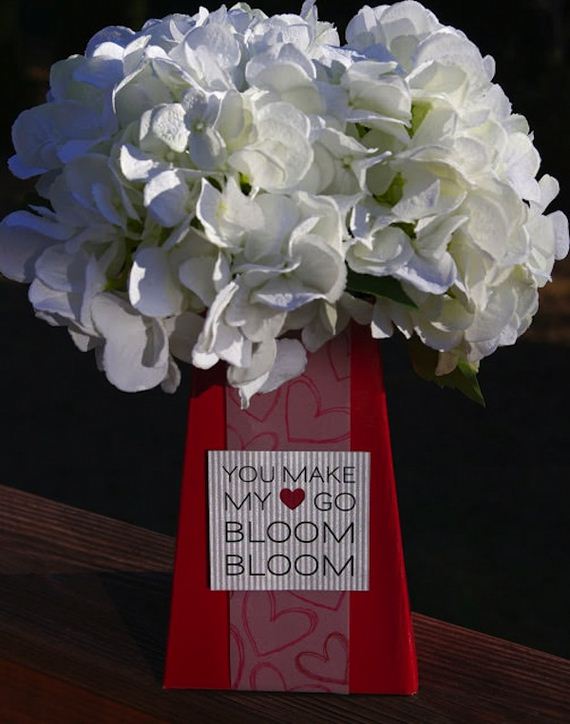 Maybe you would like a bouquet of flowers to display but it's the vase you don't currently have? Then check out how Hatter and Hare Events made this adorable little paper flower stand. We're particularly big fans of the romantically punny saying on the side, making the whole thing a cute gift idea for just about anyone.
15. Queen of Hearts tablescape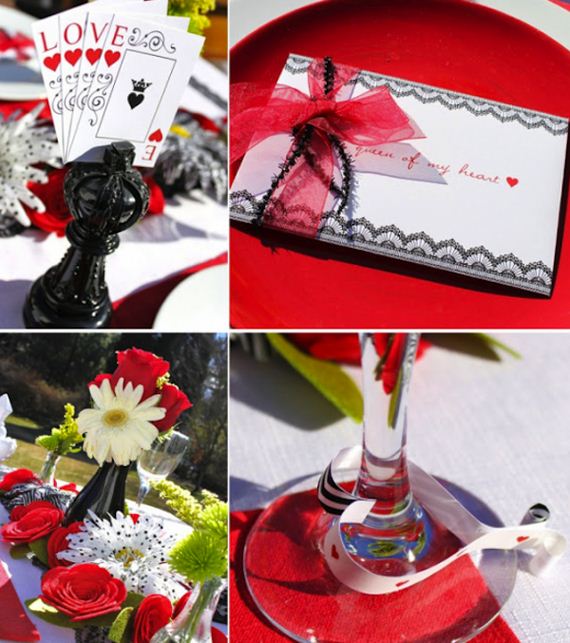 Are you so into Valentine's Day that you're throwing a festive party or dinner for all of your friends or loved ones to celebrate the day? Then you'll definitely be in need of a little DIY decor magic! Check out how Celebrations at Home made an entirely handcrafted tablescape with a slightly Queen of Hearts inspired theme.
---
---