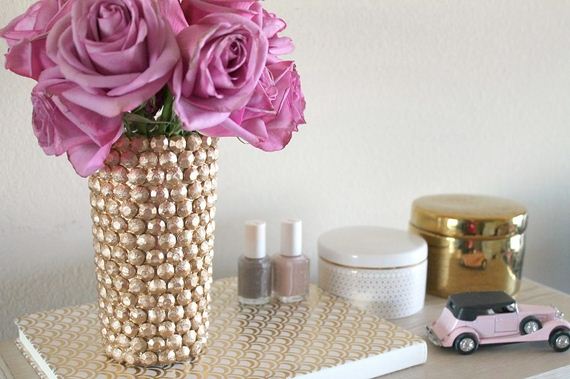 Amazing Home Decor Projects
Amazing Home Decor Projects
---
Not everyone can afford buying new stuff every month, but luckily there are hundreds of decorations that we can make ourselves! It will cost us less, we will have fun while doing something like this and the results are going to be amazing. If you feel like you're in the mood to do something decorative for your home, check out these ten ideas we picked for you.
Let's say bye to June in a DIY way!
1. Ombre Gallery Wall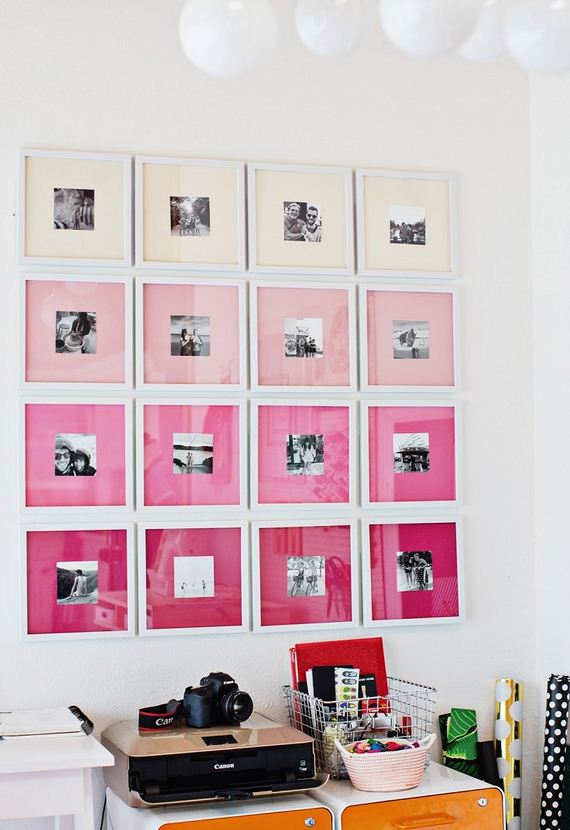 One of the best, easiest and budget-friendly ways to make any room prettier is by adding art in it. High-quality paintings are very expensive, so you can focus more on DIY projects such as this one. Not only you will have your photos framed and displayed, but the ombre will make it look so good!
To make this project yourself, you need -printed photos photo frames, poster board or enough colored papers to fill the frames, scissors, ruler, glue dots, level and command strips.
2. Diamond Hanging Planters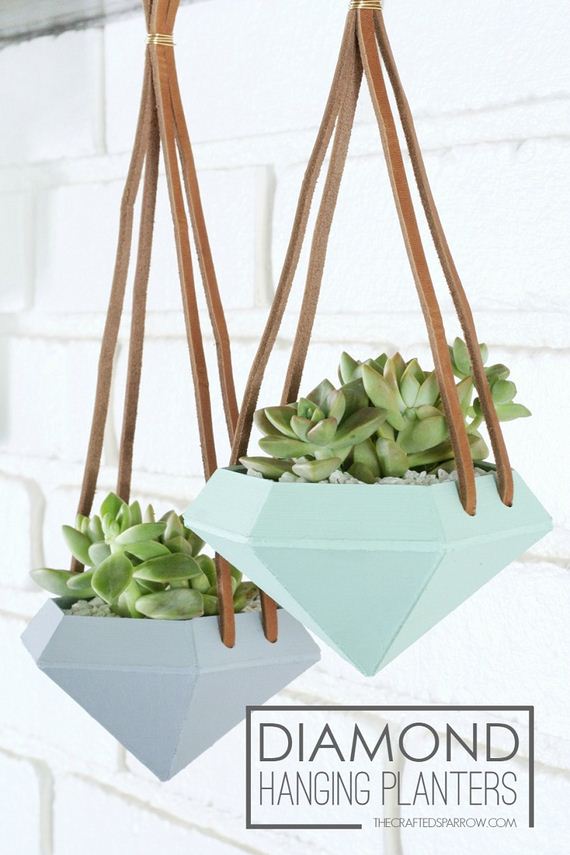 Adding plants in any room will make it look refreshing, plus their greenery always makes a stunning difference in the room! It doesn't matter if you pick succulents, roses, daises, or whatever kind of plant that you like, what matters really for a great display is the planter. There are many DIY ways that you can make a regular planter prettier, and this is one of them. To create your own diamond hanging planter, you need cutting mat, deep cut blade, chipboard, glue gun or quick dry glue, acrylic paint, foam brushes, leather cording, light masking tape and wire
3. Textured Vase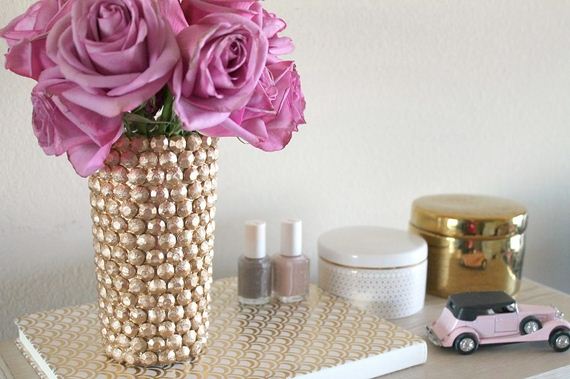 Glass vases aren't enough of a statement to make a difference in your room. They can look dull and won't be perceived as the perfect little detail. To change that, you can decorate the vase yourself with studs, beads or other gems that have just one flat surface. Besides these, you will also need 2 oz. tube industrial-strength adhesive
and 1 can spray paint in any color by your choice. This is a super easy project that can look as a good gift as well, don't you think?
3. Flower Chandelier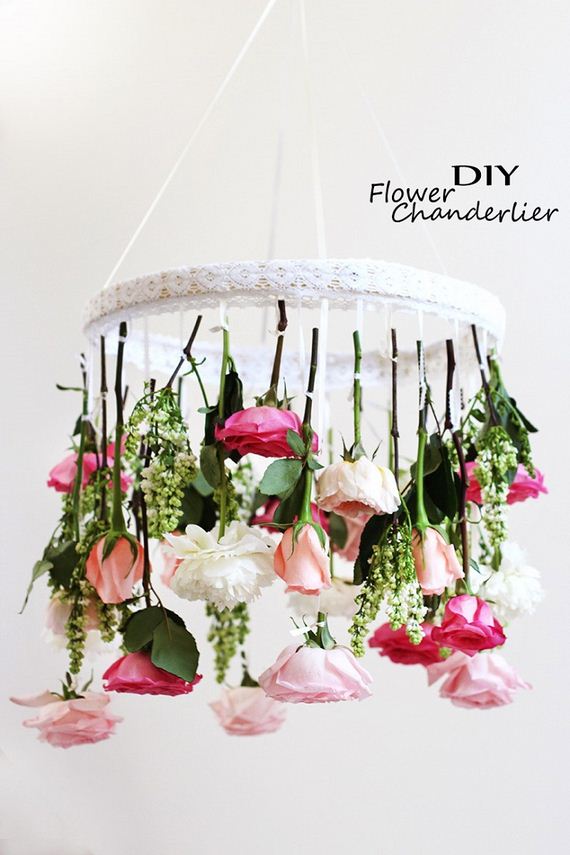 With spring still being here and all the flowers looking pretty, it's a good idea to use that in our advantage when it comes to create our new home decor. Having a floral chandelier will definitely be that one detail that will catch everyone's attention. To create your own, here's what you need 3-4 dozen flowers by your choice, 1 wooden embroidery hoop, 15-20 yards of assorted ribbon, 1-2 yards of lace trim, 1 D ring or plastic ring, floral shears, 1 bucket, glue gun and scissors.
4. Clay & Rope Pot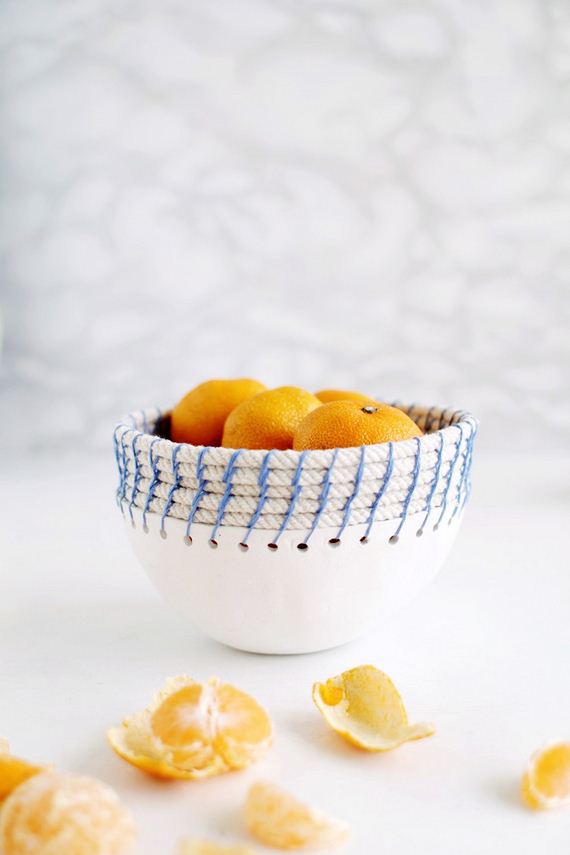 via fallfordiy.com
This kind of clay pot is going to be the perfect centerpiece for any table. Adding fruit inside of it will just make it look good and fresh! This is a very easy project that you can do it yourself and if you were wondering what kind of gift to give to someone dear to you, maybe you can consider this pretty pot. To make it, you need air dry clay, bowl, roller, thin straw, needle, rope and embroidery floss.
5. Nautical Decor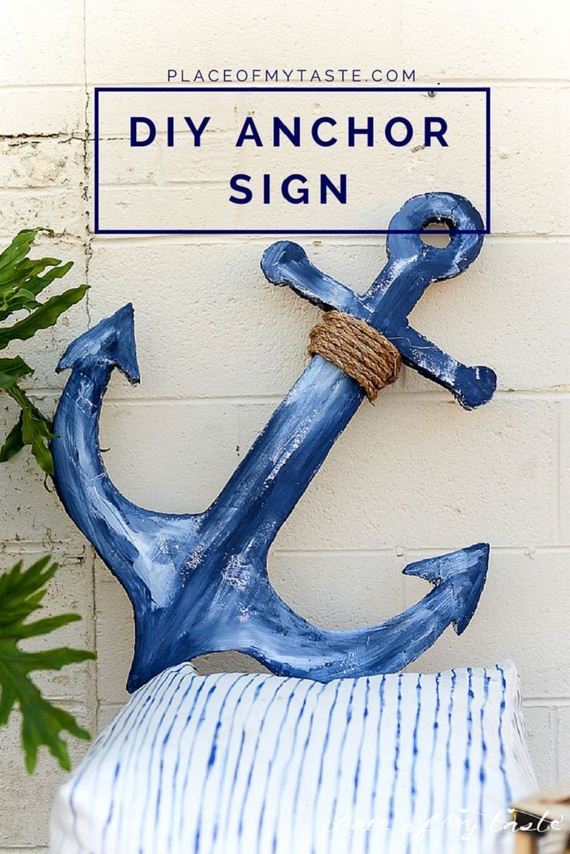 Many people are in love with the nautical decor and we can completely understand why – it reminds us of the sound of sea waves, birds at the beach, of vacation life in general. Besides all these nice thoughts, it's a really nice decor as well and it can brighten up any room. One of the nautical decorations that you can do yourself is the anchor sign and for that you need foam sheets, styrocutter, foam connectors, paint and rope.
6. Sparkly Candle Holders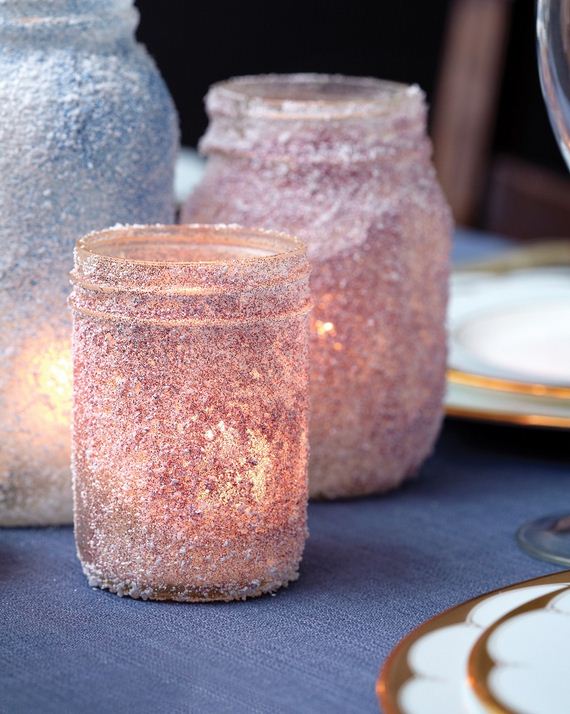 via chatelaine.com
This is surely one of the easiest projects on this list. For these gorgeous homemade votives, you need mason jars, glitter, adhesive and Epsom salt. Here's how you do it: spray the jars with adhesive, roll them in the glitter, then spray them again and roll them in Epsom salt. That's it! After this, you can place a scented candle inside the votive and enjoy the lovely atmosphere that it creates.
7. Tassel Table Cloth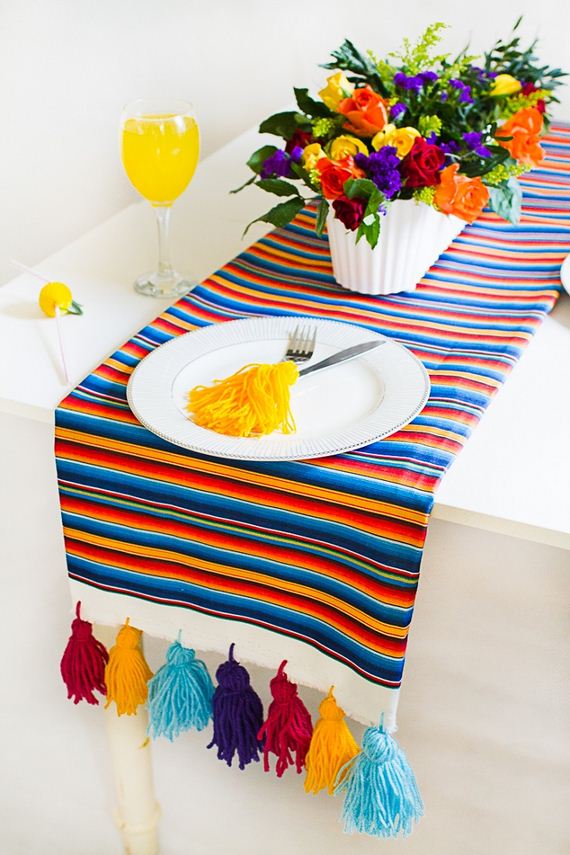 Getting inspired by other cultures is something that you can really use in your advantage when it comes to creating things. Take this tassel table runner for example – it is made with a Mexican – inspired material that uses bold, bright colors. This kind of detail is going to be perfect if you want to add some color in a lifeless, dull room. For this, you need wool, sturdy piece of cardboard (cut to the size you would like your tassels – remember, the larger the surface area the larger the tassel), scissors and a table runner.
8. Floral Hanging Frame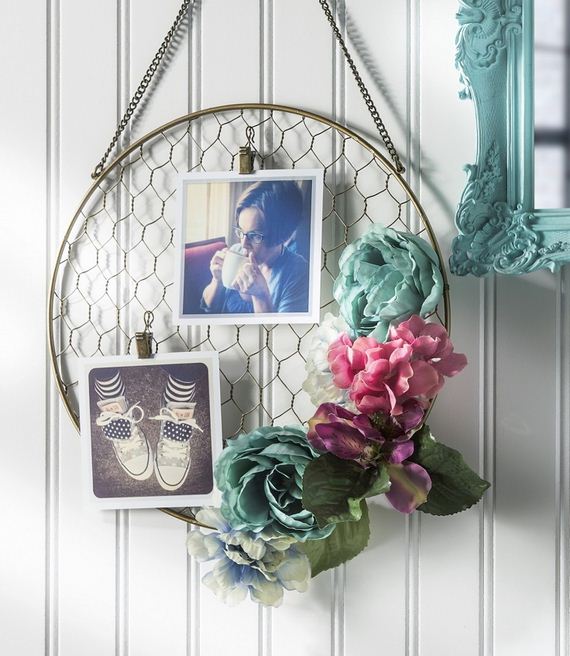 via diycandy.com
Getting your photos framed is something that leaves you with lots of experimenting. The easiest way for this is to get old or new photo frame and use it, but if you really want to make your home more unique, then we suggest you to create something that cannot be seen in every other home. Take this hanging frame for example – it looks so beautiful! To create it, you need wire frame with hanger, faux flowers, floral wire, floral tape and wire cutters.
9. Driftwood Mirror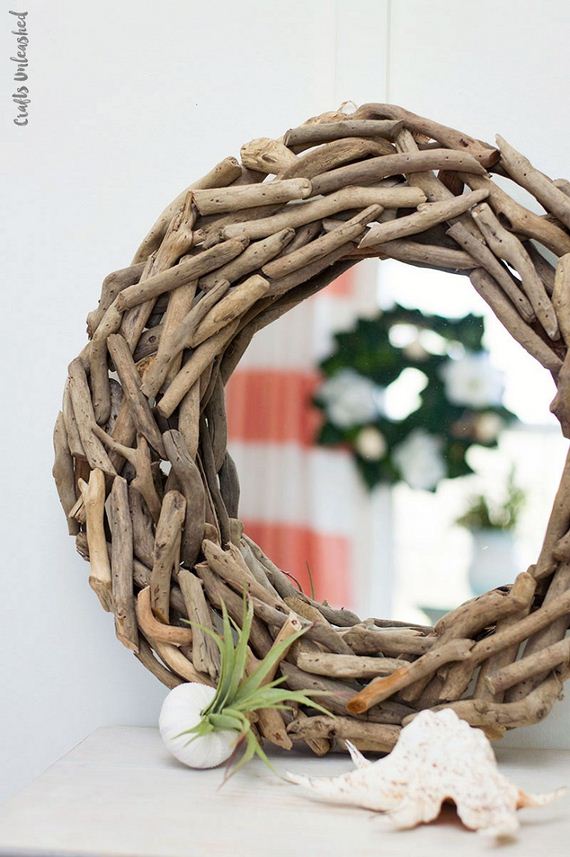 Mirrors are a really popular choice when it comes to home decorations. They serve both practical and aesthetic purpose, so we recommend you to try it as well. For example, you can make a driftwood mirror such as this. It takes just few minutes to get the pieces together and it's a budget-friendly project considering the fact that you only need three materials to make it – driftwood wreath, mirror and gorilla glue.
10. Circus Animal Cookie Pillows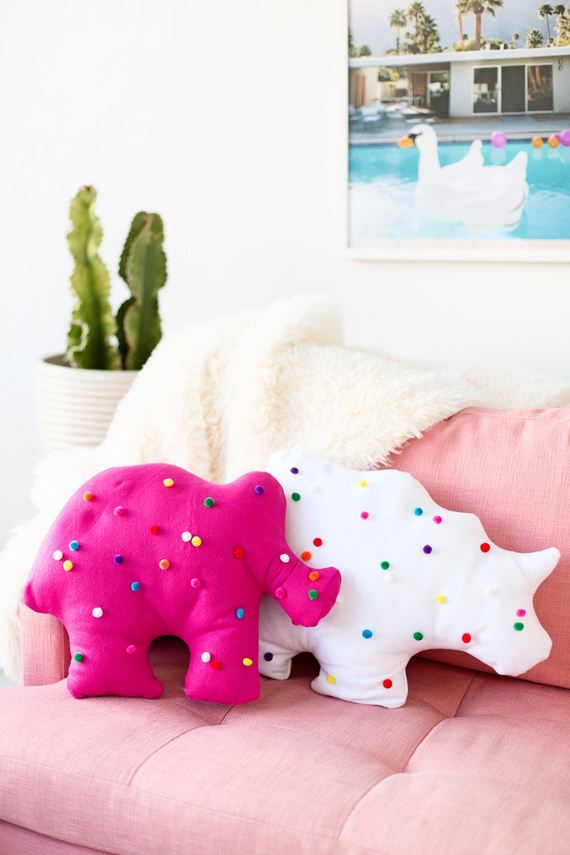 via studiodiy.com
If you're into cute decorations, then you might just found one of the cutest ever! However, for this project you will need to have sewing skills and sewing machine. Here are the needed materials for the project – 1/2 yard pink or white felt per pillow, 1/4 inch pom poms in rainbow colors, hand sewing needle and thread, pins, fabric scissors, poly stuffing, hot glue gun and chalk or pencil. You will also need printable animal cracker template that you can download from the website below the picture.
---
---