Amazing Last Minute Food Gifts
Amazing Last Minute Food Gifts
---
With everything from seasonings, to extracts and chutneys, these foodie favorites will be the highlight of any gourmand's gift haul! They're all quick and simple to put together…in fact you don't even need to be much of an enthusiast yourself, you just have to know someone who is!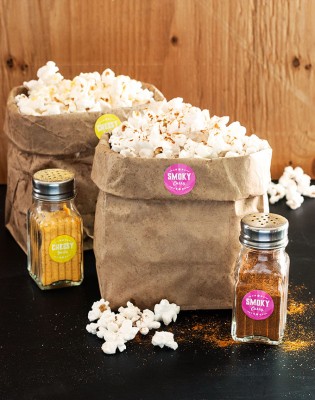 These yummy popcorn seasonings are the perfect gift for foodies and movie-lovers alike! There are six different recipes to choose from, three for the savory fans including cheesy garlic, Italian herb and  smoky curry, then for those with a sweet tooth there is Mexican chocolate, spicy citrus and cinnamon sugar. Package them in shakers and add a bag of corn kernels then the gift is complete!
Every good foodie out there will have heard of bacon jam, but not all of them would have been lucky enough to sample it…so why not make them some to unwrap on Christmas day? The condiment is ridiculously tasty, it can be spread on crackers or smeared on grilled cheese, used as a relish for burgers or dolloped on a cheese board.
Sweet vanilla, creamy caramel or fruity raspberry, there's a coffee syrup flavor for every mood and you can give all three to someone special with this homemade gift inspiration.
Give a friend a head start with their baking a gift them this amazing quick bread in a bottle. It's quick and easy to put together, all you need to do is layer the dry ingredients into a glass bottle then attach a handmade label. The best part is that the mix keeps for about three months so the bread doesn't have to be made straight away.
These hot chocolate spoons are brilliantly easy to make and they're something that everyone will love to receive! They're simple for your friends to use, all they have to do is stir the chocolate covered spoon in some warm milk and wait for it to melt into a heavenly drink!
Make someone else happy and send them the gift of fried chicken! The homemade kit makes 16 pieces of finger-lickin' chicken, perfect for any KFC fans!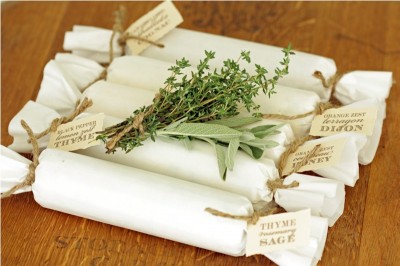 Compound butters are a mixture of butter and supplementary ingredients like herbs, fruits and spices. They're great for foodies because they can be used to enhance the flavor of various dishes in a similar fashion to sauces.
These addictive rosemary cheese crackers will go down a storm with anyone you give them to! You can present them in a mason jar with a festive ribbon wrapped around to make them look extra special…although the flavor alone is enough to impress!
With all the turkey leftovers, cooked hams and array of different cheeses available over the Holiday season, a delicious chutney accompaniment is essential for all food lovers! This delicious apple and pear recipe combines sweet citrus notes with a subtle heat for a full on punch of flavor. Or what about this vibrant tomato and pepper chutney that takes just one hour to make…quick simple and yummy it's perfect for the party season. If that wasn't enough, we've also got a yummy recipe for homemade mango chutney which uses fresh mangoes and aromatic spices to create that classic Indian flavor.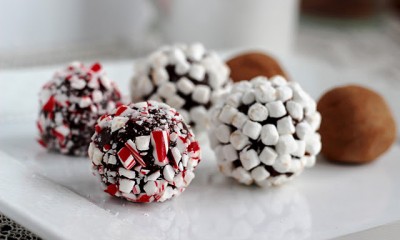 These melt-in-the-mouth hot chocolate truffles are like little bite sized pieces of heaven! They only require six ingredients and Lizzy, over at yourcupofcake.com, has included step by step photos to show you exactly how to bring them together!
When your fresh herbs start to wilt and wither, don't send them to the trash can, instead transform them into these amazing herbed salts. They're excellent seasonings that can be used in a variety of ways which means they're perfect for any good foodie!
All good things come to those who wait…and even if your loved one didn't realize it, these bourbon soaked cherries are what they've been waiting for!
This gift is two for the price of one! If you combine a homemade 14-spice dry rub  with this honey chipotle BBQ sauce and throw in a set of grilling utensils you can create a smokin' BBQ kit for the meat-lovers in your life.
During the cold winter months there is nothing more satisfying than tucking into a giant bowl of warming soup but not everyone has the time to whip it up from scratch. Take the stress out of soup making for a friend and gift them this handy five bean soup mix.
These DIY sugar cubes are easy to make and you can mold them into any shape you want. A simple but effective gift!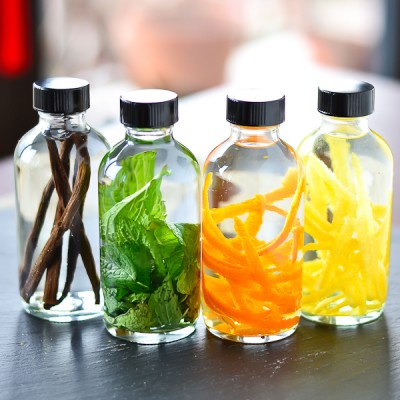 Homemade extracts may seem like they'd be complicated to make but they're a lot less intimidating than you might think…plus, with this helpful post you can make a whole host of yummy flavors including vanilla, mint, orange and lemon!
Send something original this year and prepare a pancake mix that your friends and family can enjoy for breakfast or dessert!
Infused with cardomom, cinnamon, candied ginger and red peppercorns, this has got to be the best chai tea mix around…and all the foodies you gift it to will think so too! The complex and spicy drink will provide a calming boost on even the toughest of days.
---
---