Amazing Valentine's Day Knitting Patterns
Amazing Valentine's Day Knitting Patterns
---
That awesome feeling is part of why we love knitting. In fact, we love it so much that we tend to knit most gifts that we give family and friends, especially on holidays.
Since the next big holiday in line is Valentine's Day, check out this list of 15 completely adorable knitted Valentine's Day projects that your loved ones will be thrilled to received!
1. Valentine's Day Boot Socks by Mary Kaiser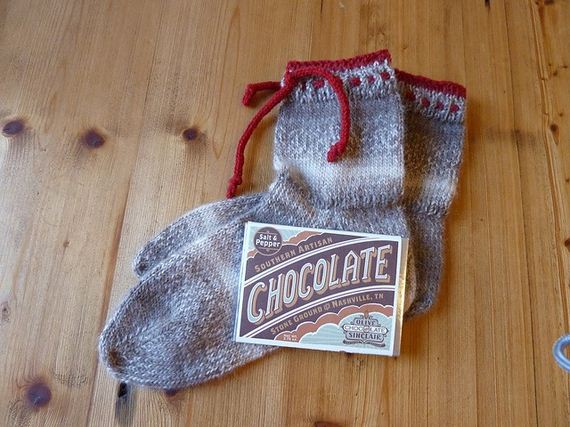 Do your loved ones enjoy being comfy, cozy, and warm more than anything else in the month of February? Then knitted gifts are perfect for them, but especially knitted boot socks! These are perfect for wearing inside a pair of boots to keep extra warm outside, or they can wear them in the house as toasty slippers in the mornings and evenings.
2. Valentine's Day Bonnet by Melody Rogers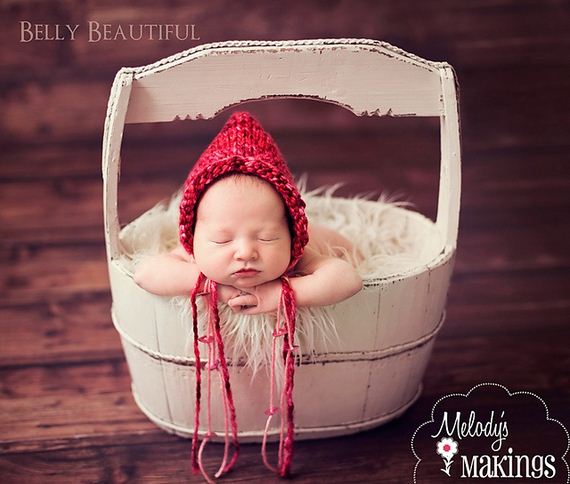 Is there a brand new little one in your life who could use an extra layer? Hats and bonnets are always a great excuse to knit something fast but, even more so, something completely adorable. What's more adorable than a little baby in a holiday themed hat? That's why we loved this cute little Valentine's Day bonnet design so much!
3. Valentine's Day Twisted Kisses Turtleneck Scarf by Linda Lehman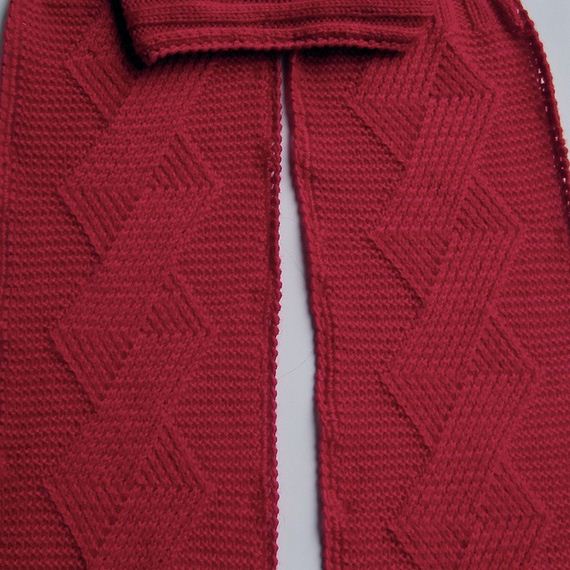 Do you like the idea of making your loved ones things that will keep them comfy and warm but none of the ideas above have quite appealed to you yet? Then check out these cute red scarf alternative instead! We love that it's perfect for Valentine's Day because of the rich colour, but that it's not so overtly themed that your loved one can't ear it the rest of the winter too.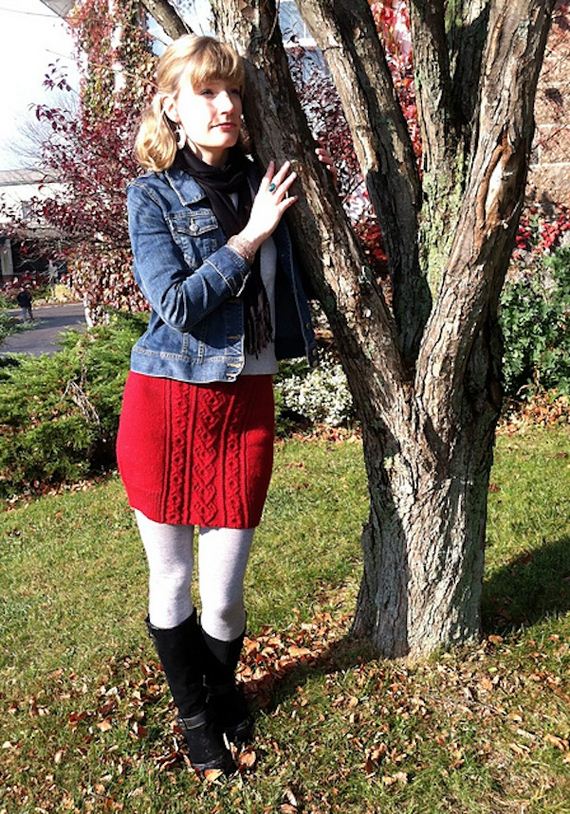 Do you know someone who's totally into DIY and handmade fashions? Then knit them an adorable skirt! This one's perfect thanks to the adorable cabled heart pattern down the front. In fact, if we're being honest, we like this pattern so much that we might actually knit it for ourselves instead of giving it as a gift.
5. Valentine's Day Onesie by Cynthia Kais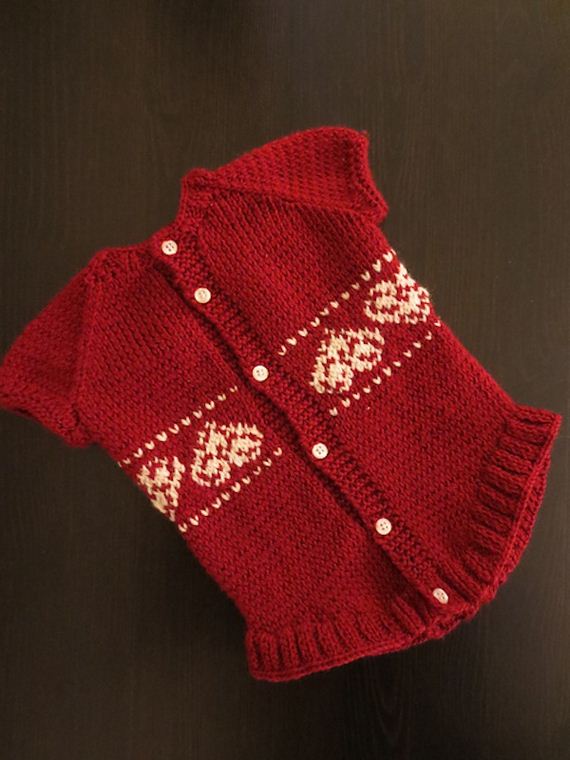 Remember when we asked you what could possibly be cuter than a little baby in a holiday themed hat? Well, the answer just might be a baby in a cute holiday themed onesie! We think homemade onesies are an adorable idea any time, but this Valentine's Day pattern is particularly sweet looking.
6. Valentine's Day Candy Pop Hat by The Big String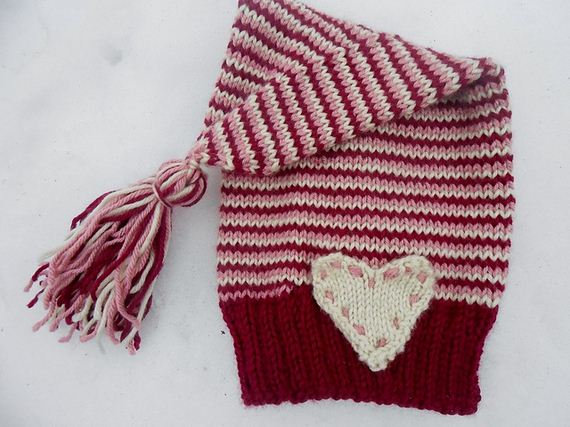 have you been looking for a cute little Valentine's Day hat pattern that's suitable for bigger kids too, rather than just babies? Then we might have found the answer for you! This hat is much simpler than it looks because you're striping frequently enough to carry the yarns rather than cutting them, but the effect is still very impressive and skilled looking!
7. Valentine's Day Thrum Mittens by Sarah Boudreau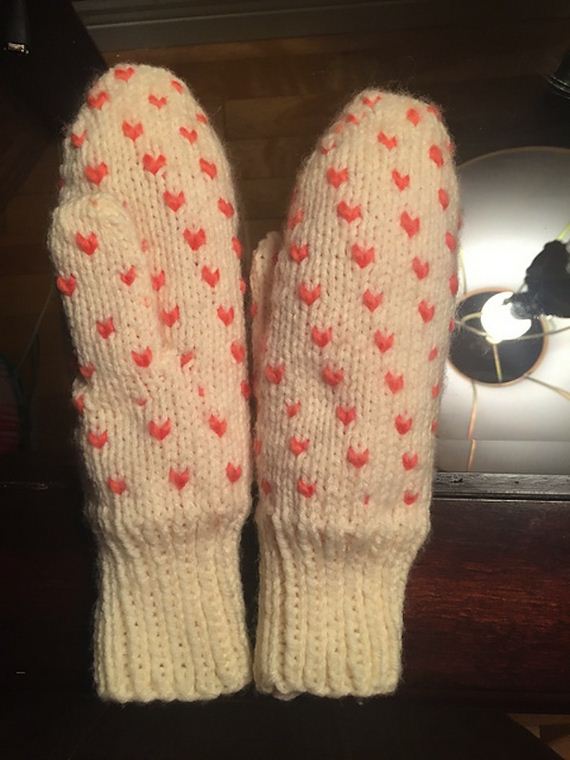 If you've never knitted thrum mittens then trust us when we say that you are missing out! These Valentine's Day mittens featuring little hearts are the perfect starter project for you to try because when you do a thrum stitch, the shape of the knit stitch actually looks like a heart already anyways. It couldn't be simpler!
8. Knitted Valentine's Day Card by Elanor King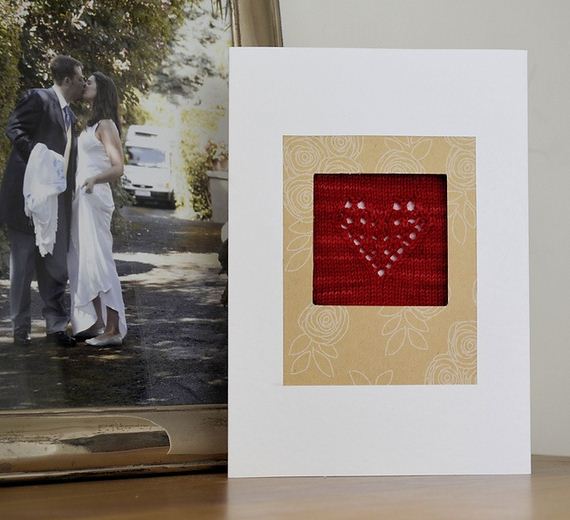 Are you looking for a knitted gift that's small and very quick to do, but still shows your loved ones that you care through handmade wares? Then even a simple knitted square in a card that you made yourself will show them the love and thought that goes into the things you make them each year. Knitted cards are also very unique compared to the cards they usually get!
9. Pillow Talk Valentine's Day Pillow by Beth Richardson
Maybe your loved ones are simply visiting but they're usually far away and you'd like to give them something that reminds them of you when you're not around? Then you might as well make them something they can hug! This adorable little stuffed pillow is perfect. In fact, it's so perfect for the job that it actually reminds them to squeeze the pillow whenever they think of you!
10. Happy Valentine's Day Hat by Michelle Kupfer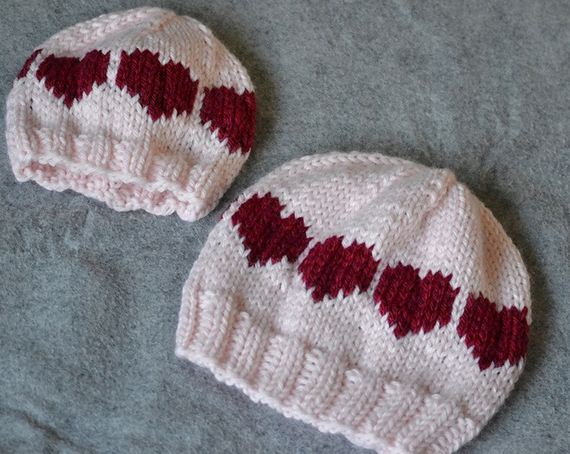 Have you seen the other Valentine's Day hats on this list and thought they were cute, but not quite been convinced? Then put your colour working skills to use and make one that's got some cute little hearts built right into the construction of the hat instead! These cute little beanie style toques are quick and easy to make for as many Valentines as you please.
11. Valentine's Scarf or Shawl by Marriana Designs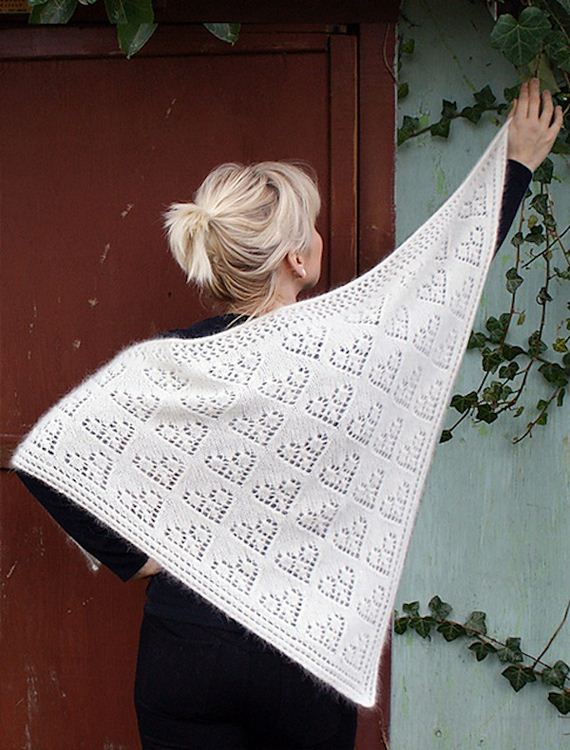 Are you hoping to make a piece that's a little more versatile and wearable for someone you really care about? We're talking the kind of investment piece that they'll wear for years and maybe even pass down to future generations. Then try making them this stunning lace shawl! The little heart images are simpler to do than they look but you'd never know just by looking at them.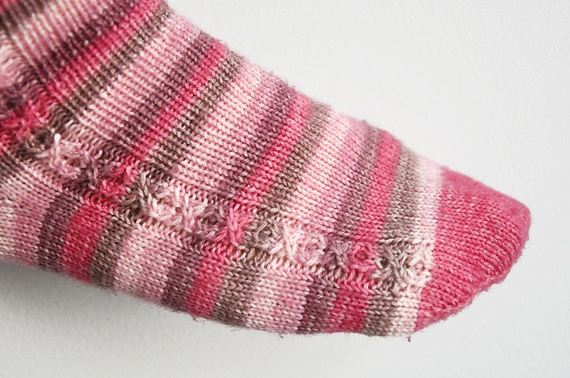 Are socks your absolute favourite thing to knit for the people around you? We'll admit that we're pretty fond of making socks ourselves, and we've always though they make great and totally practical gifts! Valentine's Day is no exception, especially if you pick a sweet looking self striping or variegated yarn in lovely shades of pink or red to suit the holiday.
13. Two Hearts One Kitchen Hanging Hand Towel by Cathy Waldie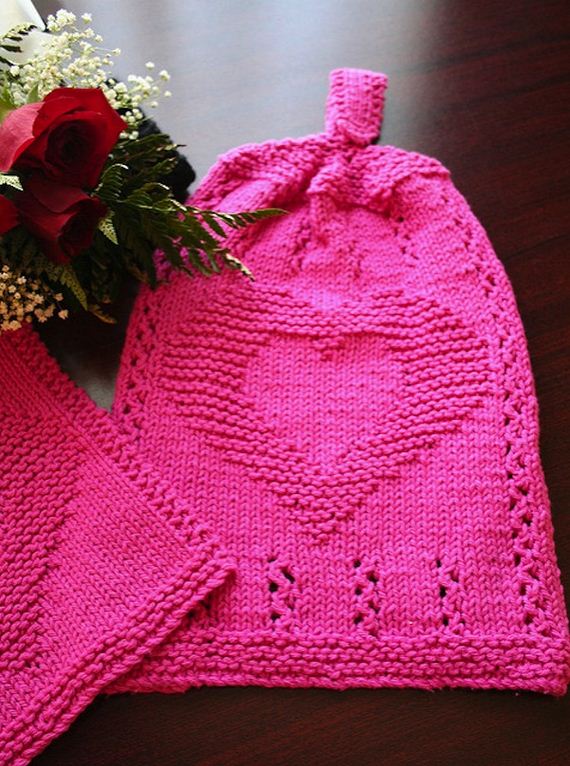 Perhaps the person you love is a wonderful home decorator and has cute holiday themed things set out no matter the season, regularly changing the decor over to keep up? Try contributing to their collection in order to show them how much you care! These cute little heart dish towels are a sweet and subtle way to remind them of you.
14. Knitted Hearts Door Hanger by Tanya Shipp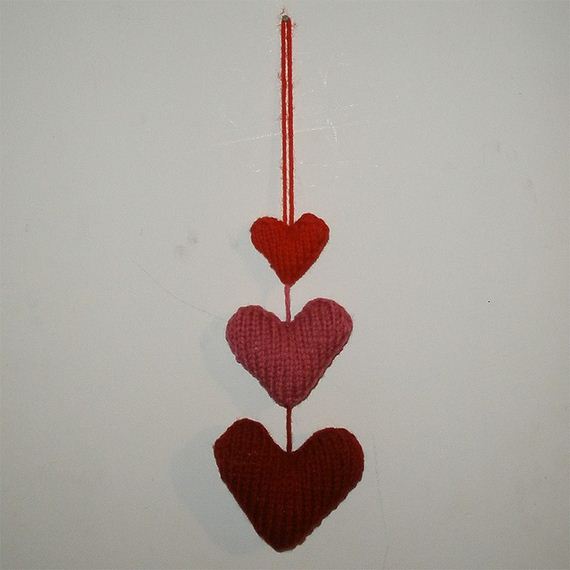 Maybe your decor-loving Valentine would prefer something more decorative than functional in their holiday decoration collection? Instead of tea towels, knit them a heart garland! We love the way this one is knit in reds that are just different tonally than the classic bright red you see everywhere on Valentine's Day, just to change things up a little bit.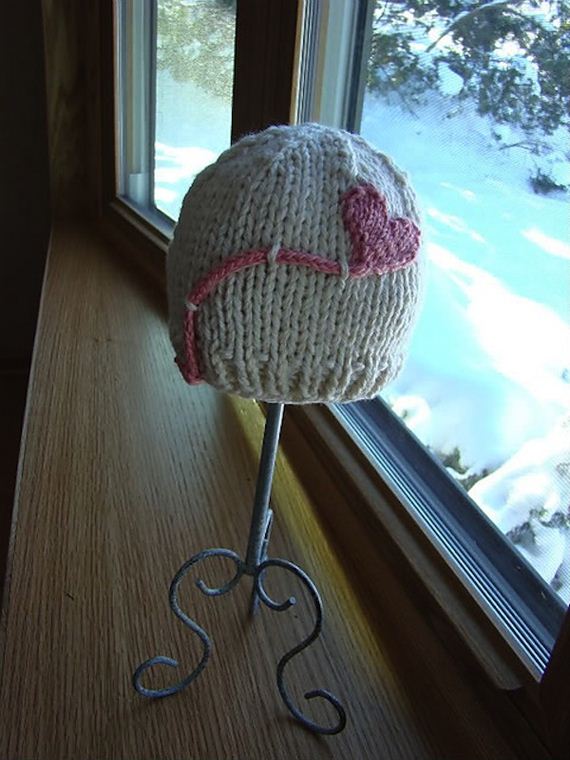 Are you still on the hunt for a cute Valentine's Day hat but you just haven't quite seen it yet? Then we present to you something a little bit different! This hat features a heart on a string, but it's constructed in a different than you're used to creating images in knitting. Rather than colour working the heart right into the hat, you'll stitch on top after using double knit stitching techniques! This makes the heart look like an awesome textured embellishment.
---
---