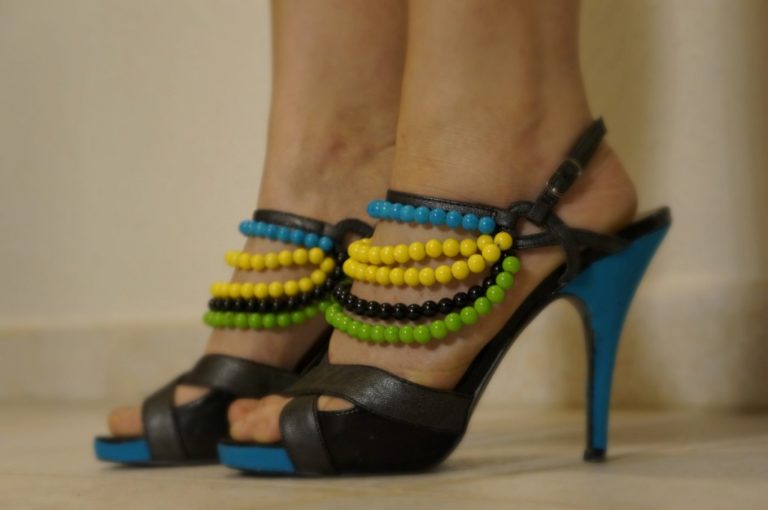 Awesome DIY Clothing Projects
Awesome DIY Clothing Projects
---
Just in case you're on the same page as us about how great beads are, especially when it comes to customizing your own fashion, here are 15 awesome DIY clothing projects that involve beads!
1. Pearl beaded scarf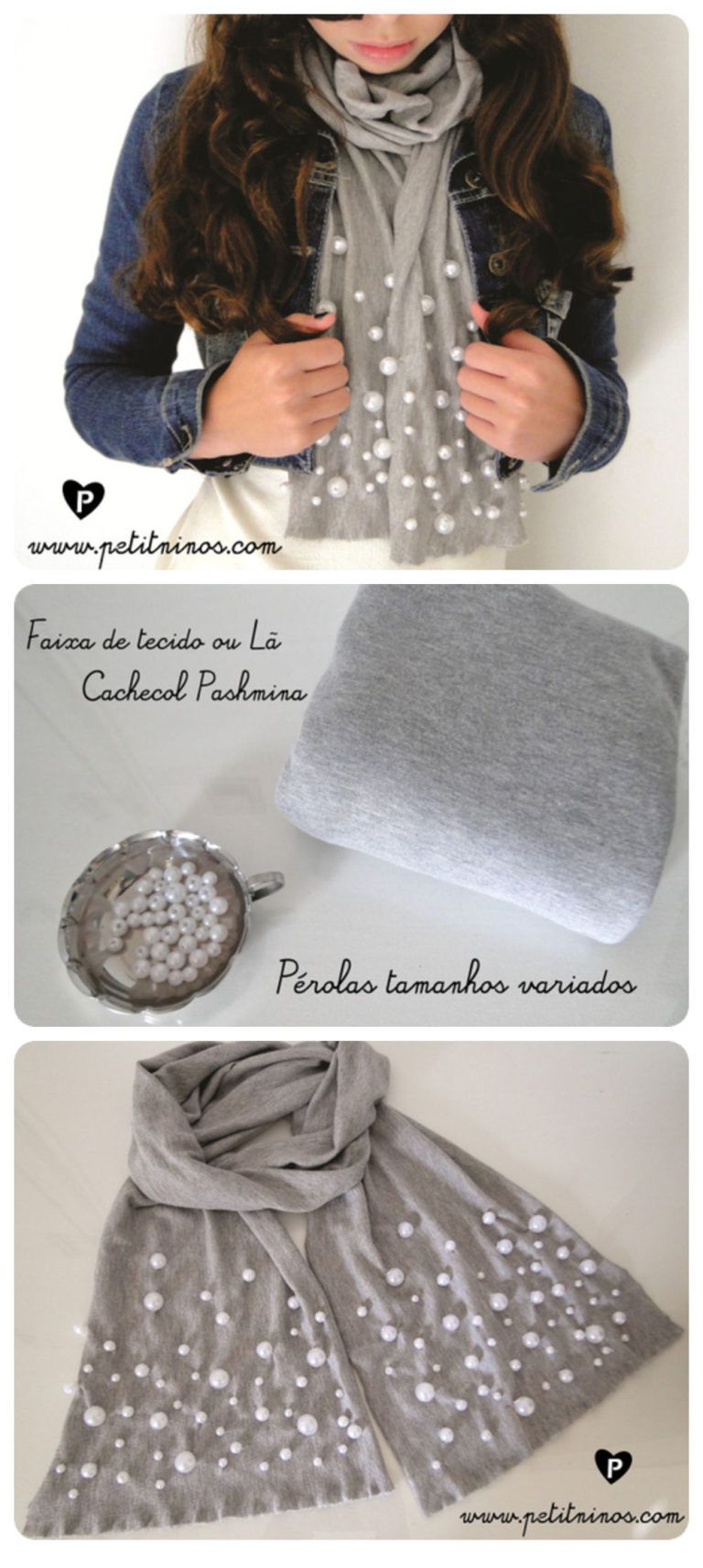 Have you always loved the look of pearls in jewelry and clothing in just about any style, especially if they're varied in size? Then we are on the very same page as you and we think you're going to love this project featured on Love This Pic! Hand stitching rounded pearl beads along the bottom of a scar is an easy upcycle but it gives a simple accessory a whole new look.
2. Pearl beaded shirt collar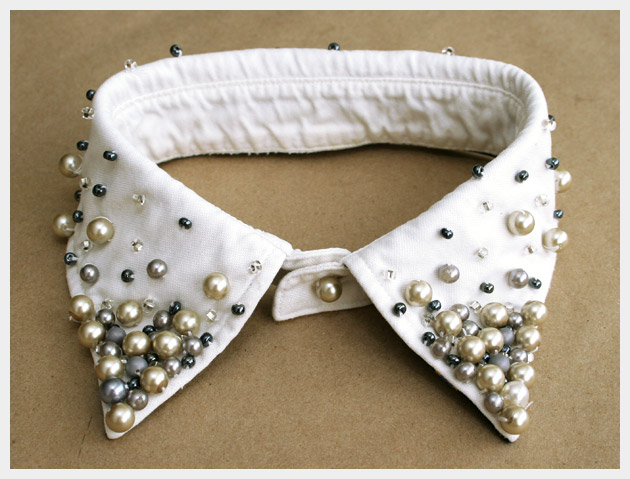 Are you very into the idea of pearls but you're just not sure you need another scarf right now? In that case, perhaps a beaded collar might suit your tastes and needs a little bit better! This might look like an accessory rather than actual clothing, but it's actually made from the collar of a real shirt so that counts, right? We adore the look of clustered pearls near the tips of each collar and the way they disperse as you get further from the corners. Trinkets in Bloom shows you how to cut the collar neatly and sew the pearls on so the sizes complement each other and sit well.
3. Turquoise and wooden bead tank top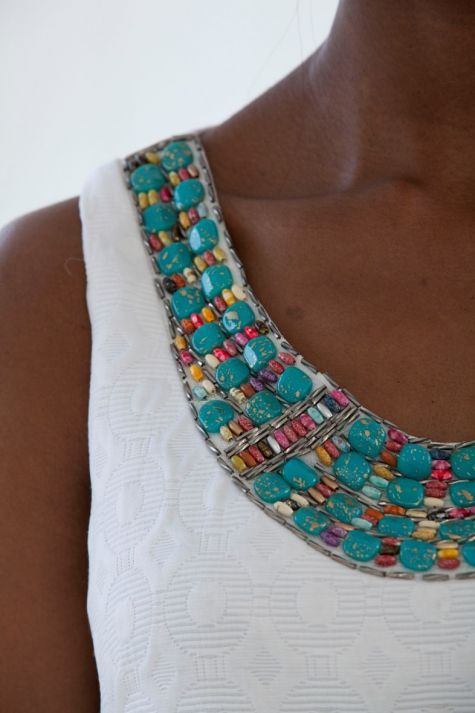 Perhaps you love the idea of beading things and you want to bead some clothing but shining pearls aren't really your style and you'd prefer something that looks a little more natural  or evidently DIY? Then perhaps wooden beads and beads made of turquoise would be more your style! Craftylish shows you how to sew the beads all along the collar of a simple tank top to jazz things up a little bit but in a slightly more subtle way than if you used something more sparkly.
4. Leaf beaded gray marl sweatshirt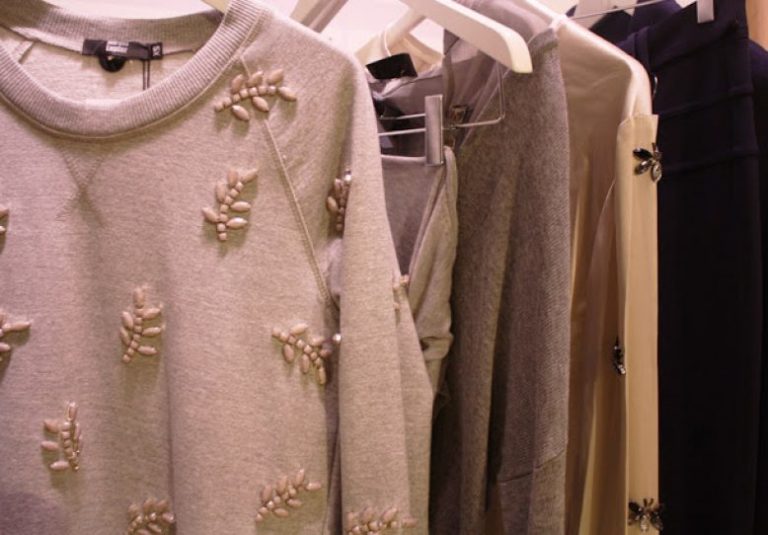 Are you very into the idea of hand sewing beads onto a shirt in a simple way but with a pattern that's pleasing to the eye, but you live in a chilly area and a tank top just won't do it for you? In that case, maybe you'd prefer something like this sweatshirt featured on A Pair and A Spare! We love the way they used longer and circular beads in combination to create little leaf shapes that look whimsical scattered all across the front, back, and sleeves of a simple sweater.
5. Beaded dress straps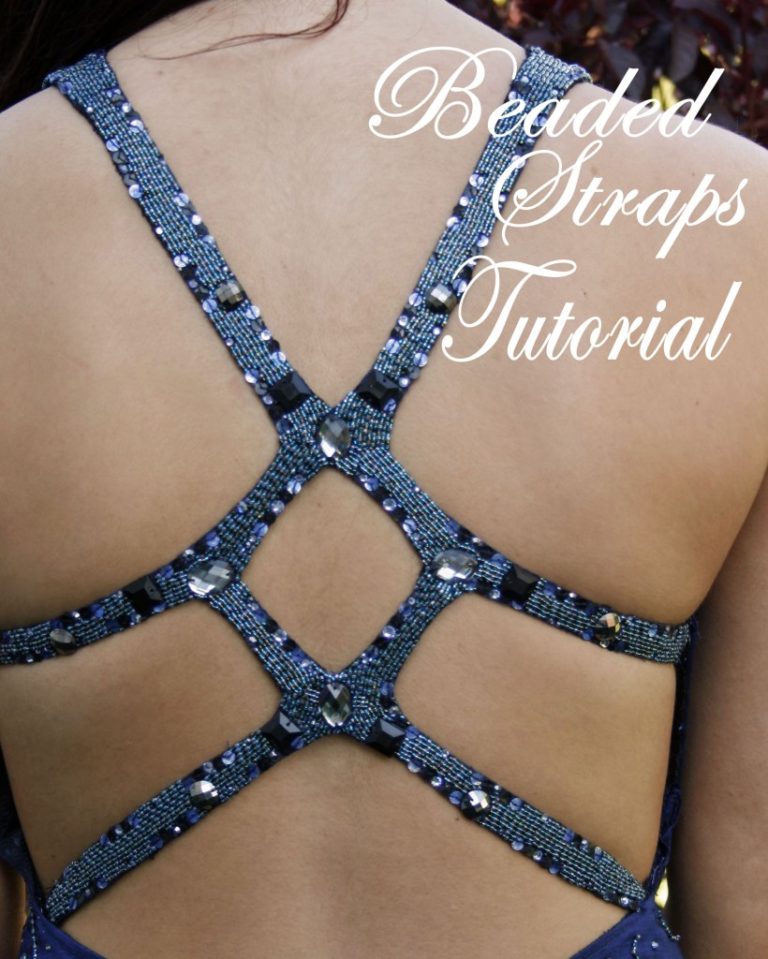 Do you have a lovely dress that you've worn before but still like enough that you'll probably wear it again, even though you try not to repeat items at big events too often? In that case, consider making some cute little alterations that will switch things up a little bit and keep the garment interesting. And Sew We Craft guides you through the process of beading small dress straps to add a little bit of glamour.
6. Beaded jean cuffs
We've talked a lot about tops, shirts, blouses, and collars being beaded and customized, but what about beading projects for the bottom half? Don't worry, DIY Fashion has you covered for that idea! Their tutorial guides you through the process of cuffing your jeans and hand embroidering beads of different kinds and colours across the outside to add a little bit of flair around the bottom.
7. Woven fringe shirt with wooden beads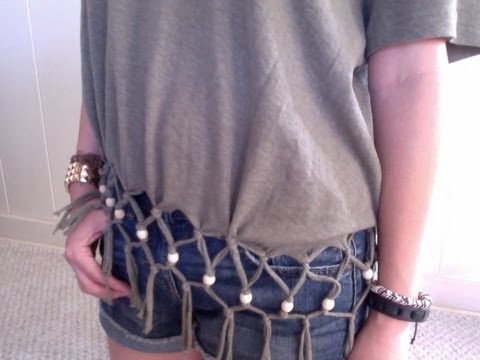 Just because you're working with beads doesn't mean you have to limit your design to just sewing beads around the edges of things. Instead, try upcycling a shirt in a way that will totally transform its style! Ms B Trendy shows you how to turn a completely plain t-shirt into a super fun, summery top that has a knotted network of fringe all along the bottom and a beaded detail in the middle of each resulting diamond shape. Choose coloured beads or wooden beads, depending on the look you're going for.
8. Beaded bubble heart fabric brooch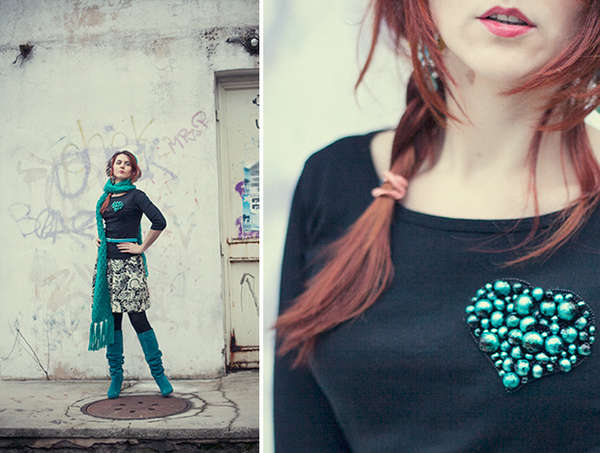 Have you thought about beading a shirt you really like but it's one that you wear often and you worry you might suddenly want to wear it plain again sometime later? Then instead of beading a pattern directly onto the shirt, you might consider creating a beaded shape on a piece of fabric to make something cute like this heart brooch. Trend Hunter shows you how to make a little detachable patch that will jazz up your shirt when you feel like it but can also be taken off on subtler days.
9. Geometric beaded sleeves
Have the ideas we've shown you so far that involve sewing wooden beads to a shirt in shapes and patterns caught your eye but you're still kind of intent on designing something that's got a little more personality? In that case, maybe creating your own geometric sleeve similar to this one featured on DIY Clothes is the best idea for you! We love the idea of using lots of different bright colours to really catch people's attention.
10. DIY beaded ribbon sash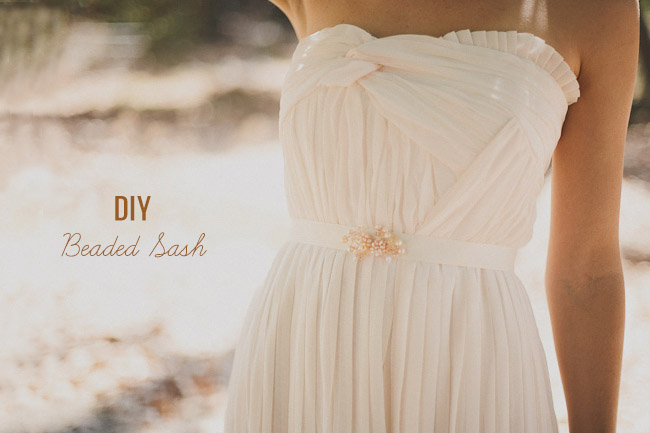 Are you still very intrigued by the idea of creating beaded detail for an outfit but keeping it so that it can be removed if necessary rather than attaching it permanently to the clothing? In that case, you might enjoy this ribbon sash idea to complement your favourite dress! We love the way Green Wedding Shoes created a simple beaded design in the centre of this ribbon to create an optional waistband for fancy occasions.
11. Beaded collar cardigan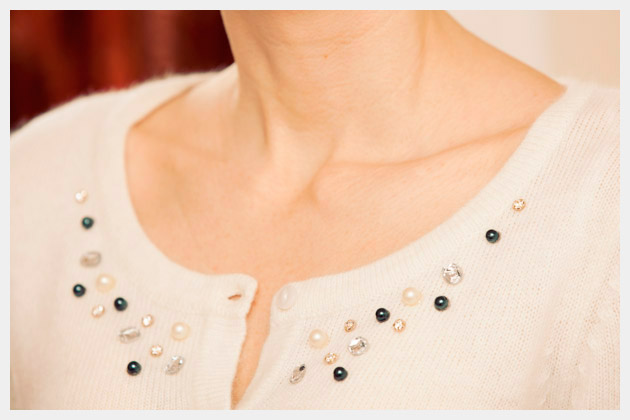 We've talked a little bit about beaded collars, but those tutorials mostly referred to tank tops, blouses, and sweatshirts. Perhaps you're looking for something a little more business casual that you could easily wear to the office while still adding a bit of detail to the look? Then check out how Trinkets In Bloom added cute pearls in combination with a series of pretty, sparkling rhinestones to the collar of this cardigan.
12. DIY beaded collar dress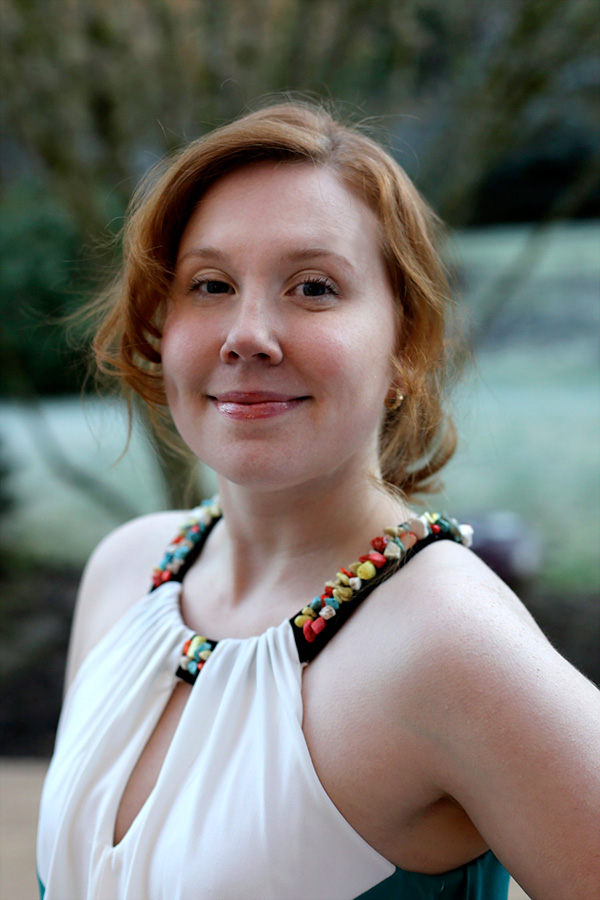 Just in case you haven't seen quite enough beaded collars yet, here's another one for you! This tutorial from Chic Steals shows you how to place pretty beads all along the collar of a pretty dress, making sure to keep your stitches neat and your beads evenly spaced. Choose beads that colour coordinate well with your dress or perhaps ones that contrast nicely for a good colour pop instead!
13. Beaded necktie collar
Are you such an upcycling enthusiast that you'd love to find a project that will let you not only repurpose a garment but also add beads all at once? Then perhaps you'll be a fan of this collar necklace that's folded and created from an old necktie! Instructables guides you through the process of making yourself a decorative tie that wears like a necklace, giving your advice about how and where to sew pearls on to give the whole accessory a bit of glam.
14. Burberry inspired beaded heel sandals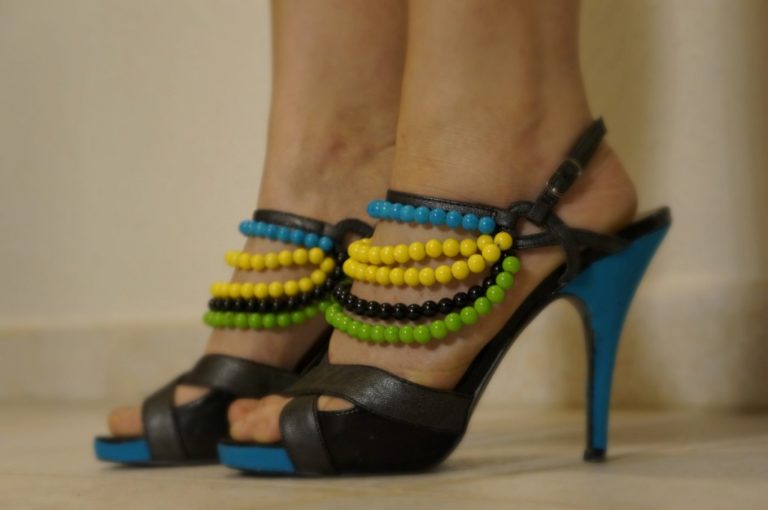 Have you ever seen designer sandals that involve beaded embellishments hanging around the ankle strap of a heel? They're stunning but they're often extremely expensive, which is why we love tutorials like this one from April Golightly that teach you how to dupe the style as a DIY project! Their tutorial teaches you how to attach colour coordinating strings of beads that add a little bit of personality to your shoes.
15. Beaded hair elastic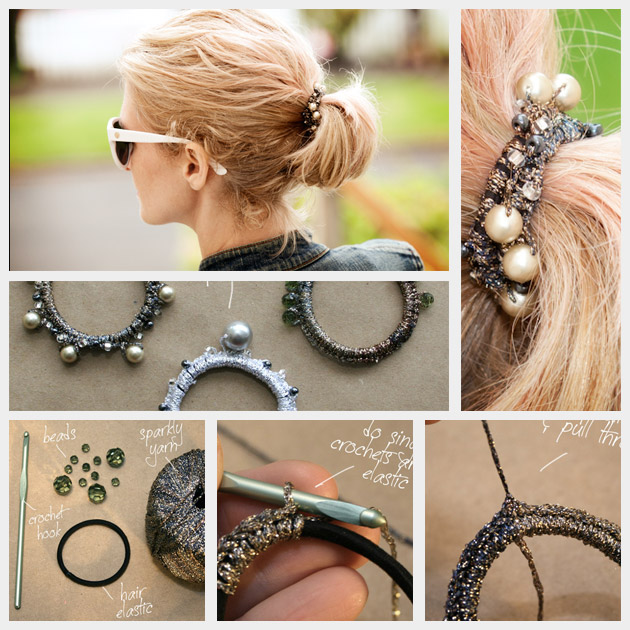 Are you a crochet enthusiast who's always on the lookout for interesting ways to enhance your own style using your yarn skills? In that case, why not make yourself a beaded accessory that has some practical function too? We adore this sparkly, beaded little hair tie that, while not technically a piece of clothing, will give you just a little bit of sparkle and pizzazz if you're wearing an outfit that doesn't need much help. Check the whole project out in more detail on Trinkets in Bloom!
---
---