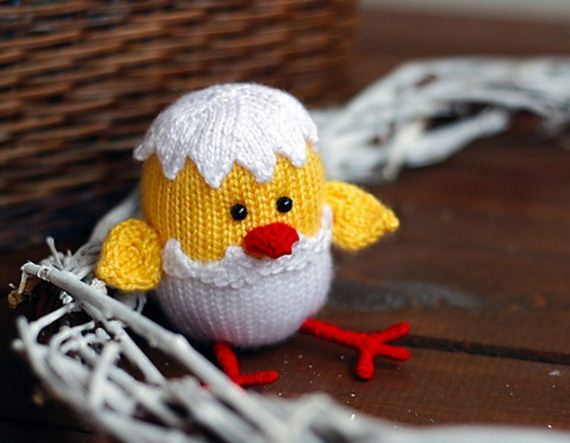 Awesome Easter Knitting Patterns
Awesome Easter Knitting Patterns
---
Check out these 15 super fun and cute to knit patterns that will help you keep busy this Easter season, with the added bonus of some useful themed decor and practical items when you're all finished up.
1. Simple Easter bunnies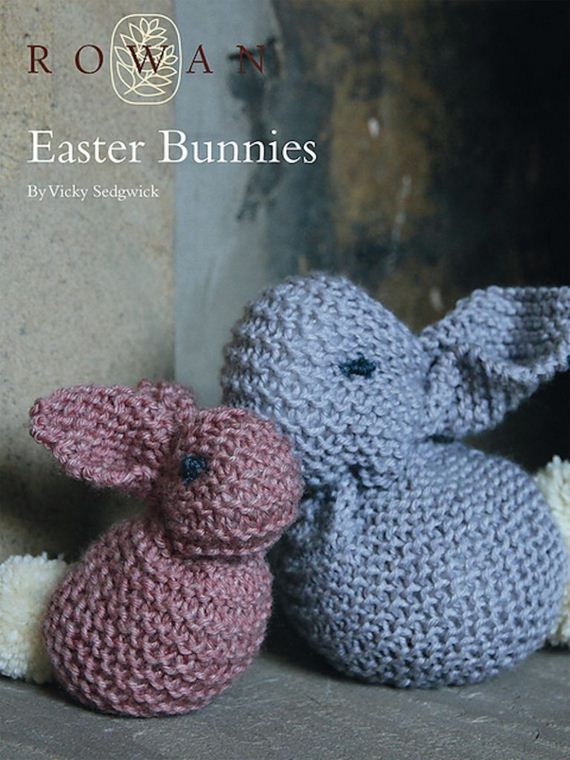 Sometimes the best kind of seasonal decor or gift is one that has a slightly minimalist look to it, so that there's some beauty to its simplicity. That's why we fell in love with these adorable little knitted stuffed bunnies from Vicky Sedgwick! We love that they manage to be completely adorable even without detailed features, giving them a vintage look.
2. Hatched Easter chick plush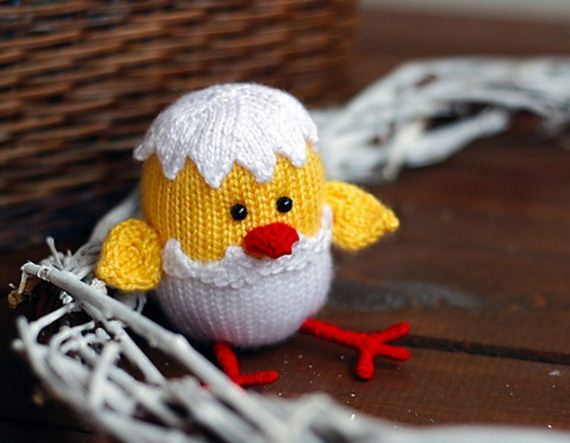 Have you been enamoured lately with light yarn, tight stitches, and small knitting projects? Then this adorable little chick is definitely the project for you! The pattern keeps stitches tight together so that the little chick can be stuffed well enough to sit upright on its own. We love the way the pattern includes double stitching to really make it look like it's hatching! Check the details out on Tatyana Korobkova.
3. Easter bunny egg cozies
Whether you're setting out decorative Easter eggs made of plastic or wood, or putting your actual had boiled eggs for Easter breakfast on the table, adding a cute knitted Easter egg cozy is a functional and decorative way to get festive! These cute little bunny egg covers from Sybil R will certainly add some extra Easter charm to your table thanks to their high standing ears that we just can't get over!
4. Easter duckling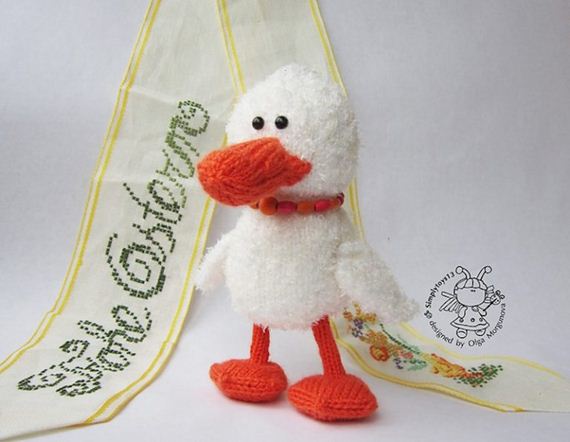 Have you always stocked up on novelty yarns just to make sure you have something fun and fuzzy lying around in your stash for a fun rainy day? Then this is the perfect project to use up some of your funny things! Grab the softest white fun fur you can find and a little bit of leftover bright orange for the feet and beak and get knitting yourself a hilarious little Easter duckling, just like Morgunova Olga did here!
5. Bonbon bunny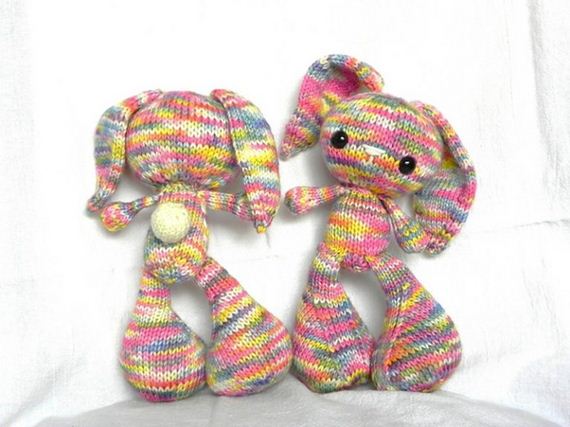 Do you love the idea of making a bunny doll but your tastes are actually a little more bright and funky than the cute little vintage bunnies we showed you at the top of the list? Then check out these awesome variegated Easter bunny dolls with cute cartoon proportions instead! Get the full (surprisingly simple) pattern from Susan Claudino.
6. Easter egg wash cloth
Are you a beginner knitter who has only really knitted scarves an wash cloths up to this point, but now you're ready to learn a new simple stitch? Then perhaps it's time to practice your yarn overs! Check out how this adorable Easter egg pattern from Obsidian Kitten maps out a simple shape in the centre of a wash cloth using just a few easy variations on things you've already learned.
7. Easter bunny in a carrot toy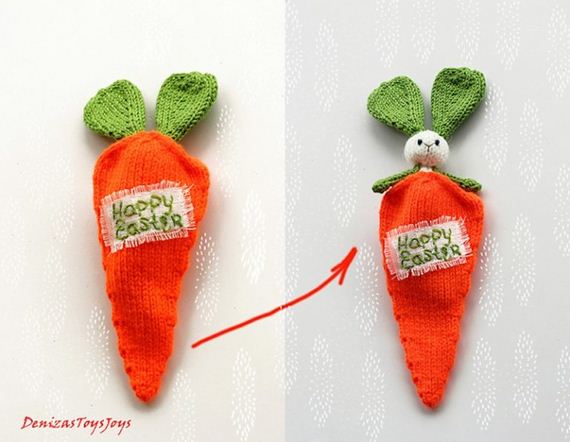 Maybe you've been scrolling through this list looking for some little novelty toy or trinket that you can make for the kids in your life that has some more play features than just a snuggly doll? Then we think you should definitely check out this adorable little hide and seek bunny in a carrot cover from Tatyana Korobkova! This one gets you bonus points if you have the embroidery experience to make the little "Happy Easter" sign yourself.
8. Easter egg hot pad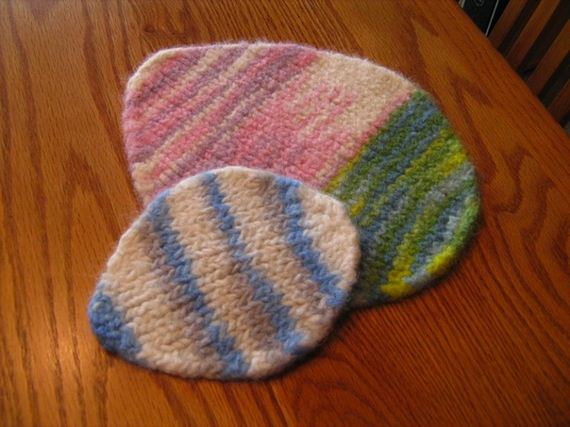 Do you like the idea of making something simple, but the little Easter egg pattern in the centre of the wash cloth doesn't quite involve the skills you're hoping to practice? Maybe you had your heart set on learning how to increase and decrease for shaping a piece instead. Then these cute little Easter egg shaped hot pads from Lion Brand Yarn are the ones for you!
9. Easter Moebius cowl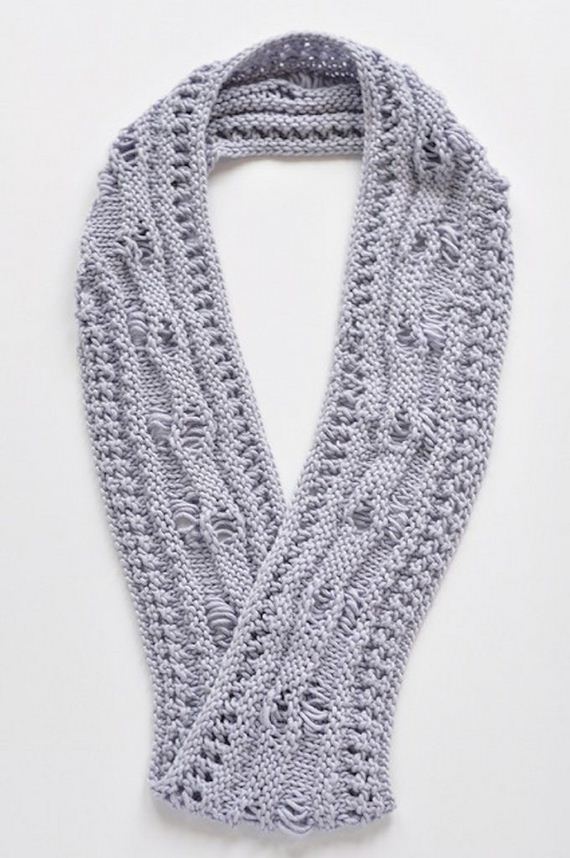 If you're an avid knitter like we are then you might have already heard of the classic version of the moebius cowl. You might have even knitted one already! If you really liked the pattern then we have good news for you; they've got a seasonal version especially for Easter! Kristi Pyatt guides you through the process of making looping stitches to form little Easter eggs down the middle of the cowl. It's the perfect project to wear on cool spring evenings!
10. Easter bunny sock pattern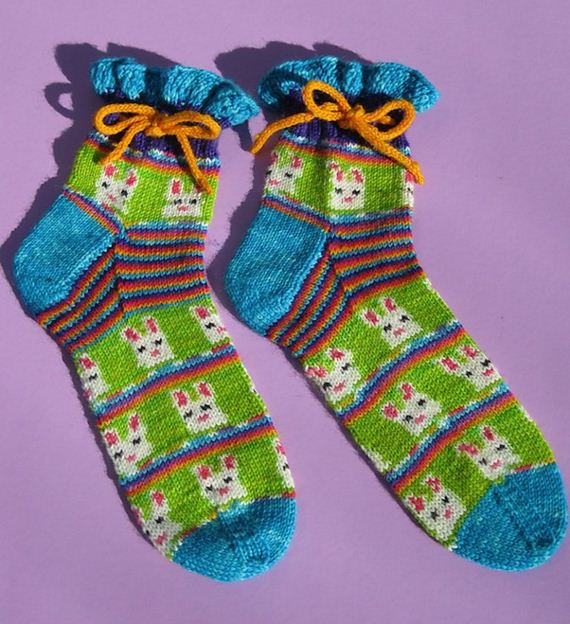 Has your family always had the silly tradition of giving each other ridiculous themed holiday socks on Easter morning? Then here's a pattern that will really help you one-up your siblings this year! These funny bunny socks by Abigail Grasso are bright, patterned, festive, and pretty hilarious with their little bows at the top. We can't get enough of them.
11. Easter baby cap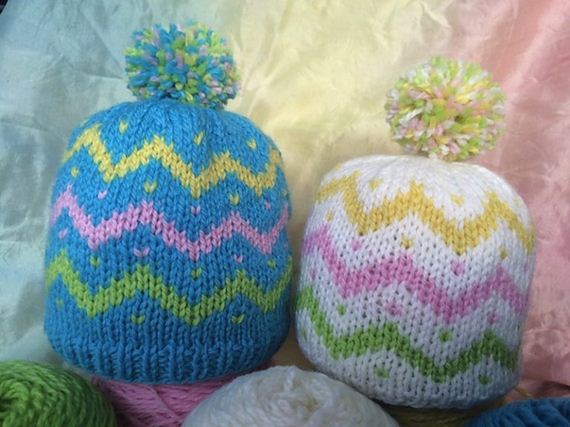 We've talked a lot lately about how to make your Easter eggs look like other cute things, but what if you want to make the cutest thing in your life look like an Easter egg? Then an adorable festive baby hat is definitely what you need! Vanessa Bodrie guides you through the process of making a zig zag and polka dot pattern in an Easter coloured hat in all kinds of kids' sizes.
12. Patterned Easter socks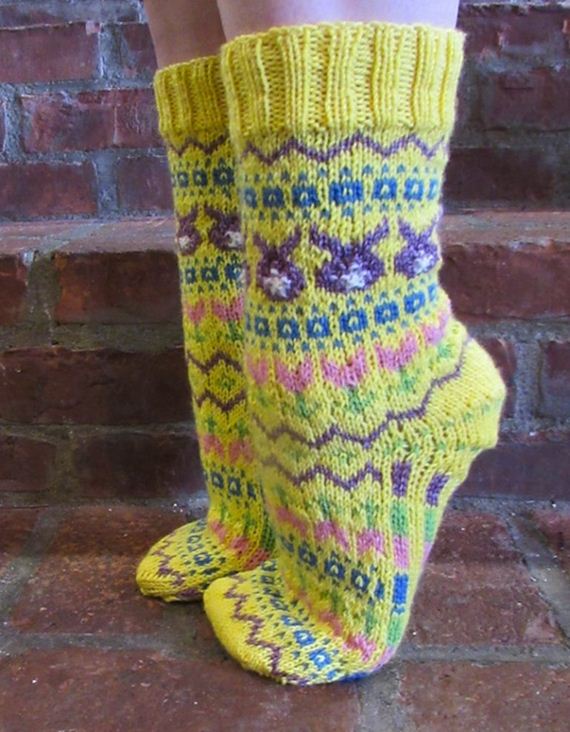 Did you like the idea of the Easter socks we showed you above but you'd rather pay more attention to crazy patterns and colour work rather than things like ankle tires and ruffled cuffs? Then check out these eye catching alternatives from Deborah Tomasello! No matter which colours you choose for your base and which ones you decide to make your pattern in, you'll have a blast making these!
13. Little crouching bunny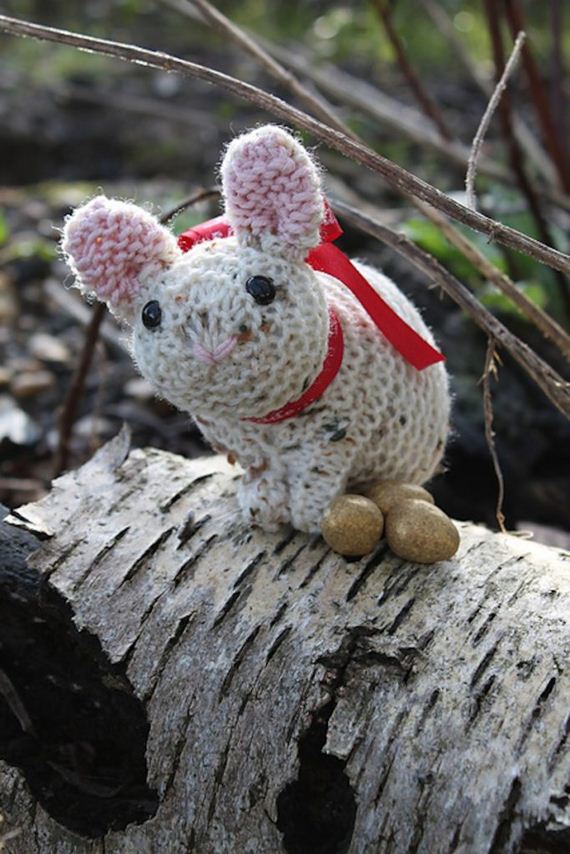 Are you looking for a little stuffed bunny that could be either a toy or  a decorative piece in the little Easter scene you create for yourself? Then check out the pattern for this darling little rabbit crouching down and looking up at you inquisitively! The rabbit's limbs involve some very small stitches, so make time to concentrate on this one. Sebastian Loves helps you through it!
14. Simple Easter lamb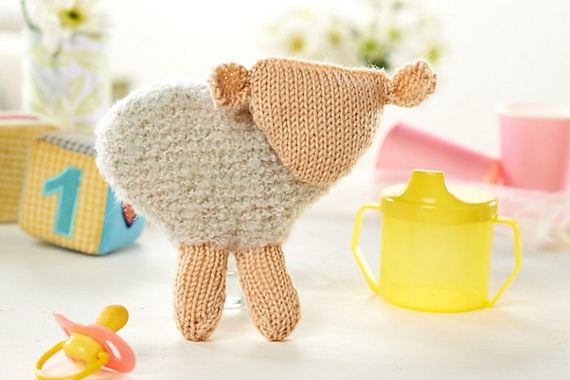 Did you like the simple, almost vintage style of the very first rabbit toys we showed you but you've already knit some bunnies this season and you'd rather try your hand at something a little bit different? Then check out this adorable spring lamb pattern by Lynne Rowe instead! This project is another good way to use up some of your older yarn that has more fluff or texture.
---
---