Awesome Products That Make Eating More Fun
Awesome Products That Make Eating More Fun
---
These items may not be essential to eating but they sure can make the process easier…not to mention a lot more fun!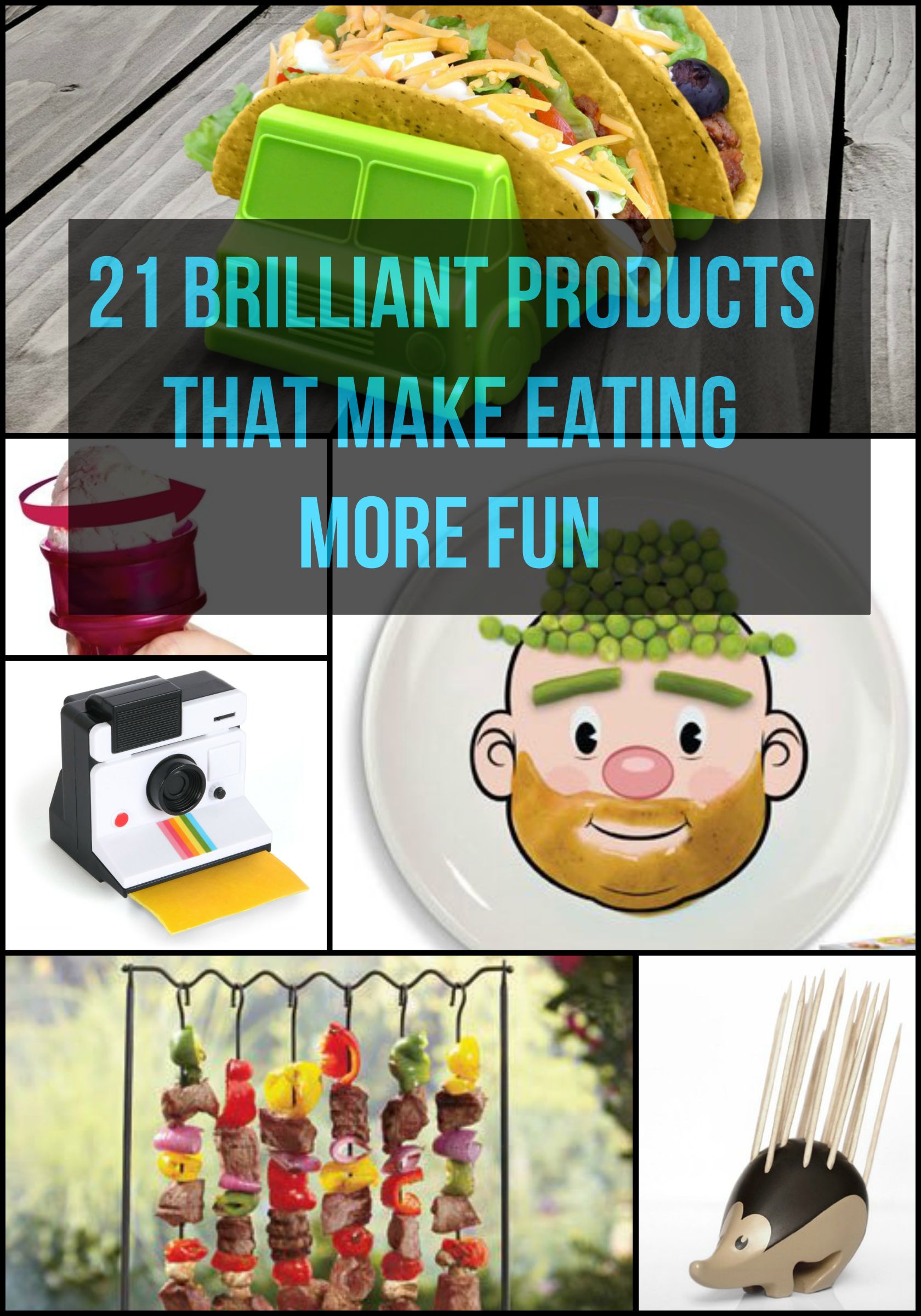 With a wave of your magic wand you can magically sprinkle some salt and pepper over your dinner! Shaped like stars, these novelty shakers are adorable and will help to cast a spell of tastiness over your food.
Make way for the taco truck! This original way of serving taco's will turn meal times into an experience that kids will love. Not only will it keep the shells standing upright but it will prevent the yummy fillings from spilling out – just drive it around the table and serve everyone in turn.
Twirling spaghetti onto your fork has never been so easy…or so fun! The motorized utensil requires just a push of a button then it will tame tagliatelle and simplify spaghetti by spinning it into a nice little bundle. Perfect for those who haven't yet mastered the twirling technique, this fork will create less mess and less embarrassment!
There's nothing worse than soggy cereal but with this amazing Obol bowl you'll never have to suffer a milk-logged morning again! The bowl is made up of two separate sections with one side for milk and the other for cereal. You can then control how often you dunk into the milk meaning that even if you get distracted or pulled away from your breakfast, when you come back to it each bite will still be as crispy as the first!
Every good cup of tea needs a deep tea diver! Simply add your favorite tea leaves to the quirky infuser and send the diver down to the bottom of your cup. It will maintain the perfect brew while eliminating those pesky pieces of leaf from your drink.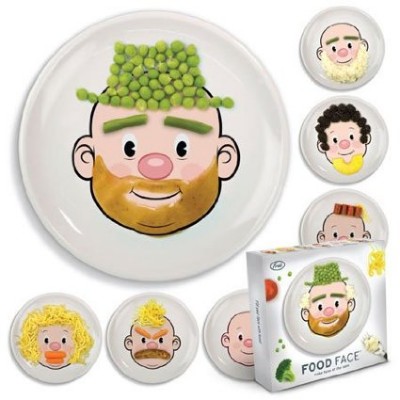 If meal times are a constant battle in your house and you struggle to get your kids to sit at the table to eat their dinner then these funny face plates are just what you need! Your and your little ones can have endless amounts of fun creating different faces using whatever is on the menu that night…think mashed potato hair, a sausage mouth, a hat made from peas and a gravy beard! The wackier the better!
With this Nordic ware pancake pan you can serve up a breakfast that will bring a smile to anyone's face! The 7 fun faces will brighten up your morning and make sure you get your day off to a great start.
A one-click butter cutter that slices butter into individual servings? That sounds like something we need in our lives!
Say cheese because this polaroid camera shaped slicer will develop picture perfect slices of cheese! Pop it on your cheeseboard at the end of a dinner with friends and you'll have them all talking and laughing over this hipster gadget.
Boiling pasta is supposed to be simple (it's the typical go-to college student meal after all!) but not all of us can get it right! That's where this opera singing pasta timer comes in! The unusual device is in the shape of a little man which you drop into the pasta pot as it boils. Then, after seven minutes, when the pasta has reached an al dente texture the man will burst into an opera song letting you know it's done! If you like your pasta a little softer, he will switch songs after 9 minutes then 11 minutes! Unusual but brilliant!
This hang and serve kabob station is ideal for BBQ season! You can grill up a selection of skewers combining all of your favorite meats, veggies and seafood then once they're done, transfer them to the hanging rack for friends and family to help themselves to. It's a fun and sociable way to enjoy food especially for a buffet-style spread.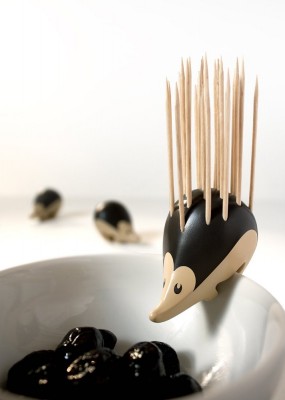 If you're throwing a cocktail party and serving hors d'oeuvres then you're going to need some toothpicks. What better way to display them and charm your guests than with this adorable hedgehog holder? The charming little character hangs perfectly on the side of a snack bow or it can just rest on the table ready and waiting for when people want to tuck into the nibbles!
Nuts, candies, cookies…no matter what your favorite ice cream topping is you can make your own with a handy topper chopper! It couldn't be simpler to use – just load it up, crank away then pour on top of your ice cream.
Who knew that light sabers could be so tasty? Enjoy a light saber popsicle of your own to cool off after a warm day and find out whether you're part of the alliance…or the dark side!
Oozing with melted cheese, you would think that a stuffed burger recipe is tricky to make but this amazing gadget makes it easy! Watch the delighted look of surprise on your loved ones faces when they take a bite and reveal all the yummy goodness inside.
Say goodbye to the days of dripping ice cream and invest in a motorized ice cream cone instead! With the push of a button, the colorful and vibrant plastic cone begins to spin so the ice cream gets consumed evenly without melting and spilling into your hands.
When life gives you lemons…pop in a citrus spritzer to produce a light mist of citrus juice. After a couple of pumps you will get little puffs of lemon mist which you can use to flavor any number of dishes. This set includes two sizes – one for bigger fruits like oranges or grapefruits and another for things like limes or tangerines.
This is one of those amazing utensils that you never knew you needed but as soon as you have it in your life you'll wonder how you ever lived without it! The Dipr spoon will hold your Oreo's while you dunk them in a cold glass of milk, preventing them from crumbling in a soggy mess. No more broken biscuits at the bottom of your drink and no more sticky fingers, it's a sensation!
Fun, fast and convenient, a hot dog toaster is a great way to enjoy America's favorite fast food. The unit holds two regular sausages and two buns…it's as easy as making toast!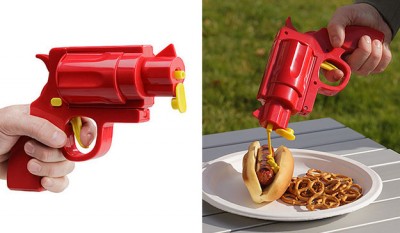 Lock and load this fantastic condiments gun, take aim and fire ketchup or mustard all over your dinner!
Two wheels are better than one so the next time you're slicing up a homemade pizza, use one of these brilliant bicycle cutters. It's the ideal gift for cycling fanatics and pizza lovers alike!
---
---