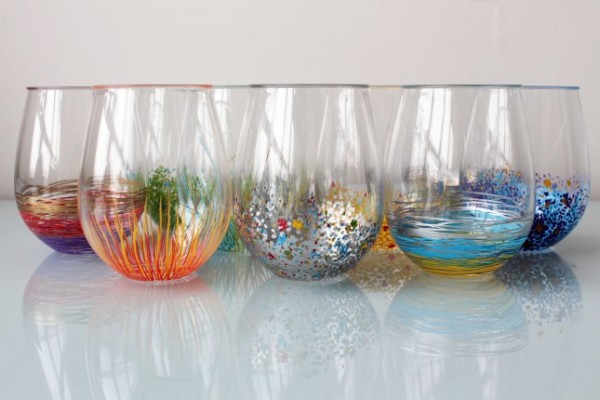 Awesome Projects You Can Do With Sharpies
Awesome Projects You Can Do With Sharpies
---
You can use a Sharpie for anything. Literally, anything! To that end, we've used our awesome internet skills to gather up a whole slew of projects for you!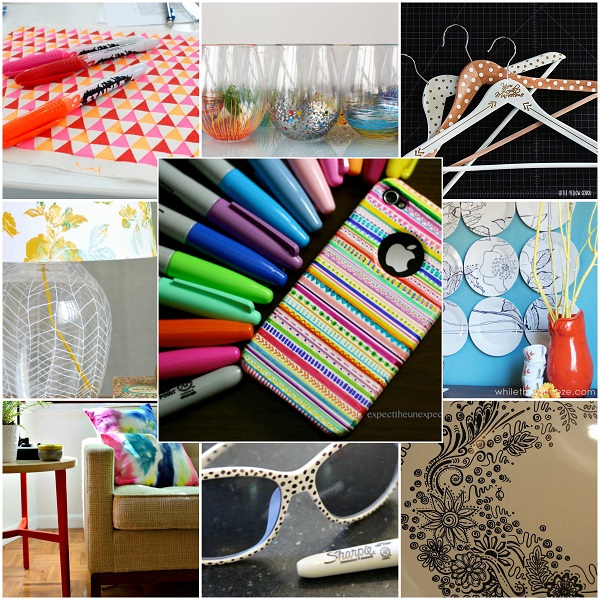 Who knew all these items can be embellished and upgraded with the simple touch of a Sharpie? Boring plates? Doodle on them with Sharpies! Blank walls? Sharpies can fix that!
Seriously, we underestimated the sheer number of projects you can use a sharpie for. In our search we picked out our favorites to share! Hopefully you enjoy them as much as we have.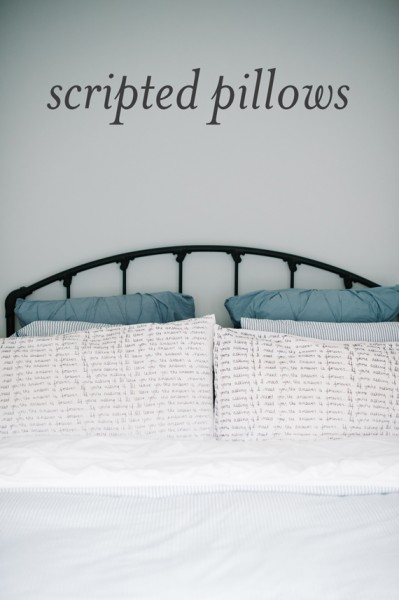 Sharpie Scripted Pillows – Fabric Sharpies, pillowcases, and a poem or song lyrics are all you need to create this lovely project. Write anything on the pillowcases for a fun personalized touch. Try it on throw pillows too!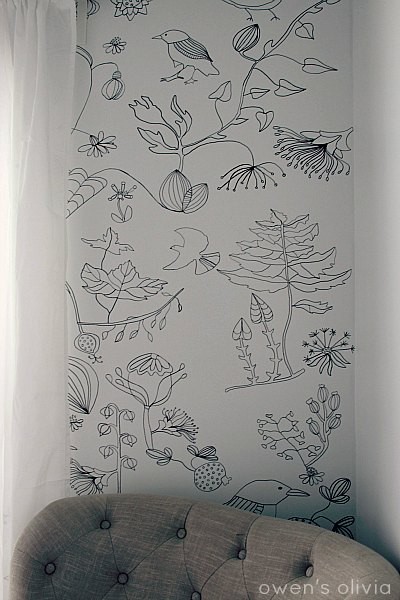 Sharpie Wallpaper – With a projector you can doodle anything on the walls! These simple black and white line drawings make a simple and charming "wallpaper".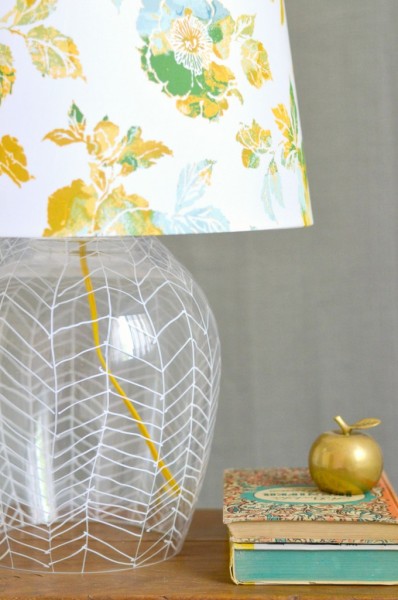 Herringbone Sharpie Lamp – Sharpie paint markers create this gorgeous project. You can use any simple geometric design to get the same results. The website even has a tutorial for creating a glass vase lamp like this one!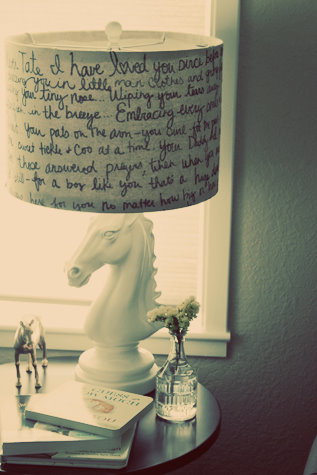 Scripted Lamp Shade –  Embellish a simple lamp shade with a personal note, song lyrics, or a book passage! Just take a Sharpie to it and have fun!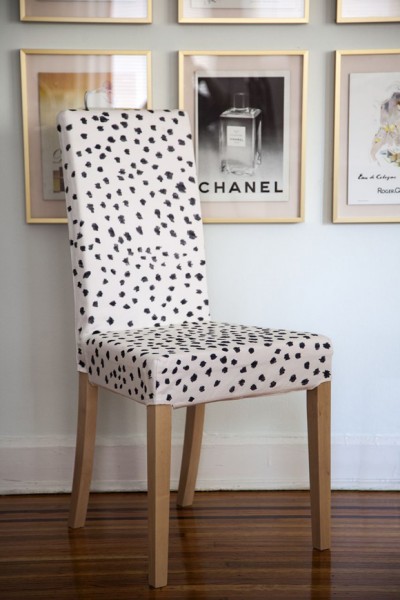 Upgraded Slip Covers – Doll up some plain slip covers with some fabric markers to make a striking addition to your furniture! Anything goes when it comes to this project.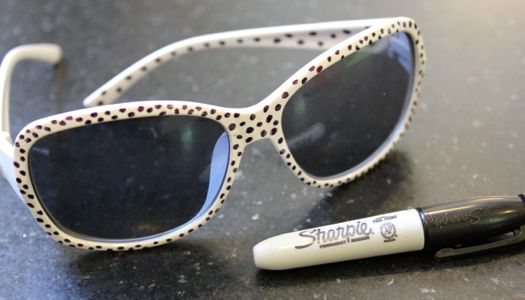 Sunglasses – Buy some cheap sunglasses and dress them up with a Sharpie. Stripes, dots, geometric/tribal patterns; once you make on pair you'll be hooked!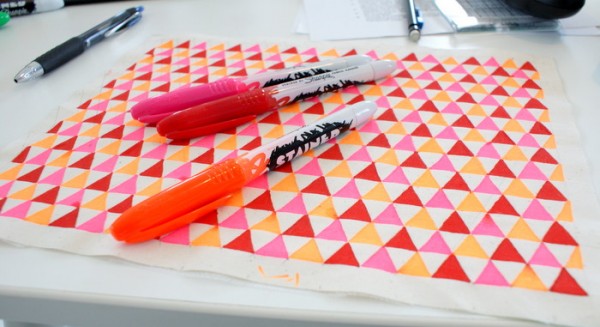 Geometric Sharpie Pouch – This fun project shows you how to design your own fabric and make a little pouch out of it. Create your own pattern and pick your own colors; the steps are easy to follow with plenty of pictures!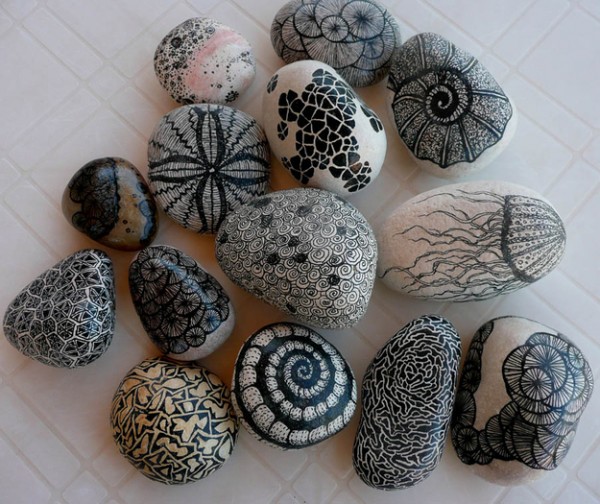 Zenstones – Zentangles are fun, but put them on stones and they create a whole new look! Let you creativity run rampant and then display them in a cute dish for everyone to enjoy.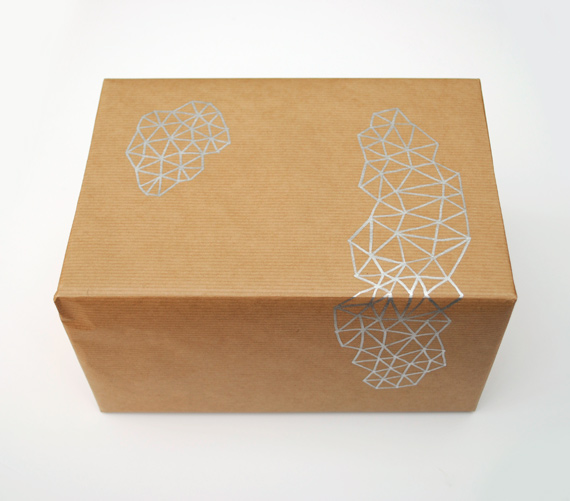 Doodle Gift Wrap – Buy some simple kraft paper to wrap gifts and them embellish them with doodles and designs for a fun personalized wrapping paper! Take it further with different colors, glitter, and paints for a fun project.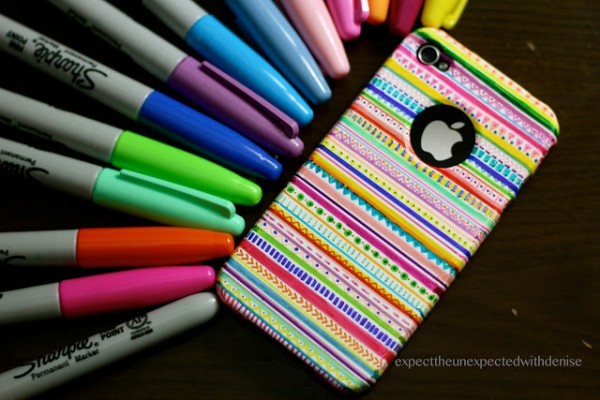 Phone Case – Create an awesome, personalized phone case and all you need are a bunch of different colors! This tutorial shows you step-by-step how to make your own design.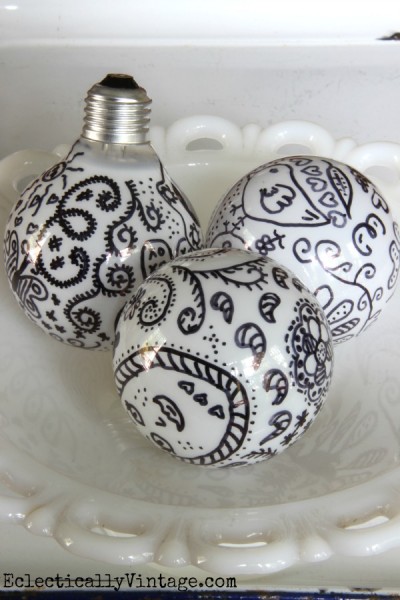 Lightbulbs – Decorated lightbulbs can be used in lights to create fun shadows on the walls or just display them in a dish like this and let them create an eye-catching, eclectic, display.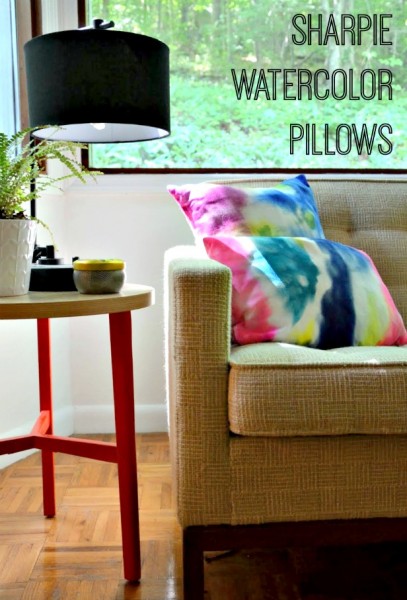 "Watercolor" Pillows – These "watercolor" pillows are created using Sharpies and rubbing alcohol! Get your inspiration from similar pillows online and then follow the step-by-step video to create your own.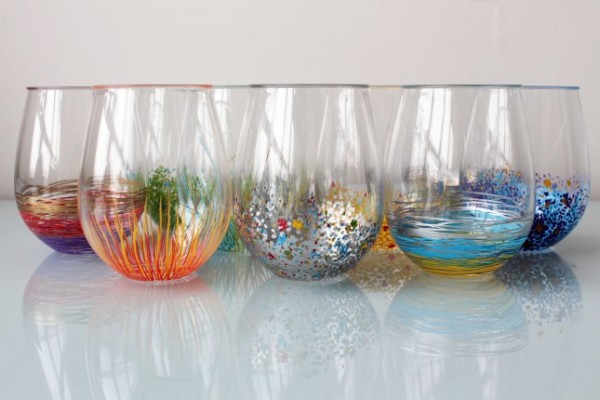 Dressed Up Glassware – Dress up some simple glassware with Sharpie paint markers for fun additions to your table! Pick your own colors and designs to customize them.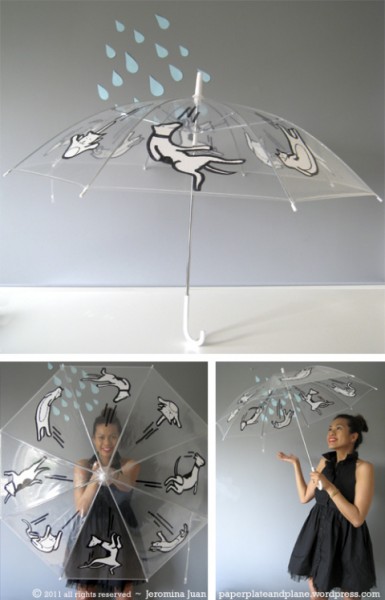 Sharpie Umbrella – This would be great on a clear umbrella, as pictured above, or a white umbrella. There are tons of designs online to get inspiration from and this tutorial will show you how to best make your designs a reality!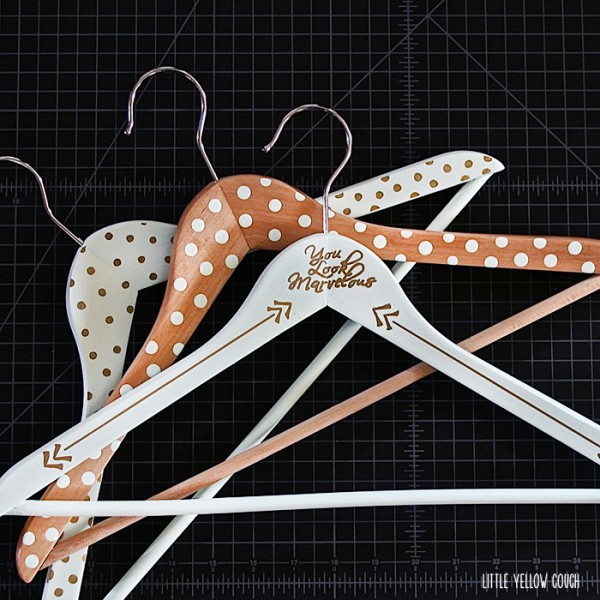 Hangers – Embellish some simple wooden hangers to liven up your closet! These are so simple to design and easy to create, make your own today!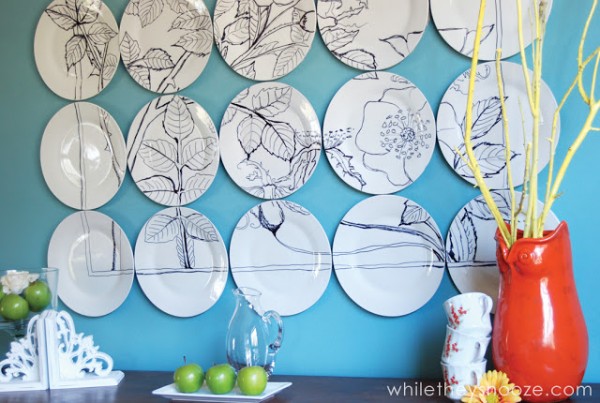 Sharpie Wall Art – Based off an Anthropologie wall art piece that sells for $7,500; this knock off project is a fraction of the cost and creates this gorgeous piece of art in the process!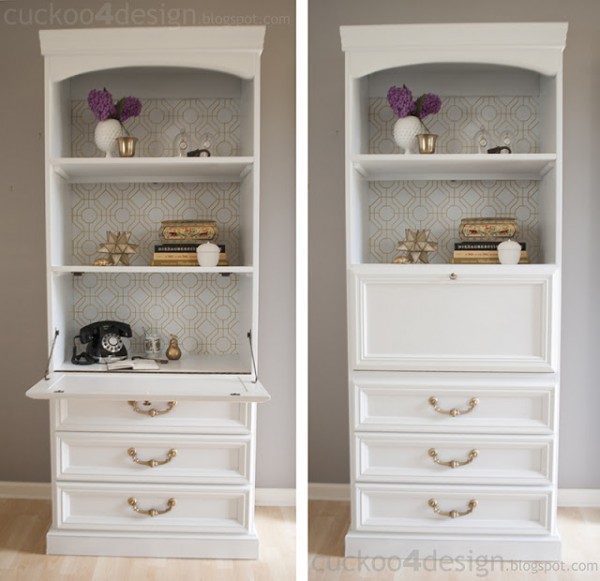 Dress Up A Shelf –  Pick a design and dress up a bookshelf or other piece of furniture with Sharpie. This one shows a great update to an otherwise plain shelf.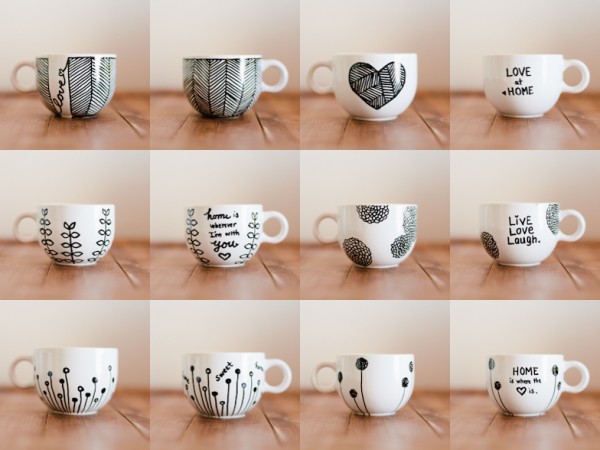 Personalized Mugs – The designs for personalized coffee mugs are endless. Literally! They are so cute and simple to make; not to mention they make great gifts!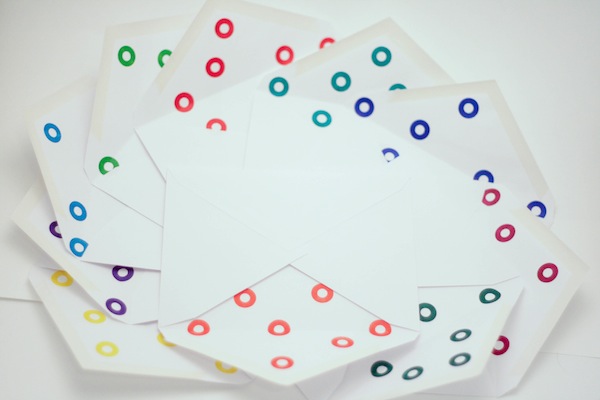 Envelope Liners –  This is a super cute and easy way to dress up some simple white envelopes! Just used hole reinforcement stickers!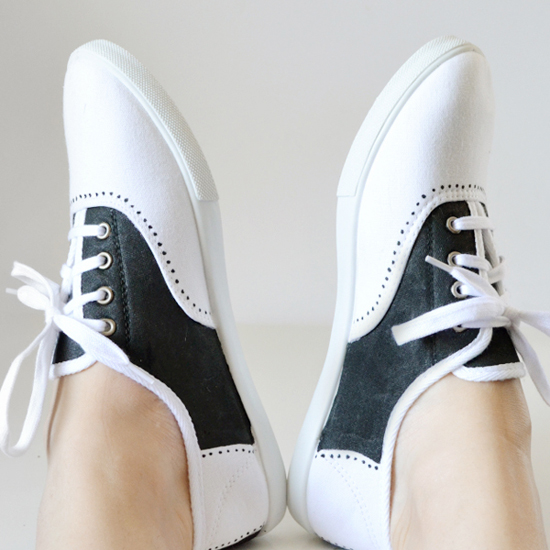 Shoes – Create some fun and stunning footwear with Sharpies! These cute saddle shoes were just a pari of simple white canvas shoes.
---
---