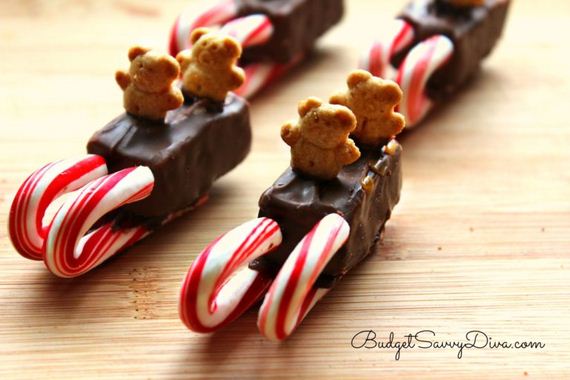 Awesome Teddy Bear Snack Ideas
Awesome Teddy Bear Snack Ideas
---
Check out these Awesome Teddy Bear Snack Ideas that will make your afternoon a more cheerful experience…
1. Teddy bear S'mores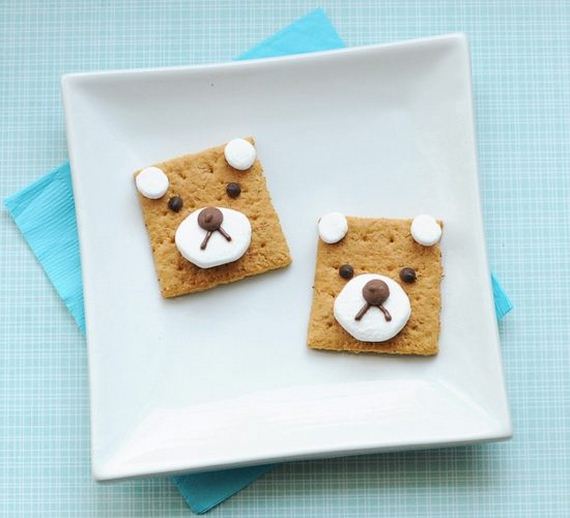 Your kids might be too little to actually roast their own S'mores, or perhaps it's simply too cold outside, but that doesn't mean they can't enjoy that great S'more taste! We can't get enough of these little graham cracker bears that have all the great taste of S'mores without the fire and melted mess! Get the details on Canadian Family.
2. Teddy bear nap snacks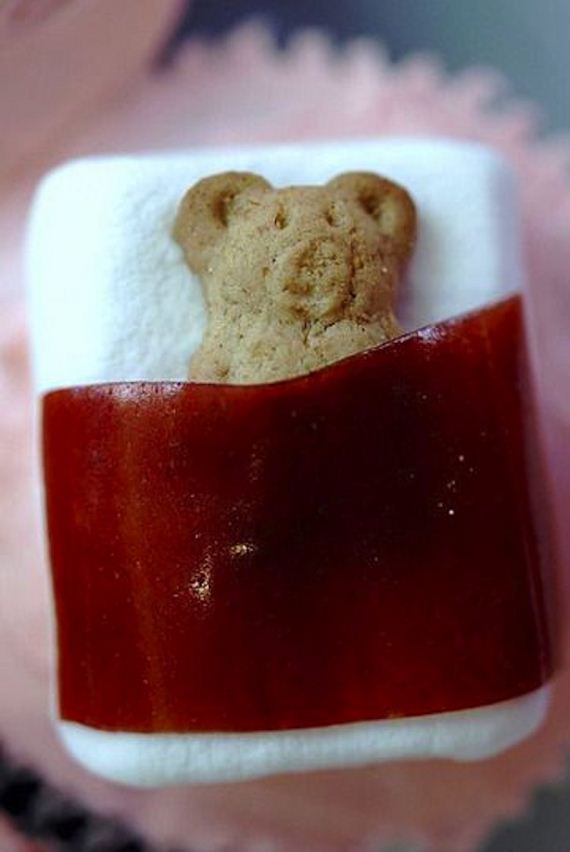 Sometimes the best part about kid snacks is how they look rather than how the ingredients taste together. This one, which looks like a cute little bear all tucked into bed for a relaxing nap, will probably get torn into separate pieces as the kids untuck the bear before they eat it anyways! According to Pinterest, all you need is a squishy marshmallow, a strip of fruit snack, and a Teddy Graham!
3. Bears in a bubble bath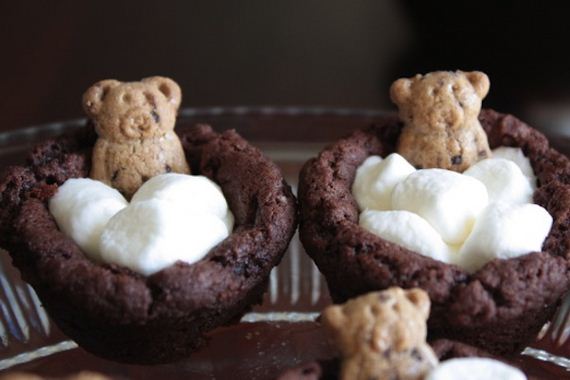 Here's another teddy bear snack that's definitely novelty enough to make your kids squeal. These little Teddy Graham's are nestled into the top of a gooey, pressed down two bite brownie and buried in a layer of little marshmallows, all so they can look like they're lounging in a sugary bubble bath. Check out how Food.com made them!
4. Surfing gummy bears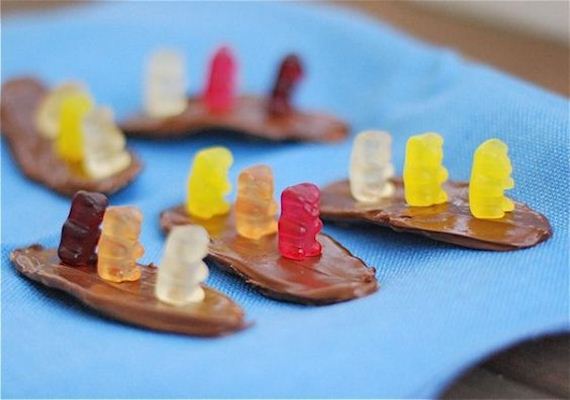 Are you combining your teddy bear picnic with a summertime party out by the pool? Then surfing bears are the perfect compromise between the two! We love the way Babble stuck gummy bears to strips of chocolate covered caramel, standing them behind each other so they look like they're riding triple on tiny surf boards.
5. Bears in a cave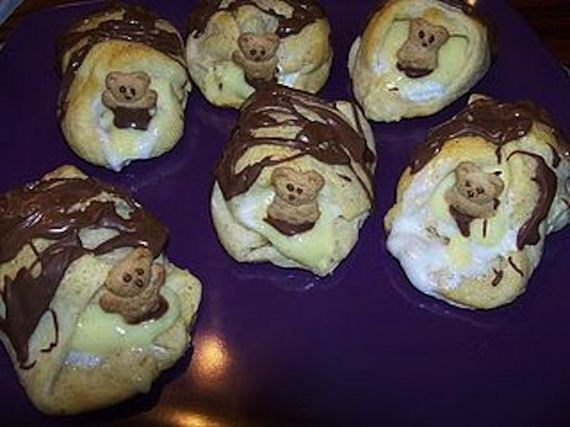 Are you up for the challenge of baking some delicious sweet dough? Then these yummy cream puffs with Teddy Grahams nestled into the ends are the perfect idea. The placement of the bears and the shape of the puffs is design to look like the bears are standing at the mouth of their very own cave. The cream filling and the chocolate sauce, however, are for pure scrumptious taste. Get the recipe from Fernaays Family!
6. Pool ring gummy bears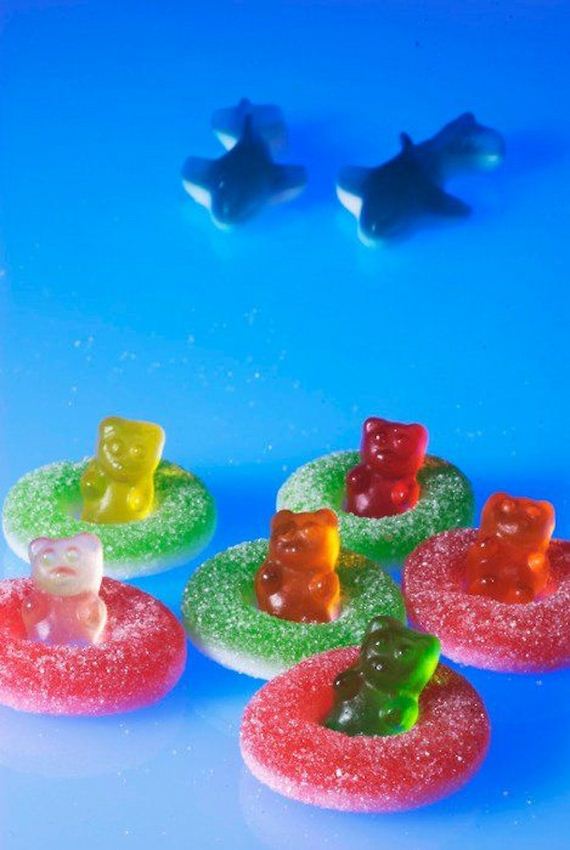 Maybe your kids' favourite type of treat isn't baked good or cookies, but rather sugary things and chewy candies? Then make them bear themed snacks using those treats instead! Sour rings make a great "floaty" if you pop a delicious fruity gummy bear into the centre of each one. Get the full idea on Vitamin Ha.
7. Chocolate bear paws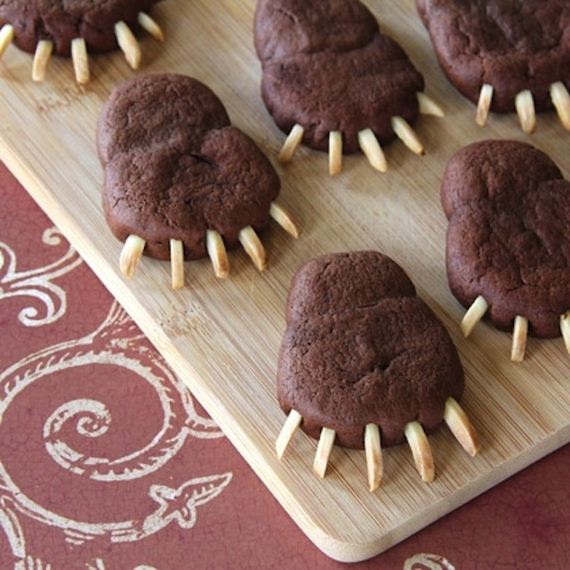 As long as your family doesn't have any nut allergies, these delicious bear claws are an awesome idea for both keeping your kids busy baking on a lazy afternoon, and for treating them to a special teddy bear themed snack. The "claws" in these bears' paws are made from sliced almonds that have been roasted until they're golden and stuck in the ends of each brownie paw. Disney Family shows you how it's done!
8. Ballerina bear sandwiches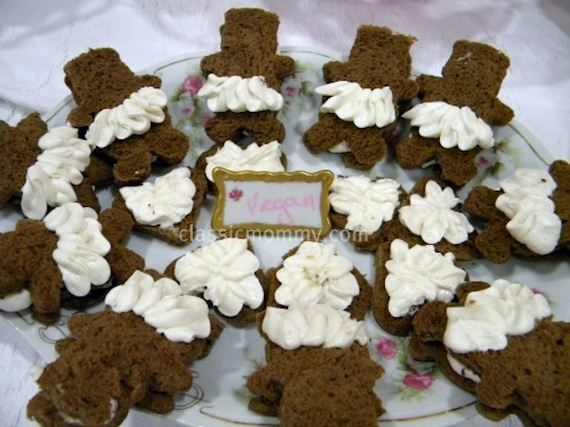 Not every teddy bear picnic snack has to be sweet and sugary! In fact, you can make your kids cute savory bear snacks quite easily. Use a cookie cutter or a small knife to cut your bread into a bear shape (whole wheat or pumpernickel bread works well because of the colour) and make a simple cream cheese sandwich. On the top bear, however, you can add a tutu by putting some slightly softened cream cheese into an icing pouch so your bears look like ballerinas! Get an easy tutorial on Classic Mommy.
9. Polar bear ice cream snack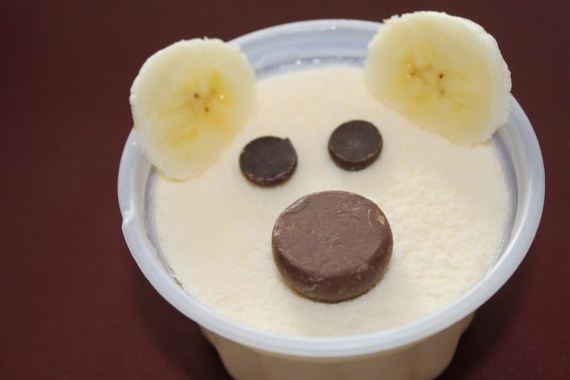 Do you live in a place that's warm all year round, so you're looking for a teddy bear picnic snack that will help keep your kids feeling fresh and cool? Then we definitely recommend turning a simple ice cream snack into a teddy bear by adding chocolate for the eyes and nose and slices of banana for the ears! Mom's Heart shows you how simple the idea is.
10. Cookie dough hot tub treats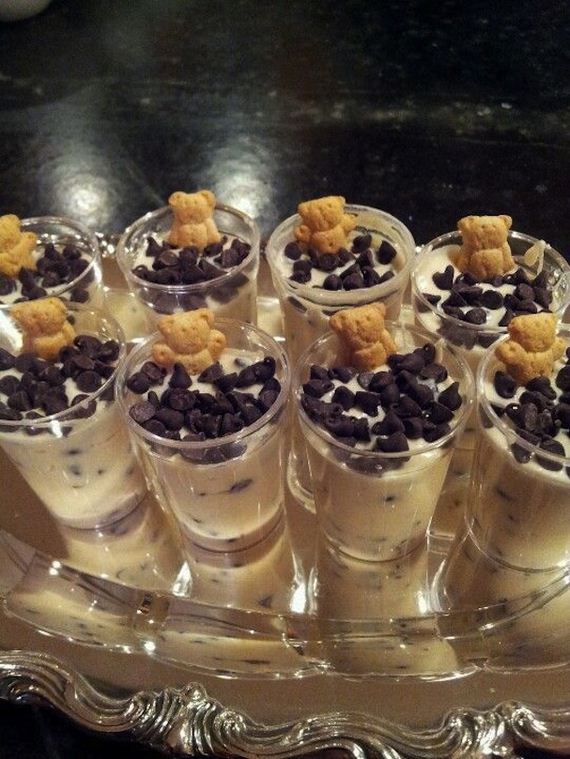 Did you like the aesthetic of the cute bears in the bath run but your kids have never really been chewy brownie fans? Then try this cookie dough hot tub version of the same idea instead! These Teddy Grahams are nestled into a delicious bed of pudding topped with mini chocolate chips to look like "bubbles". We have Pinterest to thank for this one!
11. Cake snack bears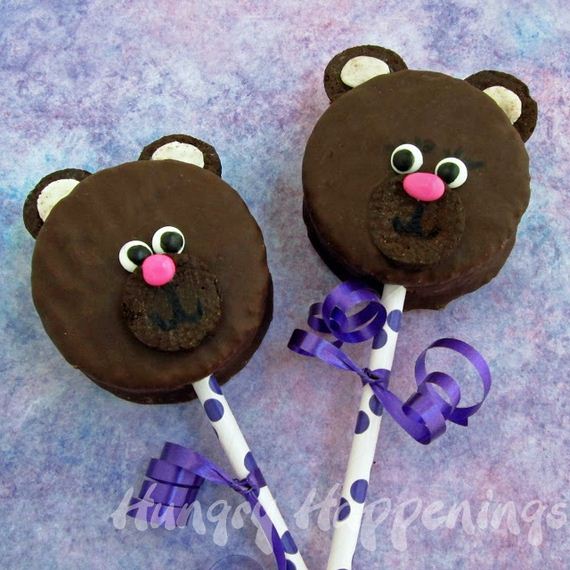 Are your kids obsessed with chocolate cake snacks like Wagon Wheels, but sometimes they like to switch up how they enjoy their favourite things? Then we think you'll really like this teddy bear version of that simple treat from Hungry Happenings! They've put the cakes on decorative sticks and added little muzzles and ears made of mini Oreo cookies, topping the look off with candy eyes and noses.
12. Chocolate teddy bear pretzel pops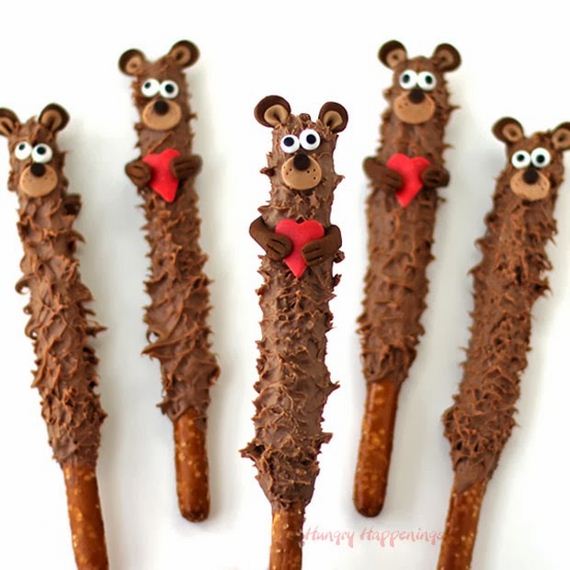 Have you and your family always loved the treats that are both sweet and salty so you get a little bit of contrast? Then you're probably no stranger to the glory of chocolate dipped pretzels! We like how Hungry Happenings dotted the chocolate on for texture rather than smoothly dipping the pretzels so that the bears look furry, topping the look off with features made of thick icing, fondant, or sprinkles.
13. Teddy bear beach party snacks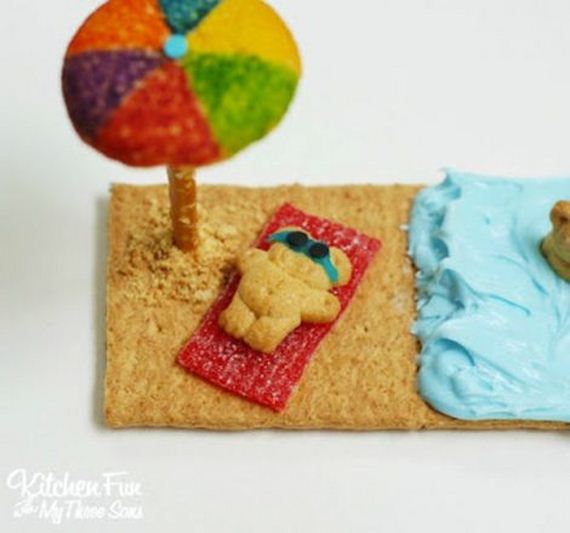 Did you like the idea of a poolside teddy bear picnic, or at least one that reminds you of warm summer days, but your kids aren't huge gummy bear fans? Then try this little graham cracker scene instead! blue icing, some sugared chewy candies, and some Teddy Graham's are all you need to set the scene right on top of a cookie. See the whole idea in more detail on Kitchen Fun with My 3 Sons.
14. Sleigh riding teddies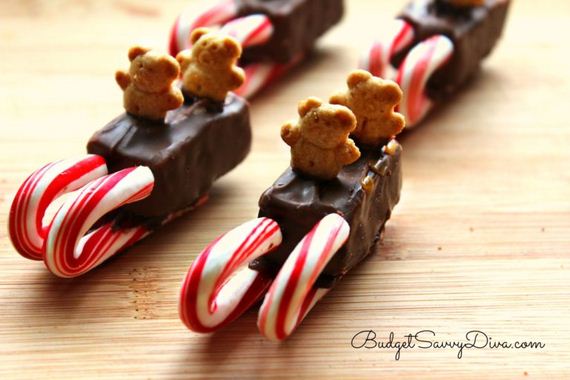 Mabye you're looking for a holiday specific teddy bear snack because you'd like to throw your kids a cute indoor teddy bear picnic over the holidays while they're home from school? Then grab some mini candy canes and bite sized chocolate bars and follow Budget Saavy Diva's lead to create little sleds that you can put a Teddy Graham on top of like he's flying through the air like Santa, or maybe dashing through the snow.
15. Teddy bear French toast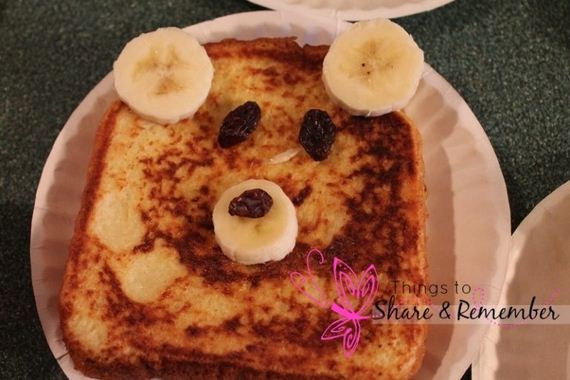 ---
---