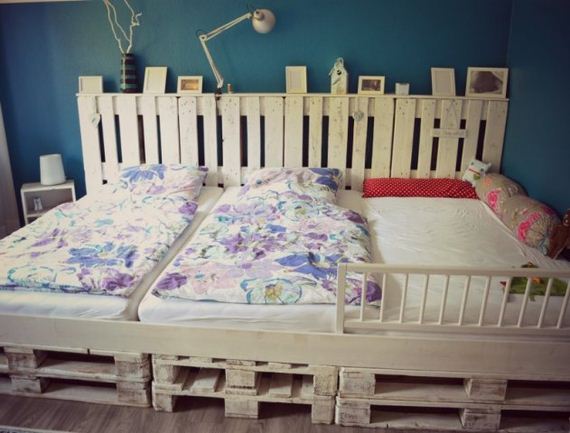 Amazing DIY Pallet Bed Projects
Amazing DIY Pallet Bed Projects
---
1. Make Your Own Pallet Bed for Kids. Putting together a chic, trendy and super cozy bed for your little ones is now just a deal of sparing some pieces of pallet wood.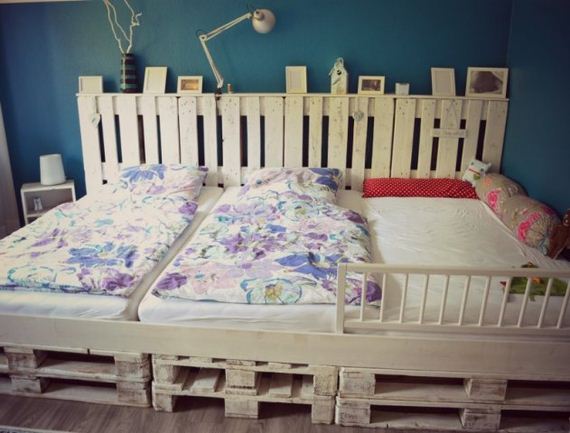 Once, you have gathered equal-sized pallets, you are all set to sand and paint them to get that lovely finish that flaunts a smooth and nice texture. Right from the bed frame to the stunning headboard, everything here has been made by assembling and screwing the pallets together. It takes just a handful of supplies, including some mattresses, bases, spruce boards, mattress edge, some angles, screws, paint, wood preservative oil, double tape, brush oil, sander, drill machine, a jigsaw, and of course, wooden pallet boards to recreate the bed.
DIY Details : 99pallets
2. Pallet Bed with Lights and Drawers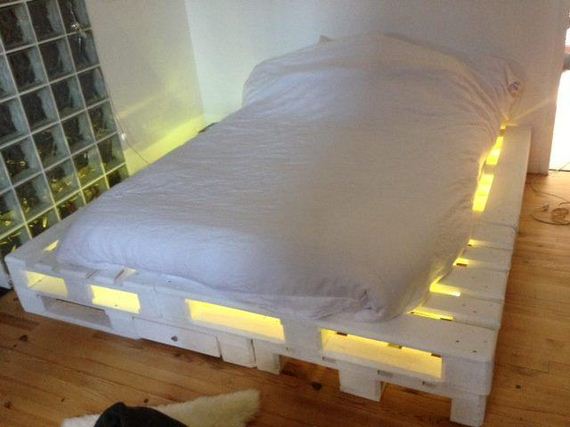 Having your bed disguise itself as a beautiful bedroom lamp seems to be quite a fairy-tale like idea, but that's exactly what this Pallet Bed with Lights and Drawers does! A pretty frame constructed using lots of pallets sports lots of LED lights sitting under the bed that offer your space a whole new element of charm. To gain a better insight into the amazing end results the project yields when you splash the bed in bright white paint and couple it up with crystal white mattresses and bed covers, head to the below inspiration by 99 Pallets. You don't need a table lamp anymore to bring in that touch of minimal brightness into your room while you get a satisfying night's sleep.
DIY Details : 99pallets
3. 5 Easy Steps to Make a Pallet Bed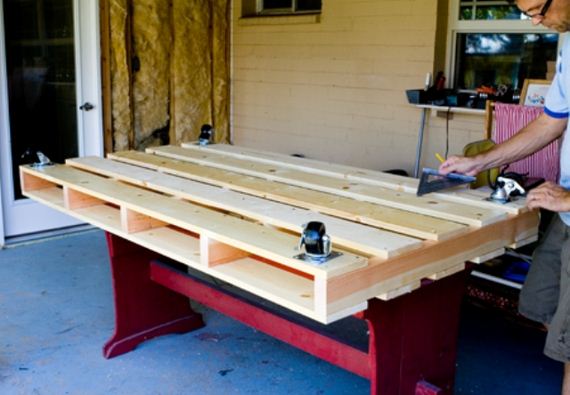 Get going towards making a winsome multi-purpose bed out of pallet wood in an effortless manner – in no more than five simple steps. The adorable, single-person Pallet Bed would not only look awesome in the bedroom, but also in the kid's room, the living area or even in your home office by turning it into a cool sitting arrangement – thanks to the sleek and trendy structure of this prettiness. What's great is that this one doesn't call for any professional construction skills, while being a truly budget-friendly project at the same time. All you need is a few 4,5 inch pallets, some glue, screws, bolts, nails, hammer, drill machine, and some measurement tools to bring the super easy bed to life.
DIY Details : 99pallets
4. Pallet Bed Frame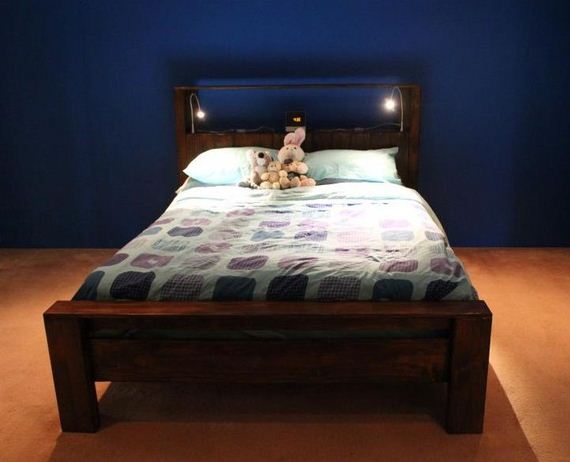 With the entire project costing you just a deal of 300 dollars, this incredible Bed Frame sporting loads of pallets is what you need to ditch those expensive store-bought kid's beds that come for some real heaps of dollars! The strong and sturdy look of the frame would make you fall in love with it, but the star element of the frame is hands down the gorgeous headboard featuring an integrated light system. Also, this one runs around the idea of subtle and minimalism, keeping it a simple yet an impressive structure, specially when one comes to know that it has been worked out as a do-it-yourself project. Learn the detailed plan and the steps of construction in the below Instructable.
DIY Details : instructables
5. Raised Platform Pallet Bed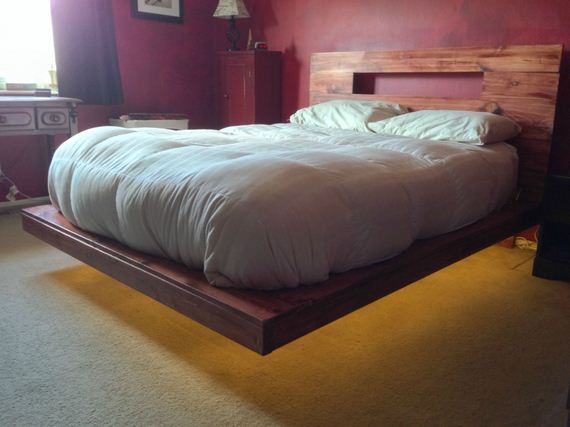 A pallet bed with a design that's just so out of this world – a platform that looks as if the whole structure is hovering in the middle of the air. And, the lovely LED Lights underneath make it look just like a futuristic space craft even more. You would be surprised to know that you won't be able to make out the intended platform when you look at the structure from a standing position. Take a look at the below inspiration by Imgur to get a better glance at the whole process. The idea of a raised platform makes the bed worthy enough of stealing all the eyes and grabbing you some huge rounds of applause by whoever gets a glimpse of this thing of beauty!
DIY Details : imgur
6. How to Make a Pallet Bed Frame
How to Make A Pallet Bed Frame has been transformed into a piece of cake with this YouTube tutorial by Observer Media Group that takes you through the whole project from the very scratch in just a matter of few minutes. The key steps are to find wooden pallets that suit your requirement, sand them to achieve a clean and smooth surface to work with, paint the pallets in your favorite color followed by applying some polyurethane, attach the individual pallet bed layers, and voila! Your DIY Pallet Bed Frame is all set to get adorned with a thick, comfy mattress and a bed sheet that adds a contrasting color to your finished bed.
DIY Details : youtube
7. DIY Pallet Bed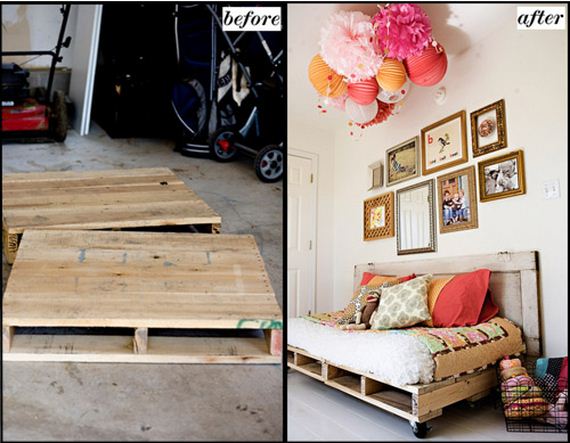 Spend some memorable reading time with your kiddos on this beautiful and elegant reading bed that won't fail to get big five stars not only for its appearance and strength, but also for the ease with which you can put it together. If you find it a daunting task to collect the right type of pallets for your DIY projects, or can't figure out the correct way of cutting and sanding those blocks of wood, or simply don't know how to add that little touch of glamour with some painting, sealing and staining, this quick guide to build your very own DIY Pallet Bed is here to come to your rescue, taking you into those nitty-gritty details of achieving the desired end results.
DIY Details : santiagodiy
8. DIY Pallet Bed with Headboard and Lights
Synonymous to the idea of 'Out of the Box', this super functional, sturdy, and durable bed is that one little something your bedroom is craving for, to get all glammed up. Made entirely out of wooden pallets, this DIY Pallet Bed sports a huge headboard with an amazing accent light fitting, while being extra functional and purposeful – all credits to a handful of custom features and dimensions. Talking of strength, this one features an assembly strong enough to leave almost any store-bought bed behind. The sleeping section with plywood sheets, and the innovative pallet shoe rack at the end, and the underside storage drawer make it much more than just any other regular bed.
DIY Details : 101palletideas
9. DIY: How to Make a Pallet Bed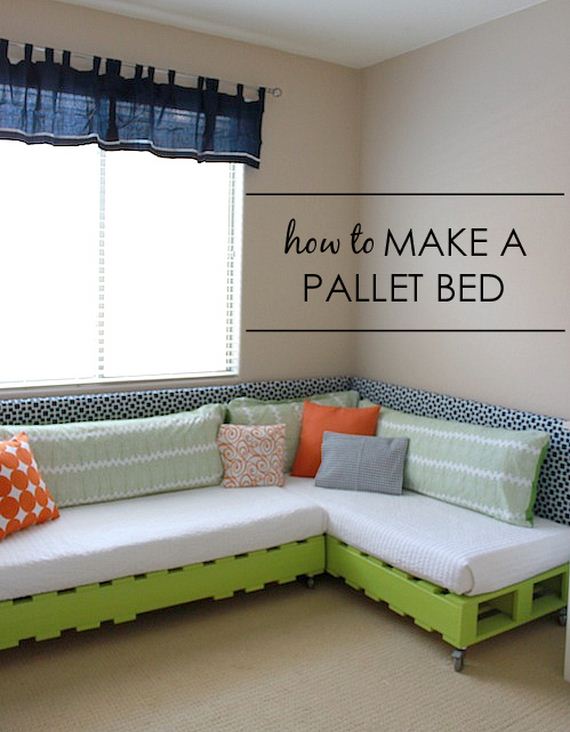 Make yourself a spectacular Pallet Bed that can be put to great use not only as a bed, but also as an amazing lounge area in your living room. You simply have to dissemble the two sections and place the beds in a corner in an L-shaped pattern. The material you need to work out the bed platforms is lots of pallet wood in about three different dimensions, some casters, a drill machine, some wood screws, wood filler, a sandpaper, a primer, and some paint in your choice of color. Check out what are the steps you need to follow to recreate the DIY Pallet Bed all by yourself even if you are a novice at carpentering in the below guide by Project Nursery.
DIY Details : projectnursery
10. DIY Reclaimed Pallet Bed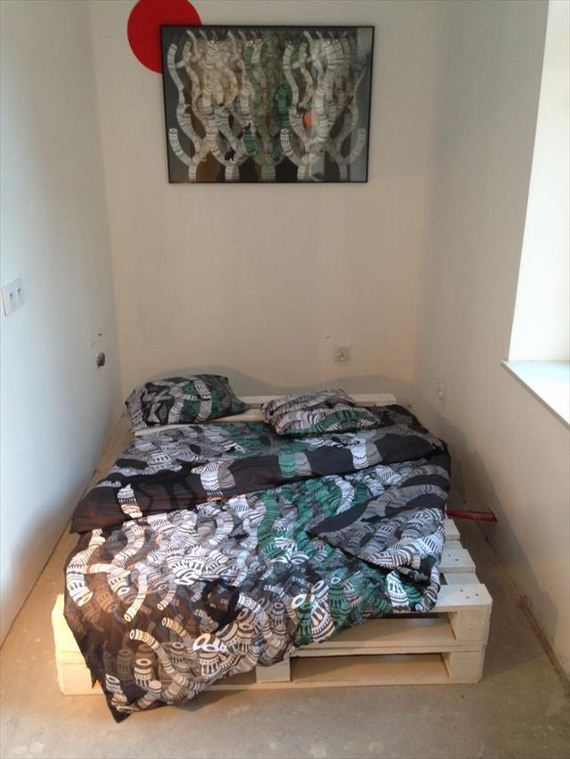 It just can't get any more apt than this DIY Reclaimed Pallet Bed for all those who believe in the concept of Less is More. It's so easy to put the bed together using reclaimed pallet wood that you don't even need to go for any cutting and complicated wood working with those not-so-simple tools. Plus, it's surprisingly quick to construct this one – all you need to do is sand the pallet skids and assemble everything together to end up with a durable DIY bed that's a truly inexpensive affair. Your kids are surely going to adore their brand new bed, that's beautiful and comfortable enough to let them literally, sleep like a baby.
DIY Details : 99pallets
11. Light Pallets Bed – DIY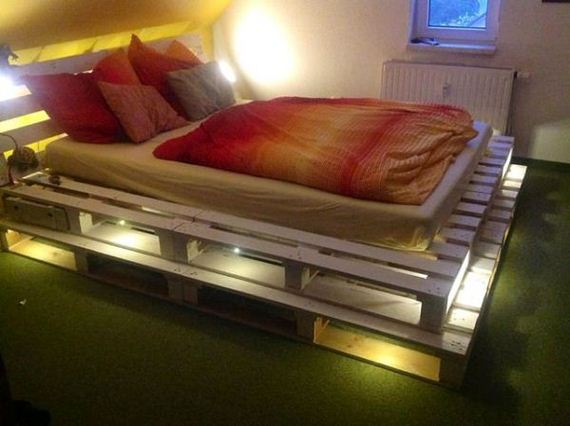 The magic of constructing furniture for your home by yourself is the whole world of possibilities it opens up in terms of customizing them and adding that special personal touch to everything you make. One such project that proves the statement just perfect is this Light Pallets Bed that lets you flaunt your creativity with flourishing colors, and not to forget glow-y, gorgeous lights. It's amazing how the bed has been constructed in a two-tier format, with the empty spaces between the pallets working as homes for bright light installations that make everything absolutely beautiful and luxurious. The below inspiration shares a few more pallet light beds as an added bonus.
DIY Details : goodshomedesign
12. DIY Family Pallet Bed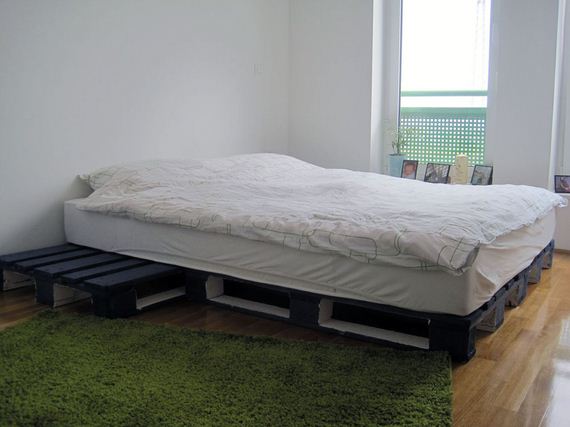 Looking for a DIY Bed that can work wonders for letting the whole family cherish a pretty night of cozy sleep? You would fall head over heels in love with this DIY Family Bed constructed out of pallet wood, integrating a good amount of space for everyone. It's wonderful how the structure retains the stylish, and modern feel of the times, while getting all-ready in a fraction of the cost you would otherwise spent on purchasing a family bed. The project doesn't need you to go for any fixing of the pallets together, as it's amazingly sturdy on its own. The magnificent size of this bed and the fact that it comes with lights underneath is just so cute!
DIY Details : instructables
13. DIY Pallet Reading Bed for the Nursery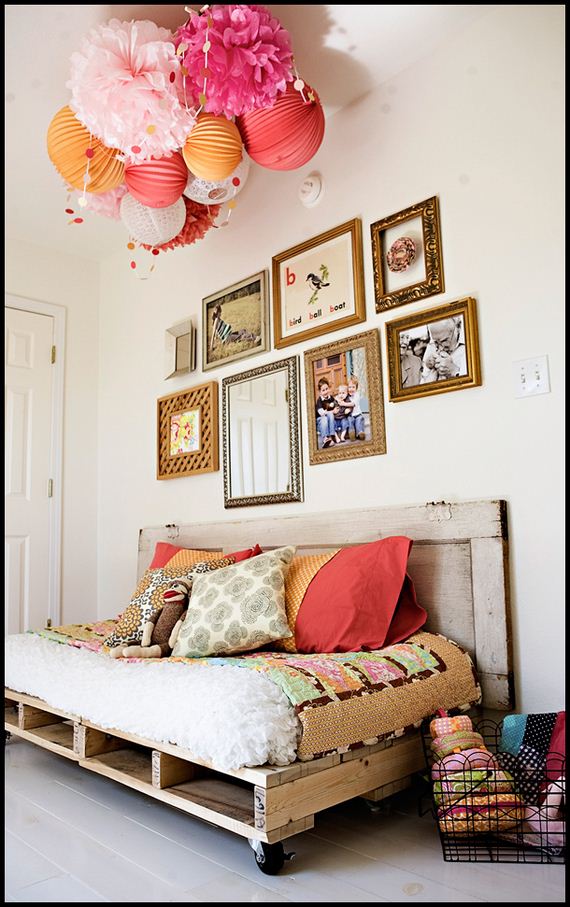 Do you simply love cuddling with the kids on their bed while reading them a beautiful bed time story? Welcome this insanely adorable DIY Pallet Reading Bed to your kid's room or the nursery and add an unbeatable grace to the space. And yes, your little ones can enjoy a good nap time after their story reading sessions on their custom-made bed. All you need is some untreated wood pallets, a palm sander, a sandpaper, a few large caster wheels, some hinges, and a thick foam to work as the mattress. In fact, building this one is such an easy deal that you can even get the kids involved in the making, for some sanding and painting of their very own masterpiece.
DIY Details : ashleyannphotography
14. Toddler Pallet Bed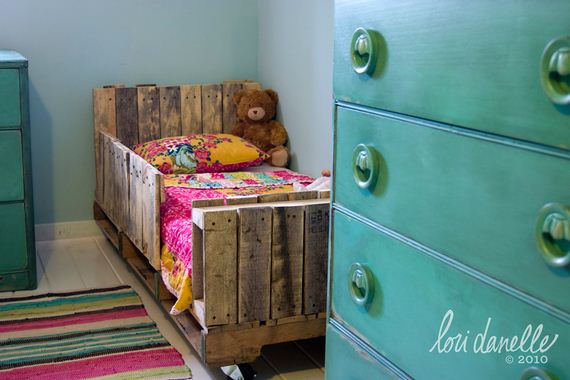 Toddler Beds are that part of the household furniture that serve their purpose for quite a small deal of duration, and once they are outgrown for the kids, you always need a new bed for the room. This makes it a perfect solution to build a DIY Toddler Bed at home using lots of pallet wood, which makes everything an incredibly low-priced affair. Sporting a one-of-a-kind country appeal, this toddler pallet bed comes to life in a few easy-to-follow steps explained by Lorie. It takes just a handful of supplies to get going with the project, specifically a palm sander, a circular saw, a drill machine, a T-square, some bolts, and definitely, some pallet wood.
DIY Details : handimania
15. DIY Boy's Pallet Bedroom Refresh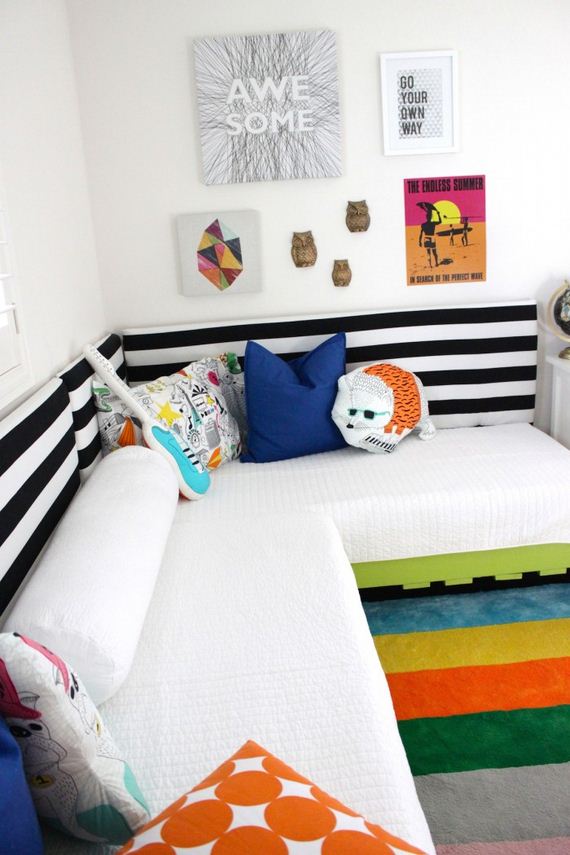 Is that lovely boy's room of yours in great need for a refreshed look? These pretty junior pallet beds that are a complete do-it-yourself something are all you need to add new life to their space, that too in a super handy manner, showcased in the below guide by Petite Party Studio. This one's not only budget-friendly and easy to build, but is quite customizable, letting you get it a new coat of color every time you want to bring in that little much needed change. And, the fact that the bed comes with wheels makes it just so easy to move the thing around – a factor coming so convenient and helpful when cleaning that mess created by those little boys around the room!
DIY Details : petitepartystudio
16. DIY Bed with Wood Pallet
https://youtu.be/Bdqyj9-BX1Q
It's a lavish and luxurious bed like this that makes me crave for cuddling up and sleeping like a little baby! But, taking a look into the process of its construction, you would be forced to wonder if it was actually so easy to make a DIY Bed with nothing but, lots of wooden pallets. Jailson Germanotta explains everything it takes to put the bed together through visual instructions in the below YouTube tutorial. Trust me, with such a showstopper piece of furniture in your bedroom, it would become quite a struggle to get out of the bed in the mornings – after all, who can roll out of such a beautiful bed without shedding a tear of sadness!
DIY Details : youtube
17. Smart DIY Pallet Bed Ideas
Haven't got lots of time to go through detailed guides and tutorials for gathering some quick inspiration for your next DIY Pallet Bed? You need not worry anymore as this YouTube video bundles up lots and lots of creative ideas for building a do-it-yourself bed entirely out of pallet wood. Whether you are looking for an adorable toddler bed to sit in your baby's room, want to add an edgy touch to your living room, wish to go for a full-sized family bed for the master bedroom, or simply looking for a chic, elegant and trendy pallet bed that not only looks amazingly pretty, but saves you a great deal of money to beautify your rooms, this incredible guide has you covered!
DIY Details : youtube
18. DIY Recycled Pallet Bed Frame Designs
There's no doubt in the fact that making a bedroom look great has got a gorgeous bed as the point that tops the list. Of course, the bed is the focal point of any bedroom, and this makes it necessary to have a bed frame that not only loos beautiful, but also makes it possible for you to cherish a comfortable, cozy and peaceful good night's sleep. But, getting it all comes with a hefty price tag, unless you get a little time out and put your hands to some construction, building one or more of the pretty customized bed frames out of Recycled Pallet Wood that takes a fraction of that price, but hits all the right notes when it comes to its appearance, strength and appeal.
DIY Details : youtube
19. Diy Pallet Bed with Storage Ideas
Small living spaces and small bedrooms have an unbreakable connection with storage troubles, having your closets getting flooded with stuff. But, a cleverly constructed bed can come to your rescue miraculously well by letting you use the space underneath the mattress for all your storage needs. You would be delighted even more to know that wooden pallets make it a child's play to make a DIY Bed with a storage section featuring a significantly huge space for storage that one just doesn't get bothered with. The below YouTube video by Mr. Villain shares some amazing ideas and inspirations to build a DIY Pallet Bed with Storage, worthy of making you run for collecting those reclaimed pallets even before you watch it till the end!
DIY Details : youtube
20. Pallet Bed DIY : Bedroom DIY
Although, this one might look like a regular bed frame, it comes with a few little touches that make it stand out from the rest with utmost grace. And the great comfort and luxury that is reflected by this true work of art surely deserves a mention. Right from collecting and sanding the pallets, to building the frame and adorning the bed with pretty mattresses, matching cushions and contrasting sheets, the below YouTube tutorial by Alex Meyers explains everything in great detail. It's utterly breathtaking how the fairy lights compliment the look of the large headboard, adding a touch of glamour and glory to your bedroom!
DIY Details : youtube
---
---