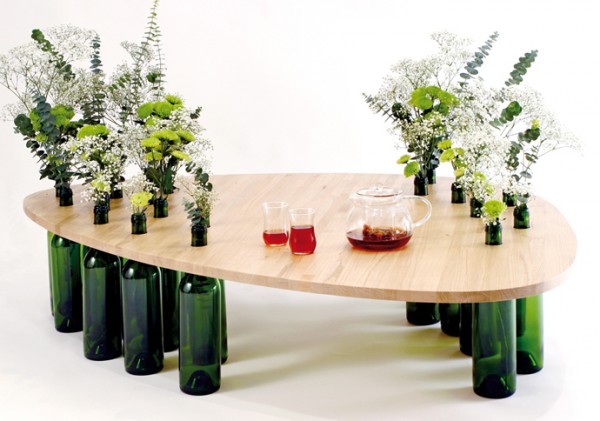 The Best Projects For Upcycling Old Glass Jars & Bottles
The Best Projects For Upcycling Old Glass Jars & Bottles
---
There are lots of ways you can create beautiful handmade crafts for your home, or even to sell. Although it can be hard to see the possibilities each glass bottle or jar presents, as you peruse this collection of DIY crafts, you'll begin to look at each bottle with a host of ideas in mind.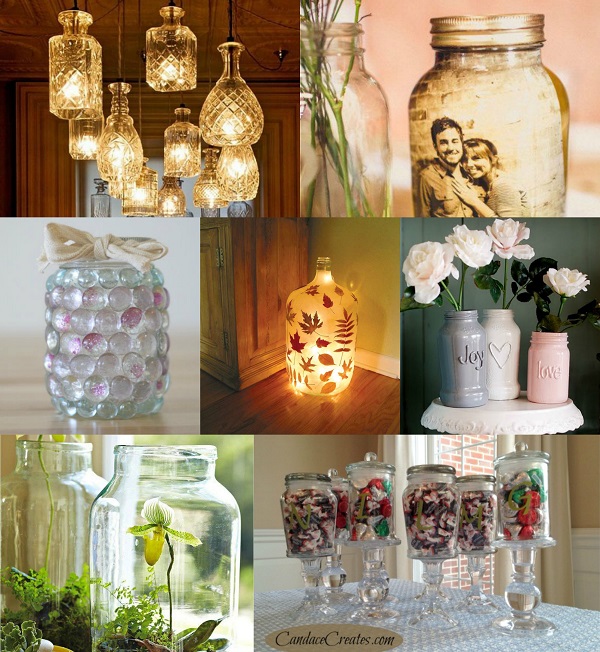 Best of all, many of these projects are incredibly simple! Of course, there are projects that will appeal to more experienced and ambitious DIYers as well.
So start looking and gathering projects to use up all those bottles you've been saving. Turn your trash to treasure. We'll help you get started!
Prism Candle Lights
A simple mason jar can be dressed up with glass marbles. A burlap bow at the top disguises the jar's handle. A single candle on the inside casts a sparkly glow through the marbles.
---
Hot Glue and Paint Vases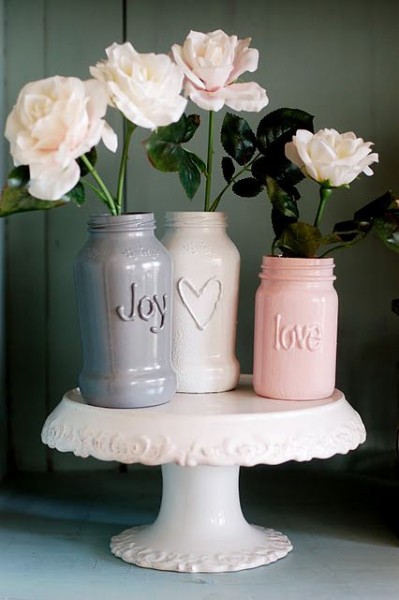 All you need for this craft are empty bottles or jars, hot glue, primer, paint, and a bit of patience. When you're all done, you'll have customized vases to add to your decor!
---
Romantic Antique Glass Decanter Lights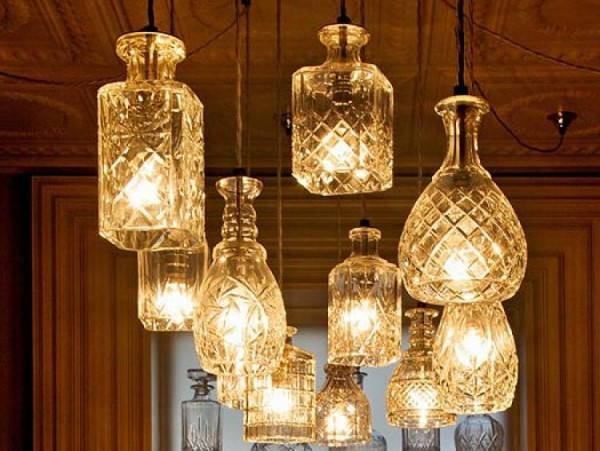 This cluster of soft glass lights are made from antique glass decanters purchased from antique stores. The etching and intricate designs add a curiously romantic ambiance to any formal dining room.
---
Terrarium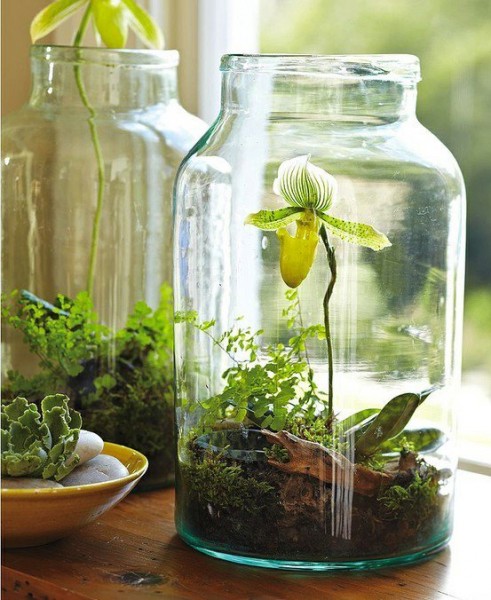 A simple glass terrarium is a fantastic way to bring organic life into your bedroom, office, or any room in your home.
---
DIY Sea Glass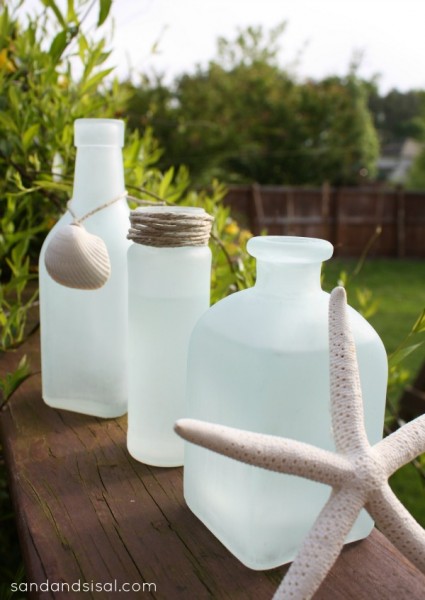 The frosted look of sea glass is a much-coveted accent for any beach or nautical themed space. You can DIY your own out of old jars and bottles and save yourself some cash!
---
Luminous Leaf Jar Floor Light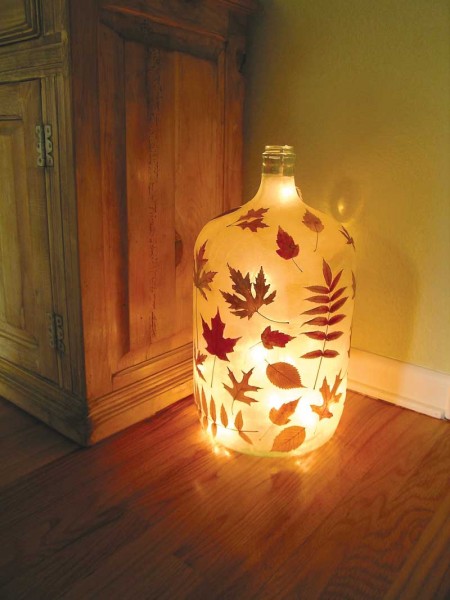 An enormous glass jug with autumn leaves on the inside is an excellent nighttime light that you'll be proud to display.
---
 Glass Jar Candy Dish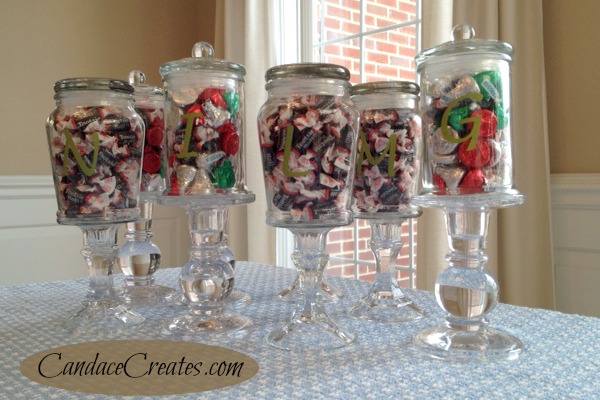 This quick an easy craft turns large jars into beautiful candy dishes that make great gifts!
---
Vintage Photo Jar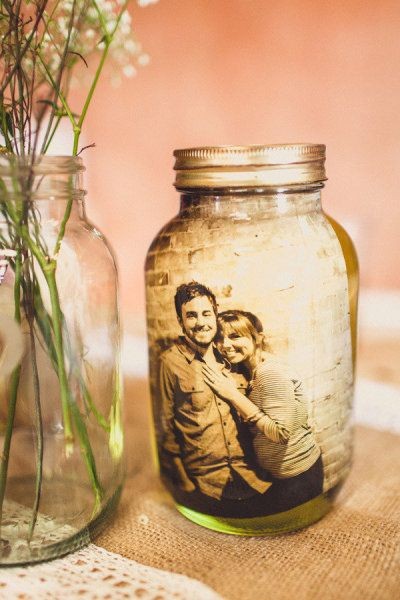 A jar, vegetable oil, and your favorite picture. Is there an easier way to get quaint keepsake? We don't think so.
---
Bracelet Holder
Longneck bottles make great bracelet holders. Dress them up in a simple upcycled box and hang them right on your wall for easy access and organization.
---
Hummingbird Feeder
Wine bottles make for fantastic, beautiful hummingbird feeders that catch the light perfectly. And the best part is, you can decorate them to fit your unique style!
---
Wine Bottle Coffee Table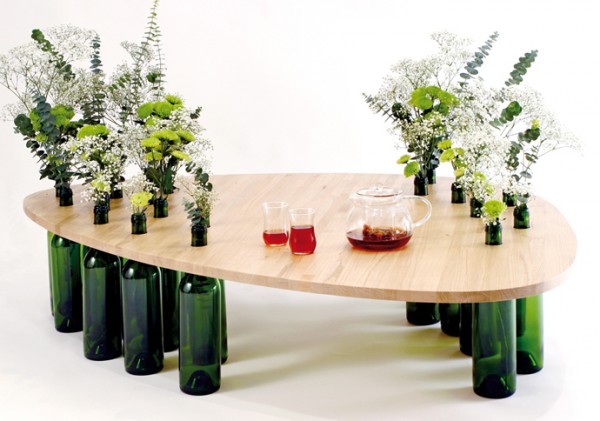 While this table is available for purchase, you can easily make your own for a fraction of the price! Plus, the table doesn't actually come with wine bottles!
---
Bottle Appetizer Platter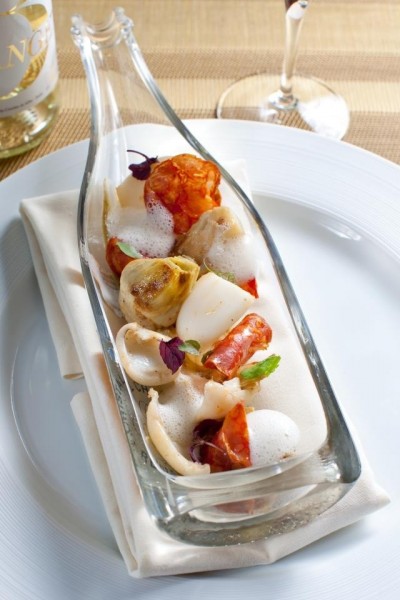 Cutting glass looks so difficult, but is actually simple! And how could you resist creating such an adorable appetizer dish?
---
---