Cement and Concrete DIY Projects
Cement and Concrete DIY Projects
---
Today we're sharing 25 of our very favorite projects using these earthy materials.
1. Concrete Ring Cones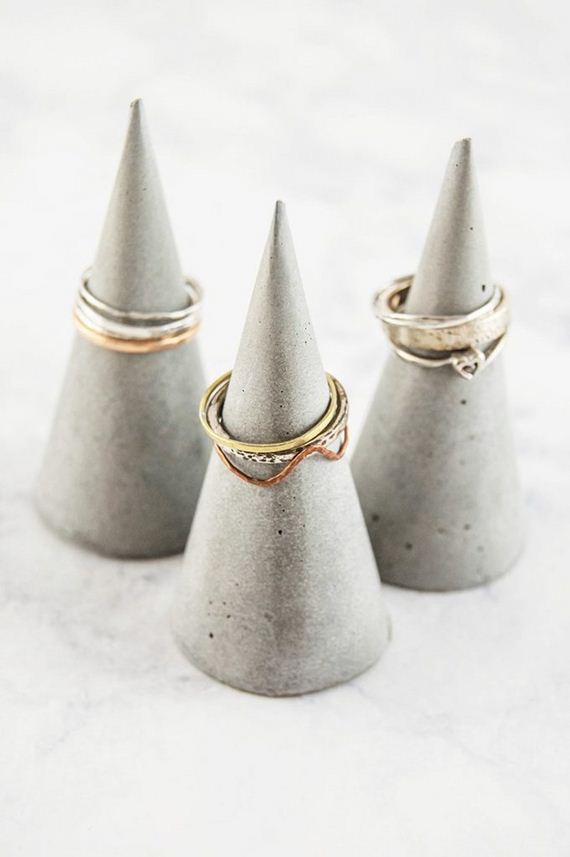 These lovely ring cones are made out of concrete, and offer the perfect place to keep all of those pretty stacking rings of yours organized. They are easy to make, also, requiring only the concrete and some contact paper to form the cones. Check out the tutorial at DIY In PDX. 
2. Concrete and Wood Planter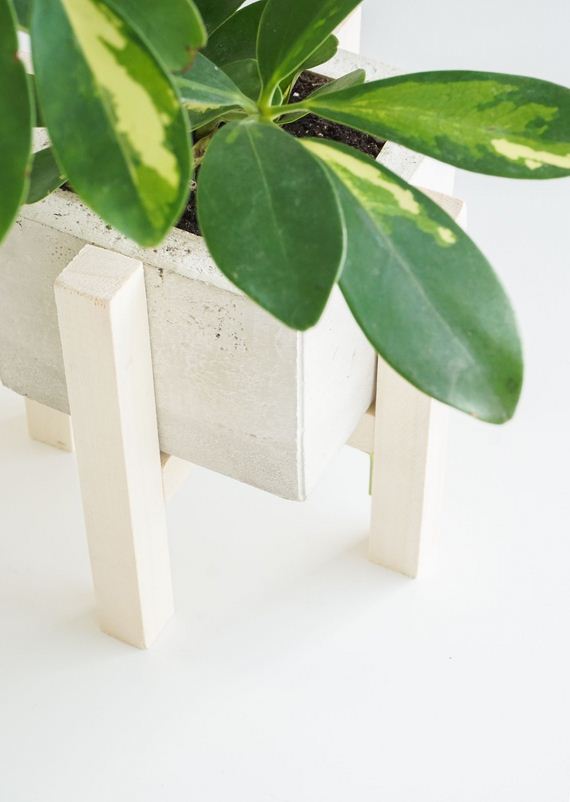 This modern planter is made with concrete which is formed into a cube shape, and then it is placed within a wooden base that's made out of large, square dowel rods. Make your way over to Homedit to check out the full tutorial for this stylish piece.
3. Polished Concrete Necklace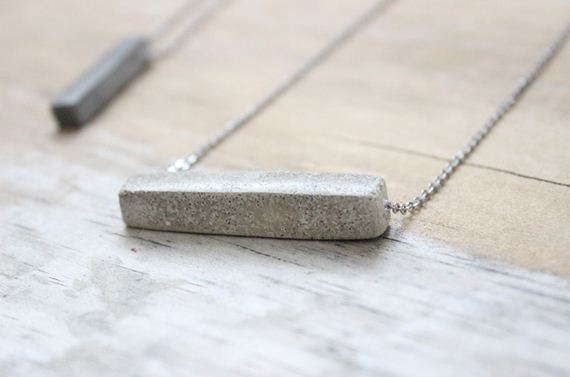 If you're a fan of unique jewelry with a contemporary flair, then this might be the project for you. This rectangular shaped necklace is made from concrete which is then polished to give it a smooth look. Check out the instructions over at Married To The Earth.
4. Hand Candle Holders
Interested in making something truly unique? Then these whimsical hand candle holders might fit the bill. With their humorous shape and industrial look, they are sure to be a conversation starter. Head over to Bob Vila's website to check out the how-to.
5. Cement Succulent Pots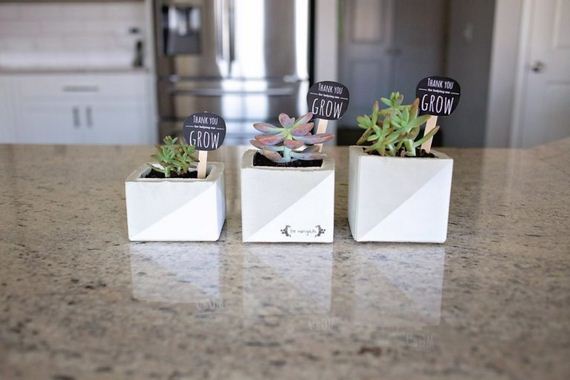 These adorable little planters are the perfect size for succulents, and they are really quite simple to make. Just collect some empty cartons, some paint and some cement and get to work. Head on over to Five Marigolds to check out the full tutorial.
6. Concrete Tray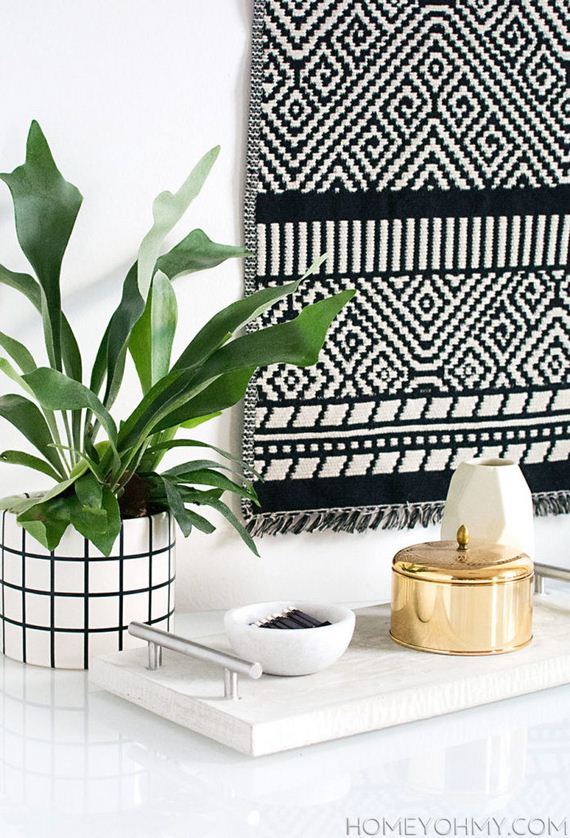 This lovely industrial chic tray is made out of – you guessed it – concrete! The trick is to place the handles in the concrete when it is still wet, so it hardens around them. Make your way over to the Home Depot blog to check out this tutorial from Homey Oh My.
7. Cement Pushpins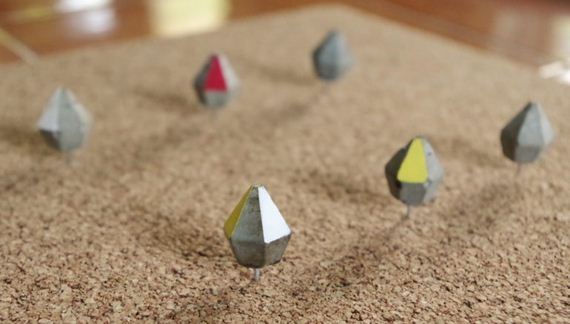 These impossibly adorable pushpins are made from cement too, this time with a mold in the shape of gemstones. This project is done with quick-drying cement, so it will be almost instant gratification! Head on over to Plaster and Disaster to check it out.
8. Concrete Lamp
Who knew that you could make a table lamp out of concrete?! This beautiful modern lamp is actually quite simple to make, using a wooden box as a mold and a lamp socket set. Head on over to Instructables to find out all the details of this fun project.
9. Avocado Tea Light Holder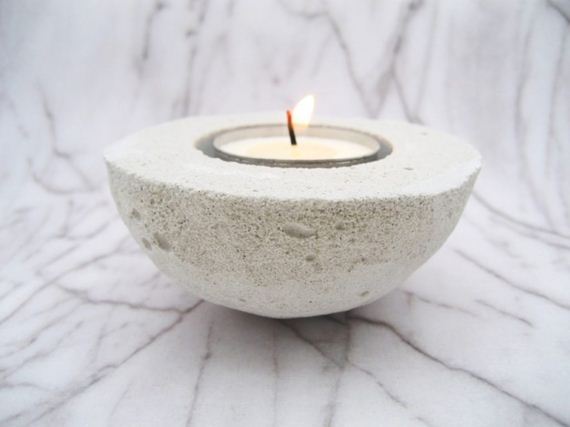 This pretty little tea light holder is made from something very surprising… an avocado! The inside of the avocado is scooped out to create the mold, then the pit is used to make a spot for the candle. Head over to Adorablest to check out the full tutorial.
10. Concrete and Gold Jewelry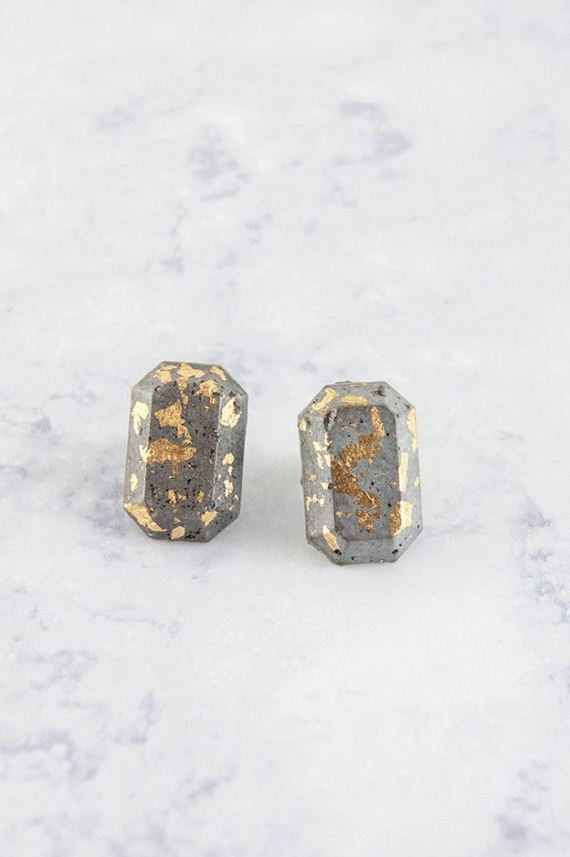 These earrings are super unique, consisting of a concrete base with gold leaf added to the surface. They are made using silicone molds and can be turned into anything from earrings to pins to necklaces. Check out all the details over at DIY In PDX.
11. Cement Hexagon Bookends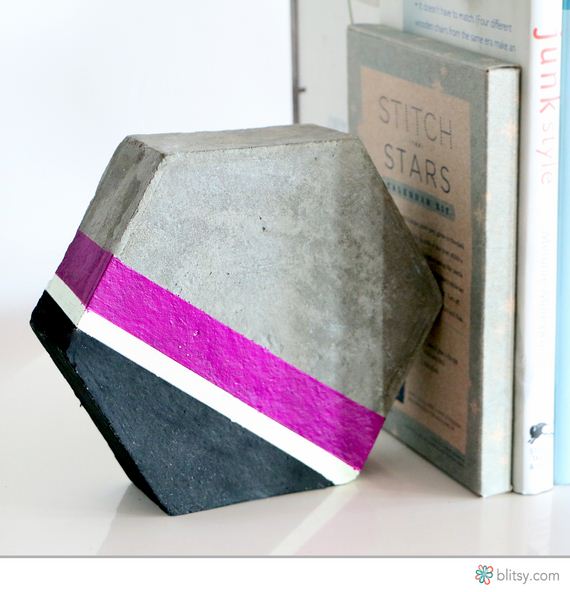 Keep your books upright and your bookshelf stylish with this super cool hexagonal cement bookend. Some strips of color add an extra bit of personality to them also. Make your way over to Blitsy to find out how to make your own hexagon bookends.
12. Concrete Letters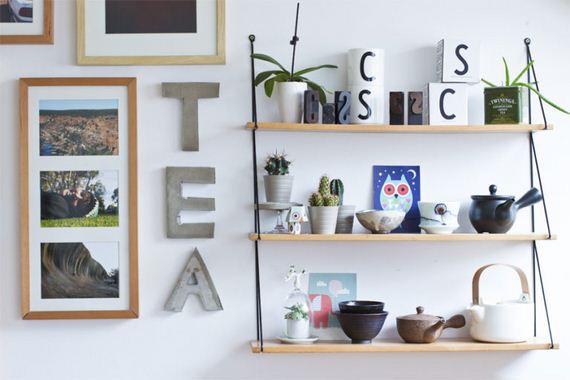 Here's another great way to use concrete in your home… by making it into letters that you can then use to spell out words. Just grab some cardboard and some tape to get started. Head on over to Look What I Made to check out the tutorial.
13. Concrete Candle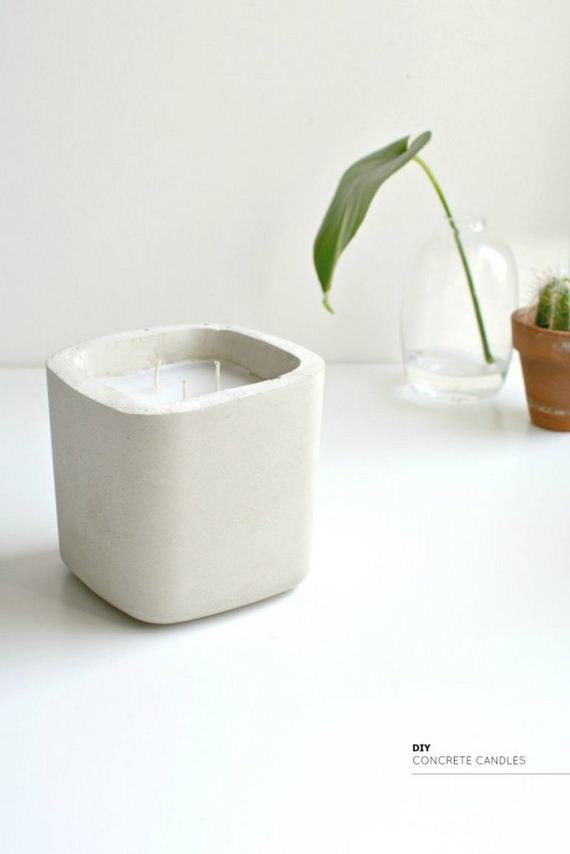 Don't settle for a boring old candle from the store, when you could make one of these beautiful concrete ones. First you'll make the outer concrete container, then pour in the wax afterward. Make your way over to Burkatron to check out the full how-to.
14. Valentine's Day Hearts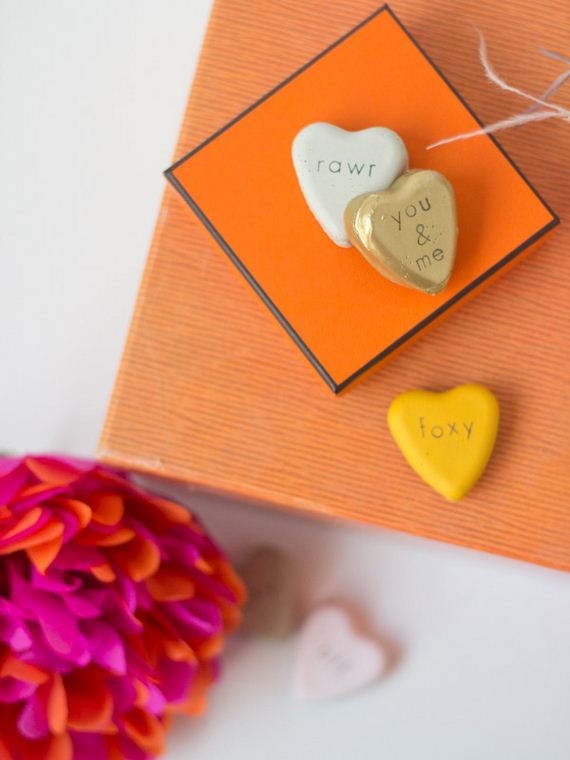 If you're on the hunt for some fun Valentine's Day projects, then you're in luck! Here's a great way to create cement versions of the oh-so-popular conversation hearts that always make an appearance in February. Head over to Lovely Indeed to check it out.
15. Cement and Wire Photo Display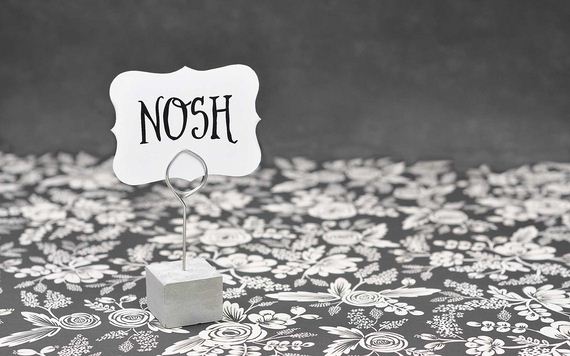 Looking for a fun way to display photos? Or perhaps a creative place card holder idea? Well this might be the answer. Just insert some wire into cement and let it dry to create this fun display idea. Check out the details of this fun project over at Krafty Kath.
16. Jars Inside Concrete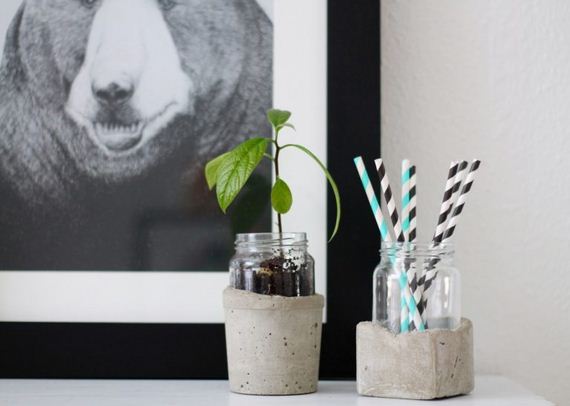 These containers combine two materials at once – glass and concrete. This is a unique way to bring materials together into an organically shaped vessel. Make your way over to the Flair blog to check out the instructions for this lovely concrete project.
17. Taper Candle Holder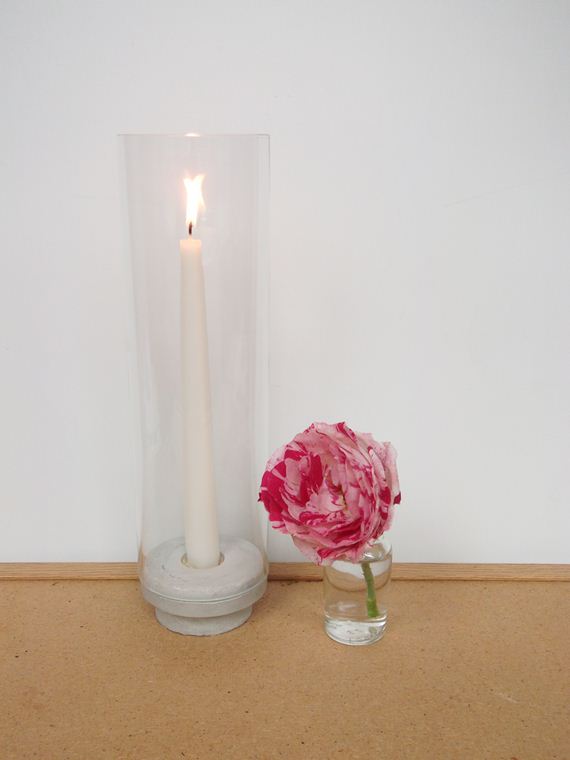 This elegant taper candle holder is made using concrete for the base, and a glass cylinder to protect the candle and add a beautiful reflective quality to the piece. Head on over to A Daily Something to find out how to make your own version of this candle holder.
18. Concrete Dipped Bud Vases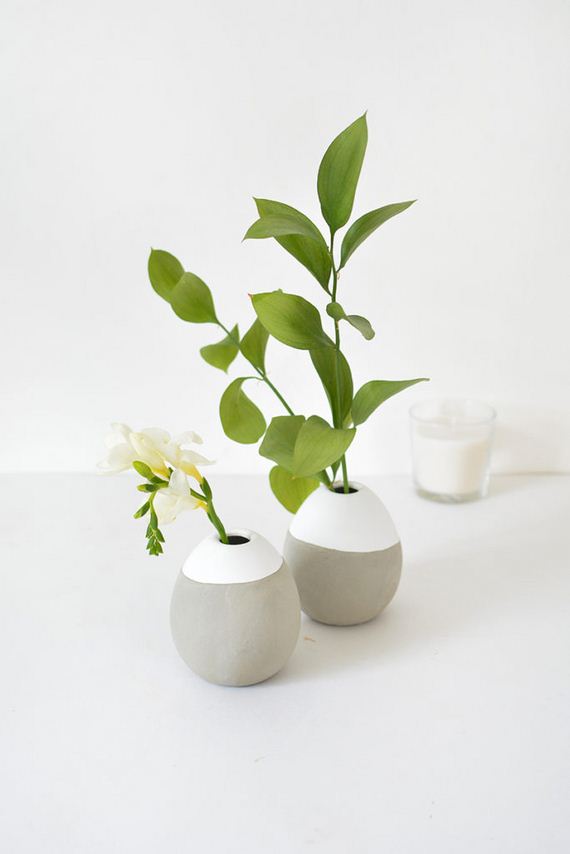 These pretty bud vases are not actually constructed from concrete, but rather they are dipped into it part way to give a color-dipped sort of effect (but with light, natural tones). Make your way over to Burkatron to find out all the details of this simple project.
19. Concrete-Immersed Candle Holder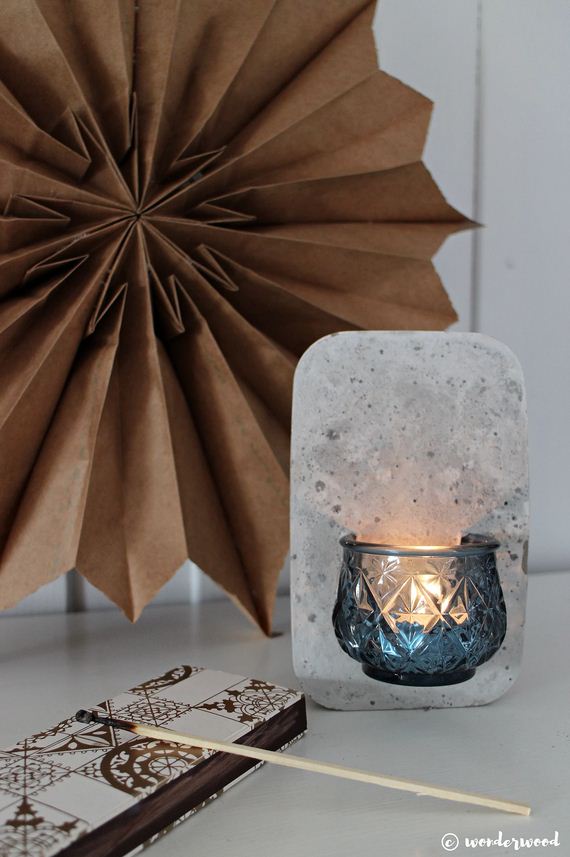 This project is especially unique, as it is created by laying an existing votive holder down into a shallow container of concrete and then letting it dry inside. Head on over to Wonderwood to check out the instructions for this amazing little DIY.
20. Test Tube Vase Set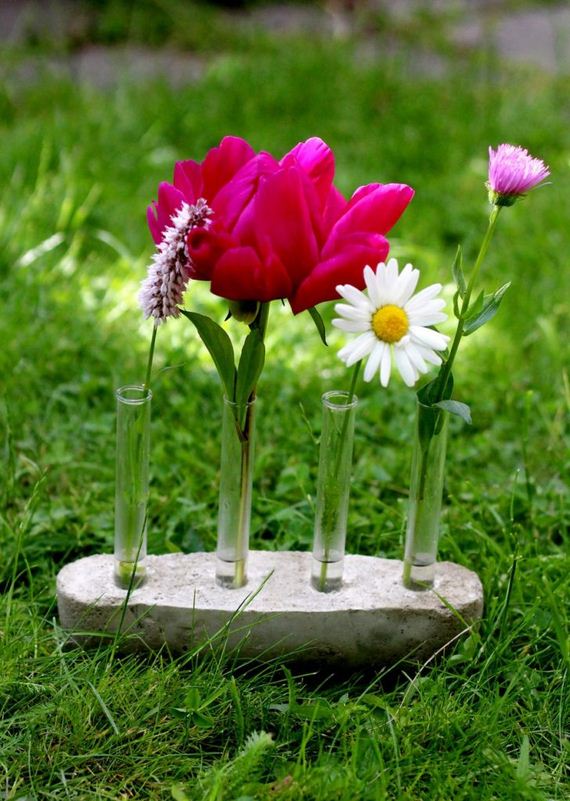 This unusual bud vase set is again made by submerging glass inside of concrete, only this time a set of test tubes are placed within the concrete in an orderly row. Head on over to Mikaela's blog to find out all the details for this fun project.
21. Leaf Vein Stepping Stone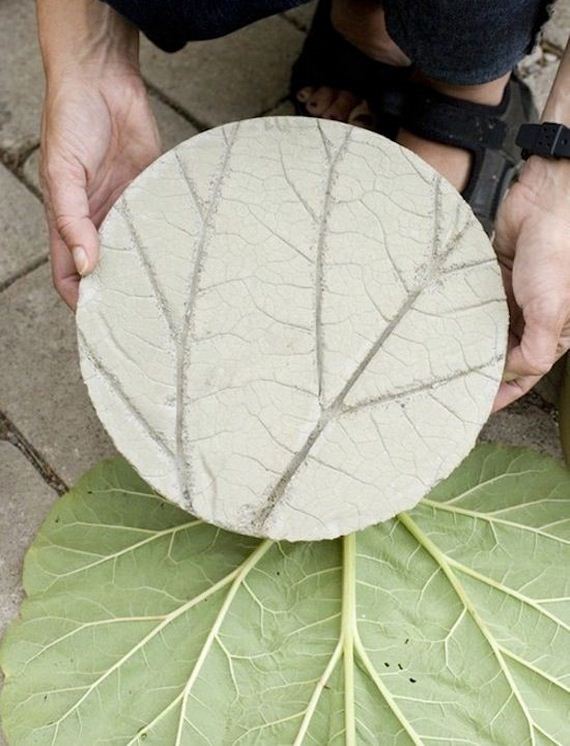 Instead of using plain old stepping stones in your backyard, try customizing them with this unique idea; simply grab some large leaves with pronounced veins, and pour the concrete on top using a round mold. Learn more about it over at Garden Fuzz Garden.
22. Rope and Cement Vase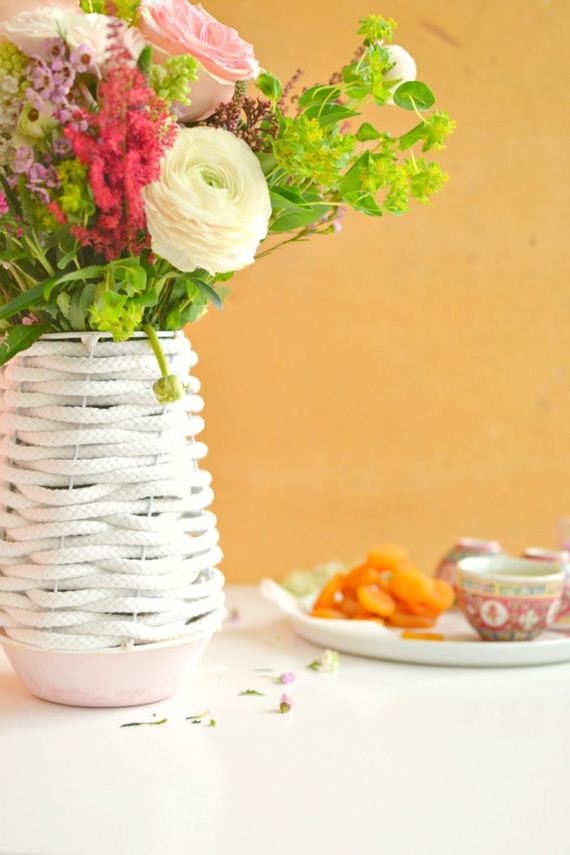 Now here's a super innovative way to use cement. This vase is created by making a base out of cement, painting it pink, and then adding a textural woven rope section for the top. Make your way over to Enthralling Gumption to find out all the details.
23. Outdoor Fire Columns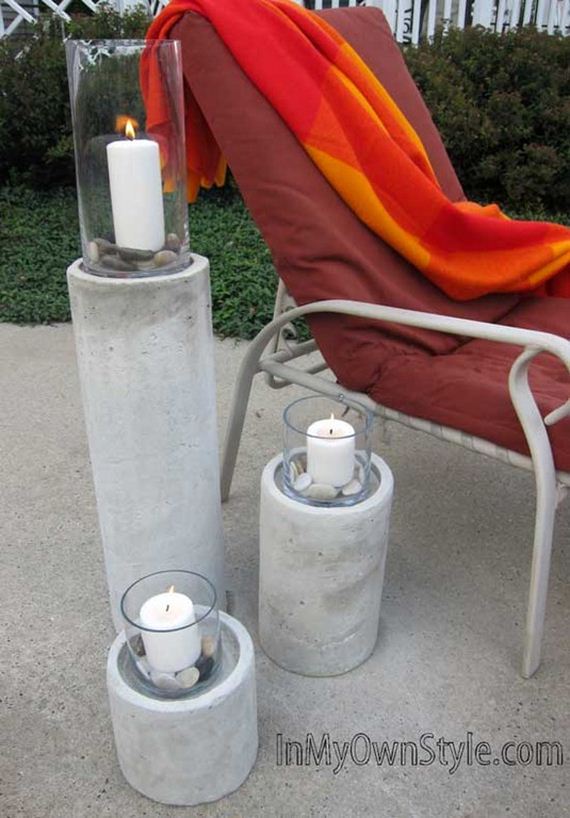 This creative blogger was inspired by the outdoor fire columns from Restoration Hardware, but she didn't like the price. So she made her own using cement columns and glass hurricanes. Head over to In My Own Style to check out the full tutorial.
24. Triangular Cement Votives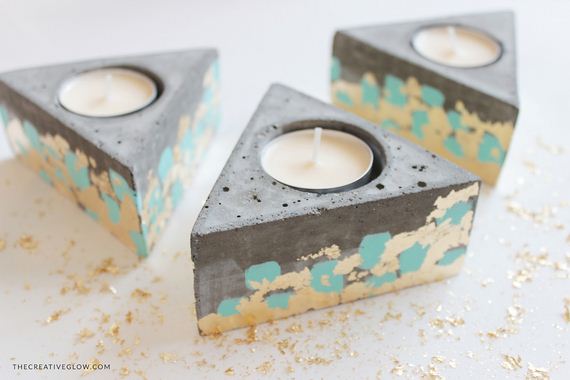 These beautiful triangular votives are made using cardboard and tape to create a mold, and then paint and gold leaf is added at the end to create a colorful accent. Head on over to The Creative Glow to find out all the details of this stylish little project.
25. Cement Door Stop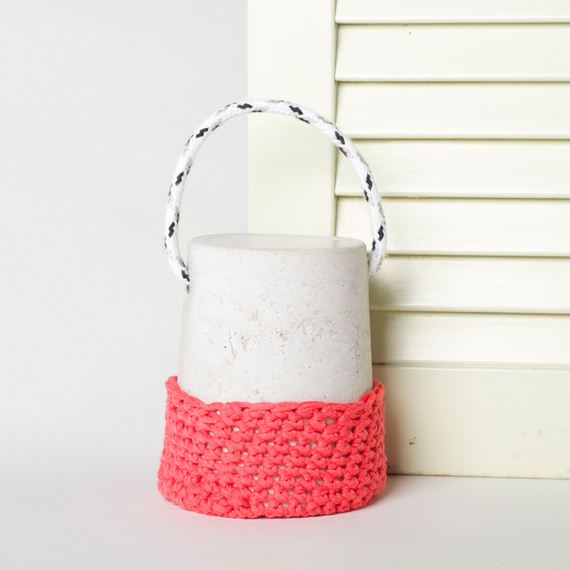 If you're in need of a door stop for your home, then this last project might be the perfect one for you! This fun door stop is made out of cement and rope, and then a cute little crocheted sock is added to the bottom so it doesn't scratch the floor. Get the tutorial here.
---
---