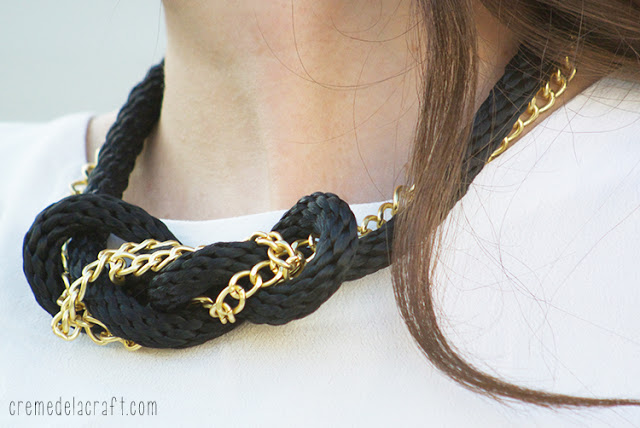 Cool DIY Jewelry With Chains
Cool DIY Jewelry With Chains
---
Check out these 15 awesome DIY necklaces that are all made using chains in different sizes and styles!
1. Nautical rope and chain knot necklace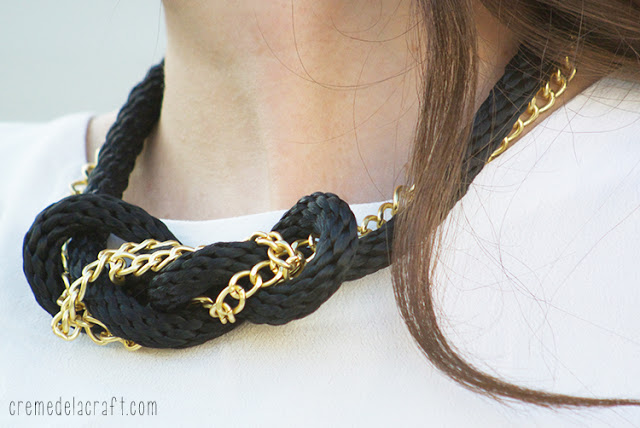 Have you always loved nautical themed aesthetics right down to the dress style, whether you're a sailor or not? Nautical style has trended in and out in mainstream fashion any number of times, so sometimes nautical style jewelry is easily accessible and sometimes it's a lot harder to find. That's why we love learning how to make our own accessories! We love this sailor knotted necklace that's been looped with rope and chains. Find out how it's done on Crème de la Craft!
2. Pom pom and chain necklace
Is your personal style a little bit more eccentric than most and you're just not seeing anything that's quite cool enough for you in stores? Then try making yourself something really unique instead! We love the way Scraphacker used a string of pom pom trim woven through a gold chain to make an awesome necklace.
3. Chunky materials braid necklace with chains

Have you always been a huge fan of upcycled jewelry and pieces that look intentionally repurposed in stylish ways? This aesthetic was very trendy recently, but we caught onto it late and now we can't find precisely the look we're dreaming of in stores. That's why we were so excited when we found this tutorial from Brit + Co.! They've gathered all kinds of different strings, yarns, trims, and materials together with some jewelry chain and braided the thick strands together to make a necklace.
4. Jumble chain choker necklace

Do you quite like the jumbled idea of the necklace we just showed you above but you'd like it to be even more stylistically messy at the same time as it has perhaps a touch more class to the materials? Then follow in Useful DIY's lead and replace some of the strings and trims with pearl chains and braid or wrap the chains more loosely so they're a bit more like a bunch than a rope instead.
5. DIY heavy metal chain necklace

Have you been scrolling through these chain looks hoping to find something a little more heavy and edgy than a lot of the delicate chain pieces we've shown you so far? In that case, you might prefer something like this chunky chain necklace from Kostikova! They've chosen thick chains in two different colours and attached them end to end for contrast but they've also (and this might be our favourite part) woven the chains with metallic silver thread to give things a little extra glitz and glam.
6. Crochet chain necklace

Are you totally into the idea of making your own jewelry and also very obsessed with chains and chain aesthetics right now, but at the heart of your DIY skills you're mostly a yarn crafts enthusiast? Well, branching out from your regular DIY routine is always awesome but our favourite thing is always when we find a way to marry the two so we can incorporate our yarn skills into whatever else it is we're doing. That's why we loved this crocheted chain necklace idea from Fall For DIY so much! If you already know how to crochet well then this will be a simple project for you but if you don't, you'll find all the steps you need to learn this particular technique outlined nicely in their tutorial.
7. DIY rope-chain necklace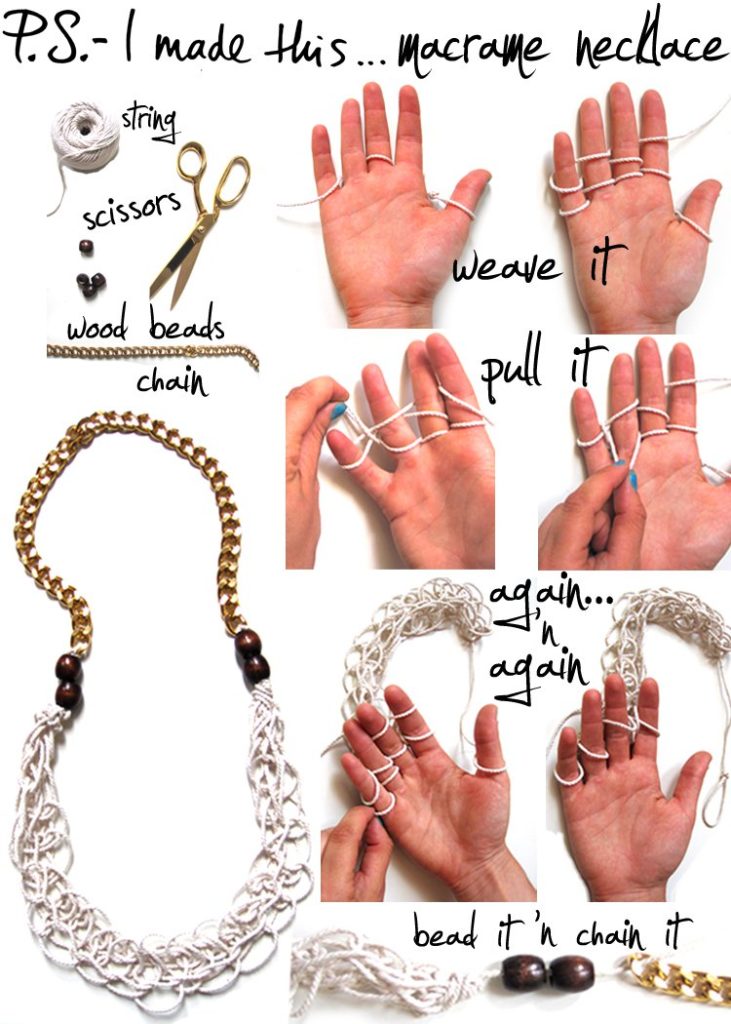 Are you a pretty big fan of all these different ideas that combine two different types of chain together as one but you're looking for a project that requires you to do more than just attach a couple links and call it a day? Maybe you'd prefer something that has a chain effect but also gives a little more visual and textural contrast than what you've seen so far. In that case, we have a feeling you'll enjoy making this chain and rope chain necklace by DIY Fashion! We love the way they've attached a "chain" bib woven from string onto an actual piece of jewelry chain to get the look but in a unique way. Their tutorial guides you step by step through the process of actually making the chain yourself by wrapping thin rope, string, or yarn around your fingers almost like knitting in order to create a series of links.
8. Braided embroidery chain necklace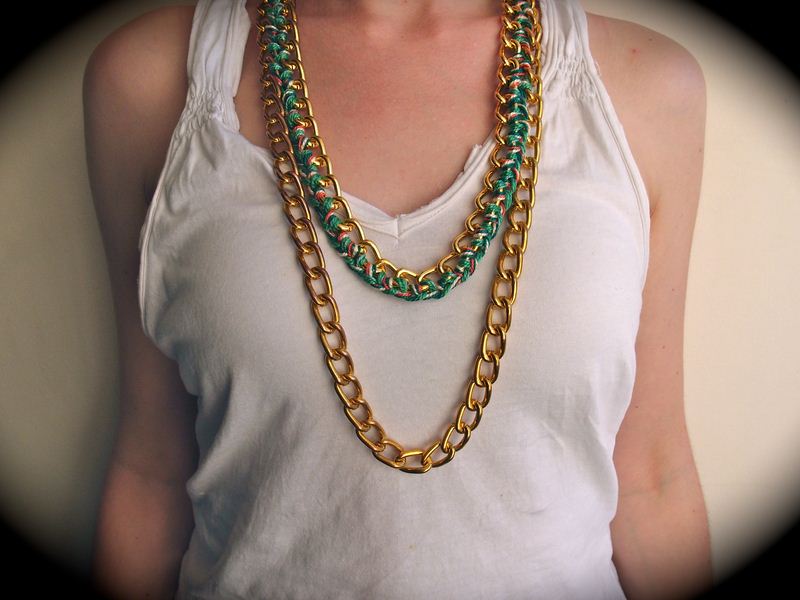 Do you love the idea of a simple chain necklace but, at the same time, you're a bright person who loves to wear colours? Then check out how Clones n' Clowns used simple embroidery floss to add some personality to their plain chain necklace in a way that's awesome looking in the end and all round just a lot of fun to make! They've used weaving and knot tying techniques similar to how you might have made friendship bracelets at summer camp when you were a kid. Their tutorial shows you exactly how to weave the floss in and out of the chain links for a nice, even pattern.
9. Double chain necklace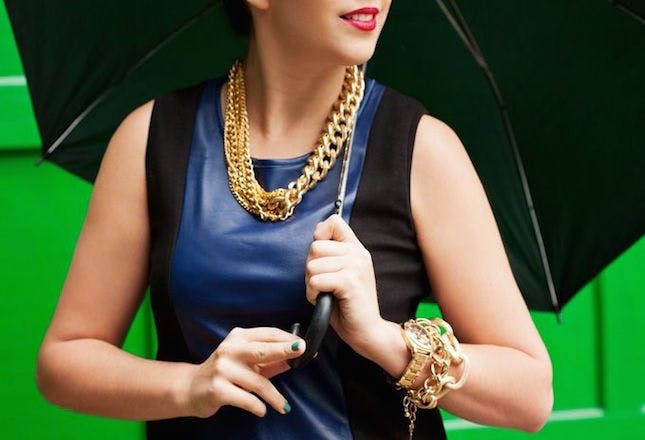 Have you found a length of very big, very chunky chain that you're excited to work with but you don't actually have enough to make a full necklace out of because it won't reach all the way around? Then we'd suggest combining that with a handful of thinner chains gathered together and attached end to end with the larger section to make a cool double chain necklace! See how it's done in more detail on Ispydiy
10. Embroidered multi-chain necklace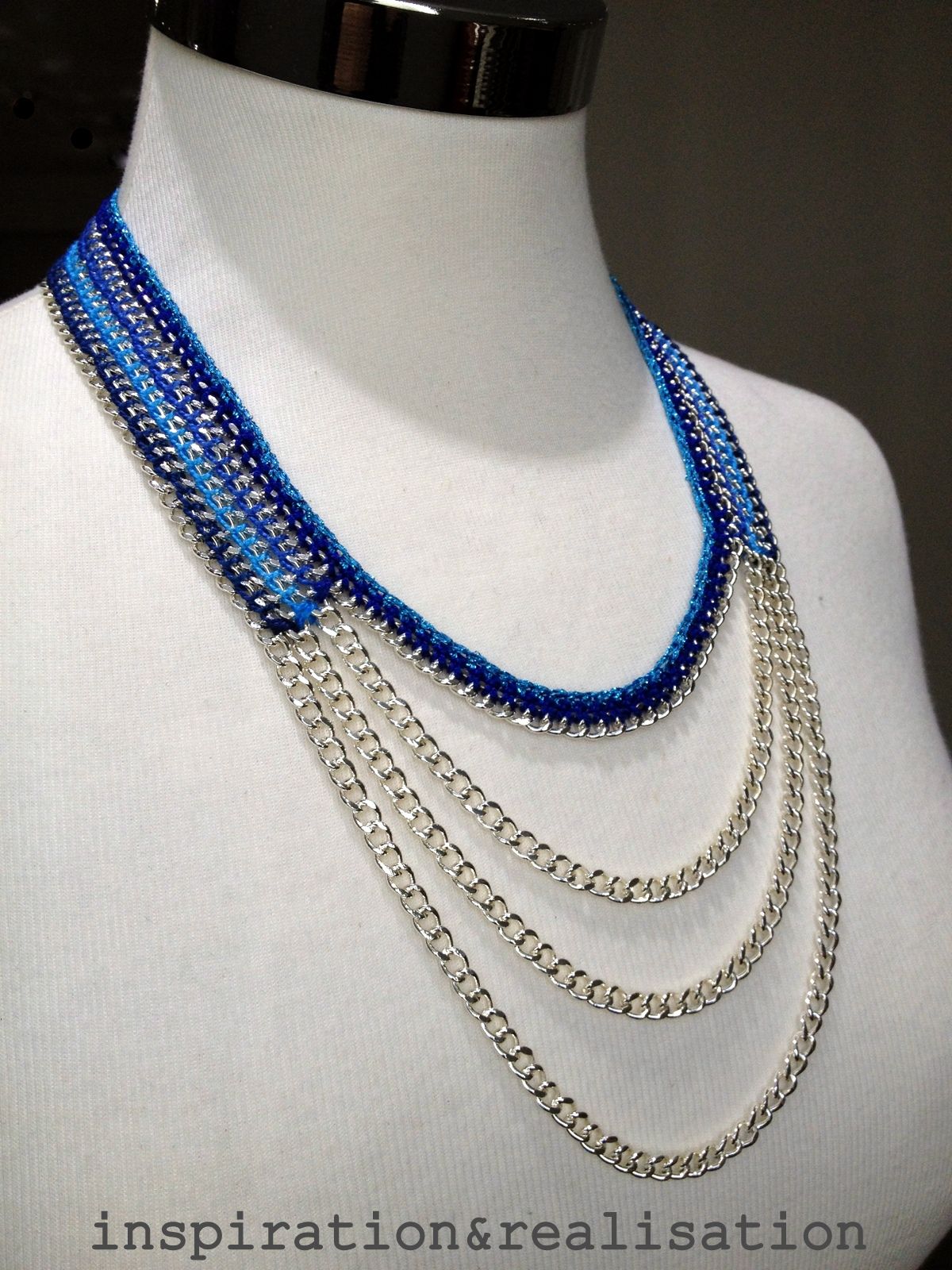 Perhaps you took one look at the embroidery floss chain necklace and knew that's the basic technique you wanted to use, but you've got a lot experience in this craft and would like a bit more of a challenge? Then check out this multi-chain alternative from Inspiration Realization instead! Their tutorial shows you exactly how to weave and knot to both attach the chains together and create an awesome colour combination and braiding pattern at the same time.
11. Ribbon woven chain necklace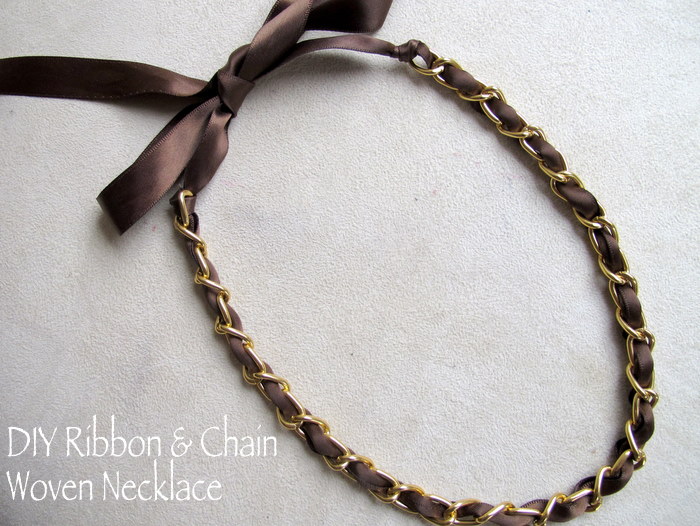 Are you a big fan of these woven chain ideas but you've never been enthusiastic about working with embroidery floss because you'd like to make something with a slightly more formal aesthetic? Then try this similar technique from Makeup and Macaroons but using a pretty silk or satin ribbon instead! We simply adore the way the chain and the ribbon work together to give you an accessory that's lovely but in a slightly edgy way.
12. DIY crocheted bib necklace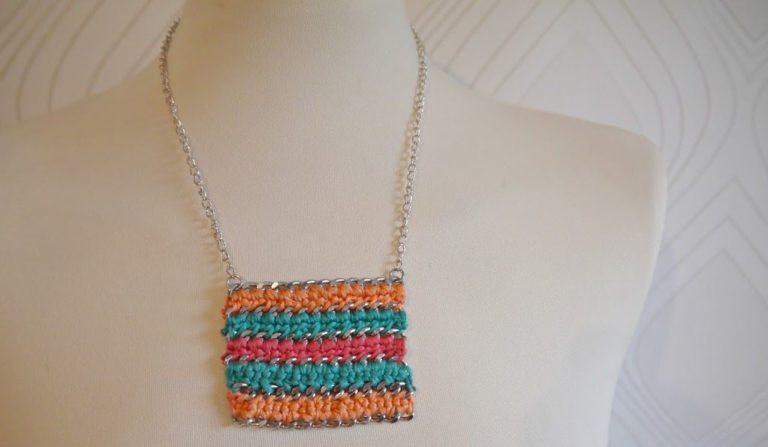 Are you still caught on the idea of embroidering coloured through your chains but you'd almost rather create a bib or chain "fabric" that really showcases your weaving skills instead of just looping some coloured string through the whole length of a necklace because that makes it very thick? Then perhaps you'd prefer this woven chain hanging pendant idea from Portia Lawrie instead! This is certainly a handmade ware that you won't find in stores. Prepare to have all your friends asking you where you got it and being very impressed when they learn that you made it yourself!
13. DIY chain collar necklace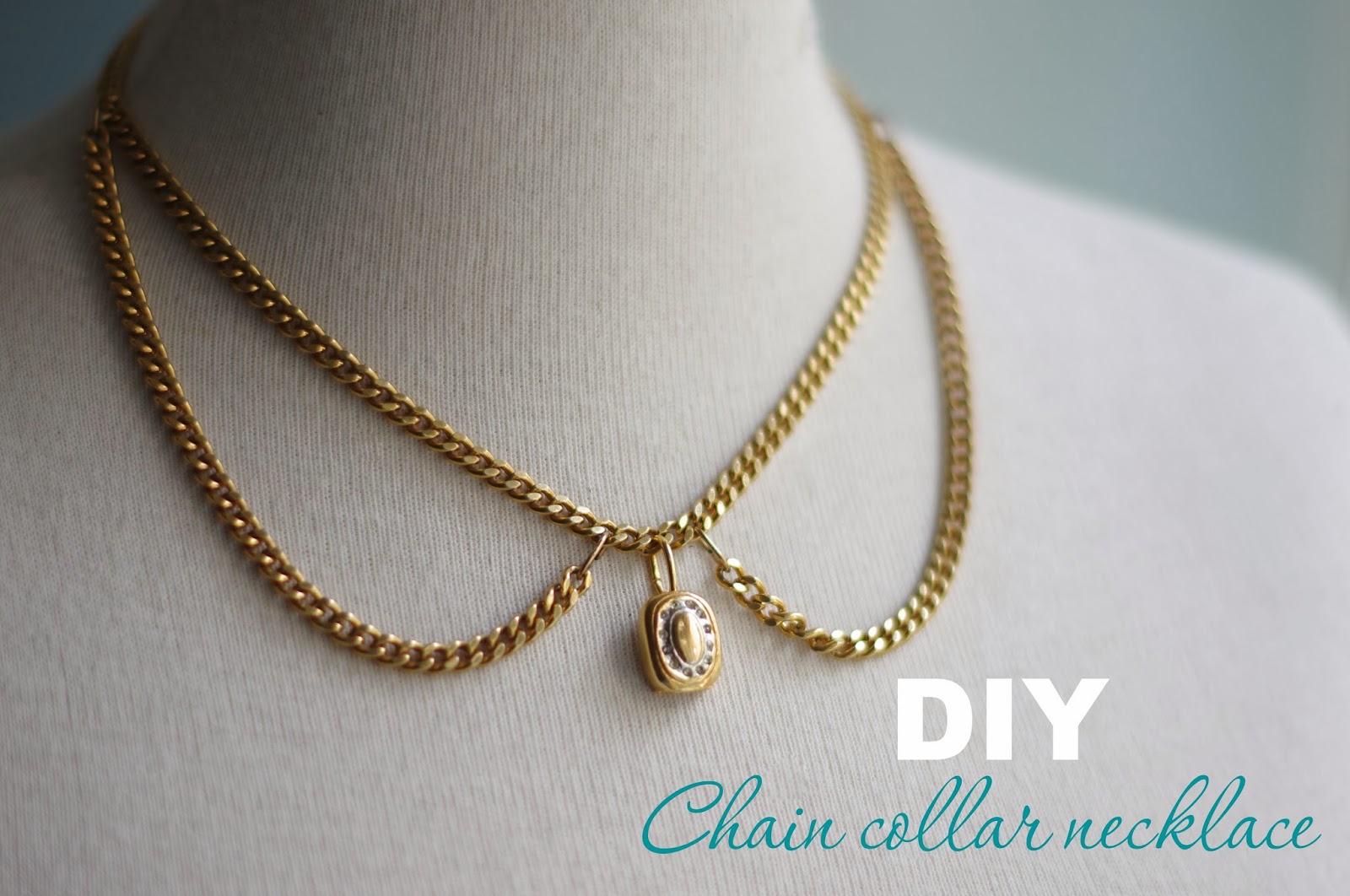 We've always loved collar necklaces. There's just something about them that makes us feel girly and formal even when we're not wearing a blouse with a proper collar like one might to a business meeting. That's why we were very excited when we found this cool chain collar necklace from Fashionrolla! We love the way the looping chains stemming from the main necklace chain create a negative space that suggests the shape of a collar, giving the whole thing a delicate look. Add a charm in the centre just like they did here if you really want to make it fancy! A cameo that's been passed down in your family will give it a vintage feel, or you might add a brightly coloured bead if you want it to have more personality.
14. Chain and rhinestone necklace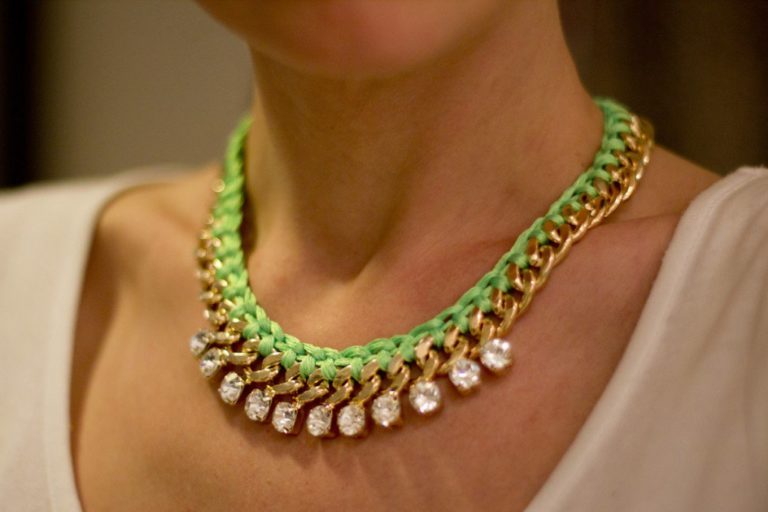 If you're already tried some of the other weaving and braiding chain techniques that we've talked about on our list then it's possible you're ready to take that craft to the next level and try something a little more challenging? We've actually made this awesome embroidery and rhinestone chain necklace in real life and we feel a fun combination of classy and edgy every time we wear it. Check out how the stones and chains are all woven together with your favourite colour on Crashingred.
15. DIY chains and beads necklace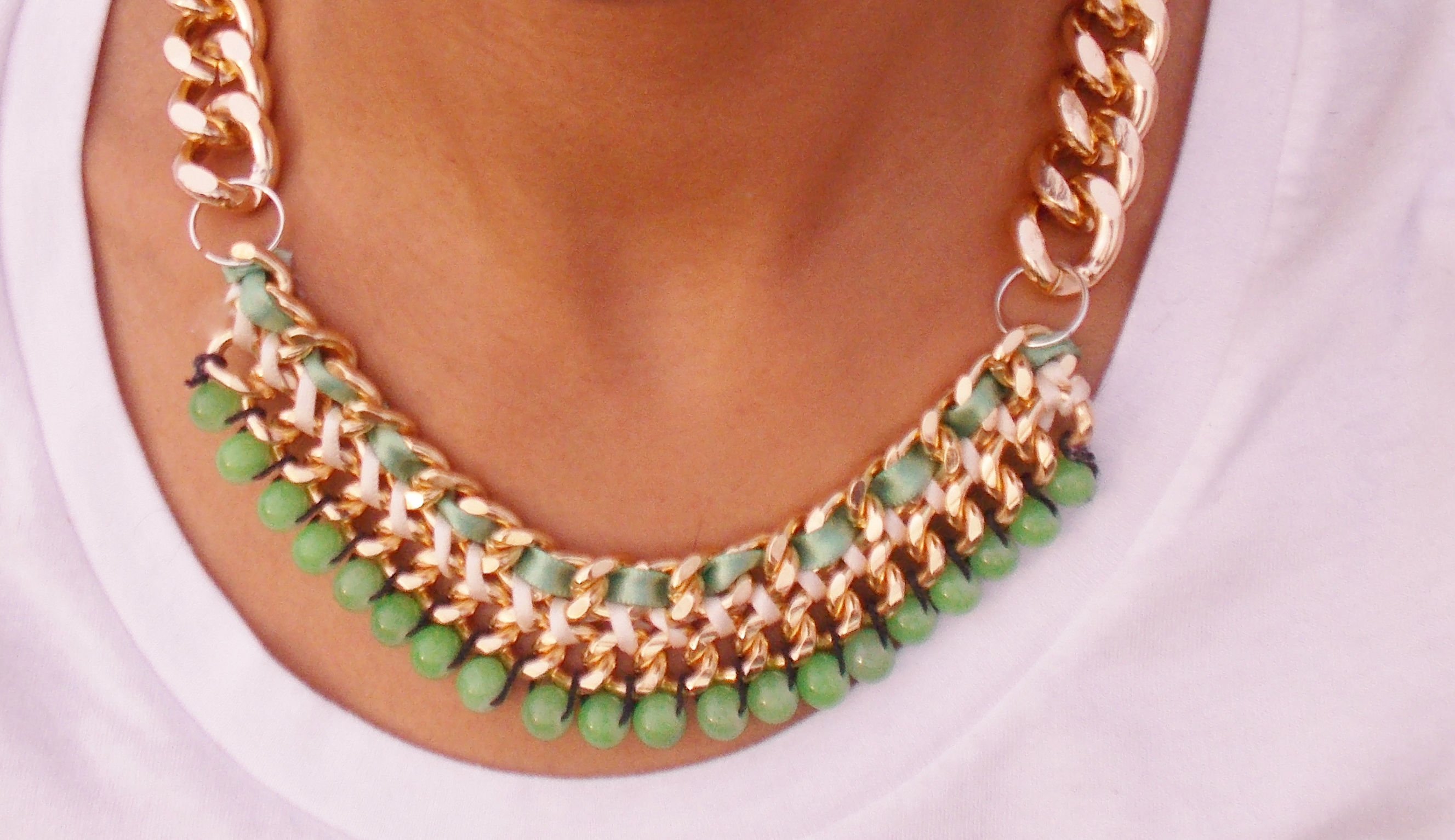 Do you love the idea of weaving more then just ribbon or floss into your chain but you're worried that sparkling rhinestones are just a little too flashy for your personal style? Then here's a slightly calmer alternative that uses jade beads instead! If you don't like the colour or shape you see here, feel free to experiment with adding beads in different shades or kinds. See the whole idea and technique in more detail on Why Buy It, DIY It .
---
---