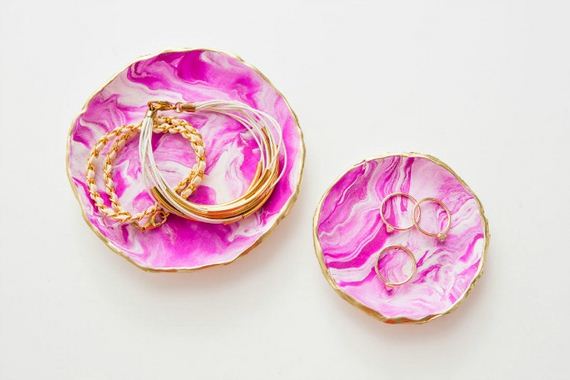 Cool Marble Crafts
Cool Marble Crafts
---
1. Water marbled pots. There are ways to create marbled pottery form scratch if you're actually very skilled with a pottery wheel, but not everyone has access to that equipment. Instead, try water marbling the surface of some pre-made pots, or even pots that you made in a class from solid clay because you weren't quite ready to try anything more advance on your wheel yet! We love these ones from Enjoy It.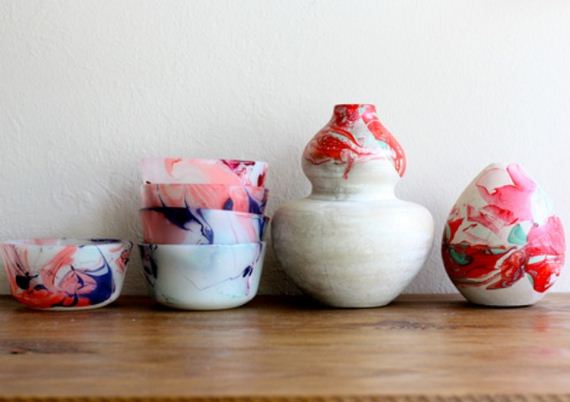 2. Marbled clipboard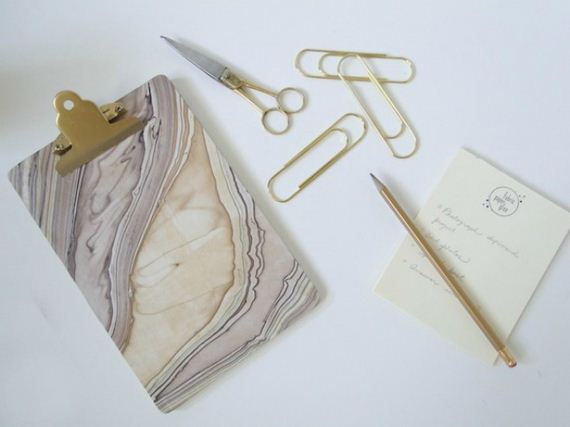 Do you love the look of marble so much that you'd even like to incorporate it into your daily routine at work? Try creating a marbled surface on the clipboard you use to make notes or keep inventory! Check out how it's done on Fabric, Paper, Glue.
3. Marbled jewelry trays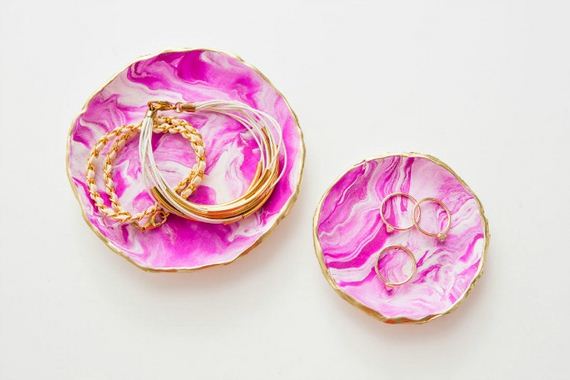 Brit + Co. suggests using marbling techniques to fancy up some simple jewelry trays so that they become just as decorative as they are practical for holding your bracelets and necklaces. We love the way they've added a metallic gold edging to tie the look together!
4. Marbled paper garland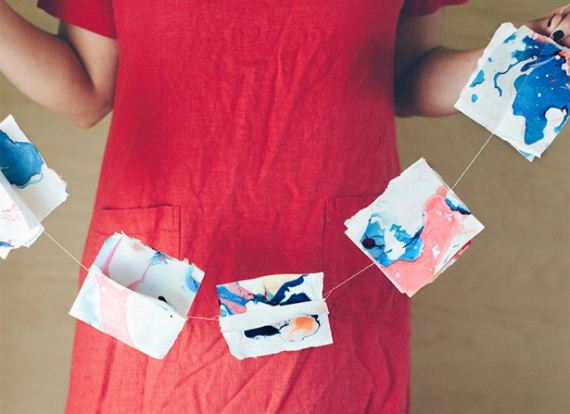 A Subtle Revelry reminds you that marbling is an awesome technique even for very simple, temporary decor ideas! Their tutorial for marbled paper garland, for example, walks you through the process of making pretty hanging party decor.
5. Dip-dyed marbled mug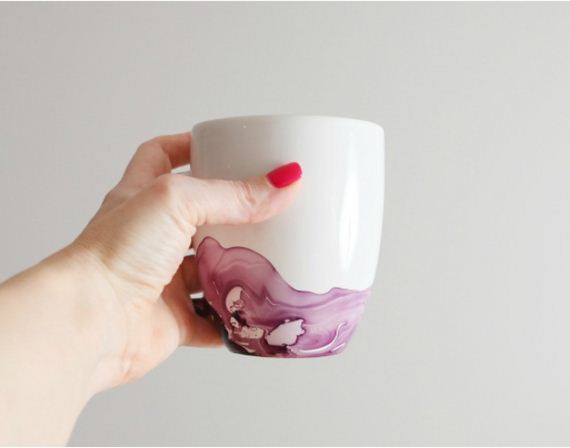 House of Hipsters shows you how to marble the surface of mugs and other kitchen porcelain using nail polish and water! You'd be surprised how easy this technique is, even though the final product is totally gorgeous.
6. Marbled balloons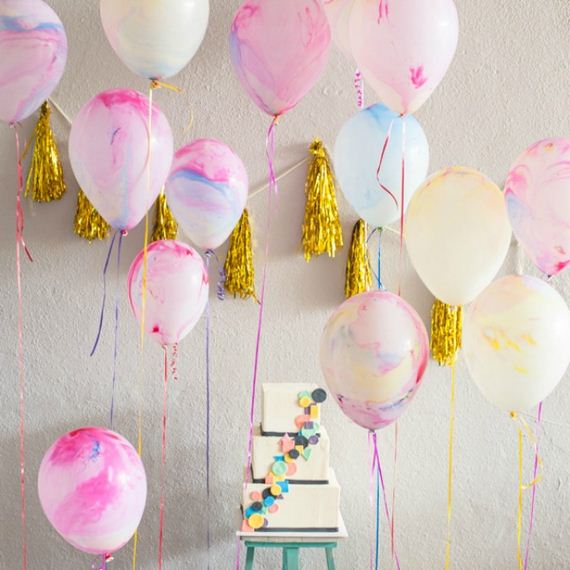 Do you love including balloons in your party decor, but you're looking for something a little more fun for a kids' party or a little more classy for an adult celebration? Try marbling the balloons before you blow them up! Check out how it's done on Ruffled Blogs.
7. Swirled painted beads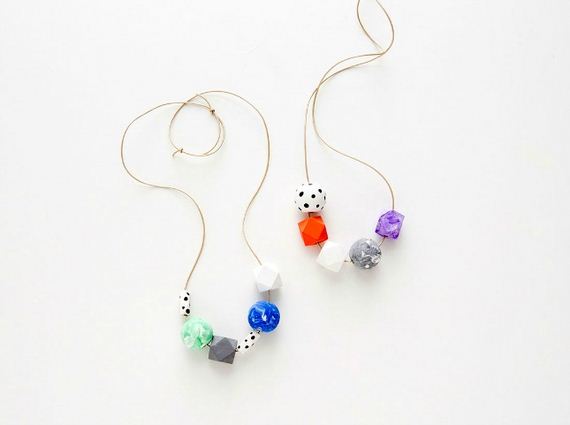 Brit + Co. shows you how to make small, pretty beads out of two types of clay moulded together to create a marbling effect. Using air dry clay is one of the most effective ways to make these quickly and easily.
8. Bright marble paperweight
Design Mom shows you how to make a heavy DIY paper weight that makes sure your desk stays organized even when you open the window or turn on the fan or the air conditioning. Adding a marbling effect looks much more stylish on your desk than weighing your papers or files down with a rock or your water bottle.
9. Marbled frame wall art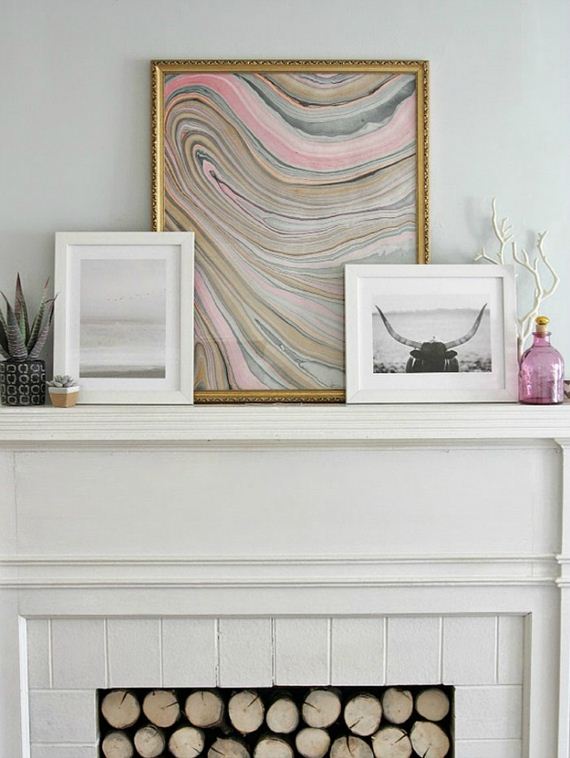 The idea of marbling paper doesn't sound very fancy, but it's actually quite a careful art that can look gorgeous as decor once it's finished. Find a simple, golden frame to put it in and hang it on the wall! The Decor Fix shows you how it's done.
10. Marbled clay earrings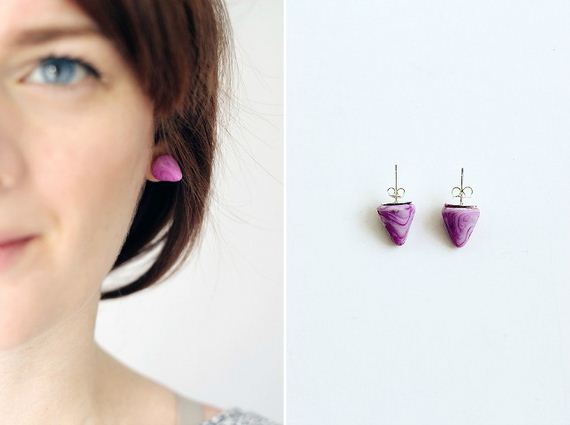 Did you love the look of the marbled clay beads from earlier on the list but you're not really a big necklace wearer? Try making earrings in the same way instead! Brit + C0. walks you through the crafting process.
11. DIY marbled office supplies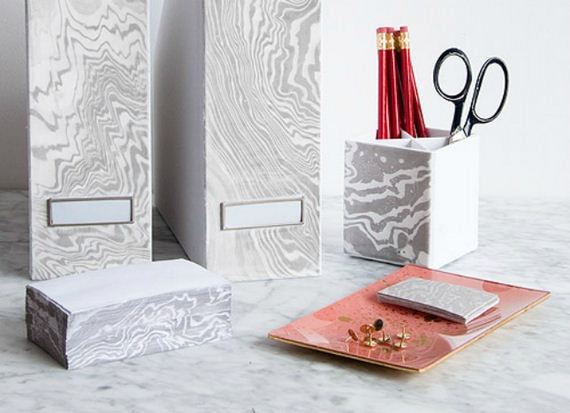 Design Sponge suggests jazzing up your office supplies just enough to brighten up your day by marbling them! This technique works for all kinds of things, like magazine folders, the edges of your sticky notes, or your pencil stand.
12. Marbled slip on runners
Fall for DIY knows that sometimes you want to make more of a style statement than just adding a particular effect to your jewelry. Make your preference for marble a little less subtle by following this tutorial to make your own marbled shoes!
13. Marbled clay ring holder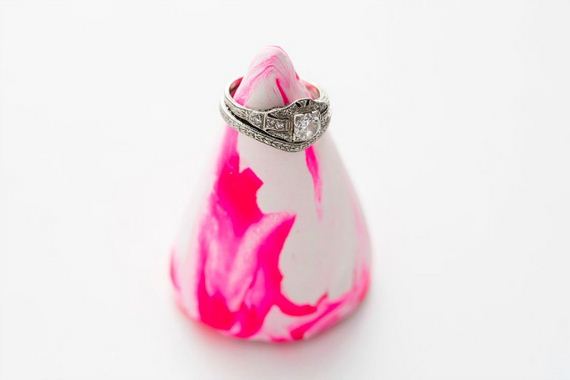 Do you have leftover clay after making your marbled beads and earrings? Keep with the jewelry theme by making a ring stand so your fine jewelry stays safe and you always know where it is! Check out how it's done on Brit + Co.
14. Marbled glassware
Makeup.com suggests adding the subtlest hint or marbled to your kitchenware by using water marbling techniques to customize just the bottom of the glasses. Not only will you see the pretty colours swirling around each other up the side of the glass as it sits on the counter, but it'll also look great through the water when you fill them.
15. Easy marbled gift paper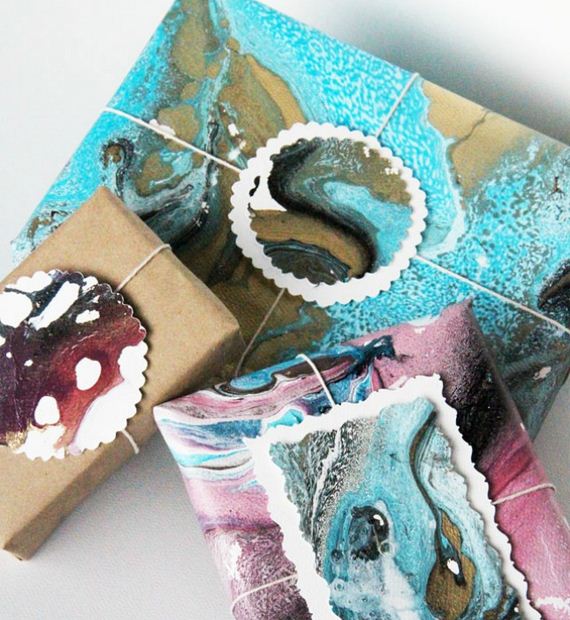 Do you love making your family and friends custom DIY wrapping paper for their birthday and Christmas gifts every year, but you're looking for new ideas? Alisa Burke has you covered with this great tutorial for creating water marbled paper that looks gorgeous no matter the size of the gifts you're wrapping!
---
---