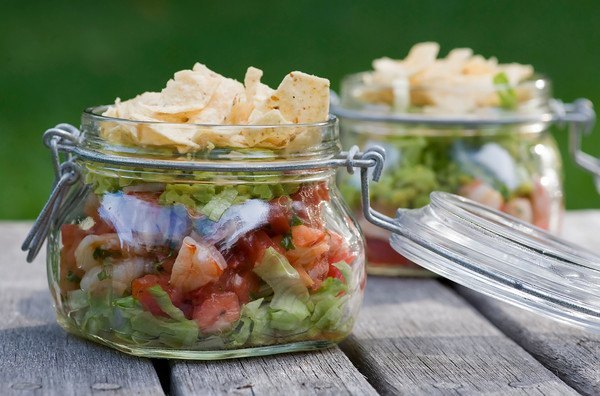 Cool Mason Jar Meals
Cool Mason Jar Meals
---
With everything from chili to salads and fruit parfaits we've hunted the web and found for you the most delicious, easy and fun mason jar meal recipes out there, now all you have to do is get those jars ready.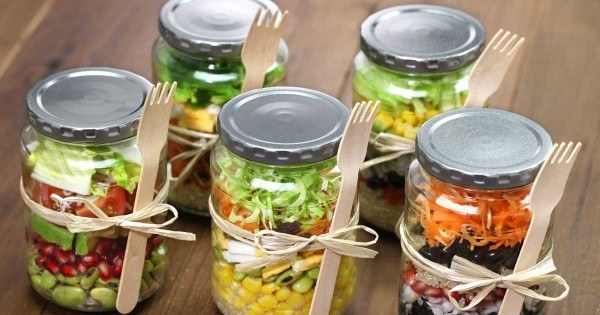 Breakfasts In A Jar
Scrambled Eggs – Taking just 90 seconds to make this is a quick and delightful breakfast that will keep you going until lunch time and you can add any leftover veggies too as a way to make it even more delicious.
Blueberry Pancakes – This quick and easy recipe will fill up even the hungriest person in the morning and will give you an old favorite no matter how short of time you are.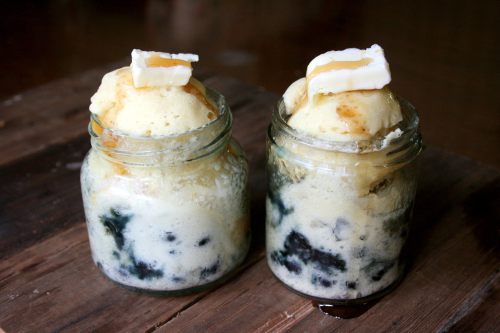 Breakfast Casserole – Start the day off properly with a full stomach after eating this tasty treat which is ridiculously easy to make. You can even add bacon and sausage if you want a feast.
Cinnamon Rolls – Nothing beats a warm cinnamon roll to get you going in the morning especially one that's fresh out of the oven and coated in icing.
Breakfast Parfaits – This healthier alternative is a fabulous mix of fresh fruits, crunchy granola and mouth watering yogurt which will give you the energy you need to face the world each morning.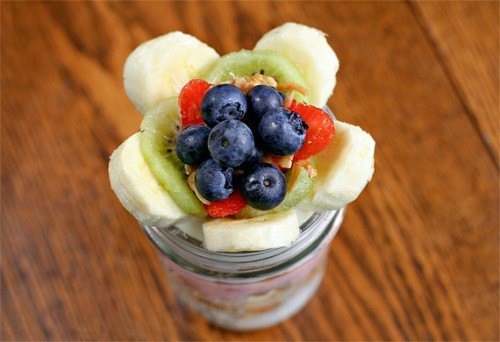 Savory Meals In A Jar
Lasagna – A delicious Italian classic that you can enjoy at home or on the go with this fun recipe which bakes it right inside the jar, just don't forget to take a fork!
Ranch Rotini Salad – Perfect to take for lunch, a snack on the go or even as a convenient meal waiting for you in the fridge. You'll love this tasty pasta salad.
Pizza – With a crispy dough, scrumptious sauce and everything else you could need to make a fantastic pizza all in a jar which you'll enjoy eating wherever you are.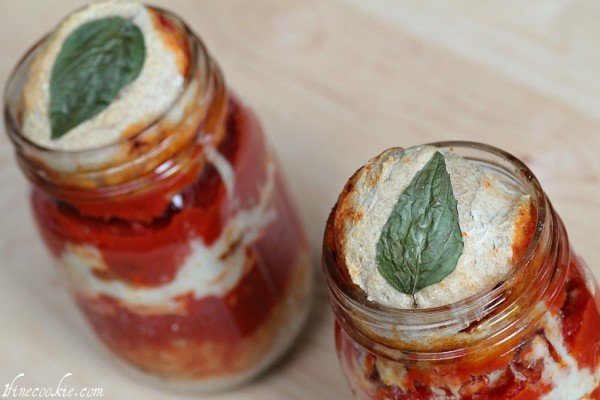 Pumpkin Macaroni Cheese – Nothing beats macaroni cheese as the ultimate comfort food, it warms you up and has everything you could want from a meal, cheese. Now you can try this single serving jars with a fun pumpkin twist.
Asian Noodle Salad – Fresh and crispy this salad will give you a well balanced meal and is perfect for popping in a bag when you need a convenient and delicious lunch in a hurry.
Quiches – With three tasty recipes to choose from you can enjoy this quick and easy meal anywhere. Broccoli & cheddar, rosemary tomato and pea and leak these fantastic quiches can be enjoyed by everyone.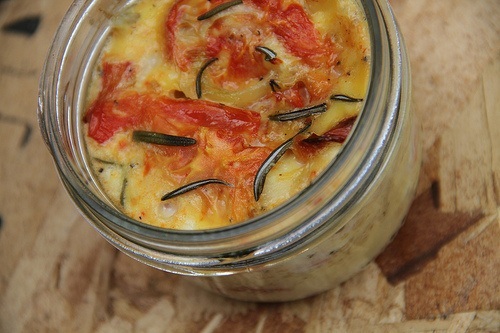 Bacon & Mushroom Potato Gratin – This creamy potato dish is perfect for keeping you warm on a winters day. Have it as a wonderful side or even enjoy it as a snack on it's own, the perfect make ahead recipe.
Deconstructed Sushi – Now for something completely different, you can enjoy delectable sushi like never before with this fantastically simple recipe that's just as delicious as any constructed sushi.
Shrimp In A Jar – Crisp lettuce, fresh avocado chunks and succulent shrimp all mixed together with just a few other ingredients to make an easy delicious meal anyone can enjoy.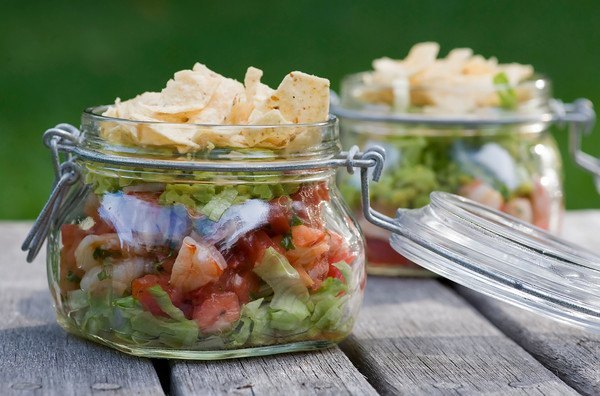 Chicken Pot Pie – Make a batch of these ahead of time and freeze them for a super fast meal whenever you need one plus this delicious recipe deserves to be a must try.
Shepherd's Pie In A Jar – Deliciously simple, mouth wateringly amazing and a warming feel good meal in every way possible. With just a few ingredients you can make this tasty meal.
Burrito Jar – Inspired by the Discovery Channels Catch you'll love this easy to make meal which tastes out of this world and uses just a handful of ingredients.
Copycat White Castle Sliders – Who doesn't love a White Castle Slider? well with this fun recipe you can enjoy them at home whenever you want…plus they can be frozen, if they make it to the freezer.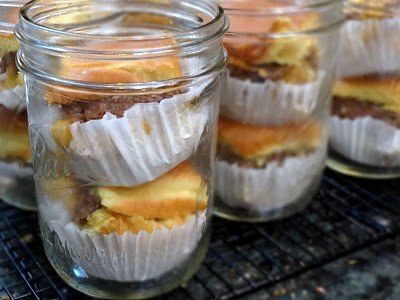 Fresh Corn, Edamame &Radish Salad – With a a load of salads made and popped in jars in the fridge you can have a weeks worth of lunch or sides already made…and this one has got to be on your list it tastes too good no to be.
Chili & Cornbread – Made using ingredients you already have this is the ultimate easy dinner and now it can be enjoyed anywhere with a delicious piece of corn bread on the side.
Barbecue Sundae – All of your favorite Barbecue foods together to make a tasty meat filled sundae that will warm you up on the coldest of days.
Chicken Cordon Bleu – Mason Jar meals don't have to be rustic and chunky, they can be as elegant and delicious as any food and with this recipe you can make a decadent dinner that's surprisingly easy.
Desserts In A Jar
Rainbow Cake In A Jar – It looks as amazing as it tastes and you'll love how fun it looks as you wait patiently for dinner to be over before you can devour this awesome cake.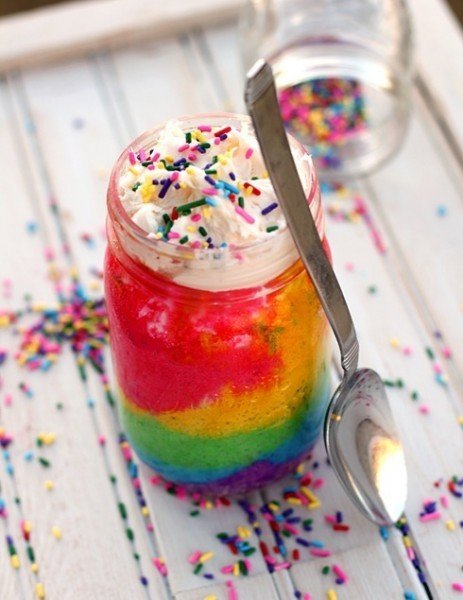 Monkey Bread – These single serving sweet treats will be a hit with everyone, plus you can make sure you don't go crazy by limiting yourself to just one jar…unless you make spares!
Cheesecake – With full step by step photographs you won't find an quicker or easier dessert to make in a jar than this delightful sweet treat.
Chocolate Banana Pudding – This decadent dessert has everything you could want from an after dinner sweet and they won't take you long to make at all.
---
---