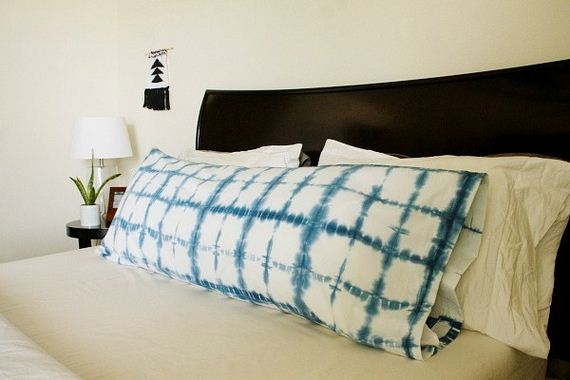 Creative DIY Pillows
Creative DIY Pillows
---
1. No-sew front knotted pillow cover. Do you love the idea of making your own decorative pillow case but you're not so sure that your sewing skills are quite up to that challenge yet? Check out this adorable no-sew pillow cover pattern featuring a chic little knot in the front for some texture. See how it's done on Pintester.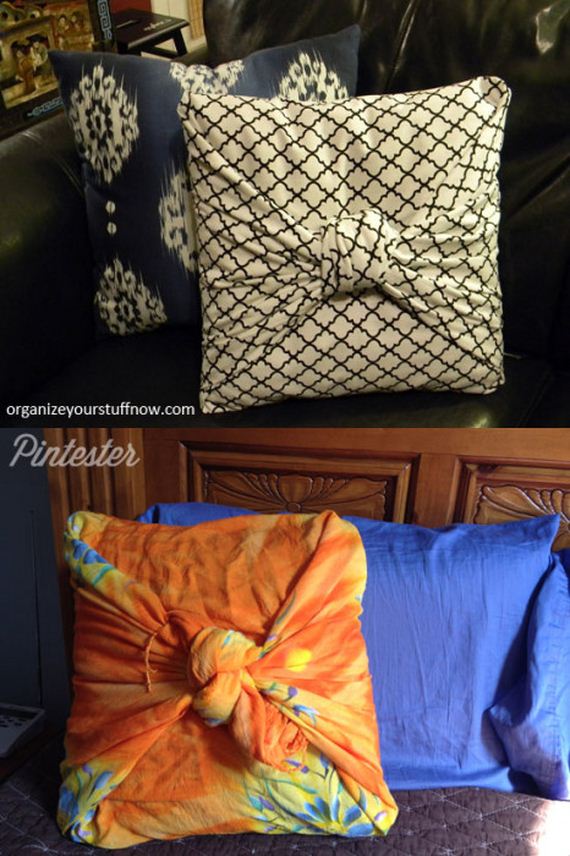 2. Envelope style pillow case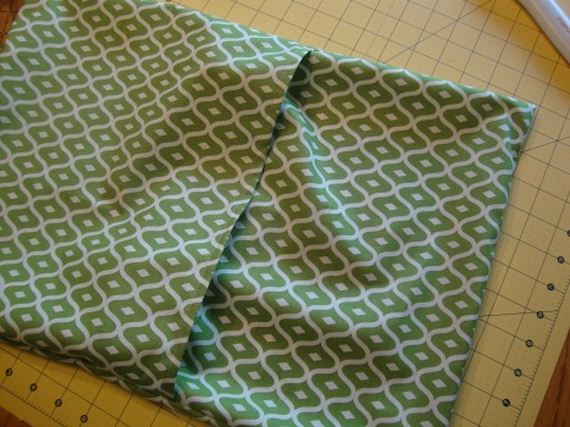 Do you like the idea of being able to get your decorative pillow cases off easily, but you also want it to stay on well when you move them around or when guests actually use them? This envelope style case by Grandma Bees Recipes
is perfectly constructed for both of those things! When it comes to sewing patterns, is also a nice, simple one for learners.
3. Long Shibori pillow case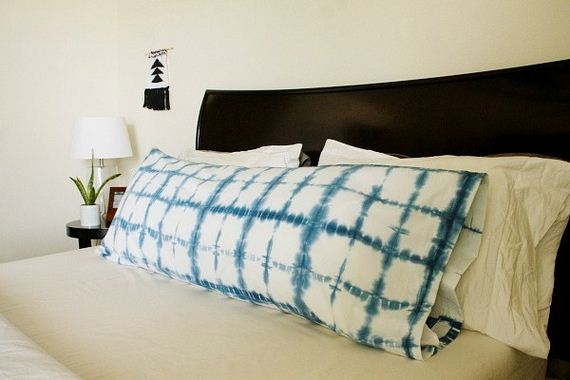 Are you as obsessed with Shibori patterns as we are? This tutorial by Liz Marie teaches you how to make pillow cases of various sizes so that you can enjoy that pattern decoratively on your couch or even all the way across your bed!
4. Simple graphic throw pillows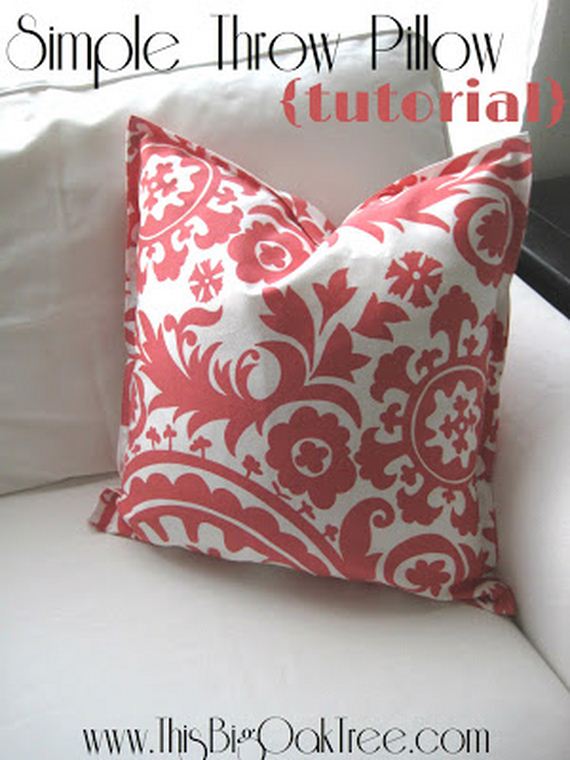 Are you looking for a pillow cover pattern that's very simple in construction so you can use a busily patterned material without things looking too overwhelming? Check out this easy square design by This Big Oak Tree!
5. Quick pillows made from store-bought napkins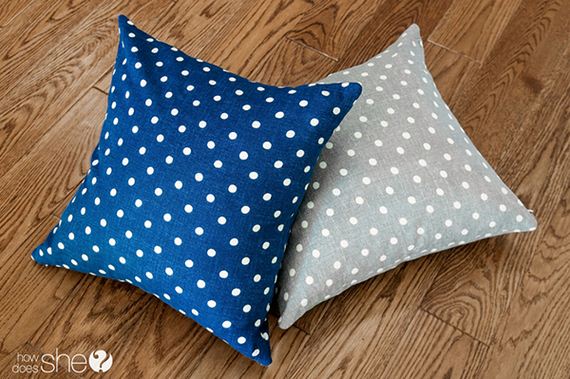 How Does She teaches you how to upcycle pre-made napkins into pillow covers for simple square pillows. We love these polka dotted ones, but you could use napkins in any colour or pattern you like!
6. Sewn throw pillow cover with a pom pom edge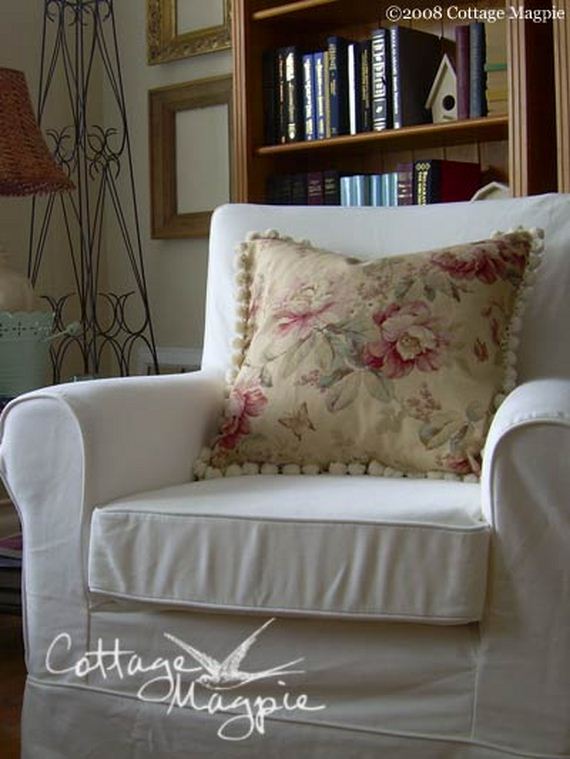 Do you like the idea of a sqaure decorative pillow cover, but you'd like your design to have a little something extra? Consider giving it a pom pom border around the outside edge, just like Cottage Magpie did!
7. DIY fold-over buttoned pillow case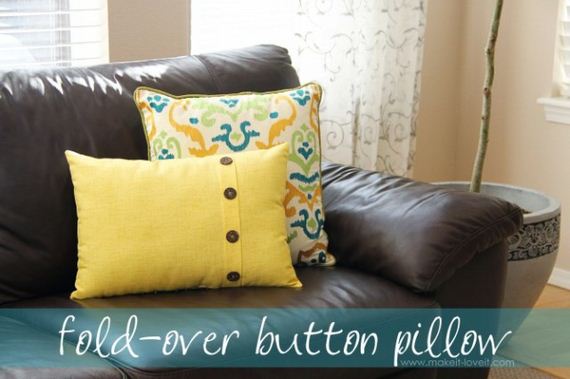 Do you like the folding envelope style of pillow cover, but you'd actually like to make use of the place where the material overlaps in a decorative way? Make it, Love it
suggests flipping the case around so the fold shows at the front and fastening buttons all the way down to keep it closed and add some texture.
8. Button-up pillows from dress shirts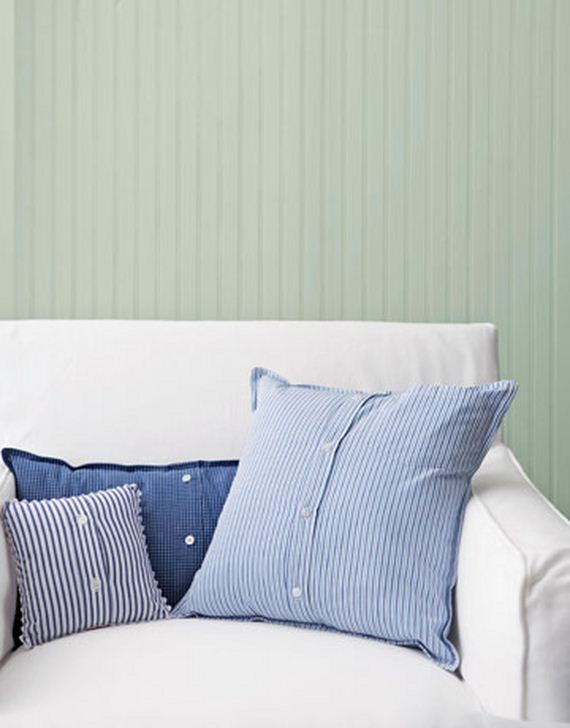 By now, you've probably noticed that we're pretty crazy about repurposing projects. Pillow covers are no exception! We love this idea from Country Living
for turning old button up shirts and blouses into buttoning pillow covers.
9. Easy No-sew pillow with a fringed edging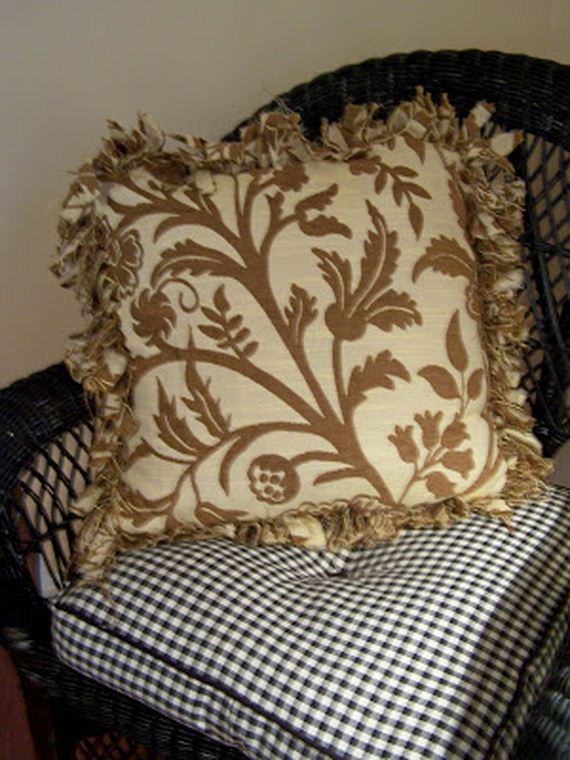 Did you love the idea of adding a trim around the edge of your decorative pillow but pom poms aren't necessarily your style? Try this easy fringed look from A Soft Place instead!
10. Monogrammed throw pillows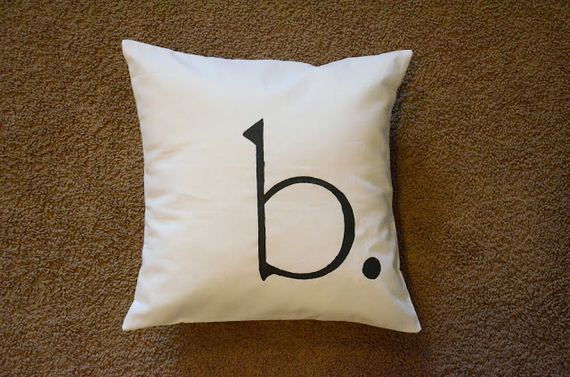 Everyone loves customizing things to their own personality, style or space, and one of the easiest ways to do that is with a monogram! There are plenty of ways to do this, but we love the neat, simple way that Merrick's Art monogrammed this pillow here.
11. Gathered pillow with a button centre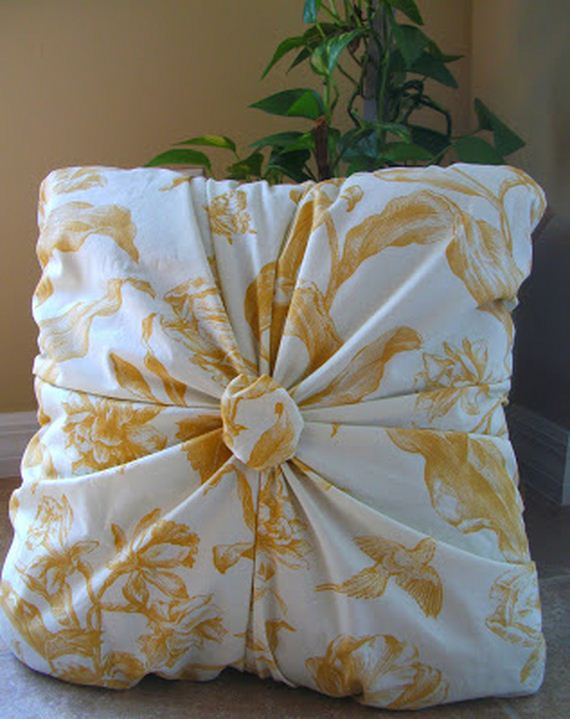 Do you love how the first no-sew pattern gathers in the front but you'd like a look that's a little fancier than just tying fabric in a knot? Try adding a rounded fabric "button" in the centre of some pinched gatherings. Sew Homegrow shows you how to make one just like this.
12. Pinched throw pillow case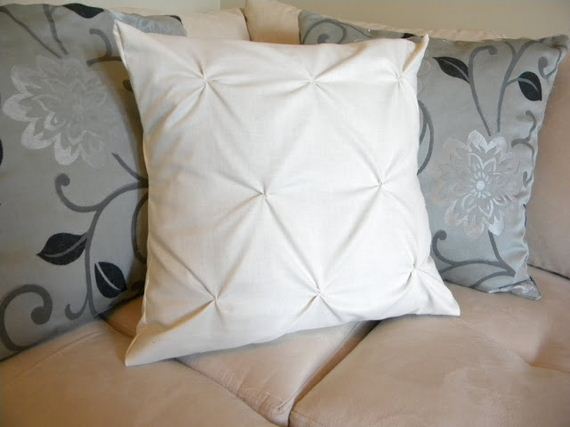 Do you like the gathered style of the previous pillow but you'd like something perhaps a little more delicate? Instead of gathering all of the fabric across the front into one centre point, try creating smaller gathering points scattered all over instead! We love that it creates a visual experience with each little pinch. See how it's done on Thrifty and Chic.
13. Stitched "Love" pillow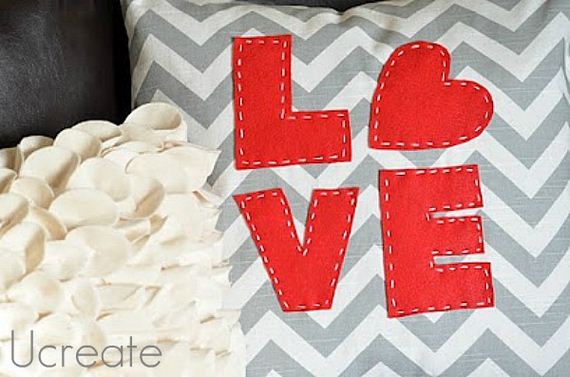 Are you more a fan of cute graphics than you are textures or simple patterns? Easily sewed block letters like the ones on this "LOVE" pillow by U-Create Crafts are a great way to add some personality into your space. You can even combine letters like this with a pattern you like, the same way this pillow overlays them on chevron.
14. Thrift shop sweater pillow cases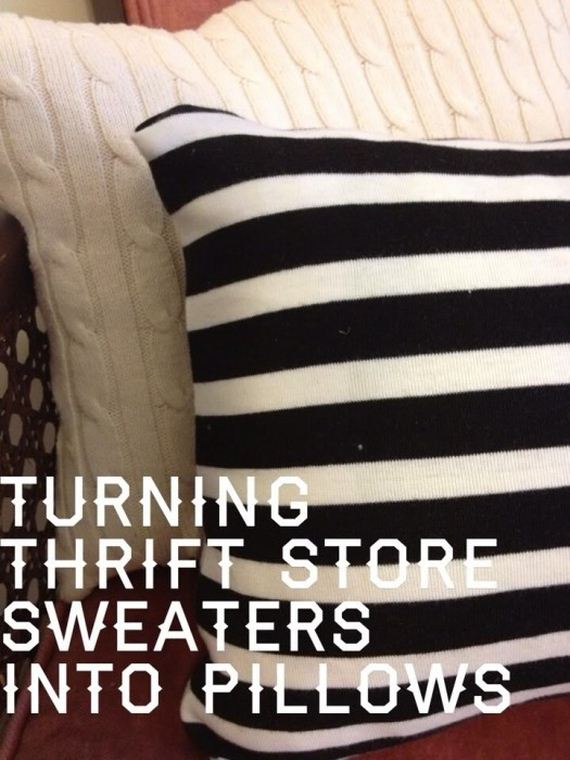 Radical Possibility reminds you how useful upcycling is when it comes to DIY decor! This tutorial shows you how to make an adorable decorative throw pillow cover out of old sweaters in basically any pattern or design. They suggest using clothing you found for a discounted price at the thrift shop, but you could use old garments from your own closet just as easily!
15. NYC t-shirt pillow case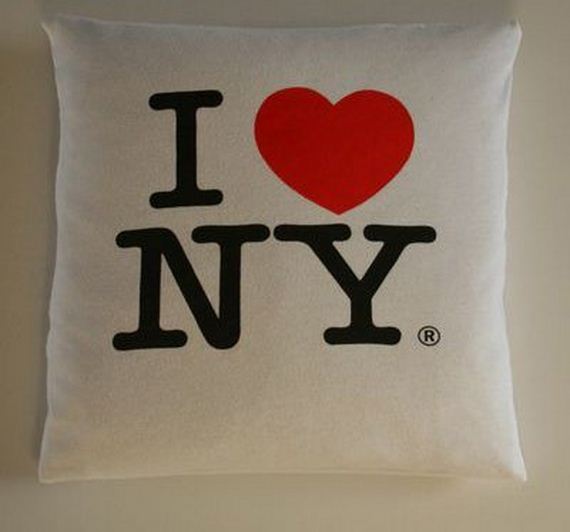 Do you like the idea of upcycling clothing but you don't have any sweaters or blouses available like the previous clothing tutorials call for? Apartment Therapy has an alternative idea for you! Try making a decorative pillow cover out of old t-shirts instead. We love this cute New York design, but you could use any graphic t-shirt featuring a design you like.
---
---