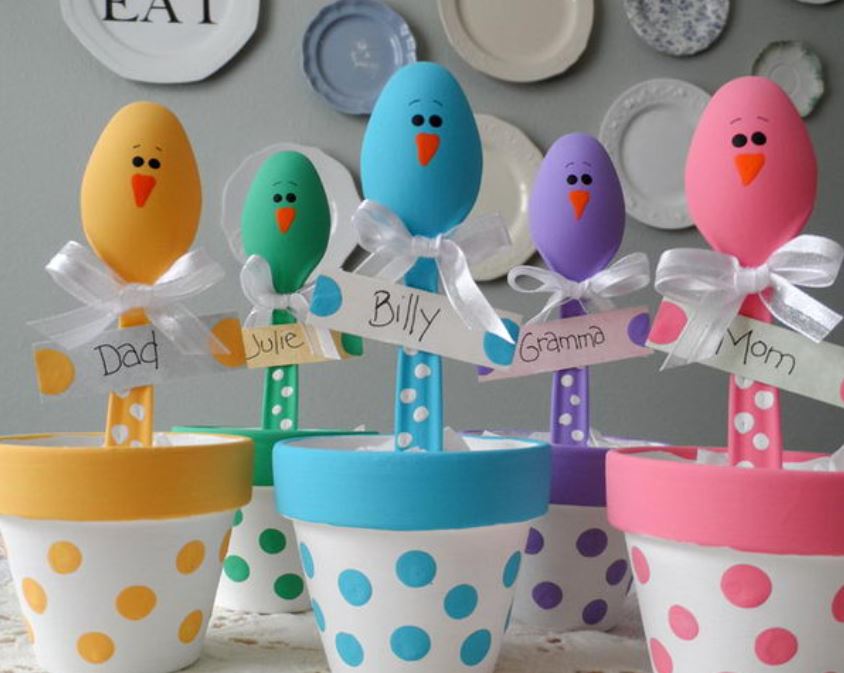 Creative Easter Decor DIY Projects
Creative Easter Decor DIY Projects
---
Easter is right around the corner, and while not everyone makes a big deal of it, most people celebrate the holiday in one way or another.
Easter is one of the first holidays of the year, and it takes place right at the beginning of Spring, so it is undeniably associated with everything light, fun and colorful, from fluffy bunnies to egg baskets and even flowers.
While it is fun to decorate for Easter, we can definitely understand it if you don't want to spend a lot of money on a holiday than means less to you, especially if you have other Spring events taking place at the same time to consider.
The good news is that you definitely don't need to spend big bucks to deck your house out for Easter, because there are plenty of fun DIY projects you can try your hand at, alone or with the kids.
If you want to know more, keep on reading to uncover these Creative Easter Decor DIY Projects.
Painted Plastic Easter Eggs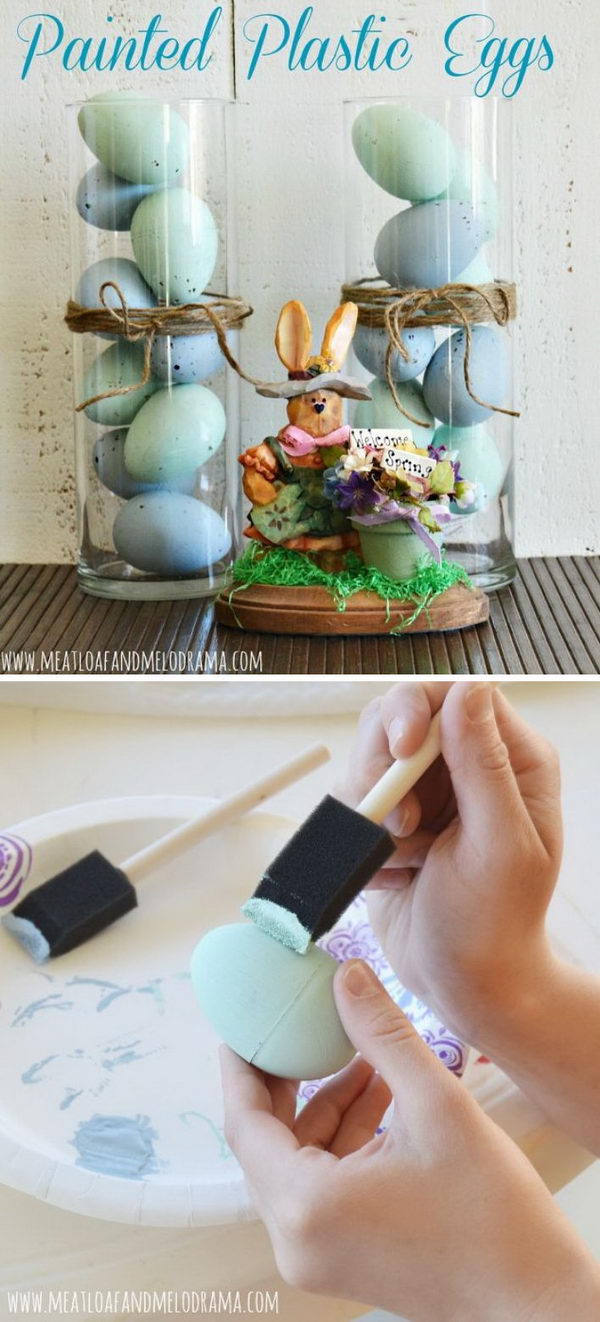 Painting eggs is an Easter tradition that has lasted for generations. You don't need, however, to sacrifice real eggs for this kind of project anymore, thankfully, which means it is much easier to do it with the kids and it will last much longer. You can display them a number of different ways, but placing them in a basket or stacked like the example are quite impressive display ideas. via meatloafandmelodrama
DIY Clothespin Bunnies

If you haven't noticed how clothespins resemble cartoon bunnies, you're clearly missing out. All you need to do if you want to create some cute and easy Easter bunny decorations is paint your clothespins with bunny features then finish them off with little string bows. The picture here is a great inspiration if you need a simple design to recreate. via onelittleproject
Yarn Wrapped Carrots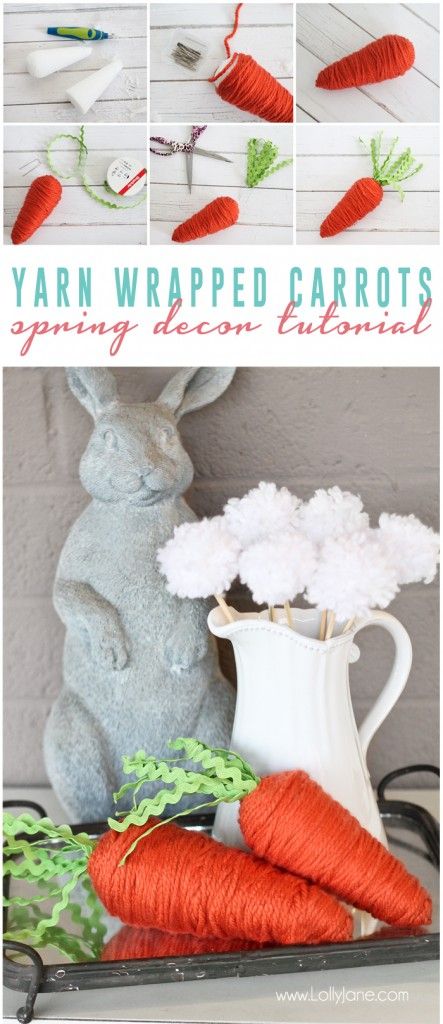 Making awesome fake carrots is actually quite simple. All you need to do is a take a bottle or cardboard cone and wrap it completely with orange yarn to resemble a carrot. Add the fake leaves to the top and your work is done. via lollyjane
Spring Moss Covered Easter Pots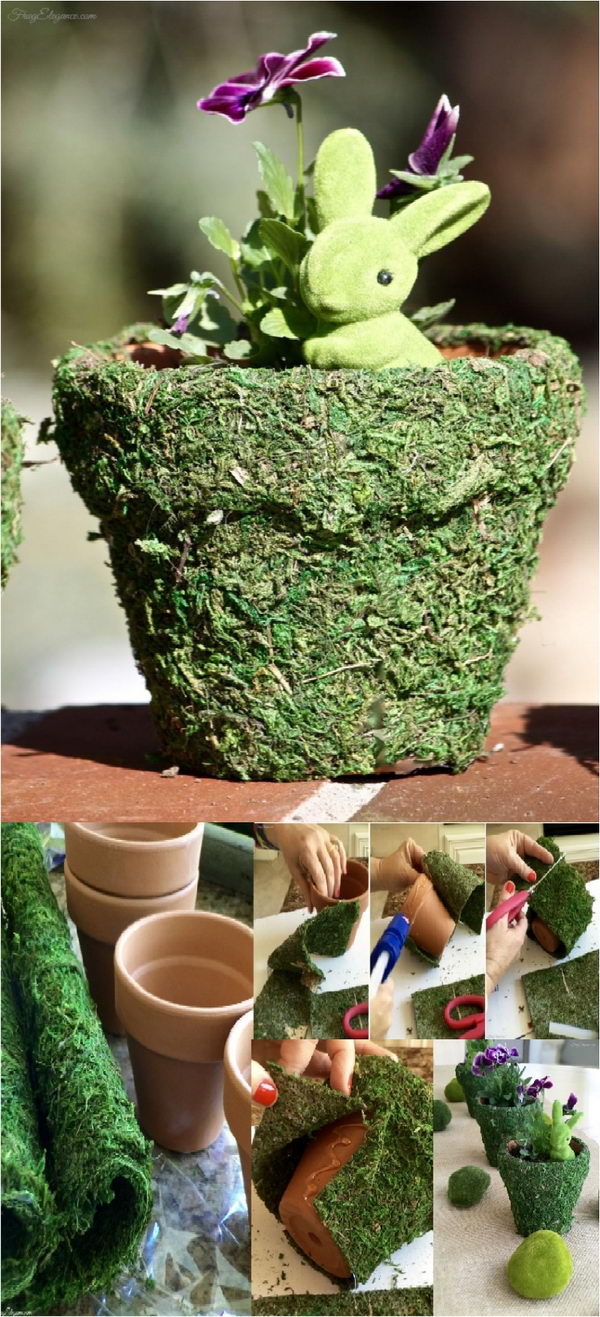 These grassy flower pots are as easy to make as gluing some real of fake moss to a regular clay pot until the surface is fully covered. Add a little bunny in with your plants and they'll be perfect for Spring and Easter. via hometalk
DIY Easter Mantel Decor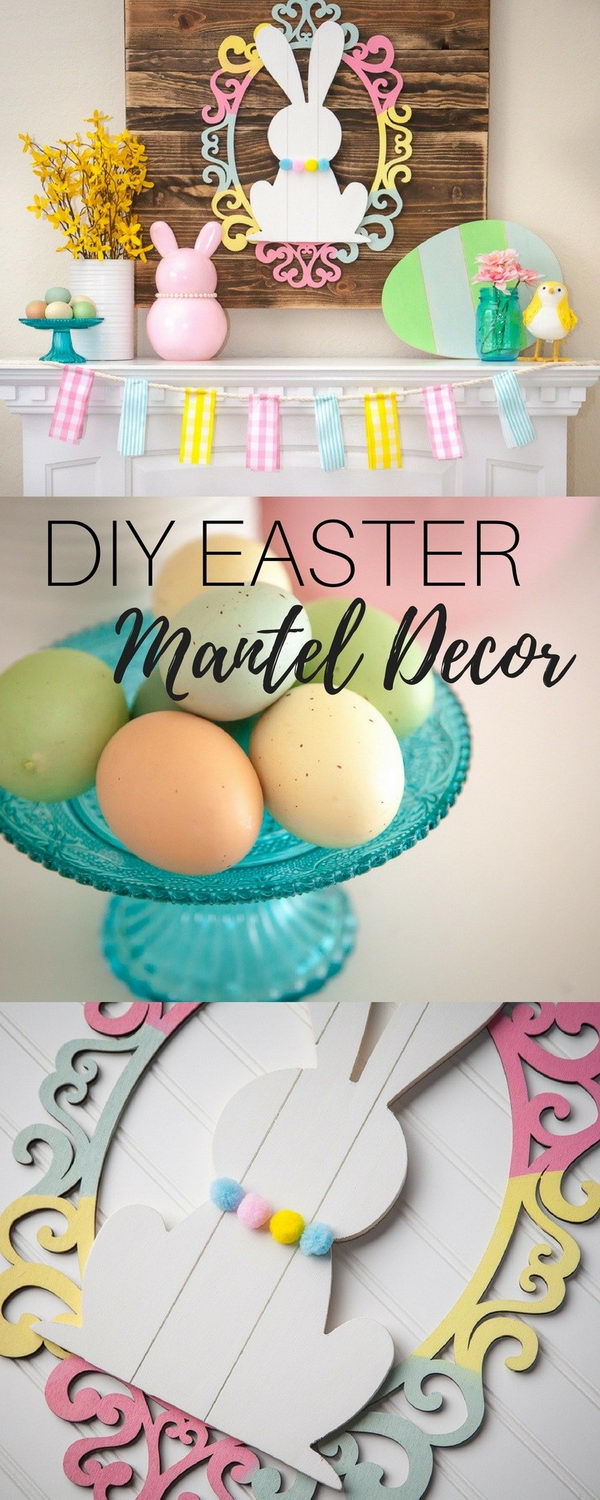 This mantel Easter decoration is just precious! You've got the board with the colorful 3D bunny art, an actual pastel bunny as well as a striped large egg, a modern yet tasteful egg display and even a little chick on a pedestal and some flowers. The set up is completed by some colorful tassels which tie it all together in a festive yet tasteful way. via love-the-day
DIY Easter Egg Topiary Tree

This is definitely a very different topiary to what we commonly see. The little eggs are nested in the plant much like ornaments on a Christmas tree, and it looks absolutely beautiful. via sandandsisal
Burlap Bunny Table Runner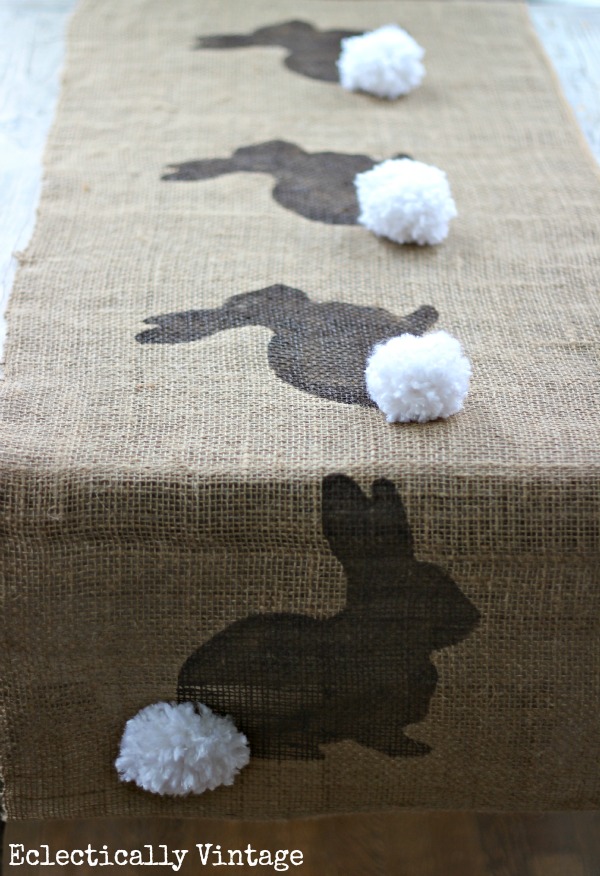 This neutral burlap table runner is a very classy way to decorate your Easter table. It features bunny silhouettes all across its surface, with a yarn or cotton ball serving as the cute animal's tail, which gives it dimension and a fun twist. via kellyelko
Easter Yarn Ball Wreath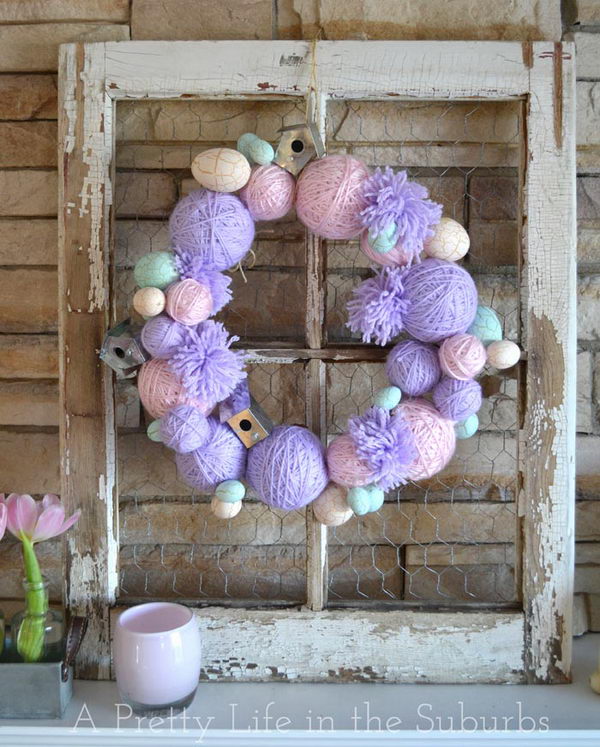 This Easter wreath is pretty much as simple as they come. It is mainly made of yarn balls in different sizes and pastel colors with some accents like pompoms thrown in to break the very uniform look. via aprettylifeinthesuburbs
Wooden Hope Easter Wreath Sign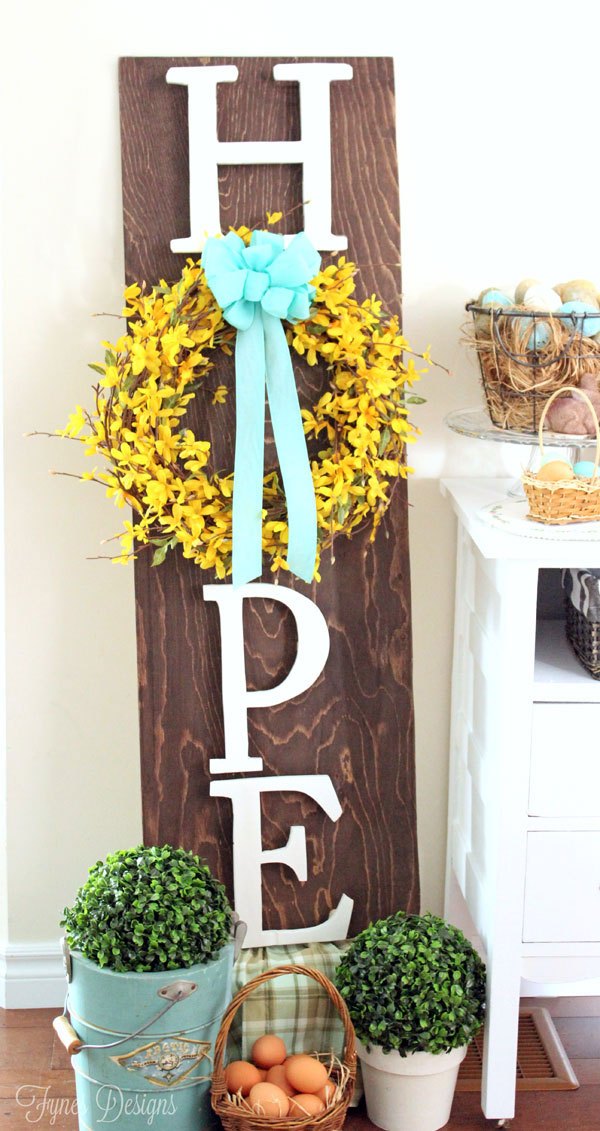 A sign like this is perfect for a rustic or farmhouse Easter decoration. It features the HOPE sign in natural wood and white letters, with the "p" as a flower ribbon. Plants and an egg basket sit at the base, making this an unmistakable Easter decoration. via fynesdesigns
Easter Mason Jar Flower Arrangement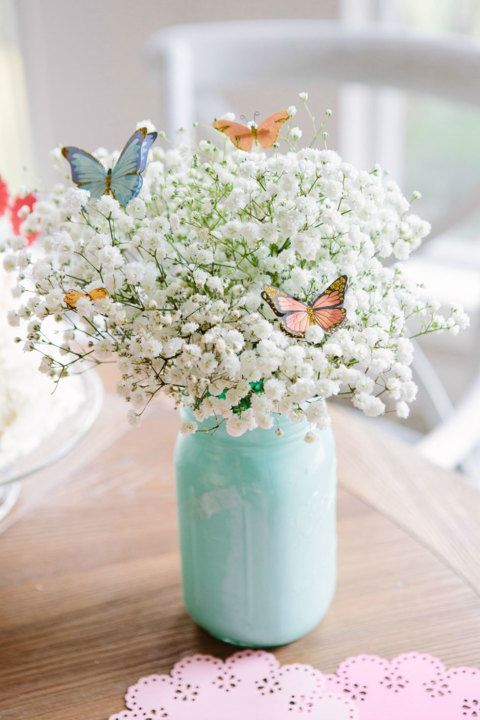 Mason jars make easy, cheap and cute vases, and this one is no exception. It was painted an almost opaque light blue or mint, which is a definite Easter color, and it houses a nice flower arrangement. via designimprovised
Easter Candy Jars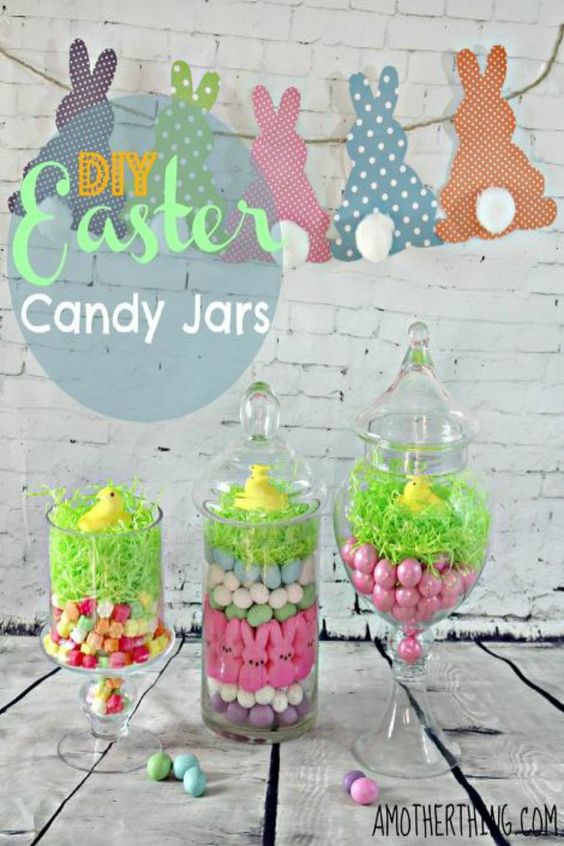 Here's a great party decoration, especially for kids. These jars were filled with layers of different candy to create an ombre effect. Some fake grass and a chick top off each jar which is also decorated by a string of fabric bunnies around the outside. Each jar is different, which makes the decorative display even cuter. via amotherthing
Easter Peeps Centerpiece Using Peeps, M&M's And Flowers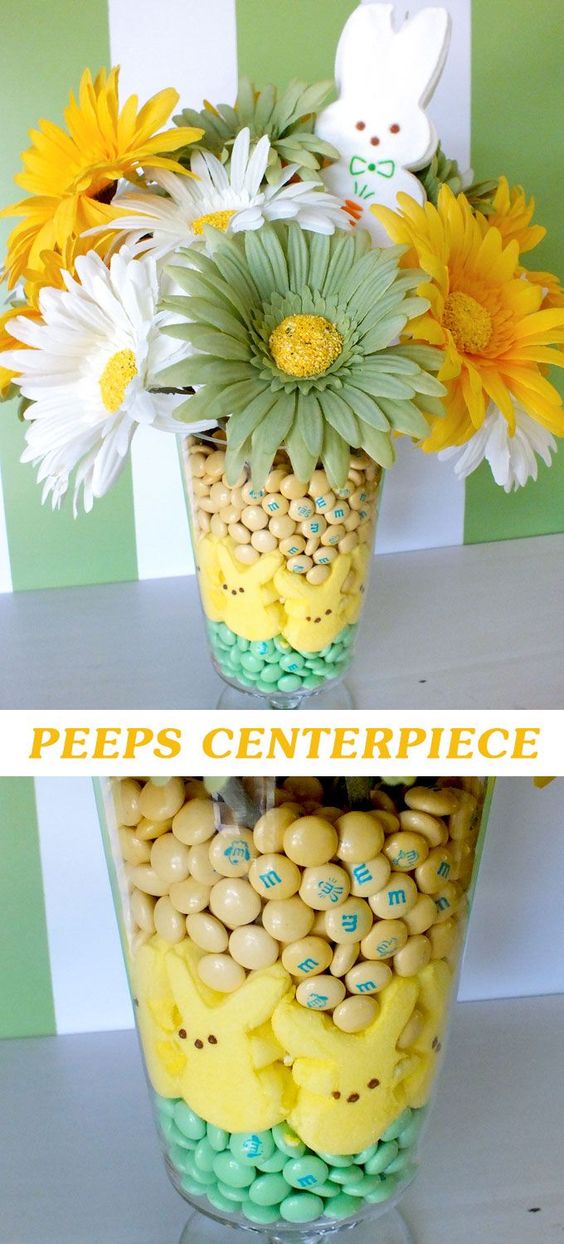 This is definitely a different flower arrangement, as the vase was filled with a mixture of Easter Peeps and pastel M&Ms. The flowers sit at the top beautifully with a bunny peeking out from behind, thus celebrating Easter and Spring. via twosisterscrafting
DIY Easter Egg Tree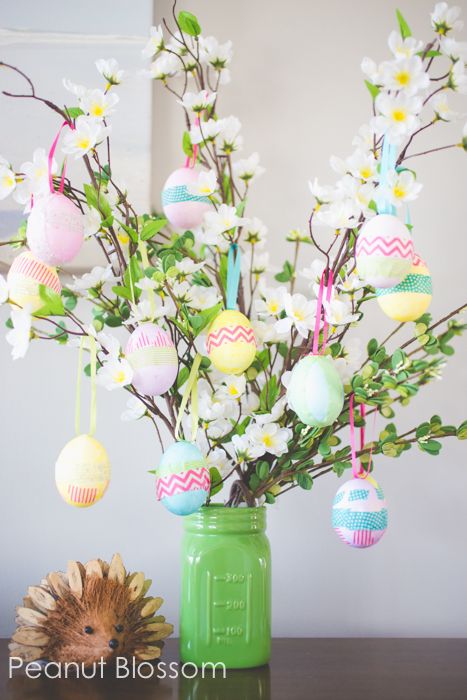 This Spring plant, which already has some blooms at the ends of its branches, was decorated like a Christmas tree, with Easter eggs hanging like ornaments. The eggs compliment the green vase quite well, creating quite a cohesive decoration. via peanutblossom
Jellybean Topiary For Easter
Easter topiaries are definitely unusual, as you can see here. This one has a cluster of colorful jelly beans glued to a stick, which makes it look like a lollipop is coming up from the plant in the pot below. via craftysisters-nc
Easter Egg Tree Centerpiece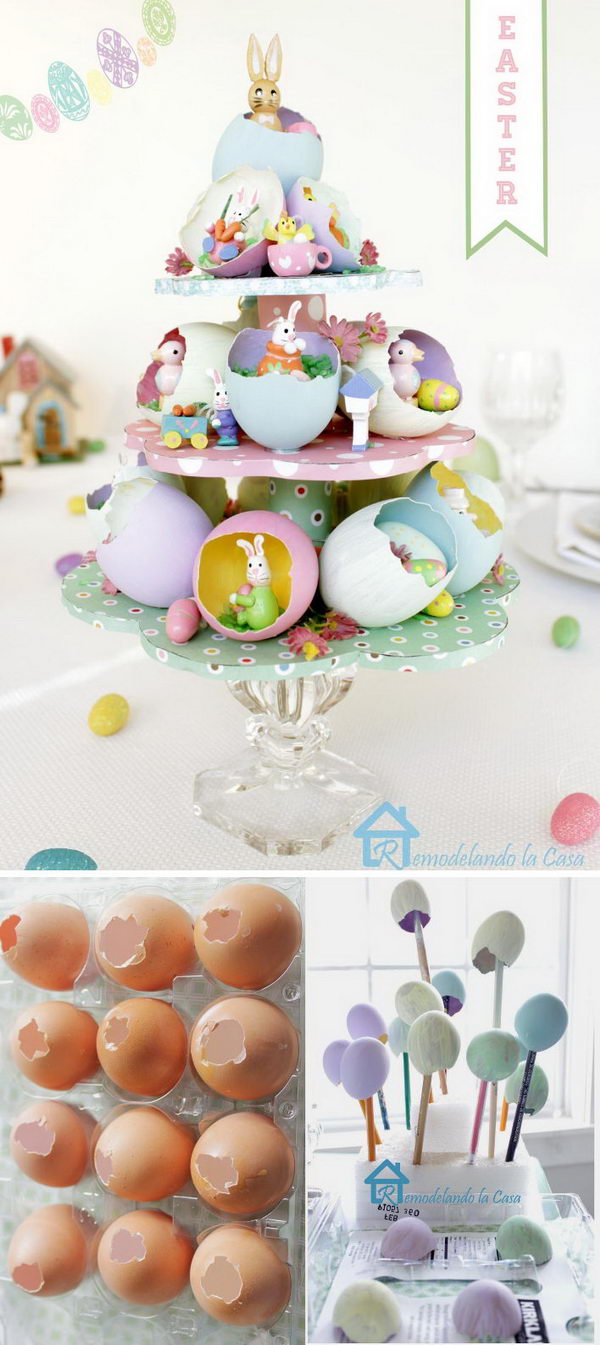 Now this is quite an impressive centerpiece, with all its egg and bunny filled layers. It was built as a cake display and features a mix of decorative bunnies and eggs, going from larger to smaller towards the top. via remodelandolacasa
DIY Jelly Bean Tree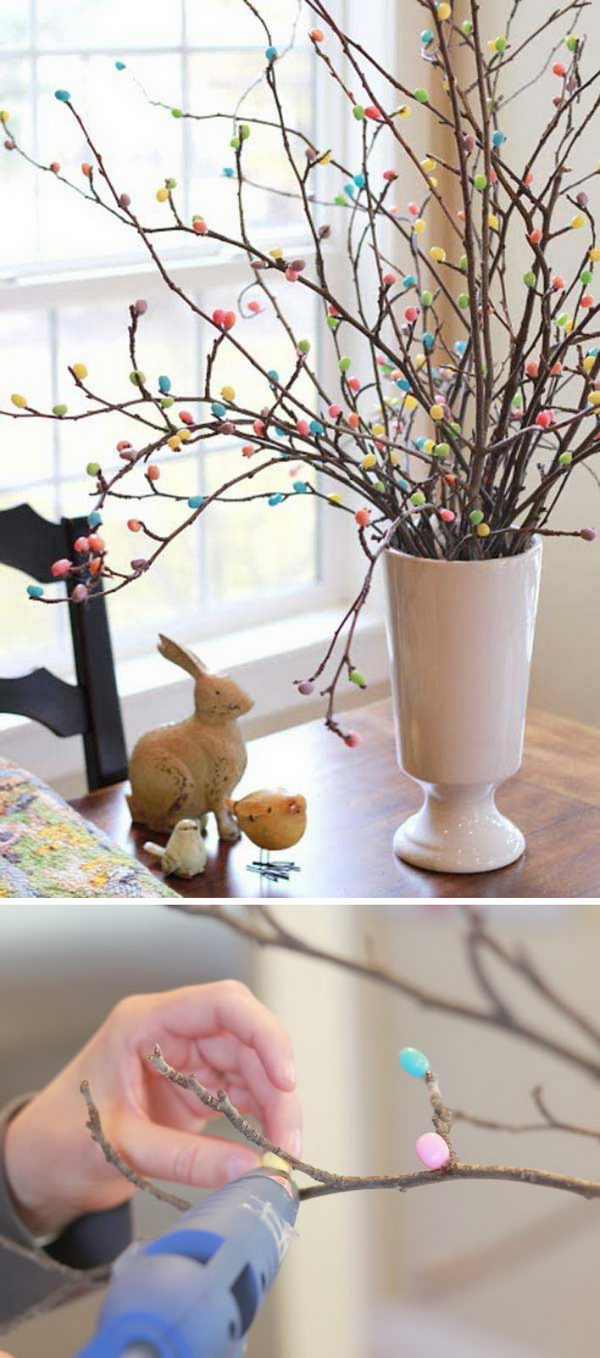 Here's another decoration that is quite classic, but with a fun twist. The tree of sorts is displayed a cream pedestal vase with brightly colored jelly beans placed strategically to mimic flowers. Little animal figures stand near the base, as if admiring the plant. via craftysisters-nc
DIY Easter Apothecary Jars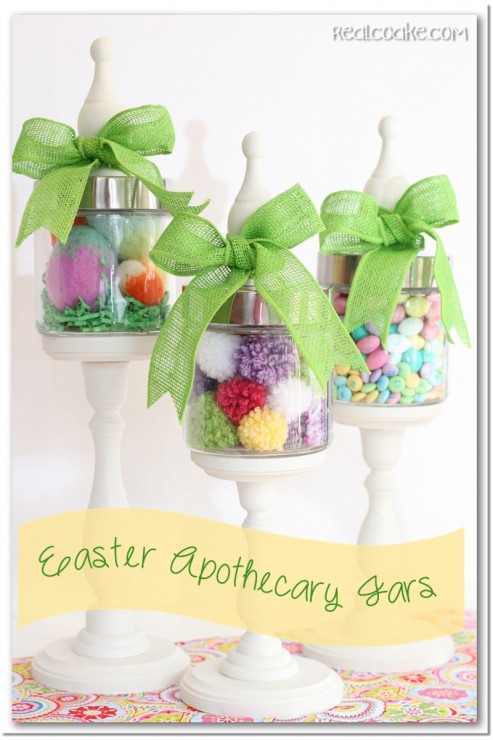 These jars are quite fun with their different colorful contents which include eggs and pompoms, as well as the green bows at the top. They are displayed on little white stands, which is both cute and classy. via realcoake
Easter Egg Candles Centerpiece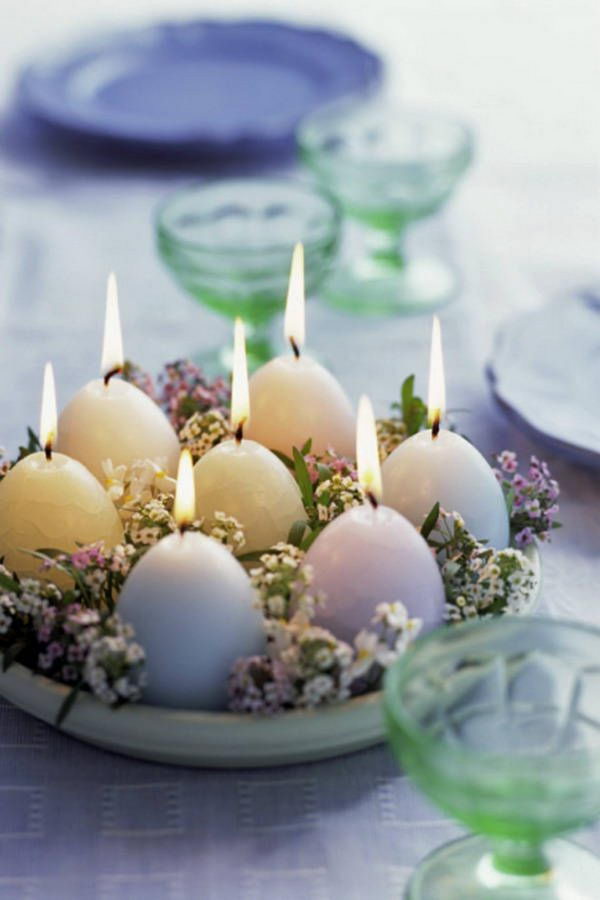 Now this is definitely unusual, as these Easter eggs are in fact candles made from wax of different colors. They are nested on a plate among what looks like fabric scraps or dried plants. via superweddings
DIY Easter Egg Flying Cup Topiary

Here's yet another very unusual and cute idea. We have a cup that was purposefully propped on its side as if knocked over, and a plant covered with many colorful Easter eggs and chicks spilling out of it onto the table, creating the perfect fun illusion. via fabartdiy
DIY Easter Egg Button Craft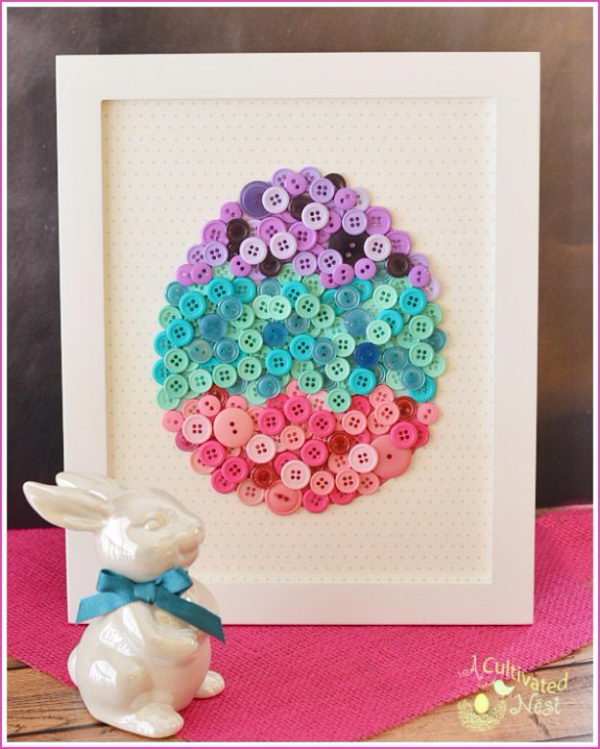 This framed canvas is quite stunning, with all the colorful buttons making a striped Easter egg at the center. A white porcelain-like rabbit with a bow around its neck sits at the base to complete the scene. via acultivatednest
Flowered Egg Topiary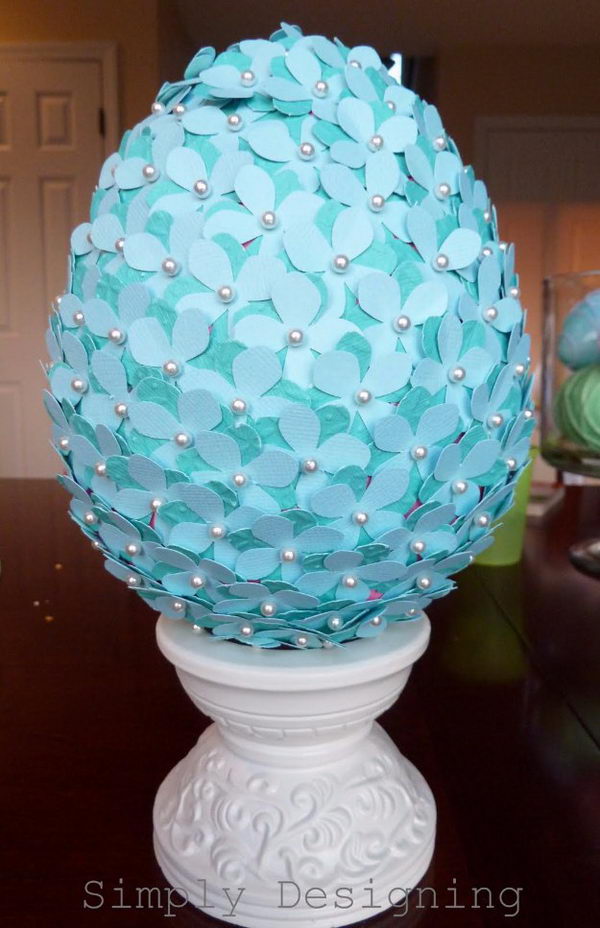 This egg decoration is absolutely stunning, as the giant Easter egg is covered in blue paper flowers with a pearl center, giving it a dainty dimensional look. The embroidered white vase below makes for a perfectly complimentary display. via simplydesigning
Plastic Spoon Chicks For Easter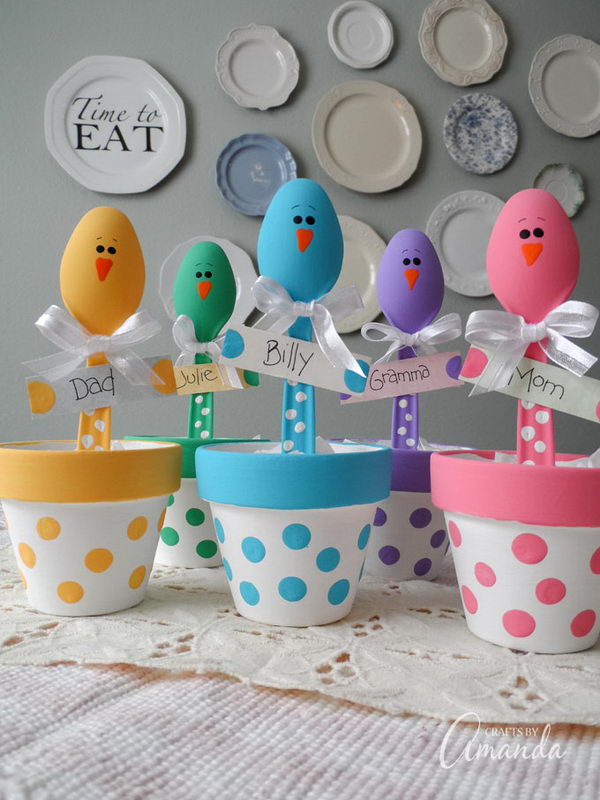 These topiary style decorations are incredibly adorable, as spoons have been painted in pastel colors so they look like a cross between an egg and a chick. The white polka dot vases in matching colors really complete the look. via craftsbyamanda
Easter Floral Arrangement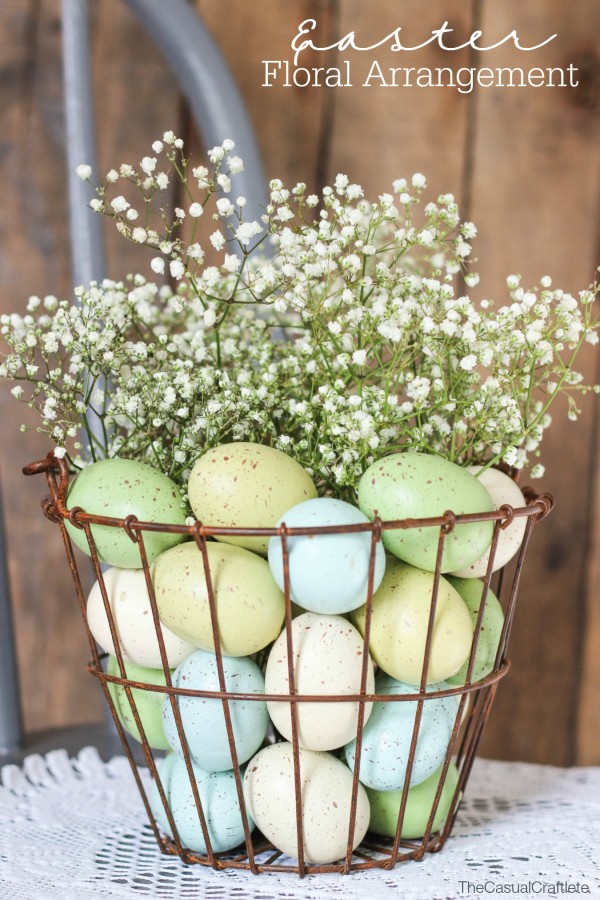 This is yet another one of those novelty flower arrangements where the vase or pot is filled with decorative items so the flowers stand out more. In this case, the vase is an open wire grid bucket which was filled with pastel colored Easter eggs. Spring blooms shine among the beautiful eggs. via thecasualcraftlete
Easter Egg Candle Holder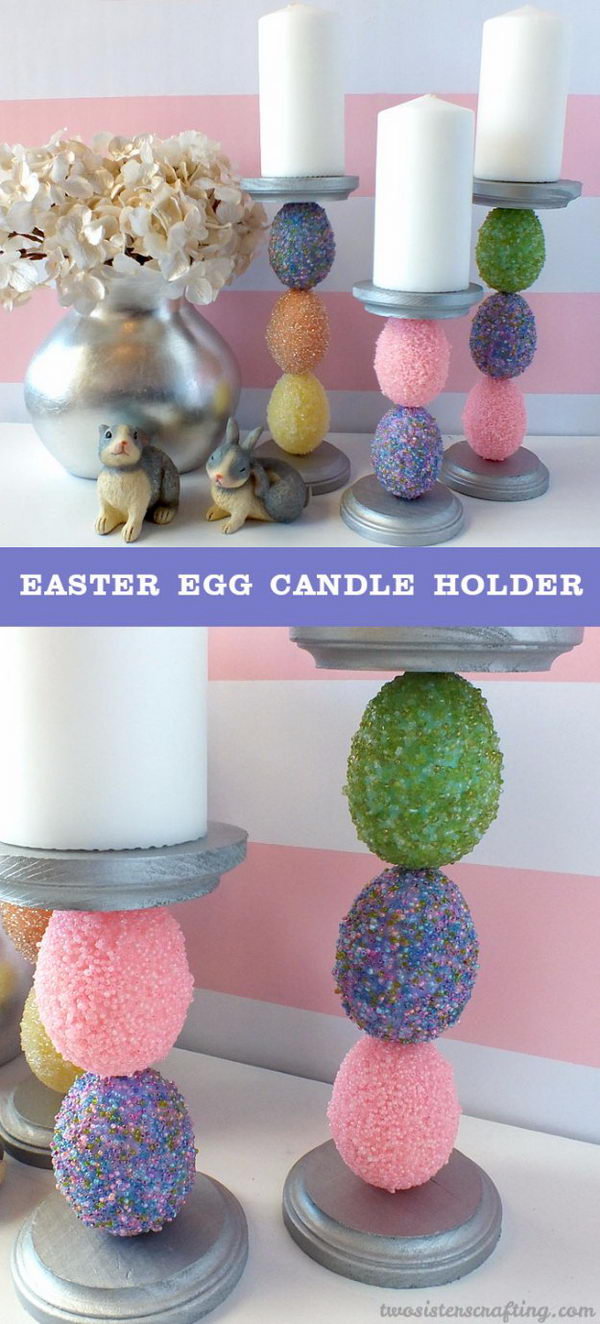 This is quite a different Easter decoration idea, as these otherwise simple candle holders have been decorated with colorful 3D eggs along the middle, giving them that Easter twist. via twosisterscrafting
Easy DIY Bunny Gumball Machines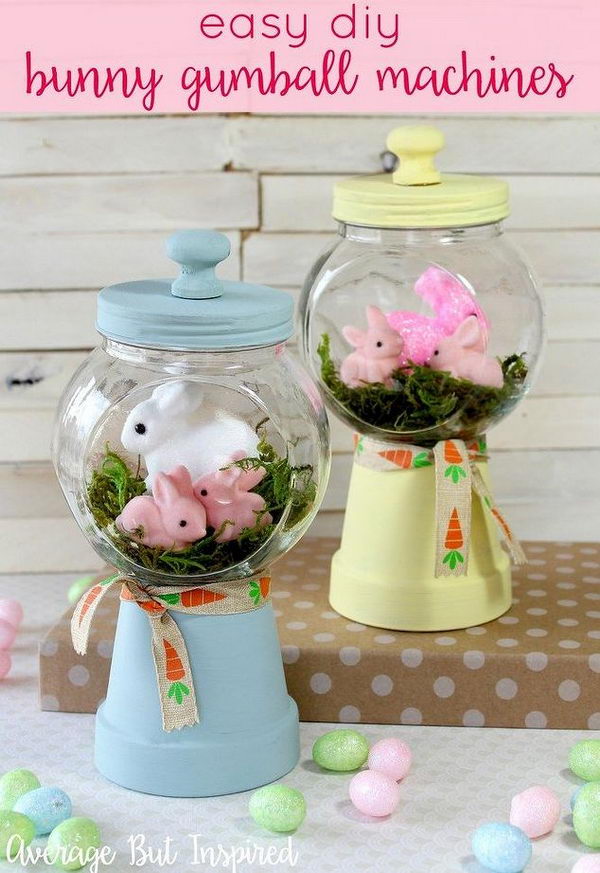 These are actually not real gumball machines, but you could definitely be fooled. They are, in fact, candy jars glued to flower pots that have been turned upside down to serve as bases. The jars were filled with moss and foam bunnies for decoration, while the jar lids and bases were painted the same color to help create the gumball machine illusion. via averageinspired
Chandelier Decorated With Easter Eggs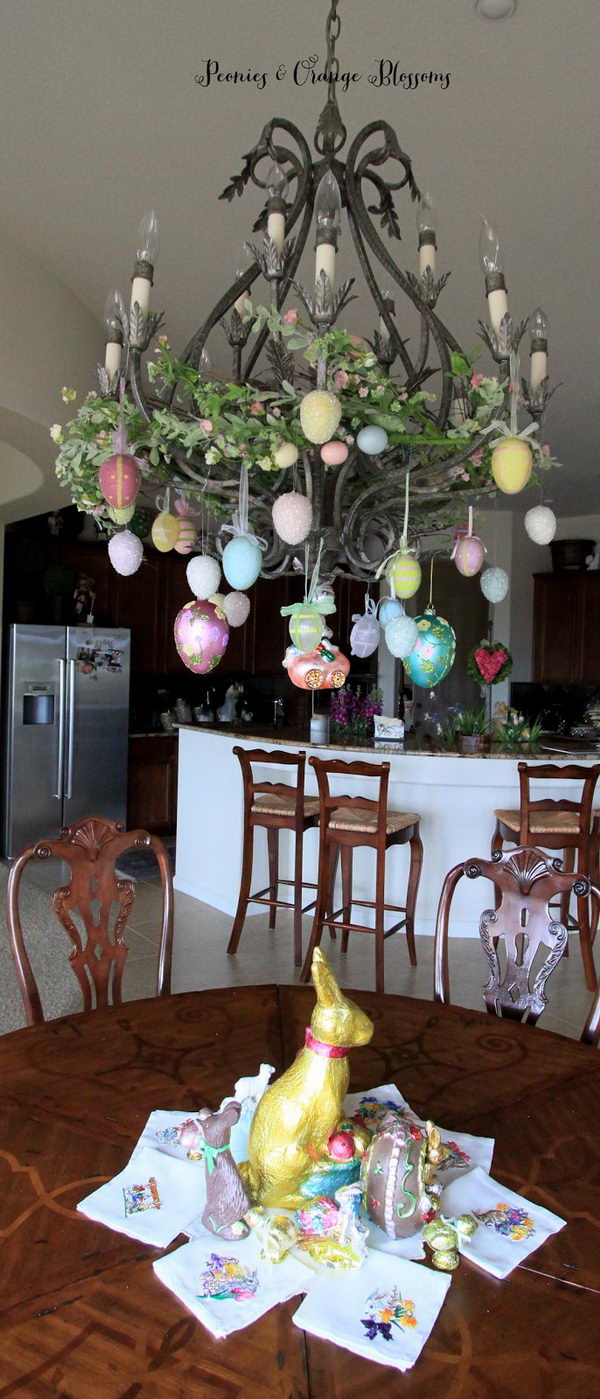 This chandelier looks like a mobile with all the cute figures hanging from it. All the eggs and bunnies add color and a fun twist to this otherwise vintage and serious-looking piece. via petitehaus
Easter Egg Tree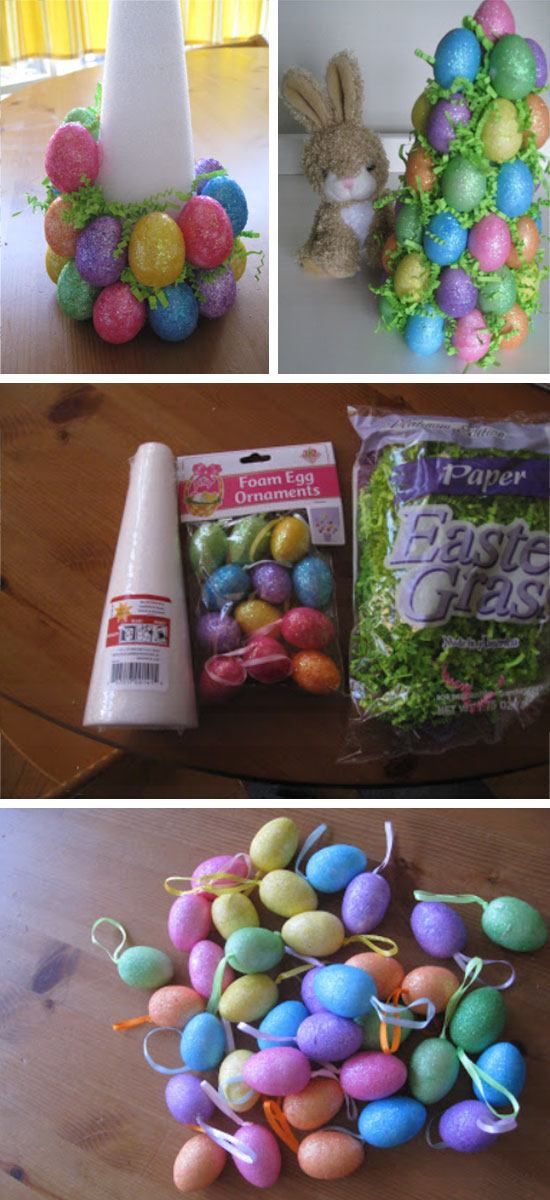 Who said eggs don't grow on trees? This one proves them wrong. A mix of green paper and egg ornaments were glued to a cone to create this piece. via sweetfloweret
DIY Flower Topiary

This flower topiary is definitely more Spring than Easter, as it is covered in pink roses and butterflies for the most part. Little eggs have been sprinkled in between the flowers and a large bow was tied around the stick that holds the piece up. via apumpkinandaprincess
Easter Bunting with Pom Pom Bunnies

Here's our incredibly cute Easter decoration. You have a chalkboard sign framed by rich wood hanging on the wall, and it was topped by a little banner of cardboard bunnies with sassy pompoms as their tails, making it look quite fun. via cleanandscentsible
DIY Easter Egg Stick Decor


via somuchbetterwithage
---
---