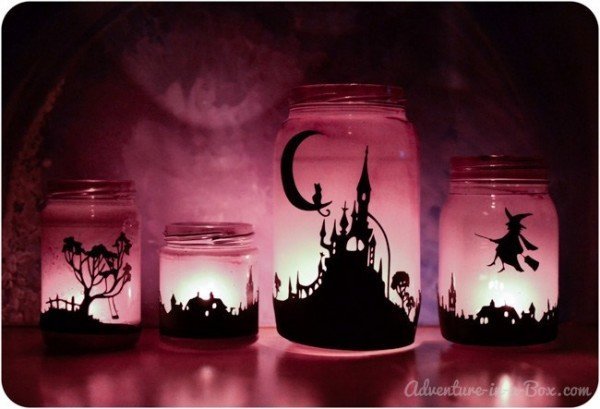 Creepy Halloween Mason Jar Crafts
Creepy Halloween Mason Jar Crafts
---
Something spooky this way comes!
Who doesn't love a Mason jar project? Surely not us! That is why we have compiled this list of excellent Halloween themed mason jars for your enjoyment!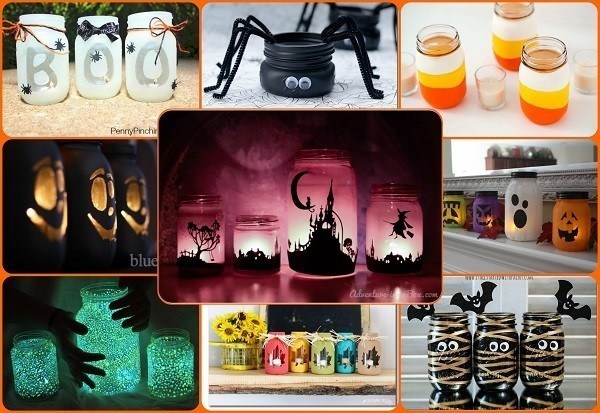 These projects range of quick and easy to detailed and gorgeous! But there is surely something here that will catch your fancy and inspire your own craft projects. Our favorite? Creating a little ghost-filled terrarium for a hauntingly fun display!
Need some mason jars for these projects? Head over to Amazon and pick some up here!
Read on for some incredible ideas!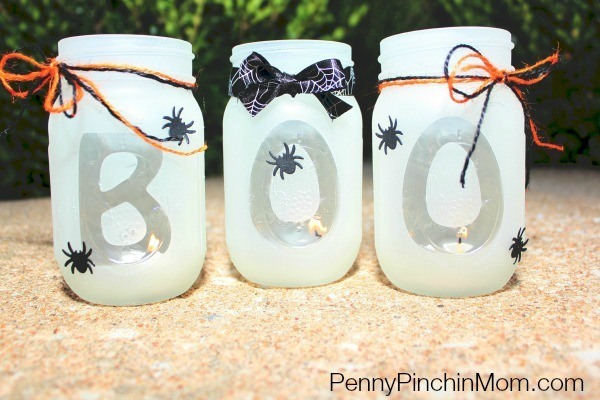 Boo Jars – These boo jars make for a cute addition to some Halloween decor. All you need are jars, some vinyl stickers or stencils, and frosted paint, then embellish them with whatever Halloween themed decorations you want!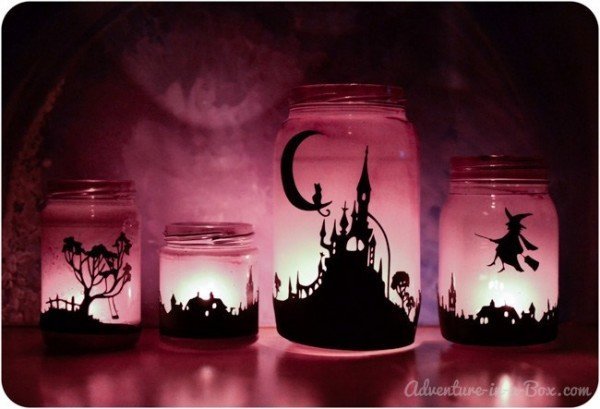 Enchanting Halloween Lanterns – These gorgeous lanterns are surprisingly easy to make! The tutorial is easy to follow and they also offer printable designs for those of us who are less artistic. Paint by hand with acrylic paint or draw the designs on with a paint marker for this lovely opaque design.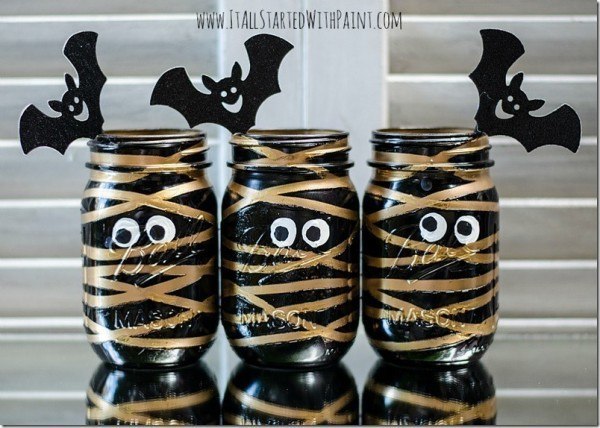 Painted Mummy Jars – These painted mummy jars are a cute decoration for your seasonal decor and they're so easy to make! Spray your jars gold and then wrap them in rubber bands to make the "wrappings" before spraying them with black paint.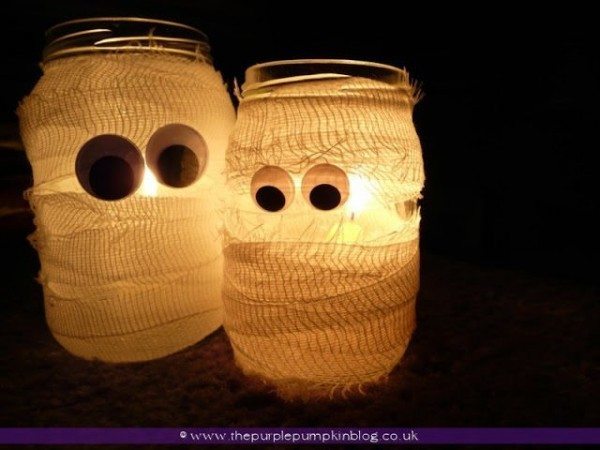 Mummy Candles – Make these adorable candle jars by wrapping jars with bandages or cheese cloth and add some googly eyes.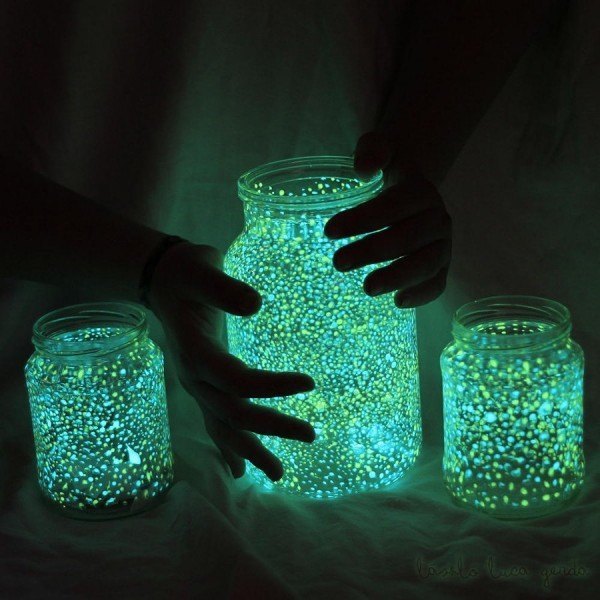 Glow-in-the-Dark Jars – Glow-in-the-dark jars can make a great lantern for any time of year and they are so simple to make! Glow paint is really all you need to make these fun jars.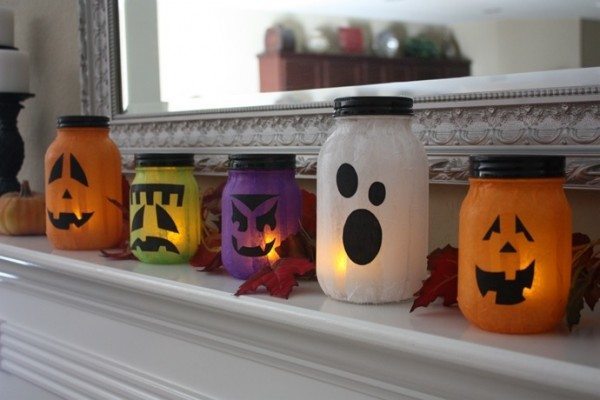 Halloween Character Jars – Aren't these fun? Create all sort of Halloween characters with this simple tutorial! Modge Podge and tissue paper make the base for these faces! If you don't feel like designing your own faces, there is even a template that you can use.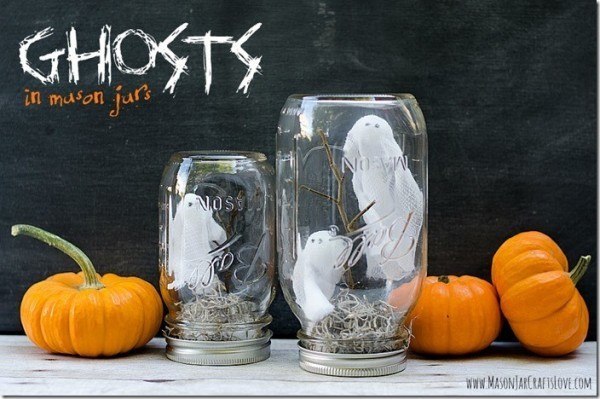 Ghosts In A Jar – These cute little jars are so easy to make and the tutorial is pretty simple. There are plenty of pictures to follow along, step-by-step with and you could even add spiders or other creepy crawlies to make your jars even spookier!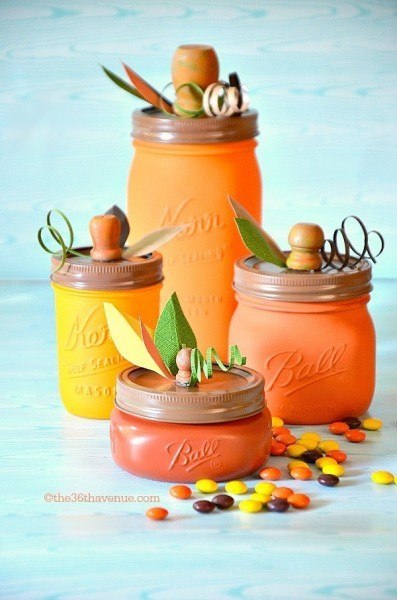 Pumpkin Treat Jars – These pumpkin jars are perfect for any Fall decor! The tutorial is a little bit more involved but the final product is well worth it.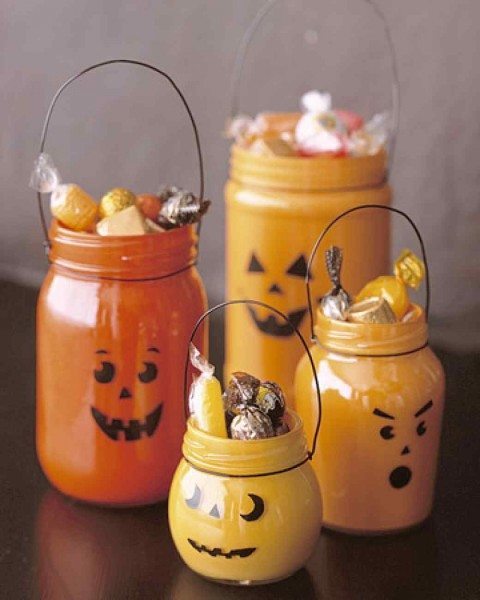 Jar O' Lanterns – Look at these cute little jars! We love painting jars and adding faces to these makes them even better! For treat jars these are absolutely perfect. Making little wire handles is a simple and effective addition.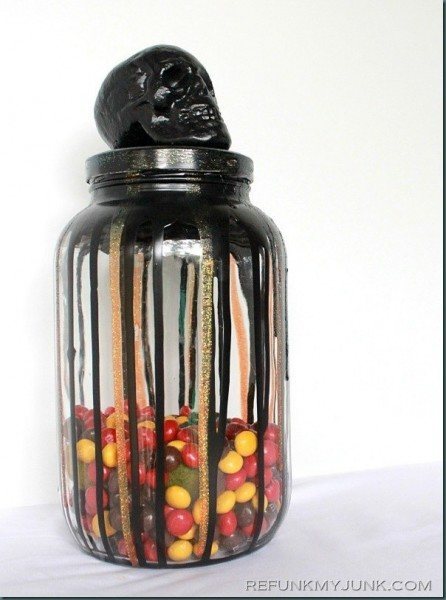 Creepy Treat Jar – These drippy jars add a great spooky factor to Halloween decor! Run some paint down the edges of the jar and let it drip down. Affix something creepy, or just Halloween themed, to the lid and there you have it!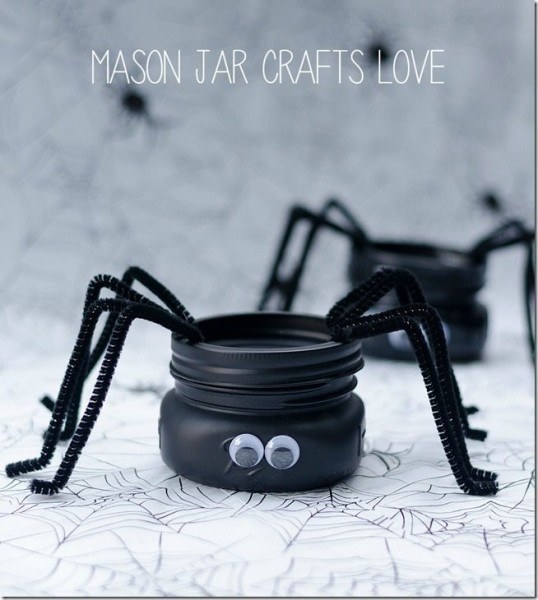 Spider Jars – These cute little jars could make you like spiders, or maybe not. But there is no denying that they are adorable. This tutorial is simple and has lots of pictures to get you through the steps!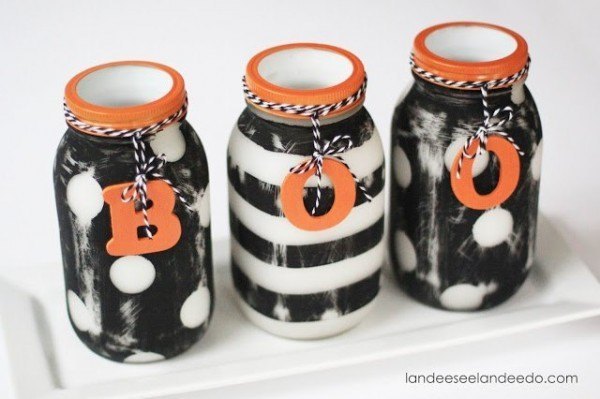 Painted Halloween Jars – Painting jars is fun, but distressing them is even better! These are fun and so easy to make you will want to make jars for everything!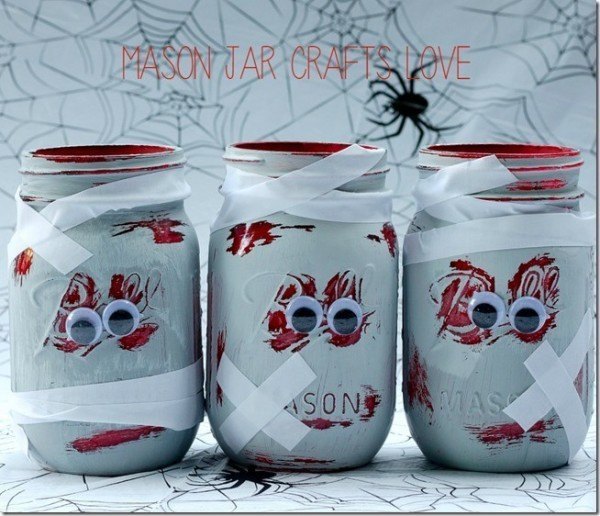 Zombie Jars – Zombie jars! Perfect! These are so cute and would make great additions to a display or table centerpiece. Add some more zombie features to these to make them your own!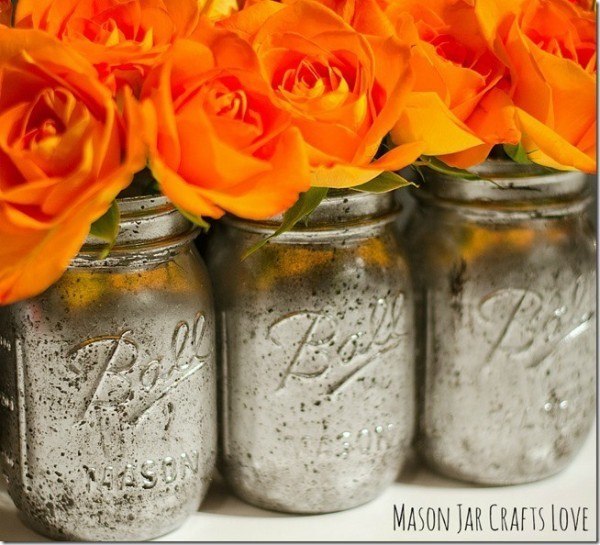 Mercury Jar – These gorgeous faux mercury glass jars make for some great spooky vases. A combination of water and vinegar is the secret to creating this look!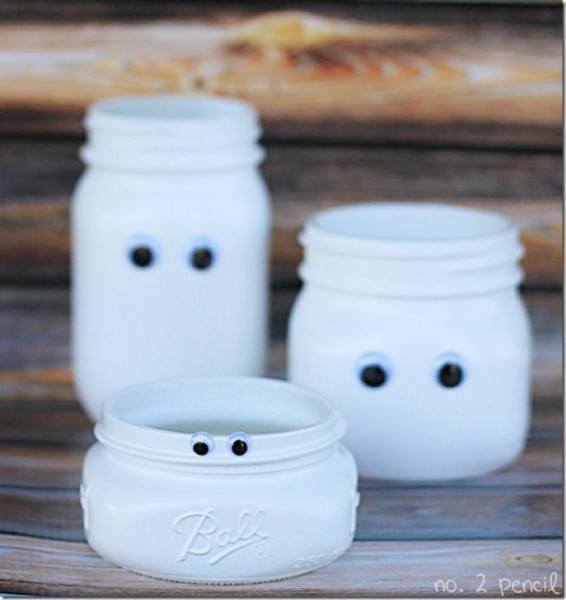 Ghost Jars – Simple but effective! These painted jars make cute ghosts! Add googly eyes, as they did in the tutorial, or paint on a spooky face to make your own ghosts.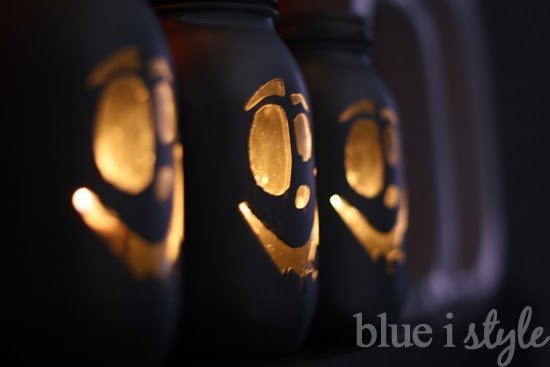 Jack O' Lantern Candle Jars – While this tutorial uses a vinyl cutter, these faces could just as easily be sketched by hand and taped off to create the same effect. These charming little lanterns are a bit time consuming but well worth it. The tutorial is very detailed and leaves little room for error.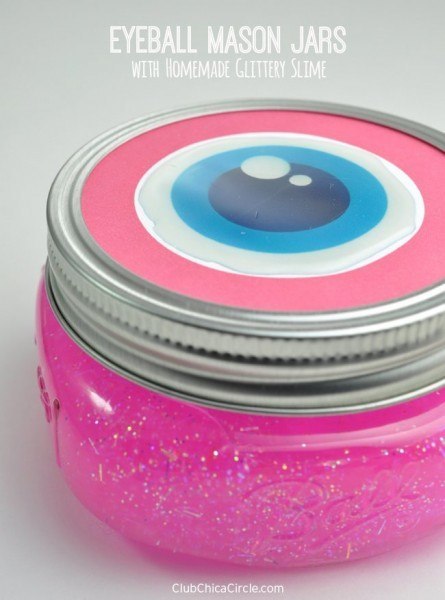 Eyeball Slime Jars – Not only do you learn how to make these cute eyeball jars with this tutorial, you also learn how to make the sparkle slime as well! These are easy and fun treats for Halloween goodie bags!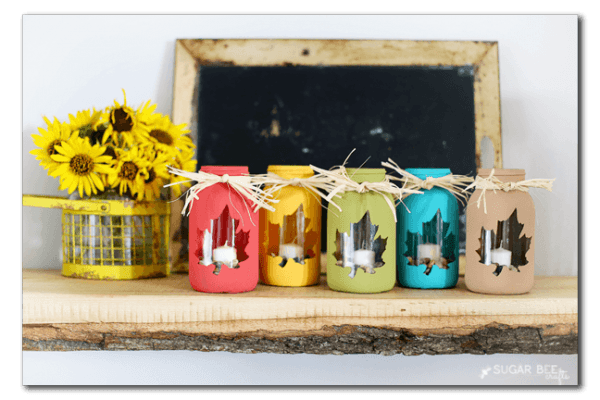 Fall Mason Jars – For those of us who want less Halloween and more Autumn, here are some fun fall themed lantern jars! The maple leaf is a nice touch but you could also use a simple pumpkin design, or something equally Autumn themed to complete these.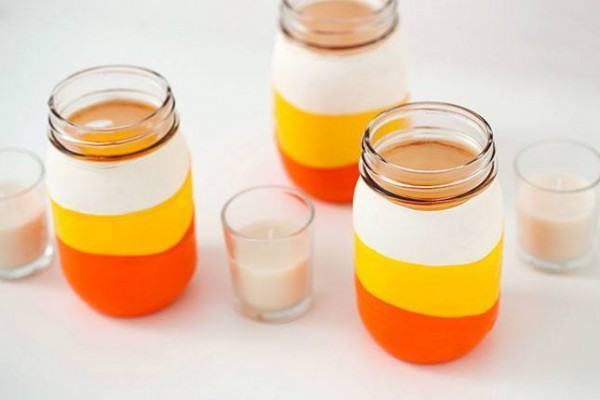 Candy Corn Jars – Not one for paint? These jars are perfect for you then! With the appearance of a fancy dip-painted jar the trick is actually – wait for it – balloons! Just cut some balloons and stretch them around the jars for this fun, easy project.
---
---