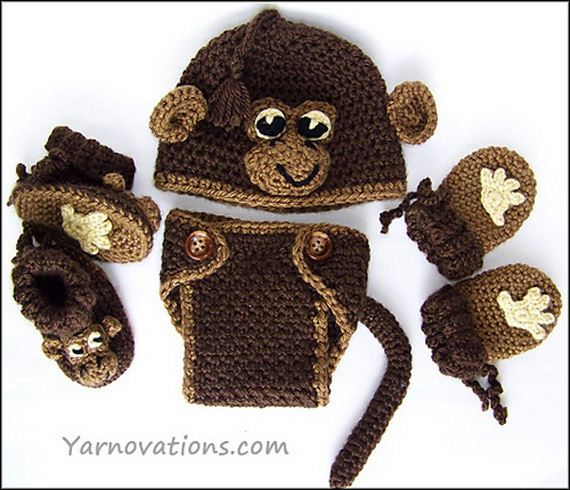 Cute and Fun Monkey Themed Yarn Tutorials
Cute and Fun Monkey Themed Yarn Tutorials
---
Check out these 15 insanely cute monkey themed knitting and crochet crafts that are just as much fun for you to make as they are for your friends and family to receive when you're finished.
1. Monkey Monkey Monkey Bib by Laura Hoffman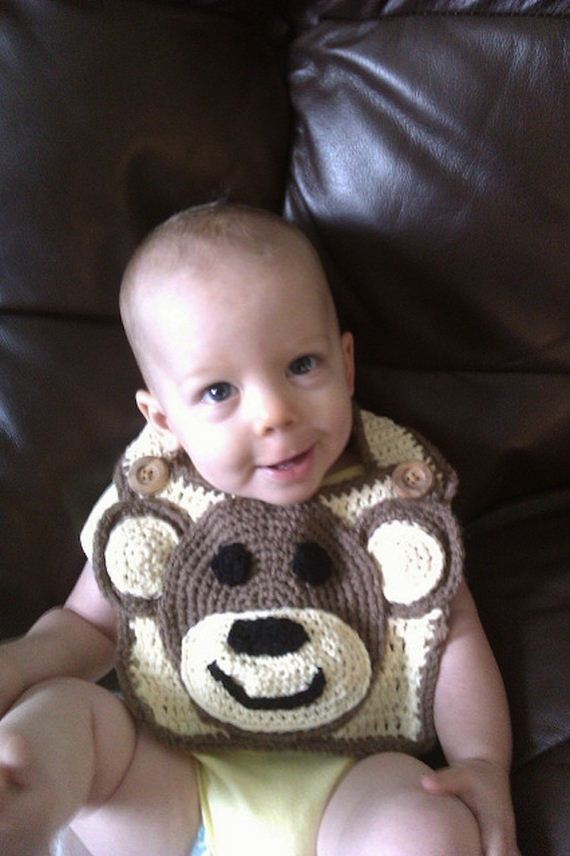 Do you have a little one in your life that you just can't help but describe as a "little monkey" thanks to their silly, playful personality? Then this is the perfect bib for Baby to wear at meal time! The knitting techniques used here are quite simple, despite how adorable the results are, but we'd recommend making it in a strong acrylic wool since it'll probably need frequent washing.
2. Monkey Pacifier Holder by Janet Carrillo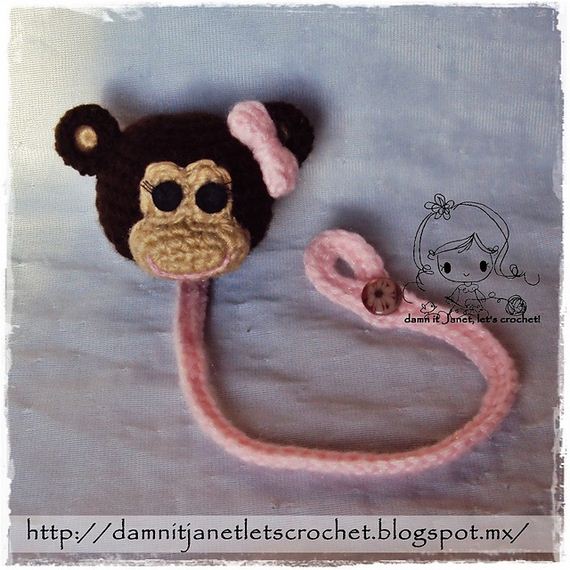 A new mommy or daddy can never have too many pacifier strings or holders to keep their babies from flinging the little plastic life-savers into the abyss and losing their whole supply forever. Just because they're something you'll use all the time, however, doesn't mean it can't be fun and cute in design. That's why we loved this little money pacifier holder design so much! This is another project that's best made in acrylic (or at least superwash wool) yarn for easy washing.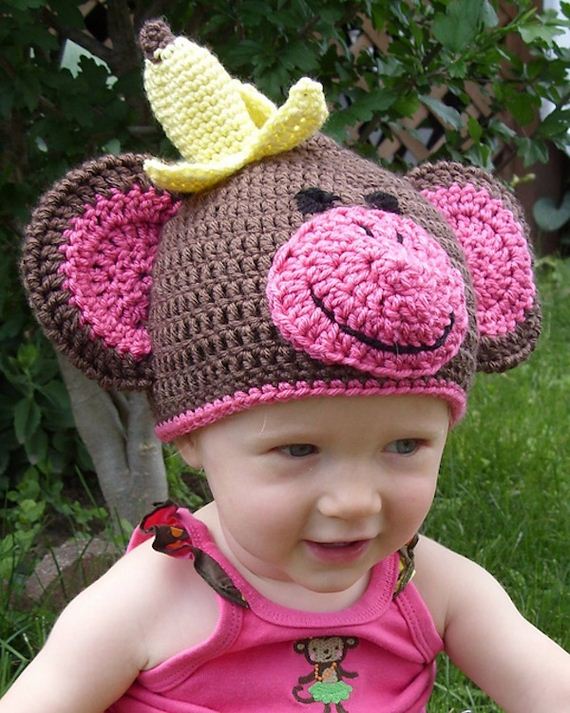 If the ability to dress them in silly novelty hats isn't ones of the funnest parts of having or knowing a toddler, we're not sure what is! No one rocks a funny monkey hat quite like a kid with lots of personality, so knit your littlest friend this version complete with a split banana peel like they've just finished a delicious snack.
4. Monkey Security Blanket by Janet Carrillo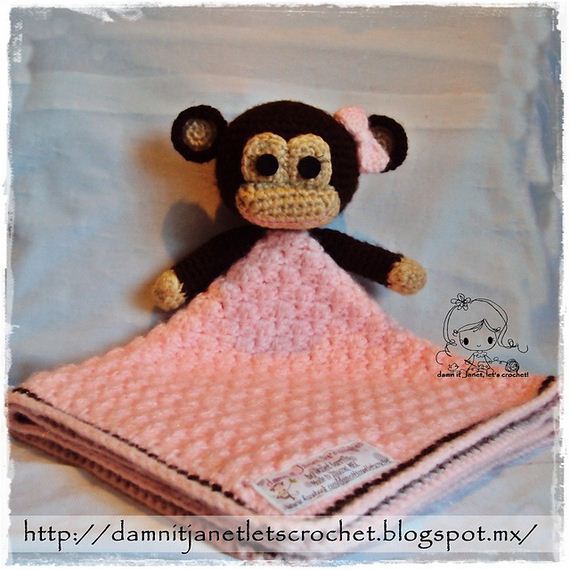 Security blankets like this one, with built in stuffed toys in one corner for extra snuggle factor, weren't popular when we were kids, so now we make sure to knit them for every little one we know! What better character to give your favourite baby than an adorable little monkey, with or without a little bow?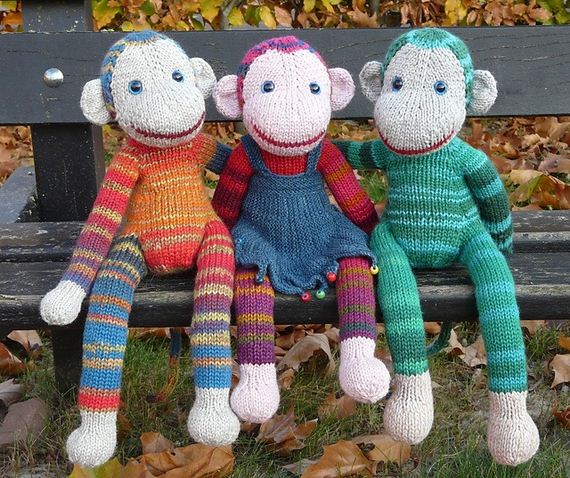 Maybe you love the idea of making monkey toys, but you'd rather make a version that's a little easier to play with without your little one having to trail a blanket around everywhere they go too? Then the Jacobus monkey is the perfect little plush friend! He's a great size for both play and snuggles and you can make him in pretty much any colour way you please.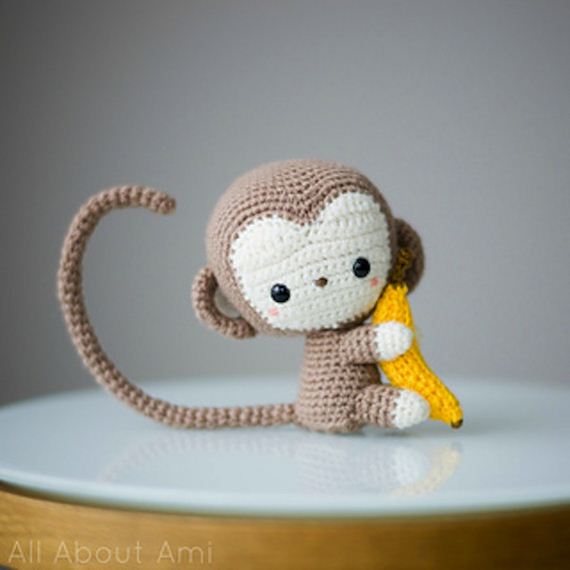 Are you a huge fan of kawaii style toys and amigurumi crafts? Then this adorable little decorative Chinese New Year monkey is the perfect toy to try your hand at! As if his little face wasn't cute enough, his curling tail and the banana he holds so close are just about enough to make us squeal. The yarn and stitches here are tiny, meaning concentration is a must, but the techniques themselves aren't hard ones.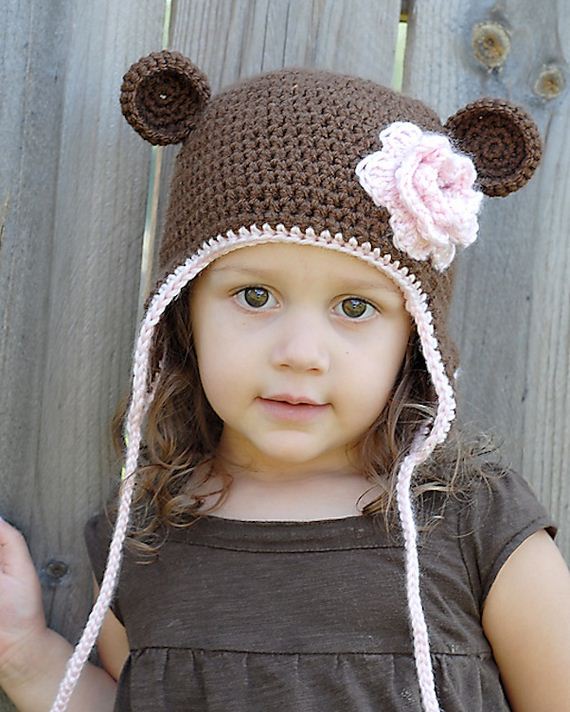 Did you love the idea of making your little one a fun monkey hat, but the one featuring a banana peel is a little too silly for your tastes? Then try this monkey earflap hat instead! Besides keeping your child's ears extra toasty, the ears will make them look like the cute little monkey you love to see them acting like when they're in a happy mood.
8. Monkey Business Blanket by Jessi Martin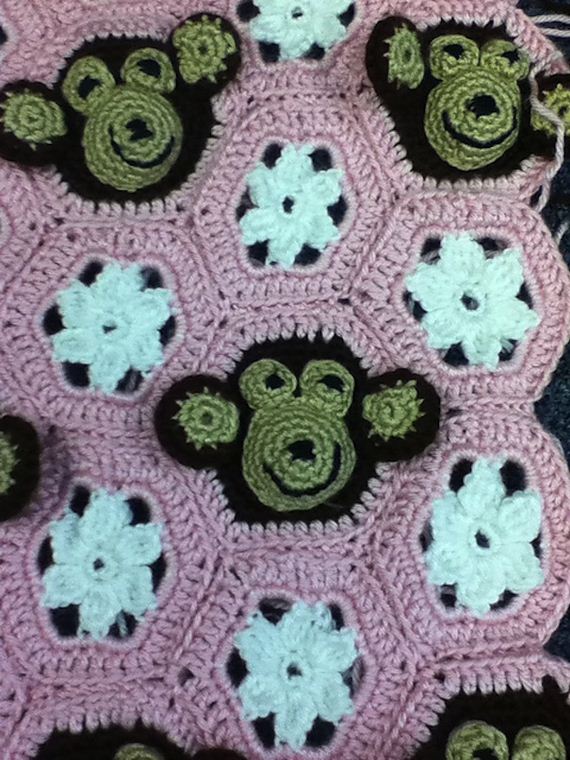 We've shown you quite a few knitting patterns by this point, but what if you prefer to crochet, especially when it comes to novelty shapes? Then this hilarious little crocheted blanket is the answer to your needs! We think this pattern is extra fun because you're not limited to just one monkey, you'll get to make a whole troupe of them!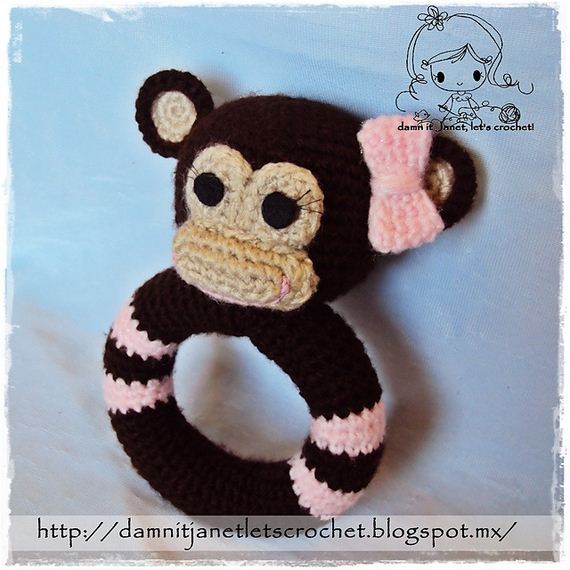 When you saw the cute little monkey pacifier holder did you immediately hope to find some other matching baby accessories, complete with matching hair bows? Well, your prayers have been answered! Here's a pretty little matching rattle for your baby to hold and play with while they wear the little pacifier holder you already made them.
10. Monkey See, Monkey Do Baby Set by Yarn Twins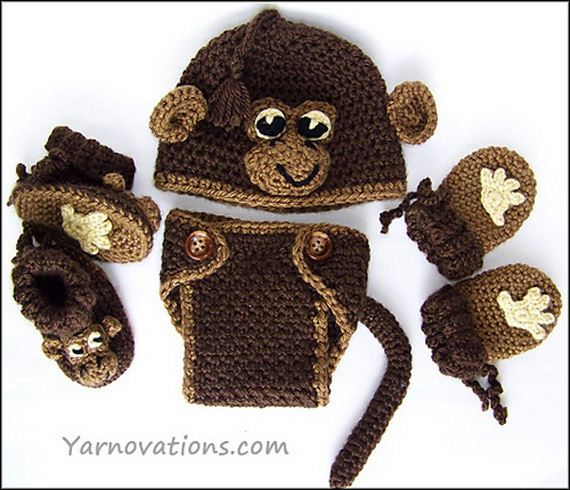 Speaking of matching baby accessories, what's cuter than a complete baby set custom made so that every piece matches? Well, one that also transforms your baby into a little monkey, of course! This pattern shows you how to crochet an adorable tailed diaper cover with booties, mittens, and even a little hat to go right along with it.
11. Sock Monkey Finger Puppet by Monkey Waffles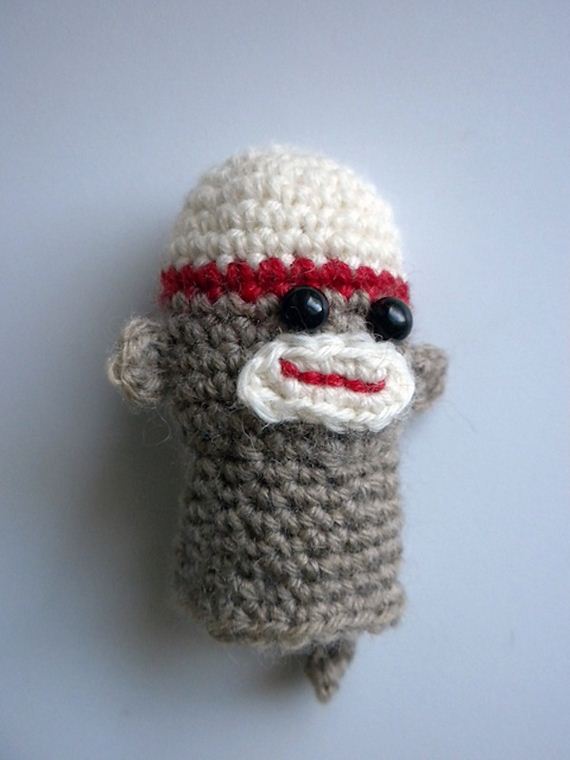 We've always loved finger puppets because they're such an easy and portable way to keep your baby entertained in public places without having to drag along an entire bag of large toys wherever you go. What better way, then, to introduce your baby to your love of little monkeys than with an adorable sock monkey puppet that fits right in the diaper bag?
12. Monkey Potholder Set by JTCreations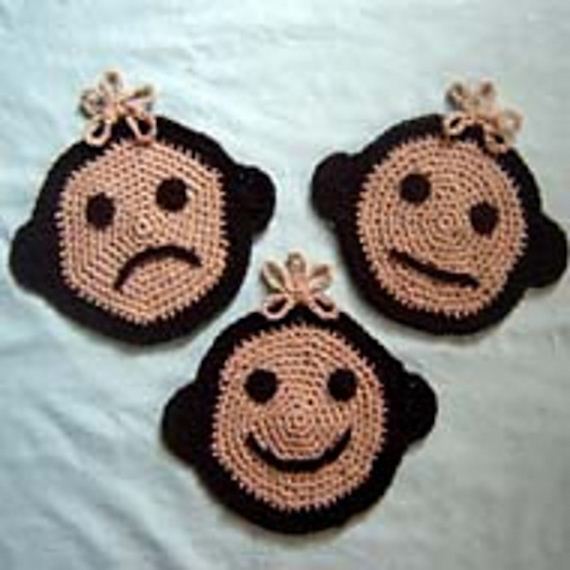 As cute as all these baby themed yarn monkey patterns are, sometimes it's nice to make something silly and novelty for yourself! You're the one, after all, with the big appreciation for the furry little friends, right? Then we certainly suggest making these adorable pot holders and yarn coasters that will add some funny character to your kitchen.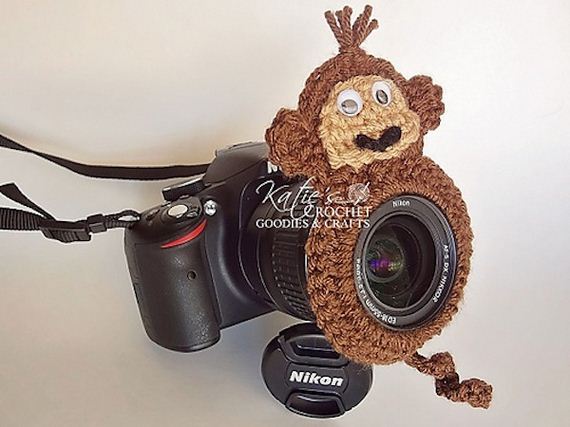 Do you love taking pictures of your baby but you find it challenging to make them pay attention to the camera so you can get clear shots of them looking right at you? Then an adorable lens buddy is everything you need to make your home photo shoots a little more fun (not to mention a little bit easier)! Pop this adorable little monkey ring around the end of your camera lens and get snapping!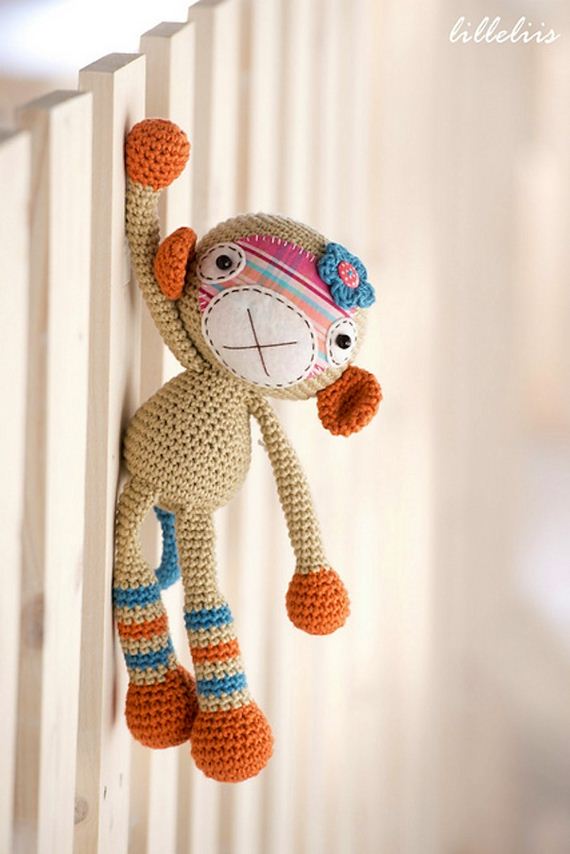 Do you love the idea of making a larger monkey toy but your ideal stuffed buddy is a little more cartoonish and animated than what you're seen so far? Then this pretty crocheted monkey design with fabric facial features is just the one you've been looking for! Add a hair flower if you feel like extra embellishment.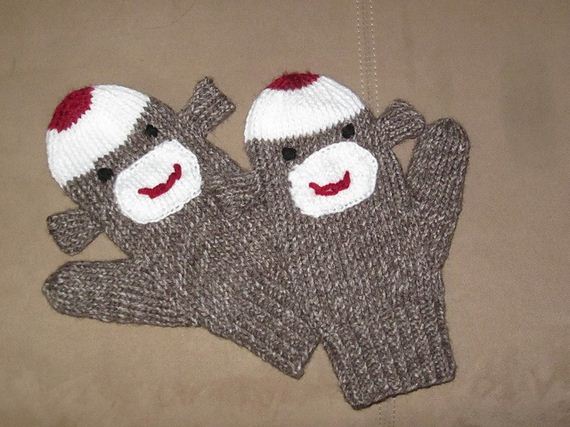 Sock monkeys are a timeless classic, but there are only so many spare socks lying around your home that you can transform into toys! Lucky for us, there are plenty of other sock monkey themed crafts that we can make in the meantime until the dryer steals an actual sock and gives us another lonely spare for crafting purposes. One of our favourite alternatives is this pair of knitted sock monkey mittens that are suitable for hands of all sizes!
---
---