Cute DIY Baby Gifts
Cute DIY Baby Gifts
---
Adorable Baby Apron. Get the step-by-step instructions via craftinessisnotoptional.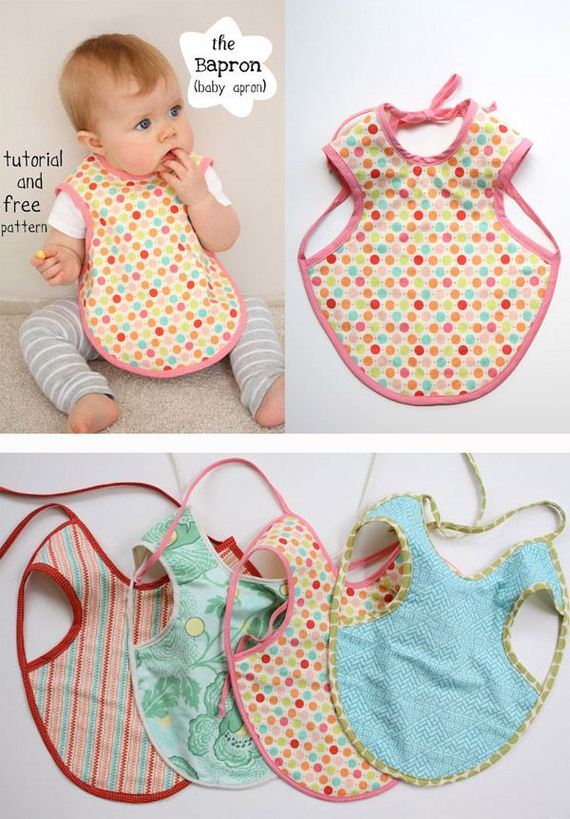 DIY Child's Swing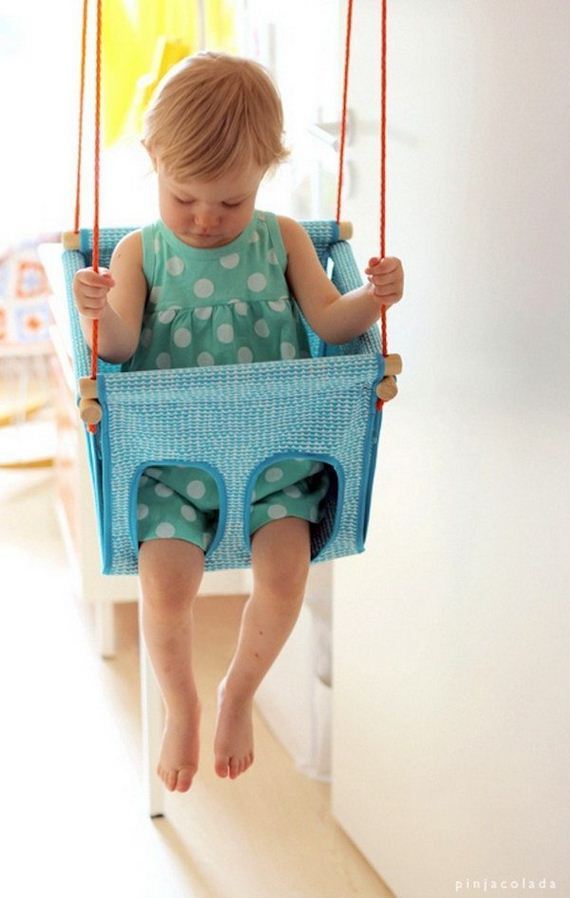 A kids' swing ought to be built and it can keep your baby entertained for hours at a time. Get the tutorial via pinjacolada.
DIY Seatbelt Pillow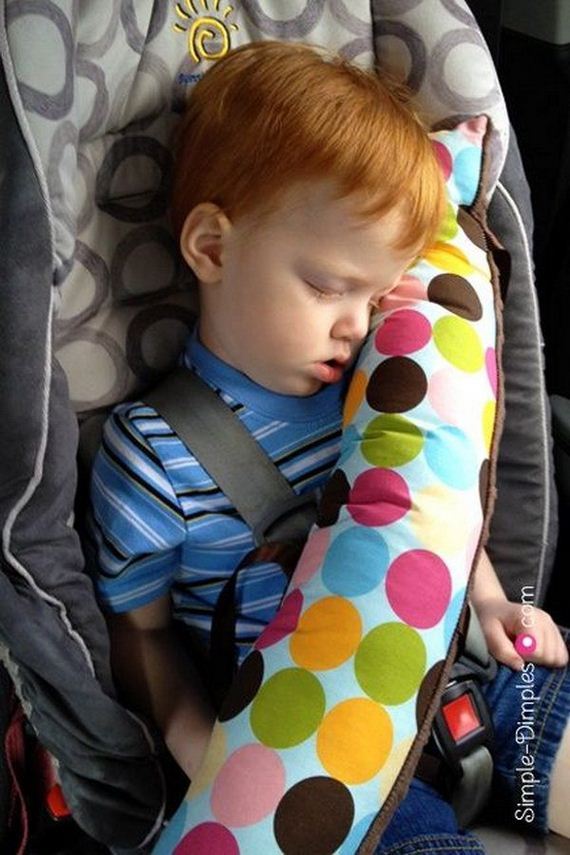 For those moms who are getting enough of seeing their babies hurt thier little necks on car trips. This is a must make project! Get the tutorial via freshpaintabq.
DIY Cute Owl Mat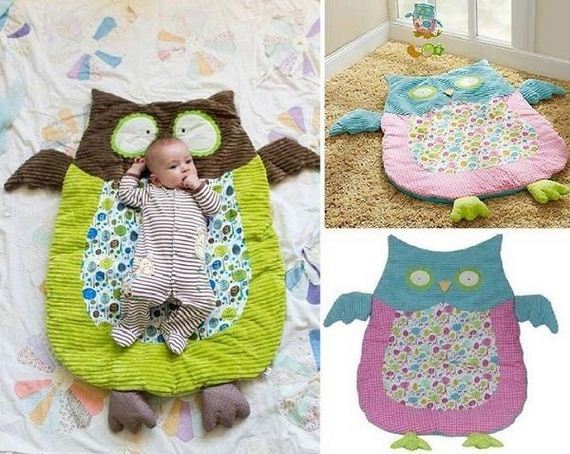 Make this cute owl mat for babies where they can enjoy some time playing or napping for a while. Get the tutorial via ourownkindofparadise
DIY Kid's Pillow Bed

Ideal for reading, movie watching, and snuggling. These DIY pillow beds look so comfy and the kids will love them. Get the tutorial via itsalwaysautumn.
Simple Nap Mat Kindermat Cover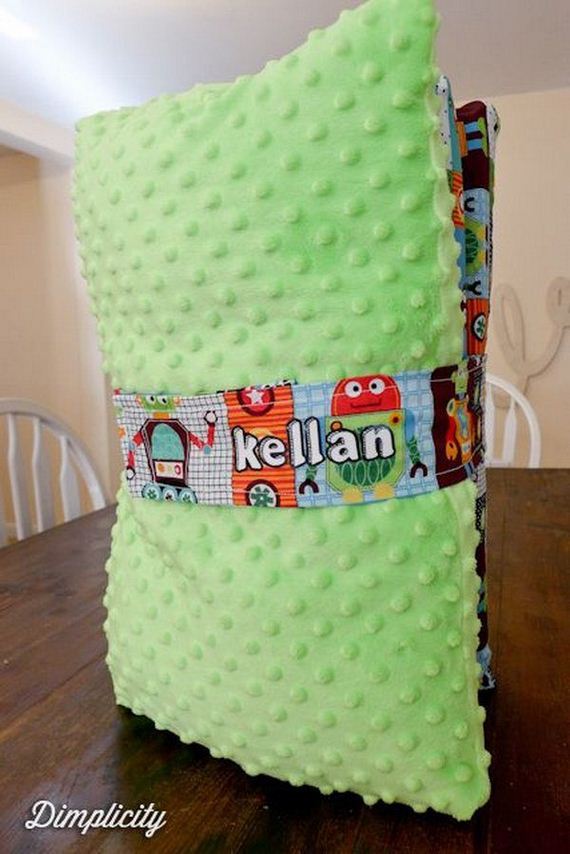 Creat a cute mat for your little one , enjoy some time playing or napping for a while. Get the tutorial via dimplicity
Toddler Busy Bag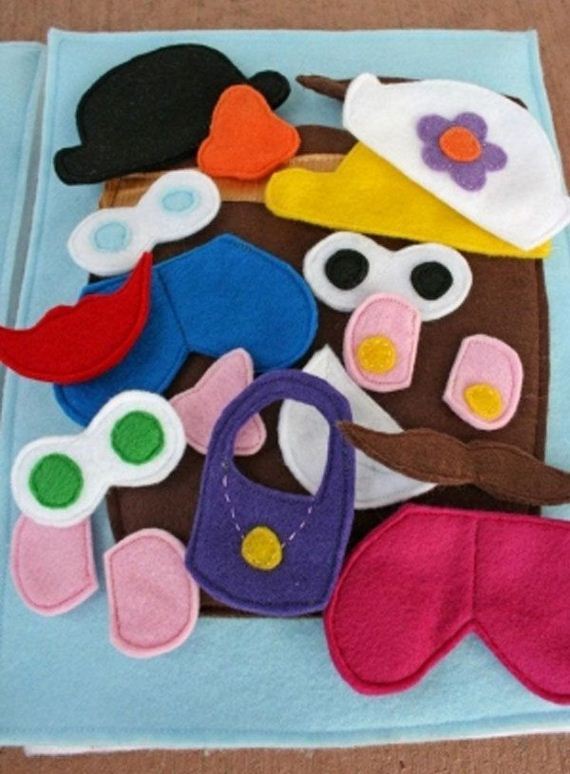 Toddler busy bag help babies learn while they play. And they are perfect gifts for preschool and toddlers. Get the tutorial via jocelynandjason.
DIY Crunchy Jellyfish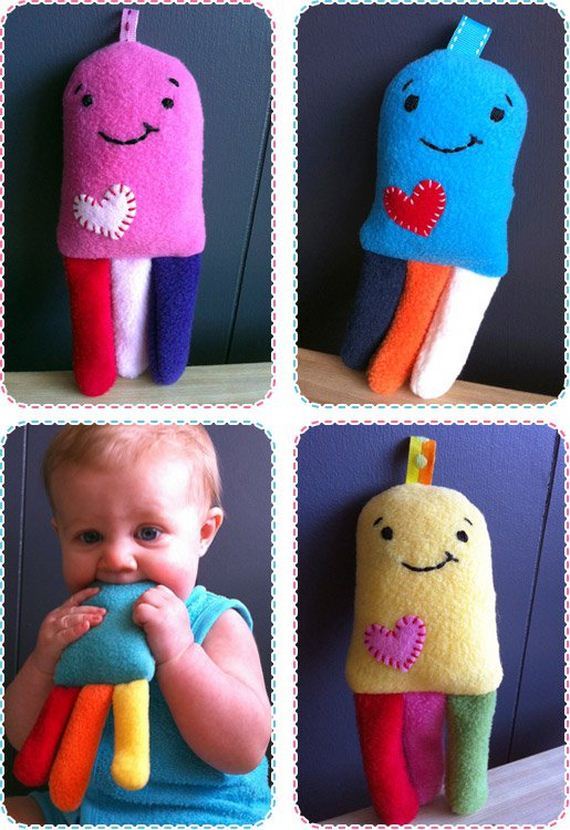 Babies love soft toys, which makes this cute jellyfish one of the best choices you'll find. And it is a happy little crunchy jelly fish that makes a light crackling noise when your baby grasps or chews it. Get the tutorial via kidindependent
DIY Sheep Blankie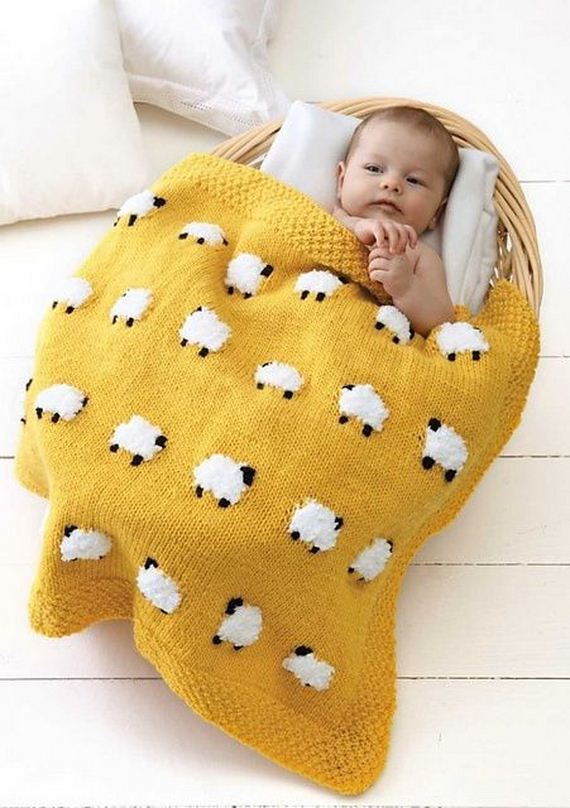 Create a cute sheep blankie and never bore your kid with grown-up decor. Get the tutorial via twosisterscrafting
DIY Loch Ness Monster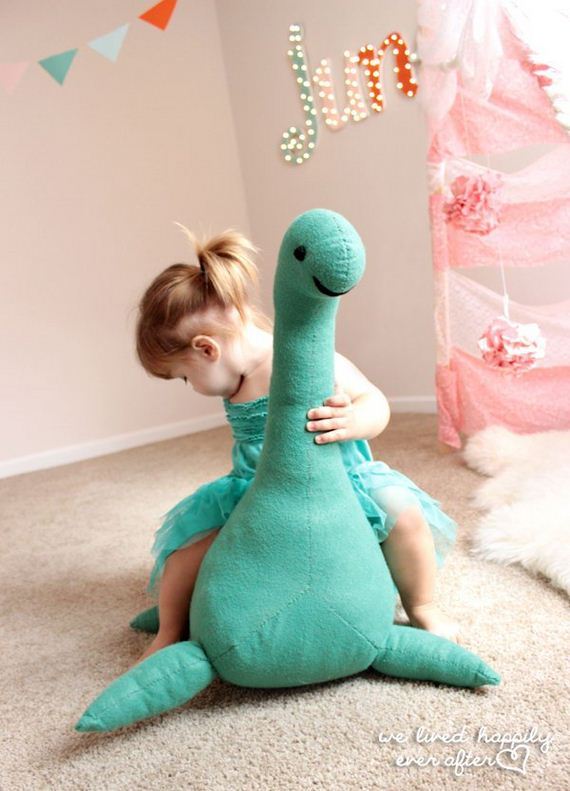 The loch ness monster is a toddlers dream stuffed animal, big and perfect for riding. Get the free pattern via welivedhappilyeverafter.
Mommy and Me Matching Infinity Scarves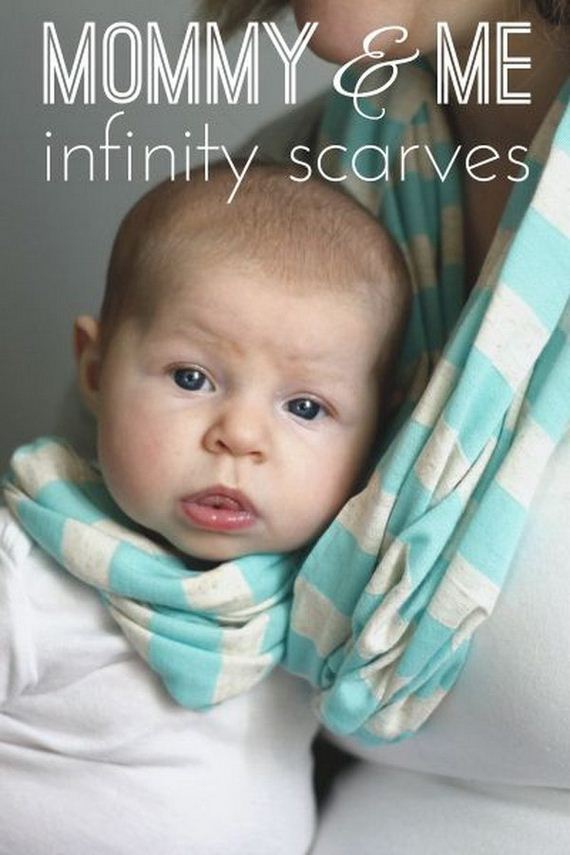 Every mom needs matching mommy and me infinity scarves. Match your trendy toddler with style and grace with these easy to make scarves. Get the tutorial via burlapandbabies.
DIY Beaded Mobile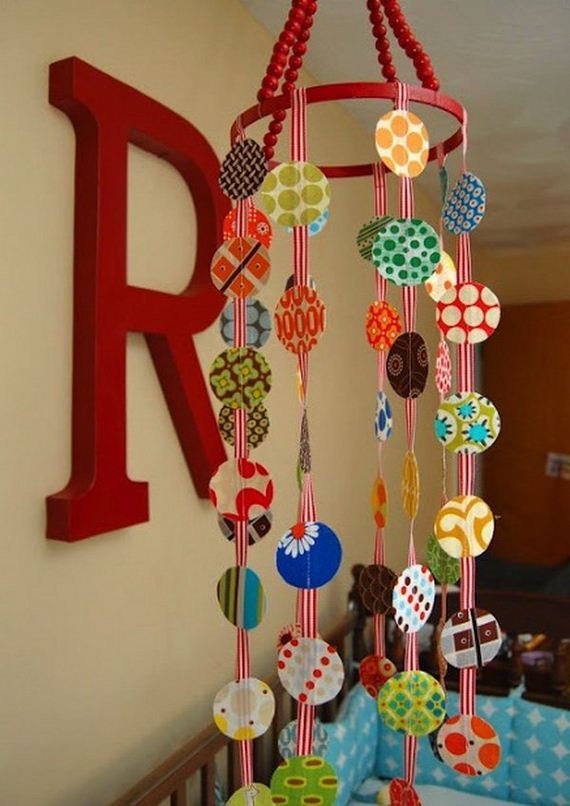 The colorful baby mobile is an aesthetically pleasing baby product that will not only add to your home decor but also stimulate and entertain your little one. Get the tutorial via designdazzle.
Easy and Soft Sew Burp Rag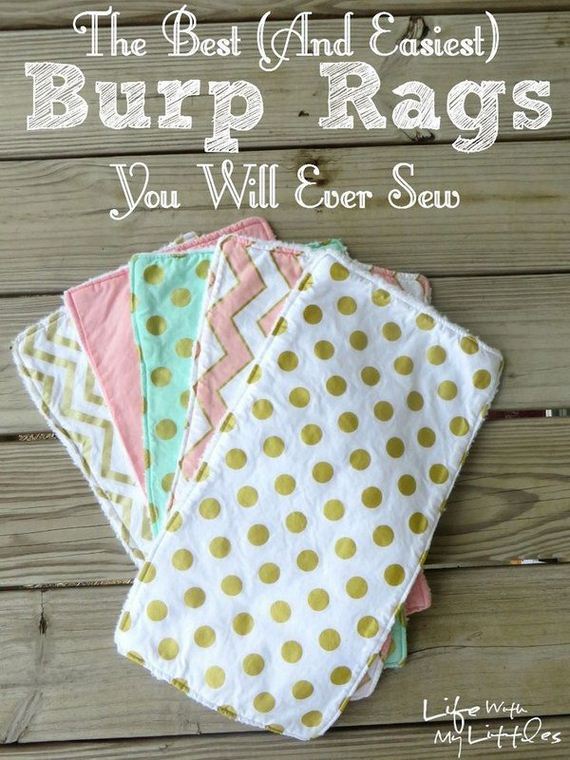 Get the tutorial via lifewithmylittles.
Sew Cute Taggy Turtle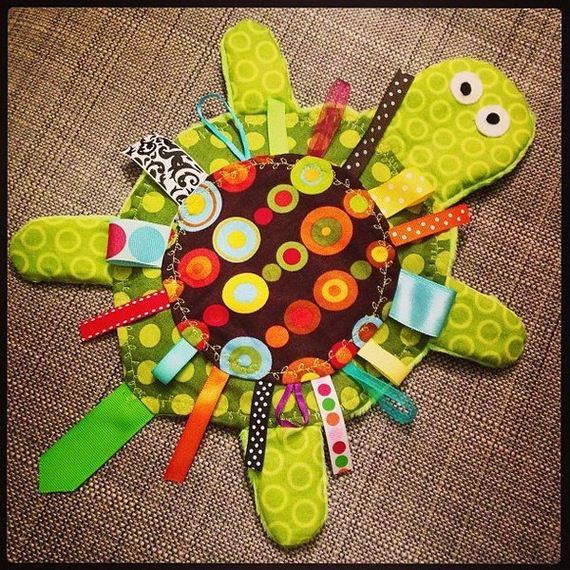 Sew this cute one that makes a crinkly noise that they love with different coloured taggies . Give it to your baby or as a gift for a friend's newborn. You can't go wrong with this easy, personalized gift. Get the tutorial via kersti
Printed Arrow Onesie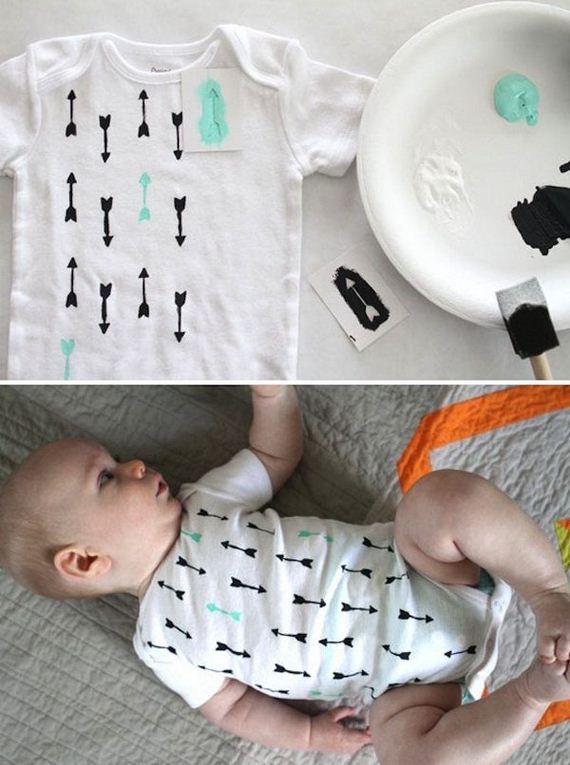 Look at this cute arrow onesie. This arrow design was printed using thick card stock as stencil. And your little baby is sure to look cute in this one. Get the tutorial via fortheloveof.
Easy Dinosaur Baby Onesie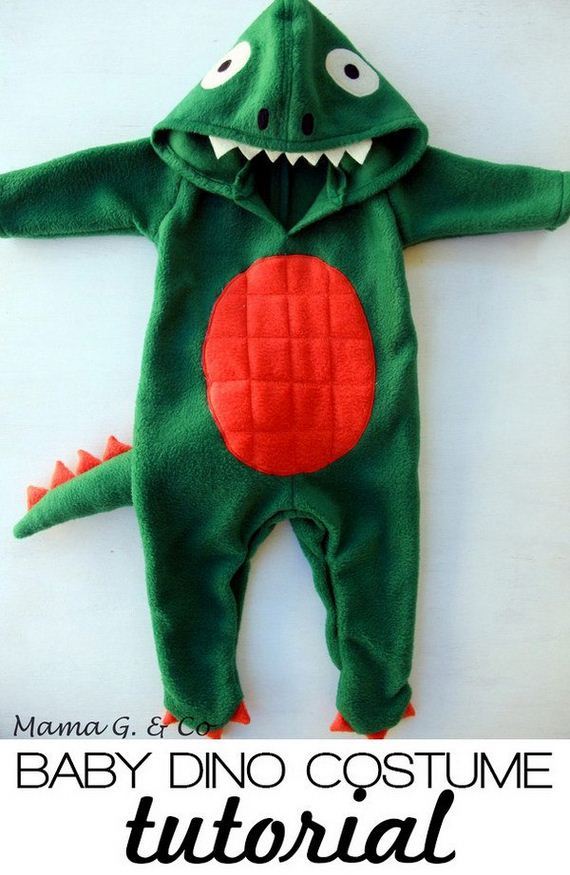 Kids are always fascinated by dinosaurs. And the little dinosaur lovers need the gear they are going to roar about. Just like this easy dinosaur baby onesie! Follow the tutorial on how to make yours via andreasnotebook.
DIY Stackable Fabric Rings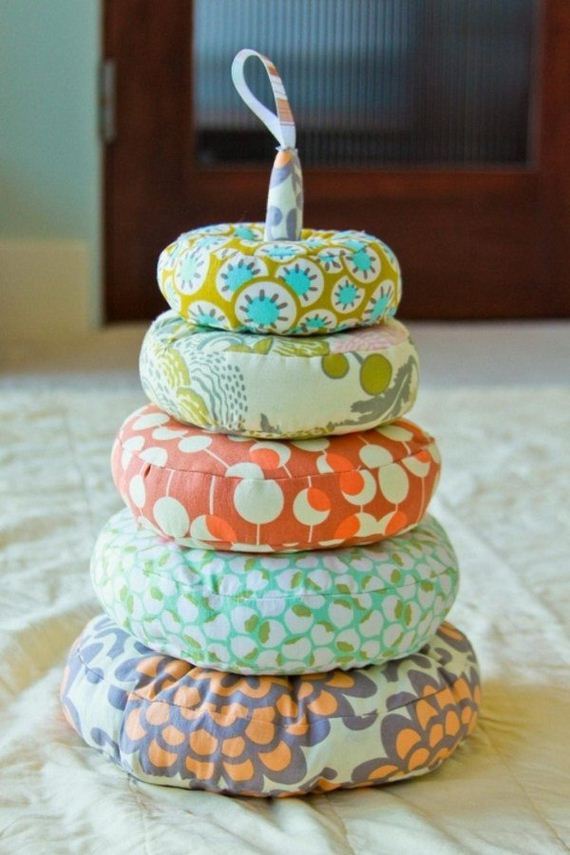 Stackable ring is a must-have in every baby's toy box. It is both fun and educational that develops fine motor skills and logical thinking. Check out the free pattern for making a soft fabric version of the classic stacking ring baby toy via domesticesq.
DIY Gold Tip Baby Mary Janes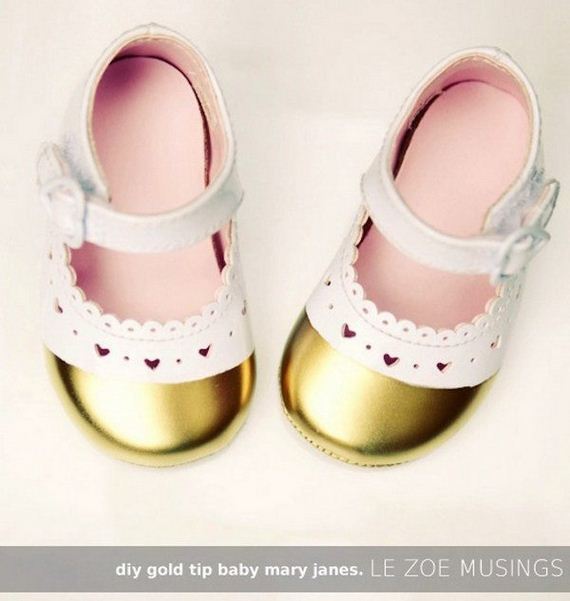 Make a brand new pairs of stylish, trendy shoes for your baby with this easy diy tutorial. Via lezoemusings.
Easy Teddy Bear Hat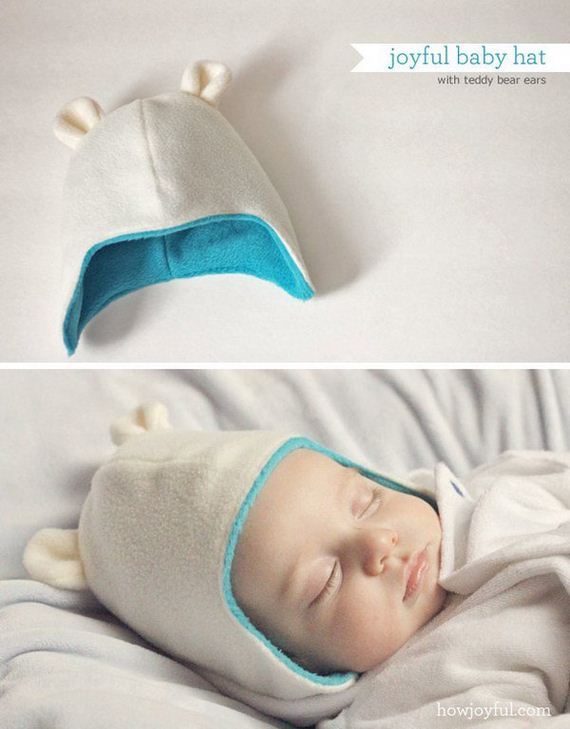 Keep the little ones head warm this year with an adorable newborn teddy bear hat. This simple step-by-step photo tutorial will walk you through. See it via howjoyful.
Fabric Beach Balls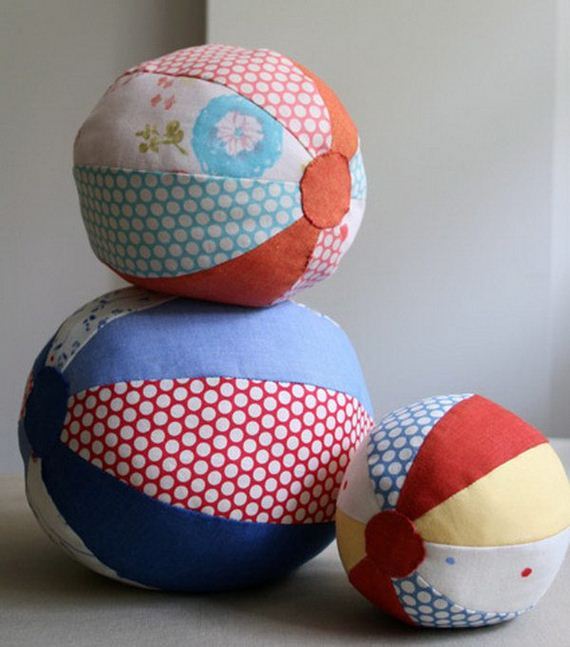 These soft fabric beach balls are fun for babies and kids to play with at the beach and at home! And they are the perfect handmade baby gift. Get the tutorial via purlsoho.
Whale Softie from an Old Pair of Jeans

This is an easy whale softie tutorial which is perfect for your little one, or a baby shower gift! Get the tutorial via valaanvillapaita.
Carseat Canopy Tutorial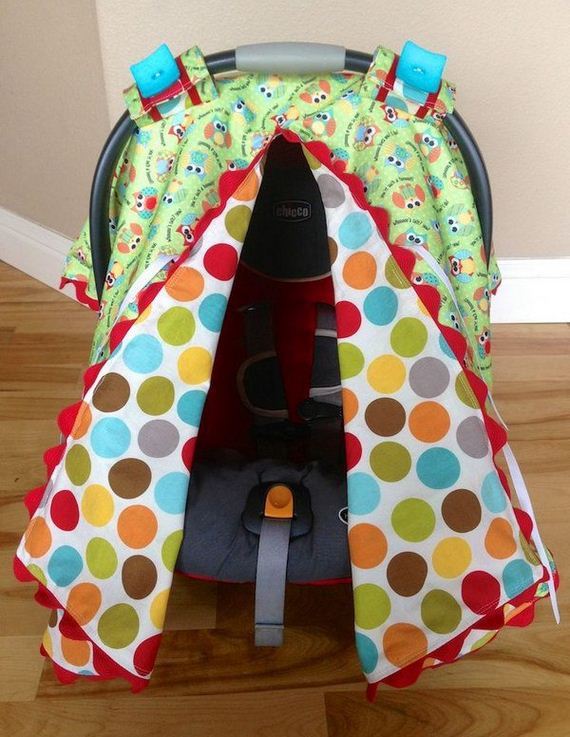 Make a cute and stylish carseat canopy to keep the baby from sun and bad weather. It also makes a perfect gift for a new baby. Get the tutorial via beinggenevieve.
Baby Dinosaur Soft Toy Pattern
Get the tutorial via firstdayofmae.
Easy and Inexpensive Wooden Growth Chart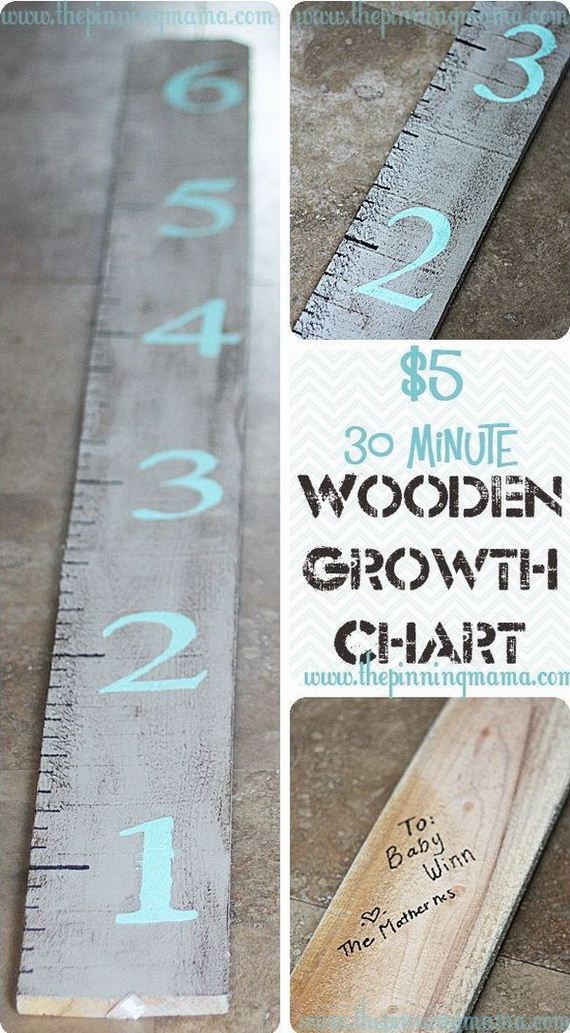 Personalizable, cute, and easy to take. Perfect gift for a baby! Get the tutorial via thepinningmama.
DIY Magnetic Felt ABC'S
Make some colorful magnetic felt ABC'S that the little kids enjoy playing with. Get the tutorial via hellobee.
Felt Travel Tic-Tac-Toe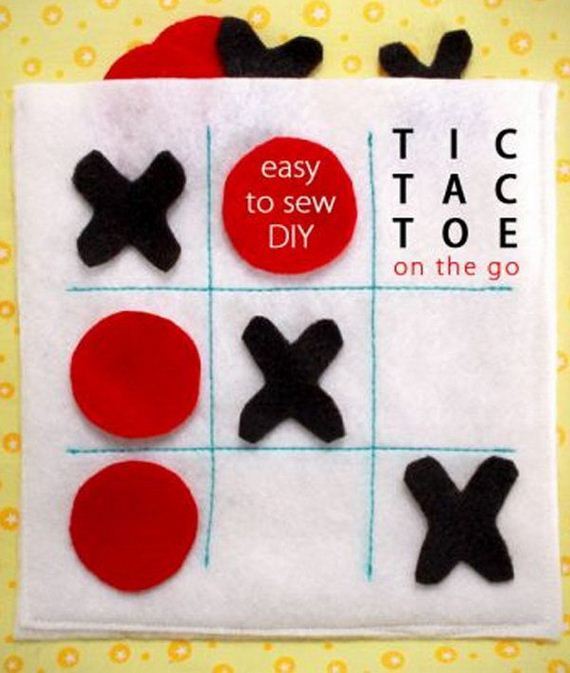 Tic tac toe is an fun travel game that can keep children and adults alike occupied during the hours of a road trip. Make this felt travel tic-tac-toe for perfect gifts for the kids to take where ever they go. Get the tutorial via spoonful.
DIY Velcro Sticks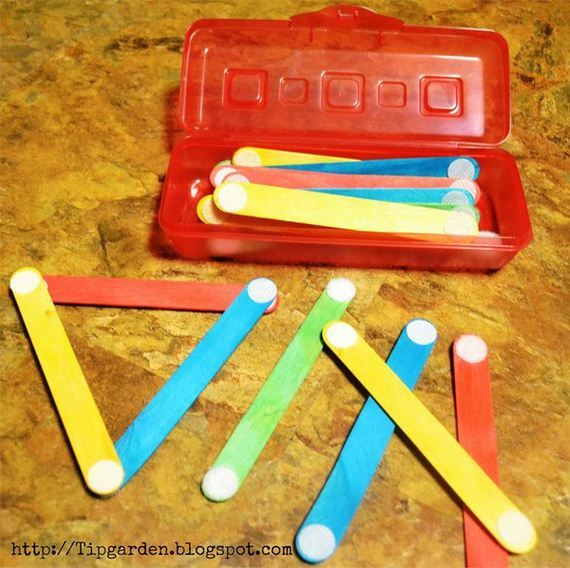 What a simple, easy to make DIY gift that will provide hours of fun play for kids. Get the tutorial via thetipgarden.
DIY Dragon Slippers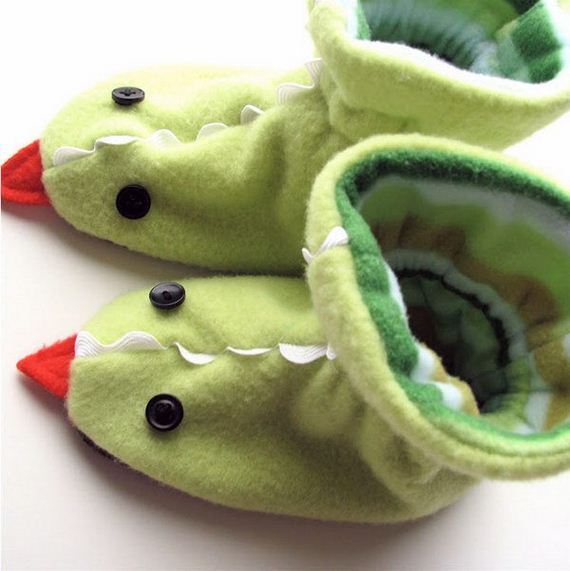 Get the tutorial via made-by-rae.
Car Roll-up Caddy
Make a cute car roll-up caddy that can be fold right up and fit in the diaper bag with scrap fabric and an old pair of jeans! Get the tutorial via iheartnaptime.
Baby's Felt Quiet Book
This baby's felt quiet book is awesome for different sensory development – with the snapping, zipping, velcro, and you could even include crinkles on some pages too! Get the tutorial via onelovelylife.
Mini Lounger Tutorial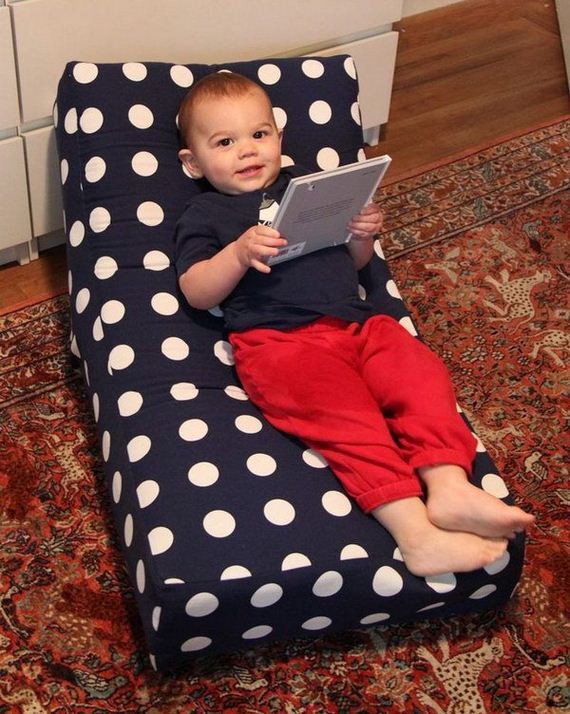 Make a mini lounger for your kiddo to sit back and relax in after a long day of play! Get the tutorial via smallfriendly.
DIY Toddler Seating Pouf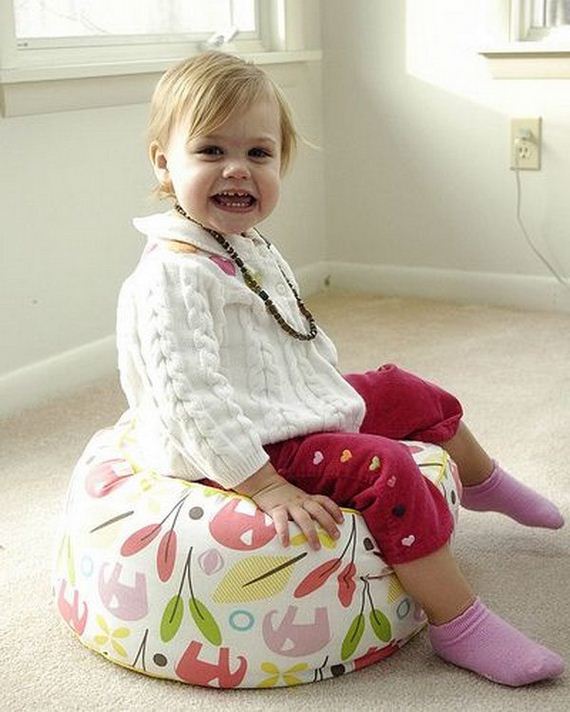 Get the tutorial via emmmylizzzy.
DIY PVC Pipe Toddler Chairs
Make a chair for your kids in their sizes using 8 elbow pieces, 6 T-shaped pieces, 1 length of 3/4″ PVC Pipe. Via handimania.
DIY Pom Pom Rug
I can't believe how easy it is to make this cute pom pom rug. It looks great in the baby girl's room. And she'll in love with it when sinking her little feet into this soft, cozy and easy DIY pom pom rug! Tutorial via sayyes.
Knit Colorblock Bias Baby Blanket
Knit your baby gorgeous colorblock bias blanket using a very easy-to-follow pattern. See tutorial via smallfriendly.
Crochet Fuzzy Baby Bunny Outfit
How cute the baby looks in this crochet fuzzy baby bunny outfit! And it's easy to do. Head over to the full tutorial via allaboutami.
DIY Yarn Wrapped Letters

Wrap yarn around a letter made out a wood letter for a cute sign in your baby's room. Get the tutorial via catchmyparty.
DIY Yarn Octopus

The yarn octopus are easy and fun to make! And it is a great project to use that one ball of yarn. Tutorial via source.
DIY Bow Tie Drool Bibs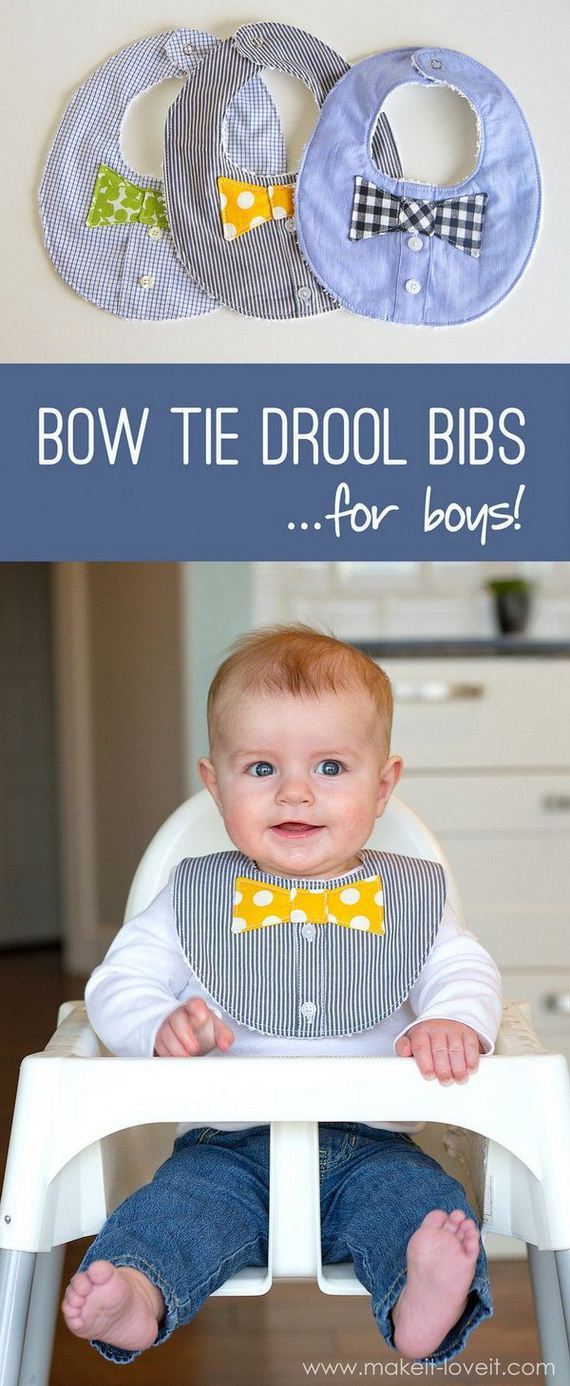 Get the tutorial via makeit-loveit.
No-Sew Felt Hairbow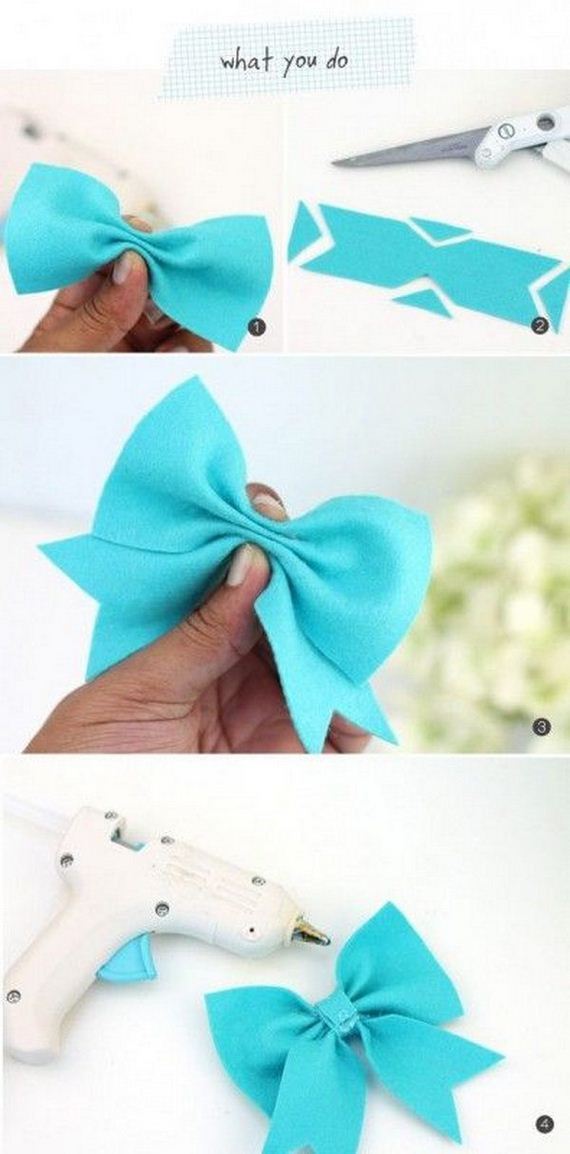 It's so easy to make this cute bow. The best part is that no sewing is required- all you need is a glue gun! Get the tutorial via damasklove.
No-Sew Toddler Poncho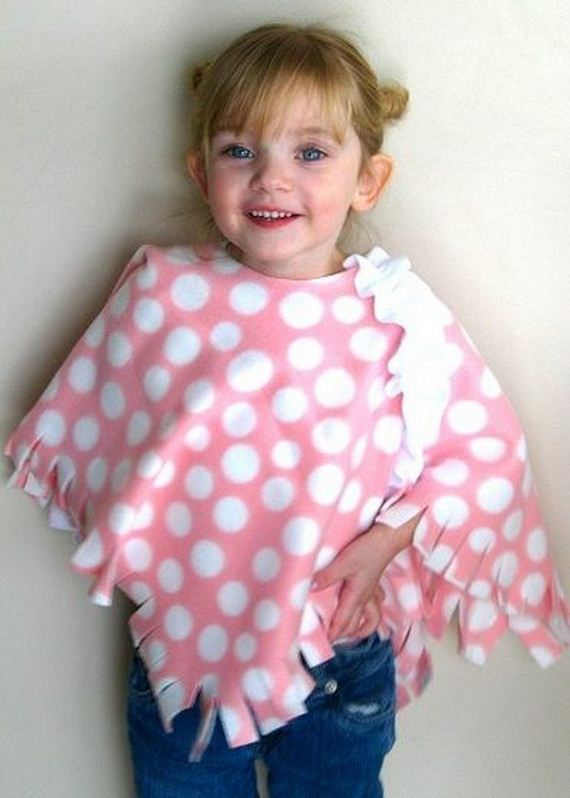 Look at the cutie in that cute toddler poncho. This no-sew poncho is inexpensive and fast to make. Get the tutorial via gluesticksblog.
DIY No-Sew Floor Pillow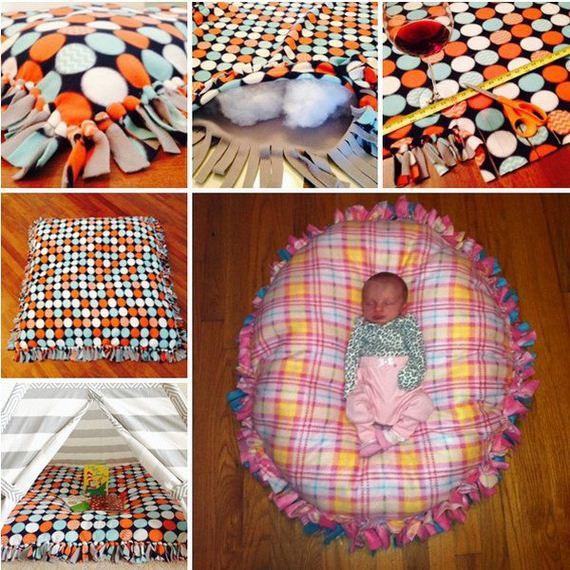 Follow the tutorial on how to make a no sew floor pillow. Make it for your kid or for gift. Get the tutorial via wonderfuldiy.
Easy No-Sew Ball Pillows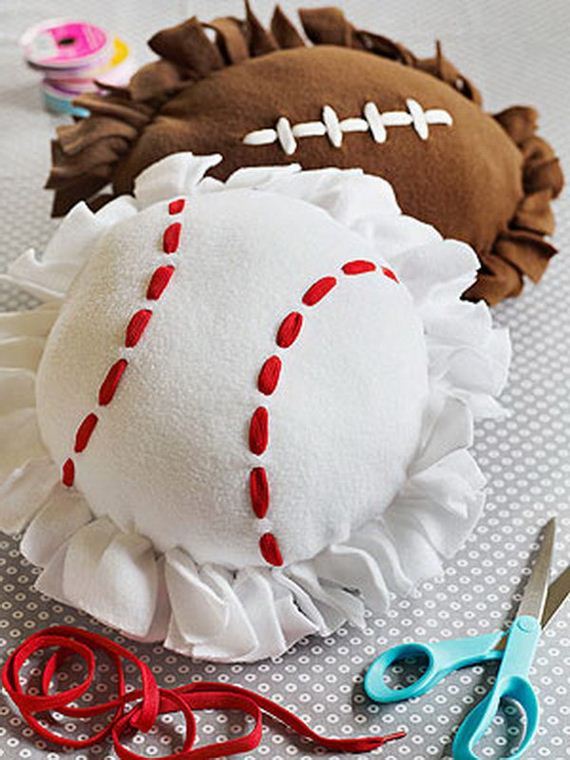 Make a fun and easy pillow without any thread for your little ones. Get the tutorial via parents.
No-Sew Infant Sling Carrier
A baby sling carrier keeps baby close and your hands free. Make this no-sew infant sling carrier to keeep your baby calm and happy. Get the tutorial via baby-go-on.
No-Sew Fabric Book Storage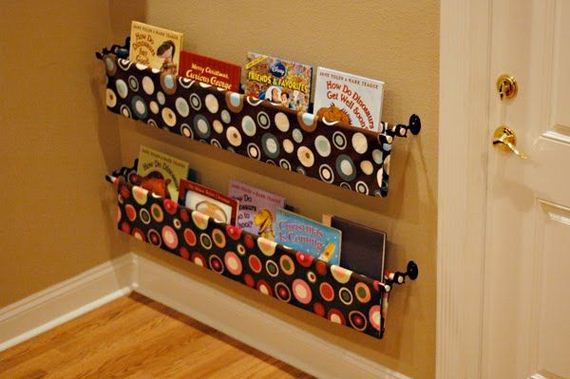 Create simple no-sew book sling using your favorite decorative fabrics for the kids. Perfect way to store children's book. Get the tutorial via yellowfence.
No-Sew Baby Barefoot Sandals
Follow this step by step tutorial on how to make adorable baby barefoot sandals. See it via craftaholicsanonymous.
Adorable DIY Pajamas with Free Pattern
This is one of those simple projects that doesn't even require a tutorial. Via crazylittleprojects.
DIY Baby Wrap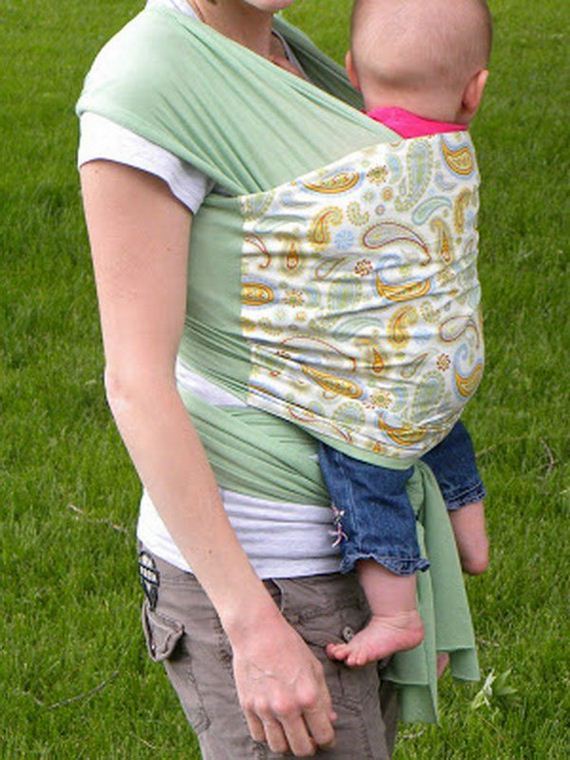 Baby wraps are so popular, but why spend $40 when you can learn how to make one with your favorite fabric. Just remember, use caution when carrying your baby in a wrap. Get the tutorial via aloadofcraft.
DIY Baby Hats made from Sweaters
Genius idea worth stealing! Get the tutorial via makeit-loveit.
DIY Baby Mittens
Make some cute baby mittens that will keep the newborn baby's fingers nice and cozy. Get the tutorial via madetobeamomma.
DIY Baby Leggings

Easy tutorial. Pulled it together in a couple hours, even with the babies awake! Get the tutorial via everythinggoldenblog.
DIY Swaddle Blanket Template
If you're handy with needle and thread, these easy DIY baby blankets will be a snap to put together. Get the tutorial via probablyactually.
Baby Car Seat Blanket
How cute the baby car seat blanket is! If you aren't comfortable with using it in the car seat it's still awesome for strollers and bouncers or an thing else they get buckled in for swaddling. Get the tutorial via imperfecthomemaking.
DIY Baby Headband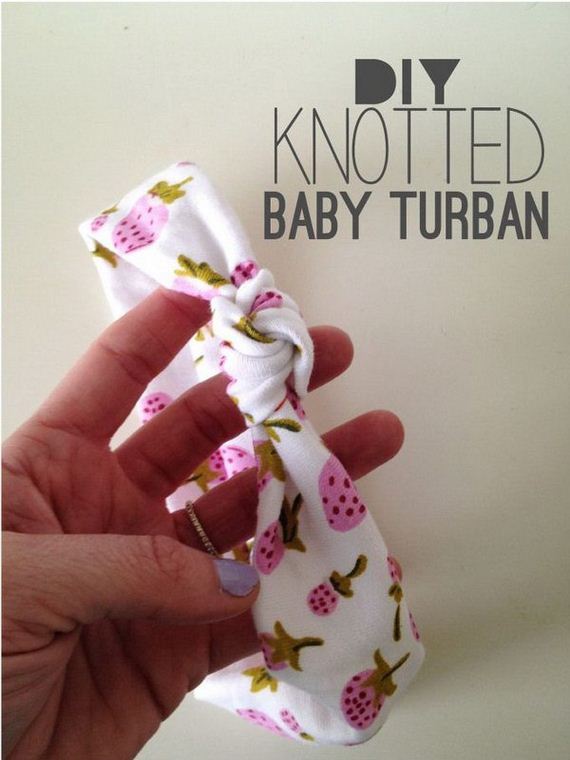 It's very cute to see a newborn baby rocking a giant headband. Check out this fun and easy tutorial to make one via thesaraproject.
Sew Changing Pad Cover
Make this custom made changing pad cover gift for a baby. It's super easy to make, and barely takes any time. Get the tutorial via viewfromthefridge.
DIY Crib Sheet
Sew a stylish crib sheet with the perfect fabric for the adorable babies in your life. Get the tutorial via viewfromthefridge.
Felt Tree with Felt Ornaments to Play with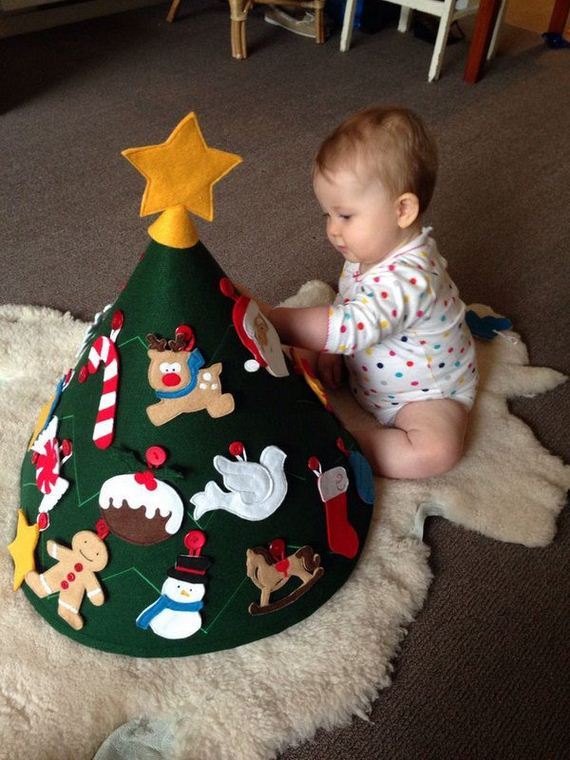 A felt tree for the girls to play with! Great idea that doesn't take up too much space! Get the tutorial via cheriebobbins.
Patchwork Baby Quilt
Sew simple but a perfect patchwork baby quilt for the beginner quilter to complete. Get the tutorial via muffinsmarathons.
DIY Fabric Stair Gate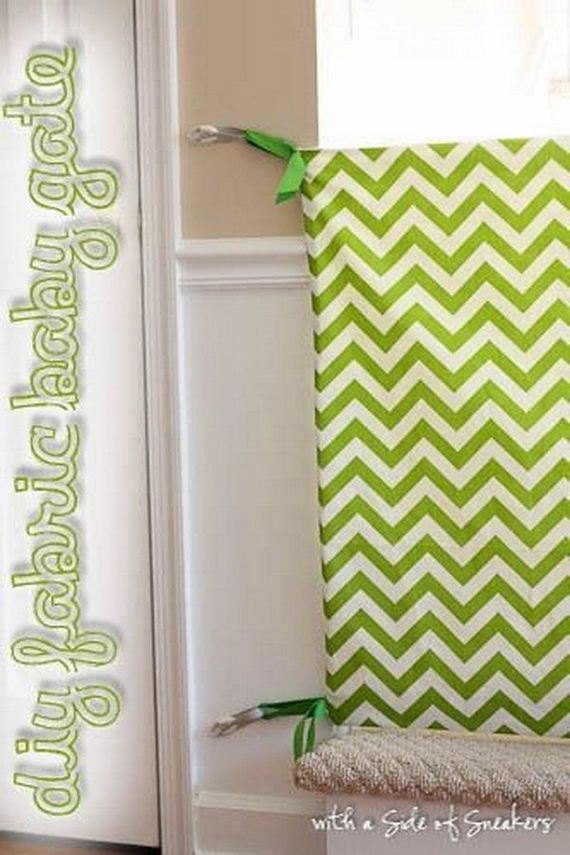 A fabric safety baby gate can be a great way to help keep small climbers from making their way back up from the bottom. It's also a good solution for awkward sized doorways and railings where traditional baby gates don't work. Get the tutorial via sideofsneakers.
Easy DIY Mermaid Plush Dolls with Downloadable Pattern
Check out the simple tutorial for creating beautiful and cute mermaid plush dolls for gifts for little girls in your family! Get the tutoril via abeautifulmess.
---
---