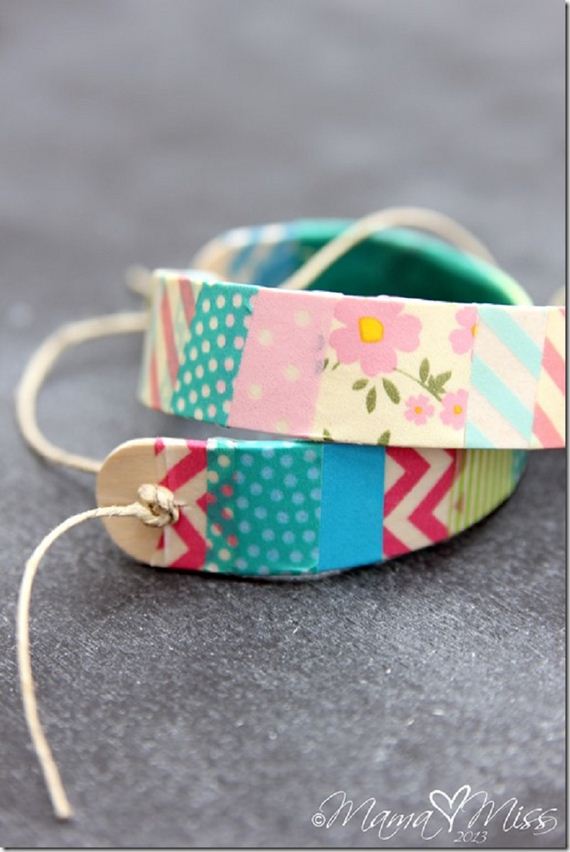 Cute DIY Washi Tape Crafts
Cute DIY Washi Tape Crafts
---
Those projects we're talking about are made out of famous Washi tape! These tapes that have originated in Japan can be found in different colors and patterns almost everywhere. So, for various fabulous Washi tape crafts scroll down and see our amazing list full with surprises! Let's get crafty!
DIY Dot Wall
What can be better start of our countdown than with a project that will make your office a better place?! This DIY Dot Wall is made from colorful Washi tapes that will bring a big dose of positive mood in the place you work in…that's something we all need and want!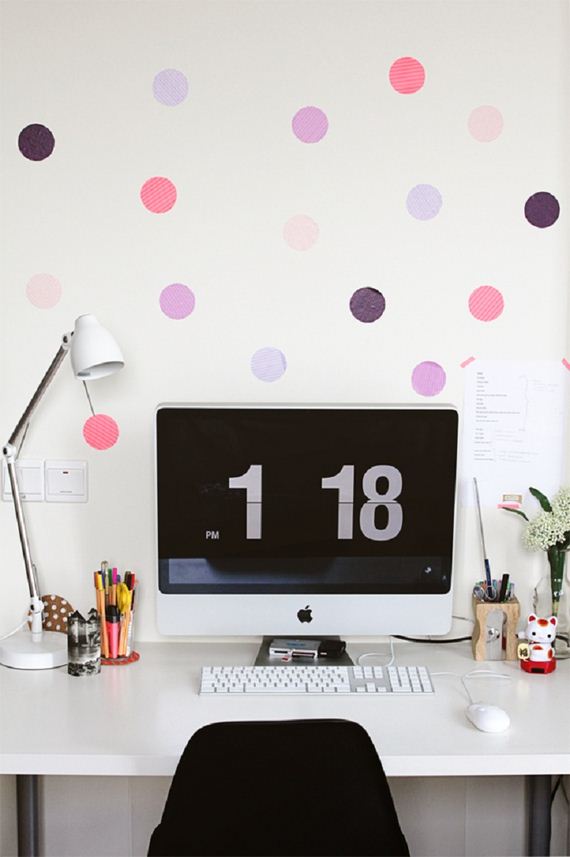 via fellowfellow.com
DIY Tumbling Blocks
We're continuing with a craft that will give an elegant note in your home. This DIY Tumbling Blocks are created from black and white Washi tapes which are greatly incorporated into one wonderful piece of art! You can display it anywhere in your home, but the best option is your living room, of course!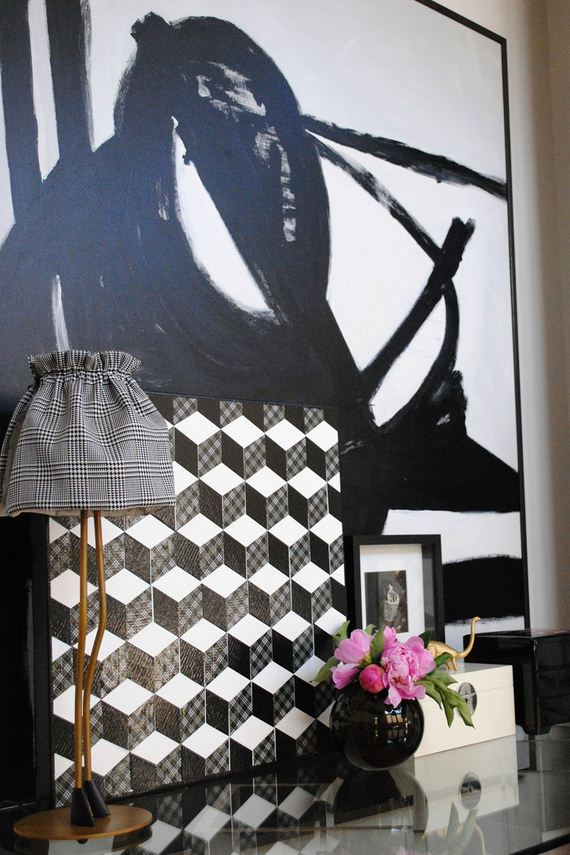 via theglamourai.com
DIY Rainbow Table
Here is one more amazing project that will transform your old and boring table into a festive piece of furniture. All you have to do is to find few Washi tapes in rainbow colors and to start decorating your table which will be perfect for your backyard or for any bedroom in your home!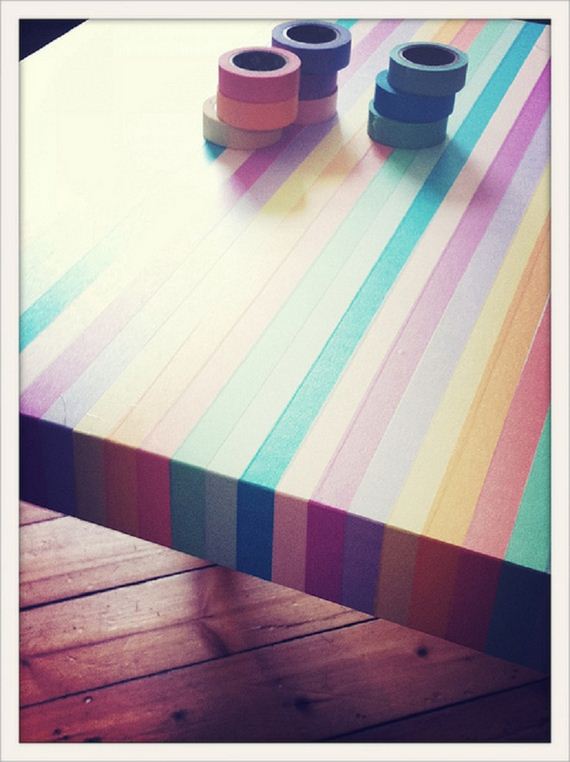 Washi Tape Lamp Shade
Updating your lampshade is always a great way for you to express your creativity! So, buy some green or maybe purple Washi tapes and start with crafting. The end result will be a cheerful lampshade, just perfect for spring weather!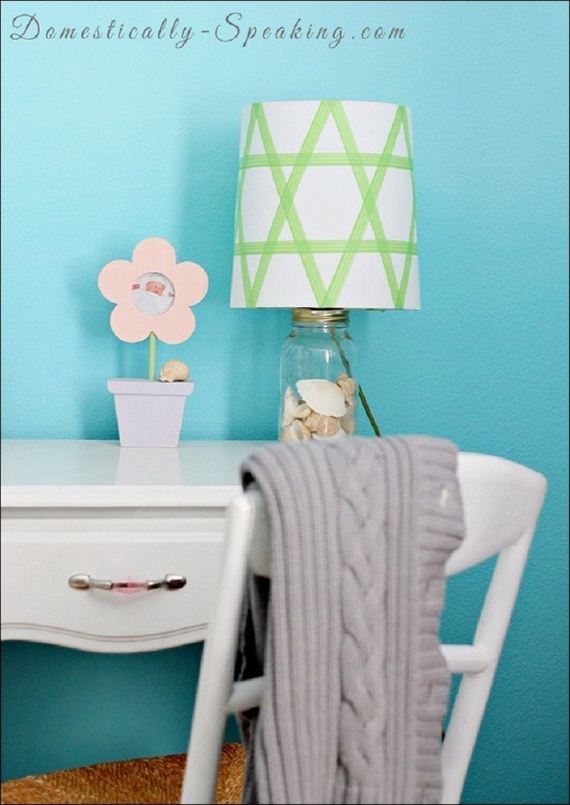 DIY Washi Tape Wooden Bracelets
Do you want to keep your little ones busy for a longer period of time? If that's your wish, then involve them in a project called DIY Washi Tape Wooden Bracelets. There will be a lot of fun and in the same finish everyone will have a handmade bracelet!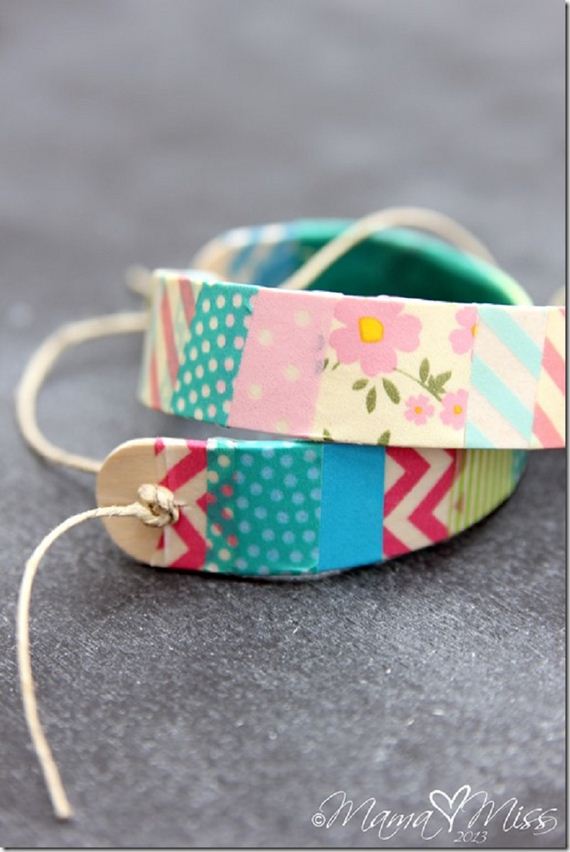 via mamamiss.com
DIY Washi Tape Cupcake Art
In the middle of our article, we're offering you a craft that's completely cute! The DIY Washi Tape Cupcake Art is a project that can be completed in just a couple of hours. The great thing is that you can display it wherever you want…living room, bedroom or maybe your office?!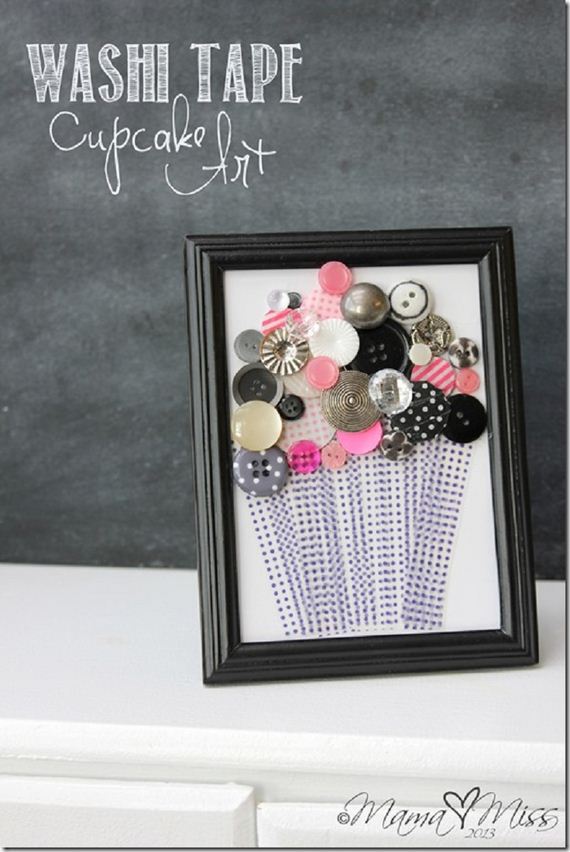 via mamamiss.com
DIY Washi Tape Makeovers for Pencils and Notebooks
Here is a project that can be accomplished with no effort at all. Plus by making this DIY Washi Tape Pencils and Notebooks you'll have a lot of fun! They're totally sweet!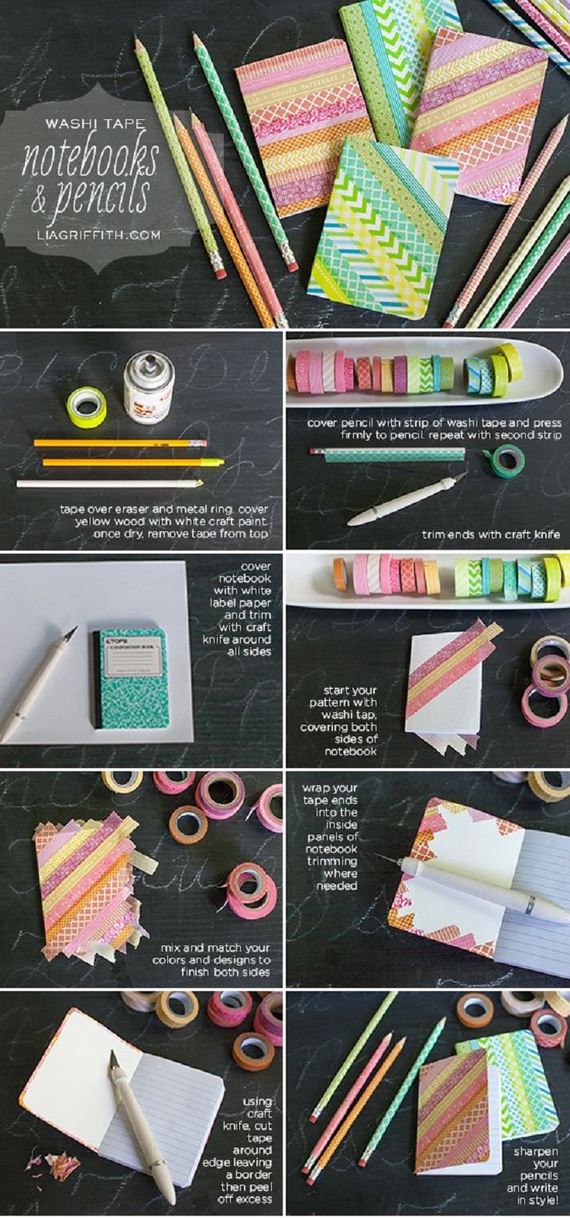 via liagriffith.com
DIY Washi Tape Stool
One more project that includes furniture makeover. The DIY Washi Tape Stool has a beautiful design thanks to the blue Washi tape. It's very easy suggestion that anyone should try!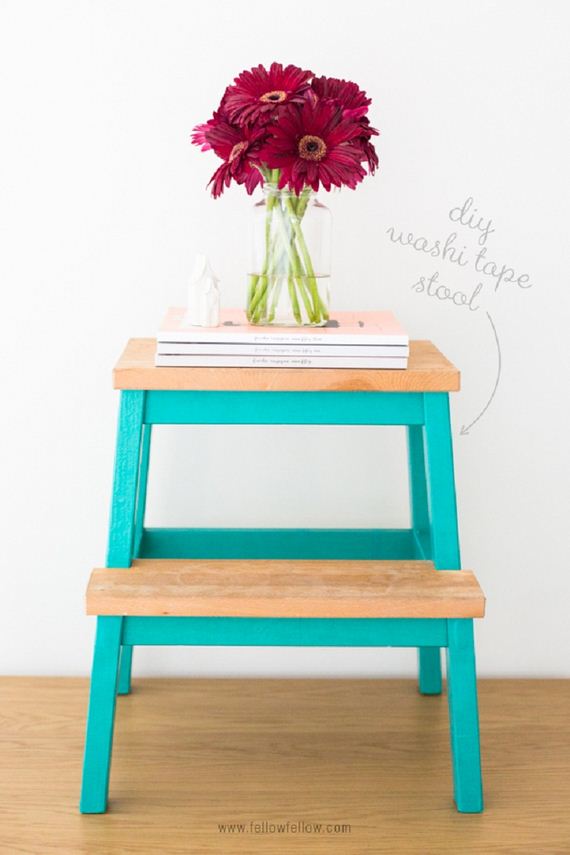 via fellowfellow.com
DIY Washi Tape Vases
We have an easy craft on our list again, but what can we do when Washi tapes are so practical and uncomplicated to use?! This DIY Washi Tape Vases will transform your simple vases into spring-ready home decorations where you can display natural flowers from your garden or maybe Easter eggs?!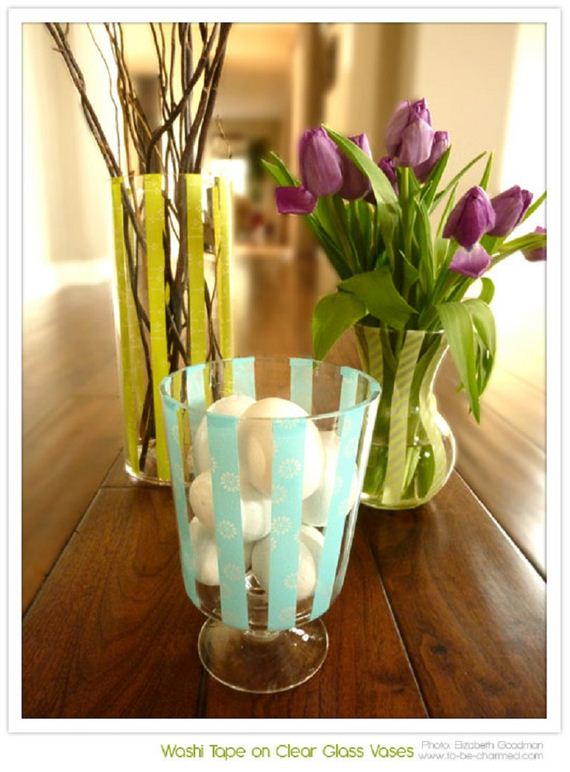 DIY Stripe Doorway
We're ending the list with a makeover that we're satisfied with! Isn't that DIY Stripe Doorway gorgeous? It absolutely is! So get crafty and start embellishing your home, because this decor will leave all of your guests speechless! Goodbye and see you soon!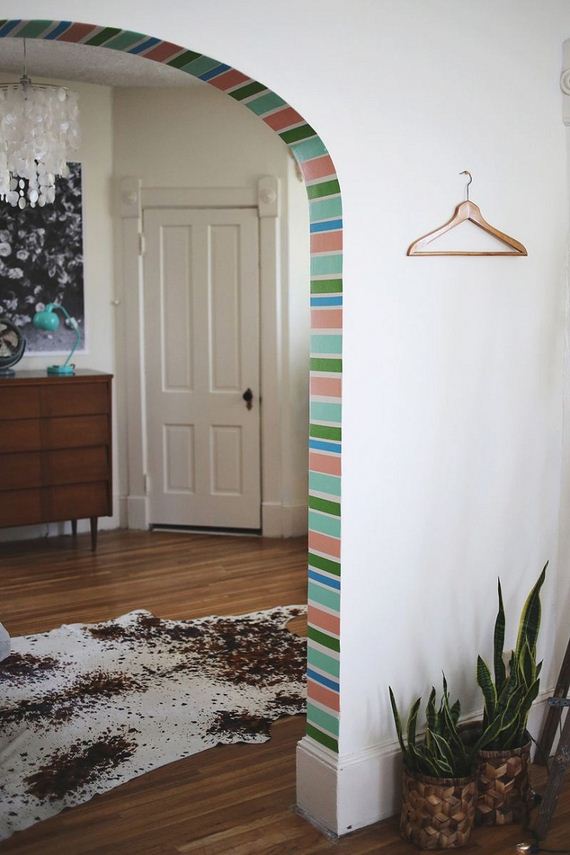 ---
---