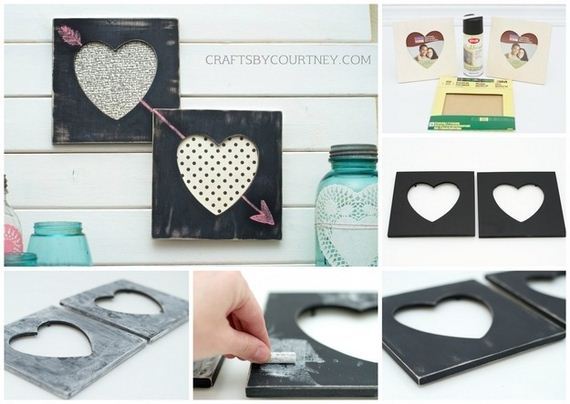 DIY Coworkers Valentine's Gifts
DIY Coworkers Valentine's Gifts
---
That's where DIY skills come in to save the day; you can make something that's just the right amount of Valentine's Day cheer without being too sappy for the workplace.
Check out these 15 adorable DIY Valentine's Day gift that are perfect for making your coworkers or office mates feel cared for on Valentine's Day because they're more seasonal than loving, and because they'll actually use them!
1. Chalkboard heart frames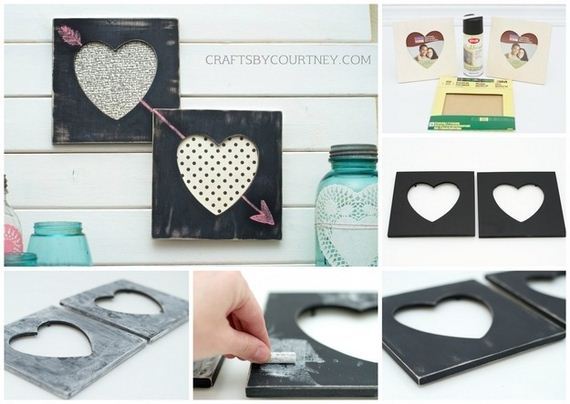 Do you have a coworker whose absolute favourite thing to do at work is decorate their desk or work space with pictures of their family, friends, and pets? Then make them a cute little heart-shaped frame so they can add one more! We love this adorable chalkboard photo frame by Crafts by Courtney because then your coworker can customize it by doodling on it however they please with a stick of chalk.
2. Valentine's slime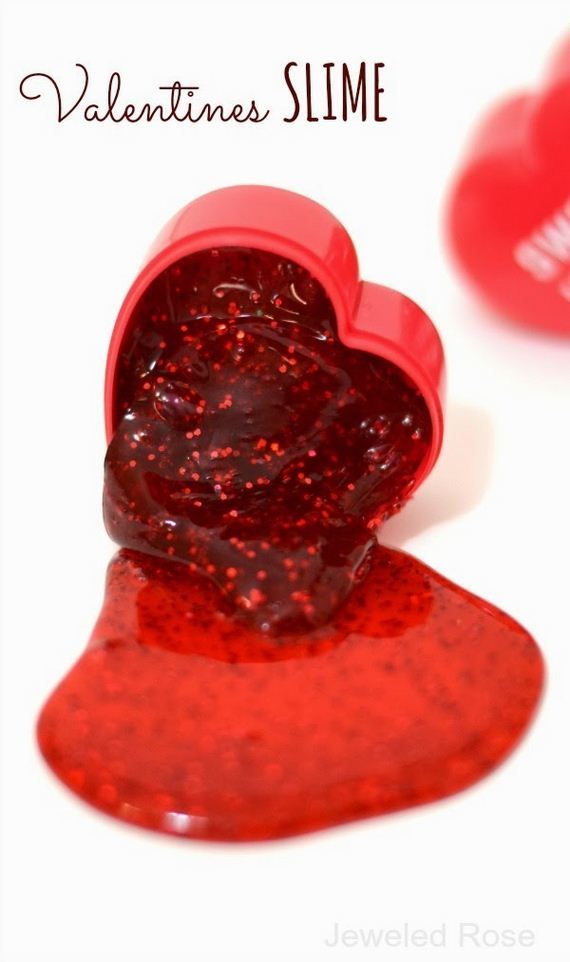 Do you have a coworker with fidgety hands who's always squeezing stress balls or playing with little knick knacks on their desk? Then make them something else to amuse themselves with while they concentrate! We recommend this hilarious red glitter slime in a heart shaped case, which you can learn to make on Growing a Jeweled Rose. Your coworker will feel like they're a kid playing with sparkly Silly Putty again!
3. Mini sock pillows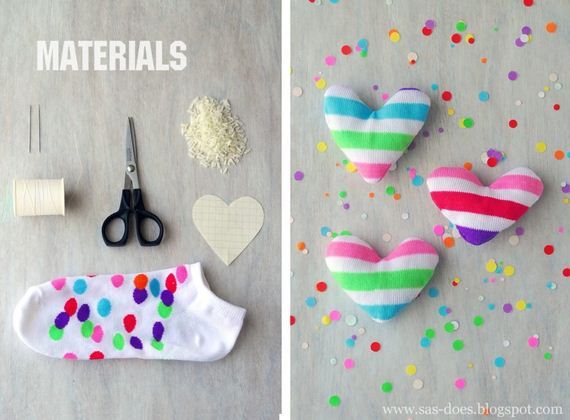 Are you a sewing enthusiast who would prefer to stitch simple projects for your coworkers than most other DIY projects you see? Make them little heart-shaped pillows by upcycling old brightly coloured socks! These are great things to have on your desk because you can tack a reminder paper right into the pillow and set in somewhere in sight so it won't be overlooked. See how they're made on Sas Does.
4. Valentine's Day bath bombs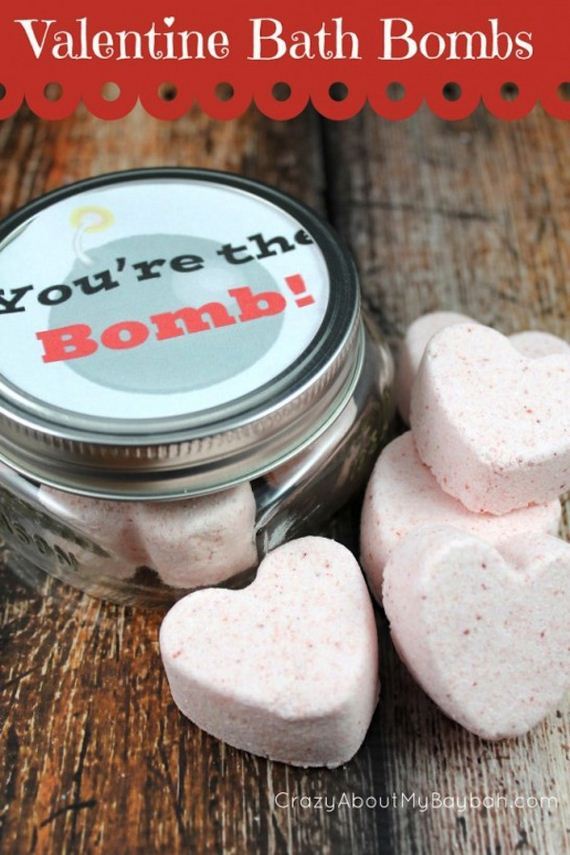 If you ask us, everyone deserves a little bit of pampering on Valentine's Day whether they're in a relationship or not. After all, Valentine's Day is about love, and that's not just for couples; you can love yourself too! That's why we like Arts and Crafts Family idea for making your coworkers DIY bath bombs! After a long day at the office, they'll be excited to go home and take a nice relaxing bath. Bonus points if you put a silly pun on the label.
5. Pucker Up mason jar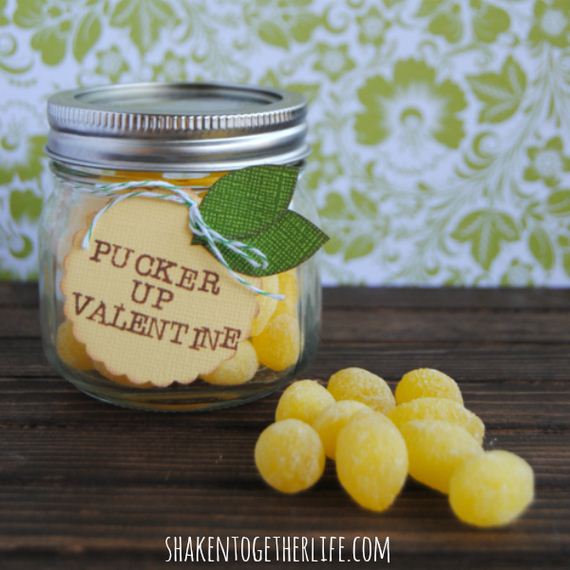 If your coworkers are anything like us, they probably usually have candy of some type sitting on their desk with a "help yourself" policy to go along with it. They'll really appreciate it, then, if you get them something to replace whatever they have now when they run out! Instead of just buying them candy that they could easily buy themselves, however, Shaken Together Life suggests making them these delicious DIY lemon drops.
6. Stamped muslin candy bags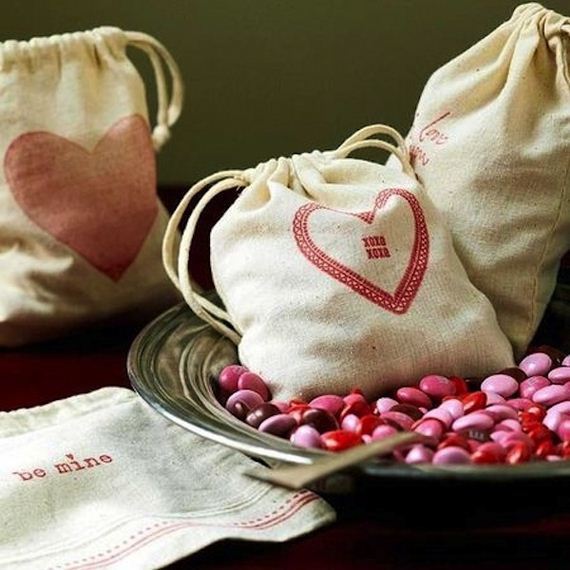 Have you bought some delicious Valentine's Day candy in bulk that you plan to split up into little bags to give as a simple favour to each coworker, but you don't want the packaging to look sloppy or low effort? Try making your own little muslin bags! Urban Comfort made these ones by custom stamping them with red ink and Valentine's Day sayings and shapes.
7. Valentine's Day Tic Tacs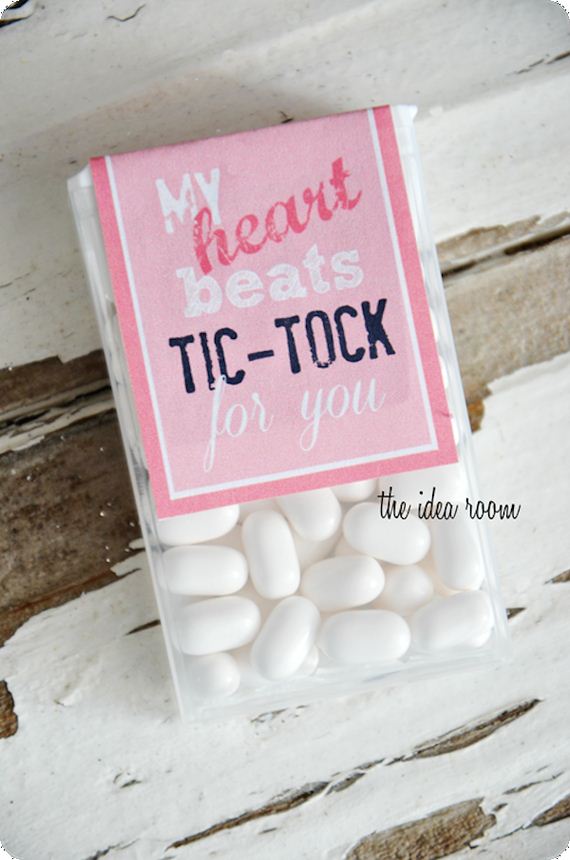 Are your coworkers exceptionally difficult to shop for or new enough that you don't know them very well yet? Go with a safe idea that will brighten their day with the though, even if it's not all that personalized this year. The Idea Room suggests buying packs of mints and replacing the store labels with Valentine's Day themed labeled that you designed yourself (or you can use the print out from their website).
8. Valentine's heart snow globe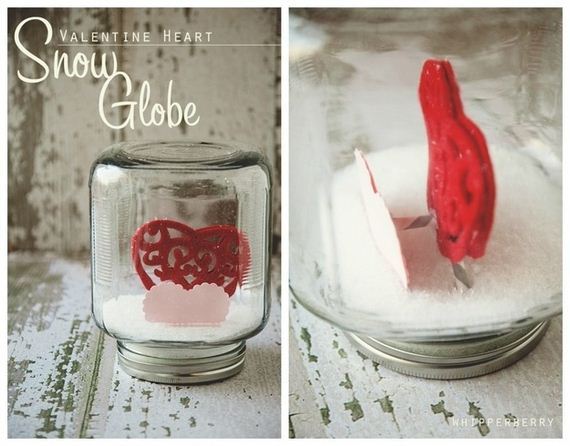 Are you still intrigued by the idea of making your coworkers something seasonal that they can keep on their desks to amuse themselves when they're on hold on the phone with clients? Then check out these DIY Valentine's Day snow globes by Whipperberry! We think the cutout heart pattern in the middle is completely adorable and they're surprisingly easy to make.
9. Takeout candy boxes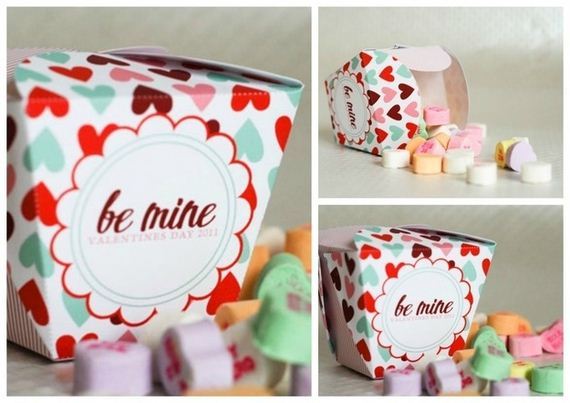 Confetti Sunshine has another printout project for you, just in case you don't quite have time to design your own! They suggest giving Valentine's Day candies, like message hearts, to each coworker in a little seasonal takeout food-style box! If you have a little more time on your hands, try using their printout as a template but creating your own custom design.
10. Love potion bubble bath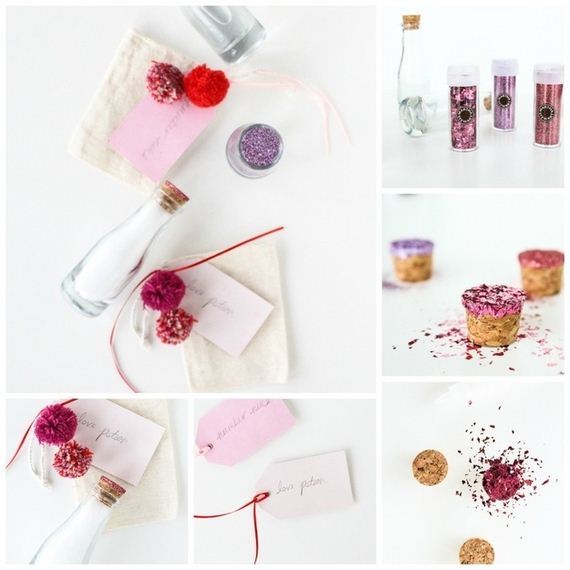 Have you worked in a very small place for many years and you know your coworkers well enough to know what they're allergic to? Then you might be safe to make them a different DIY pampering tool than the bath bombs: bubble bath! We can't get over how cute Sugar Cloth's idea to package their DIY bubble bath recipe up like little love potions is.
11. Valentine's party poppers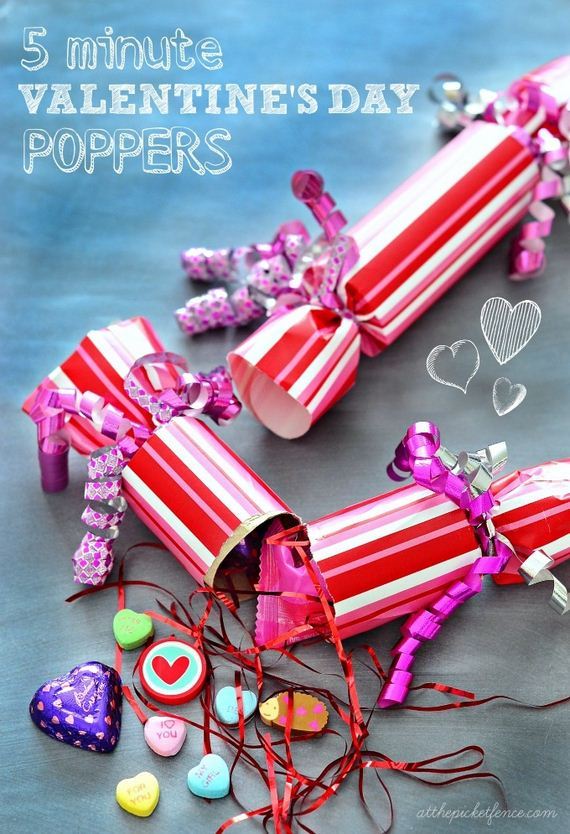 Setting off loud noises in your office probably isn't the greatest idea, but that doesn't mean you can't still make everyone a fun little Valentine's Day themed party "popper" without the bang! Check out how At the Picket Fence put together these cute little bundles that your coworkers and pull with each other, enjoying the surprises each person gets inside.
12. Peppermint infusion bags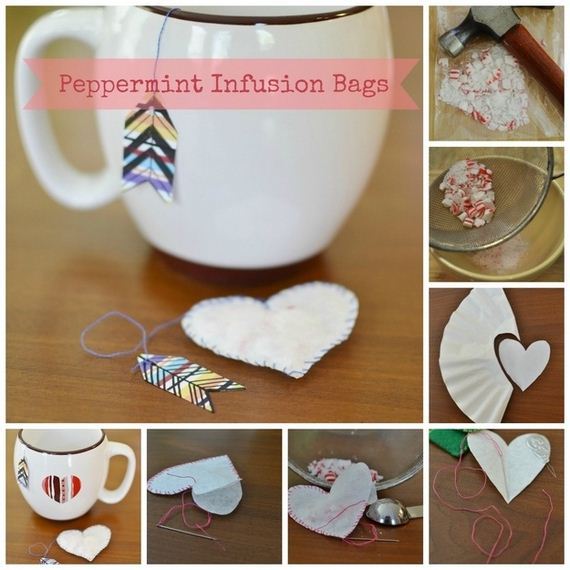 Are your coworkers big tea people who love nothing more than relaxing with a warm mug while they go over their final reports in the late afternoon? Then help them feel extra cozy on Valentine's Day by making them some refreshing heart-shaped mint infusion bags, just like Homeoloy Modern Vintage did here! These little DIY tea bags made from coffee filters and crushed candy cane are so cute and easy that we're considering just making some for ourselves at home for fun.
13. Painted wooden coasters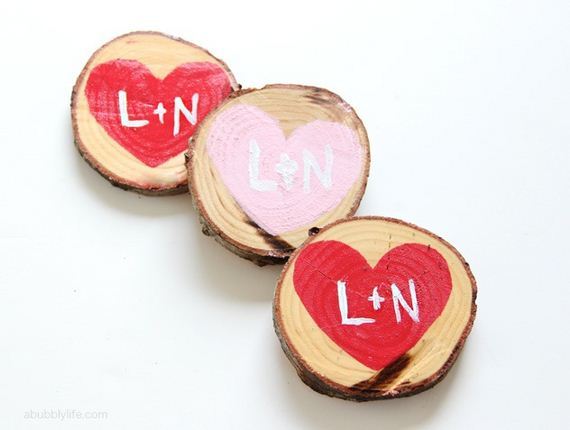 Perhaps your coworkers are very conscious of putting their glasses and coffee mugs on coasters throughout the day because the office just got lovely new desks and no one wants to be the first to leave a drink ring on the surface? Then try making them all adorably painted wooden coasters like these ones from A Bubbly Life! Consider painting they and their spouses' initials of the initials of their kids if you know them very well, or stick to just a few cute hearts on the surface of each.
14. Notepaper treat bags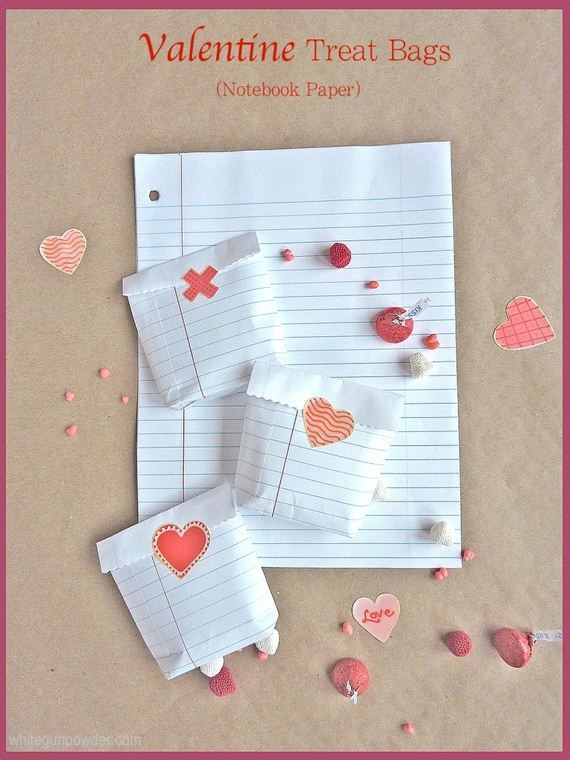 Are you hoping to make your office Valentine's Day really hearken back to the cute afternoons you have in grade school where everyone set a treat on the desk of each person in the class? Then White Gunpowder's idea for folding adorable little bags out of note paper, filling them with candy, and sealing them with a Valentine's sticker is the perfect thing for each of your coworkers.
15. Valentine's Day succulent planters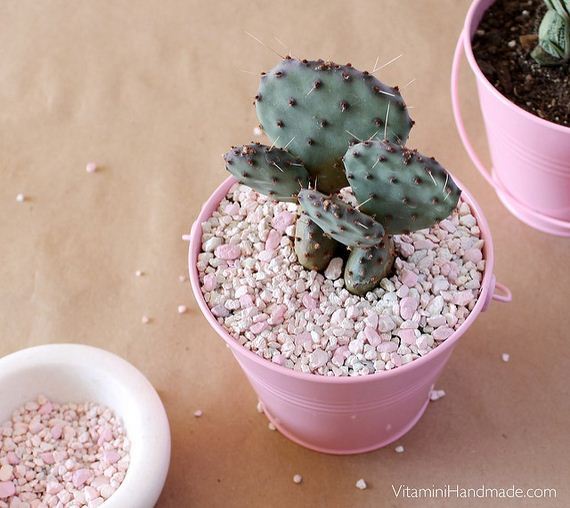 Maybe your coworkers are big on desk plants, cultivating a few little green friends across the surface of their desks? Add to their collection by giving each person something new but low maintenance: a succulent! We love the way Vitamini Handmade painted little buckets pink and filled them with white and pink rocks for the succulents to nestle in, just to really give the plant a seasonal feel.
---
---