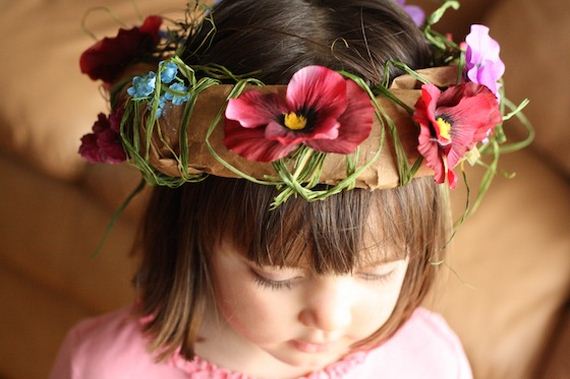 DIY Tiaras and Crowns for Little Princes and Princesses
DIY Tiaras and Crowns for Little Princes and Princesses
---
1. Gold leaf crown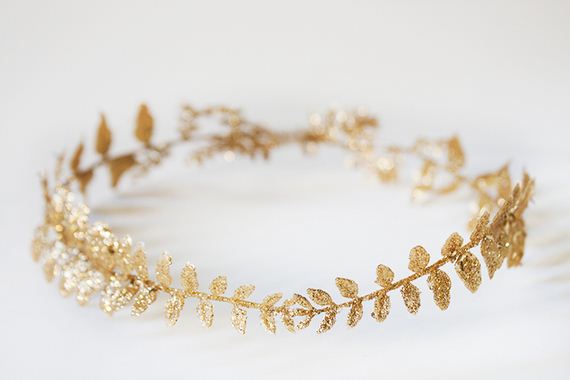 Pretty Prudent  shows you how to make a delicate crown of leaves covered in fine golden glitter. This crown is perfect for a little prince or a little princess (or even yourself if you're feeling particularly royal on a night out without the kids).
2. Paper bag flower crown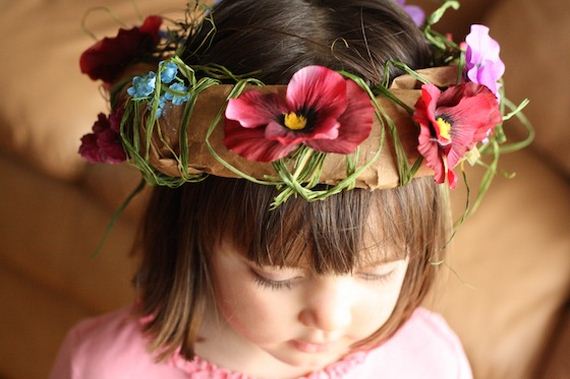 Happy Hooligans guides you through the process of creating an adorable flower crown made of silk flowers, paper grass, and a paper bag band. It's perfect for the days when your kids decide they're not just princes or princesses, but fairy royalty from the woodlands.
3. Ric rac tiara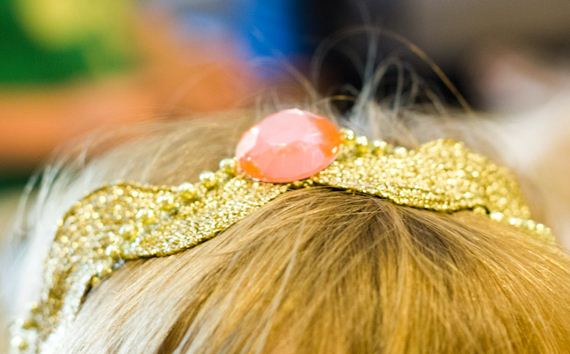 Me and My Insanity suggests using leftover trims and gems from your sewing stash to create a little tiara that resemble more of a hair band. Beads and trim in gold, especially sparkly gold, make particularly royal looking head pieces! Make sure to glue on at least one big rhinestone to make it fancy enough for royalty.
4. Lace and rhinestone crowns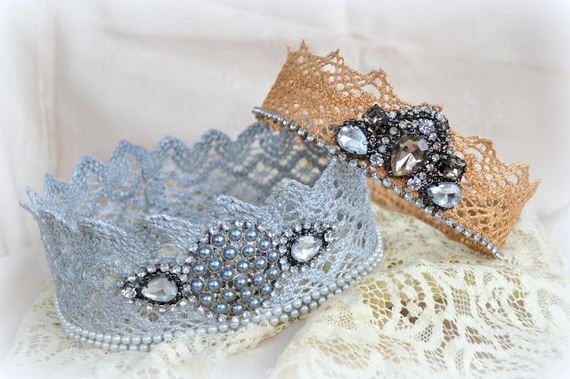 These moulded lace crowns are so delicate and decorative that we kind of want to make some for ourselves! Find lace in different colours, pearls ot rhinestones for trim along the bottom edge, and some pretty appliques to make a centre piece in the crown. Check out how surprisingly easy it was for Jennuine to make these ones.
5. DIY wire flower crown

If you've got some time and some patience on your hands, try this gorgeously bent and wrapped wire tiara idea from Small for Big. It's a little less fine and delicate looking then some of the very girly, lacy looks, but not every little prince or princess is concerned with having the biggest blossoms and most lovely flowers on their crown! This one might be a little more hardy for kids who really love running around.
6. Easy cardboard crown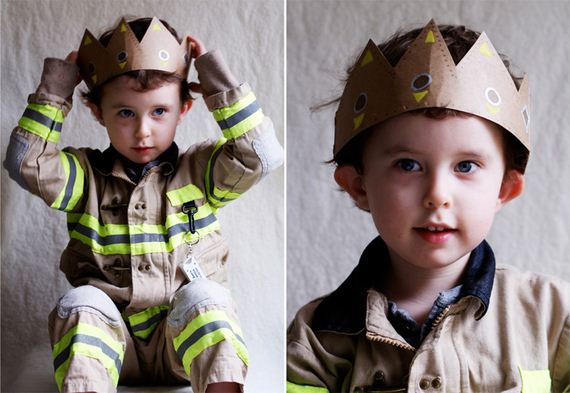 Are your kids ready to play dress up right now and they're not willing to wait until you're been able to bend them a custom wire flower head piece? Grab the nearest cardboard from the recycling box, get the markers and the scissors, and set the kids down to making their own! This simple crown by Made by Joel is great for kids who play hard.
7. Spiky origami crown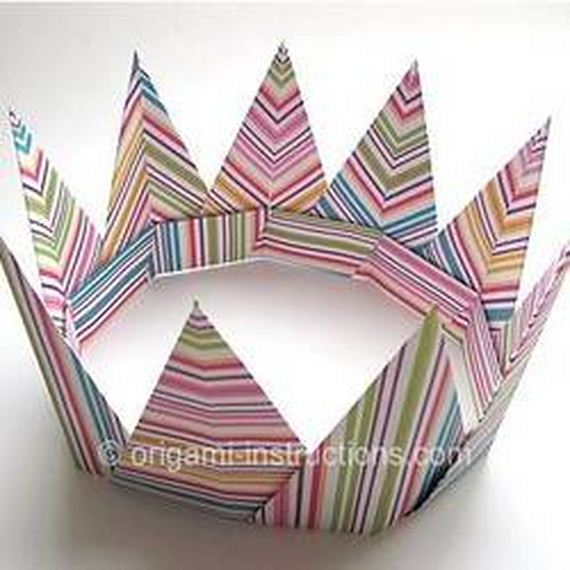 Perhaps your kids have just discovered how much fun origami is and now they want to fold themselves absolutely everything! Maybe you're the one who can't wait to get your hands one some bright new origami paper and make something new? Either way, this spiky little crown will look awesome on anyone when it's finished. Get the steps for making it on Origami Instructions.
8. Sparkly pipe cleaner hairband tiaras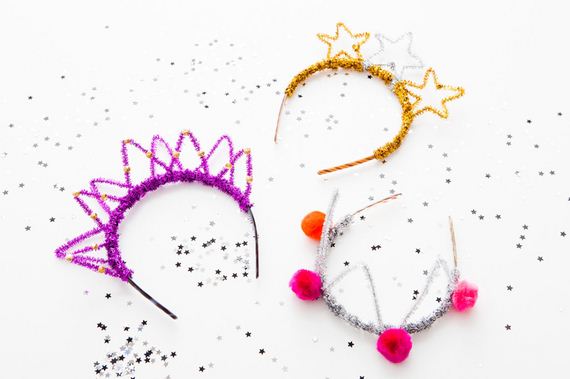 Brit + Co. has a great idea for crowns that are simple to make, easy to fix if they're broken, and completely customizable. All you need are some simple plastic or wire hair bands, some sparkly pipe cleaners in a few colours, and some pom poms if you're feeling very fancy!
9. Glitter, paper, flower crown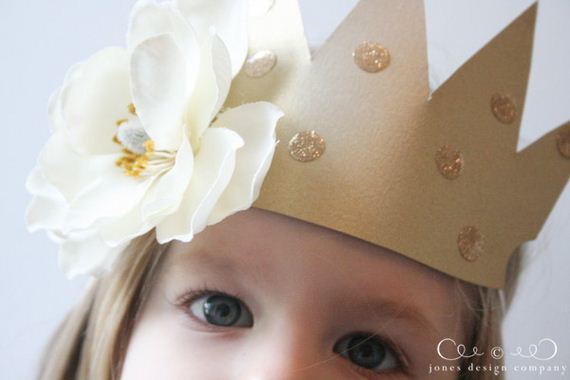 If you like the ease and simplicity of the cardboard crown but you only have access to thick paper, construction paper, or card stock, don't stress! These will work just as well, and they can also be made just as cute as some of the other crowns on this list. Stickers, glitter glue, and faux flowers are a great way to jazz things up, just like Jones Design Company did with this one.
10. Chunky rhinestone birthday crown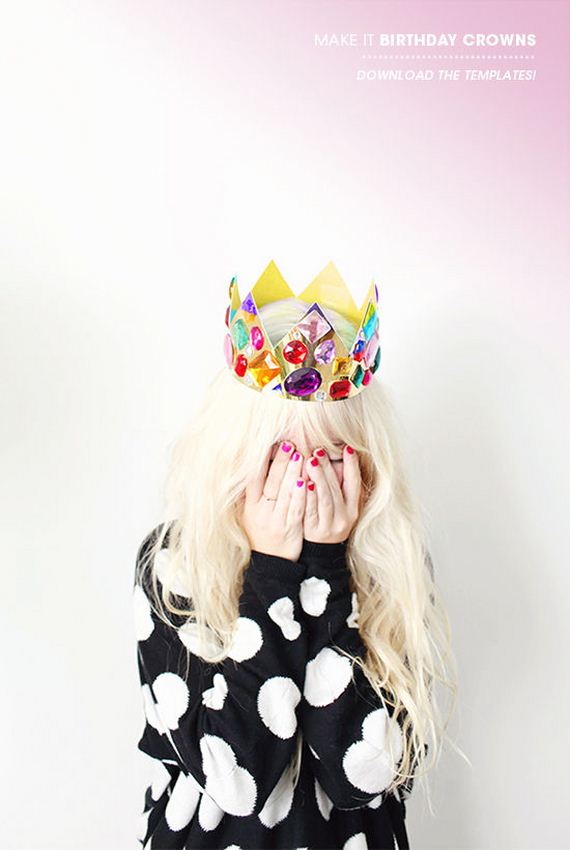 Design Love Fest thinks that, if you're going to design a tiara or crown, you might as well just go all out with the bling and sparkles! What you make the base of the crown here isn't that important, so grab some cardboard, paper, or metallic card stock if you're feeling fancy. Next, cover it with Rhinestones! Choose big ones, small ones, or whatever appeals to you!
11. Adorable newspaper crowns
If you can't decide between making the cardboard crown or the origami crown, why not meet somewhere in the middle? This newspaper crown involves folding and cutting, plus whatever decorating and embellishing you please! Check out how Salsa Pie Productions made these cute ones!
12. Gold glitter star crown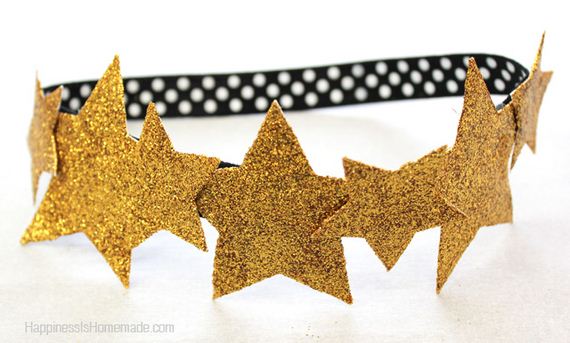 Happiness is Homemade shows you how to make a space prince or princess's sparkly star crown from glittered paper and a stretch hairband! You might make yours in a different colour or on a plastic band instead of an elastic, but we love these overlapping stars.
13. Fabric and ribbon crowns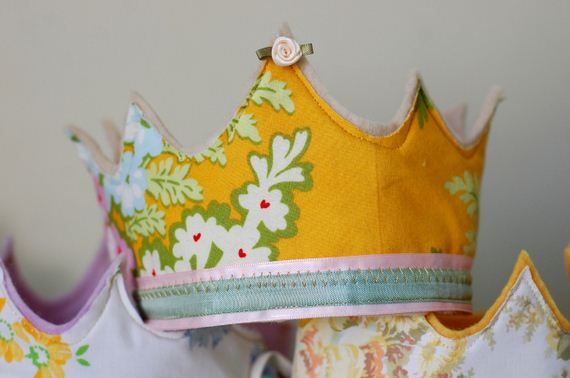 Are you an avid sewing enthusiast who does a lot more sewing than you do other types of crafting? You can totally still use your main DIY skills to make a crown! Hungie Gungie give you the steps and pattern for these adorable fabric crowns in place of paper and glue.
14. "Crystal" crown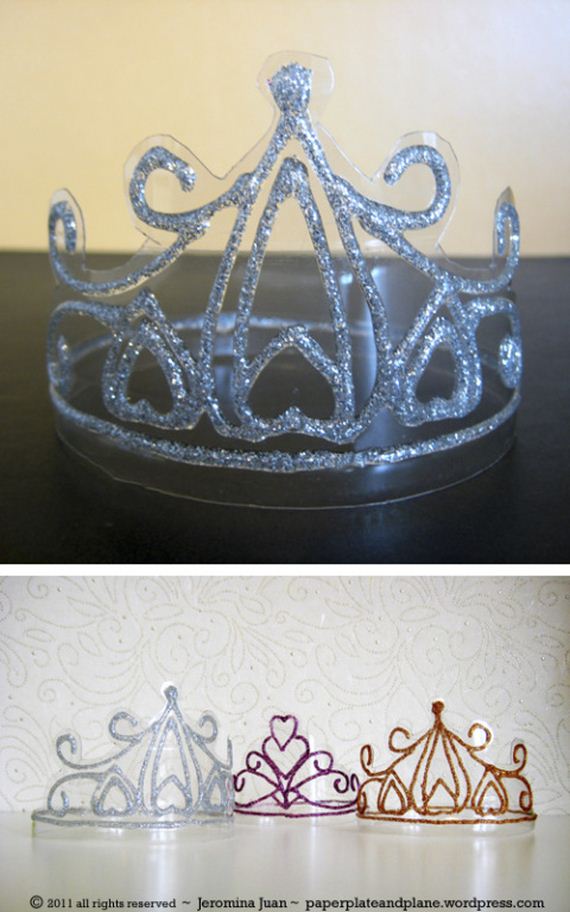 Have your kids fallen in love with the idea of Cinderella's crystal shoes more than anything else in fairytale land? Follow the steps on Paper, Plate, and Plane to make this "crystal" and glitter crown that will make them feel just as special as Cinderella!
15. Paper geometric hairband crown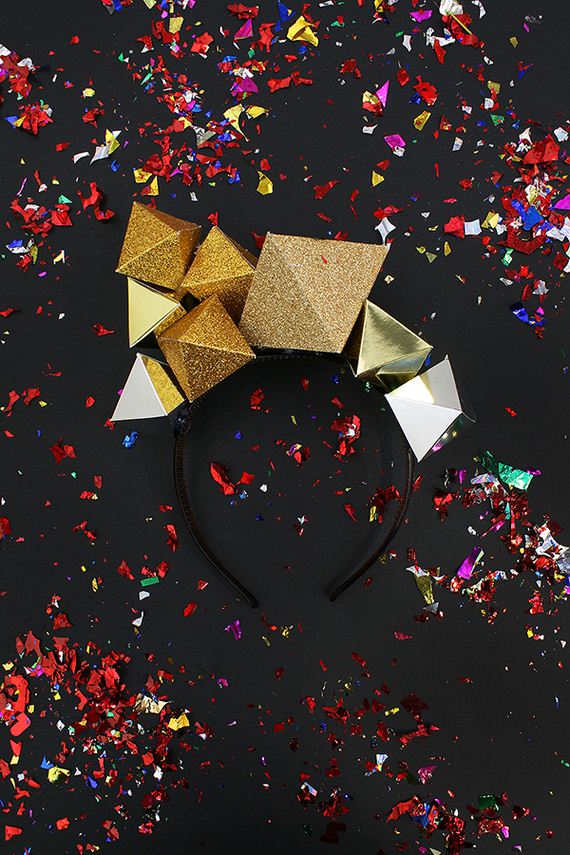 When you picture a "crown", do you think of more of a 3D, geometric shape, more like a headpiece? Sparkly, decorative paper or card stock and this tutorial by Bloglovin' are here to help you make the geometric crown of your  kids' (or your) dreams!
---
---