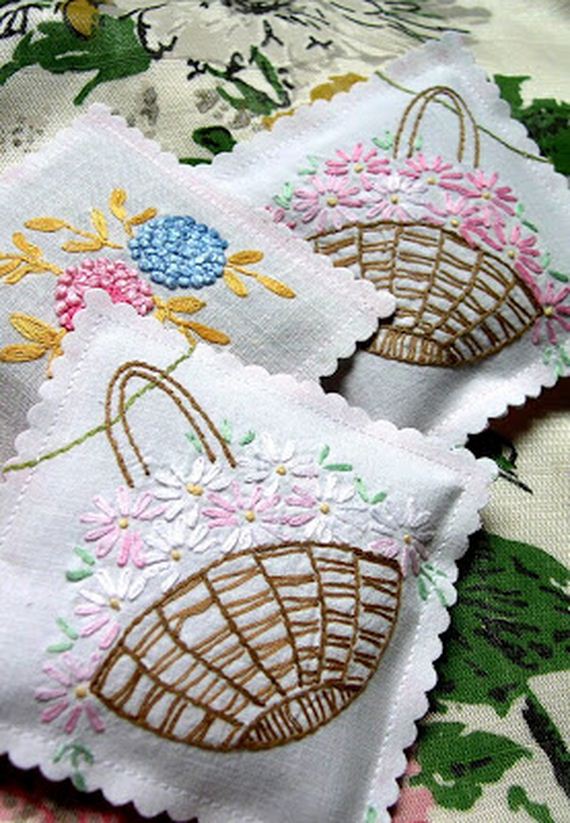 DIY Vintage Linens
DIY Vintage Linens
---
1. Vintage handkerchief valance. Flamingo Toes suggests lining the tops of the main windows in your home with window valances made of vintage handkerchiefs. Most people are no longer in the habit of carrying handkerchiefs with them in their purses or pockets, but the original ones made generations before that habit fell by the wayside are much too gorgeous just to sit in storage boxes in your attic. Put them to good use by prettying up your window frames!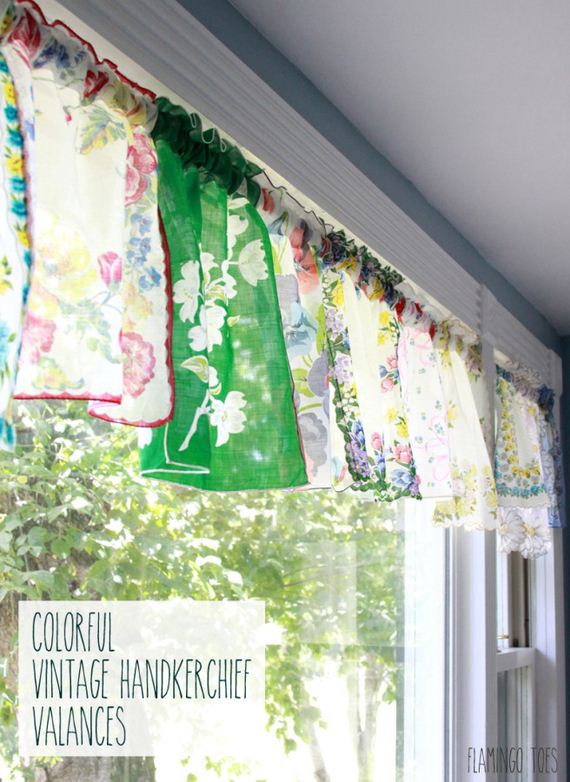 2. Vintage napkin curtains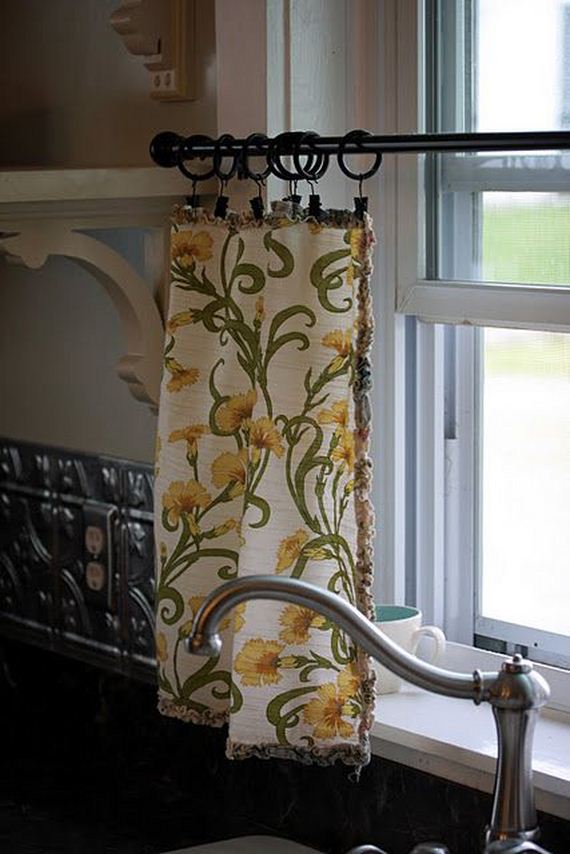 Do you have a stash of vintage napkins that you'd rather not use at dinner time for fear of ruining their somehow mint condition? Try making them into demi curtains for your kitchen or bathroom window! Shannan Martin Writes guides you through the steps for this project.
3. Embroidered linen patchwork curtains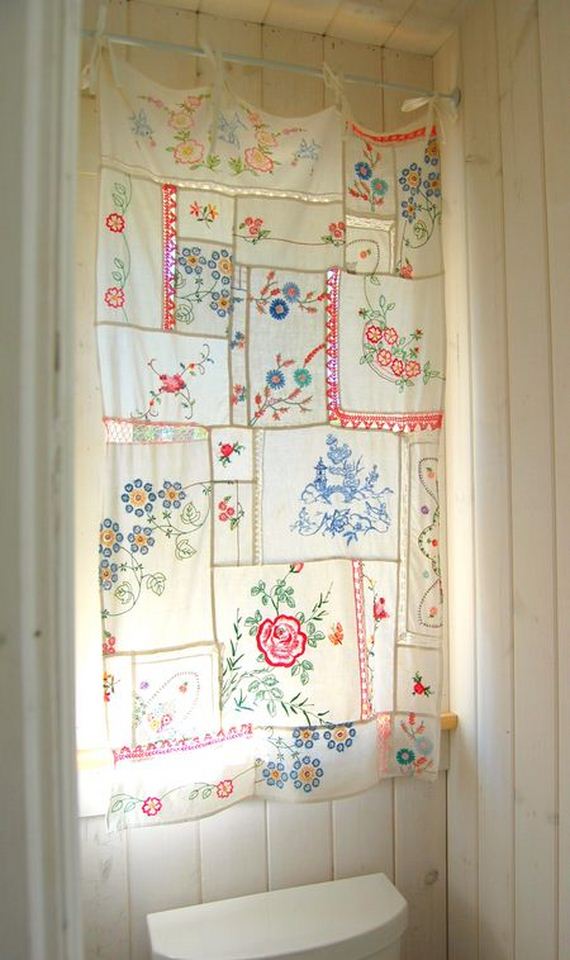 Do you love the idea of using vintage linens to make curtains but you don't have any that are quite big enough to cover your large, gorgeous windows? Well, as long as you can work a pair of scissors and know how to do a very simple sewn seam, you can still make a beautiful curtain by quilting pieces of whatever decorative linens you do have together! Try using pretty handkerchiefs and the embroidered corners of bed sheets or pillow cases. Check out how By Rosehip made this thin, long curtain custom to their bathroom window shape.
4. Vintage embroidered pillow case aprons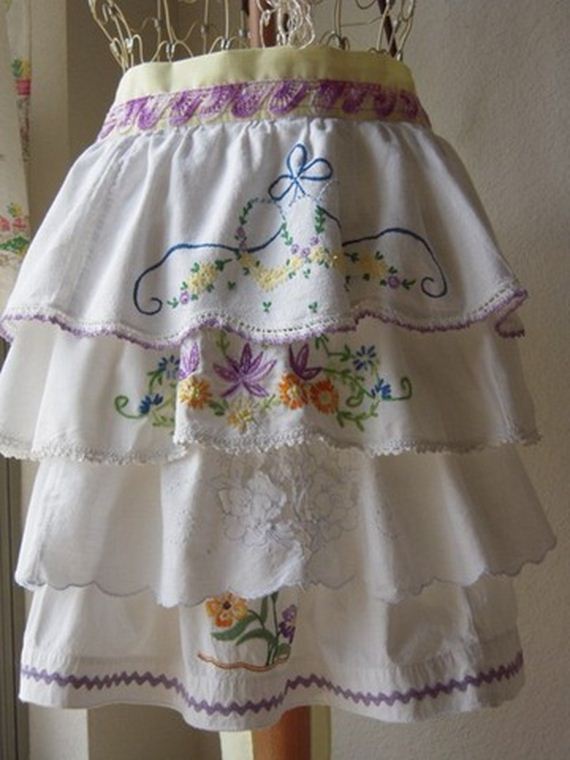 Do you have a collection of vintage pillow cases that you don't often use, but that feature gorgeous edging and embroidered corners? Take advantage of that ready-to-use decor material rather than letting it sit endlessly in your linen closet! We absolutely adore this pretty waist apron idea from Decor to Adore that gives of decorative pillow edging a new lease on life.
5. Embroidered envelope pouches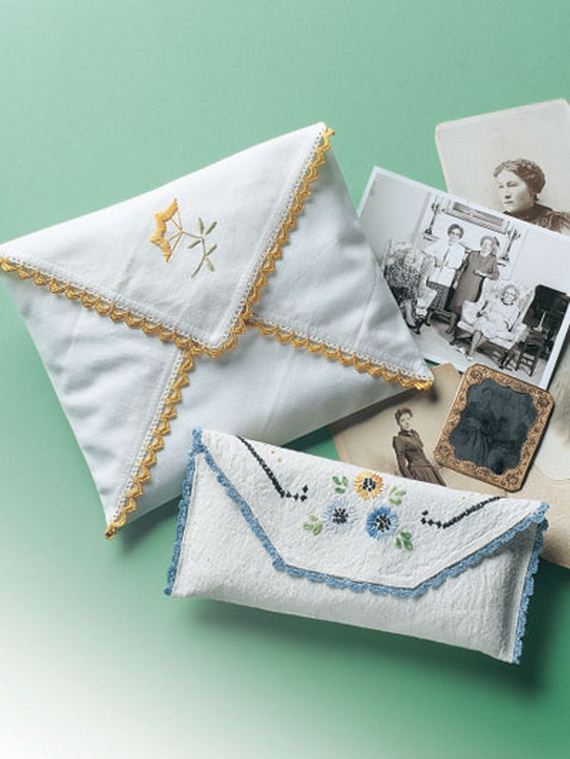 Are you looking for a more unique way to give someone a card for a special occasion or a small gift? We suggest this adorable, reusable, and delicately decorative envelope design from Free Patterns! These make the perfect pretty gift cases for handmade, artistic keepsake cards, family heirloom jewelry, or bundles of printed photos.
6. Vintage linen buttons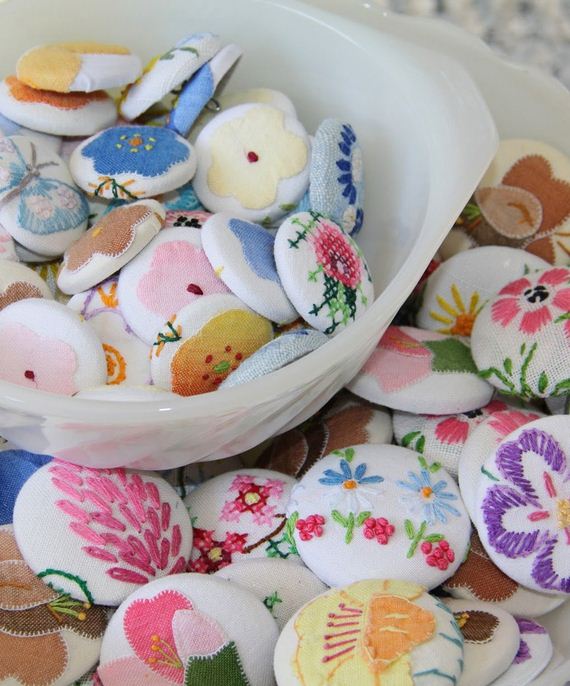 Are all of your vintage linens covered in little, individual patches of embroidery featuring things like patchwork flowers that you just know were handmade? Harness the detailed beauty of those by transforming them into cloth buttons, just like Isa Creative Musings did! No matter what you use the buttons for, they'll look vintage and gorgeous.
7. Wood framed vintage doilies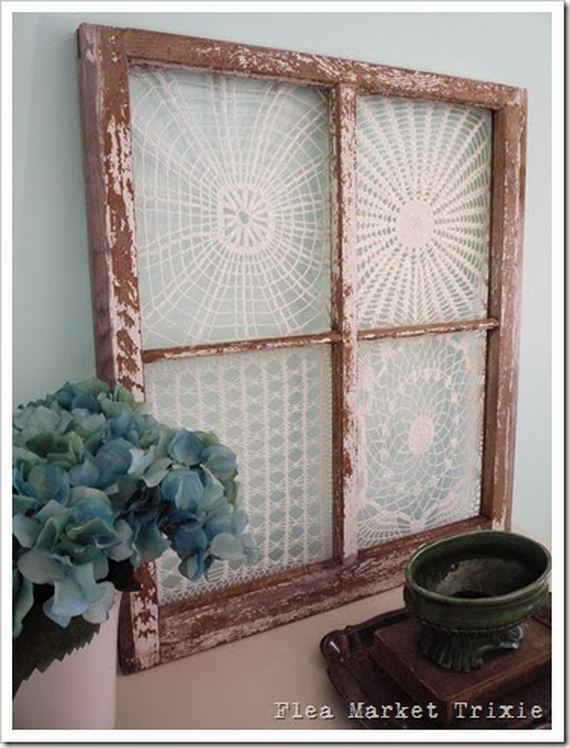 If you've inherited a collection of beautiful lace linens, then you might have also been gifted a series of pretty lace doilies too! Doilies can be risky in decor because they're so fine and usually so cleanly white or cream that they're easily stained or ripped, which definitely isn't a fate that you want your valuable or sentimental vintage things to meet. Flea Market Trixie, however, has figured out a way to display your vintage lace doilies without letting them get wrecked! Find an old, stylishly rustic window frame and replace the glass with vintage lace doilies stretched in each square so that the wood showcases their intricate detail.
8. Vintage linen sachets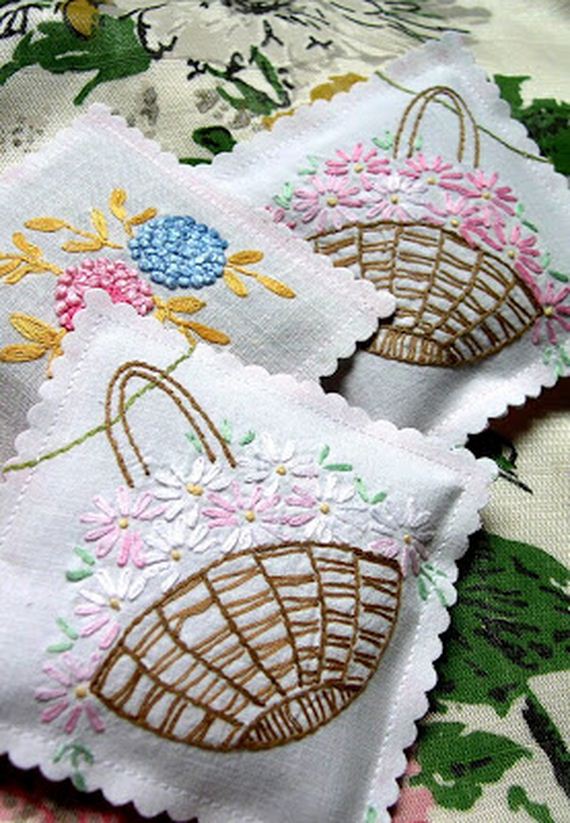 So Into Vintage suggests using the delicately embroidered pieces of vintage sheets and pillow cases to create adorable little sachets for pot pourri. Put one in the dresser drawer in each room or put a few of the in a decorative little basket in the bathroom. The effect will be sweet-smelling and very authentically vintage indeed!
9. Embroidered and lace edged table runner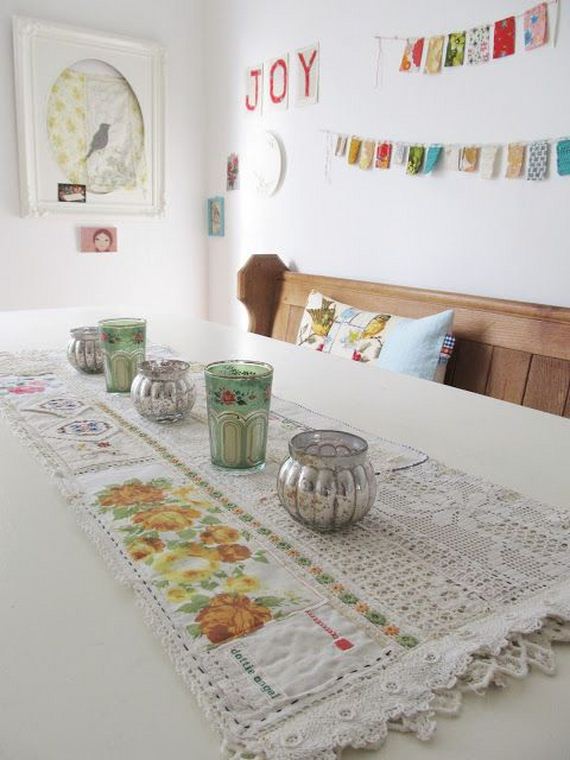 Dottie Angel guides you through the process of making a gorgeous table runner that harnesses the beauty of the prints, embroidery, and lace so often featured in the linens, sheets, and pillow cases of generations past. The final product is particularly pretty and nostalgic given that modern sheets don't always feature such craftsmanship!
10. Vintage dish towels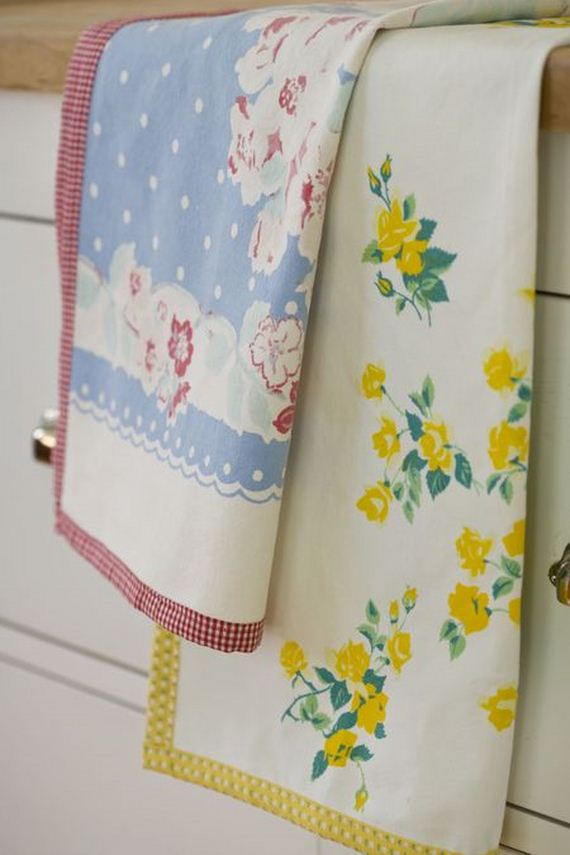 Do you have a box of old table clothes that feature gorgeous vintage prints and maybe even a bit of embroidery, but you're not likely to use them on your own dining table? Save them from a fate in your attic by following this tutorial from The Farm Chicks in order to turn them into useful tea towels or dish towels for your kitchen! They'll add a warm, down home feel to the space.
11. Vintage cocktail napkins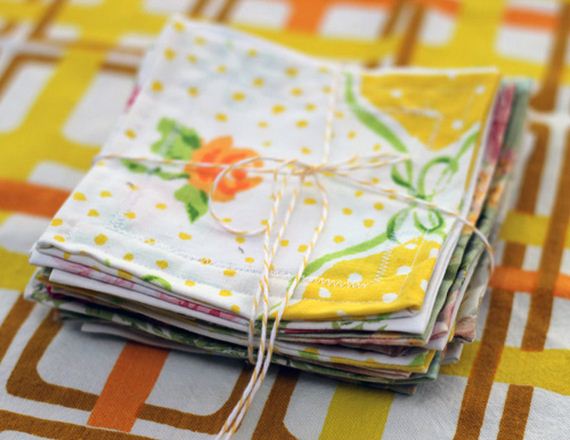 Do you like the idea of repurposing vintage table clothes into something you need more, but you already have enough dish towels in your kitchen? Try making yourself a set of little cocktail napkins form sections of the table clothes instead! For a bit of guidance, see the full tutorial on Design Sponge.
12. Vintage strip quilt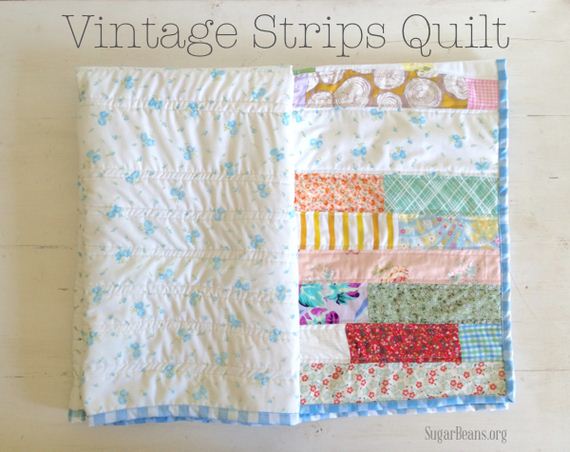 If you're feeling very creative and open to a bigger project that presents more of a challenge, consider creating a gorgeous patchwork quilt from your vintage linens, just like this one by Sugar Beans! Whether you've got vintage table clothes, napkins, dish towels, bed sheets, or pillow cases, you'll find that they're all a gold mine for making pretty embroidered patches for your quilt.
13. Vintage handkerchief necklace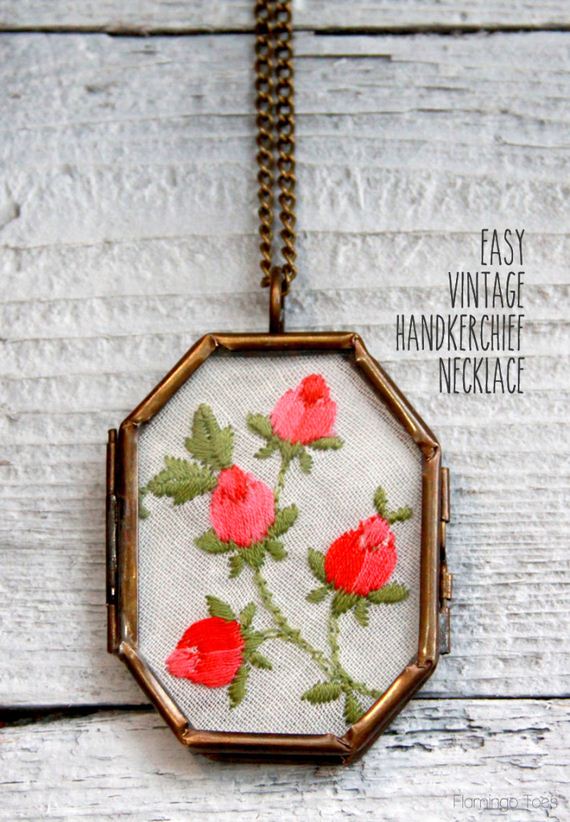 Would you prefer to use your great grandmother's vintage handkerchiefs in a way that lets you keep them close to you and show them a little more appreciation than they might get if you turn them into napkins? Try making this adorable little necklace charm that features the detailed embroidery art from your vintage linens in a beautiful way.
14. Vintage linens handbag with wooden handles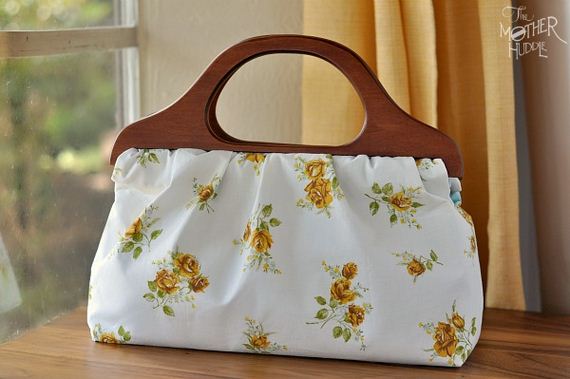 The Mother Huddle teaches you how to transform your vintage linens into something a little more practical! By creating this adorable handbag, you're putting beautifully patterned sheets, table clothes, or pillow cases to much better use than your linen closet it. This bag will add a bit of classic nostalgia to your look, especially if you give it wooden handles.
15. Mason jar pin cushion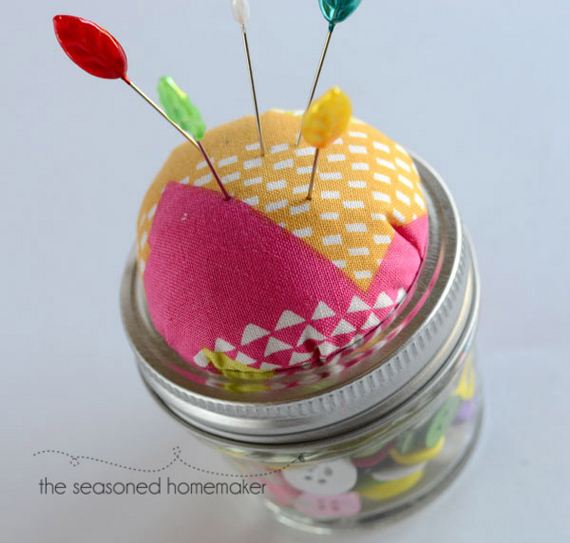 Technically this cute little mason jar pin cushion tutorial by Seasoned Homemaker doesn't call specifically for vintage linens when you make it, but we think it would make for an adorable and rather traditional DIY project if you did use them! Sheets, pillow cases, table clothes, and napkins would all work very well.
---
---