DIY Wine Cork Crafts
DIY Wine Cork Crafts
---
There are tons of great things that you can use them for even if you aren't making wine cork crafts. You can easily make cork walkways, cork tables, and corn signs with these tutorials that we've featured below.
Whale Wine Cork Board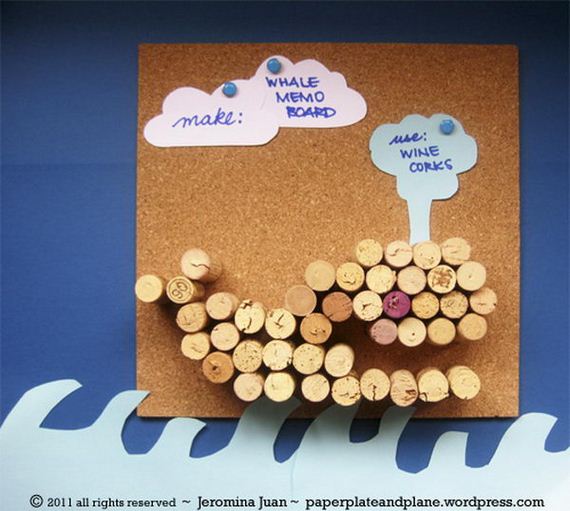 Arrange the wine corks in the shape of a whale and affix with hot glue. Jeromina made this fun cork board in under fifteen minutes. via paperplateandplane.wordpress.com
Wine Cork Art Reindeer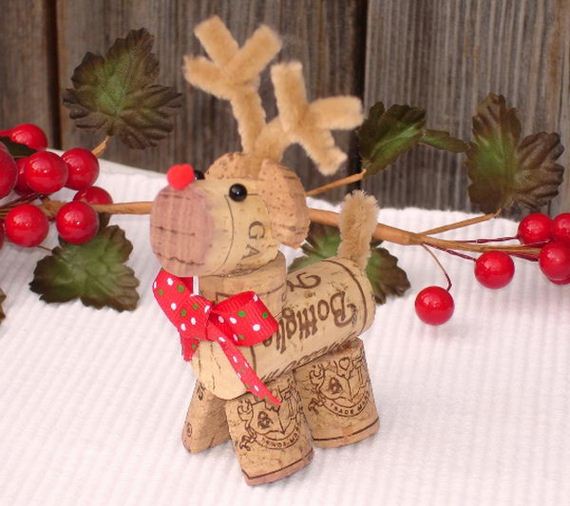 This cute reindeer adds a fun and festive style to your Christmas decoration. It's also the perfect gift for a wine lover. via momsmenuplanner.com
Wine Cork Snake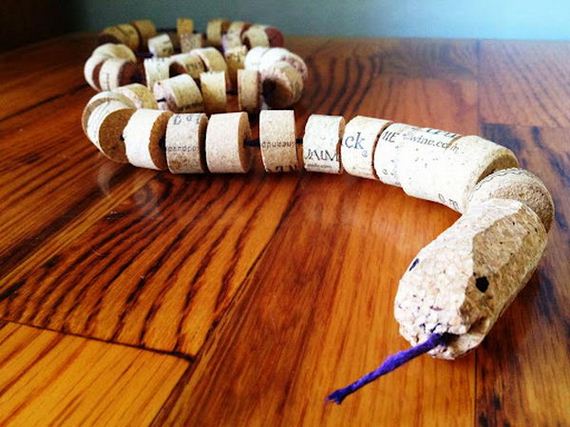 This craft is easy to make and a great homemade gift for a 4-year old child or older. Get the tutorial via goodluckwiththat1.blogspot.com.
Teddy Bear Wine Cork Ornament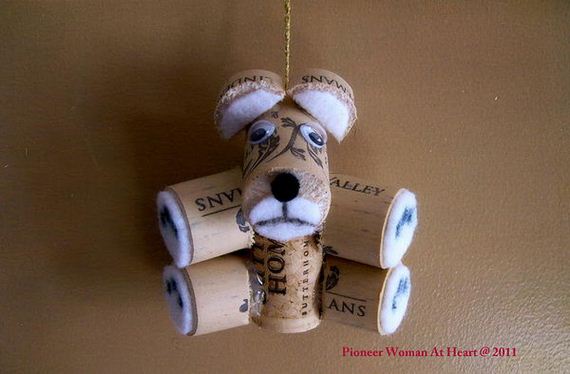 via pioneerwomanatheart.blogspot.com
Wine Cork Horse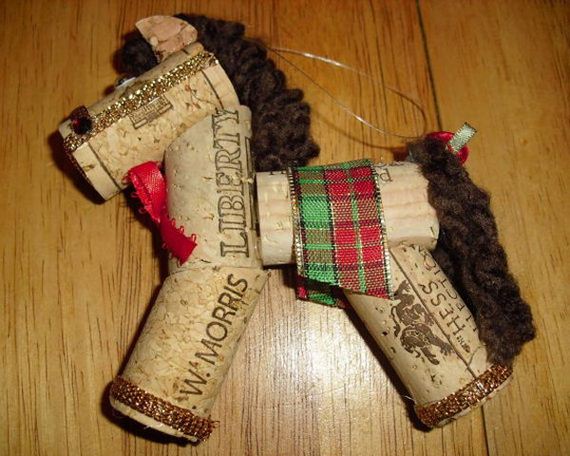 Wine Cork Love Bugs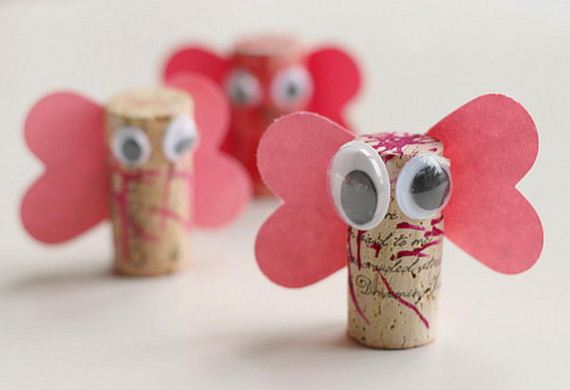 What a lovely Valentine's day craft idea for your kids. These cute love bugs are made from wine corks, red markers and googly eyes. Get the tutorial via notimeforflashcards.com
Star Shaped Wine Cork Decor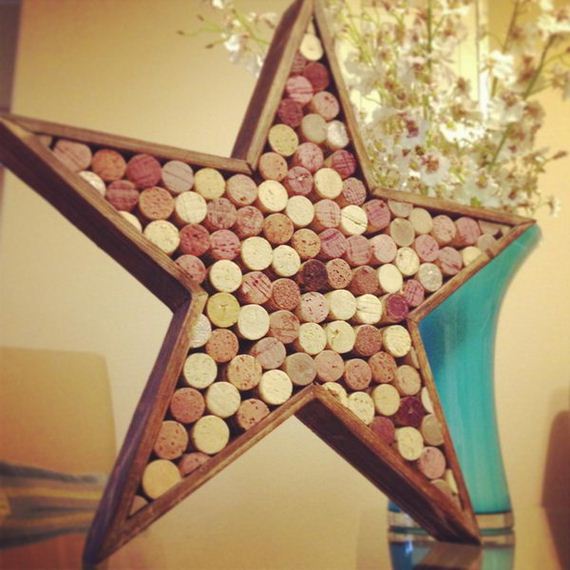 Heart Shaped Wine Cork Wall Art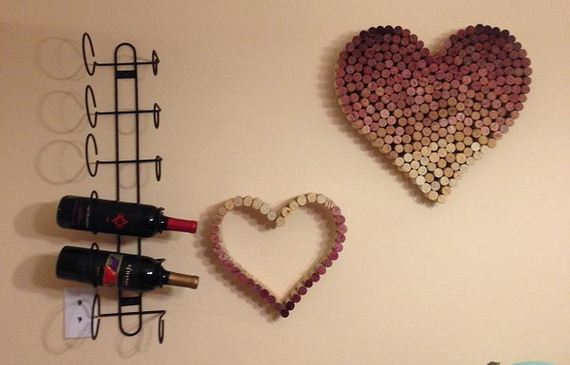 via postgradcrafting.blogspot.ae
DIY Wine Cork Christmas Wreath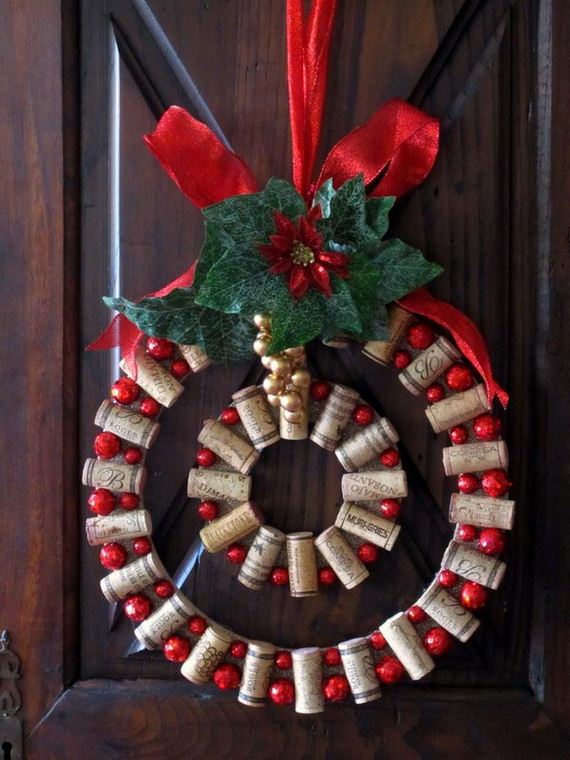 Get the instructions via wineandcork.blogspot.com
Christmas Tree Shaped Wine Cork Wreath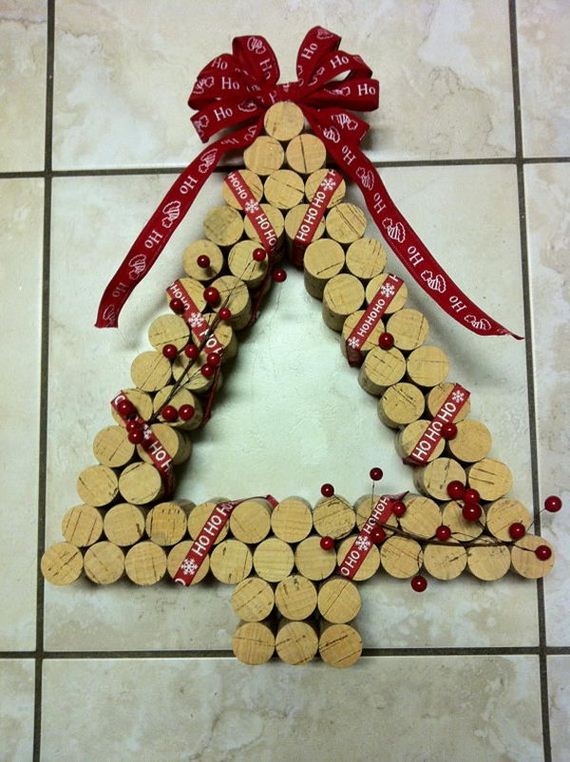 Wine Cork Heart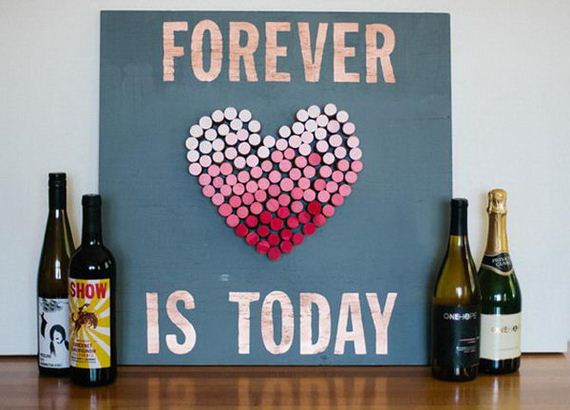 This is the perfect wedding idea or gift idea for wine lovers. Get the steps via greenweddingshoes.com
DIY Wine Cork Stamps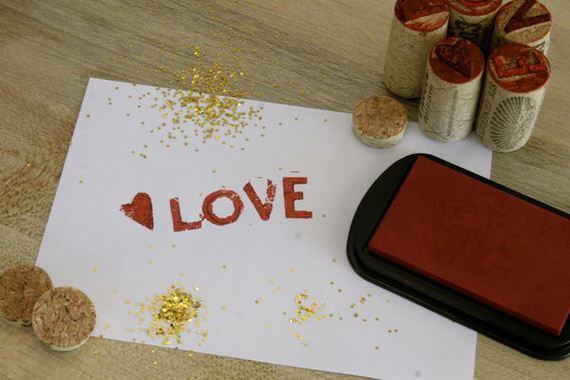 Get the tutorial via theculturedcavewoman.com
DIY Wine Cork Christmas Ornaments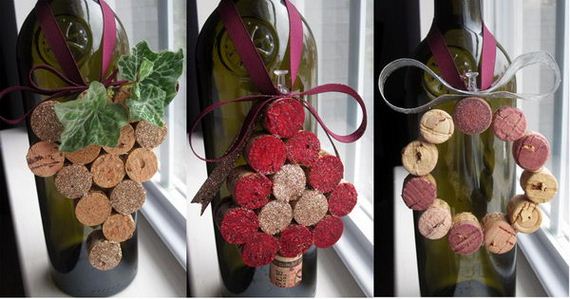 This is an easy wine cork ornament project which requires no special skills, just a hot glue gun and just a little wee bit of creativity. Get the instructions via Source
Wine Cork Clothing for Girl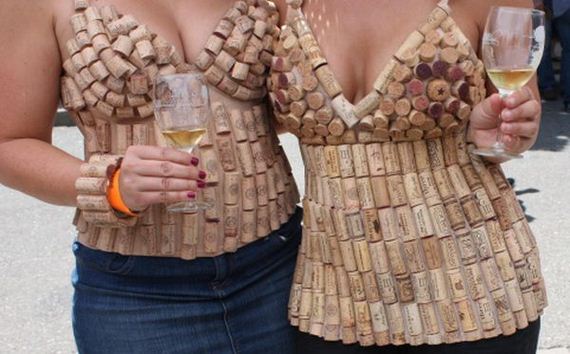 Wine Cork Christmas Tree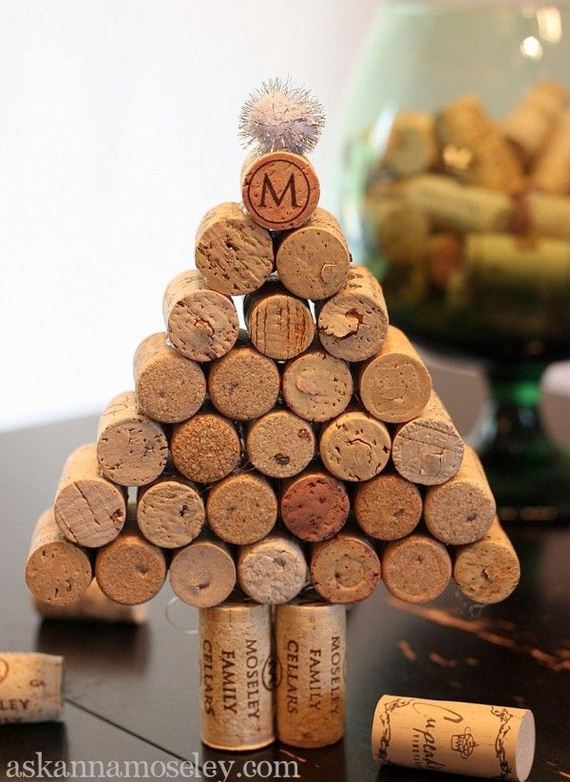 Get the tutorials via askannamoseley.com
DIY Wine Cork Chandelier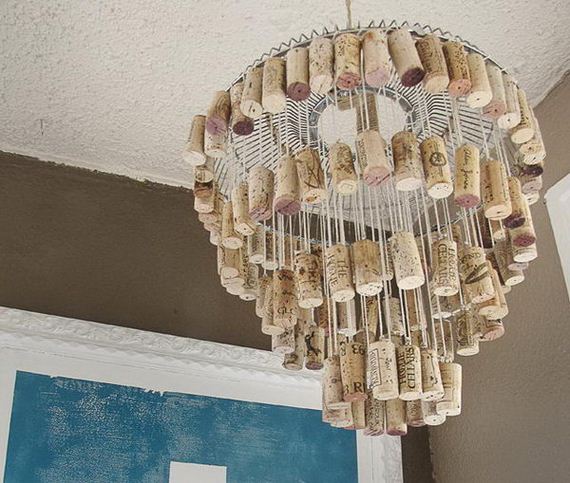 Kathryn created this gorgeous chandelier using materials which cost less than $15. Get the instructions via moxandfodder.com
DIY Wine Cork Key Chains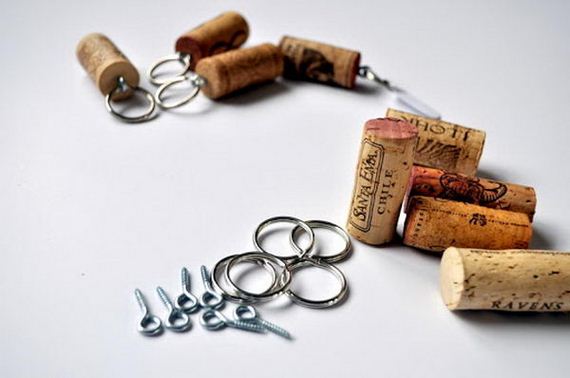 Wine Cork Bath Mat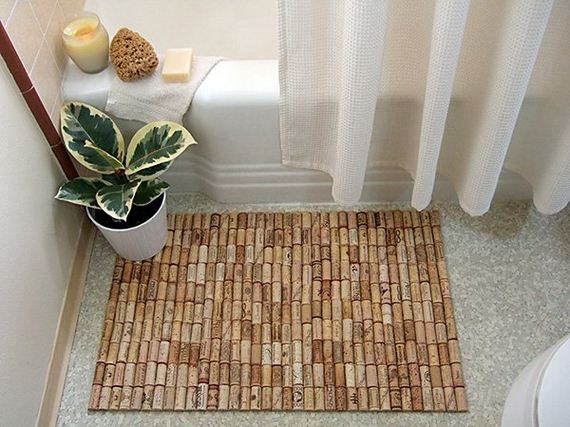 That bath mat made out of cork is amazing. What a great idea! The only thing you should worry about is the moisture problem. Get the tutorial via craftynest.com
Making Wine Cork Letter Stamps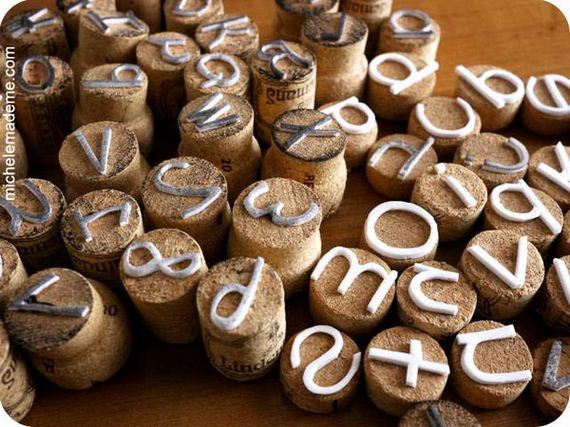 These cute stamps are pretty easy to make. They lend lots of personality to cards, gift wrap and artwork. Get the steps via michelemademe.com
Wine Cork Giraffe Sculpture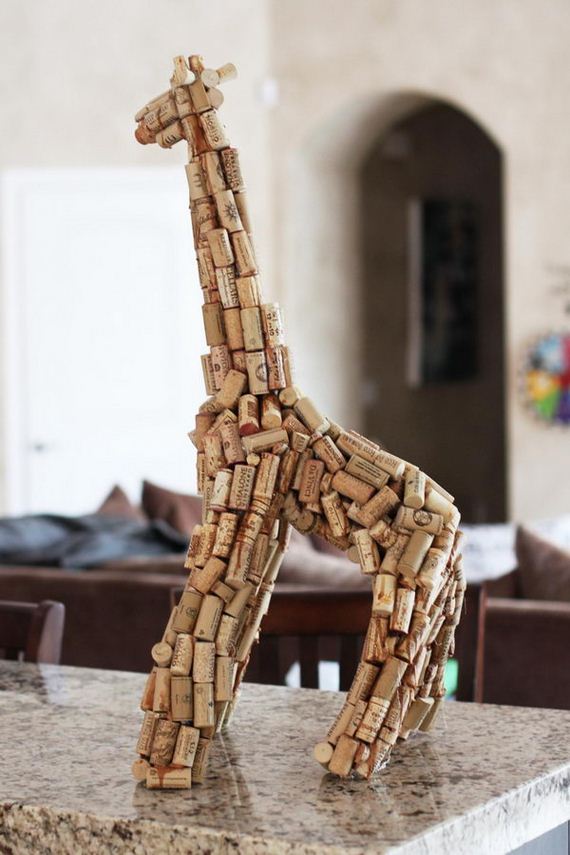 This huge wine cork sculpture was created using just corks, newspaper and wire hangers. It makes a great decor for your bar area. Get the tutorial via lilblueboo.com
Wine Cork Angels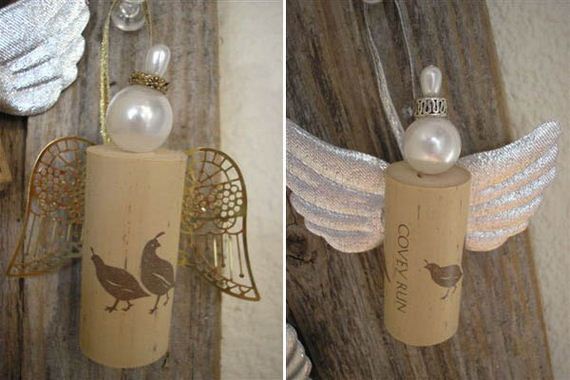 Susannah made these beautiful wine cork angels, and they are perfect gifts for your friends. via crafterslovecrafts.com
Wine Cork Christmas Snowman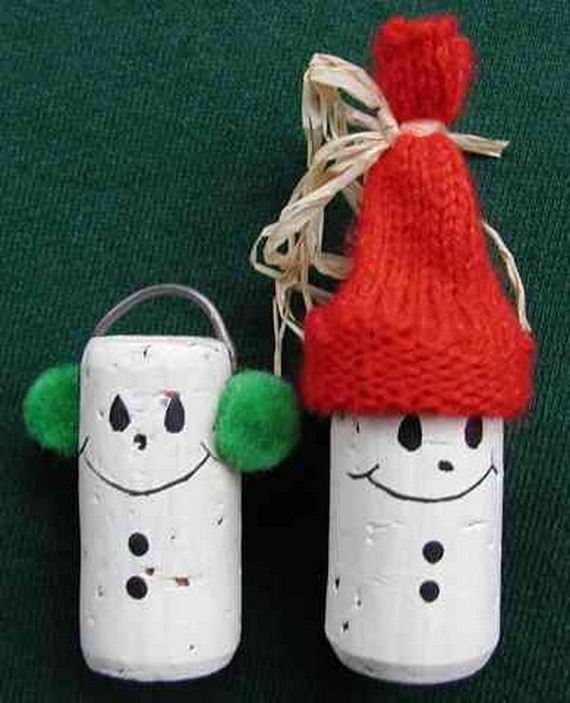 Christmas Toddler Craft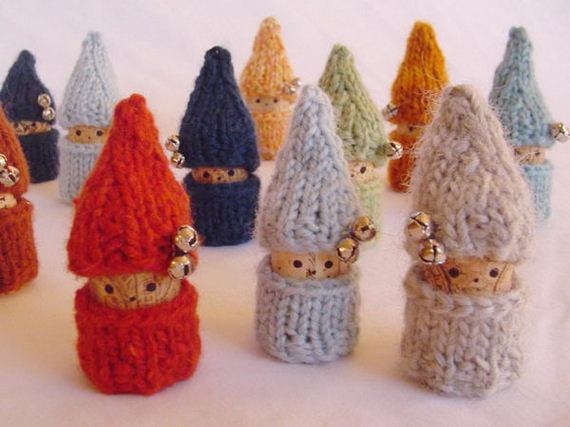 via elliphantom.com
DIY Wine Cork Mini Plants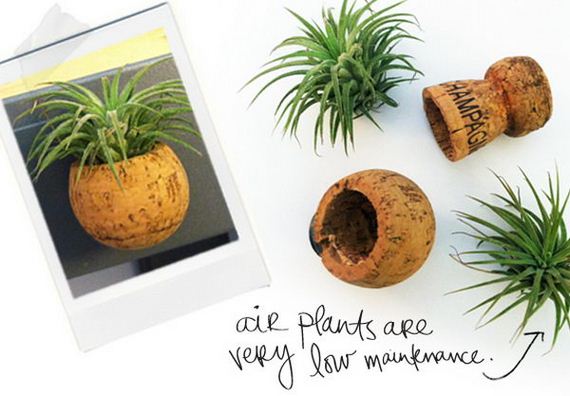 Whether you decide to give as a gift or cultivate your own desk garden, these little guys are as cute as a button. Get the tutorial via ruelala.com
Wine Cork Place Card Holders
Get the tutorial via hopestudios.blogspot.co.uk
Wine Cork Candle Holder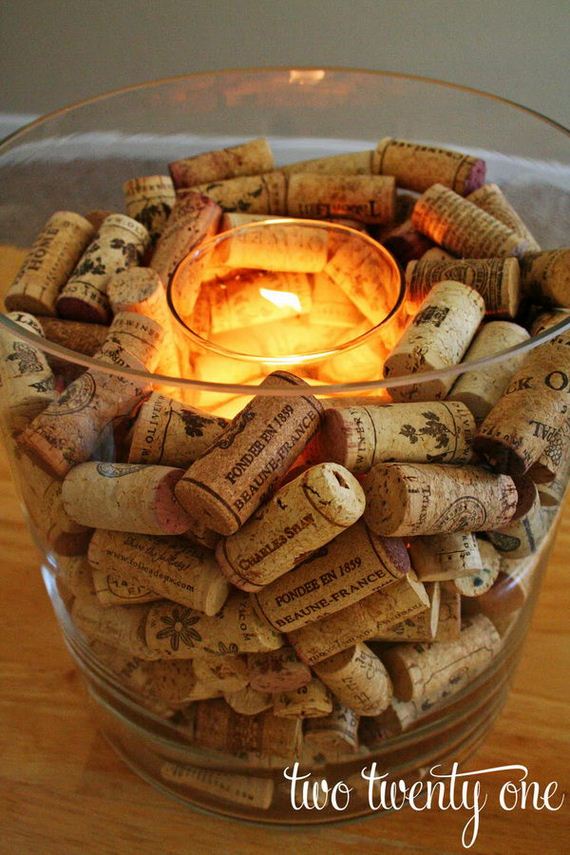 This candle holder is beautiful. Put the smaller glass cylinder in the middle of the large glass cylinder. Then put the wine corks around the smaller cylinder and a candle in the smaller cylinder. via twotwentyone.net
Monogram with Wine Corks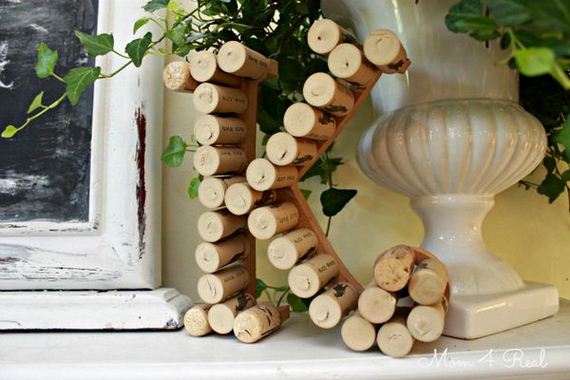 DIY Flash Drive Holder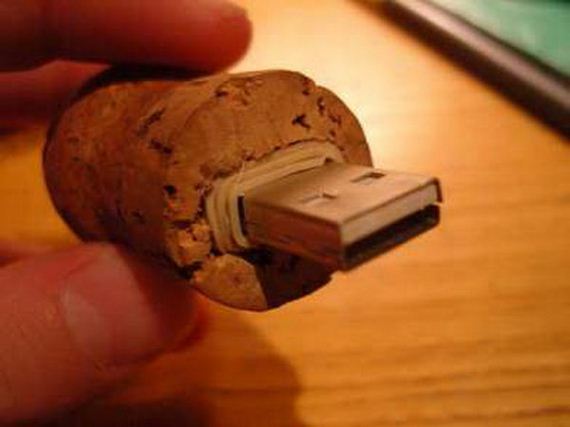 Get the tutorial via instructables.com
Wine Bottle Corks Armchair
Wine Cork Bird House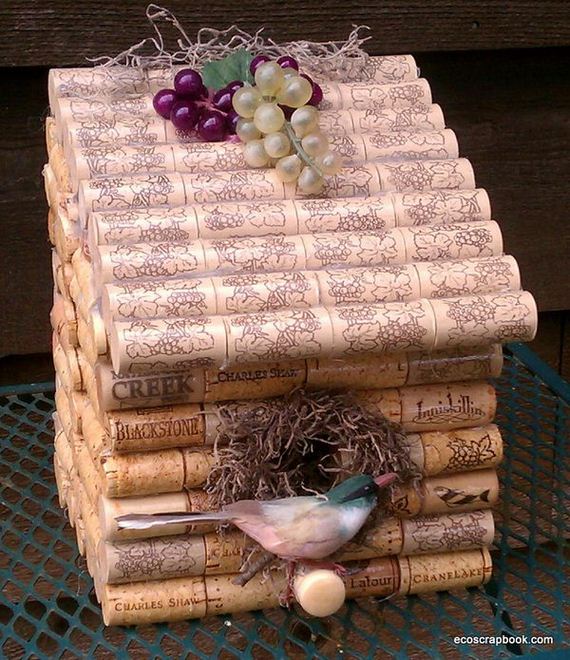 Wine Cork Architecture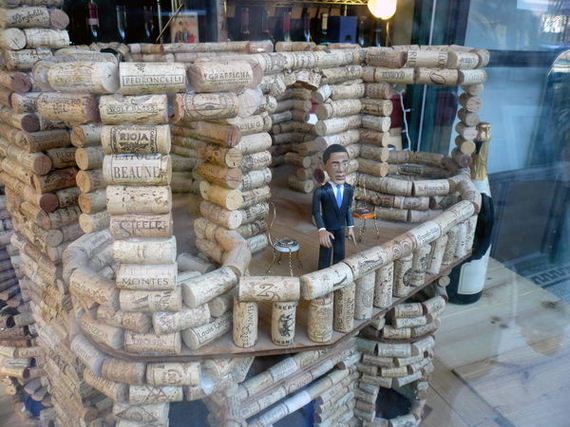 Wine Cork Castle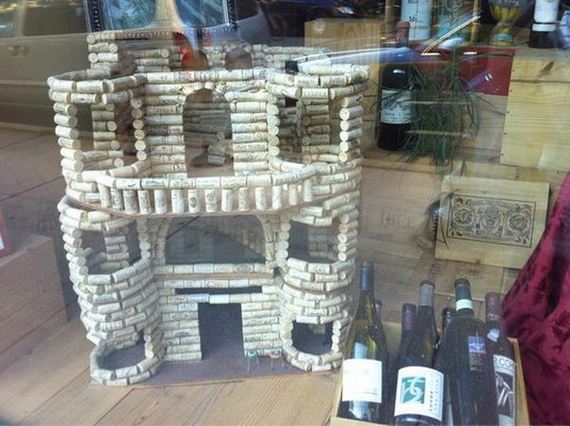 Wine Cork Castle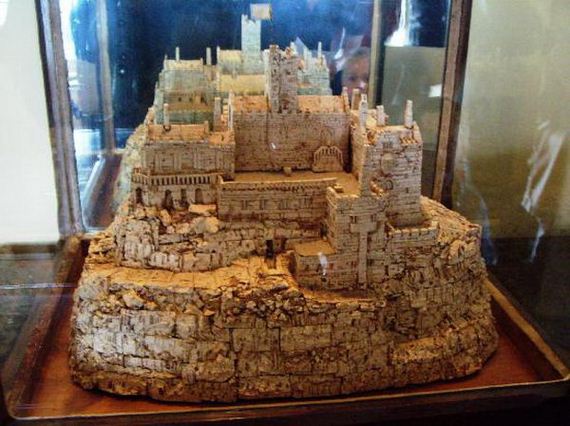 DIY Embroidered Cork Necklace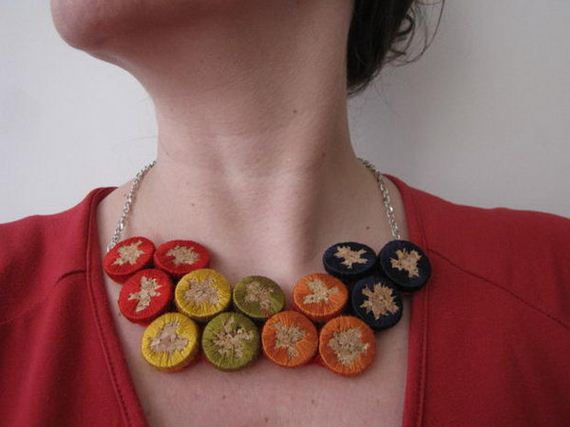 Get the tutorial via instructables.com
DIY Wine Cork Basket
Cover the boring basket with corks and make a charming and creative new picnic basket! via chicaandjo.com
Wine Cork Plant Label
Write the names of your herbs on corks and push wooden skewers into them. via shineyourlightblog.com
Wine Cork Dresser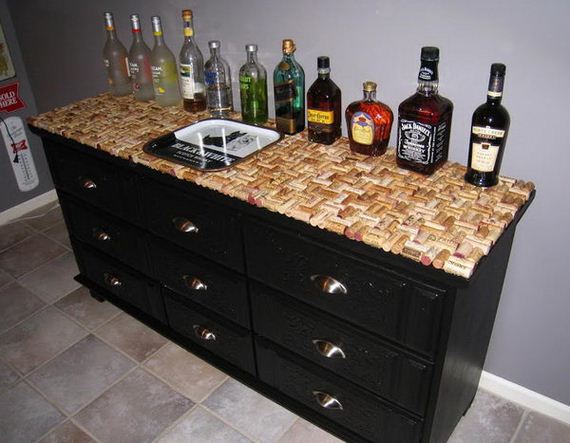 via decoratingobsessed.blogspot.co.uk
DIY Wine Cork Thread Spool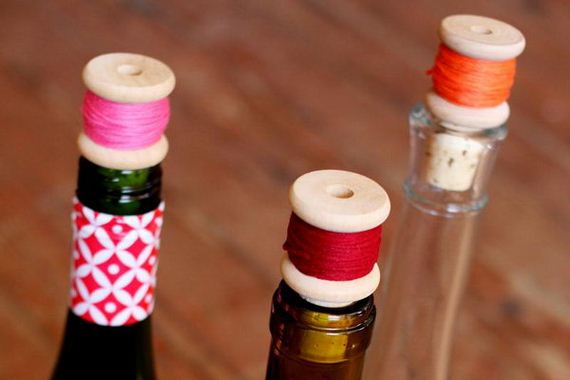 via abeautifulmess.typepad.com
Wine Cork Napkin Ring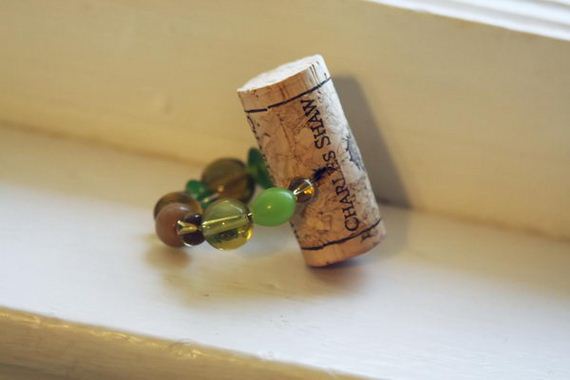 littlehouseontheleft.blogspot.co.uk
Homemade Wine Cork Lampshade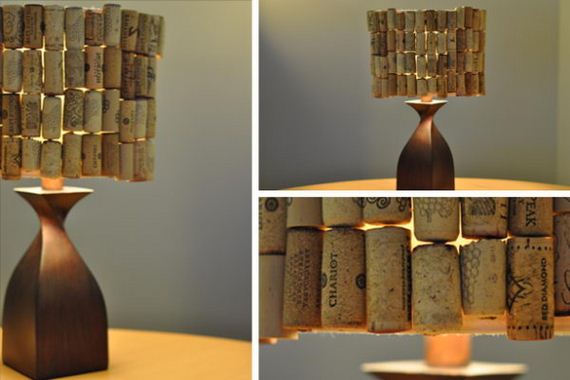 Alexandra Vietti created a Wine Cork Lampshade from salvaged cork to reduce environmental impact and also save some money. via homecrux.com
DIY Wine Bottle Stopper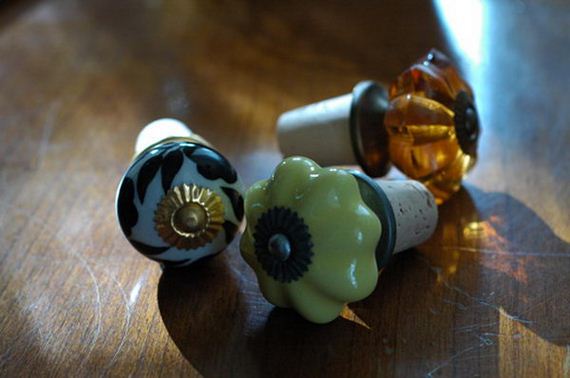 Get the tutorial via anotherdamnwedding.com
Wine Cork Canape Knives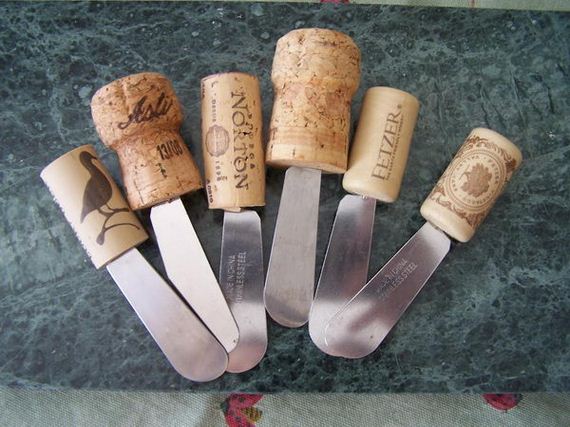 Get the tutorial via yarnigras.blogspot.co.uk
Ball Shaped Wine Cork Decor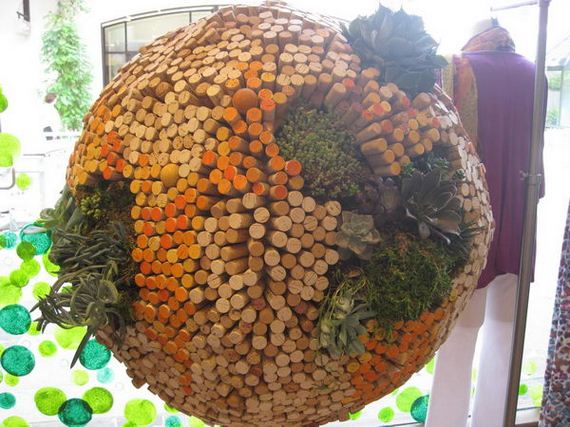 DIY Cork Board
Get the steps via suzegeeksout.com
Wine Cork Man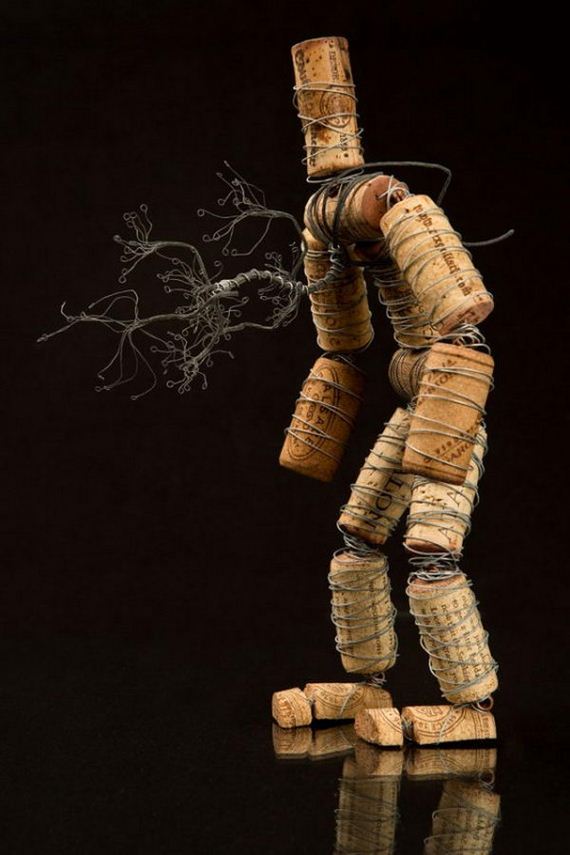 via recyclart.org
Cork Robot
via trendhunter.com
Plane with Wine Cork
via kidschaos.com
Wine Cork Craft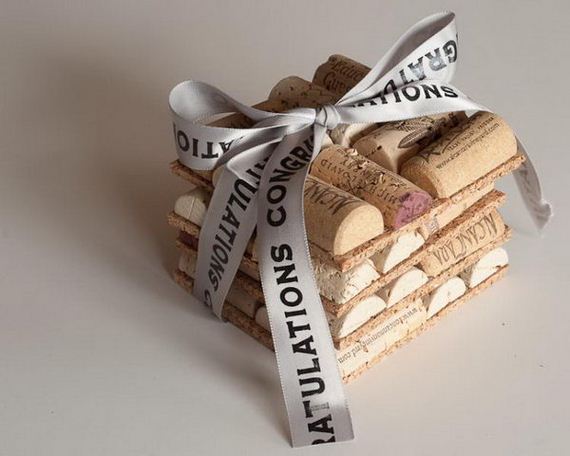 Wine Cork Stairs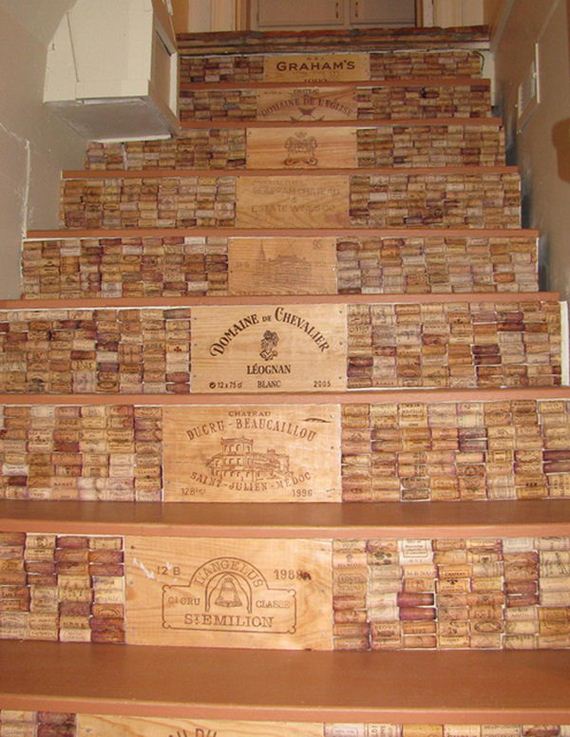 Curtain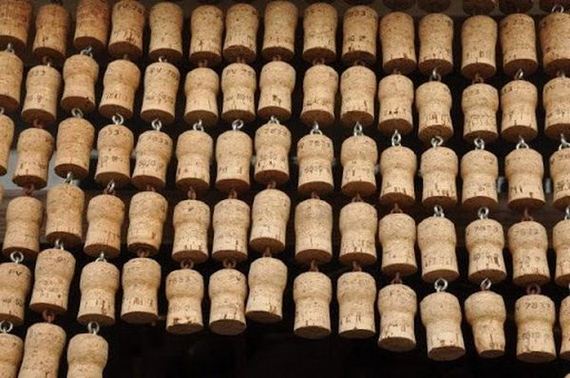 Recycled Wine Cork Truck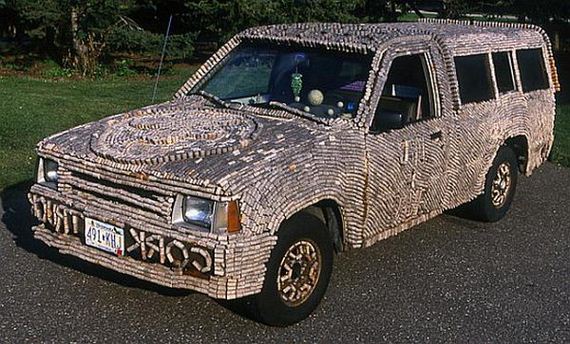 via ecochunk.com
Christmas Tree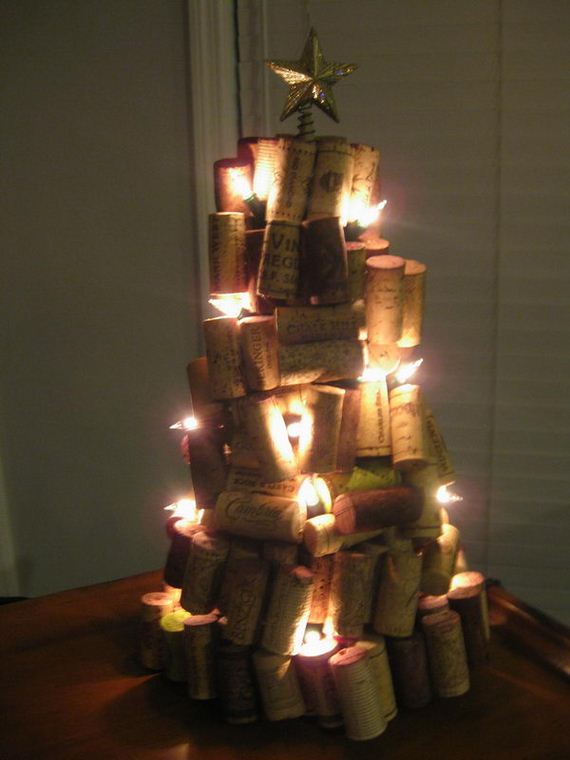 via ecoetsy.com
Wine Cork Boats
Groom and Bride Cake Topper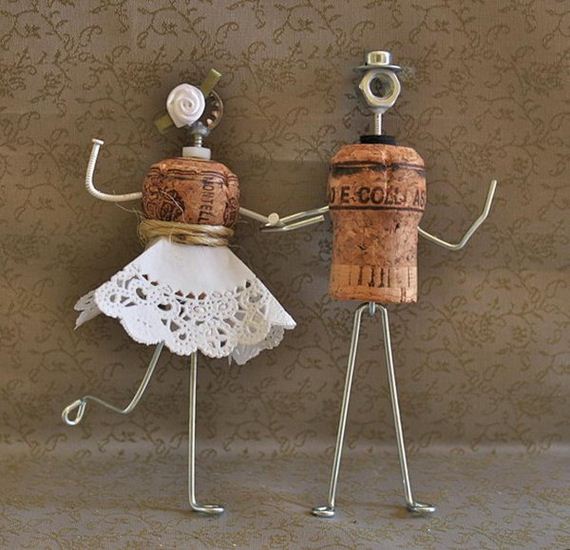 Wine Cork Car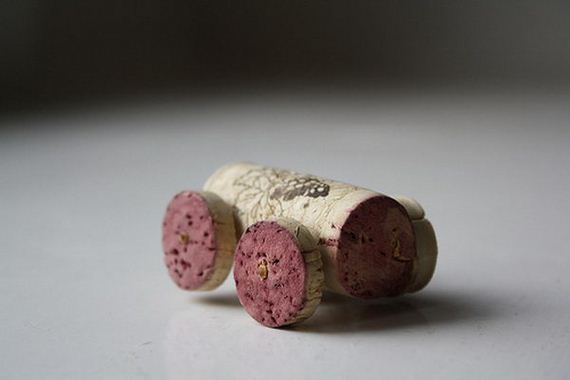 ---
---