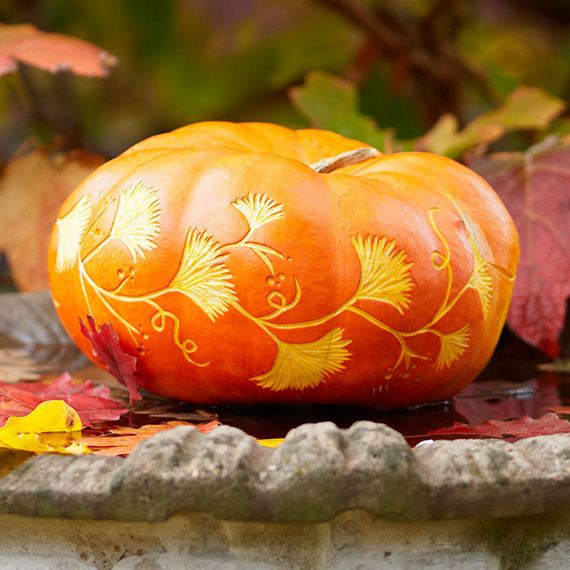 Halloween Pumpkin Ideas
Halloween Pumpkin Ideas
---
Today we're sharing super unique Halloween Pumpkin Ideas that are sure to get the neighbors talking. Keep reading to see 25 of our favorites.
1. Sequined Pumpkins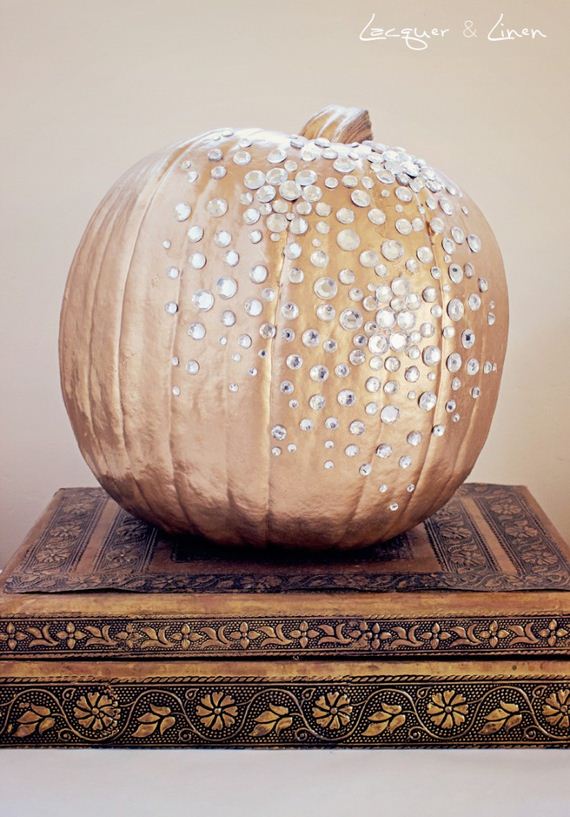 This glamorous metallic pumpkin is adorned with shiny sequins of various sizes, perfect for those who aren't fond of the traditional Jack-O-Lantern. Head over to Lacquer & Linen to find out more about Sarah's stunning sequined pumpkin and to check out some other ideas.
2. Painted Pumpkin Vase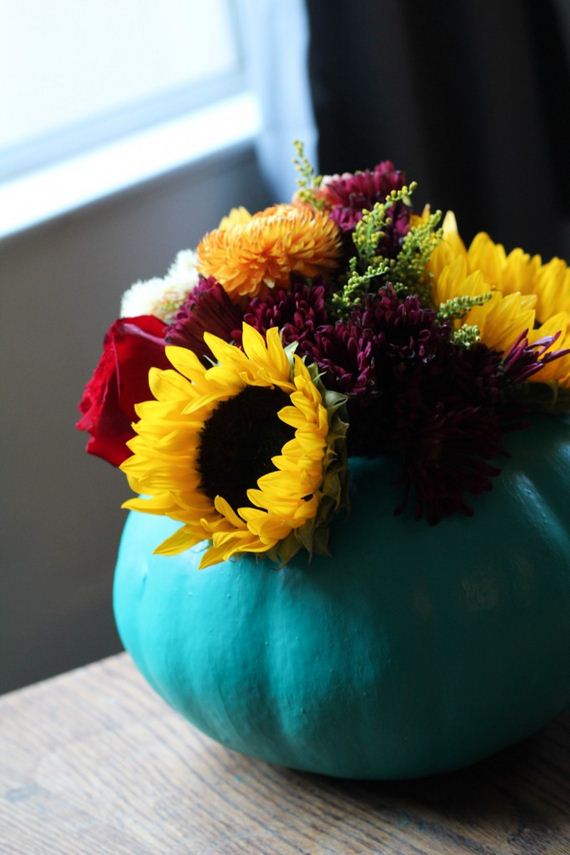 Pumpkins can be pretty and functional! The lovely Rachel of The Crafted Life created a colorful pumpkin vase by cutting the top off and painting the outside. She then put fresh cut fall flowers inside. Head over here to check out the full tutorial.
3. Patterned Pumpkins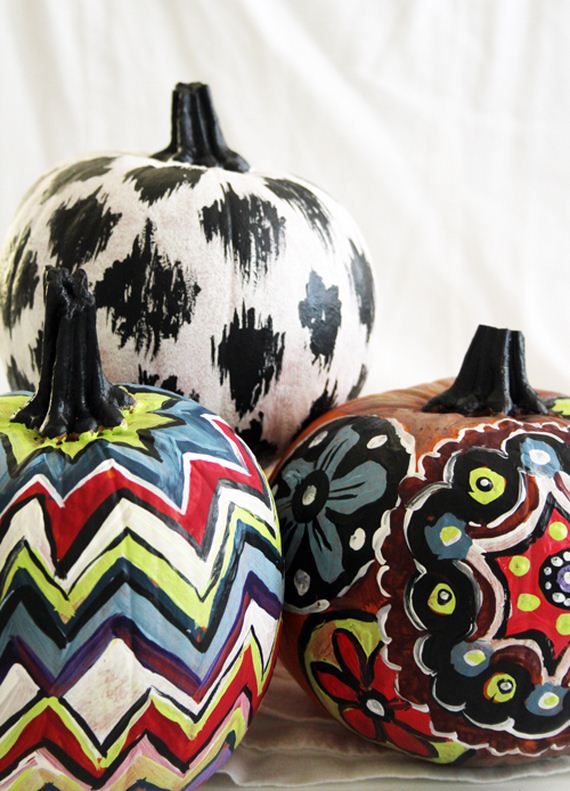 These patterned beauties will take a little longer to create than your typical pumpkin, but it will be worth it when you see the looks on your visitors' faces! Alisa Burke shares a few different creative ways to paint pumpkins over on her blog.
4. Washi Tape Pumpkins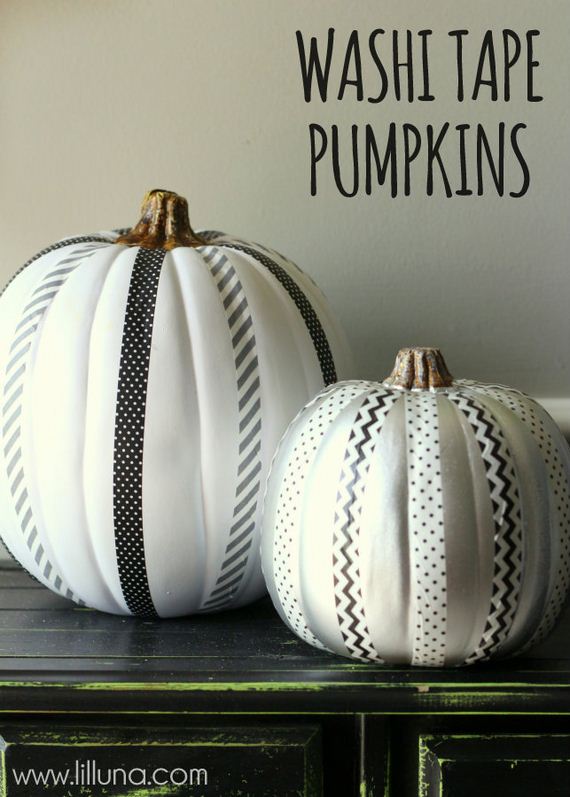 We've already touted the myriad ways to use Japanese washi tape, and here's another one; attach it vertically to pumpkins using a variety of types of tape. Kristyn of Lil' Luna shares more about this fun and unique way to decorate pumpkins here on her blog.
5. Puffy Paint Pumpkin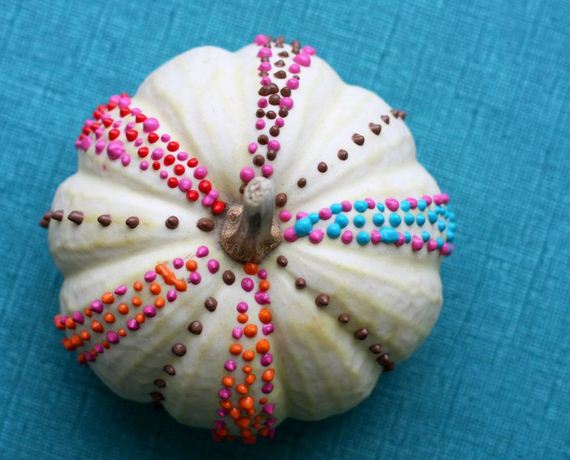 Those of you who grew up in the '80's probably have a soft spot in your heart for the stuff – puffy fabric paint! Elsie and Emma from A Beautiful Mess have cleverly used it to add some pizzazz to a pumpkin. Make your way over to their blog to find out more about the project.
6. Halloween Phrase Pumpkins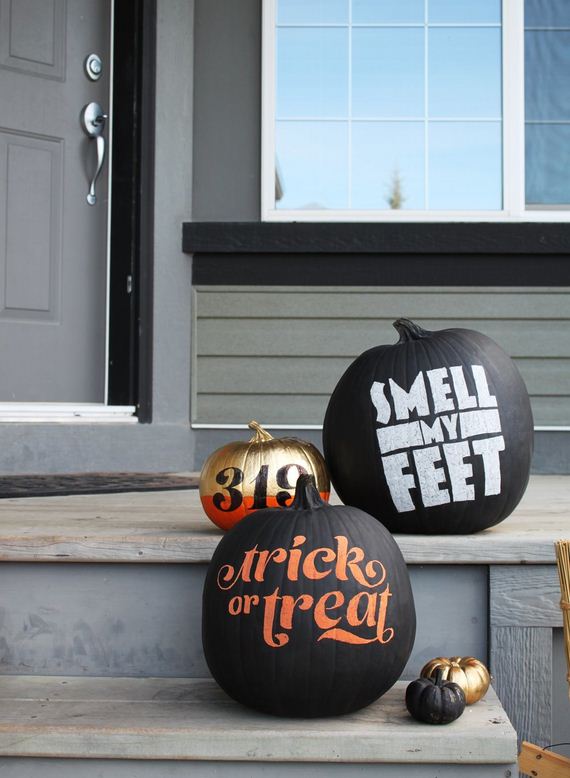 These pumpkins look super difficult to make, but they're definitely easier than one might expect. The words are actually traced on using chalk. This lovely idea came from the creative people over at Fairgoods… head over there for a full photo tutorial.
7. Candleholders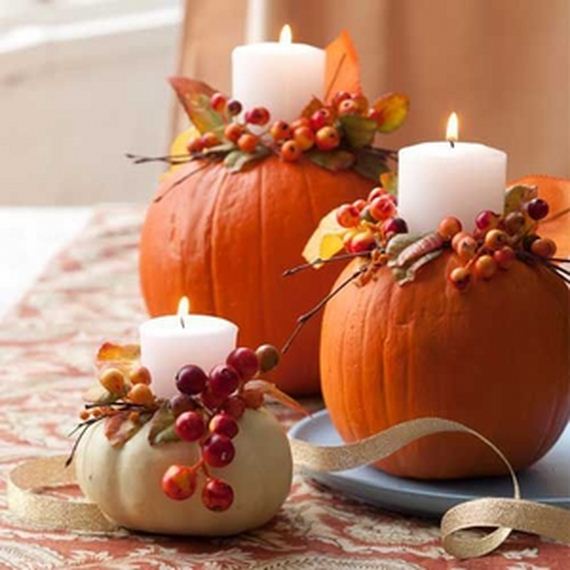 Pumpkins also make great candleholders! Just cut off the top of the pumpkin and attach twigs and leaves using a hot glue gun. Here it appears that they have used faux decorations, but you could also collect colorful leaves from your backyard to save a few bucks. Get the tutorial here.
8. Monogrammed Pumpkin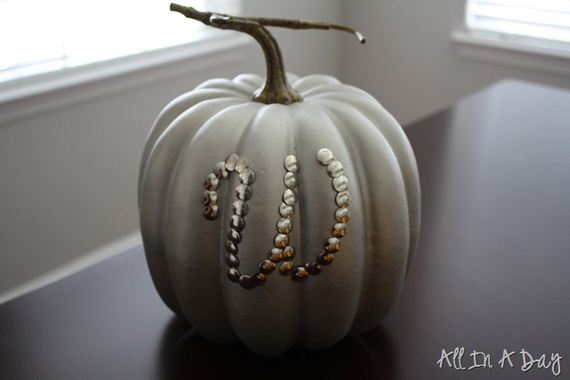 If you enjoy personalizing things, then this may be the project for you! This gorgeous monogrammed "nailhead" pumpkin was created by Amy of All In A Day using plain old thumbtacks. Find out how to create and transfer the letter to the pumpkin on her blog.
9. Tissue Paper Mini Pumpkins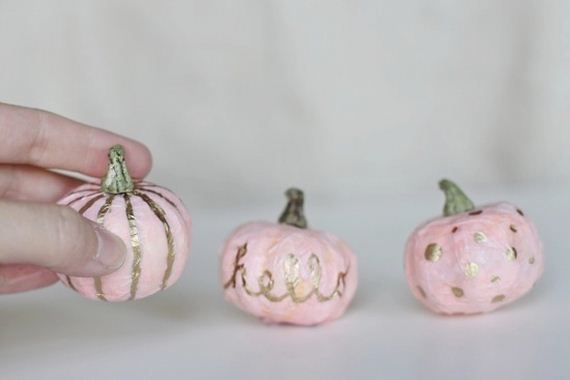 Aren't these miniature pumpkins adorable? Brittni uses fake mini pumpkins for this project, and then covers them with colored tissue paper and then decorates them with a metallic paint pen. Make your way over to her blog, Paper & Stitch, to find out how to make a few of your own.
10. Typographic Pumpkins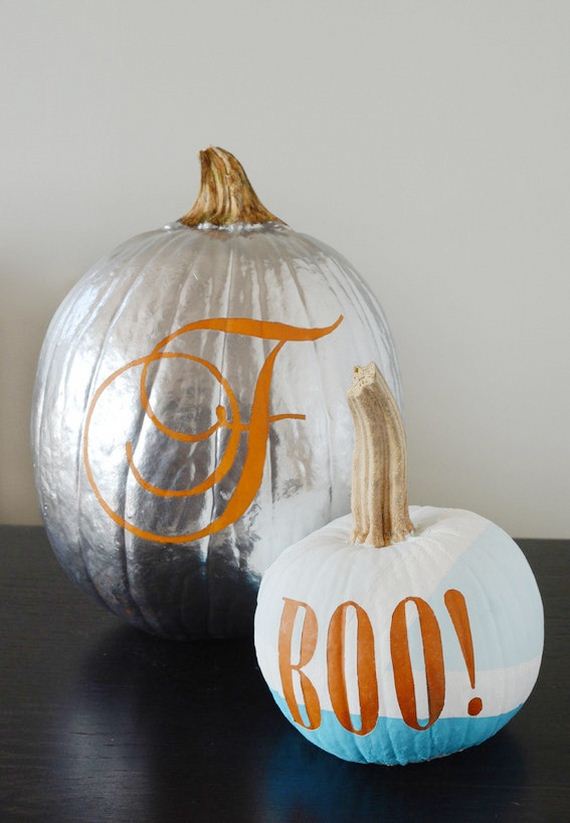 If you're into typography then you'll love these! A relief technique is used here, painting over blue tape and then peeling it off to reveal the orange pumpkin underneath. Make your way over to Curbly to find out how to custom create your letters out of blue tape.
11. Lace Pumpkins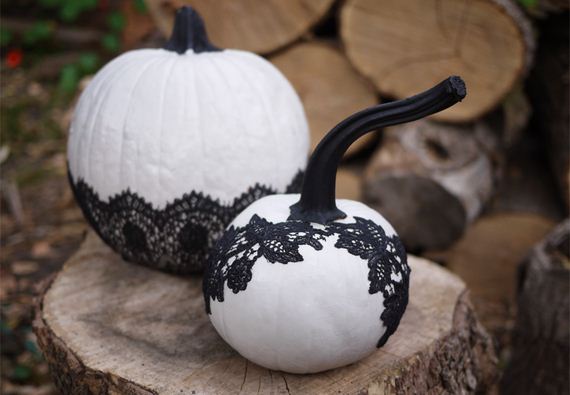 Glam up your pumpkins with a coat of paint and a pretty piece of black lace. This project is definitely easy enough for even the novice crafter. Head over to Honestly WTF to check out the full tutorial. You'll want to make a whole bunch of them!
12. Paper Leaf Pumpkin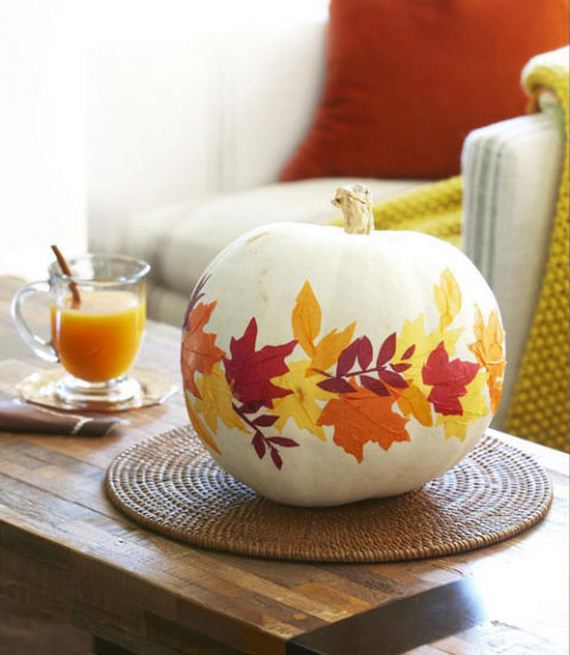 This leafy pumpkin is really quite stunning… and it's simple to recreate! All you'll need are a few materials from your local craft store and you'll be ready to go. Head over to Good Housekeeping to find out how to make your own colorful paper leaf pumpkin.
13. Mummy Pumpkins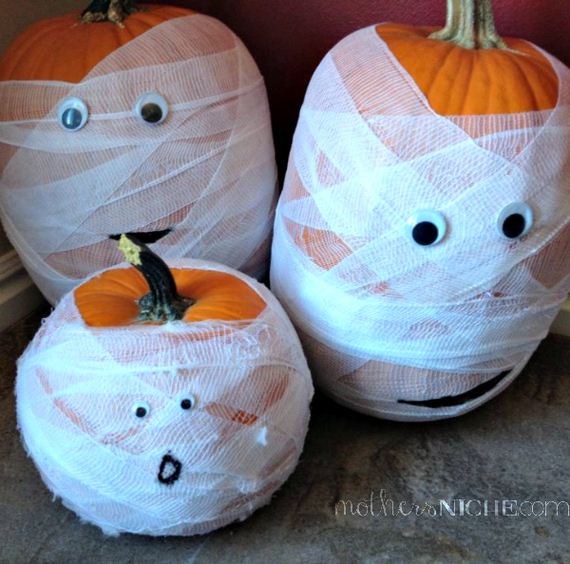 If you like to be goofy on Halloween, then this might be the project for you. These DIY mummy pumpkins couldn't be any easier to make, and they're sure to make all your trick-or-treaters smile. Find out how to make a few of your own over on Mother's Niche.
14. Jack-O-Lantern Vase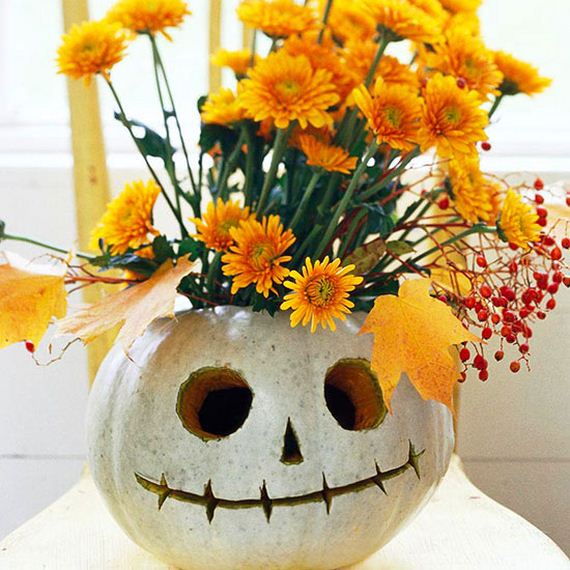 This Jack-O-Lantern does double duty as both a decoration and a functional vase. Earlier we showed you how to make a pumpkin vase, and this one takes it a step further with a face carved right into the side. Learn more and get a free face stencil at Better Homes and Gardens.
15. Stocking Pumpkin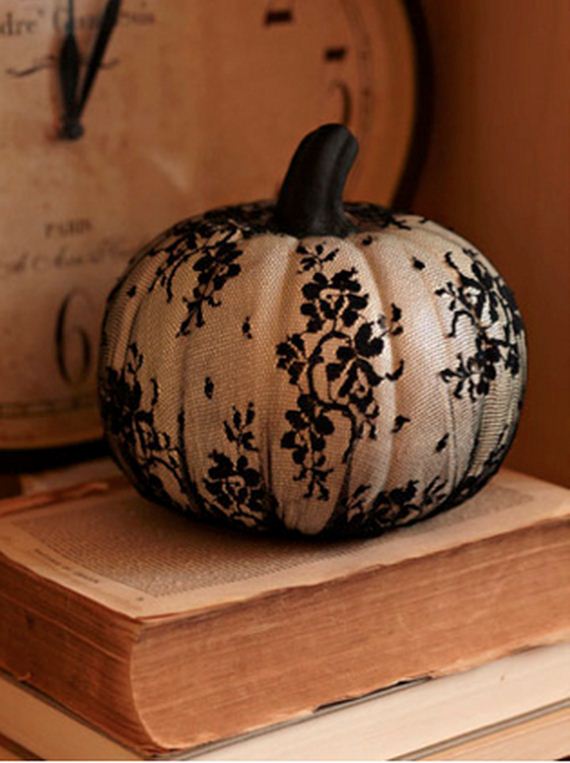 This no-carve project might be the easiest of them all…. a pair of black lace stockings or pantyhose are the one and only supply needed for this one. Found over at Lauren Conrad, where she also shares lots of other creative Halloween pumpkin ideas.
16. Black Cat Pumpkins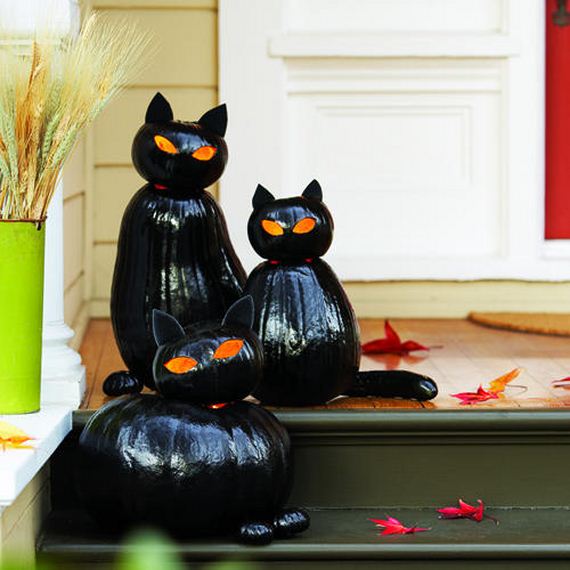 If you really want to get creative, try making one of these super unique black cat pumpkins. Those bright orange eyes give them a creepy feel that's perfect for Halloween. They will require some extra effort on your part, but the results are surely worth it. Head over to Sunset for the full tutorial.
17. Ginkgo Pumpkins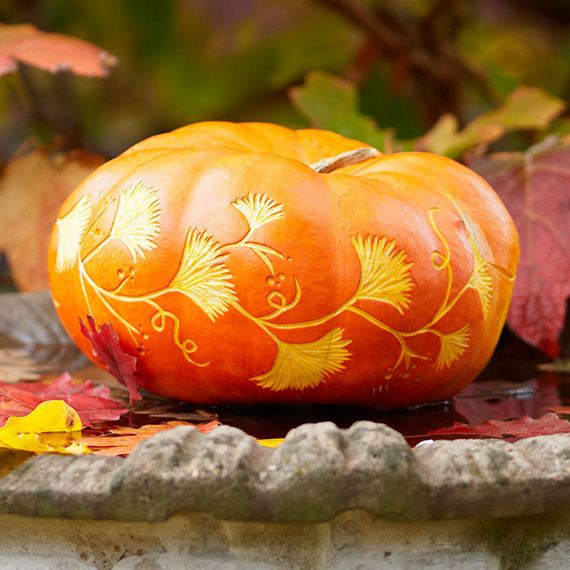 If your Halloween decorations tend to err more on the fancy side, give this ginkgo carved pumpkin a try. Because these are not carved all the way through, they will last longer than your typical Jack-O-Lantern. Get the tutorial (and a few other ideas) at Lowes.com.
18. Lace Carved Pumpkins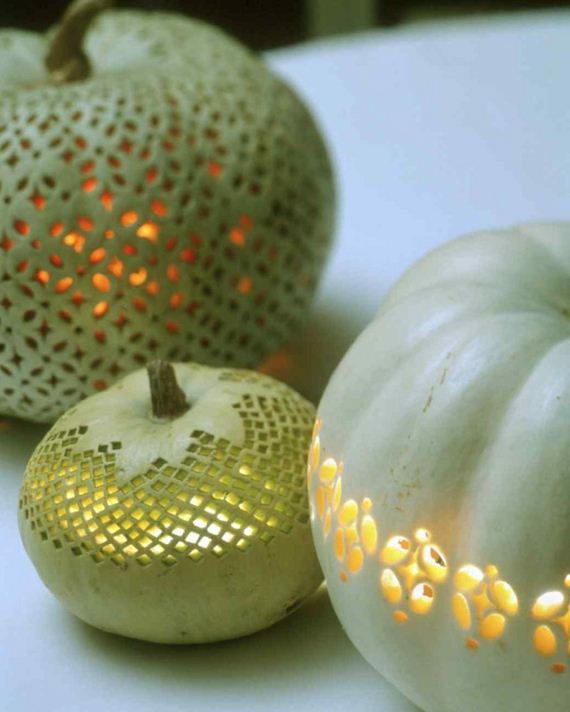 These beauties might take a bit more time to create than some of the other pumpkin projects we've shared, but the stunning designs will make for a gorgeous display on your table or in your entryway. Martha Stewart shows you how to make your own here.
19. Spider Web Pumpkins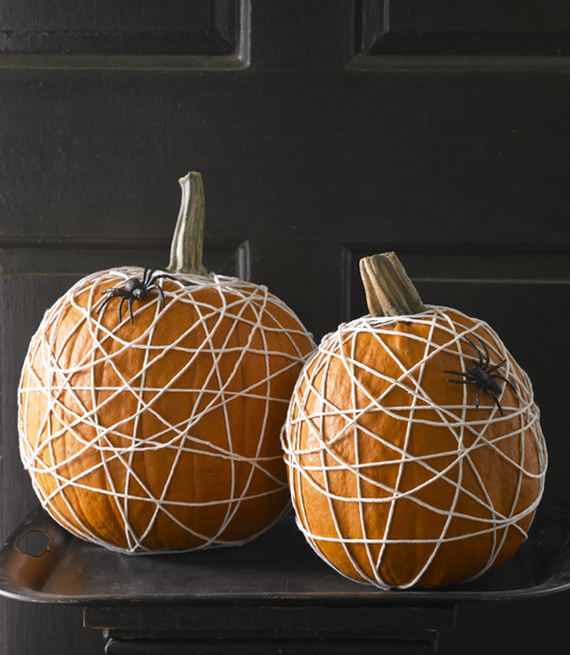 These creepy spider web pumpkins are sure to make your skin crawl! This simple Woman's Day tutorial shows you how to do this spooky project. This one isn't messy and doesn't require many supplies, making it ideal for anyone with a busy schedule.
20. Decoupage Pumpkin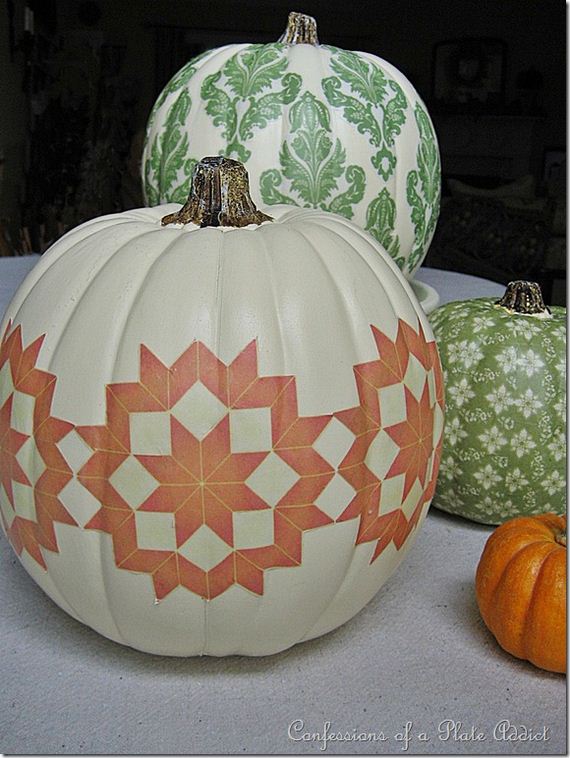 This one looks harder than it really is… all you need to do is grab some mod podge and the design templates, and then put your crafting skills to good use! Make your way over to Confessions of a Plate Addict for the tutorial and to find out where to get the printable designs.
21. Carved Gourds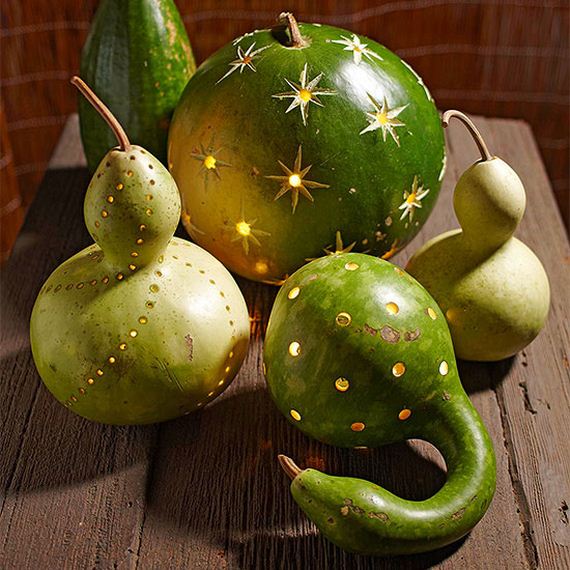 Perhaps you like the effect of a carved pumpkin, but would like to do something a bit more original… so try carving gourds instead! They still feel very autumnal, but in a different way than your typical orange pumpkin. Get the full tutorial at Better Homes and Gardens.
22. Zombie Pumpkins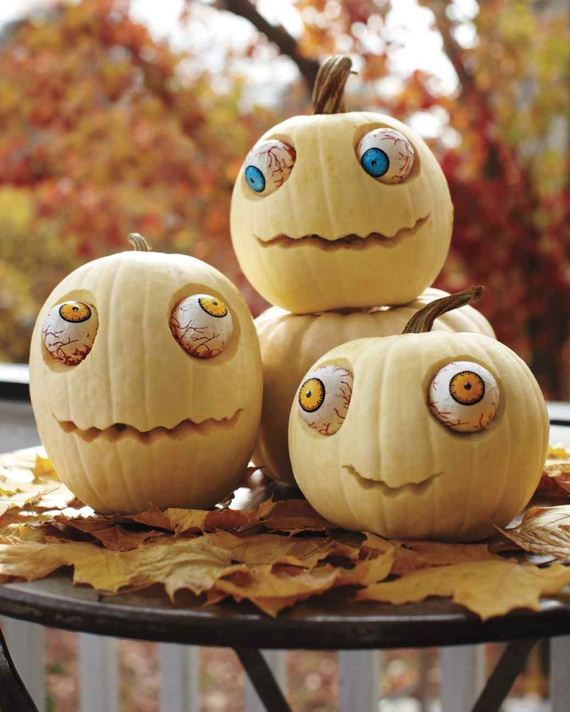 If you're a zombie fan, try your hand at making a few of these creepy guys. Martha Stewart will show you exactly how to recreate them over here. For maximum effect, be sure to arrange their eyeballs so they point in different directions!
23. Paint Drip Pumpkins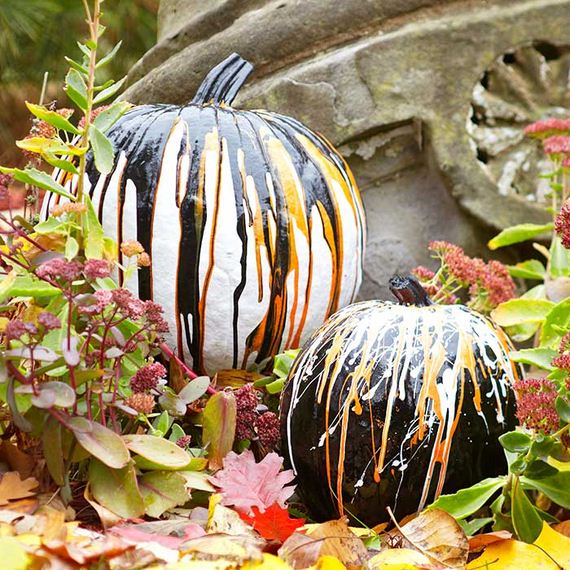 If you're feeling artsy, grab a few cans of leftover paint and make a couple of these interesting pumpkins. The colors are up to you, but stick with a black or white base to make them feel especially Halloween-ish. Get the tutorial for these paint dripped pumpkins on the Lowes blog.
24. Faux Bois Pumpkin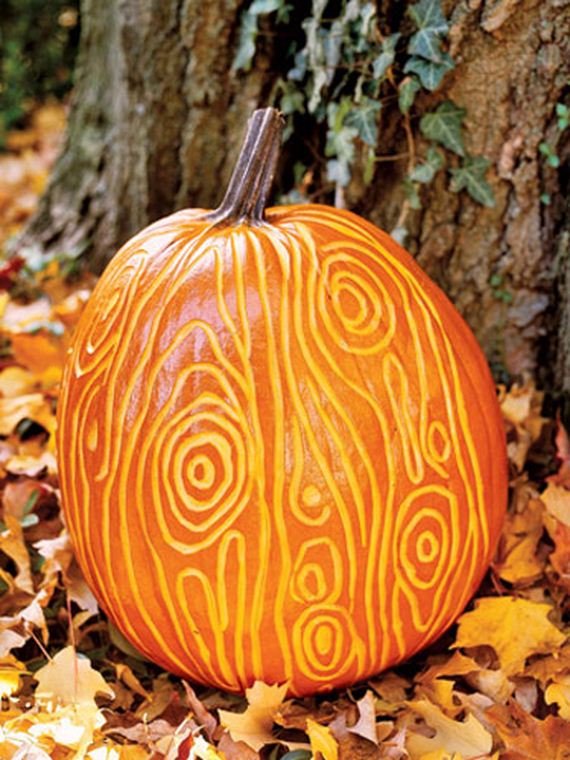 Faux bois, a fake wood grain pattern, looks quite lovely on a pumpkin too – especially if you'll be placing it outside amongst the trees. Country Living shows you how to make it here. It might look even cooler if you paint the outside before you carve into it!
25. Spider's Nest Pumpkin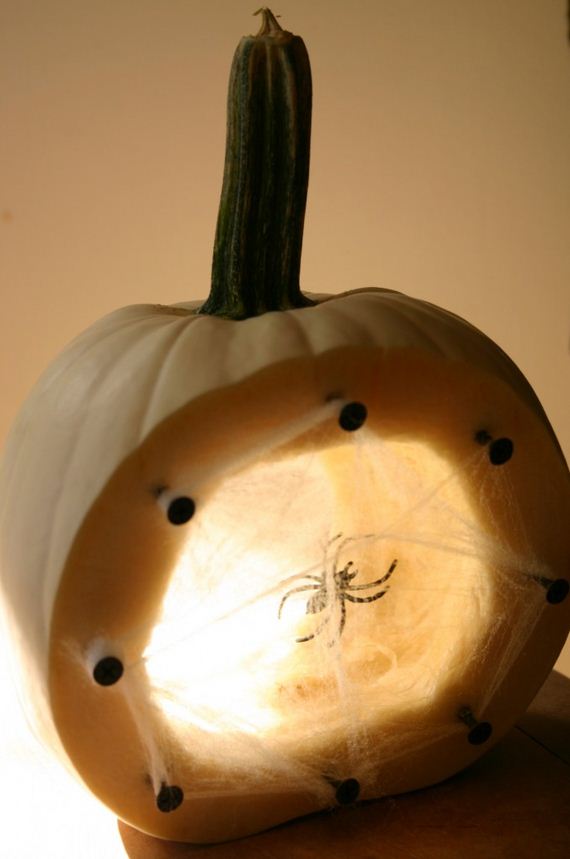 We showed you how to make a basic spider's web pumpkin with string before – but how about a whole spider's nest? Pretty creepy, huh? Make your way over to the Family Chic blog to find out how to create your own. The arachnophobic trick-or-treaters are sure to scream!
---
---