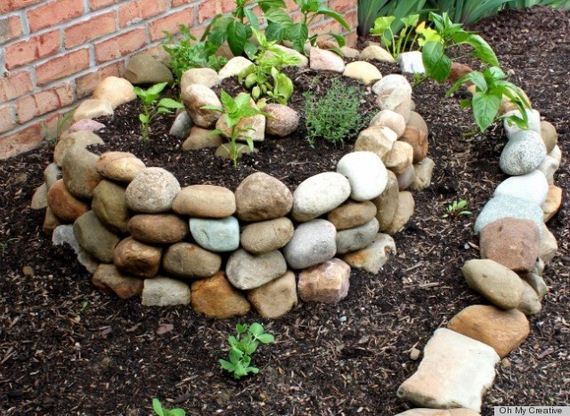 How to Make Your Own Rock Garden
How to Make Your Own Rock Garden
---
Check out these 15 rock garden designs of all sizes that will inspire you to start making your own right away!
1. Painted stepping stones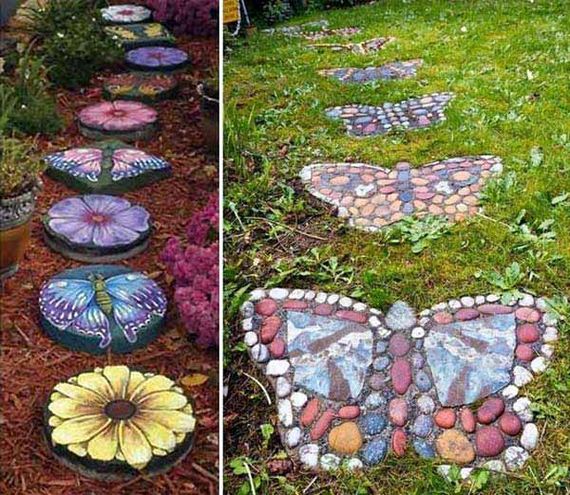 Perhaps you're looking for a way to introduce lovely rock pieces leading through the yard to your actual garden. Maybe you're just not quite ready for a full rock garden yet, but you'd like to incorporate rocks and stones into your decor. Painted stepping stones are the perfect solution for both of those things! Check out these gorgeous stones on Woo Home.
2. Rocks in your garden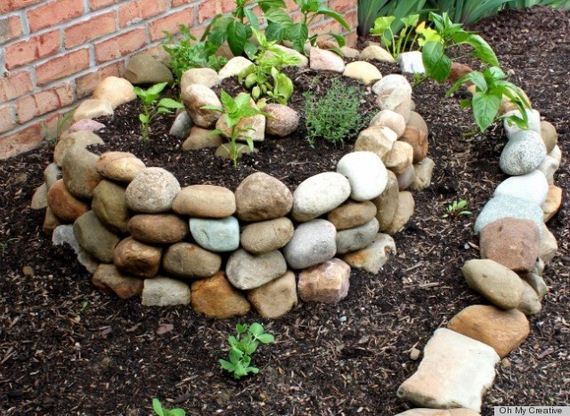 Perhaps you live somewhere with moderate weather and you have a little gardening experience, but you're still looking for a design with lots of rock involved? Try combining the two! We love this spiral vegetable garden from the Huffington Post. It creates an adorable visual and perfectly combines rock and traditional gardens.
3. Rock beds with cacti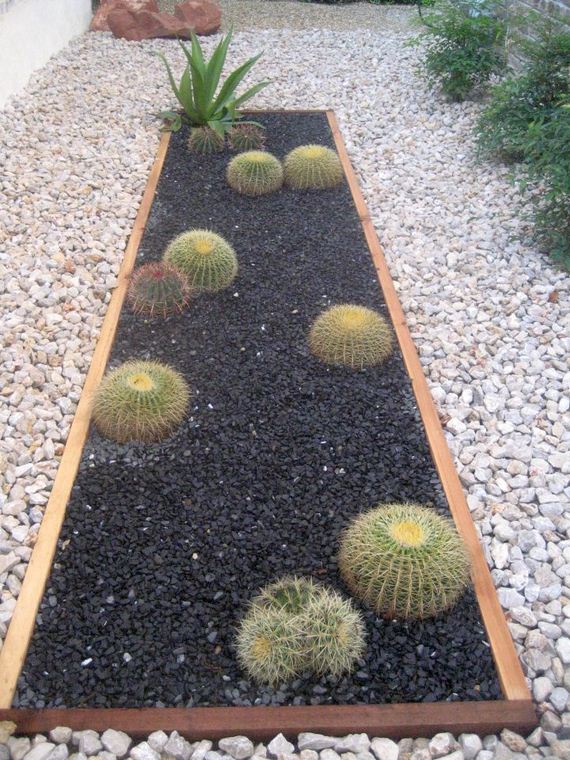 If you're not sure you like the contrast between luscious green plants and rocks but you'd still like a little greenery, then a cactus or two is the answer! You can basically create yourself a cute little desert landscape right in your back yard. Frame it with wooden beams to make it look like an actual garden bed, just like this one from My Austin Elite.
4. Rocks and logs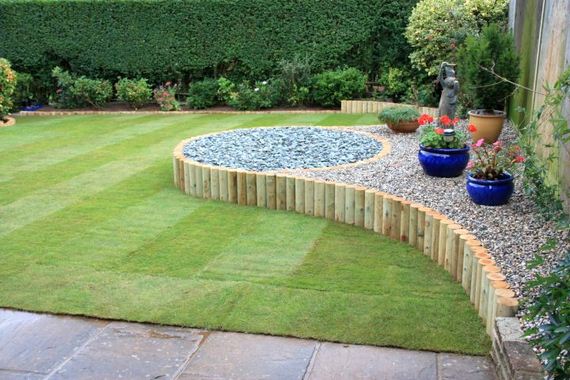 Have you ever thought about having different levels to your garden and yard? We love the way this raised rock garden by My Austin Elite looks! Framing the rocks with cleanly sanded wood logs helps you keep the rocks contained and lets you define the shape of your garden while also creating an interesting contrast.
5. A clean rock corner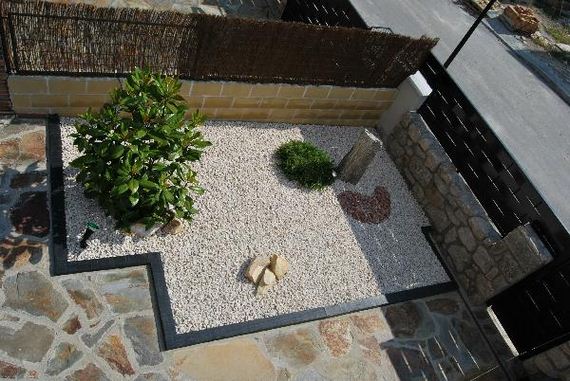 Some rock gardens are quite clean and minimalist to look at, and we love the modern touch it adds no matter how big or small your yard is! Choose a corner and create a boxed off rock space made of straight, clean lines, just like this one from Housely.
6. Carefully positioned rocks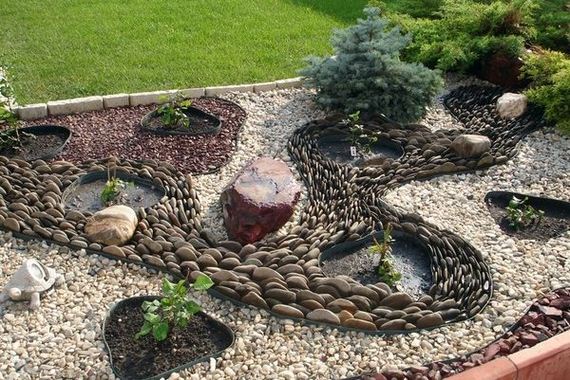 Some rock gardens border on becoming works of art. This design on Minimalisti has a hint of carefully organized flare to give visitors a complete visual experience when they walk into your yard. Propping, stacking, and partially burying certain parts of the garden so that rocks stand at interesting angles creates great contrast.
7. Stone seating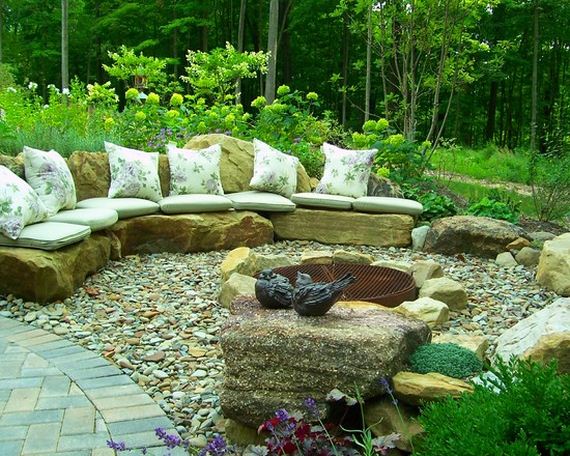 Especially if you have plans to build a fire pit in your yard for summer nights, then stone seating is pretty and practical! Large, flat stone slabs make the perfect spot to put sitting cushions down and enjoy your rock garden to its fullest. Check out this design on State Homes.
8. Rocks and pottery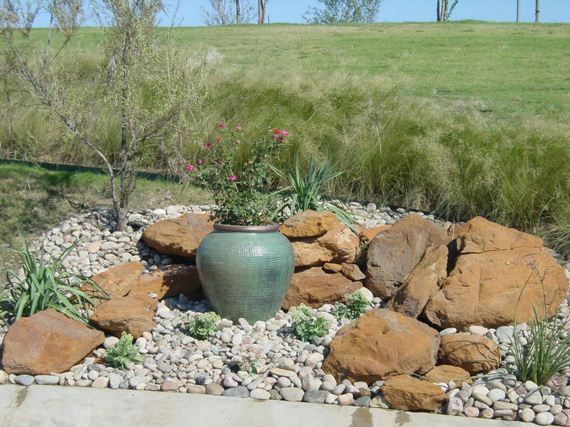 If you're concerned that a garden full of solely rocks will make your yard look like a desert landscape, find something to break up the visual! Zielmedia suggests pottery or stone work vases to give the garden a pop of colour and some height variation.
9. Painted kids' rocks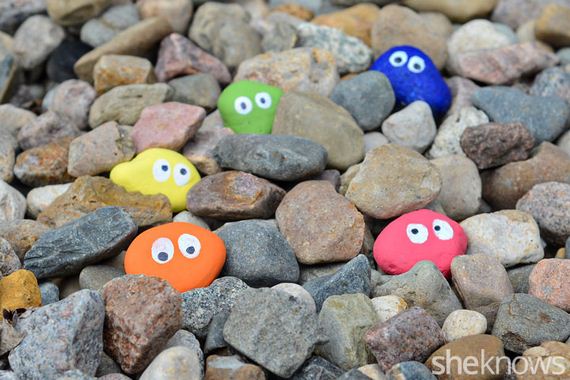 Do you already have a rock garden but you're looking for a way to let your kids add to it? Fun rock painting crafts are the perfect solution! Check out these colourful little rock critters from She Knows. We think they'd look adorable dotted around your display.
10. Rock garden in cement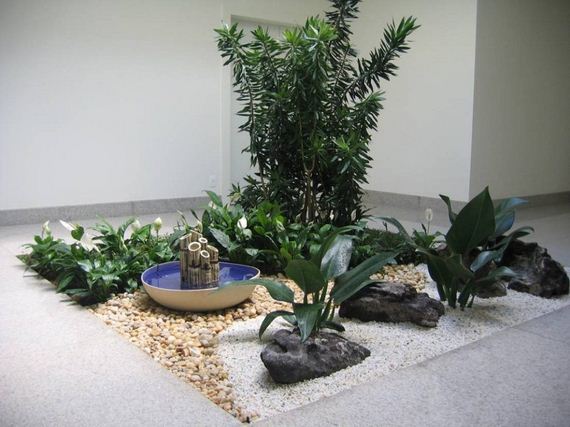 Your rock garden doesn't have to be built where your grass is. If you've been thinking of repaving a concrete or stone tiled area of your home, like the patio or the driveway, think about incorporating a rock garden into that part of your home instead. Save a square spot for a pretty rock garden design and fill it in with pebbles, stones, and a bit of complementary greenery, like this garden from Icon Home Design.
11. Raked rock zen gardens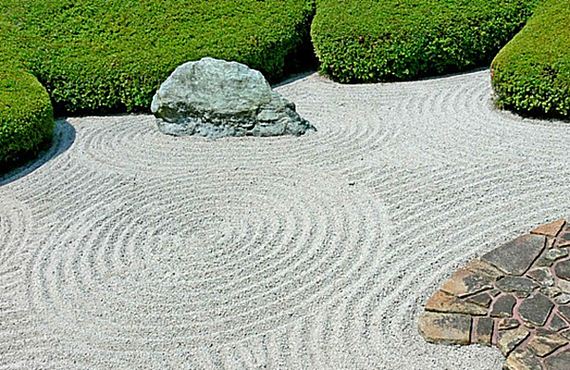 Decoist suggests keeping things simple in construction but pretty visually by raking small pebbles into patterns like a Japanese zen garden! We love the way circles and softly waving lines look in designs like these and it's also great that you can change the design whenever you want just by raking a new one.
12. Rock strawberries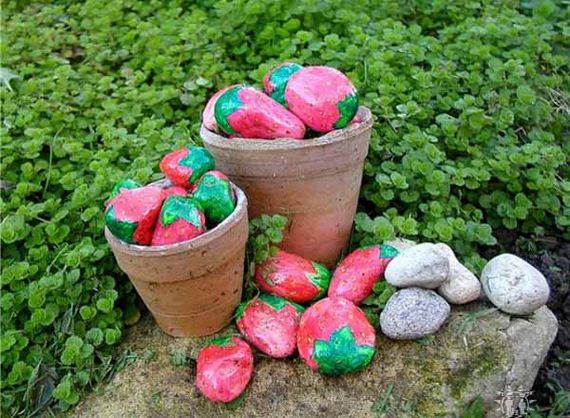 Rock strawberries
If you're looking for something a little more crafty and colourful to add to a garden you already have, rocks and rock gardens are still the thing for you! We love Housely's idea of painting little rocks like strawberries and filling pots with them, as though you've just been out strawberry picking.
13. Rocks as garden markers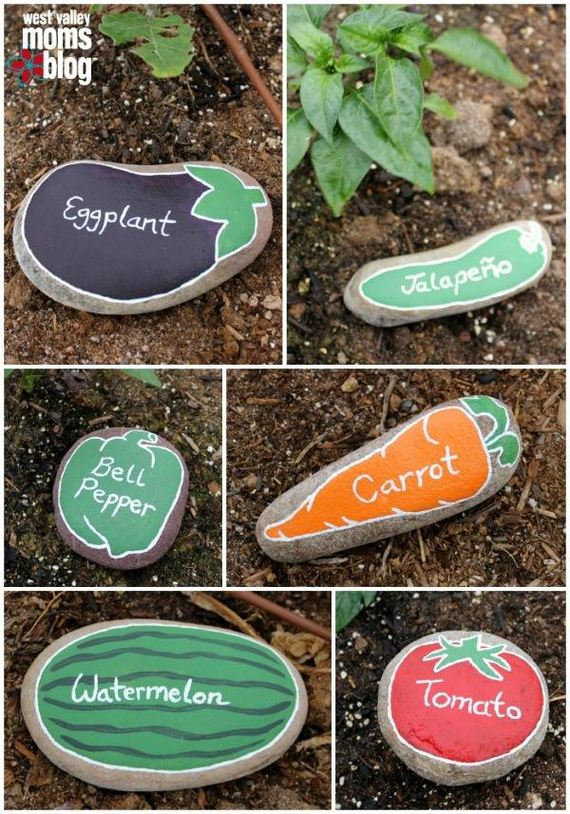 Rocks as garden markers
Perhaps you have both a rock garden and a garden for plants or flowers? Incorporating a little greenery in your rock garden and a few stones in your regular garden blends the two just enough to balance out your yard. We love this simple idea of painting rocks to mark out where each vegetable you're growing is planted! Check it out on Kitchen Fun with My 3 Sons.
14. Potted rock "cactus" garden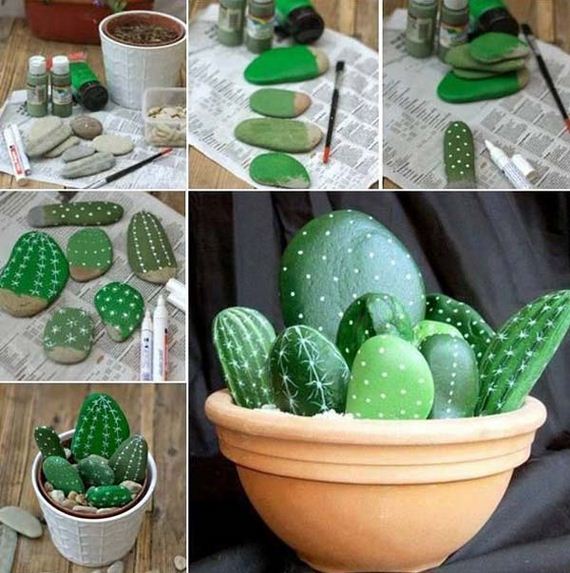 If you live in an apartment or have a very small yard, you might not have room for an entire rock garden. That doesn't mean you have to miss out on all the fun, though! Grab a pot or a planter and fill it with small rocks, pebbles, or stones. Paint differently sized rocks like cacti and "plant" them in the pot full of tones so they stand upright like a cactus would. Place it somewhere in your home or garden for a little faux greenery!
15. Tabletop rock garden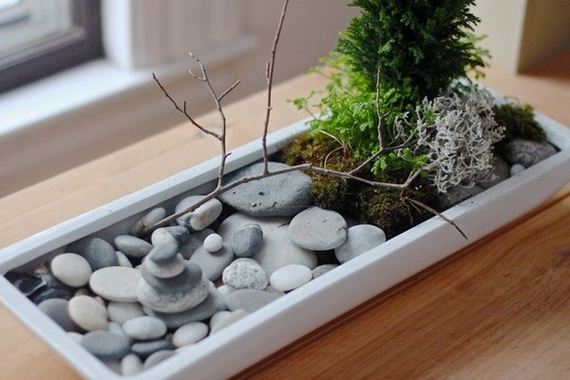 Creating a tiny rock or zen garden can be just as relaxing and therapeutic as making and sitting in a full sized one. These are the perfect option for people who live in apartments or whose homes don't have yard space. Grab a few smooth rocks or pebbles, some twigs and long lasting or faux plants, and a little box or tray to put them in. We love this one from Minimalisti!
---
---