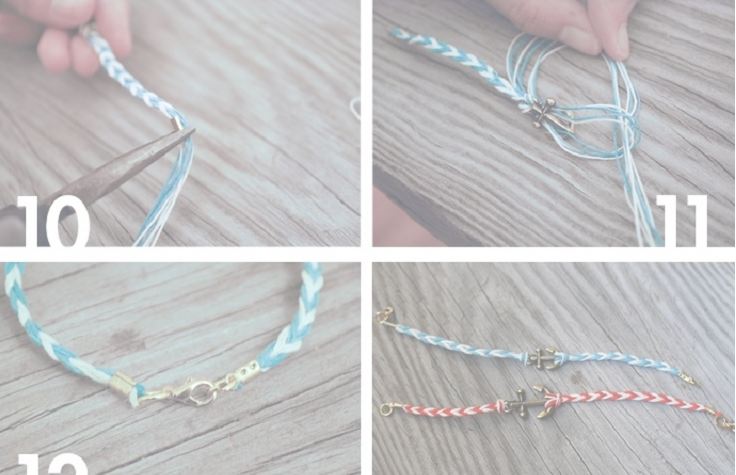 The Best Fun Craft Ideas
The Best Fun Craft Ideas
---
There are even some ideas for the smallest ones in your family, and lets not forget that they know how to appreciate the things you do for them the most.  So roll up your sleeves and bring your creative side on the surface.
1. DIY Fishtail Braided Anchor Bracelet

via swellmayde.com
To make this cute bracelets you need an metal anchor and two colored hemp cords by your choice (example: blue and white or red and white). Braid the cords and attach them to the anchor.
2. DIY T-Shirt Scarves

If you have some old t-shirt that you don't use, but in the same time you don't want to throw it away, here is a great way to use it. Make this spaghetti scarf that requires only scissors.
3. Hand Painted Wine Bottle Vase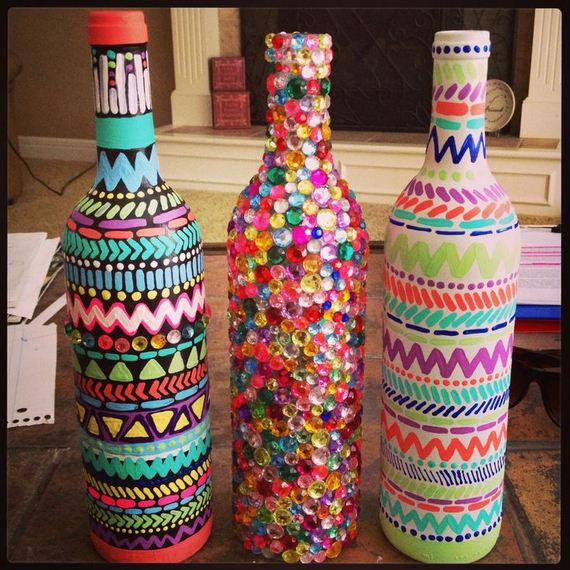 via clickypix.com
For this project first of all, you need to have a relaxed mind, because you will have to use the most of your creativity. Then, get a wine bottle, color for glasses, little brush, rhinestones and glue. For one bottle you can make this abstract tribal lines, and for the other bottle you can glue the rhinestones by your desire.
4. DIY String Lantern

via inspireramera.se
To make this amazing chandelier you need to grab your aerobic ball, wrap around it white string and glue it, leaving it to dry well before removing the ball. Add the bulb and you have an amazing lamp.
5. DIY Fashion-Forward Bracelets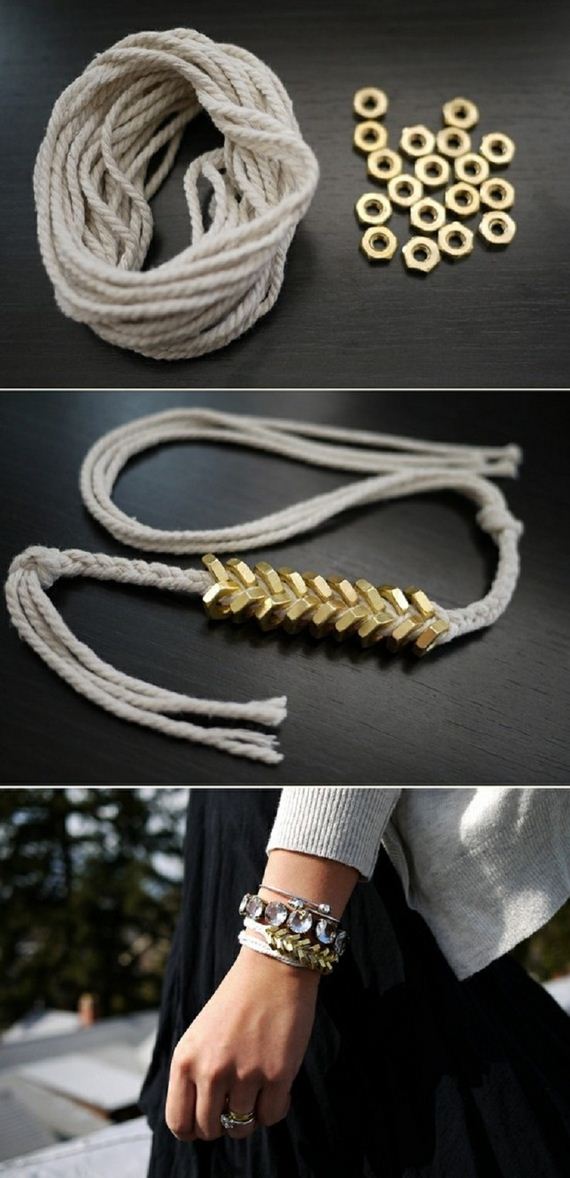 When you first mention brass nuts and string in a same sentence, we are sure that jewelry doesn't even cross your mind. But, it is very possible! Look at this genius tutorial and learn how to make your new unique bracelet.
6. How to Glitter Everything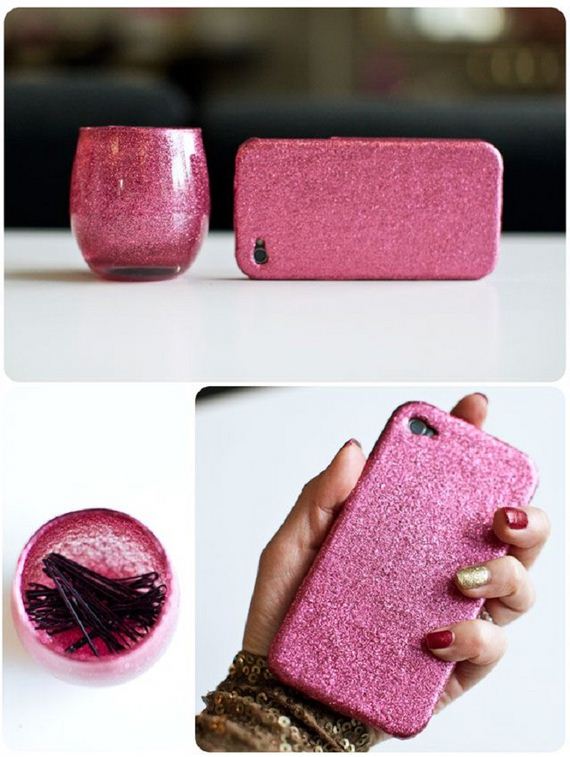 via iamstyle-ish.com
If you are a girly girl and you like everything about glitter and sparkles, that you would probably love this project. Click on the link to learn how you can now glitter almost anything that you want!
7. DIY String Bowl

via usefuldiy.com
Here are the strings again! Another way to use them is to make an fruit bowl, just find the dish that you want to get as an example for the bowl size, and start randomly wrapping around the strings. Leave the glue to dry and you will get this unique string dish.
8. DIY "Stained Glass" Candle Holders

via craftbyphoto.com
The candles are amazing for home decorating, and everybody loves them. Here is one idea how you can decorate your small glasses and make them into candle holders. You will need a colored paper, painting brush, mod podge and scissors. Cut a little paper flowers and glue them until there is no glass visible.
9. DIY Poured Mason Jar Candle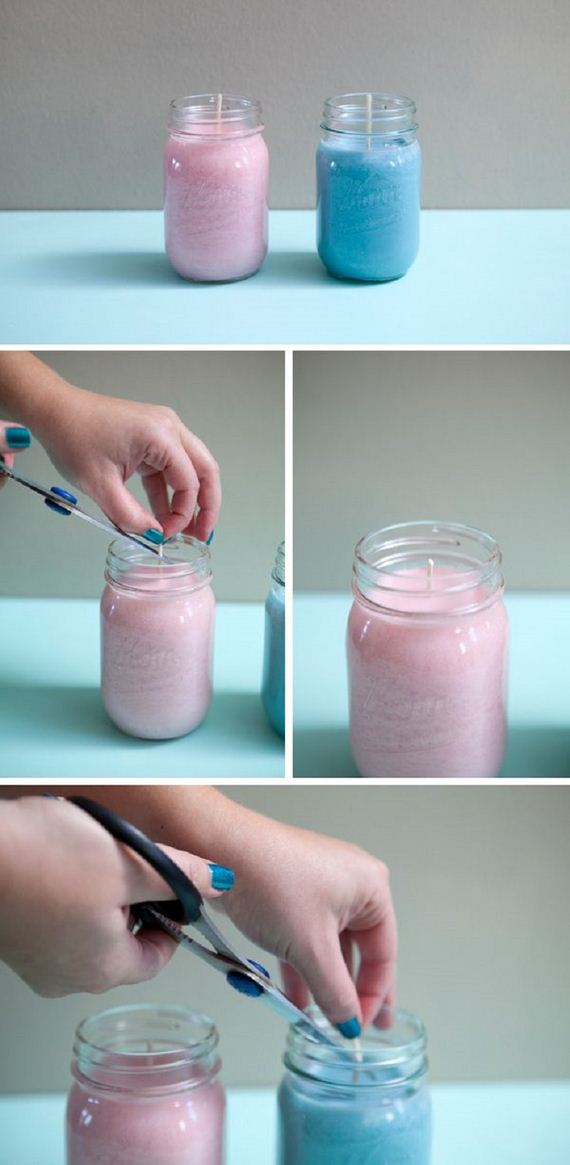 From the previous picture you learned how to make cute candle holder, but here you can find the way for making a whole candle. The mason jars are something that is very useful and always comes in hand, and if they are used properly can serve as an great decoration. Find out how to do this candles, the whole explanation is on the link above.
10. Homemade Flubber Recipe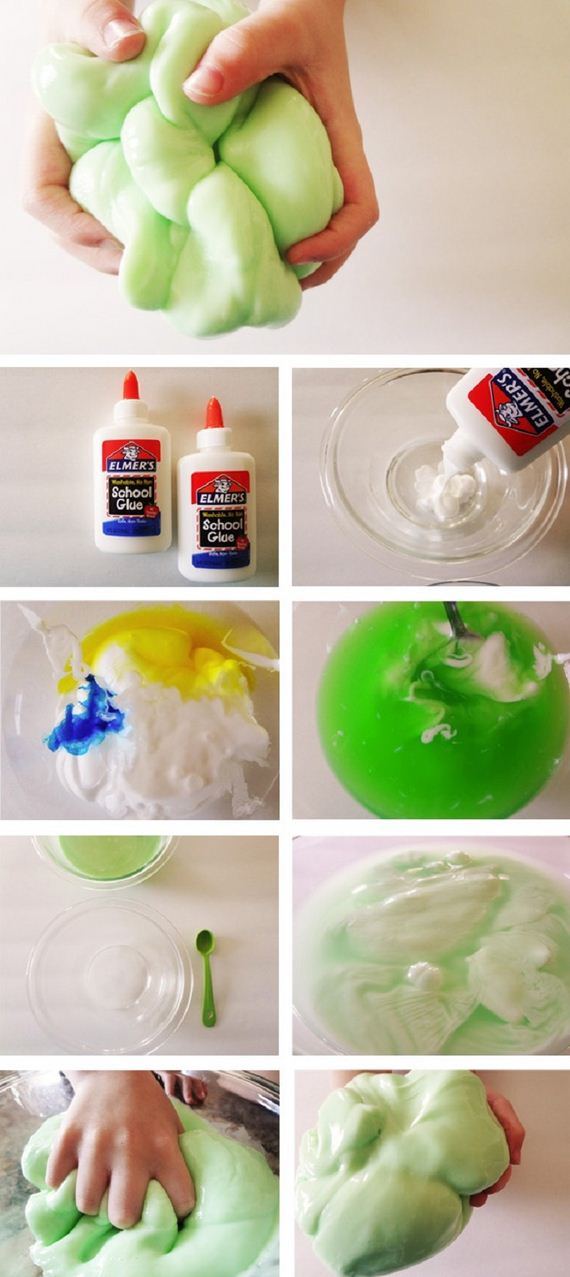 via livecrafteat.com
Here is one project that you can do for the smallest ones in your family. There is no kid that can resist the sensational feeling of a flubber in the hands, and is a great way to make they play with hours without them getting bored. Even the grown ups can't resist this cute thing from squeezing. Get the recipe by clicking on the link.
---
---