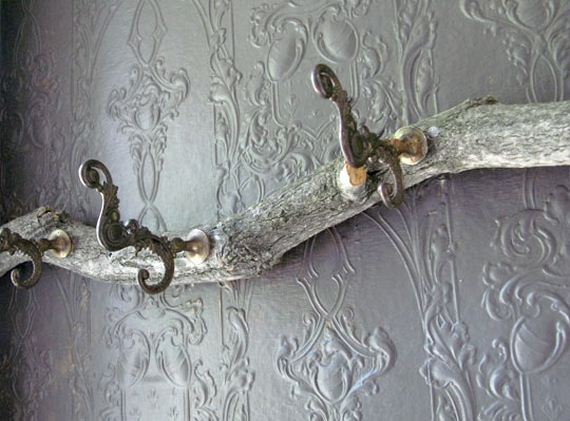 Amazing Decor Projects Made From Wood
Amazing Decor Projects Made From Wood
---
1. Reclaimed barn door headboard. If a large piece of great quality wood is already in roughly the right shape and size for something you need, you might as well make good use of it! A set of small double barn doors makes a great headboard for a queen or king size bed. We love Hometalk's added touch of hanging vintage lanterns on either side.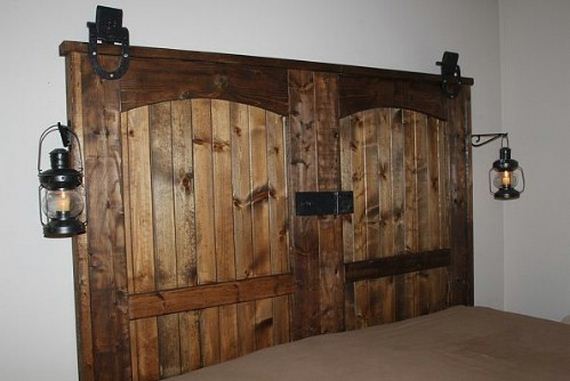 2. Wooden pallet shelves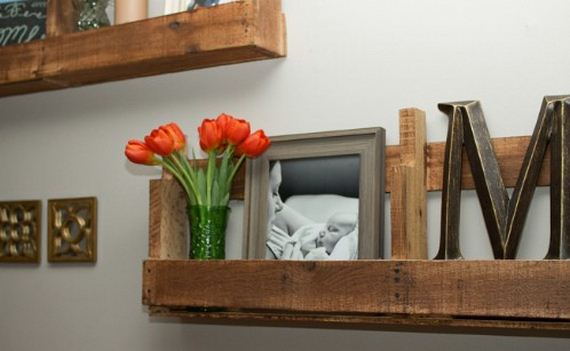 One of the best ways to add reclaimed wood into your colour scheme is to make things from wooden shipping pallets! These adorable wall shelves made by cutting pallets into pieces are no exception. See how they're done on The Nest.
3. Rustic front hallway bench from wooden pallets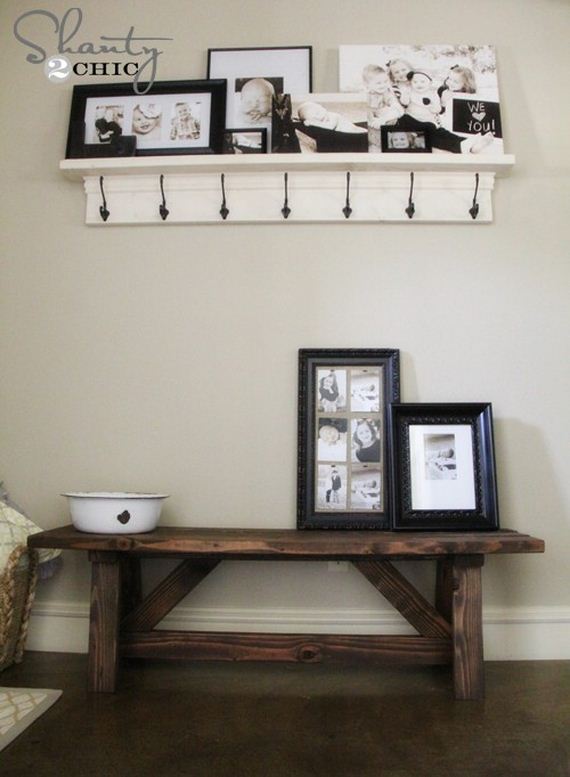 Of course, you don't have to use this little pallet bench in the front hallway, but its narrow width sure makes that a good place for it! My Sophia Ryan shows you how to cut it to the right size and attach the legs in just a few simple steps.
4. Reclaimed wooden pallet wine rack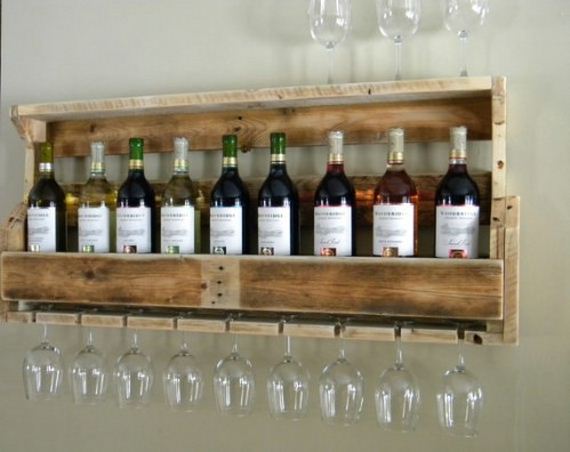 Did you love the idea of creating a small wall shelf out of a wooden pallet but you're not sure you'd ever just use it for storing knick knacks? Instead, flop the pallet the other way so the top boards are against the wall and store your wing all along the inside surface! Thanks to DIY n Crafts for this idea!
5. Rustic, pieced together shabby chic coffee table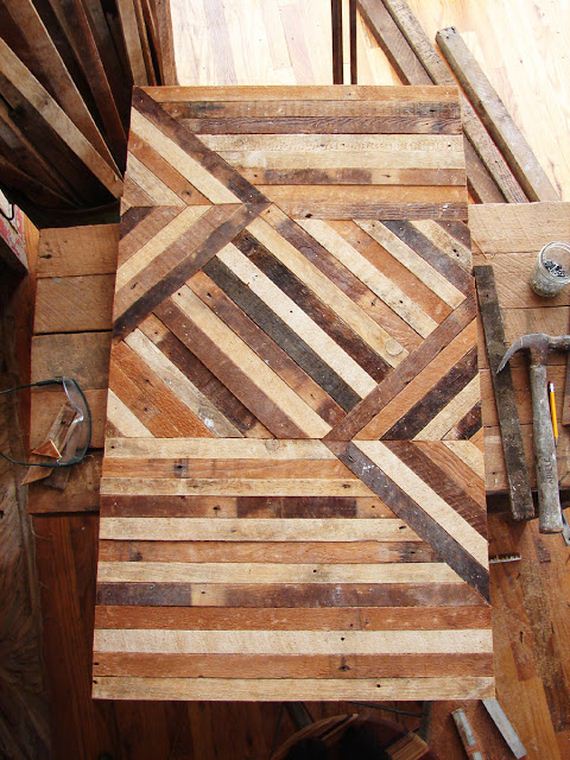 Do you have access to many long strips of wood but you're not sure you can find any pieces that are the same length, width, or colour as each other? That doesn't matter for this coffee table design by Brooklyn to West. This piece actually gets its entire appeal from the fact that the wood is mismatched.
6. Wooden log backsplash mosaic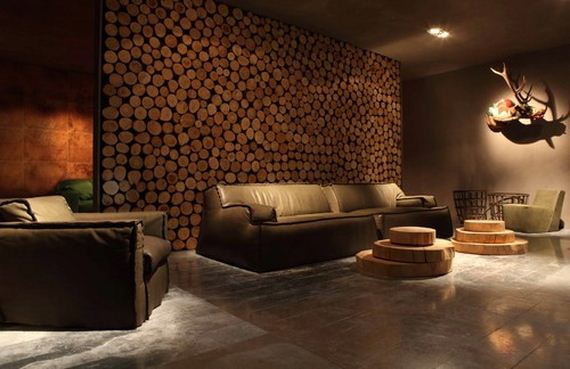 If you're prepared to tackle a much more hands-on décor project involving wood and you're interested in an interesting visual aesthetic, check out this backsplash idea by Houzz. It's made of thinly cut pieces of wooden logs fitted together across the wall like a rounded mosaic and it certainly draws the eye!
7. Round wooden log clock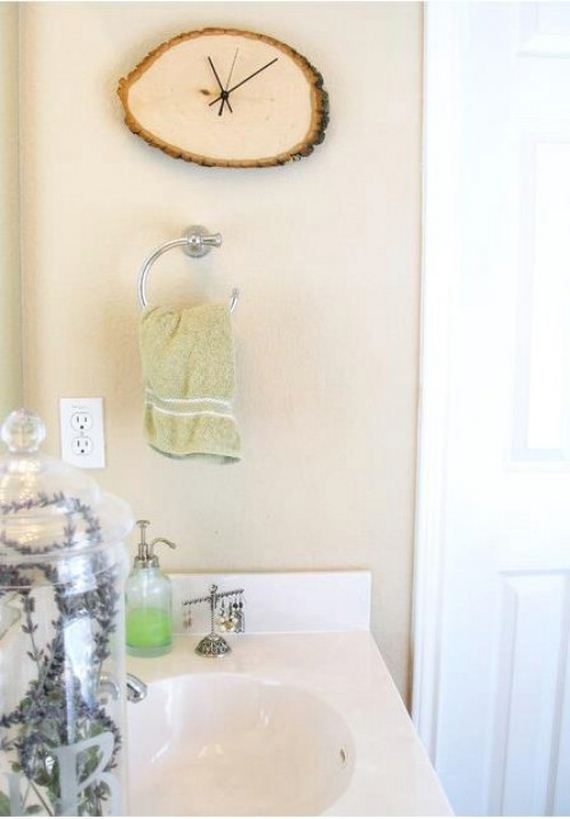 Do you love the idea of using a section of a wooden log or stump but you're not quite ready to take on the whole wall yet? Houzz has another idea for you too! Check out how this upcycled driftwood clock was made.
8. Stained wooden mail sorter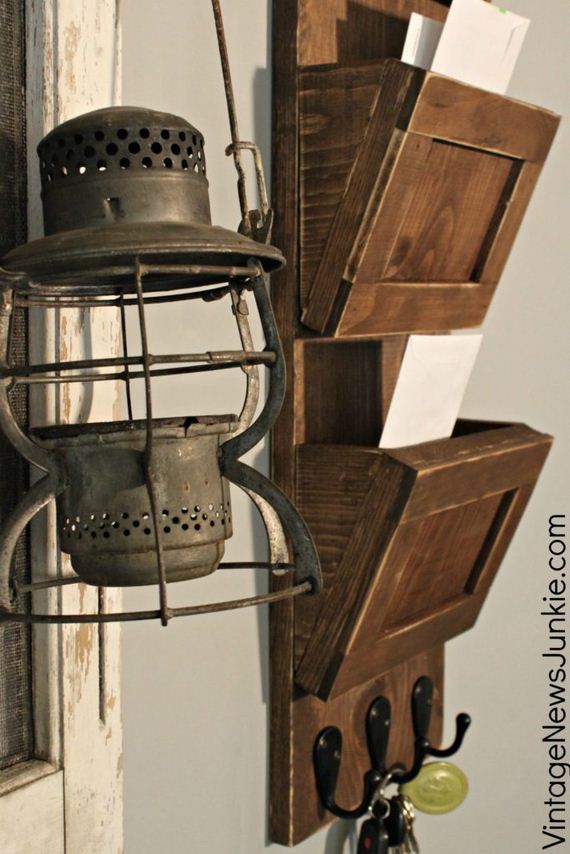 Are you quite handy when it comes to simple wood working? Those skills are more than useful for making yourself a small shelving unit that'll help keep you organized in the office, the kitchen, or the front hallway. Choose a stain that makes it look rustic and weathered and use it to sort mail, flyers, or files. Foxhollow Cottage shows you how to do it step by step. Coat hangers on the bottom will even let you sort your keys!
9. Stained, rustic wooden entryway bench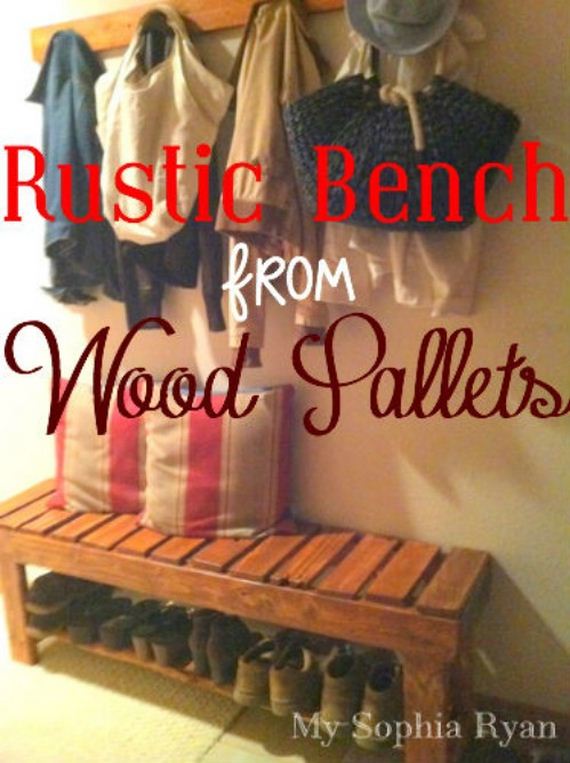 Are you looking to make a piece that will act as a functional furniture option and a stylish statement? Shanty 2 Chic guides you through the process of creating a beautifully rustic stained bench with uneven edges that make it look reclaimed.
10. Vintage wooden ironing board "Welcome" décor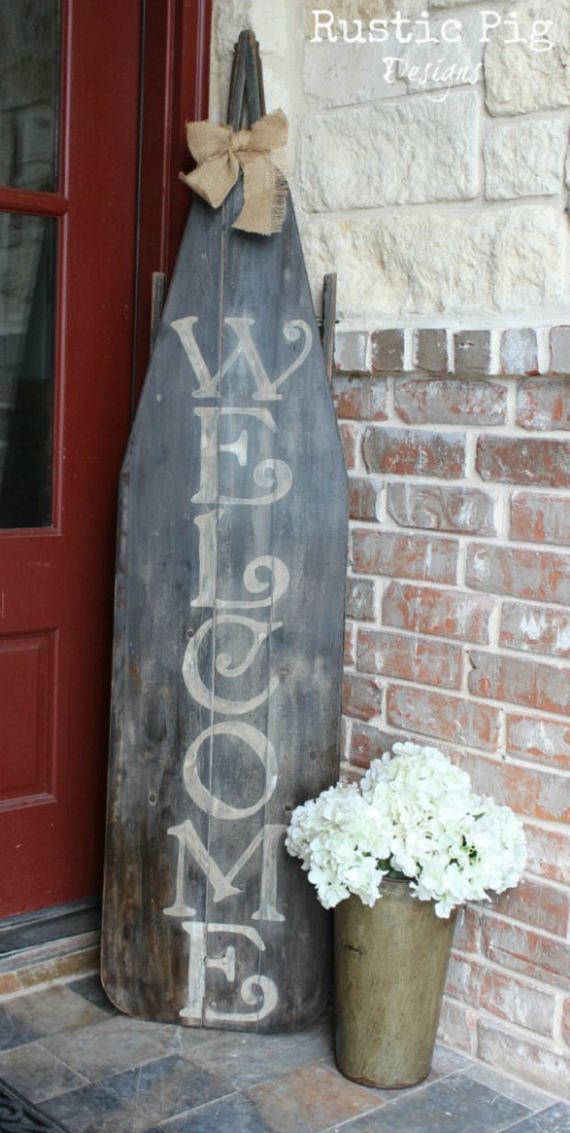 Have you come across some awesomely vintage wooden finds at a garage, farm, or estate sale? Sometimes all you need to create great décor pieces out of these is a bit of stenciling equipment, because they're already vintage and beautifully weathered! This vintage wooden ironing board by DIY n Crafts is the perfect example of a simple reclamation project.
11. Driftwood branch coat hanging rack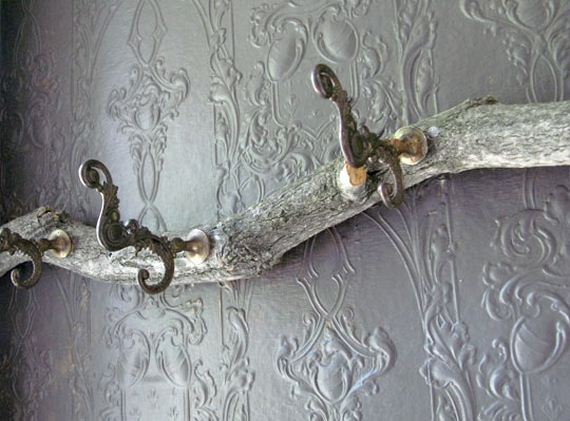 Rather than working with cut pieces of wood or premade wooden racks and furniture, try using straight up reclaimed driftwood in your décor! A waving branch like this one used by Apartment Therapy makes a beautiful coat rack, particularly if the hooks you attach to it are vintage or intricate looking.
12. Wooden test tube plant shelves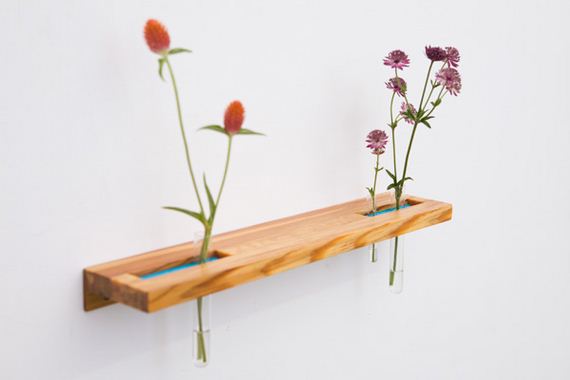 Would you prefer to build something that gives off a wooden yet modern feel, rather than an aesthetic that's rustic or reclaimed? This planter shelf creates just that kind of contrast by incorporating clear glass test tubes slotted into a cut in the wood. Check out how it's done on Autumn Workshop.
13. Wooden meter stick mirror frame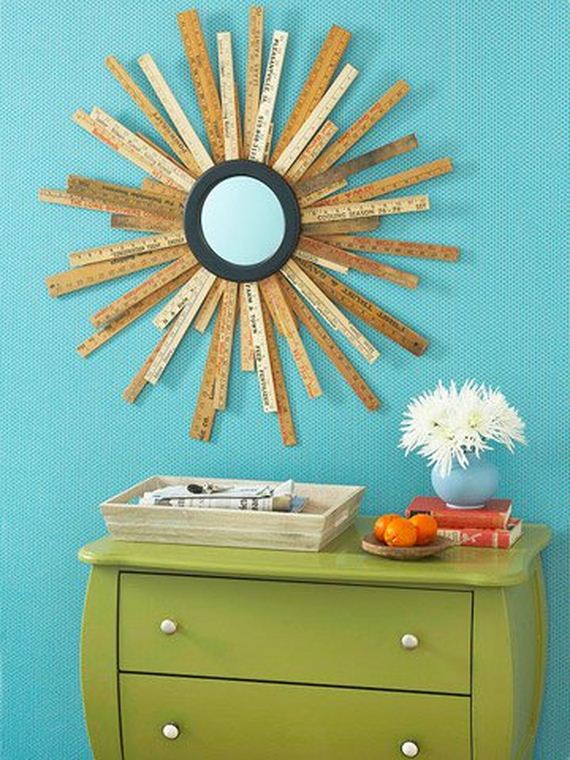 BHG teaches you how to create a pretty, sunburst style mirror frame from pieces of old school meter sticks cut to different lengths. We love that this same framing idea could also be used around a mirror or a large print photo. It incorporates wood in a creative, daily life aesthetic rather than a weathered, shabby chic manner.
14. Waving branch chandelier lamp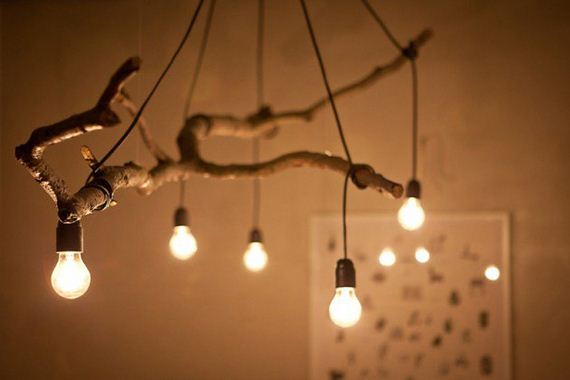 If you live in an area surrounded by large trees or a beach that often has interesting driftwood wash up, you're already partially ready to create this awesome handing chandelier! Purchase a basic pendant light that features several simple hanging bulbs and wrap each carefully around part of a large, interestingly shaped salvaged branch. Design Boom has the full instructions for you.
15. Vintage wooden shutter mail sorter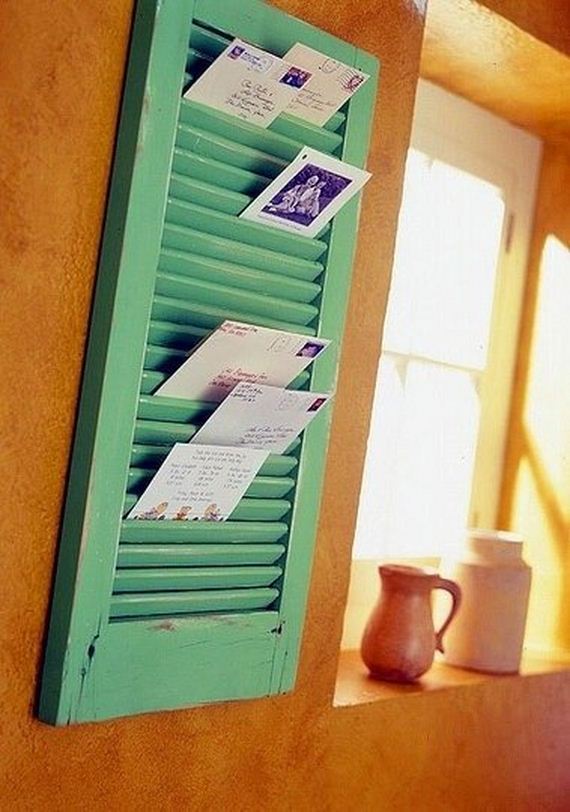 Sometimes the best DIY décor projects are the kind that are low maintenance and easy to finish up so you can get right down to using what you've made. If you've found an older window shutter in your garage or outside an abandoned farm home, you're basically already prepared to make this adorably rustic mail sorter. If you don't have any mail to sort, try using this idea for files, notes toy our family, or even just printed family photos instead! Check it out on This is Waf.
---
---