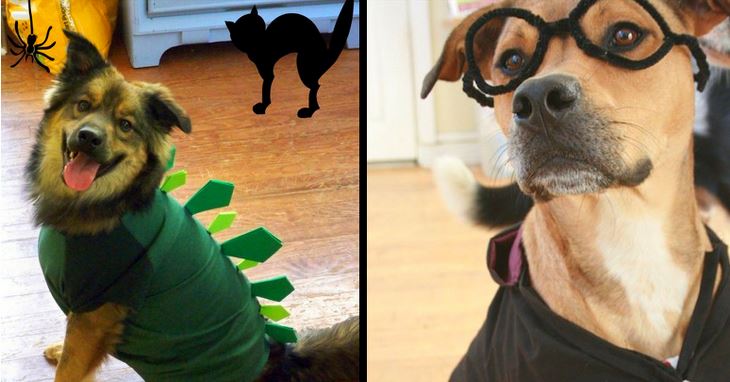 20+ Cool and Adorable DIY Pet Costume Ideas for Halloween
20+ Cool and Adorable DIY Pet Costume Ideas for Halloween
---
A lot of people want to include their pets in the festivities of the Halloween season, but store-bought attires can be somewhat expensive. With just some basic stuff and a bit of imagination, you can create a damn good costume for your four-legged buddy and save megabucks, while simultaneously impressing everyone with your artistic skills. Scroll down to get inspired by some of the most awesome DIY Pet costume ideas for this Halloween.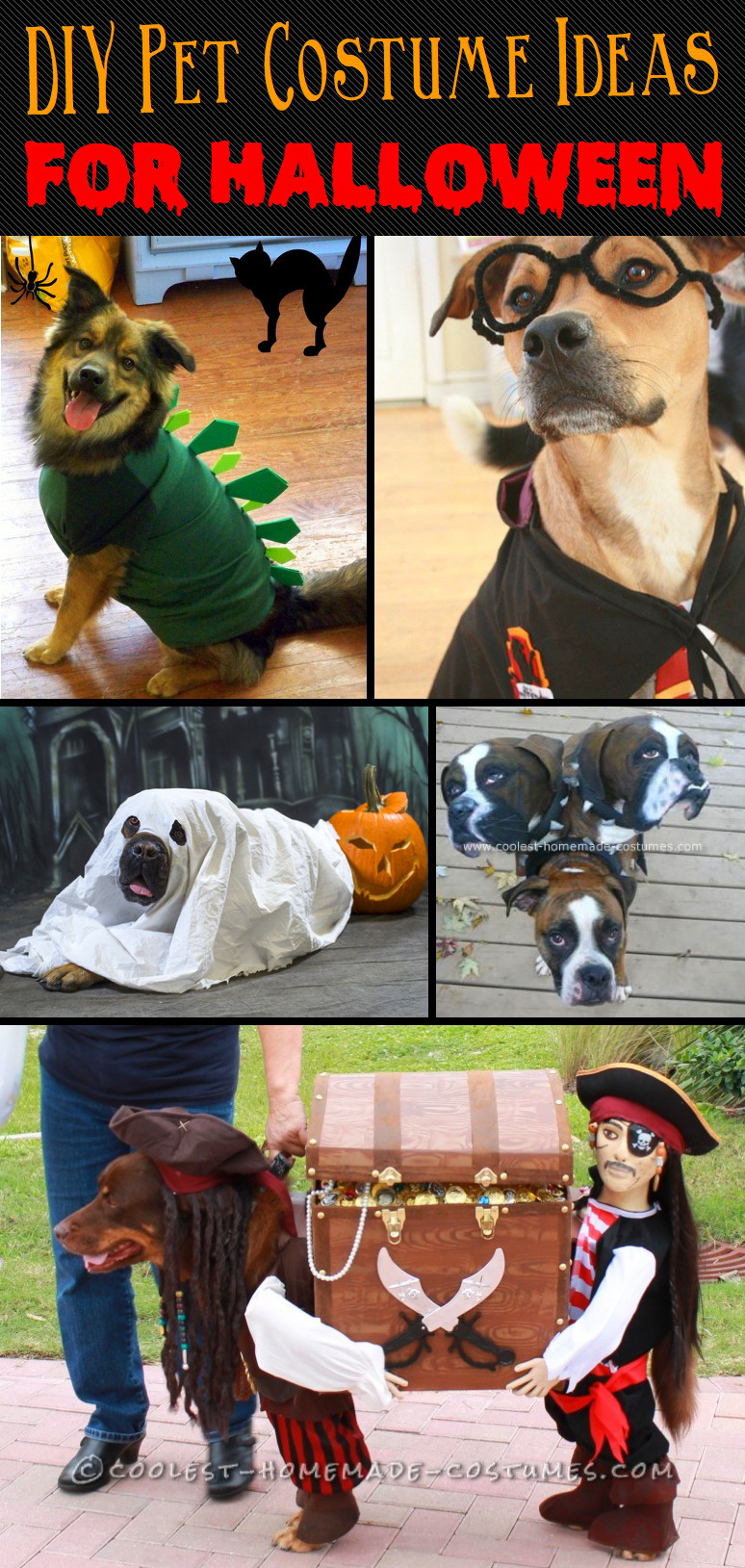 1. Simple Dog Halloween Costume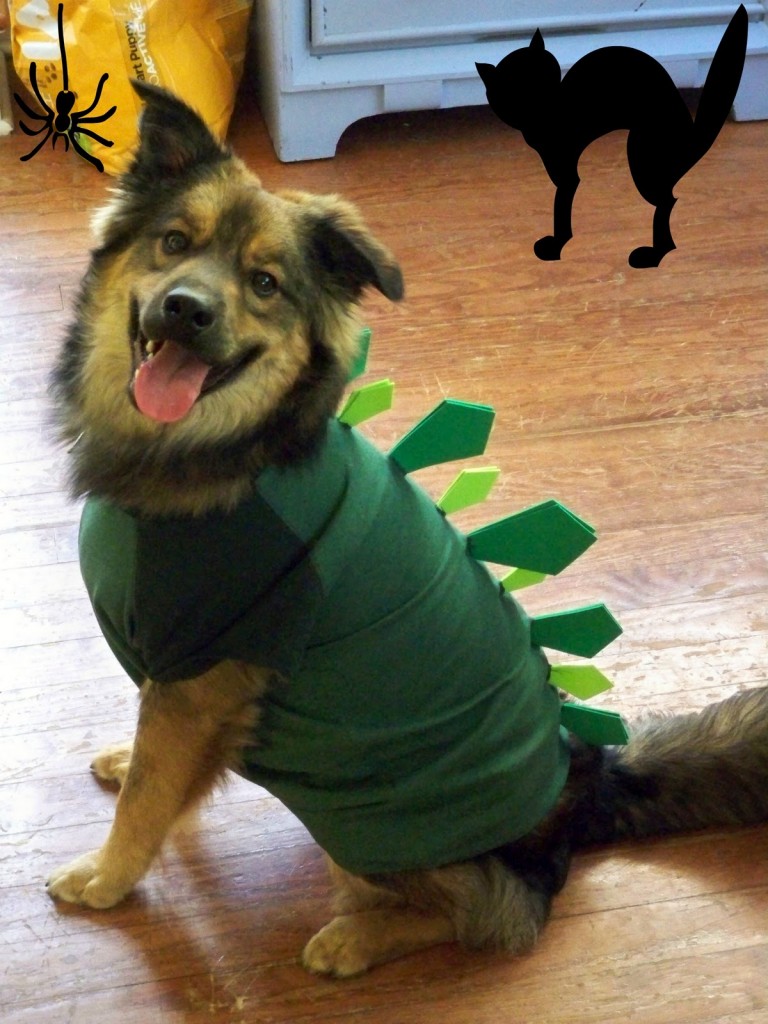 To get your dog suited up with the coolest costume that will enchant everyone out there, cover them in a lovely dinosaur costume adorned with spinal plates. This adorable DIY suit is just perfect for making your pet the center of attention at the Halloween party. Take a look at this cute little tutorial that comes from TheNextBird teaching you how to transform your furry pal into the prehistoric creature of your imagination with an incredible Stegosaurus Dog Halloween Costume.
Project Credit and DIY Details : thenextbird
2. DIY Dog Tutu Tutorial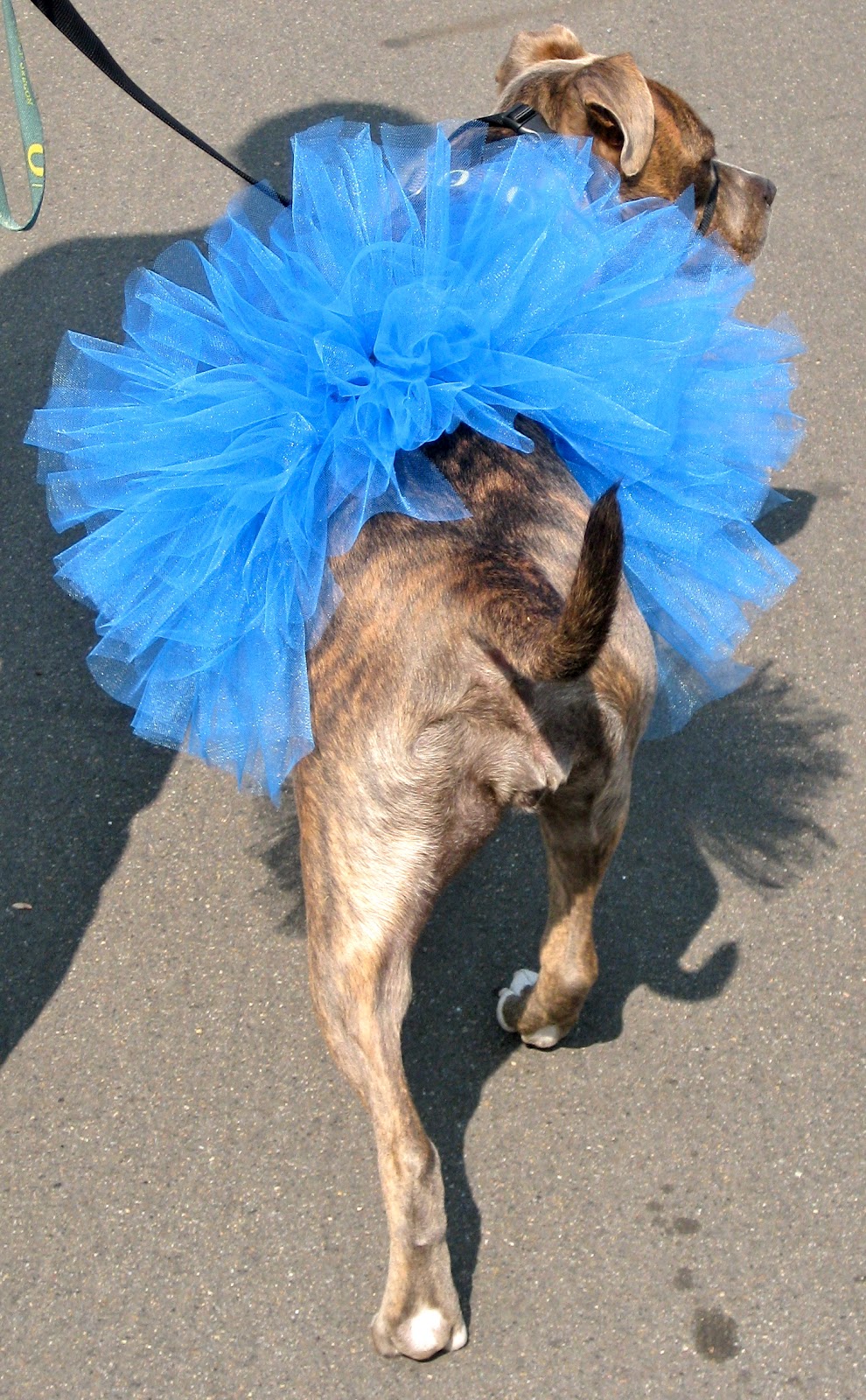 Halloween is right around the corner, and an affordable plus easy DIY pet tutu will be something plain fun and adorable to make, not to mention easy. There are a few ways you can make one, but this method is going to show you the simplest, no sew technique to create a pretty tutu for your dear dog. It goes around your dog's waist making it truly convenient for them to sit down and move about. All you need to gather is a piece of cardboard, velcro, elastic and some tulle of your favourite color.
Project Credit and DIY Details : pitlandia
3. Chia Pet Dog Costume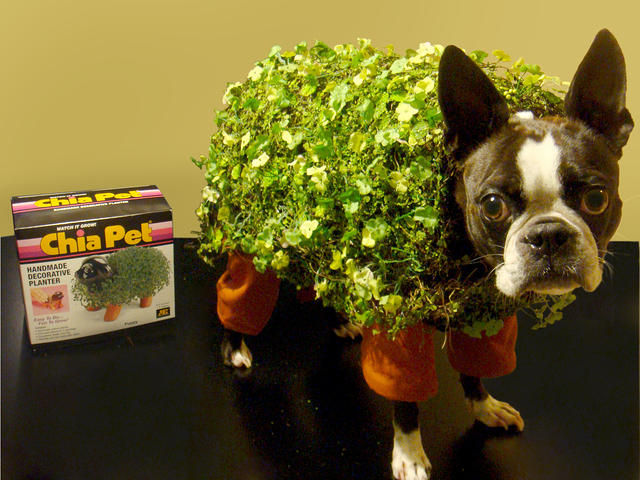 The jingle "Ch-ch-ch-chia" that announced the famous terracotta pet plant loved by all is surely a subject of remembrance for anyone who grew up in the 80s. This Halloween, make your pup the most loved dog around by outfitting it as a real live Chia Pet. This hilariously adorable Chia costume could work just perfect for your pet, and it's quite easy to build. You can assemble it yourself using some organic materials and eco-friendly felt by following a simple set of instructions.
Project Credit and DIY Details : instructables
4. Eggs and Bacon Costume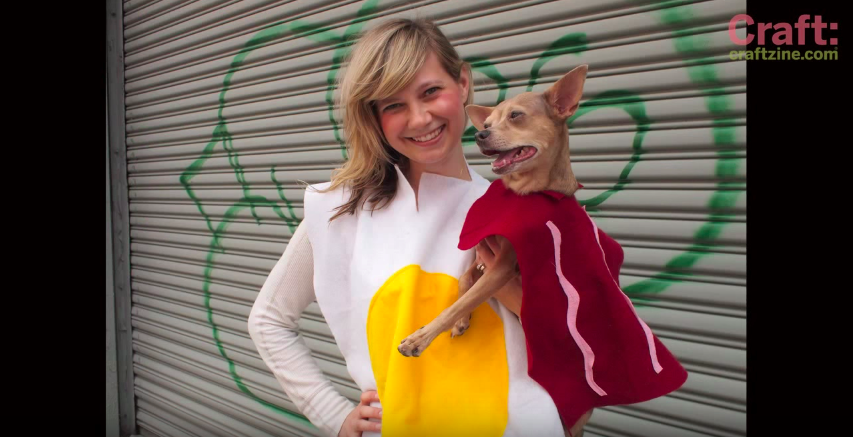 If you wish to flaunt a Halloween dress that's paired up with your dog's attire, bacon and eggs costumes are a great option that's fairly easy to design at home, and the rounded egg yolk at belly level makes it simply adorable. With this interesting video tutorial, Meg Allan Cole is going to show you how to assemble an easy eggs and bacon costume using very basic sewing skills combined with gluing some fabric together. This last-minute costume is meant not only for yourself but your favorite pet as well!
Project Credit and DIY Details : instructables
5. Walrus Pet Halloween Costume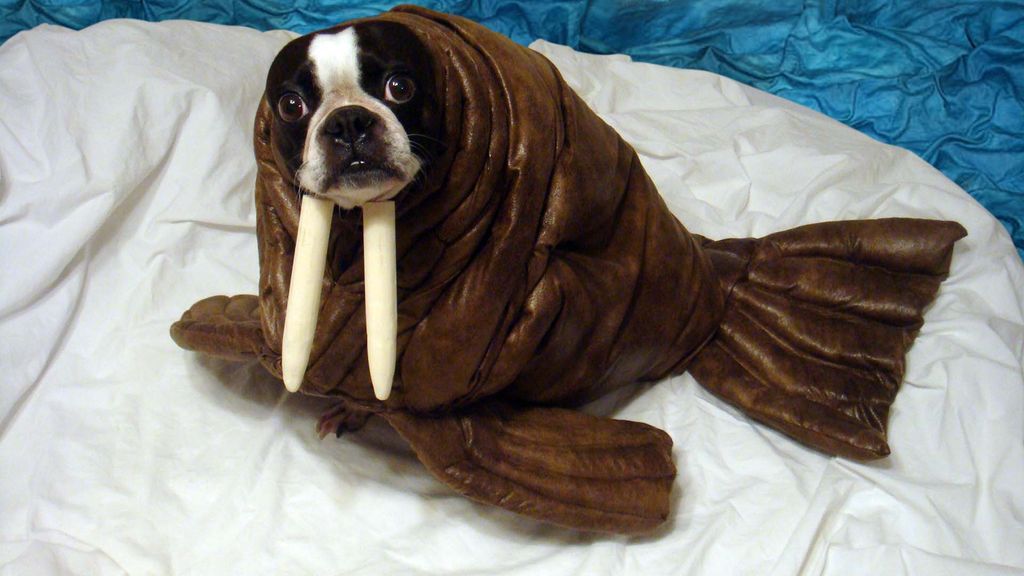 How about turning your dog or kitty into a cute walrus this Halloween ? The adorable Walrus Dog Costume for Halloween sewn by hand and made from micro-suede, batting and linen fabric lets the walrus out of the water when your pet adorns it gracefully. To learn how you can forge this costume at home with just a little bit of time and effort, check out this DIY tutorial on Instructables and bring the walrus in your pet to life !
Project Credit and DIY Details : instructables
6. Catahedron Halloween Costume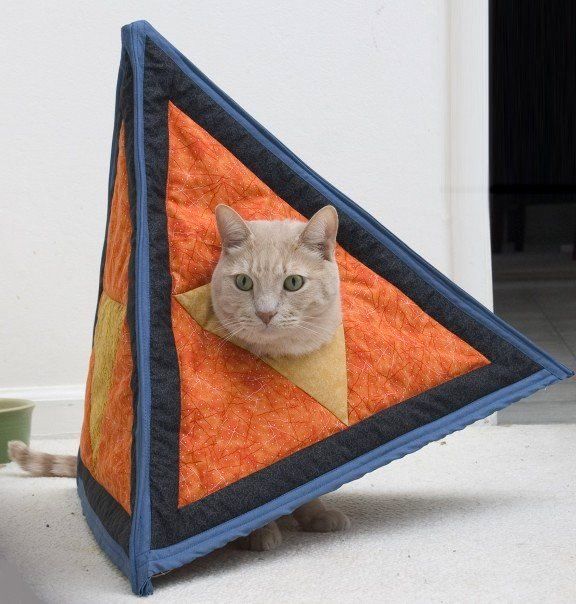 Getting your cat dressed up as a platonic solid for this Halloween party is not only going to be something different than the usual character costumes, but also quite comfortable for your little pet ! This instructable thoroughly explains how to make a soft quilted tetrahedron costume all out of some fabric that you want your cat to flaunt sweetly. Some basic sewing skills and materials readily available at home will be all that's required to craft this Halloween attire.
Project Credit and DIY Details : instructables
7. Light-Up Dandelion Doggy Costume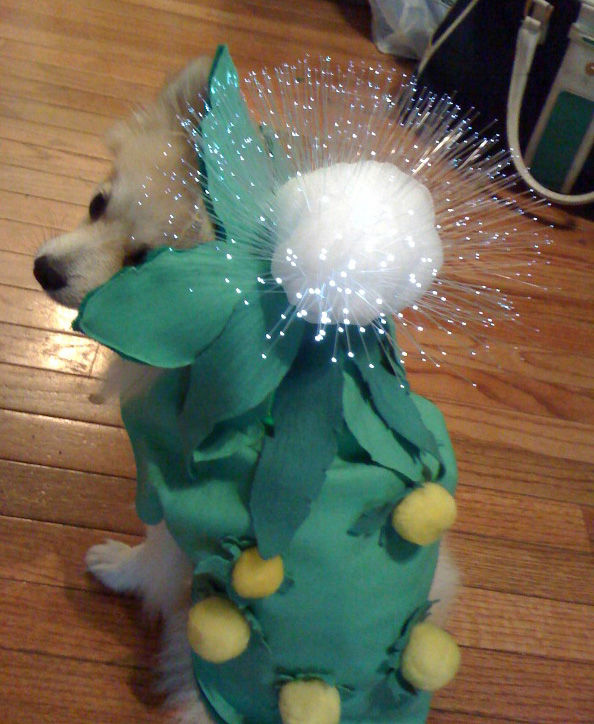 Your dog will look immensely cute wearing this creative do-it-yourself costume that's not only going to save you a few dollars this Halloween but is also going to make your pet resemble a shiny, bright dandelion. Alison at Switch demonstrates with step-by-step instructions, how to make this light-up dandelion costume for your lovely little dog that can be modeled almost effortlessly using a low cost recycled fiber optic toy, felt and some cute little pom poms !
Project Credit and DIY Details : instructables
8. Halloween DIY Bloody Bandana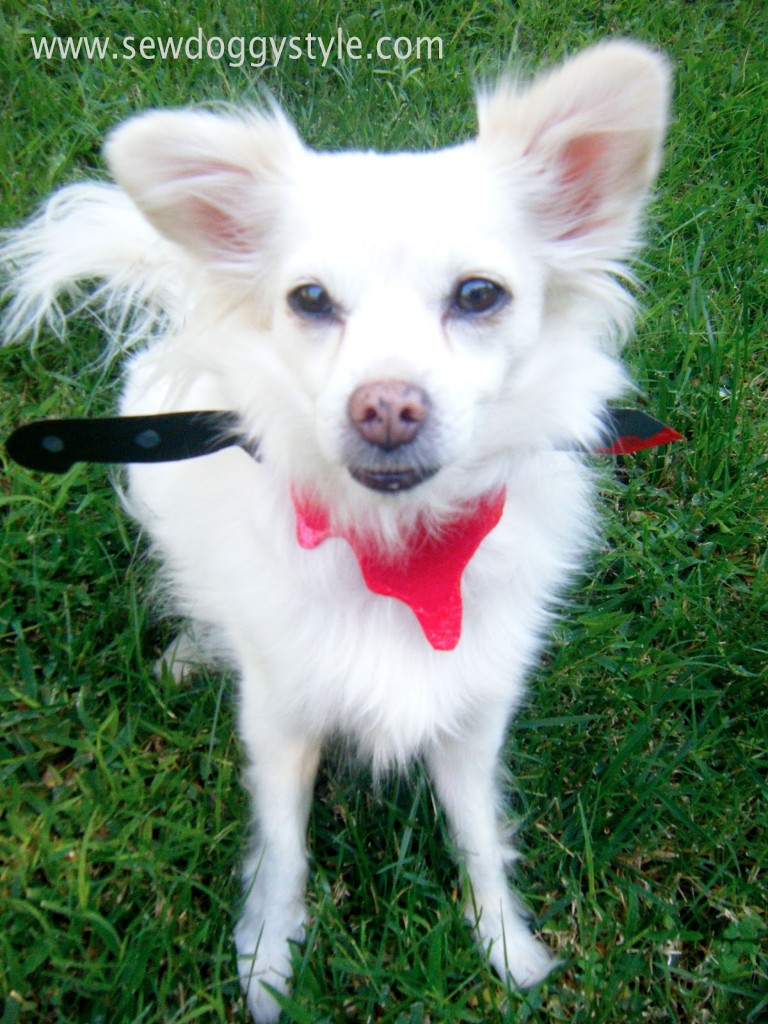 Adding a blood-themed element to your pet's overall look is a great idea for a Halloween party, especially if it's surprisingly stylish and easy to create, that too all by yourself at home. SewDoggyStyle very interestingly presents all the instructions on making this totally no-sew bloody bandana in this trouble-free tutorial. This bandana built out of a piece of red fabric will transform your cute little friend into a spooky creature that has been hit with a knife, more than perfect for that Halloween air !
Project Credit and DIY Details : sewdoggystyle
9. Harry Potter Dog Costume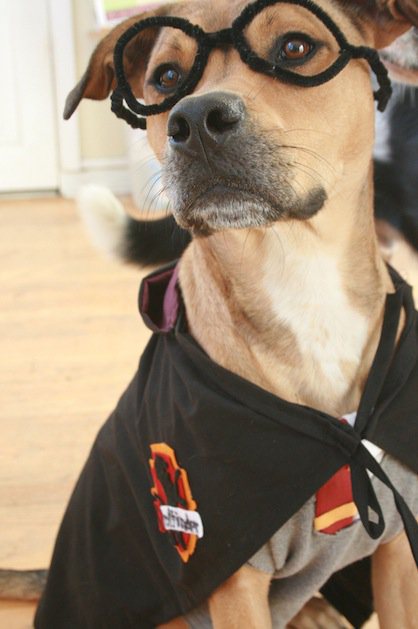 When its Halloween, every member of your home deserves to get in on the fun. Then why leave your cuddly pup out of that jollification. Harry Potter costumes are never going to be out-of-trend, even if it's about dressing up your lovely pets. Regardless of the size of your pet, this simple-to-craft costume made using some clothes and fabrics is quite a budget-friendly option to get your dog ready for the party and make them look like an adorable Hogwarts wizard, sporting a cape and black rimmed glasses.
Project Credit and DIY Details : allfreeholidaycrafts
10. Star Wars Halloween Costumes for Dogs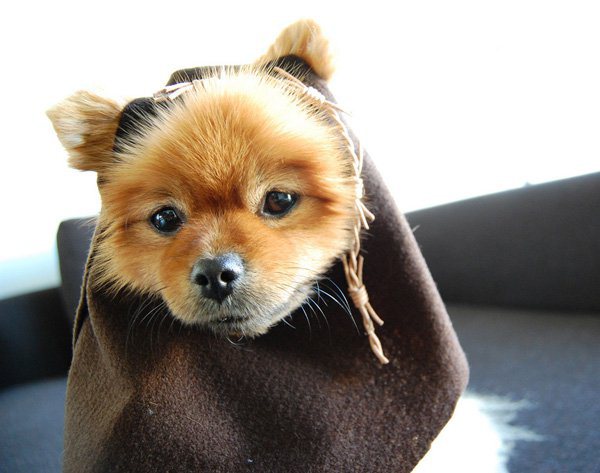 If you have two or three adorable pooches and are looking to get some themed Halloween costumes for all of them, these Star Wars Halloween Costumes will just hit all the right notes. Get those four-legged friends of yours dressed up Even if you don't know how to sew, these attires can be brought to life using some glues, tapes and velcros. Made using items that can be easily thrifted or pulled from your own overflowing stash, these costumes are both cute and wallet-friendly.
Project Credit and DIY Details : makezine
11. DIY Hostess CupCakes Pet Costume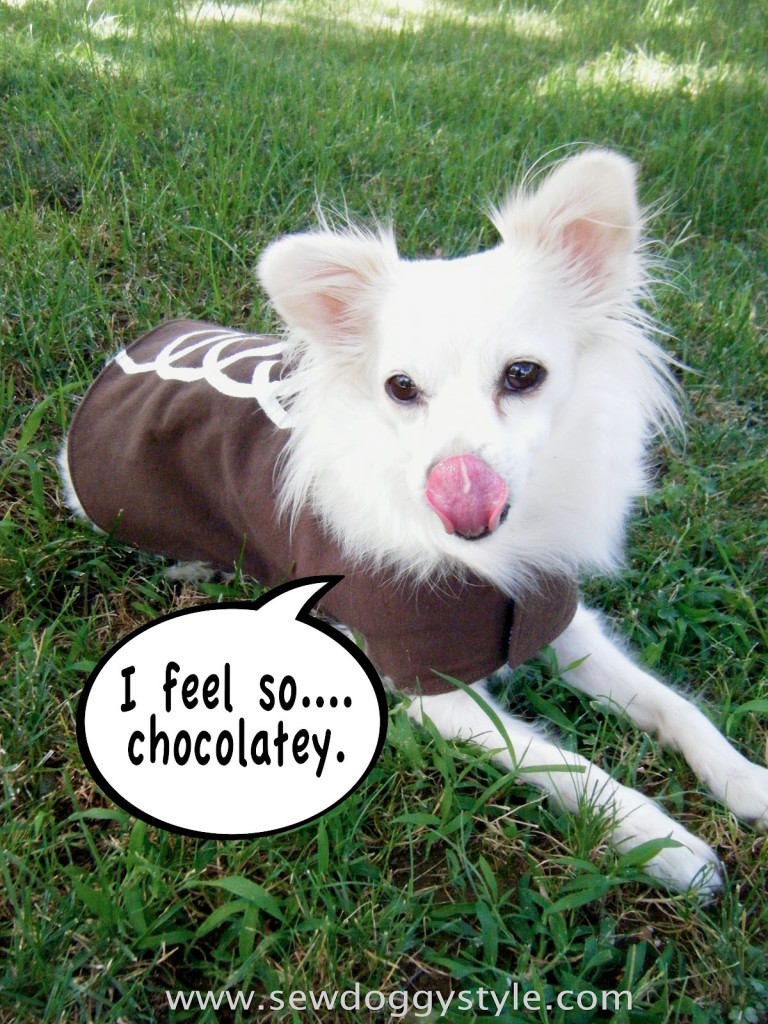 Make your dog look like a cupcake with this delicious costume that features a chocolaty texture topped with bright vanilla curly frostings. This one is perhaps, is one of the most easy and quick DIY pet costumes that you can assemble even in the last-minute when you have got quite a little time before your family hits the Halloween party. Let's dress your sweet little pup as the irresistibly sweet treat with this simple-to-follow costume tutorial by Sewdoggystyle.
Project Credit and DIY Details : sewdoggystyle
12. Coolest Homemade Cerberus Costume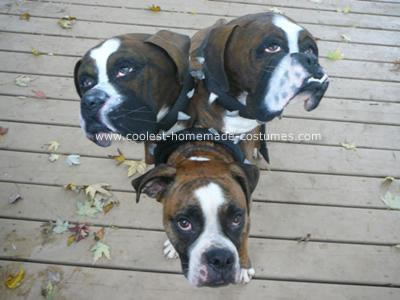 This Halloween, add two magical heads and a serpent's tail to your dog with an ultra-cool Cerberus Costume that you can make all by yourself with some easily available stuff. According to the Cerberus legend, make him stop the dead from leaving and the alive from barging into the Greek Underworld by guarding its entrance. Using just a little imagination, some pipe insulation, lots of hot glue and some time, you can make a sturdy, yet light-weight multi-headed costume for your pet with this detailed DIY guide.
Project Credit and DIY Details : coolest-homemade-costumes
---
---