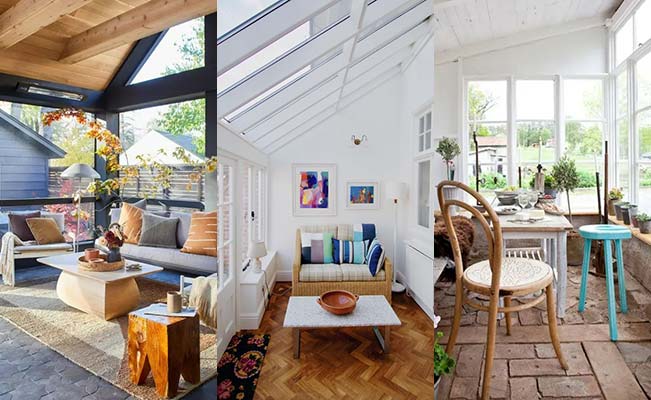 38 Small Sunroom Décor Ideas: Infuse Life into Your Space
38 Small Sunroom Décor Ideas: Infuse Life into Your Space
---
Revitalize your small sunroom with the enchanting array of '38 Small Sunroom Décor Ideas: Infuse Life into Your Space.' Discover a treasure trove of creative inspirations that will breathe new life into your cozy haven. From charming botanical accents to stylish seating arrangements, each idea aims to maximize the beauty and functionality of your sunlit retreat. Embrace the warmth of natural light, complemented by vibrant colors and textures, and create a space that radiates with joy and tranquility. Let these brilliant ideas transform your sunroom into a rejuvenating sanctuary, where the outdoors seamlessly blend with your indoor oasis.
1 Boho-Inspired Wicker Sunroom with Colorful Accents
Step into a cozy, nature-inspired sunroom that radiates warmth and charm. The inviting space boasts a mix of eclectic and boho elements, featuring rustic wicker chairs and lamps. Layered rugs create a soft and textured ambiance, while carefully placed splashes of color enliven the atmosphere.
2 Minimalist Sunroom with Wicker Sofa, Colorful Accents, and Artworks
The space features a quaint wicker sofa adorned with vibrant pillows, inviting you to unwind and relax. Adorning the walls are captivating artworks that add a touch of artistic flair. Completing the ensemble is a sleek coffee table, providing a convenient spot to place your favorite book or a cup of steaming tea.
3 Lush Boho Sunroom
An inviting sunroom that feels like a lush oasis. Sink into the comfort of leather chairs, adding a touch of sophistication and relaxation. Surrounding you are numerous potted plants, creating a vibrant and refreshing atmosphere. Embracing the bohemian style, the room is adorned with wicker and woven elements, infusing a natural and earthy charm. Lose yourself in this tranquil space where nature and comfort harmoniously blend.
4 Serene Contemporary Sunroom with Wood and Wicker
A long bench invites you to relax and unwind, while carefully selected artworks add a touch of visual appeal. Softly glowing lamps provide the perfect lighting to create a soothing atmosphere.
5 Cozy Dining Retreat
Enter a cozy and inviting small sunroom that has been beautifully transformed into a delightful dining space. Smart storage cabinets are cleverly integrated, providing a practical solution to keep your dining essentials organized and easily accessible. An L-shaped bench with built-in storage offers comfortable seating while maximizing the available space. It's a perfect spot to relax and enjoy a meal with loved ones.
6 Cozy Dining Nook
The space is adorned with both wall and pendant lamps, casting a warm and inviting glow. Taking center stage is a large L-shaped bench, providing ample seating and cozy comfort. Accompanied by a stylish dining table, this setup creates an intimate atmosphere for shared meals and cherished conversations.
7 Nature's Bistro
Indulge in a delightful dining experience as you savor your meals in this tranquil sunroom oasis.
8 Vintage Sunroom Delight
A charming vintage sunroom that exudes rustic Scandinavian charm. Along the long windowsill, potted blooms and lush greenery create a picturesque display, infusing the space with natural beauty. At the heart of the room sits a wooden dining table, providing a warm and inviting setting for shared meals and gatherings. Immerse yourself in the cozy ambiance of this Scandinavian-inspired retreat.
9 Sunroom with a Bed Swing
Experience the ultimate relaxation in the sunroom on a warm summer's day. The addition of a DIY bed swing elevates the appeal of this space, offering a perfect spot for blissful snoozing. The makeover extends from top to bottom, with the floors painted using epoxy, adding a sleek and stylish touch. A tree stump has been transformed into a rustic coffee table, adding a touch of natural charm to the room.
10 Serene Coastal Farmhouse Haven
Adorned with blue pillows, the space captures the essence of the coastal vibe. A wooden table adds a touch of rustic elegance, while a woven chandelier illuminates the room with a warm glow. Immerse yourself in the serenity of this coastal farmhouse sunroom, where modernity meets the soothing beauty of the coast.
11 Ocean Bliss: Serene Modern Sunroom
Step into a serene sunroom that offers stunning ocean views. The modern décor creates a soothing atmosphere, with comfortable white seating and elegant rattan chairs. A low coffee table adds convenience for your relaxation needs. Above, a vintage chandelier adds a touch of classic charm.
12 Embracing Maximalist Style
Bid farewell to minimalism and welcome the exciting trend of maximalist design to your sunroom. Infuse the space with life and energy by incorporating bold prints in a myriad of colors. Layer fabrics of different textures to create a visually rich and inviting atmosphere. Embrace the beauty of nature by adorning the sunroom with an abundance of plants, bringing a refreshing touch of greenery indoors. Add character and personality to the walls with captivating paintings, prints, and other artistic accents. via: Jeweled Interiors.
13 Thrifty Sunroom Charm
Who says you need to break the bank to have a breathtaking sunroom? Think again! Instead of splurging on brand new items, embark on a treasure hunt at thrift stores. Discover savvy finds that will steal the show, just like the centerpiece of this inviting little space—a table and a pair of chairs. Embrace the beauty of thrifty charm and create a stunning sunroom without emptying your wallet. via: Centsational Style
14 Cozy Sunroom Retreat
Escape to a cozy sunroom retreat that effortlessly combines comfort and functionality. The living room features a large built-in bench with ample storage, providing a practical solution to keep your space organized and clutter-free. Complementing the bench are a duo of charming wicker stools, offering additional seating options for you and your guests.
15 Small Sunroom Escape
Comfortable wicker chairs provide a cozy seating option, perfect for unwinding and soaking in the serenity. Potted greenery adds a touch of lushness, bringing the vibrant outdoors indoors. Ambient lamps provide soft, warm lighting, creating a soothing ambiance.
16 Chic Sunroom Retreat
This chic eclectic sunroom features forged chairs and a table, adding a touch of sophistication. Complementing the seating are wooden benches adorned with textiles and accessories, creating a cozy and personalized atmosphere.
17 Colorful Sunroom Delight
The turquoise walls instantly create a lively and refreshing atmosphere. Colorful and printed details add a playful touch, infusing the space with vibrant energy. Complete the ensemble with a cozy wicker ottoman, inviting you to relax and unwind.
18 The Vintage Charm
A nostalgic vintage-inspired sunroom that captures the allure of the past. A grand crystal chandelier takes center stage, illuminating the space with elegance and grace. Delicate lace curtains add a touch of romance, gently filtering the sunlight. Complementing the vintage ambiance are cozy wicker chairs, inviting you to relax and bask in the nostalgia.
19 Boho Chic Sunroom Nook
Discover a stylish and contemporary sunroom nook that radiates a boho vibe. Embrace a relaxed sitting experience right on the floor. Decorated with numerous pillows, the space invites you to sink in and relax.
20 Peaceful Sunroom Retreat: Modern Serenity
Experience the serenity of a modern sunroom that exudes contemporary charm. A comfortable grey sofa takes center stage, inviting you to relax and unwind. A low coffee table adds functionality and style to the space. Creamy chairs provide additional seating options for you and your guests. Enhancing the ambiance, a stained stool adds a touch of rustic elegance. Complete the scene with tasteful autumnal decorations, featuring beautiful fall leaves.
21 Seaside Neutral Sunroom
Immerse yourself in the tranquil beauty of a modern neutral sunroom that offers breathtaking views of the sea. Rattan chairs add a touch of natural elegance to the space. A low coffee table provides a convenient spot for your essentials. Above, a vintage chandelier adds a touch of timeless charm, casting a warm glow.
22 Airy Modern Sunroom
An inviting sunroom welcomes you with a cozy grey sofa decorated with neutral pillows, creating a sense of comfort and relaxation. A coffee table and a pouf offer convenient surfaces for resting and unwinding. Completing the warm and cozy atmosphere, there are rugs and blankets to add an extra layer of comfort.
23 Wooden Wall
Elevate any room with a touch of drama, just like this sunroom. The wood log wall creates a striking contrast against the rose-hued sofa, adding a captivating element to the space.
24 Add a porch swing
The addition of a porch swing or similar elements helps establish the unique and tranquil design of your sunroom. Photo: Douglas Friedman
25 Don't Forget Rugs
For sunrooms with rustic brick or concrete floors, create a warm and comfortable ambiance by incorporating plenty of floor rugs. Not only will these rugs add a touch of coziness, but they will also provide a pleasant surface for bare feet.
26 Pastel Serenity
Step into a small sunroom with a delightful pastel palette, painted in a soothing light aqua shade. The space is adorned with colorful textiles that add a pop of vibrancy. A bench offers a cozy seating option, while potted blooms infuse the room with natural beauty.
27 Vintage Elegance
Transport yourself to a vintage-inspired sunroom retreat adorned with refined furniture. The warm glow of lamps and a lantern create a cozy ambiance. An artwork adds a touch of artistic charm, while a sideboard provides both storage and display space.
28 Coastal Relaxation
A relaxing small sunroom featuring striped blue lounge chairs that exude coastal charm. The soft glow of a lamp illuminates the space, while a table offers a convenient spot for your essentials. Hang a wicker chair for an extra touch of comfort and style.
29 Airy Sunroom Retreat
Enjoy the airy atmosphere of a small sunroom adorned with a bench, a table with a crate, and captivating artworks.
30 Welcoming Sunroom Haven
This sunroom with a cozy sofa and an abundance of plush pillows. Rest your feet on the footrests as you relax and unwind. Potted greenery adds a touch of nature, creating a serene and inviting atmosphere.
31 Calm Minimalism
Revel in a minimalist sunroom designed for ultimate relaxation. A comfy daybed invites you to lounge comfortably, while a cozy blanket adds a touch of warmth.
32 Creative Oasis
Create your ideal work or art space in a contemporary sunroom. Utilize a windowsill desk, making the most of natural light. Accompanied by stools and ottomans, the space offers versatile seating options for productivity and creativity.
33 Greenhouse Sunroom
Originally a small greenhouse, this versatile space has been transformed into an adaptable sunroom. Depending on how the furniture is arranged, it can serve as a dining room, a playroom for children, or simply a cozy spot for a peaceful nap. via: The Tiny Canal Cottage
34 Charming Sunroom Oasis
Embracing shades of turquoise and aqua, this sunroom exudes a coastal vibe that would perfectly complement an oceanside home. However, its effortless and relaxed charm, showcased by the charming DIY coffee table on casters, would be a delightful addition to any residence, regardless of location. By the way, the cleverly designed daybeds offer both storage and extra sleeping space when needed.  via:  Jenna Sue Design Co
35 Patterned Sunroom
Looking to make a bold statement in your sunroom? Why not incorporate eye-catching geometric patterns throughout? From furniture to pillows and even the ceiling, these striking designs add a touch of drama that we absolutely love!  via:  Meghan Blum Interiors
36 Keep it informal
The vintage rattan set and the handmade swing add a touch of character to the room. When decorating, the focus is on art, handmade and vintage pieces—elements that create a lasting impression. In this sunroom, a framed print by Irish artist Lola Donoghue hangs on the window, adding a playful touch.
37 Modern Chic
Embrace modern sophistication in a chic sunroom adorned with neutral furniture. A suspended black fireplace adds a sleek focal point, while potted plants bring a touch of nature indoors. Complete the stylish setting with a white coffee table, combining function and elegance.
38 Sunroom with a Splash of Color
Immerse yourself in a modern fully glazed sunroom boasting a bright and airy ambiance. White furniture with navy upholstery sets a contemporary tone, while potted plants bring nature's beauty inside. Vibrant touches of bright red add a pop of color and energy to the space.
---
---