50 Amazing DIY Christmas Cards
50 Amazing DIY Christmas Cards
---
Send some holiday cheer with these 50 DIY Christmas cards. Check them out below!
1. Reindeer After Dark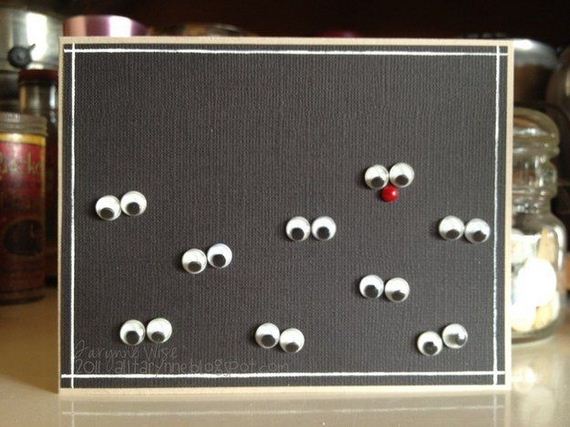 We found this adorable idea on Pinterest. How easy would this be to whip up and send off to your loved ones?
2. Washi Trees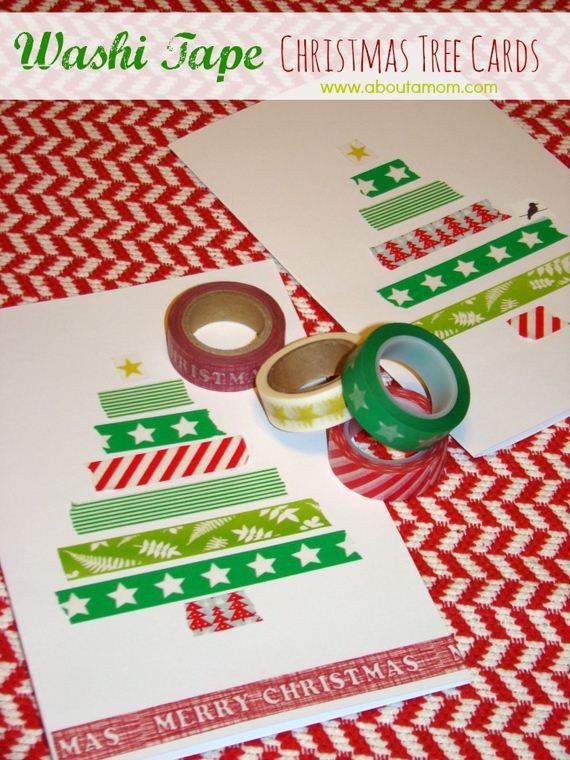 About A Mom took some washi tape and had a bit of fun. This one is so easy to whip up, even for the less artistic types.
3. Ribbon Trees
Or you could grab some ribbon and make your trees out of it. Check out North Story for all the simple details.
4. Geo Trees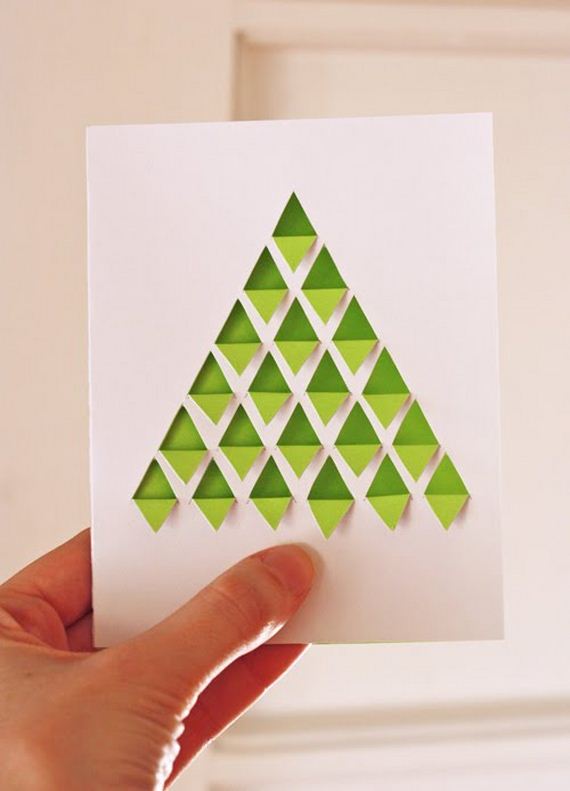 If you want something a bit more modern, then you'll want to visit How About Orange. They'll teach you how to make some of these geo trees!
5. Felt & Ribbon Ornament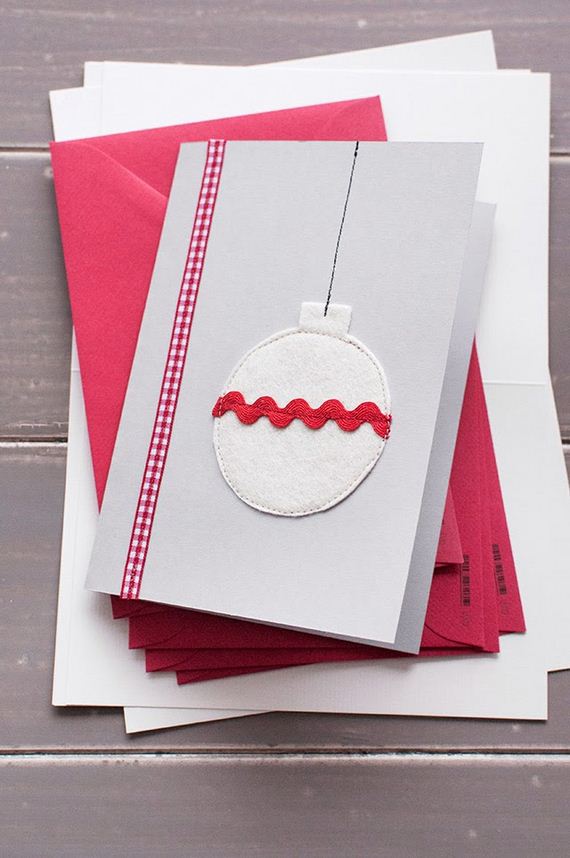 With a bit of felt and a bit of ribbon, you too can have one of these ornament cards ready and waiting for your loved ones. And you can get so creative with the colors! (via)
6. Artistic Ornaments
The Postman's Knock made a beautiful ornament Christmas card that we've fallen in love with. Learn how to put your own artistic spin on this design now!
7. Hot Chocolate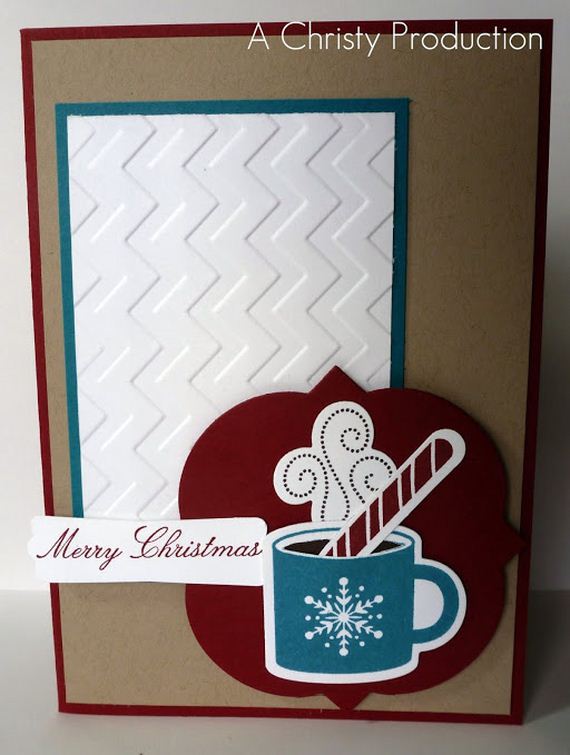 A bit of hot chocolate could greet your loved ones in all the right ways. Thanks for the inspiration A Christy Production!
8. Sending Joy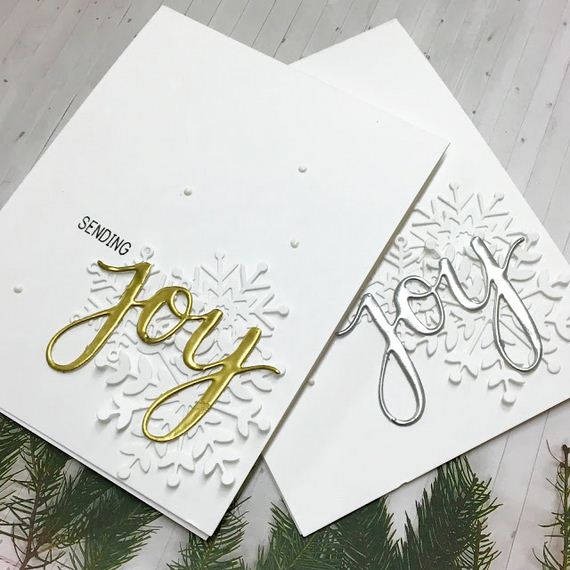 Justine Hovey sends joy with these beautiful cards. Visit and grab all the details for this creation after the jump!
9. Peanut Reindeer
Who knew that you could turn some peanut shells into reindeer! We love this idea and so will the kids! (via)
10.  Olaf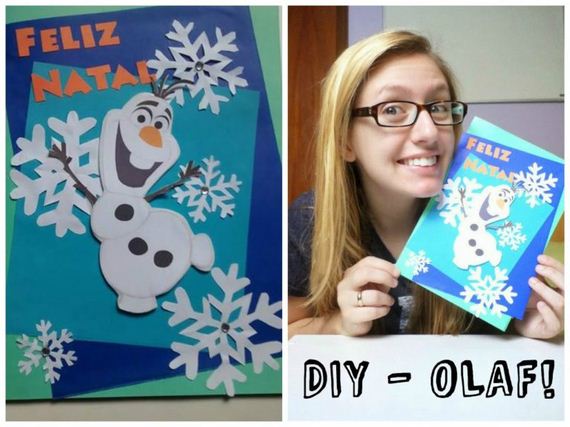 Hop on over and watch this YouTube video if you're a fan of Olaf! Have Frozen be inspiration for all of your card designs this year.
11. Colorful Felt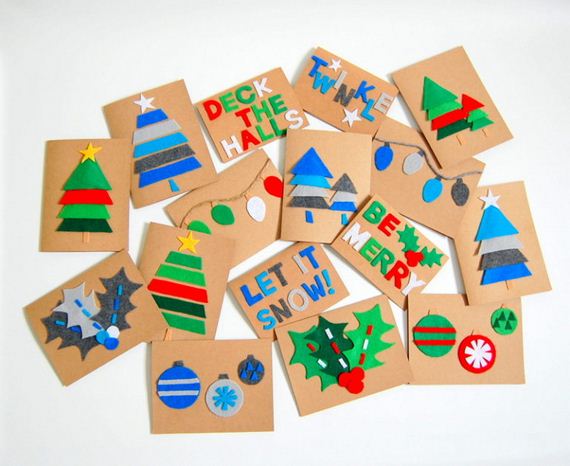 Felt is always fun to work with too. North Story shows us lots of great Christmas-inspired designs to put on our cards.
12. Printable Cards
Delia Creates gives us a free and printable option as well. It's a simple and sweet design that you'll love sending out for the family to enjoy.
13. Glam Santa Coat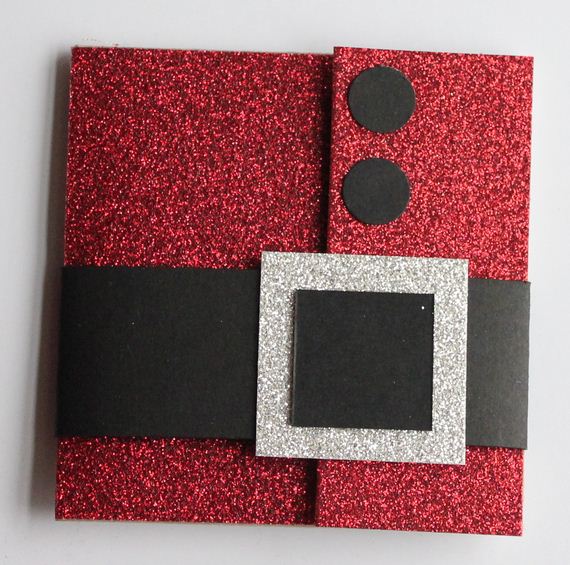 Stamp with Heather makes a card that could double as a gift card holder as well. Send a little sparkle along with your well wishes.
14. Fingerprint Christmas Lights
You'll want the kids to get involved with this one. Find out how to make these finger lights happen over at Crafty Morning.
15. Potato Snowmen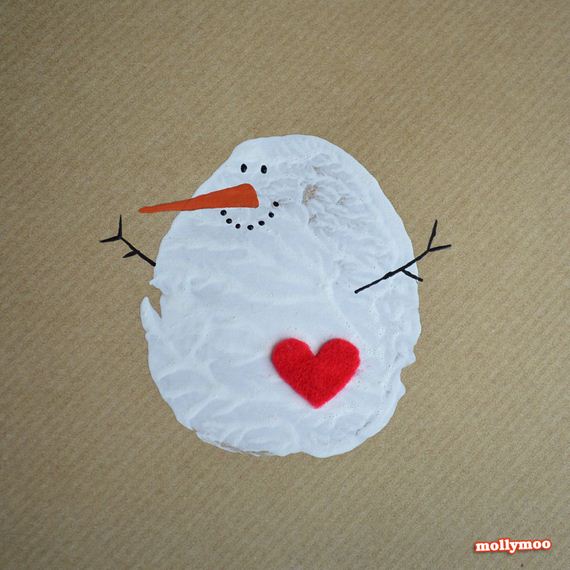 A potato is all you need to get started on this one. Molly Moo Crafts turns dinner into a fun little card design!
16. Photo Cards
Modern Parent Messy Kid makes some chic and trendy photo cards that we love too! Find out how to whip up your own after the jump.
17. Snowglobe Shakers
A personal favorite on the list these shaker cards are so much fun! They're easier than you may think to make as well, just follow along at Mayholic in Crafts.
18. Yarn Ornaments
HGTV gives us yarn ornaments that are perfect for those with a more rustic and traditional style. We love the 3-D and textural effect too!
19. Modern, Trendy Ornaments
If you visit HGTV again, you'll learn how to make some modern, 3-D ornaments as well. Grab this inspiration after the jump.
20. Vintage Sheet Music
If you have some vintage sheet music hiding in the corners of a closet, then you'll want to HGTV yet again. And learn how to turn it into a card!
21. Recycled Paper
HGTV used all kinds of recycled paper for these designs. From mistletoe to trees, you can do it all.
22. Full Felt
Fully felt cards could be fun too. Learn how to make a totally unique Christmas greeting over at You Are My Fave.
23. 3-D Felt Trees
HGTV makes some more 3-D fun with this felt and paper creation. This is one the kiddos will want to help out with and get a bit imaginative.
24. Snow Shakers
Some snow shaker cards will be fun for family and friends to receive too. Grab he instructions over at HGTV.
25. Paint Chip Trees
Paint chips will always come in handy when it comes to easy crafting. Check out Beauty and Beard and find out how to turn them into trees!
26. Tiny Wreaths
Tiny, textural wreaths are a fun way to decorate your cards as well. Visit Earnest Home Co. for the tutorial.
27. Felt Pennant
HGTV used felt too with this easy pennant design. It's so festive and appeals to so many different people and styles.
28. Graphic Trees
Again, if you're more contemporary in style, you'll want to check out these trees from HGTV. They have a 3-D effect too.
29. Torn Paper Santa
With some torn paper and help from Kate's Creative Space, these Santas will come to life. We love his little smirk too.
30.  Q-tip Trees
Make and Takes has one of the more kid-friendly crafts on the list. With some q-tips and paint, put the kids to work!
31. Rudolph Silhouette
Crafts Unleashed makes a Rudolph silhouette that's hard not to love. Grab the details and start working on this little cuties this evening.
32. Pipe Cleaner Trees
Pipe cleaner will always come in handy with it comes to crafts. And if you visit Crafty Morning you'll learn how to turn them into fun and festive trees!
33. Button Wreath
Grab some buttons and create a wreath. This too is super simple but ends up being festive and fun with help from Hopeful Honey.
34. Die Cut Trees
Consumer Crafts shows us how to die cut a bit. We love the layers and the detailing around this tree design, don't you?
35. Paint Chip Wreaths
Here's another way to make some wreaths. Visit Beauty and Beard again and get the scoop on these paint chip versions.
36. Paper Trees
Here's another way to decorate your card with some trees. All you need is some leftover paper to get yourself started. (via)
37. Fluffy Santa Beards
HGTV made some fluffy bearded Santas that are so charming and so sweet. We love the 3-D embellishment here too making it extra fun and family-friendly.
38. Simple Snowman
Please Note Paper teaches us how to stamp out a simple snowman as well. It's a bit more abstract but we love the artistry.
39. Melting Snowmen
We got a little bit of a giggle from this design. Check out Anya for the details behind this melting snowman.
40. Sweater Bears
Bright Side had so much great inspiration. But our eyes focused right into this pen-embellished sweater-wearing bear!
41. Newspaper Trees
Some old newspapers could come in handy with your designs as well. Tear it up and get started with your trees! (via)
42. Glitter Tape Trees
Omiyage Blogs speaks to our sparkle-loving hearts with this design. A tree, an ornament and even some mistletoe could be made with glitter tape!
43. Noel Owls
Blue Jelly Stamping made some noel owls that were too charming and adorable not to include on the list. You can get creative here with the styling as well!
44. Sponge-Stamped Tree
Stamp out your trees with some help from Instructables. This is another one the kiddos can easily get involved with.
45. Penguins
This penguin fishing for presents is just .. too .. cute, don't you think? Learn about how to recreate the scene over at Mayholic in Crafts.
46. LED Reindeer
Hideous Dreadful Stinky turned their card into a tiny light show with the LED addition. Rudolph's nose does glow, so it's quite fitting.
47. Embossing Powders
If you visit Nicole Samuels you'll learn how to use some embossing powders! And the finished products are absolutely stunning.
48. Glitter Frame Photos
Frame out some of your family photos with some glitter. Grab the inspiration and the instruction over at HGTV.
49. Button Ornaments
You can take some buttons and make ornaments out of them too. Visit Be Alice for inspiration behind this happy little design.
50. Embossed Letters

And finally, here's more embossing inspiration and know-how. You'll need to visit Florence Finds for this one though.
---
---