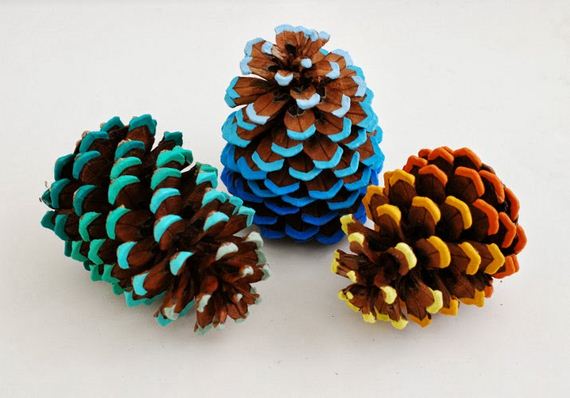 Adorable Fall Pine Cones Crafts
Adorable Fall Pine Cones Crafts
---
1. Frosted pine cones. Home Talk guides you through the process of decorating the very tips and edges of a pile of pine cones in order to make them look chilly and lightly frosted. Try putting them in a pretty dish along with some Christmas balls to make a nice, late fall or early winter centre piece, just like the one in this picture. Just looking at them makes me feel a little bit chilly but very festive!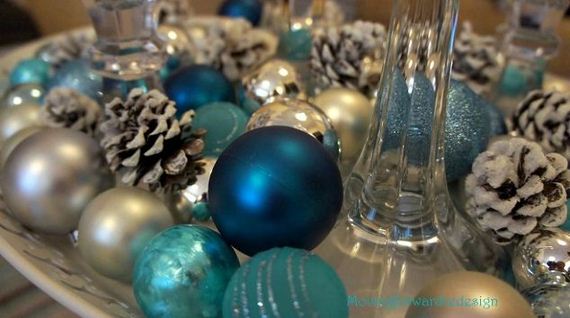 2. Pine cone Christmas tree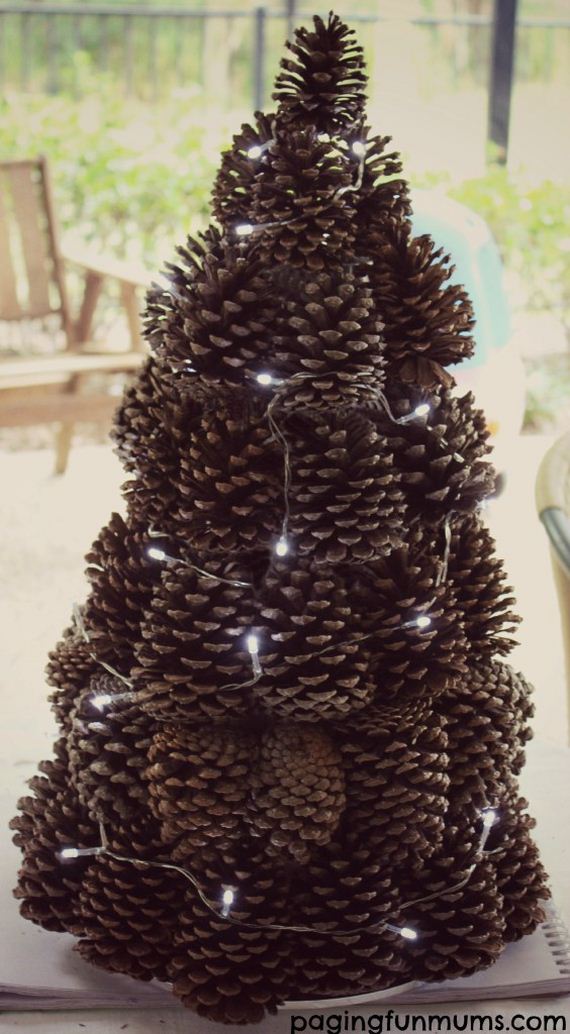 Do you live in a very small apartment that you just know won't fit a full sized Christmas tree very easily? Perhaps you're anxious to put up a seasonal tree, but Halloween hasn't even happened yet, so you feel like you're jumping the gun a little if you put up your Christmas tree already! That's where this adorable little fall tree idea comes in. It's seasonal rather than "holiday" based. Check out how Paging Fun Mums made this one out of pine cones!
3. Pine cone door wreath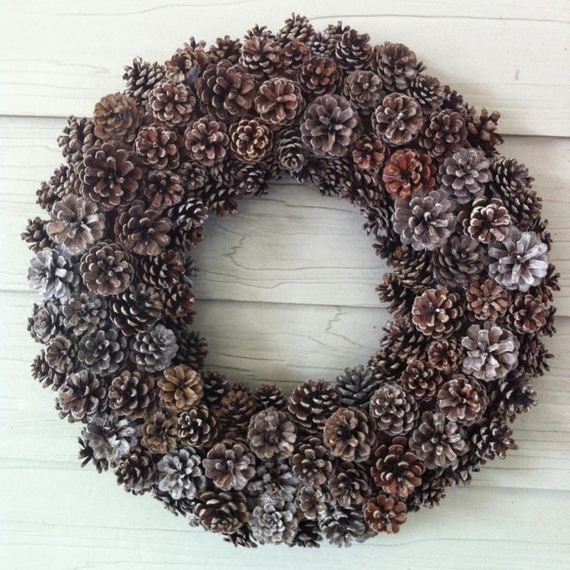 If you're anything like me in your DIY habits, then you probably obsessively make yourself a new door wreath every time the season changes or a new holiday approaches. This gorgeous pine cone wreath is actually one of my very favourite designs for fall and early winter. In fact, I've actually made two similar to this because I used the first one I made out in the weather so many times that it snapped in half and I have to make a new one. If you'd like to try your hand at making one that's a little better than my original, try following the tutorial over at Up to Date Interiors.
4. Painted twig and pine cone wall decor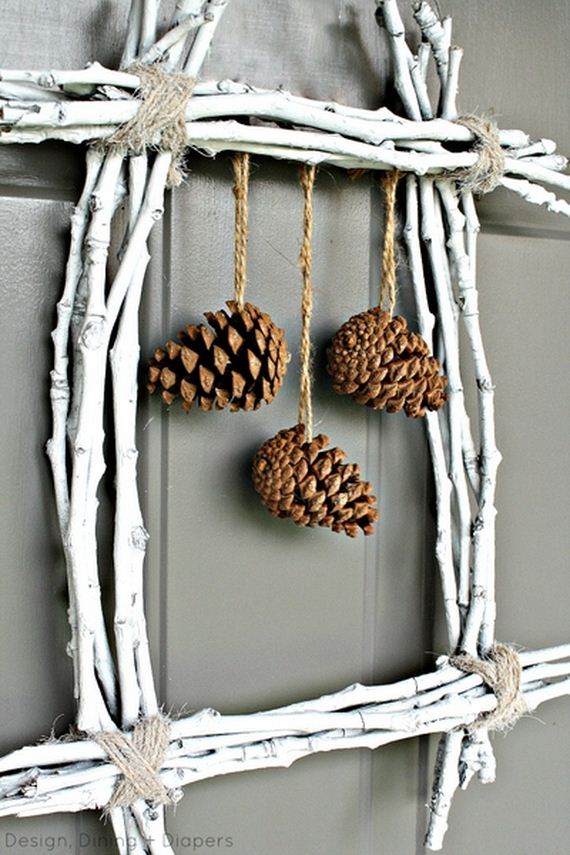 One of the prettiest and most seasonal ways to display the best, fullest looking pine cones you've found in your yard so far is to let them hang framed by stylishly weathered sticks and branches. I love the subtle rustic touch that using jute string or hemp string gives to the whole design. Check out how this particular frame was made on Design, Dining, and Diapers.
5. Pine cone candle holders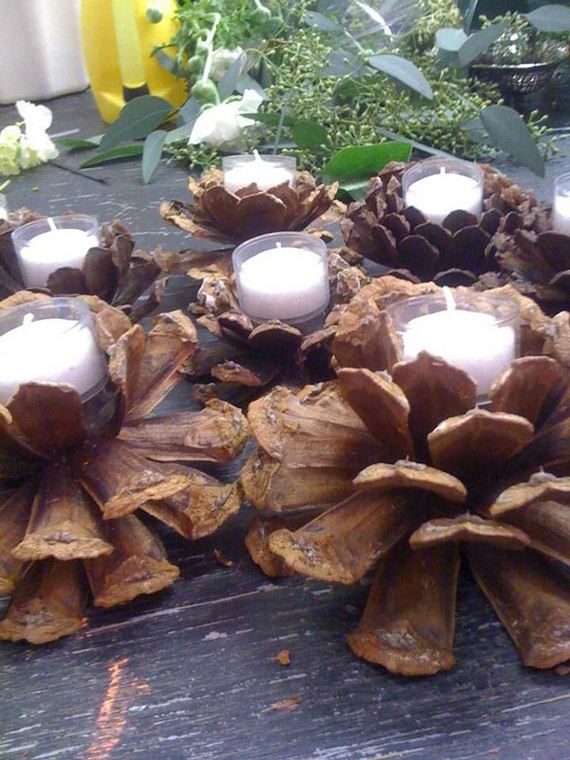 Have you ever peeled apart the layers of very large, very thick pine cones so that the branches splay outward like a wooden flower blossoming? It's a really cool effect that I love using for fall crafts! I particularly enjoy Segreto Secrets's idea for hollowing out the very centre as well and placing a tea light candle there so the pieces of the pine cone frame the flame.
6. Pine cone and popsicle stick turkeys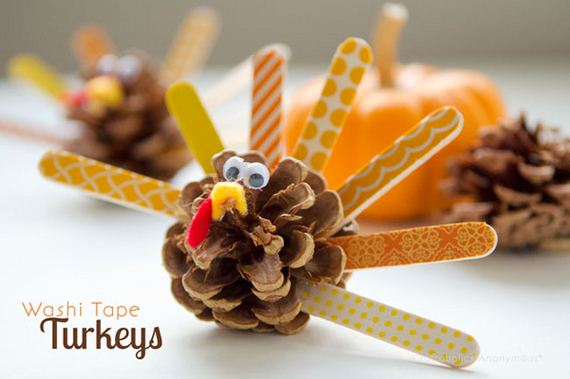 Have all the pine cones in your yard started falling just in time for Thanksgiving and all the turkey themed crafts your kids have been wanting to do? Then grab some good ones and use them in their projects! I'm completely in love with these adorable little pine cone turkeys with tail feathers made of popsicle sticks and patterned orange washi tape. Check out how they're made in more detail on Craftaholics Anonymous.
7. Pine cone roses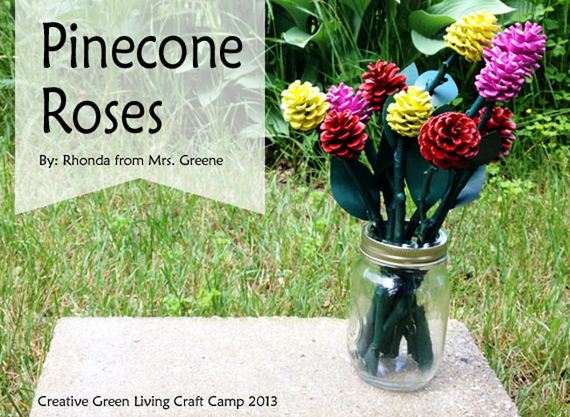 You'll still find roses in floral shops and grocery stores in the fall and winter, but they're not the lovely quality of the ones you'll find in spring and summer and they also won't last as long in cold, dry weather, even if you keep them inside. Instead, why not make a long lasting alternative that looks like roses, but won't wilt in a few days? I'm trying this pin cone and tree branch "rose" project from Mrs. Greene immediately. In fact, I might do it as soon as I'm done writing this post. I'm not even joking.
8. Pine cone reindeer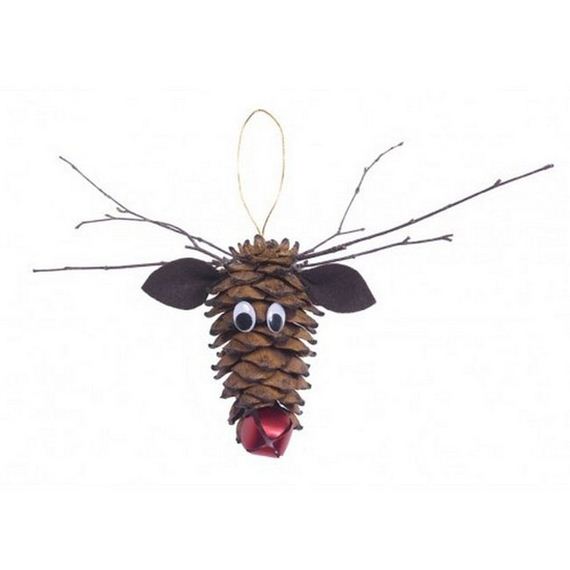 Do you host a kids' Christmas party every year at your home, office, or church? Then you'll definitely want to set up a crafting area to keep the kids busy and excited! I suggest this adorable pine cone reindeer craft because it's cheap to get the supplies for in bulk; just grab most things from the dollar store and then comb your back lawn for pine cones! See how they're made on Vitamin HA.
9. Pine cone place cards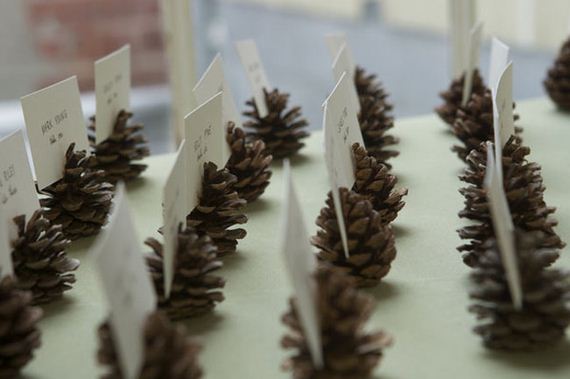 Pine cones make amazing place cards because there's already perfect slots to slide a little name card into. They'll also stand upright easily if you choose ones with flat bottoms (and most have those, so they're easy to find)! Project Wedding suggests this very simple DIY naming system for pretty winter and fall weddings.
10. Wrapping paper pine cone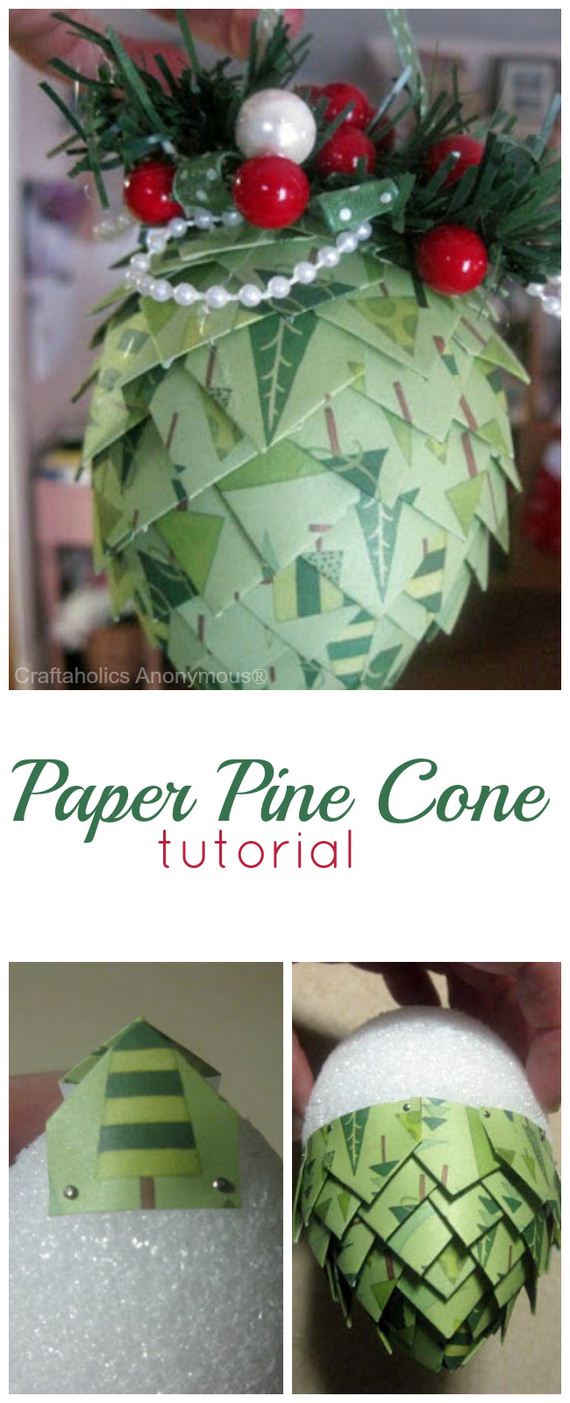 Okay, so technically this isn't a craft from from a pine cone, but it is a tutorial that helps you make a decorative little pine cone of your own! This pine cone ornament is made from layering small pieces of Christmas gift wrap folded into a point. See how it's made on Craftaholics Anonymous.
11. Paint dipped pine cones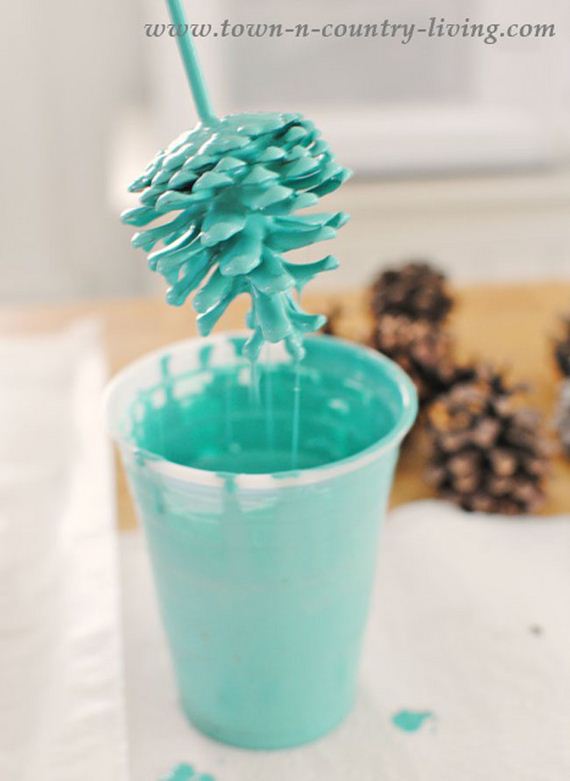 Sometimes all it takes to make something look chic and decorative is a simple coat of paint! If you paint a 3D object like a pine cone with a paintbrush, however, you might see the brush strokes as it dries. You'll also have to do more than one layer to get it to coat properly. Paint dipping, however, covers every part of it right away and leaves a very smooth finish. Hang the pine cones up somewhere or gather them in a bowl! Town n' Country shows you their technique.
12. Felt and pine cone owl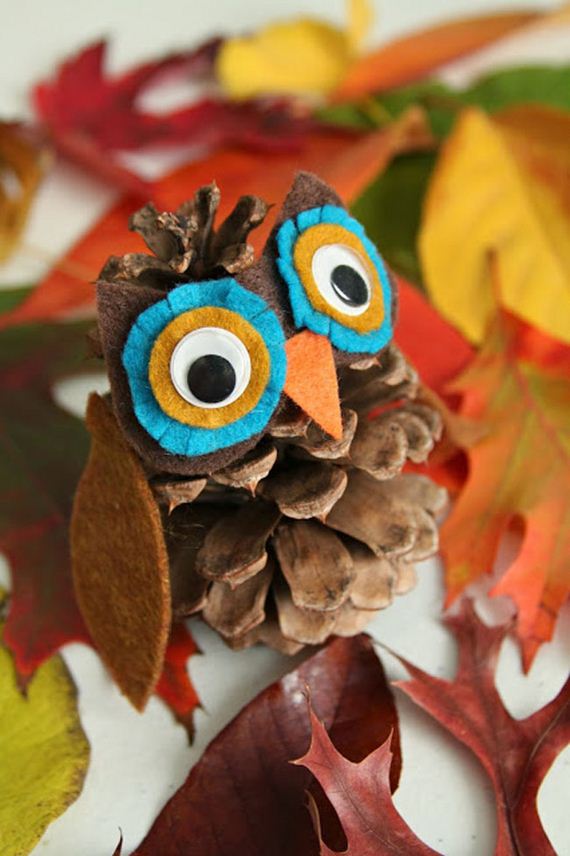 The more I use pine cones in crafting, the more I realize that you can make look like just about any animal, and they always look cute when you're done. I'm in love with the way Whimsy Love used cut out pieces of felt to transform a simple pine cone into an adorable little owl with wide, observant eyes.
13. Ombre pine cone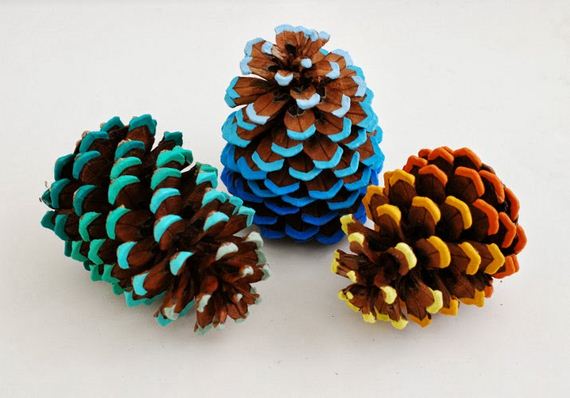 Did you like the idea of colourful painted pine cones for a little bit of a pop art look, but you'd rather let at least a little bit of the natural look show through rather than dipping the entire thing in the paint? Instead, try Whimzeecal's technique for just painting the very tips of each little piece on the pine cone. Up the game by using the same colour in different shades to create an ombre effect!
14. Pine cone key finder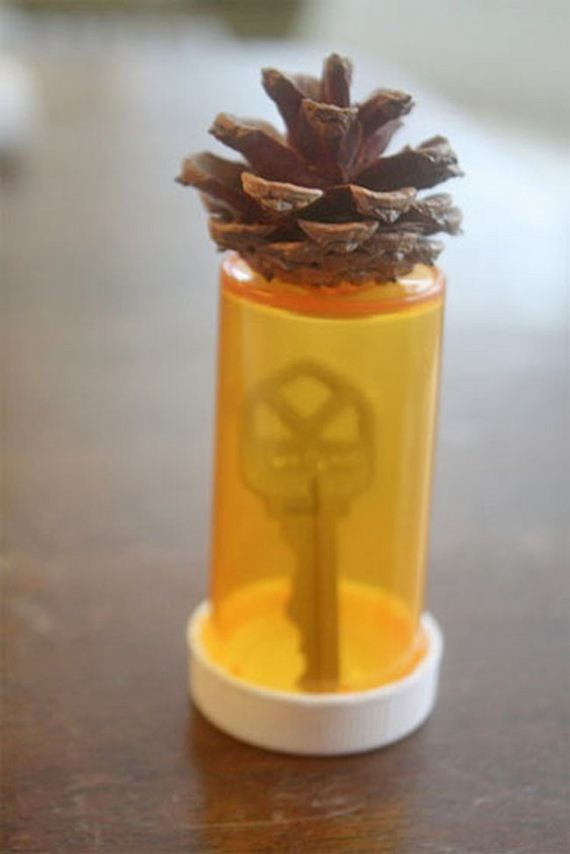 In case you've already made just about every decorative pine cone craft under the sun, here's a more practical one for you! Flip an empty pill container upside down and glue a flat bottomed pine cone to the bottom. Put a spare key inside and bury the key outside in your garden rocks or into a bush. The pine cone will mark where the key is hidden for you without alerting the world. Check out how Factory Direct Craft made this clever little key camouflage!
15. Pine cone hedgehog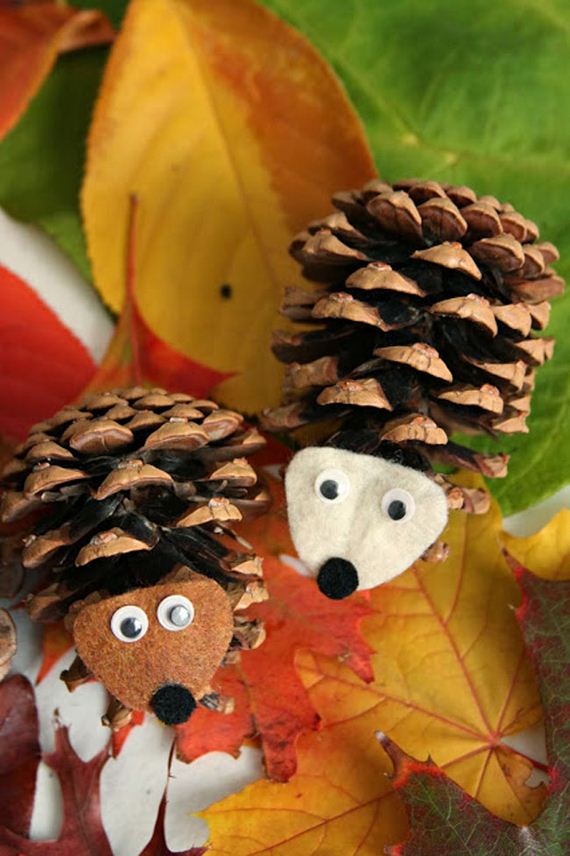 Remember when I sad that pine cones look adorable no matter what kind of animal you turn them into? Well, the rule still applies when you make a pine cone into a little hedgehog! Once again, you'll use felt and google eyes and the natural pieces of the pine cone will look just like the little creature's spikes. Check out the whole tutorial on Whimsy Love!
---
---