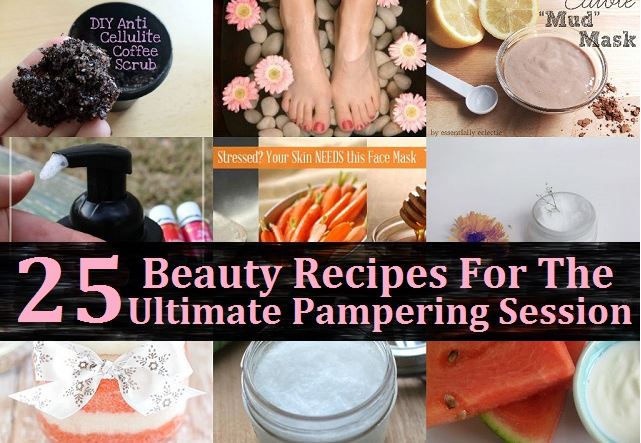 Amazing Collection Of Beauty Recipes
Amazing Collection Of Beauty Recipes
---
This amazing collection of beauty recipes has everything you need to create the perfect spa experience at home.
Foot soaks, face scrubs, hair masks and moisturizing creams…you name it, this list has got all of the homemade products you could ask for to refresh you from head to toe!
Face
Neck Firming Creams – Start showing some love to your neck area with a dedicated cream.
Hydrating Watermelon Face Mask – Refresh, hydrate and relax with this fruity face mask. It's great for your skin and is packed full of electrolytes, vitamins and mineral.
Homemade Foaming Face Wash For Radiant Skin – Keep your skin balanced and give yourself a radiant glow with this amazing foaming face wash. It's easy to make, it smells amazing and it only requires a handful of ingredients…beauty doesn't get better than this!
DIY Edible Mud Mask – There's actually no mud in this recipe whatsoever! Click on the link to find out what the edible ingredients are and how you can make this yummy mask!
How To Get Rid Of Black Heads Naturally – Pull the dirt from your pores and help to eliminate blackheads with this all-natural solution.
Anti-Aging Blueberry Enzyme Facial Scrub – Bring the benefit of blueberries into your daily beauty regime and get youthful-looking skin!
Homemade Vanilla Night Cream – Four ingredients is all you need to whip this night cream together. The sweet smell of vanilla and the silky texture will leave you feeling truly pampered!
Green Tea Toner For Acne Prone Skin – Help to fight breakouts and keep acne at bay with this terrific toner!
How To Get Rid Of Dark Circles – Most of us will use this common kitchen item on a daily basis…but what most of us don't know is that it can also be used to soothe your eyes and help ease dark circles! Find out what the item is in this article!
Anti-Stress Face Mask – If you're stressed then your skin is in need of this face mask! It's easy to make and you'll find all the ingredients in your pantry.
Banana Botox Mask For Wrinkles – Have you got some unwanted wrinkles on your face? Why resort to surgery when you can give this banana botox mask a go instead!
Simple Homemade Moisturizer – This homemade lotion will help keep your skin feeling smooth and looking fresh. Need we say more?
Homemade Peppermint Sugar Scrub – This cooling scrub is easy to make and will leave you feeling fresh and bright!
DIY Body Wash – Everyone loves a luxurious body wash that leaves you feeling fresh and silky smooth… but none of us like the price. This amazing post will show you how to create your own for only $1!
Make Your Own Lavender Bath Salt – Soothing and calming, this fantastic lavender bath salt will relax you unlike any other product…as son as you're finished in the bath, head straight to bed and you'll sleep like a baby!
Orange & Vanilla Whipped Body Butter – This incredible body butter recipe feels like velvet on your skin! The fragrant vanilla smell is enchanting and the butter will help to nourish, sooth and pamper.
Anti-Cellulite Coffee Scrub – Combat those dreaded 'wobbly bits' with this brilliant coffee scrub. It's cheap and easy to make, it smells amazing and it will leave your body feeling moisturized to the max!
Muscle Soreness Relief – Essential oils have a surprising ability to sooth tired muscles and with this invigorating combination you can get rid of any unwanted aches and pains.
Homemade Bubble Bath – Long lasting, fluffy bubbles that make your skin beautifully soft…this is a DIY you're going to want to try!
DIY Foot Soak – Soothe the aches of the day away with this super simple tutorial for a foot soak.
Homemade Hair Rinse For A Dry, Itchy Scalp – Have you noticed that your scalp feels itchy? Perhaps you need to change your hair care routine and this soothing fennel tonic is a great place to start!
Restorative Hair Mask For Frizzy, Damaged Hair – Perming, bleaching, straightening…they may help us look our best but they can all have a negative affect on our hair! This hair mask is here to help restore your tresses to their former glory!
Homemade Shampoo With Essential Oils – Packed full of hair nourishing oils, this homemade shampoo will help to moisturize and refresh hair that is bored of store bought, chemical laden products!
Coconut & Lavender Conditioner – Give your hair the shine that it deserves and be the envy of all your friends…they'll think you've walked straight out of a salon!
Make Your Own Protein Hair Mask – With this protein mask, you're just three ingredients away from a head of voluminous and luscious hair!
Mega Moisture Mask – This avocado moisture mask will bring your locks back to life with plenty of shine to spare!
---
---