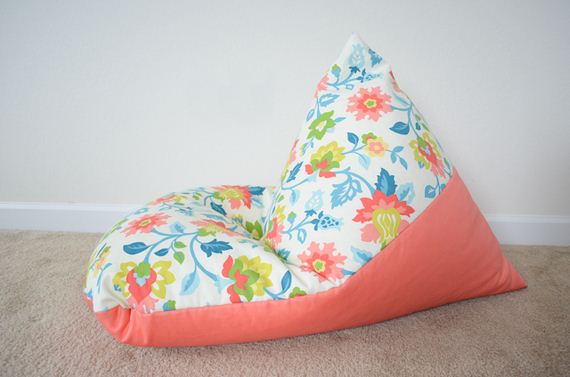 Amazing DIY Bean Bag Chairs
Amazing DIY Bean Bag Chairs
---
A cozy, comfy place to plop down in the corner should always be welcomed inside the family room. A cozy, comfy place to lay down and enjoy an evening read should always be welcomed inside the play room.
1. 30 Minutes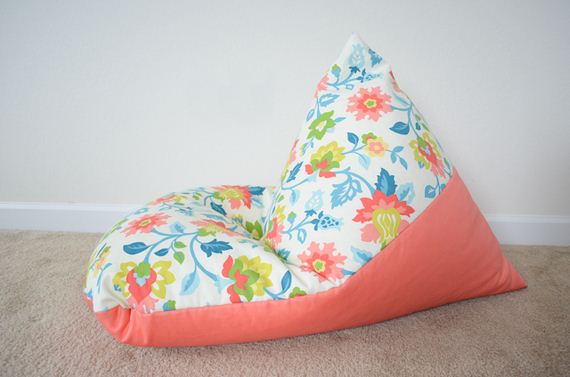 First, we're showing off this great kid's project from Project Nursery! Learn how to sew up this bean bag chair in just 30 minutes!
2. Giant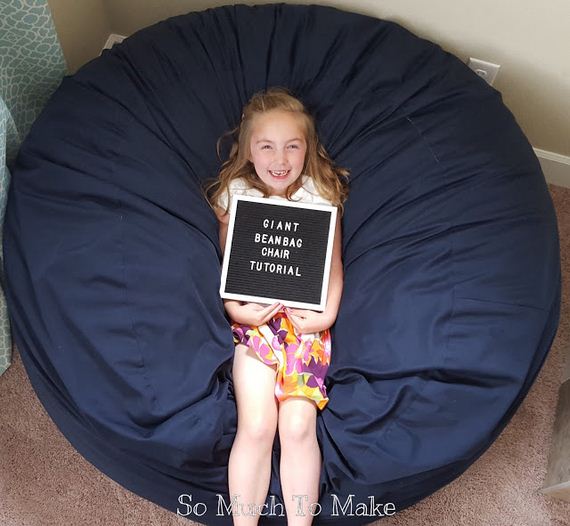 Hop on over to So Much To Make and learn how to make this masterpiece. If you're looking for something a bit bigger – or giant – this one is for you!
3. With A Handle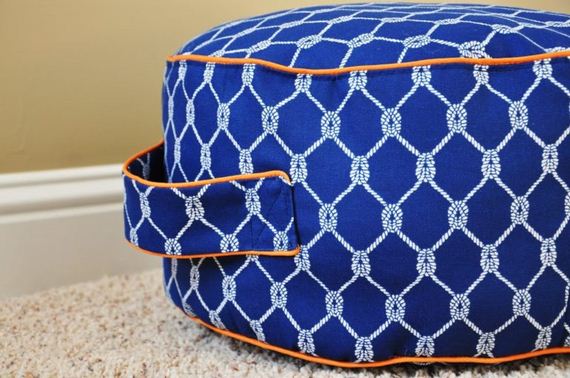 Or maybe you'd like a chicer, cleaner look. Living With Punks has the DIY for you and it includes a handle for easy moving, passing and rearranging.
4. iPad Stand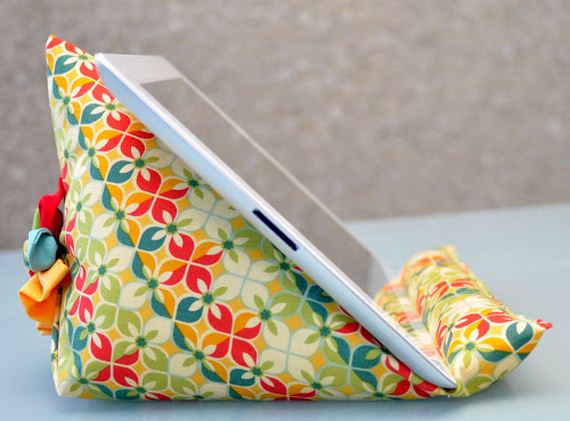 So this is more like a chair for your iPad but it's still all about comfort! Check out this fun tutorial over at Sewn Up.
5. Makeover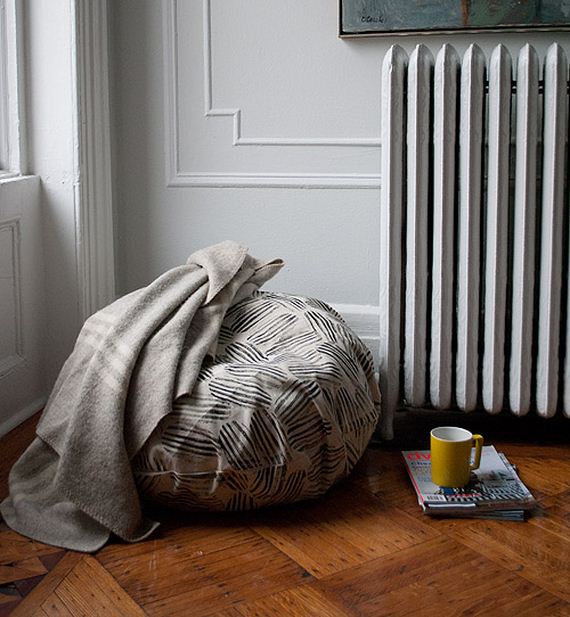 Design Sponge shows us how to take an old and beaten bean bag chair and make it over into something new! The corner of this home just got so much more stylish and comfy!
6.  Football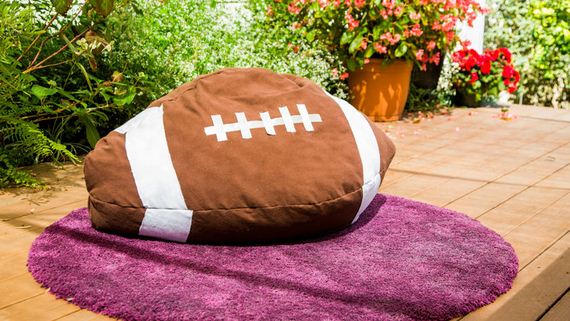 Hallmark Channel gave us this adorable and charming DIY for football lovers. Whip this up for the man cave or even for the kids' playroom!
7. Otomi Stencils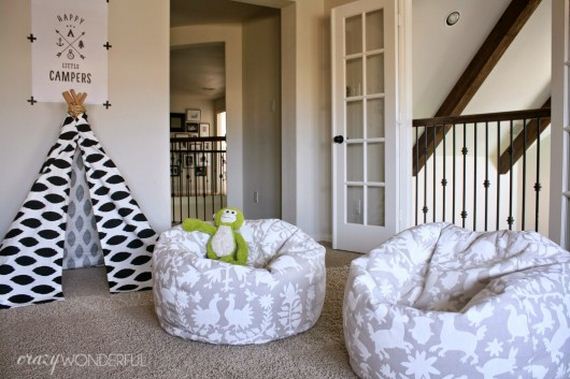 Check out Stencil Stories if you're an otomi fan. Learn how to stencil a bean bag chair to match your love!
8. Rollie Pollie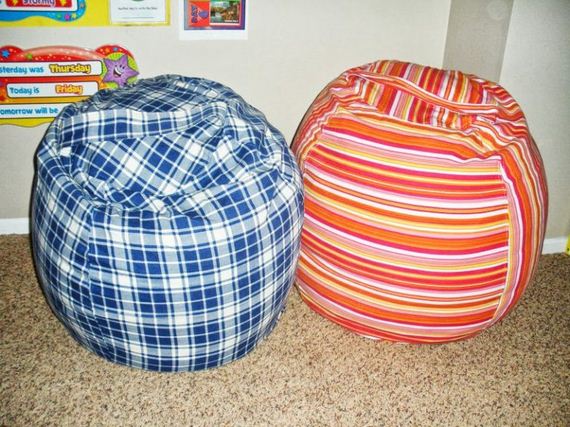 These rollie design from Paper Tape & Pins that's both simple and sweet. We love its ease and we're certain the family will get a lot of use out of them.
9. Pyramid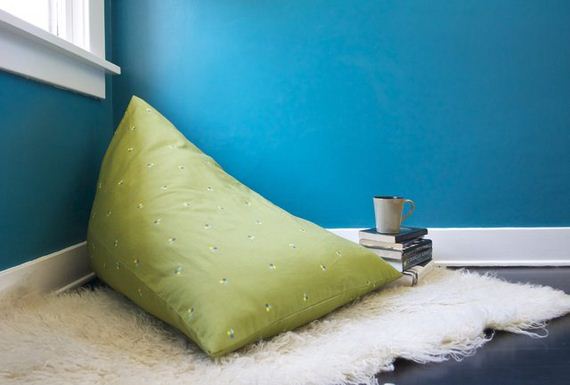 eHow gives us something a bit funkier to try out though. Instead of the classic, round shape, why not go with a pyramid?
10. Pillowcase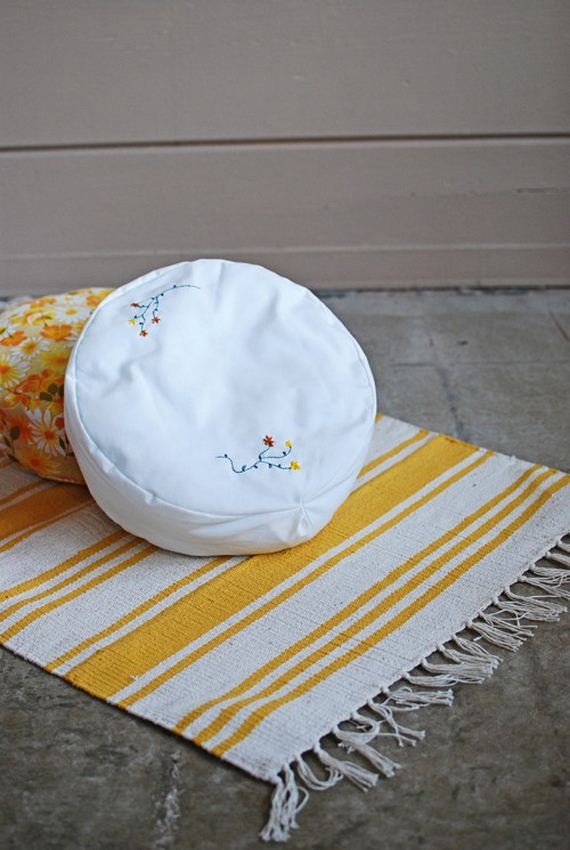 Houzz made these pillowcase poufs and we couldn't help but be inspired by the idea. Turn this into a mini bean bag so easily – it's all about the stuffing!
11. Extra Cozy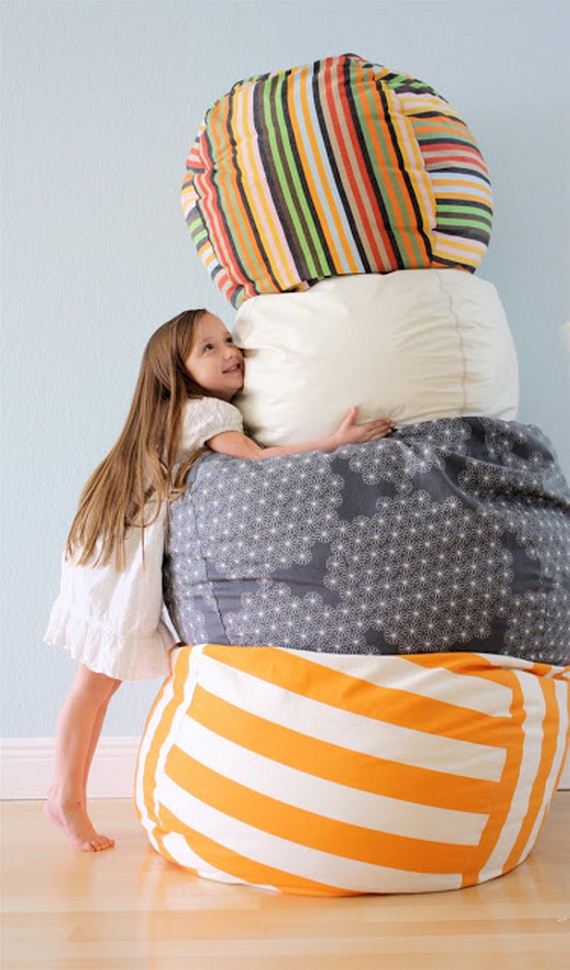 If you want another simple DIY that's extra cozy, visit So You Think You're Crafty. Her chairs vary in sizes and in prints!
12. Denim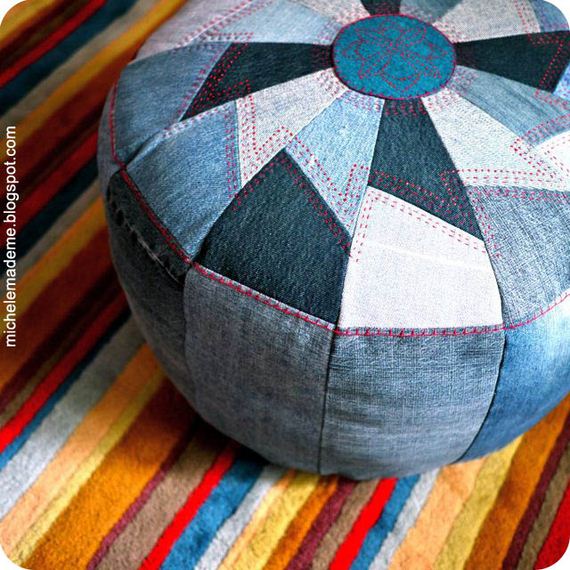 Michele Made Me knows how to upcycle old denim in a new and fabulous way. This too can easily become a bean bag chair is you think about changing up the stuffing.
13. For Toddlers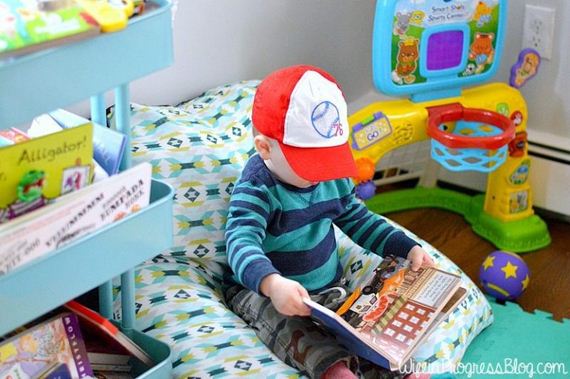 We're absolutely swooning for this toddler bean bag chair design we found over at Wife in Progress. It's the perfect addition to a reading corner or play room!
14. Dolls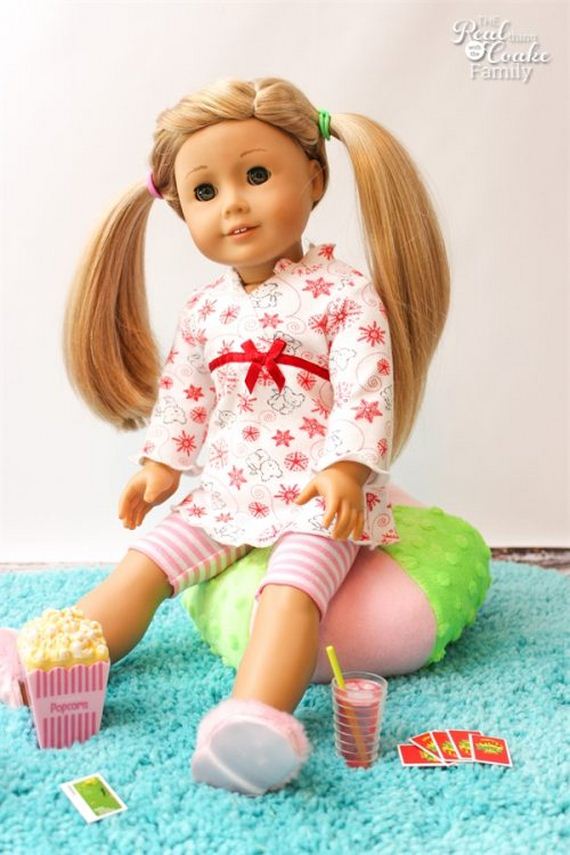 If your little ones love their dollies, then help them out with the accessories! Real Coake shows us how to make a doll version of the comfiest chair in the house.
15. Simple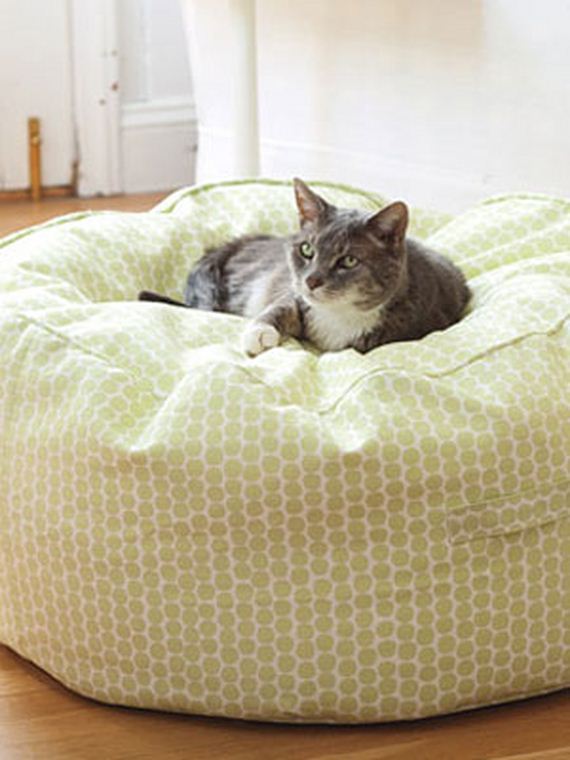 Woman's Day gives us a favorite, simple bean bag pouf tutorial as well. Even the pets of the house will end up enjoying it!
16. The Babies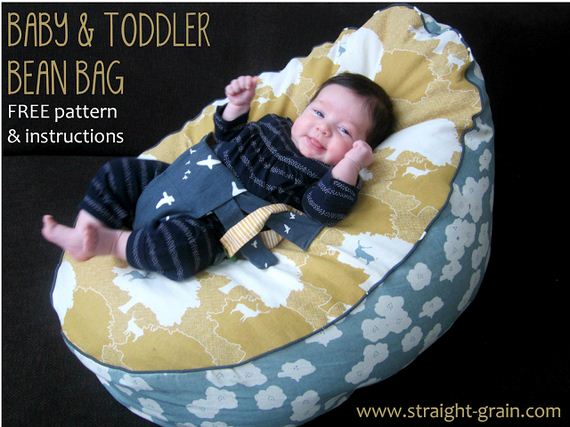 Of course, the babies of the house can get in on this idea too! With this free pattern and instructions, you'll be whipping up one of these in no time. (via)
17. Stuffed Animals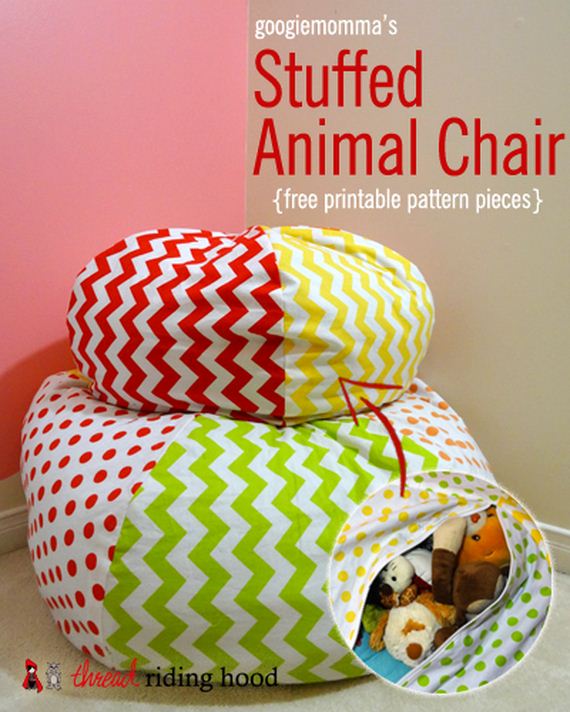 Thread Riding Hood took a bean bag to an entirely new level. The stuffing here comes from all the stuffed animals of the house – it's both functional and helps you organize!
18. Couch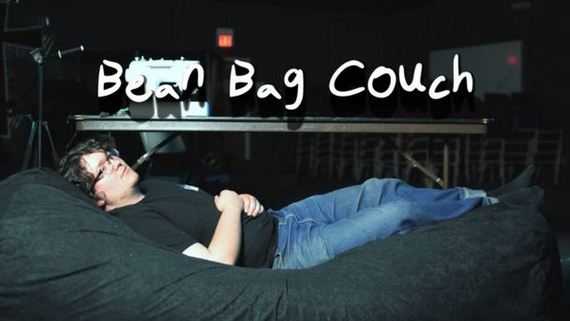 Instructables takes it to an entirely new level with this DIY for a bean bag couch. If you need something for the man cave or even the dorm room, this is it!
---
---