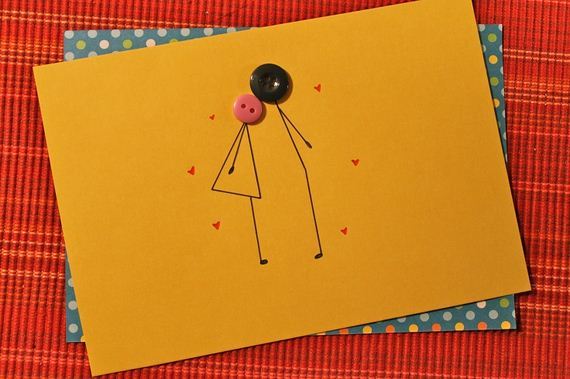 Amazing DIY Birthday Card Ideas
Amazing DIY Birthday Card Ideas
---
Check out these DIY birthday card designs for people of all ages. We hope you feel inspired to try recreating one or invent one of your own!
1. Kissing buttons cards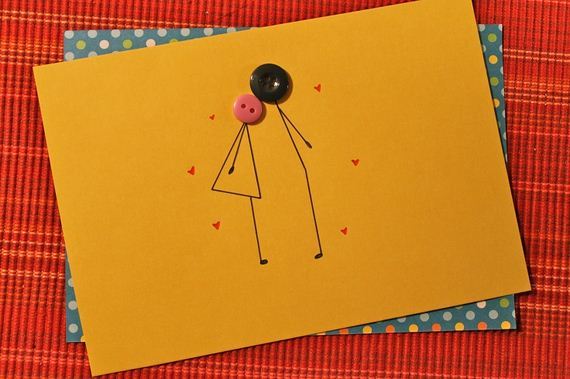 Adding a bit of a 3D element to a card is always fun, and it's totally visually appealing too. We love the way the buttons contrast with the thin, simple lines of the stick drawing in this kissing love note card by Paolo Jacopo Medda!
2. Hiding bear card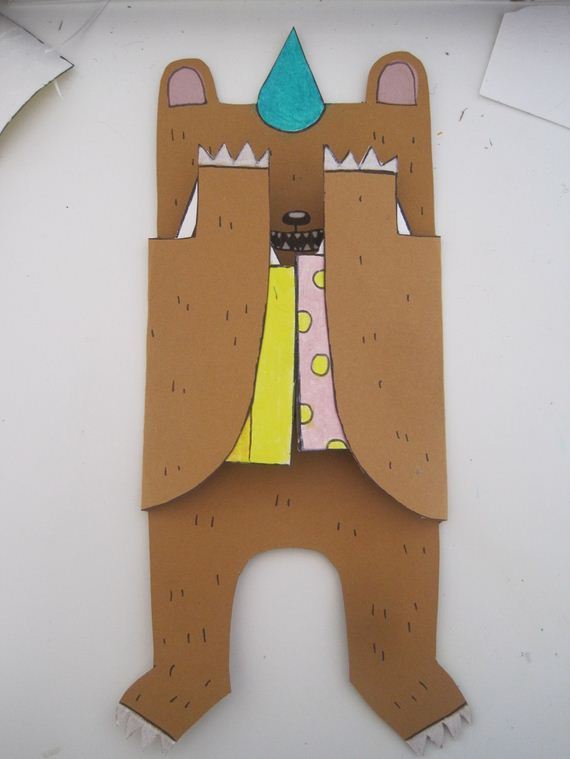 Do you love novelty cards that open and unfold? Then you might like this adorable cartoon bear who's clearly prepared for a surprise party! Check out how he's made on Shouldn't You be Studying.
3 . Paper doily cupcake card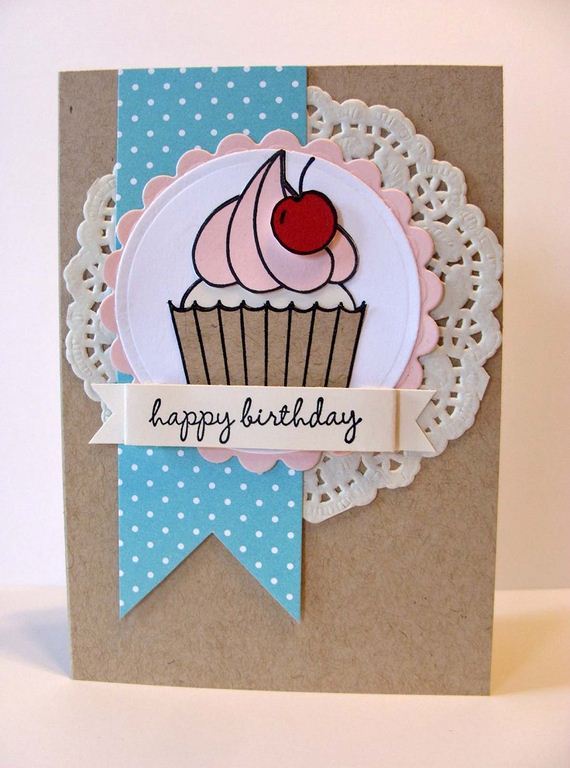 If you've ever browsed our site before, you probably already know how much we love DIY projects that upcycle or use unconventional materials. That's why we like this cute little cupcake card made with a paper doily so much! Find out how it's made from Kitchen Table Stamper.
4. Birthday candle card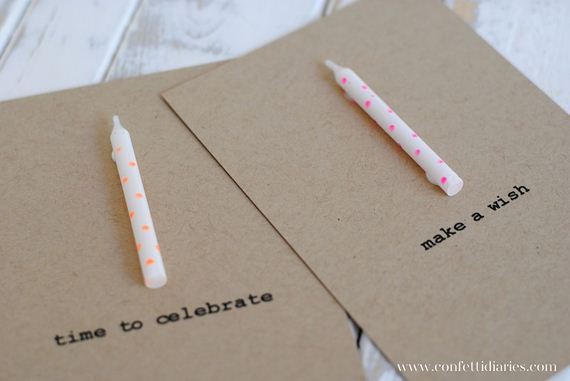 Terao Design guides you through the process of making a very simple yet completely adorable birthday candle design. You could use this one as a birthday card for a friend or as an invite to your own party!
5. String balloon card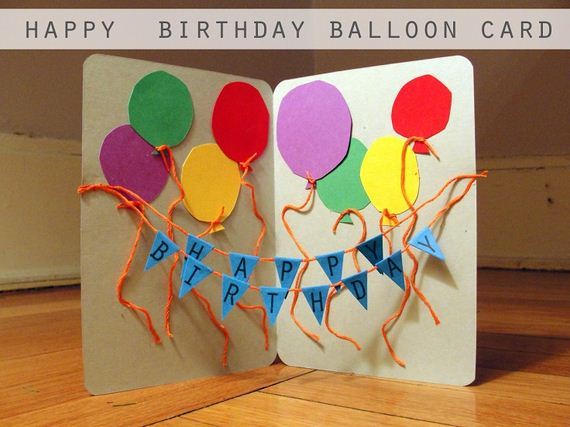 Designing a card that's cute on the outside is definitely a good idea, but we also like cards that are cute on the inside too! The Thrifty Ginger suggests cutting out paper balloons and banner flags and then using pieces of coloured string to actually make a little pop up party scene when the card opens.
6. Sharpie whale card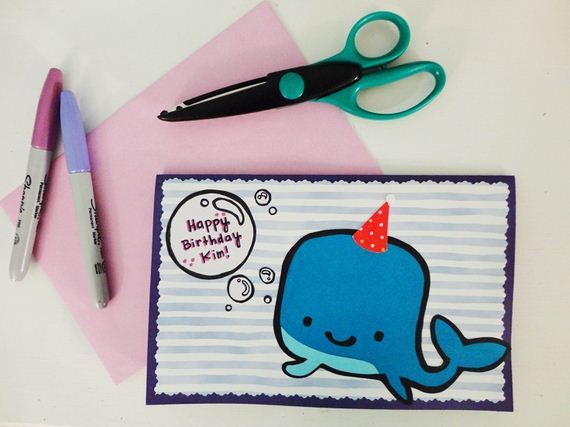 When it comes to customizing things with bold colours, Shaprie markers are an awesome tool. You could technically use this idea to make any image you like, but in case you're having trouble thinking of what to do, check out this adorable birthday whale design from Img Kid!
7. Paper cutout age card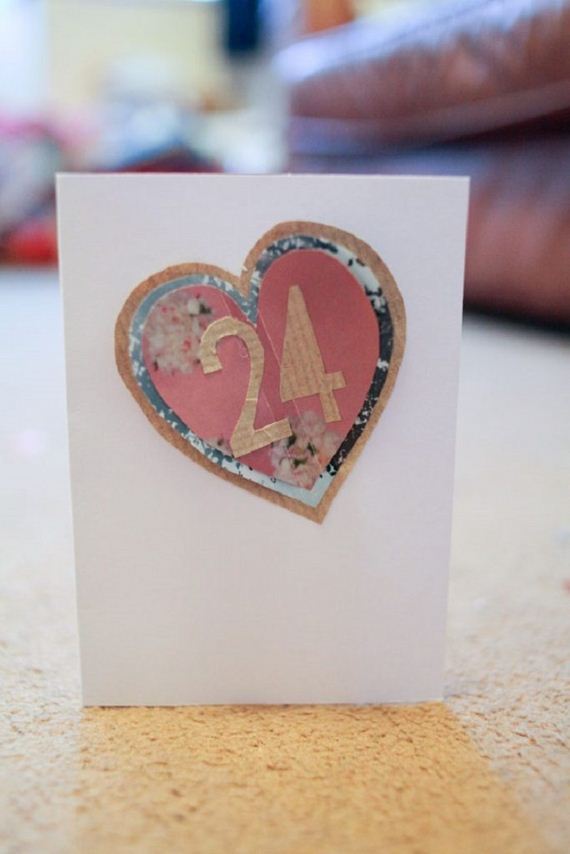 Sometimes upcycling can be shabby chic in a way that's surprisingly beautiful. That's how we feel about this cute age cutout birthday card from Sally Etc.! You could use any type of scrap or reclaimed paper you can find that you enjoy the pattern, colour, or texture of.
8. Washi tape candle card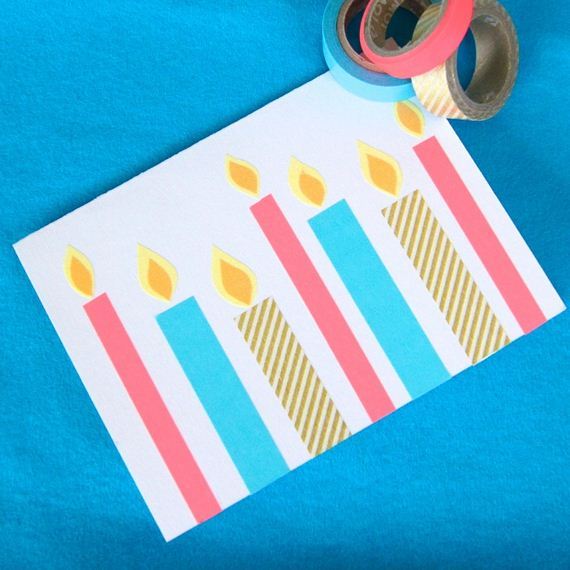 If you love bright colours and patterns but you're not very confident in your drawing and painting skills just yet, then try using washi tape to make pictures with nice straight lines and clean edges! It comes in so many patterns and colour combinations that we doubt you'll have trouble making a fun birthday candle design like this one by Omiyage.
9. Washi tape tiered cake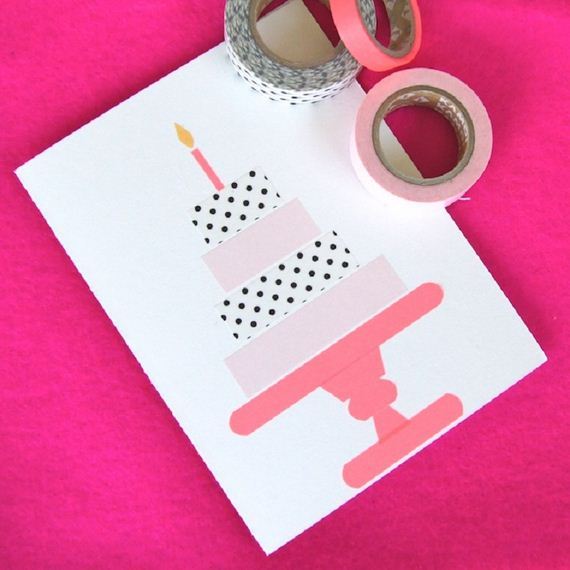 Do you love the idea of making a birthday card with washi tape but the birthday candle design is a little too simple to you? Try making a tiered cake design like this one from Omiyage instead! It's nearly as easy, but it's always nice to have options when it comes to making nice things.
10. Crimped paper card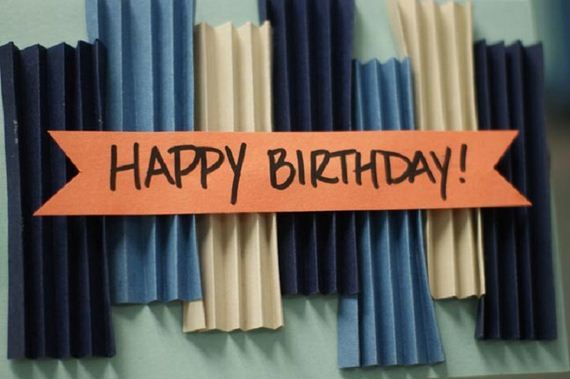 Are you the kind of person who just can't get enough of cards with raised elements and textures? Then you'll probably love this crimped banner card idea from Tuningpp! It's easier than you'd think to create an ombre raised paper effect, but the final product is great.
11. Washi tape and string birthday banner card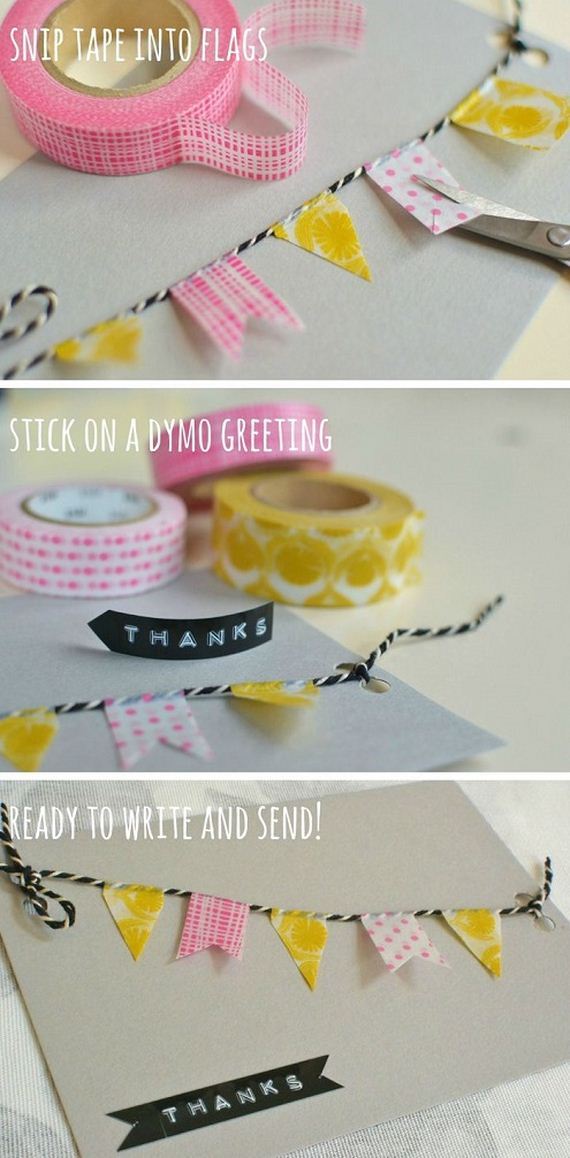 Are you still into the idea of using washi tape but you'd rather have a 3D style card than one where the tape sticks flat to make a picture? Decorator's Notebook shows you how to combine the two techniques to make an adorable Happy Birthday banner card with a bit of string!
12. Cupcake wrapper card

Birthday cupcakes are always an adorable look, but nothing makes a cuter cupcake wrapper than an actual cupcake wrapped. Check out how Blog Lovin' made this card design by layering pieces of a rainbow wrapper to look like a doubly wrapped 3D cupcake.
13. Unfolding circles card

If your friend or family member loves nothing more than getting gift cards for their birthday, then making an unfolding birthday card like this doubles as your gift wrap! We love that this design by DIY Crafts Mom is made from four separate circles strategically overlapped and folded.
14. Pop-out birthday banner and balloon card
If you liked the previous birthday banner and balloon pop out card that we listed but your taste is a little more outrageous than what you saw there, check out this variation of a similar idea from Random Creative. There's no such thing as too many balloons, right?
15. 3D gifts card


Pop out birthday cards don't have to include a bundle of balloons. Switch things up by making cuts in the spine of the card, popping them inside out, and decorating the resulting raised strips like birthday gifts! Popular DIY Crafts guides you through the process step by step.
---
---