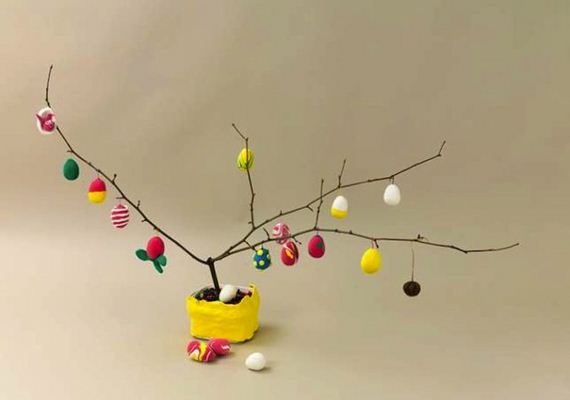 Amazing DIY Easter Trees
Amazing DIY Easter Trees
---
Check out these 15 awesome DIY Easter tree projects that will keep you and your kids creative and festive this spring!
1. Modeling clay Easter eggs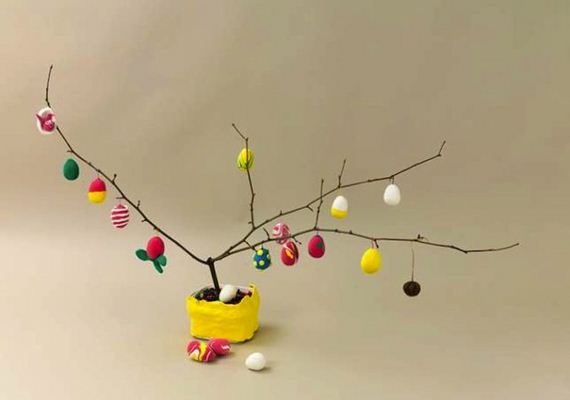 Finding the actual tree for your Easter tree in most of these designs is simple; run out to the backyard for a good branch with lots of twigs and pot it however you please! When it comes to the decorations, however, that's when you can afford to get a little more creative. Crayola suggests using colourful modeling clay to create little dangling egg shapes full of fun patterns.
2. Paper covered wire stem tree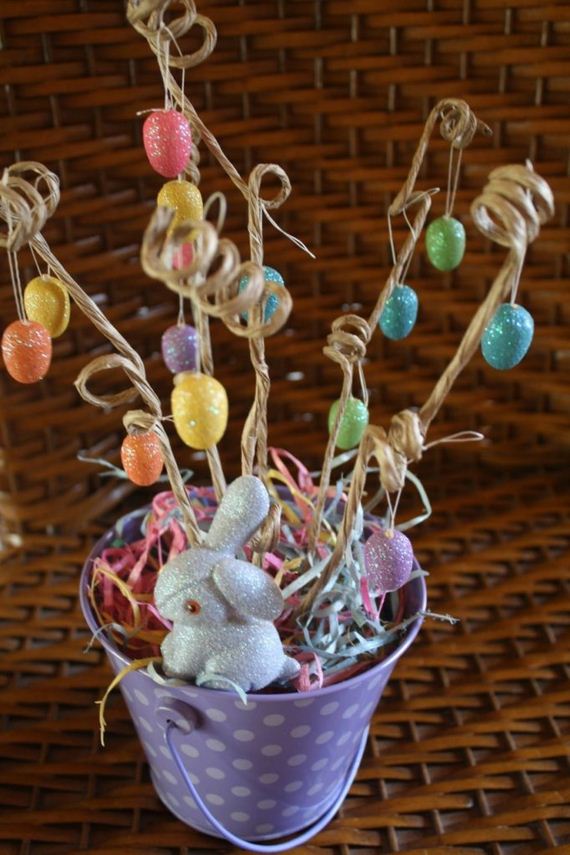 Perhaps you'd rather construct a tree yourself instead of using a piece of a real tree from your backyard? Then Happy and Simple has the tutorial for you! Follow their steps for wrapping wire in twisted strips of paper and then bending or curling the wrapped wire however you please to look like fancy tree branches. This way, whether you make yourself cute decorations or hang store bought ones, your creative hand is already built right into the tree.
3. Painted plastic Easter eggs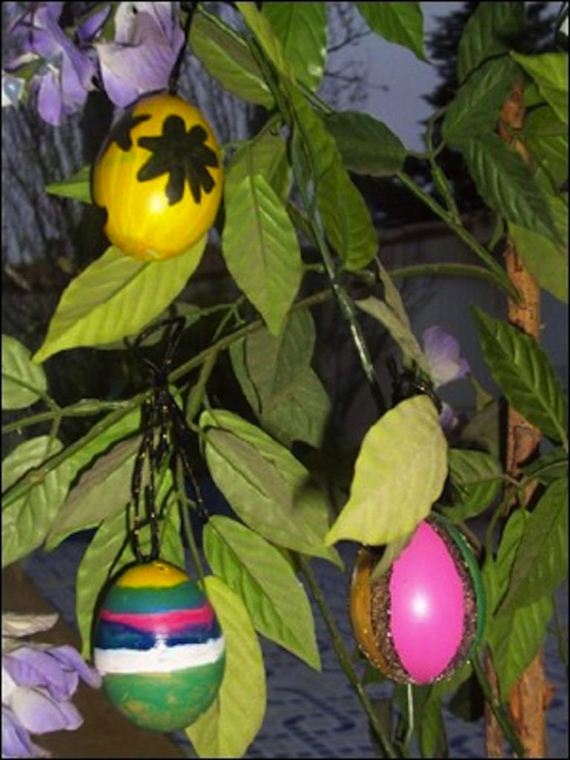 Are your kids the kind of hands-on artists who just love to dig out the paints and brushes and get right down to business? Then keeping things simple can't hurt one bit! Hello Kids suggests buying plastic eggs from the dollar store and letting your kids go wild on the surface of each with their colours and imaginations. Adding a little glitter is always an option too!
4. Painted wooden egg ornaments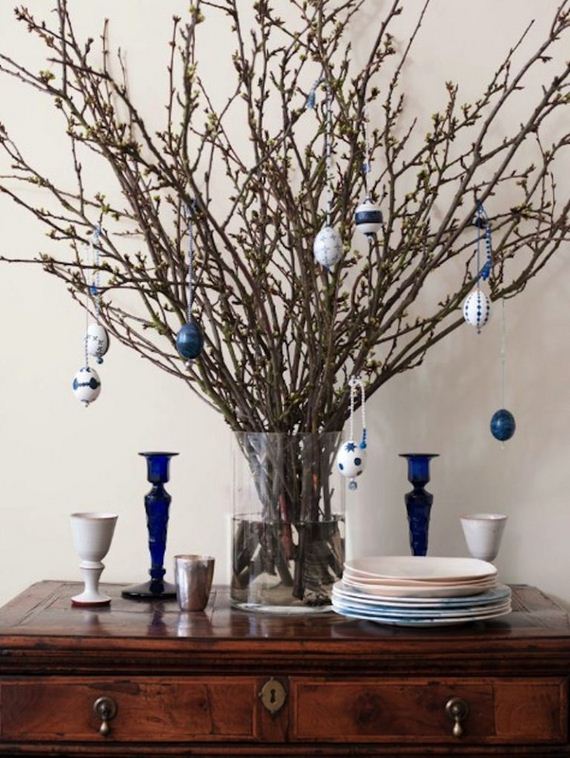 Are you just as big a fan of hand painting things as the enthusiastic kids we just described above, but you'd rather use something classier and more long lasting than dollar store plastic eggs? Opt for the smooth wooden kind from your local craft store instead (unless you also happen to be a skilled woodworker, of course). A steady hand and good colour theory will help you hand paint the surfaces to look however you please before you string them with ribbon and hand them from a vase full of pretty dried tree branches! Inspire Bohemia shows you precisely what we mean!
5. Hollowed, dyed Easter eggs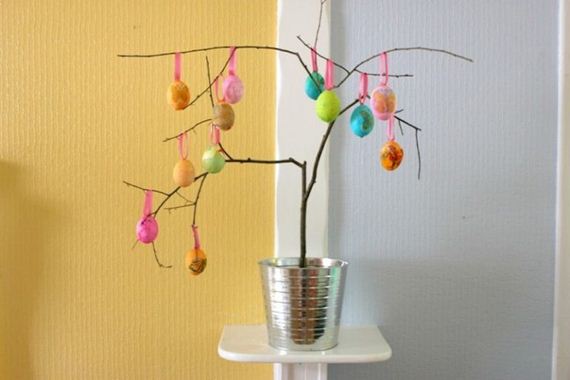 Do your kids love dying Easter eggs the classic way so much that they insist on getting the dyes out and carefully poking holes through the eggs for blowing the yolks out every year? That's always a fun DIY project, but why not put a spin on how you display their eggs this time around? Artful Parent suggests "planting" a tree branch in a bucket and hanging dyed Easter eggs as decorations!
6. Marker coloured eggs and an outdoor tree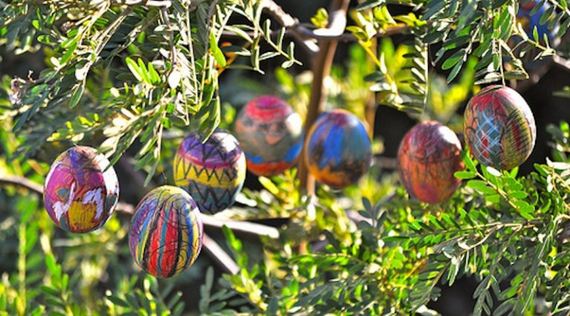 Maybe your kids would love to cover their Easter eggs in paint or dye but you'd actually prefer to try something a little less messy this year? Then regular old colouring markers can save your day! Once you're ready to display the, we urge you once more to think of putting them on an Easter tree. Instead of going out and getting a branch to bring inside, however, why not hang your decorations from an actual tree? Check out how pretty i looked when Se7en did it!
7. Sparkling eggs and a potted tree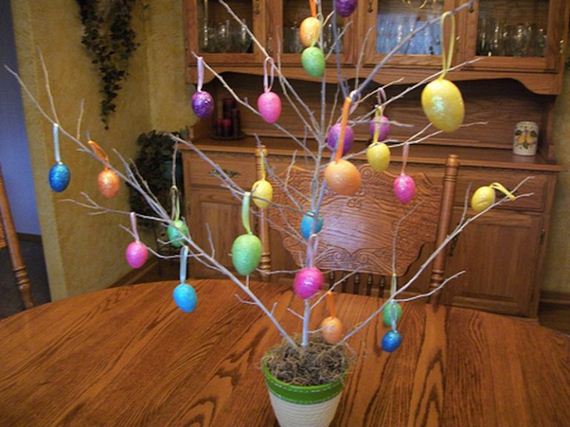 Like many of the others, Savings lifestyle's favourite way to make an Easter tree is to pot a tree branch from outside. Their chosen method of decorating their tree, however, is a little shinier than the rest! Instead of reaching for paints and markers, they suggest covering your egg entirely in glitter! It's a messy process but, if you ask us, glitter is always worth the clean up.
8. Curly ribbons Easter tree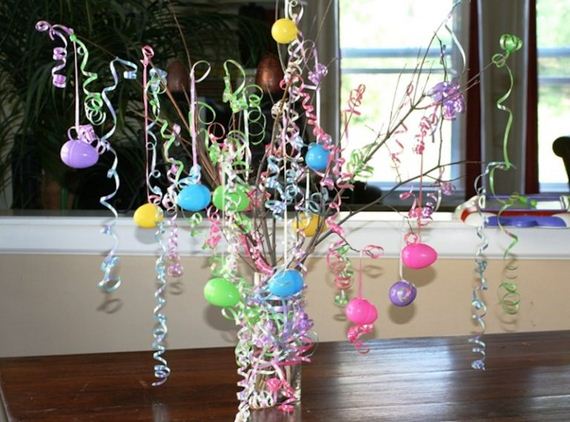 Branches and plastic Easter eggs can look just fine, even if you're just stringing the eggs on the way they came out of the package. Bright colours, after all, are decoration enough for some. For others, however, there's always a need to add a little extra something to the aesthetic. That's where Faithful Provisions super eye catching curly ribbon idea comes into play! We love how fun the finished look is.
9. Pom pom Easter tree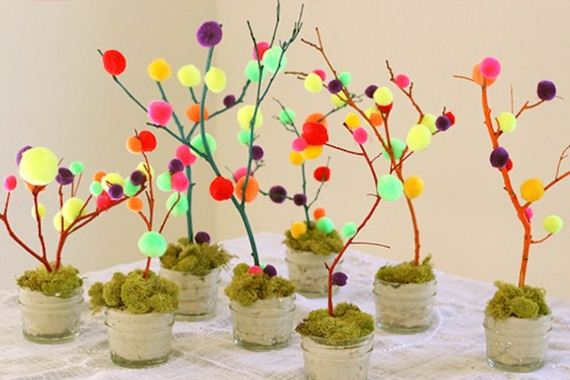 Are you looking for an Easter tree design that's really out there and alternative compared to what most other families are making together this spring? Then check out these hilarious pom pom Easter trees from Alpha Mom! Painted branches potted in little jars of sand and moss make the tree and pom poms glued across the branches in all kinds of fun colours make great ornaments. We love the way it looks like something out of a Dr. Seuss kids' book.
10. Handmade salt dough ornaments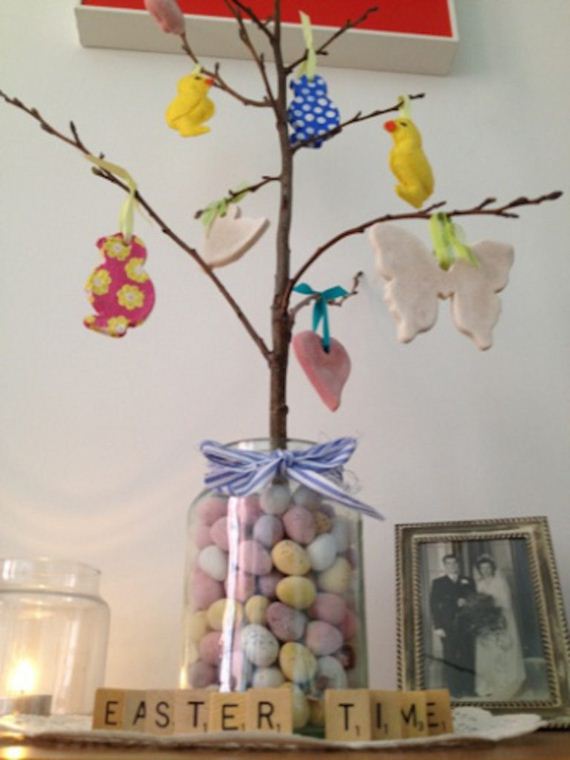 Do you like the idea of painting your Easter tree ornaments, but you'd rather do so on a decoration that you made yourself rather than just something you bought from the store? Then mix up a batch of salt dough and get to molding cute springtime shapes that you can dry and paint! We love the way Rachel Powell paired salt dough ornaments with a branch potted inside a vase filled with candied chocolate eggs.
11. Jellybean tree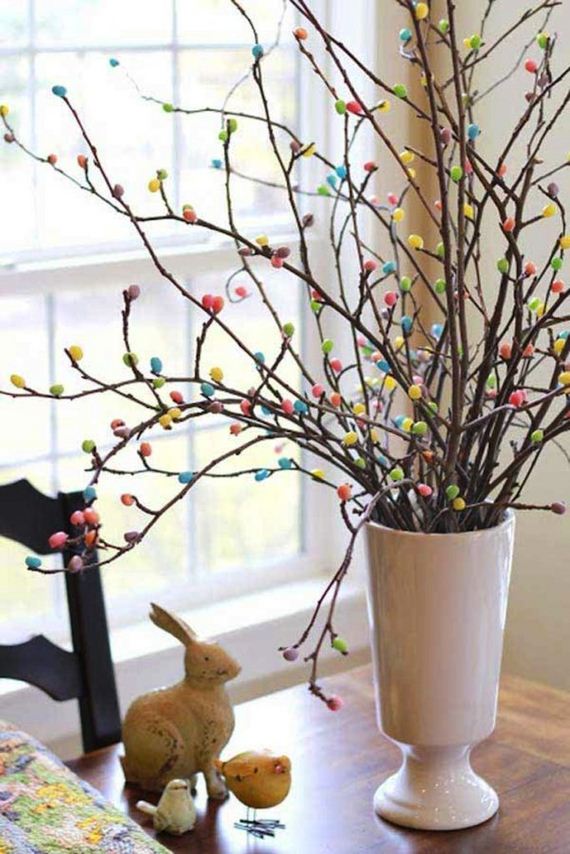 Have you loved the theme of making unconventional trees all throughout but you're really just looking for a seasonal excuse to craft with candy? We always make a few candy crafts every year as well, during as many holiday seasons as we can, and they're some of the most DIY fun we have all year! That's why we loved this jelly bean Easter tree idea from Crafty Sisters so much. The finished look is sweet, fun, and completely unique.
12. Yarn wrapped Easter tree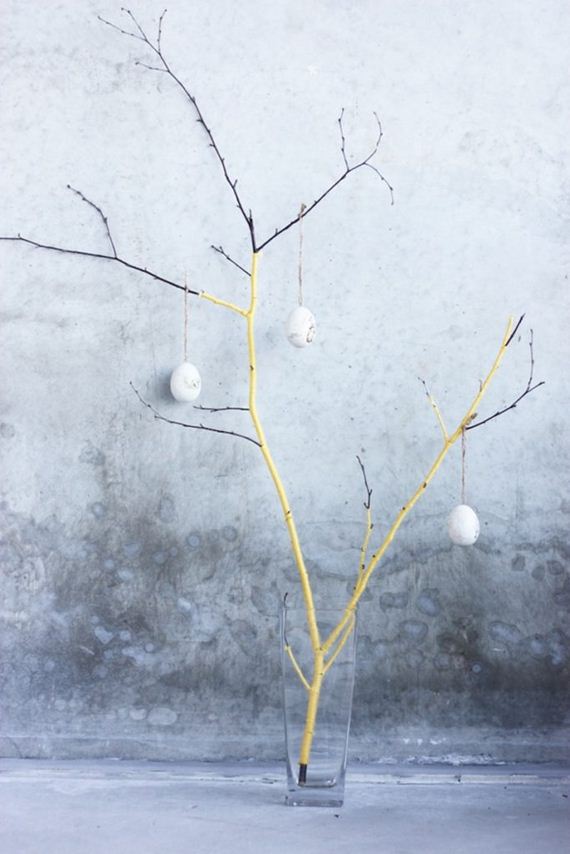 Perhaps your home decor is a little bit more modern or minimalist than some of these Easter tree ideas will match with, and you'd really like to keep things consistent even in your attempts to be festive and fun? Then follow Morning Creativity's lead and wrap your branch tree tightly in a brightly coloured yarn all the way up the trunk and down some of the branches. A few ornaments might look nice near the ends here and there, but the tree will already look stellar wrapped just the way it is!
13. Mini spray painted Easter trees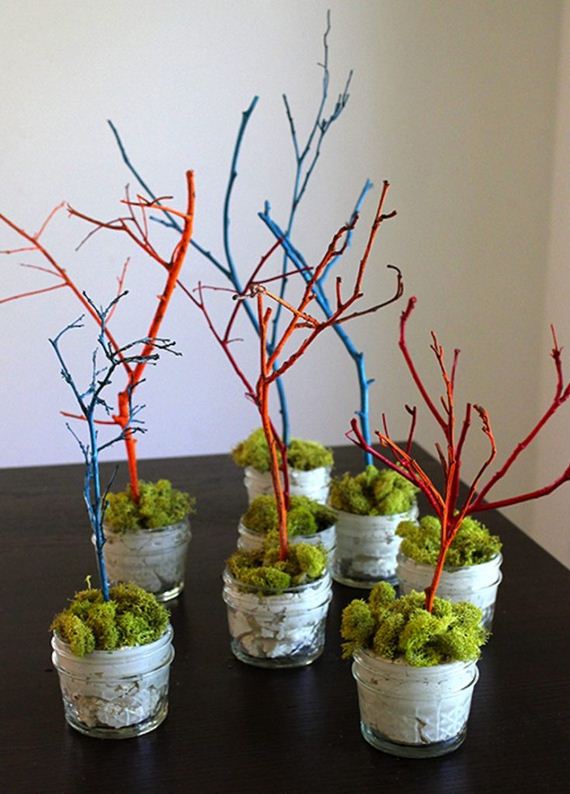 Did we really get your attention with the word "minimalist" in the last idea, but you'd like to take that even further? Then skip the decorations all together and just grab your paints in whatever simple solid colour you like best! We have Alpha Mom to thank for this easy, almost pop art idea.
14. Easter tree with feathers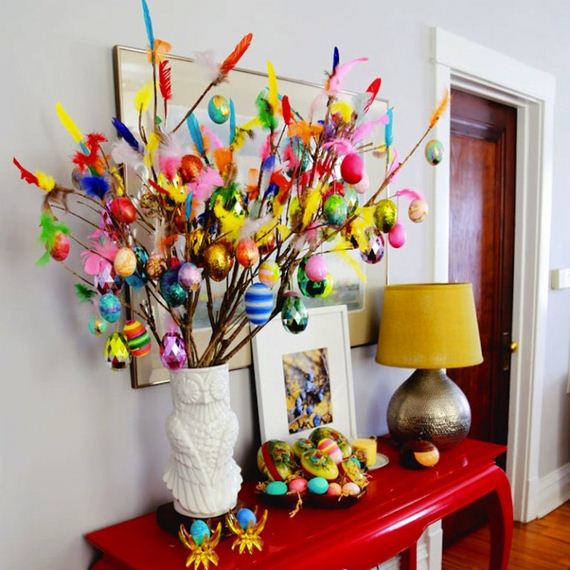 In your eyes, is the rule when it comes to DIY decor always "the more, the better"? Then we think you'll love what the Swedish call a Paskris tree! This is an Easter tradition in which a tree made of branches is decorated colourful tissue-papered eggs and bright feathers! Check out how Aunt Peaches created this stunningly festive statement piece.
15. Topiary egg tree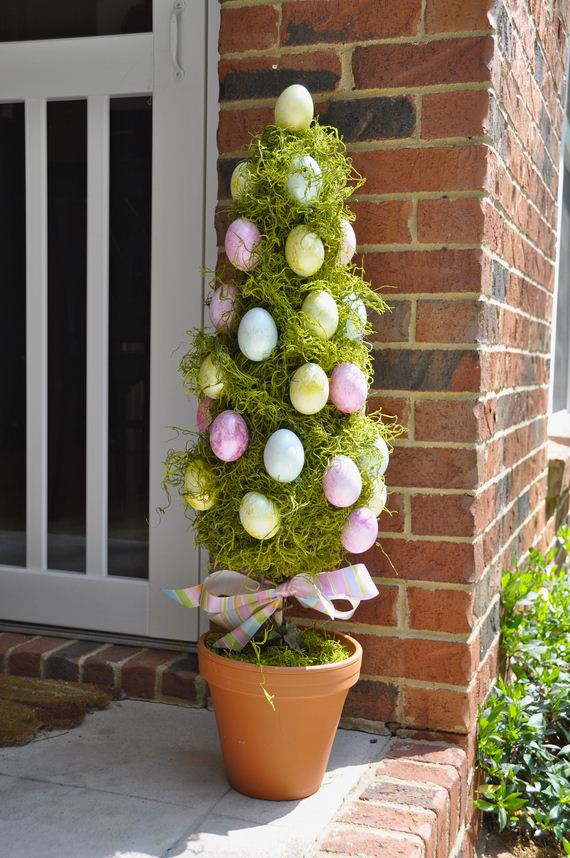 Maybe you've been scouring this list hoping for a bigger Easter tree idea that you can use to decorate your porch? Technically any of these ideas will transfer well to the outdoors on a nice day as long as you choose big enough branches to be your tree, but you might have more luck making a little Easter topiary like this one by CreativeLeeCrafted! Tie a thick ribbon around the trunk of the tree and dot decorated eggs of whatever kind you please so that they sit nestled within the craft greenery.
---
---