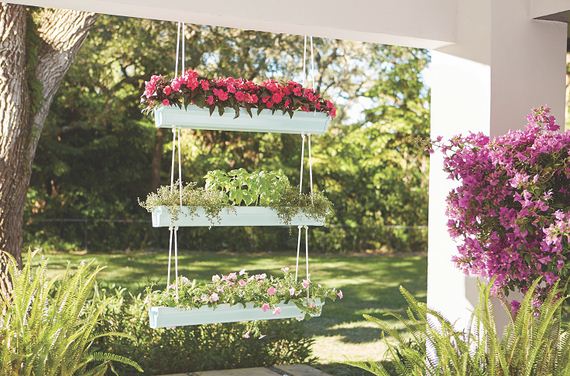 Amazing DIY Hanging Planters
Amazing DIY Hanging Planters
---
One of the best ways to decorate your garden is to invest in better – looking planters. This also means that you can get what you want for a cheaper price, if you're willing to do it yourself. In this article we are showing you ten hanging planters that will make a difference in your garden and trust us, you are going to love the results.
1. Planter with Embroidery Hoop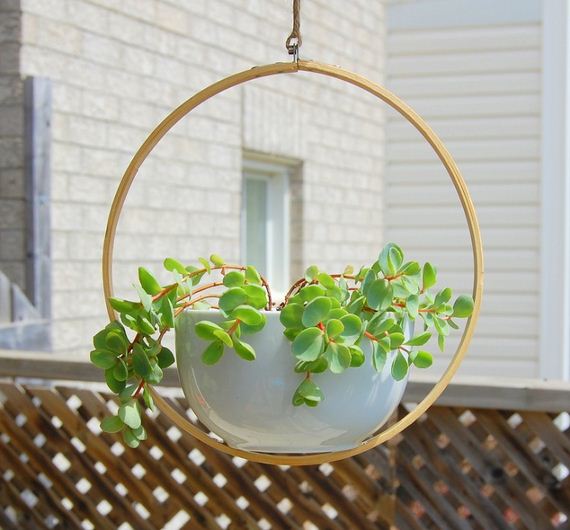 via northstory.ca
Who would have thought that an embroidery hoop can turn out to be an amazing way to hanging a planter? This project is very cheap and requires just few items besides the loop – your favorite plant, bowl for planting, hook, rope and permanent adhesive glue – make sure to pick good one because you don't want the bowl to fall down.
2. Hanging Basket Garden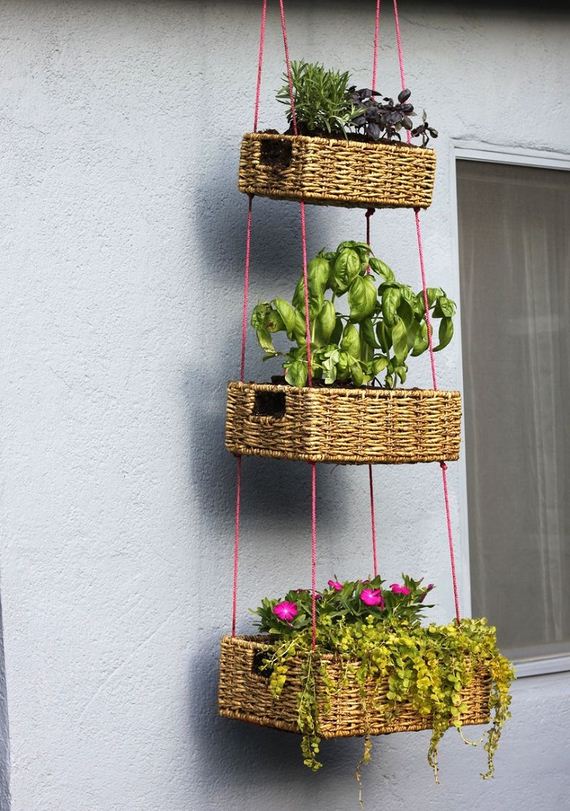 These hanging baskets will surely make your garden such an adorable place! You would love to see them full with pretty flowers, don't you? You can easily make this hanging garden by yourself, but first make sure you have everything you need – three woven, medium-sized baskets with similar shape, braided polyester rope, 1 – 2 small bags of potting soil, herbs and flowers, whatever you want to plant.
3. Wood Pallet Hanging Planter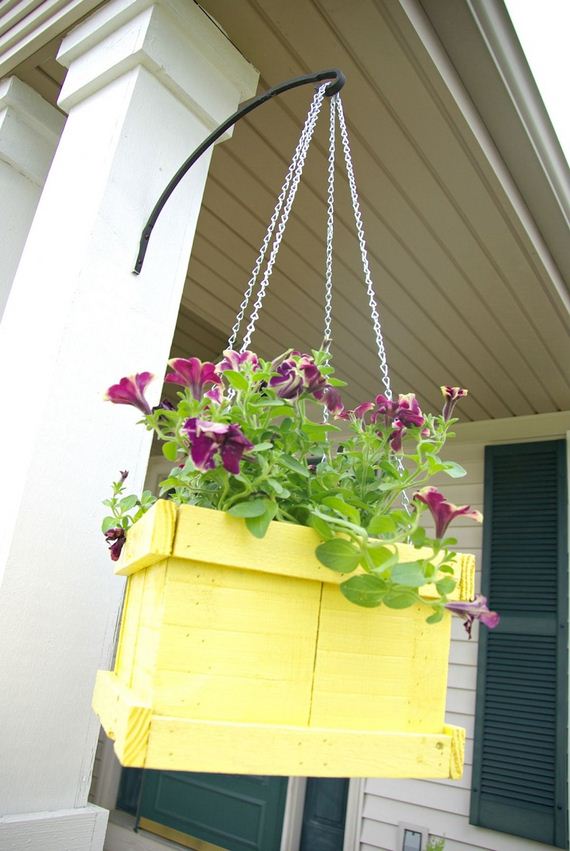 via homedit.com
Wood pallets are often used for creating hanging planters. In this case, the planter just holds the whole plant with its planter, and not the actual dirt. What makes this planter so interesting is exactly its color. If you leave the wood pallets just like that, they won't leave any impression. But, by painting them yellow (such a happy color!) they will catch the eye of everyone and will send out beautiful vibes!
4. Diamond Hanging Planter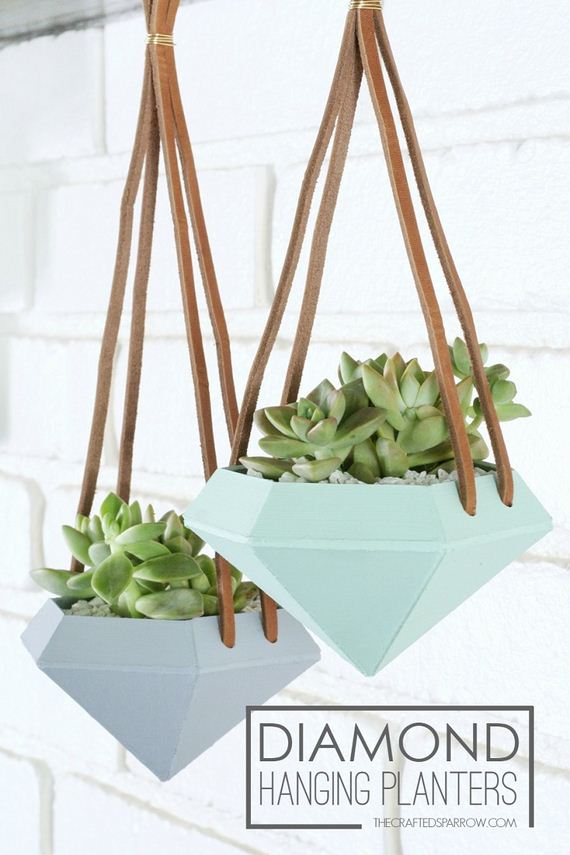 Diamond – shaped planters are very popular right now, so if you were thinking about making your own don't hesitate. Here are the materials that you need for this project – Cricut Explore Air, cutting mat, deep cut blade, chipboard, glue gun or quick dry glue, deco art acrylic paint, foam brushes, leather cording, light masking tape, wire, succulents, live or artificial or any other plant you'd like, small plastic container of soil if using live succulents and small white gravel.
5. Hanging Planter with Rope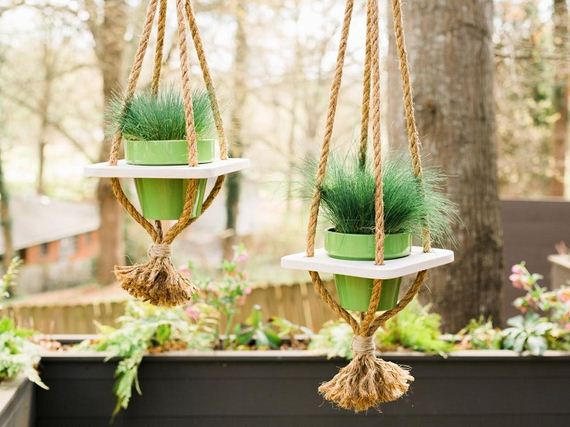 via hgtv.com
This isn't the easiest project for a DIY beginner because it includes drilling and dealing with knife, screws and metal rings, to name few of the items. However, giving it a try even with a friend is still going to be worth it because the picture proves how awesome the planters will look. You need these materials to make them – 12×1 x 4′ board
drill, 3/4″ drill bit, pencil, jigsaw, level, spool of sisal rope, knife, 8″ zip ties, 2″ metal ring, spool of twine and 2″ wood screws.
 6. Hanging Gutter Planter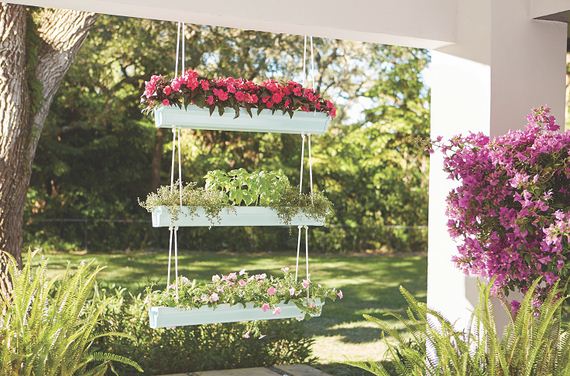 Don't you just wish to have a garden like this one? These planters are seriously magical, together with the flowers, they can make your garden seem as if it has gotten out of a fairy tale. To make your very own hanging gutter planter, you need 1- 10 ft white traditional vinyl gutter, 3 sets – white vinyl k-style end cap set (2 pk), 20 feet- 1/4 inch white braided nylon and polyester rope, 1 pk- 1/4 inch x 2 inch zinc-plated rope S-hook, 2- 3 3/4inch Steel Screw-In Plant Hook, 3/8 inch drill bit, drill, jigsaw or hack saw and scissors.
7. Copper Himmeli Hanging Planter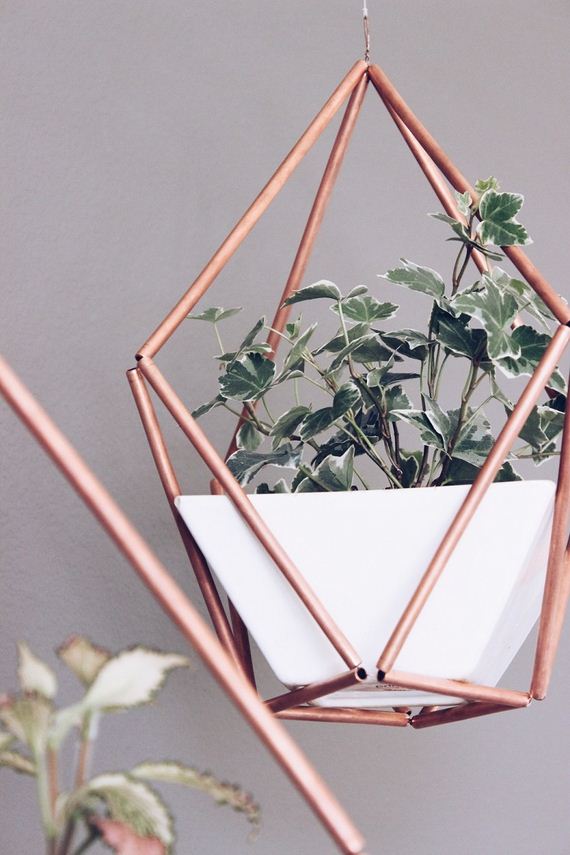 This is a very interesting way to improve your garden's look. With its shape and color, these copper himmeli planters are something you might want to give it a try. Here are the materials that you need – copper tube ¼" diameter, copper wire 22 gauge, junior tube cutter for cutting copper, 2 – repurposed ceramic bowls, 2 – small plants, ruler, scissors and marker.
8. Hanging Herb Garden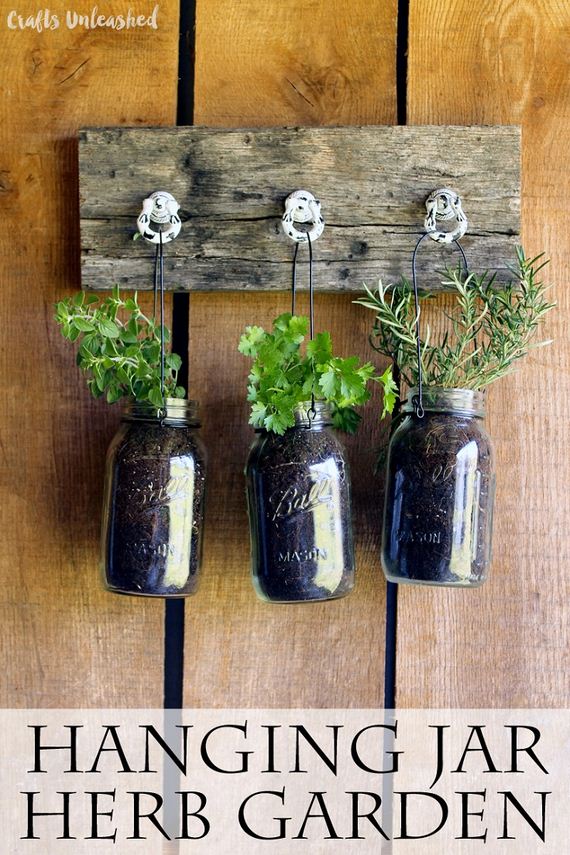 Herbs or other plants, it doesn't really matter, because this small hanging garden will look great anyway. You need distressed door knocker knobs, quart size mason jars, mason jar handles, drill and drill bits, your favorite herb plants, dirt and rustic board. Instead of using rustic board, you can paint a wood board in color by your choice.
9. Simple Upcycled Planter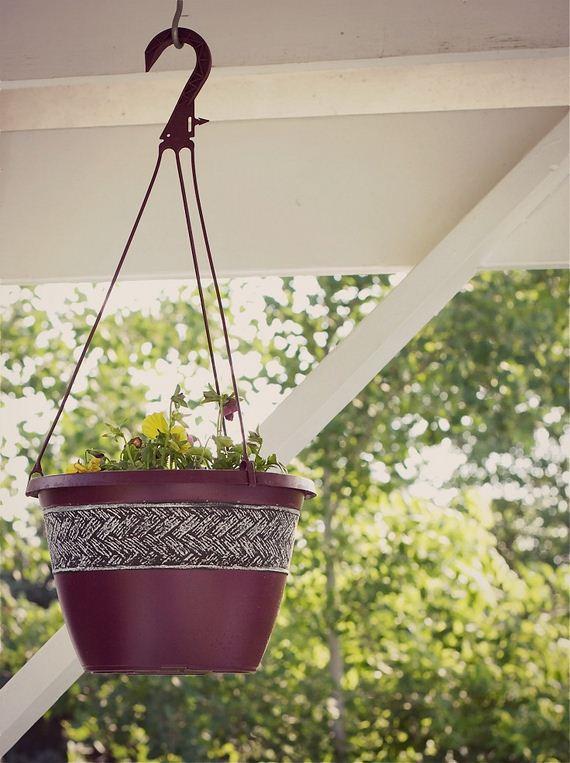 It's all about decorating a regular planter. As you can see, here we have a purple – colored planter with black and white details. If you're not interested in wood pallets, drilling and similar DIY activities, then you definitely should try this one. It's creative, simple and won't empty your pocket. Just get yourself a chalkboard paint and get creative!
10. Mason Jar Herb Planter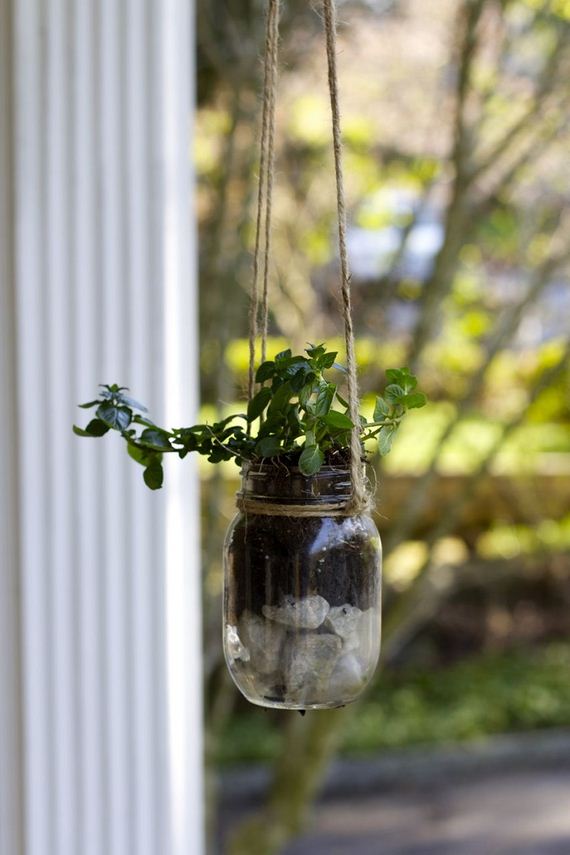 Mason jars are a well-known choice when it comes to DIY stuff. There are hundreds of ways you can reuse them and come up with something creative, adorable and practical. One of those choices you can make is turning an old jar into a hanging planter. You will just need a twine for hanging and how you're going to fill it, it's up to you, but besides the dirt and the plants, you can also add rocks in the jar for a better look.
---
---