Amazing DIY Jewelry Shaped Like Tiny Foods
Amazing DIY Jewelry Shaped Like Tiny Foods
---
Just in case you've been looking for a new technique and a fun, friendship based project too, check out these adorable DIY jewelry pieces shaped like tiny foods!
1. Polymer clay avocado BFF necklace
Are you completely obsessed with the idea of making friendship necklaces, and you're even down with the idea of tiny foods, but you also remember those designs from when you were a kids that used to fit together somehow, like puzzle pieces? Then we have a feeling you're going to adore this cute mini avocado design from Clay Creations Forever! They've made one side of the avocado with a pit and one side without so that the two fit together in the middle.
2. Heart shaped bread necklace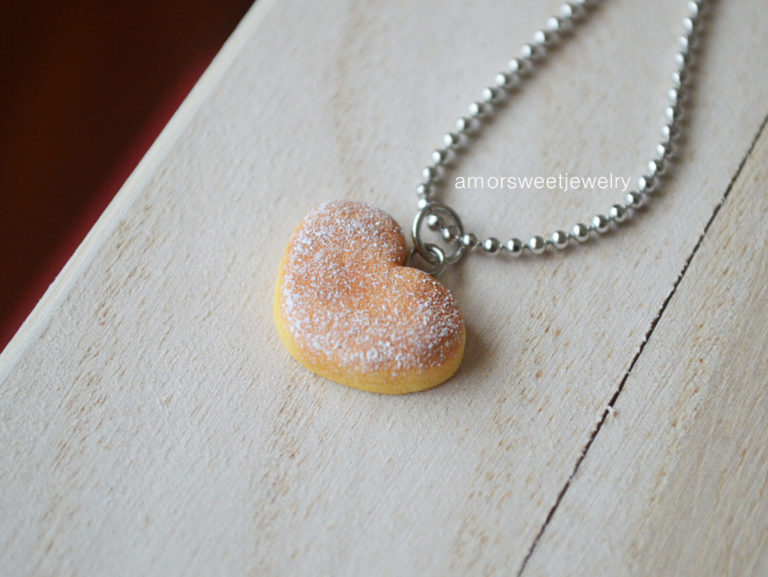 Perhaps you've been looking for heart designs for your friend so they're always reminded of how much you love them but you're also enamoured enough with the tiny foods idea that now you want to combine the two? In that case, we definitely think you should take a look  at these cute heart shaped sugar cookie necklace from Amor Sweet! We love the way they made it look like the cookie is lightly dusted in powdered sugar, just like a real treat.
3. DIY mini donut earrings
Perhaps you just really like the idea of making tiny food jewelry because you are, or someone you love is, a bit of a foodie with an appreciation for delicious things, even when you're not actively eating them? Well, for the foodie with a sweet tooth who prefers their sugar content in the form of baked goods, here's an adorable idea from IdunnGoddess! Their tutorial teaches you how to make cute dangly earrings shaped like cheerful iced donuts.
4. Kawaii chocolate chip cookie friendship charms
Are you still thinking about how adorable the foodie friendship necklaces that fit together were but you'd like a design that's a little sweet and maybe has some more personality? Well, it might sound strange for snacks to have personality, even ones you designed from scratch, but you won't think so if you're familiar with cute kawaii designs. Check out how ACupofCakeTV made cute kawaii chocolate chip friendship necklaces that fit together down the middle of a cookie!
5. Mini fruit notebooks
Okay, we know we said this post was going to be about jewelry shaped like foods, but we came across these cheerful, colourful fruit shaped notebooks made by IdunnGoddess in our search and we simply could not resist including them on our list! Besides being a great size for putting in your purse or setting by the phone, they're a great opportunity to practice your painting and felt crafting skills.
6. Polymer and paper Chinese takeout earrings
Are you still thinking about how much fun a pair of dangly food shaped earrings sounds but donuts have never really been your thing? Perhaps you have a long standing tradition of therapeutic Chinese takeout nights with your best friend and you'd really like to commemorate that! In that case, you're going to love these miniature cardboard takeout cases filled with polymer clay noodles, made by A Little Awesome.
7. Clay milk and cookie necklace
Are you and your best friend completely inseparable and you like to think of them as the milk to your cookies? Do you also know they're a fellow craft lover with a love for cute novelty DIY accessories? In that case, we just know you'll adore this hand made milk and cookies design created by Michelle's Cuties! Besides how adorable the finished design is, this necklace is also a lot of fun to make.
8. Candy bar keychains
Has your best friend never really been a jewelry or accessory wearer but you know they still love novelty trinkets and candy more than the average person? Then perhaps they'd prefer a DIY candy keychain instead of something like a necklace or a pair of earrings! This tutorial from Toni Ellison teaches you how to make miniature versions of your favourite chocolate bars or chewing gums to dangle cheerfully from your friend's keys as they go about their day.
9. Polymer clay breakfast earrings
Perhaps, rather than takeout Chinese food, your tradition with your best friend is to go for breakfast or brunch together to catch up over bacon and pancakes? Maybe you even enjoy making breakfast at home together sometimes after a slumber party! In that case, we have a feeling you might prefer making your friend your very own version of these adorable breakfast earrings from Incredinedible, rather than something like takeout or donuts! You still get the cute conversation piece that is homemade food earrings, but it'll remind you of the mornings you've shared together.
10. Scented cookie jewelry charms
Have your favourite charms and jewelry pieces so far on our list been the cute little cookies, by a landslide? Then we've definitely found the tutorial for you! Toni Ellison teaches you step by step how to make little cookie charms in all different styles and shapes, as well as incredible details. The best part, though, is that they tutorial even walks you through the process of making the charms actually smell like sweet, freshly baked cookies! Talk about a cool gift.
11. Candy heart necklace
Is your best friend the kind of sweet tooth person who doesn't discriminate and simply adores sweet, sugary candies of all kinds? In that case, perhaps you'd prefer to use the polymer clay skills you've been practicing with to create a pendant that looks like it's made out of all different types of candy! Check the whole idea out in more detail on The Jewel Saga.
12. Cracked egg necklace
Are you still thinking about how much you loved the idea of making cute little breakfast themed necklace charms but you'd rather make a version that has a little something extra to it; some awesomely creative detail that makes people think for a second rather than just finding the charm cute? In that case, we think you should try your hand at this cracked egg design by Heather Wells! This tutorial shows you how to use clear resin to add the spilled egg whites effect.
13. Polymer clay Cornflakes bowl charm
Okay, we know we're talking a lot about breakfast foods here, but there's just something so funny about these little DIY charms and we've never seen such a thing in stores before! That's why we were so charmed (pun intended) by these detailed miniature cereal bowls by This Charming Stuff. Their tutorial teaches you how to use clay to create the illusion of Cornflakes and milk in small polka dotted bowls.
14. Bitten kawaii donut charms
Have you spent most of the time you've been scrolling through our list thinking about how adorable the first donut design we showed you was, but you also wish it was a little more kawaii? Well, the signature kawaii face and details aren't difficult to add once you're familiar with working with paint and clay, but here's a tutorial for adding a face and a funny little bite mark from This Charming Stuff, just in case you feel like you could use some guidance!
15. DIY kawaii sushi necklaces
If we're being honest, one of the first things we think of when we thin of kawaii designs is sushi! We saw a kawaii sushi design in a plush toy store years ago and it was so adorable that we've thought of it every time we see something described as "kawaii" ever since. That's why we were so happy to stumble upon these miniature sushi dumpling clay charm designs from Suebearie!
Have you made other polymer clay food charm designs that you absolutely loved and wear as jewelry all the time but you don't see anything similar on our list? Tell us all about how you did it or link us to photos of your finished work in the comments section!
---
---