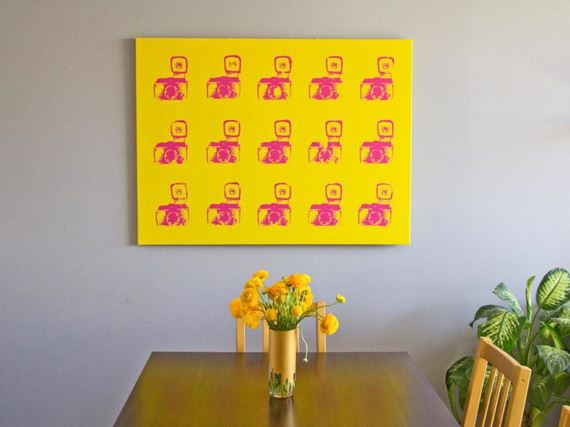 Amazing DIY Pop Art
Amazing DIY Pop Art
---
Check out these 15 amazing ideas for DIY pop art that will impress and intrigue any visitor who comes through your door.
1. faux screen-printed canvas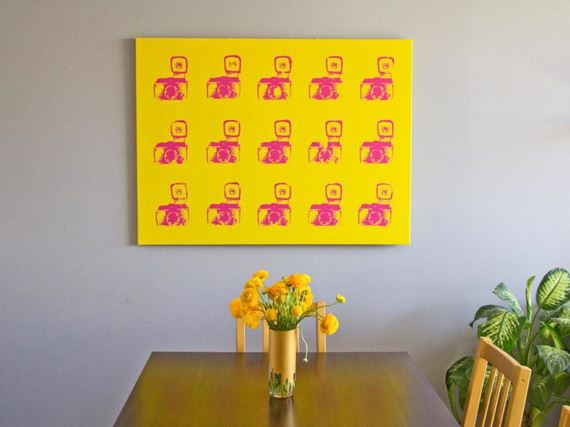 If you've ever done screen printing on t-shirts before then this technique for consistently recreating a simple image over and over across a canvas will be absolutely no sweat for you. If you haven't, then check out how HGTV repeated this awesome vintage camera silhouette onto a bright canvas in awesomely contrasting paint! If you've ever seen Andy Warhol's Campbell's Soup print, then you know why we think this is cool.
2. Pop culture poster frame collage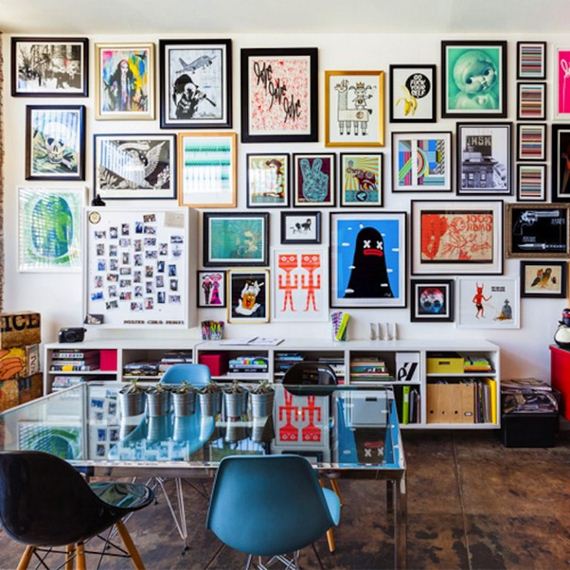 If you're already a popular culture fanatic then you probably have prints and posters of all kinds stashed away that would be perfect for making your own contemporary version of a pop art wall collage. Put your collection on proud display with something like this awesome varied frame setup from Sadecor! The bright the colour accents and the more varied the depictions and subjects, the better.
3. Owl pop art DIY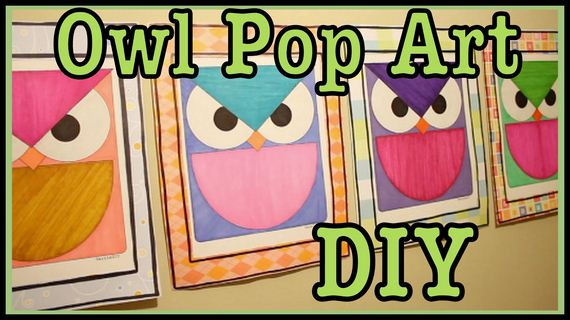 Are you pretty into the idea of creating your own pop art, but your supplies are limited and you'd prefer to use your own drawing or painting skills to create the images yourself? Then try creating a repeating pattern of something you love, the way DazzleDIY did with these super colourful cartoon owls!
4. Colour trip wall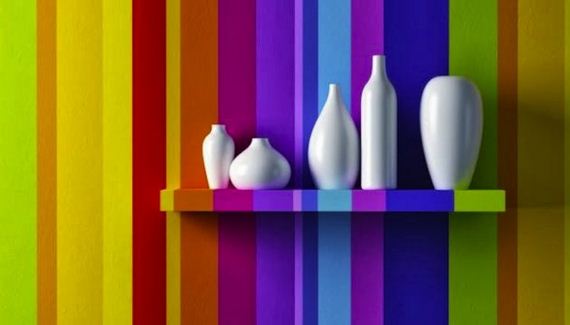 Are you feeling so incredibly inspired by pop art aesthetics, shapes, and colour combinations that you're willing to make quite a permanent commitment to the look? Then try painting right onto your wall, rather than just making a painting to hang there! Yourself at Home suggests painting very straight block coloured stripes vertically down the wall in varying thicknesses and a full range of bright colours to your heart's content.
5. Einstein pop art portrait recreation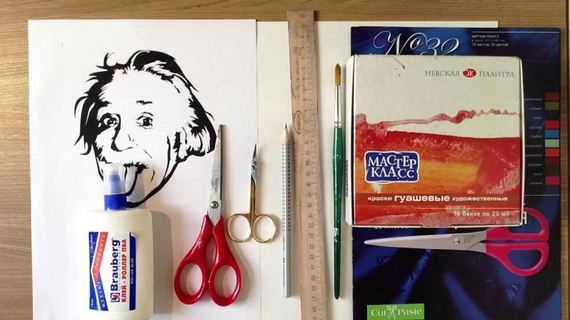 As you're probably familiar with, even people who don't know much at all about true pop art and its origins can recognize Andy Warhol's repeating colourful portraits of celebrities and social icons. There are plenty or recreated pieces of his works featuring Marilyn Monroe and Einstein, as well as many dupes featuring contemporary celebs, but what's the point in spending money on a re-copy when you can just make your own? Tanya Sky shows you how it's done starting with a silhouette that you printed right at home.
6. Pet pop art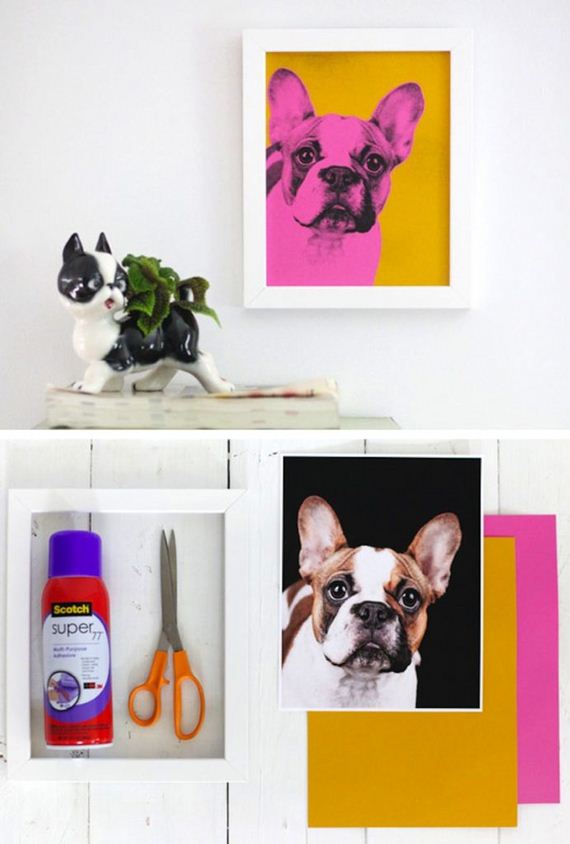 Do you love the portraits we were just talking about above but you also think the recreations of the style using other images are totally hilarious? Then make things even more funny by creating colourful silhouette pop art of your family pet! We're absolutely in love with this hilarious French bull dog design from A Beautiful Mess.
7. Silhouette pop art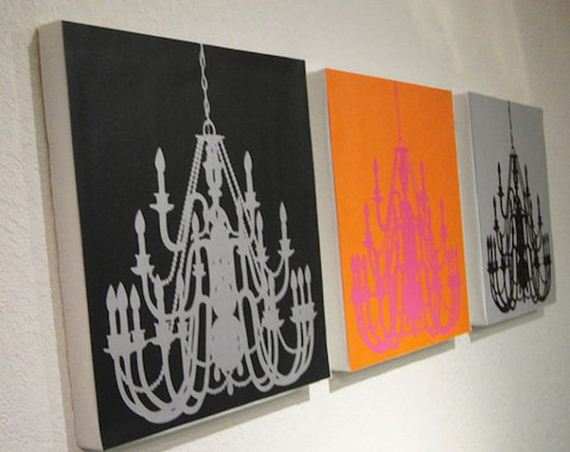 We've talked a lot about brightly coloured silhouette portraits, but what if your favourite element of pop art is the use and celebration of common objects instead? You can create single pieces mimicking those things rather than repeat prints, but alternating different colour combinations of the same silhouetted image the way Alison Kraft Designs did here looks awesome too.
8. Andy Warhol Marilyn recreation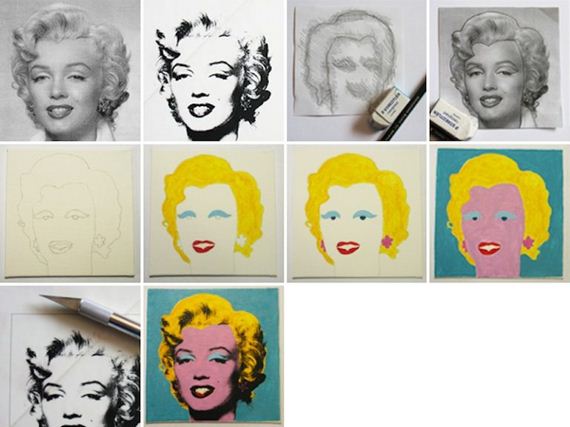 Have you always loved the combination realism and exaggeration of some icon photo pop art but, because you're an avid painter and illustrator yourself, you've been holding off on buying prints until you've honed the skills you need for making their own? Well, here's an amazing tutorial from Library Life Hack on combining abstract colour painting and traced sketching, just in case you need some guidance.
9. Selfie pop art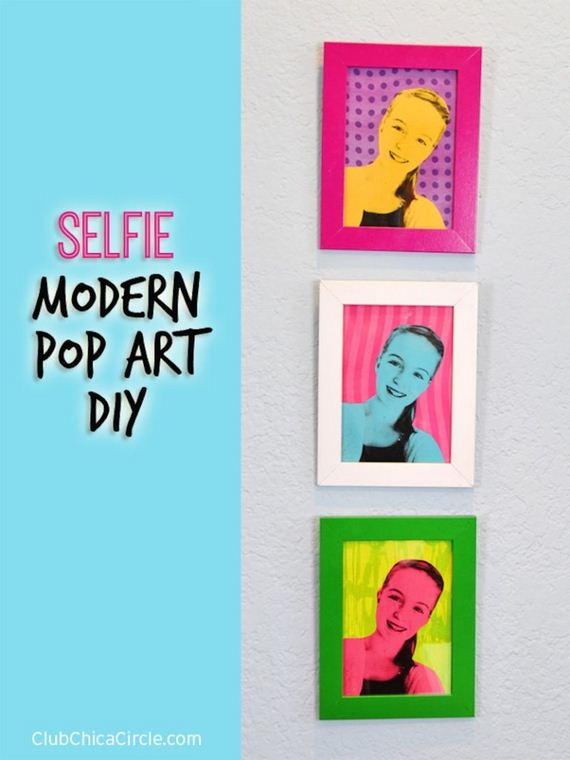 Just in case you're still loving the pop art portrait idea but none of the contemporary twists you've seen on the concept have quite fulfilled what you're looking for yet, here's another funny variation from Chica Circle. Instead of using a celebrity image or your dog, try creating fun coloured pop art with your own selfie!
10. Picture puzzle pop art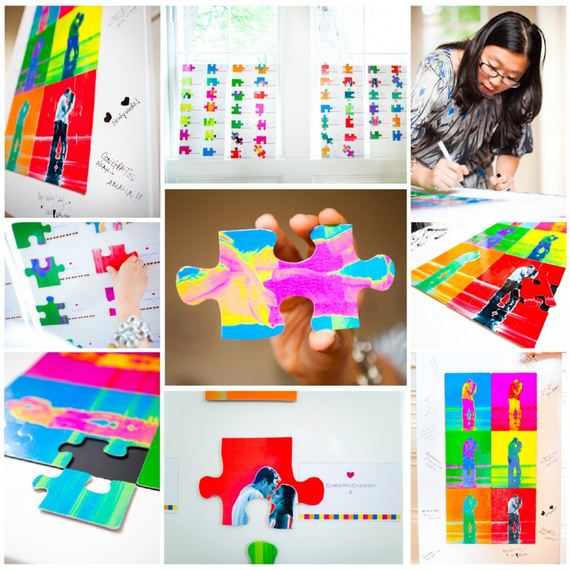 Have you always loved art that's not only DIY when you're making it but also interactive and fun to use above and beyond the time it takes to make initially? Then we're pretty certain you'll have a blast making these repeating picture pop art, particularly give that it's actually a puzzle and could theoretically also be made into a magnet. Check the whole idea out on Notable Inspiration.
11. Kid picture Andy Warhol paintings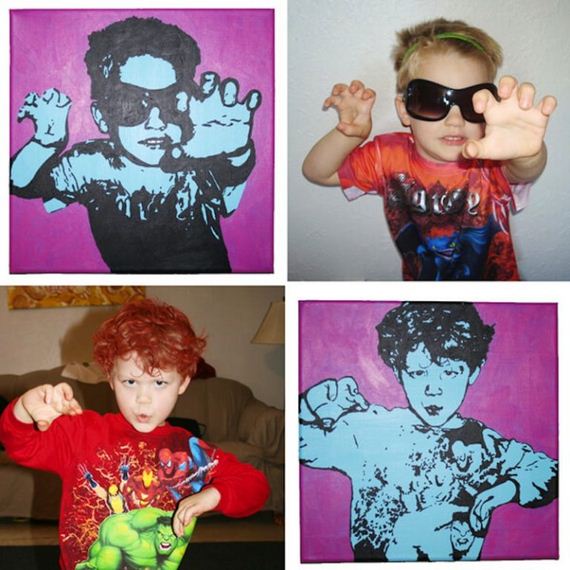 Just in case all of the other options we gave you for pop art inspired portraits were along the right vein of what you're hoping for but just slightly off the mark, here's one more alternative to get you going! Awesome portraits of your kids hitting their favourite action poses or showing a lot of personality make great monochromatic silhouettes on brightly coloured backgrounds.  Dream A Little Bigger outlines the steps to make it happen.
 12. Father's Day pop art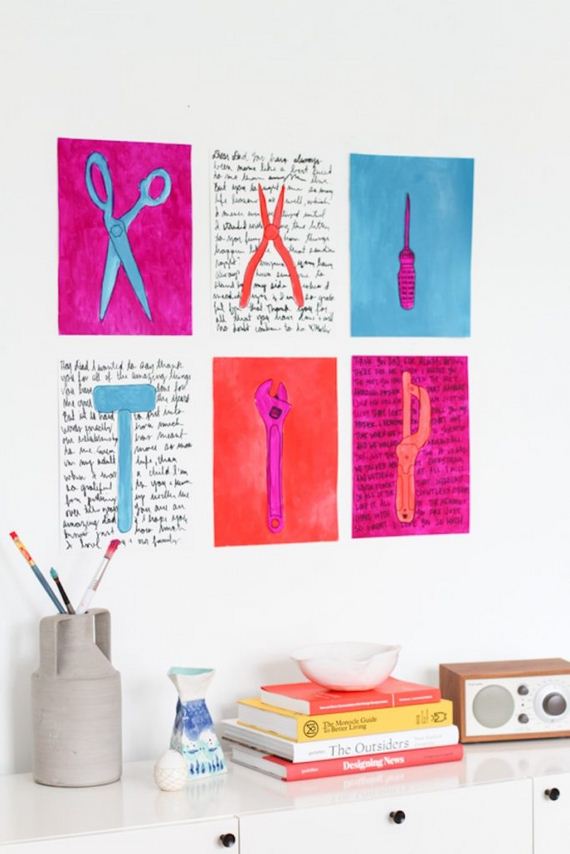 Okay, so you don't have to make this awesome pop art idea solely as a Father's Day gift, but it's certainly inspired by paternal objects, like Dad's tools in the garage! Tracing and painting silhouettes of household objects like tools, the way Paper & Stitch did here, always makes for good pop art. If you do want to turn it into a Father's Day gift, write a letter across the background behind the silhouette.
13. Tricycle sketch pop art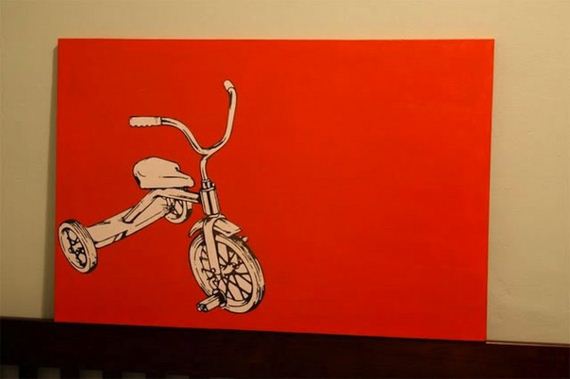 Have you been practicing your sketching skills and hoping to use them to capture the beauty of some very simple everyday objects around your home, but your decor aesthetic and tastes are very bright and eye catching? Then turn that simple sketch into pop corn with thick black outlines and a solid bright background the way The Modern Home did with this tricycle.
14. Lichtenstein comic inspired table numbers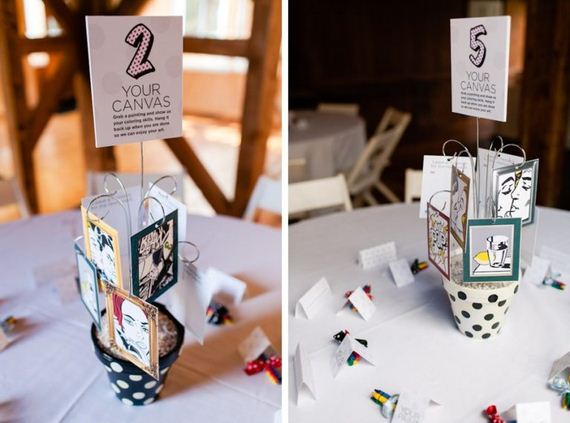 Any pop art fan knows the signature Lichtenstein style comic book illustrations well, but have you ever though of how awesome it would look as decor? Even small elements, like these inspired place markers at a grand dinner table, will add a pop culture spark of colour and sass to any room. Check out how Fatchett designs these fun cards that each person sitting at the dinner can fill in and add colour to themselves using a personal bundle of mini crayons.
15. Pop art inspired centre pieces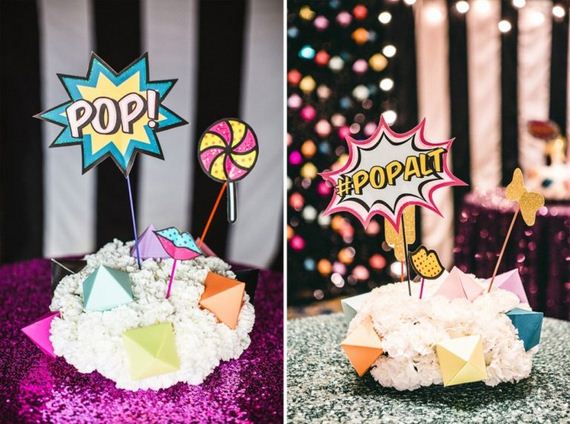 Do you love the idea of making pop art centre pieces, but you'd rather concentrate on words and abstract shapes rather than Lichtenstein referenced faces? Then interpret your inspiration more loosely and create something like these floral bunches feature geometric shapes, pop art comic text, and pointillism-filled images. Fifty Flowers has plenty of ideas for you to check out.
---
---