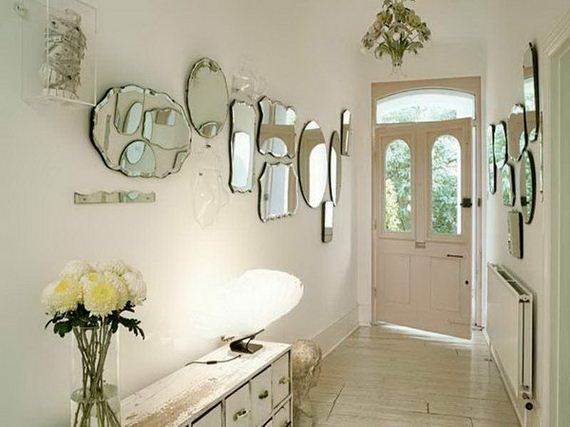 Amazing Farmhouse Entryway Decorations
Amazing Farmhouse Entryway Decorations
---
Open Layout Rustic Decor. An upholstered chair with a tufted back and silver nail heads adds flair and functionality to this foyer. source.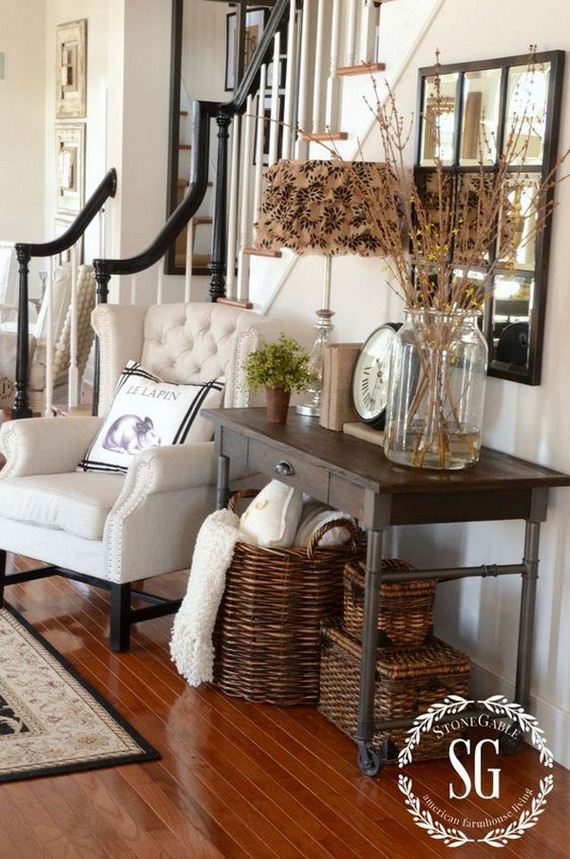 Vintage Meets Chic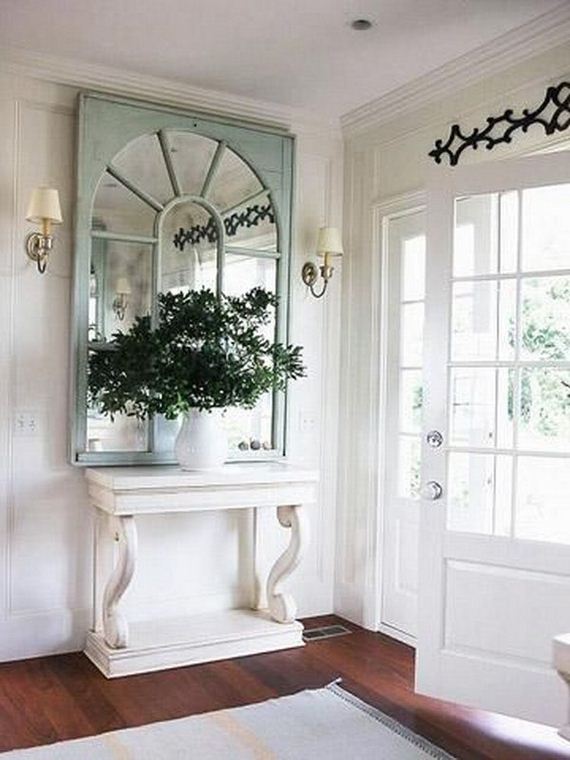 An iron pot full of fresh greens sits atop a white-painted vintage console with an old window frame made into a mirror for a rustic yet chic decor.
Shabby Chic Decor With An Unexpected Twist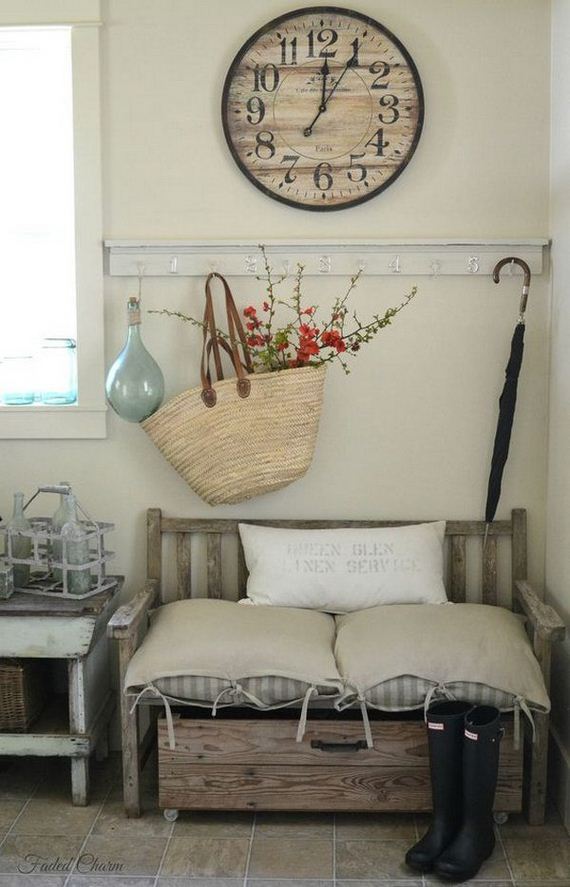 Nothing says rustic like a sisal woven basket with flowering branches. The distressed furniture and vintage wall add an earthy feel to this entry. source.
IKEA Norden Sideboard Makeover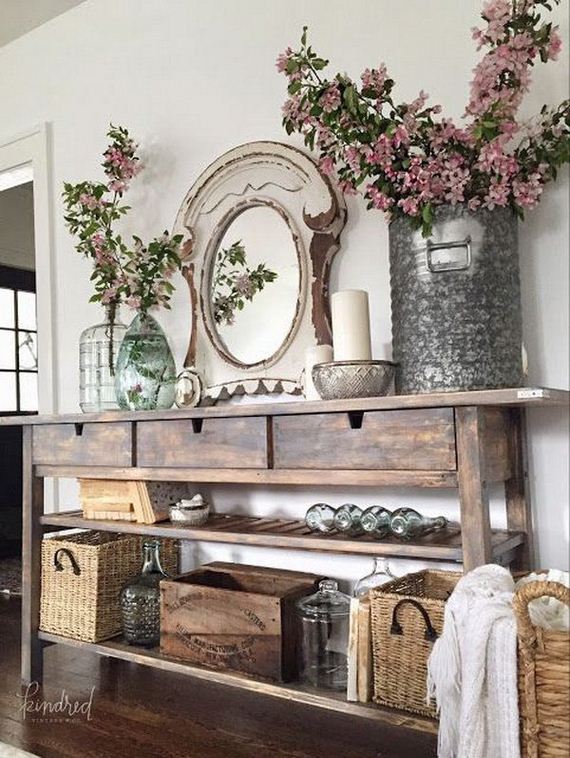 A distressed console adds a feel-good vibe to this entry way. The well-placed rustic baskets also add warmth and coziness and the mismatched flower vases lend an effortless shabby chic look. source.
Mixing Old and New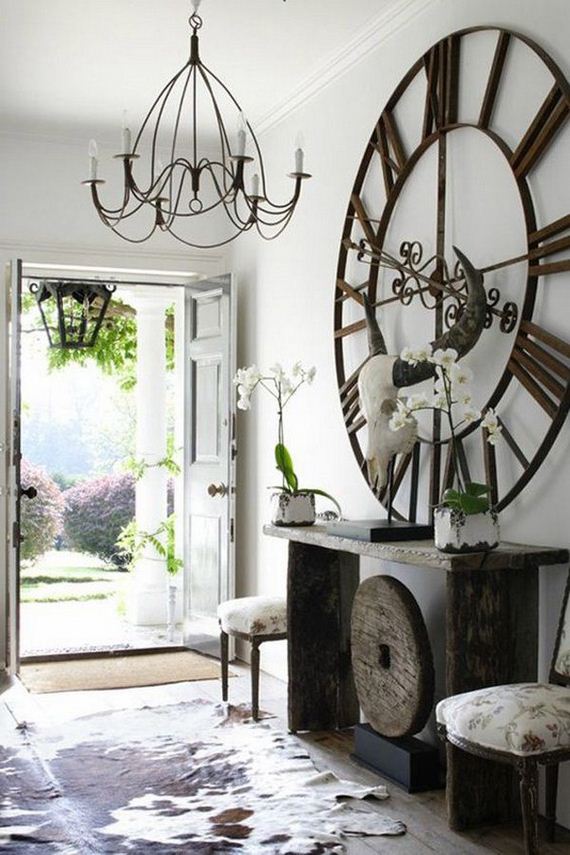 As you approach, the rustic lantern above the entrance door exudes rustic charm. Further in, an oversized wall piece blends in with the minimal accents to create a stunning focal point. source
Rustic Floral Decor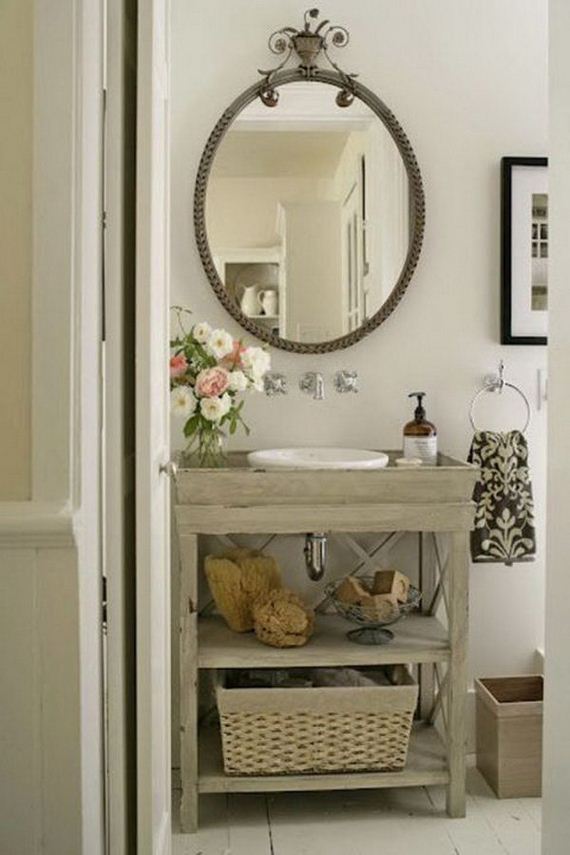 As you approach, the rustic lantern above the entrance door exudes rustic charm. Further in, an oversized wall piece blends in with the minimal accents to create a stunning focal point. source
Gorgeous Contemporary Farmhouse Entry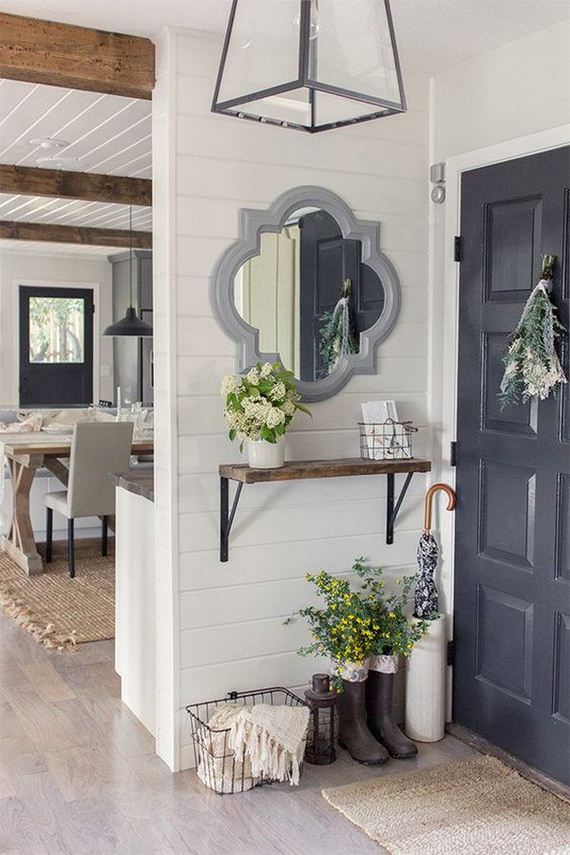 Upon entering, a shabby chic ledge provides space for mail and a beautiful vase flower. The flowering branches and sisal rugs work to infuse an earthy feel to this otherwise modern atmosphere. source.
Decorating with Old Windows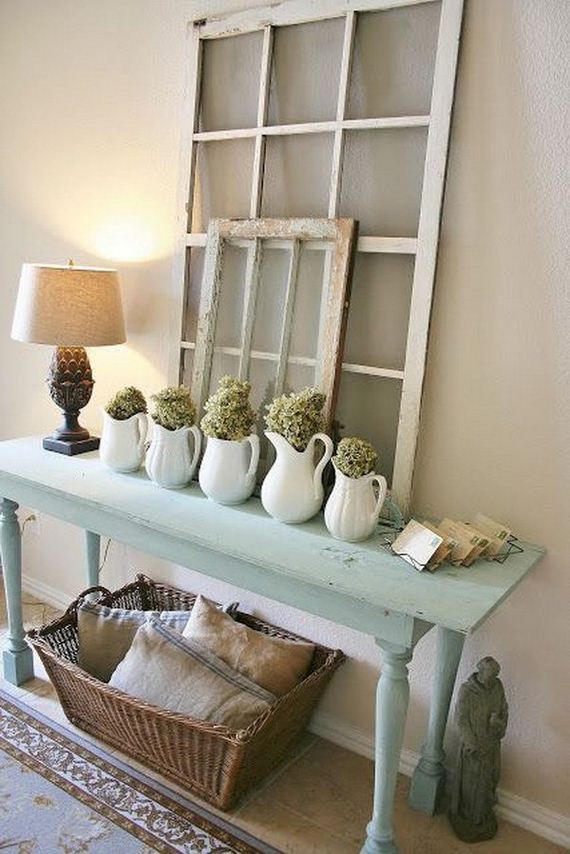 Old windows provide the perfect backdrop for the beautiful collection of white iron pitchers and vintage postcards atop the green console table. The country basket full of pillows beneath the console table effortlessly exudes rustic charm. source.
Mixing Old with New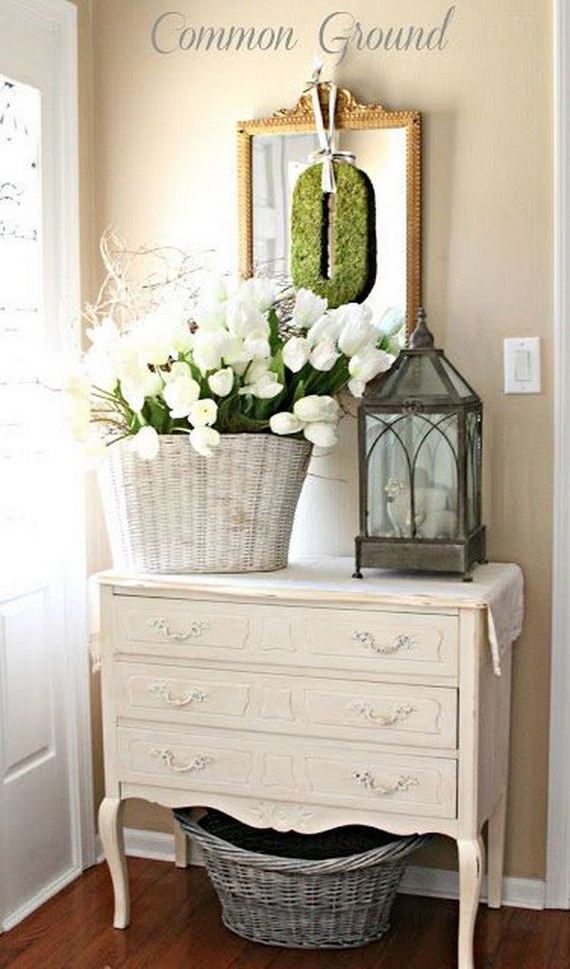 A French country-style dresser provides room for a white-washed country basket full of tulips. The moss wreath hanging on the mirror and the repurposed lantern add just the right amount of shabby chic to this vignette. source.
Rustic Chic Entryway With Refined Decor Style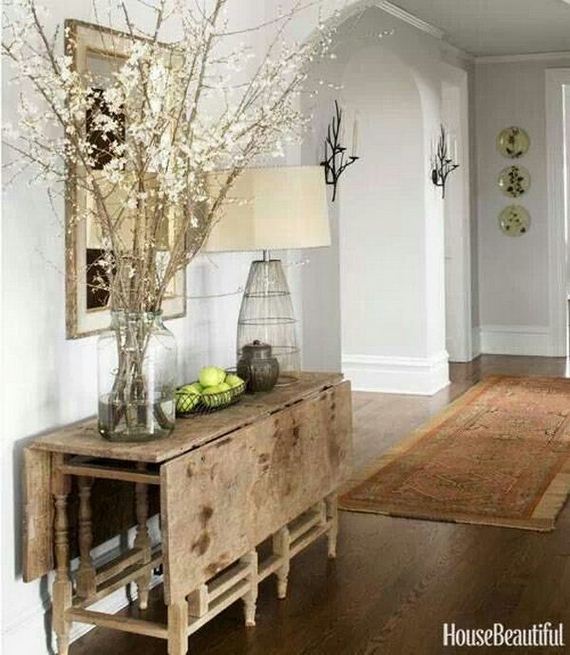 A distressed table holds a vase with flowering branches. The neutral color of the entry affords the pleasure of adding minimal rustic decor features. source.
Sophisticated and Cozy Rustic Decor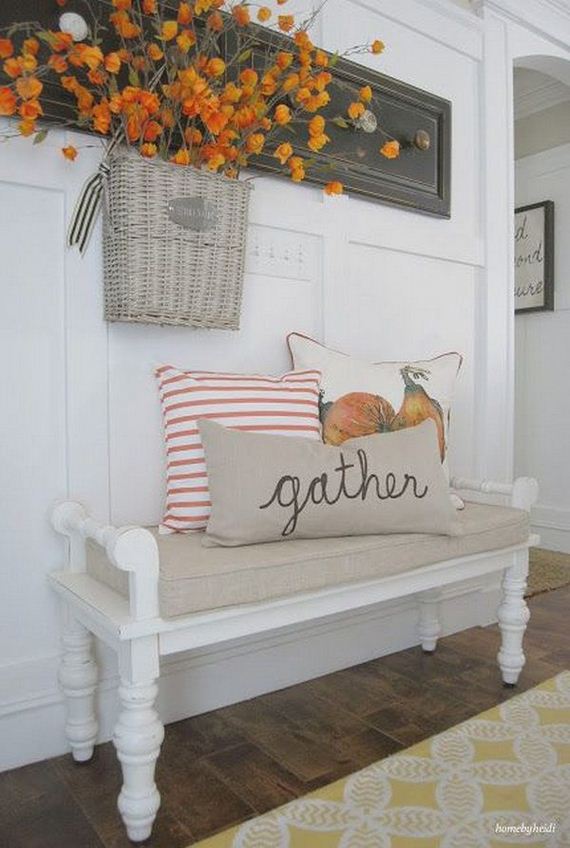 The white wall and bench infuse a shabby chic theme into this decor while providing an excellent backdrop for the eclectic collection of pillows and the country basket full of flowers. source.
Warm Rustic Entry Decor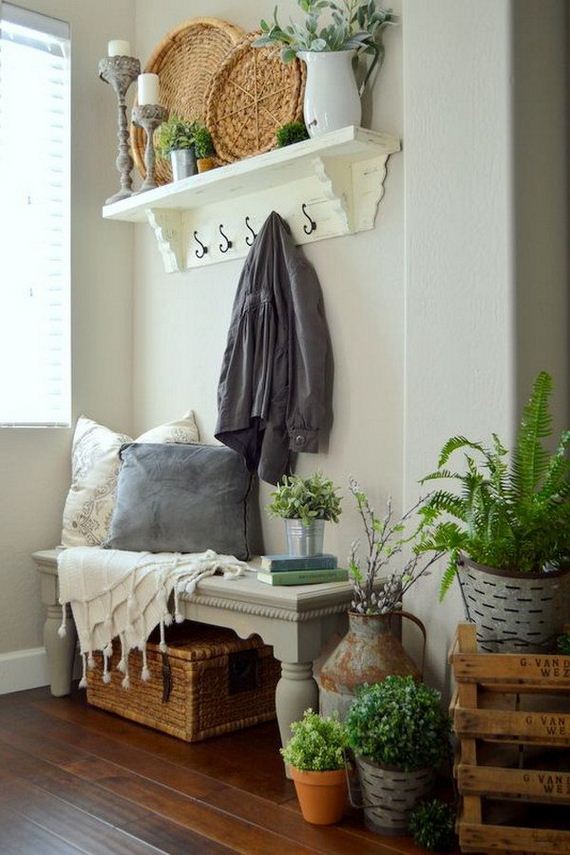 Fresh greens and wicker basket decor instantly add character to this entry. The grey bench blends in with the wall color to highlight the minimal rustic decor while the wooden floor evokes a warm country vibe. source.
Beautiful Shabby Chic Entry with a French Twist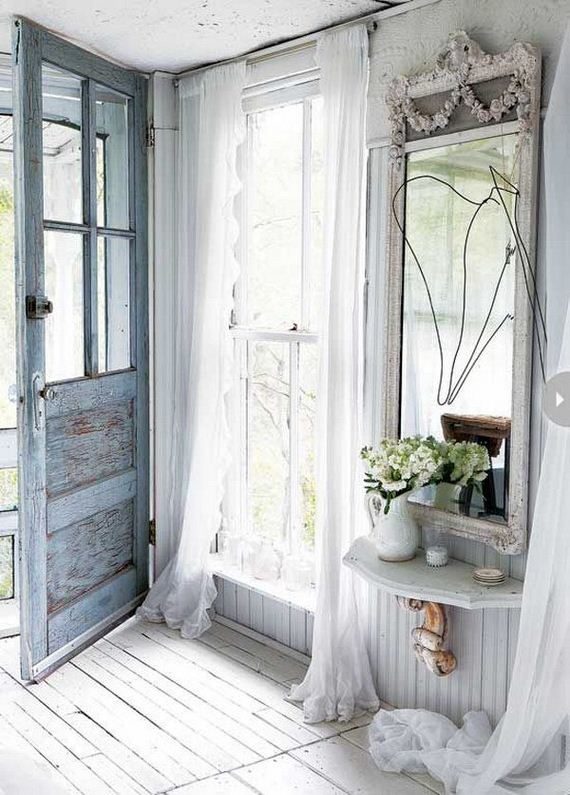 Simple, yet unbearably beautiful, this airy entry reflects a serene and soft ambience courtesy of the overall white and grey color scheme. The grey door and white console feature rustic quirks that are superbly enhanced by the soft whiteness of this interior. source.
Farmhouse Entry Table Rustic Furniture Country Farm House Tab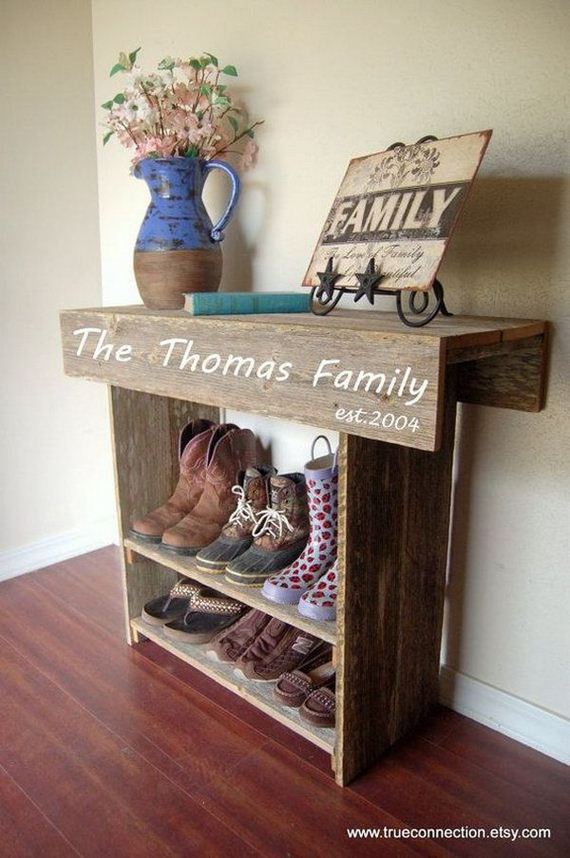 A simple rustic console anchors a wall and provides storage for boots. The chic flower vase adds drama to this entry with the neutral wall color offering a great canvas. source.
Add Rustic Charm with a Mirror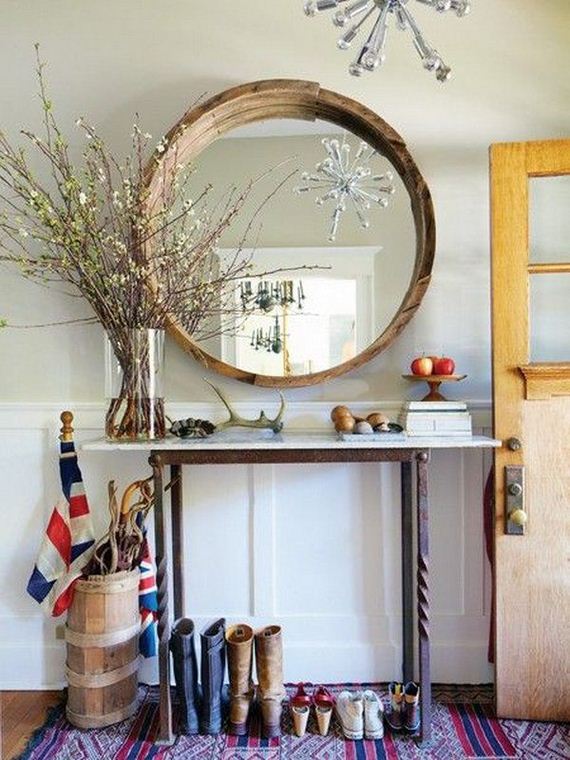 A barrel mirror provides an attractive focal point for this entry. A repurposed umbrella basket provides a convenient storage option for guests. The vase with flowering branches adds an element of surprise to this simple country style entry.
Decorate With A Door That Leads To Nowhere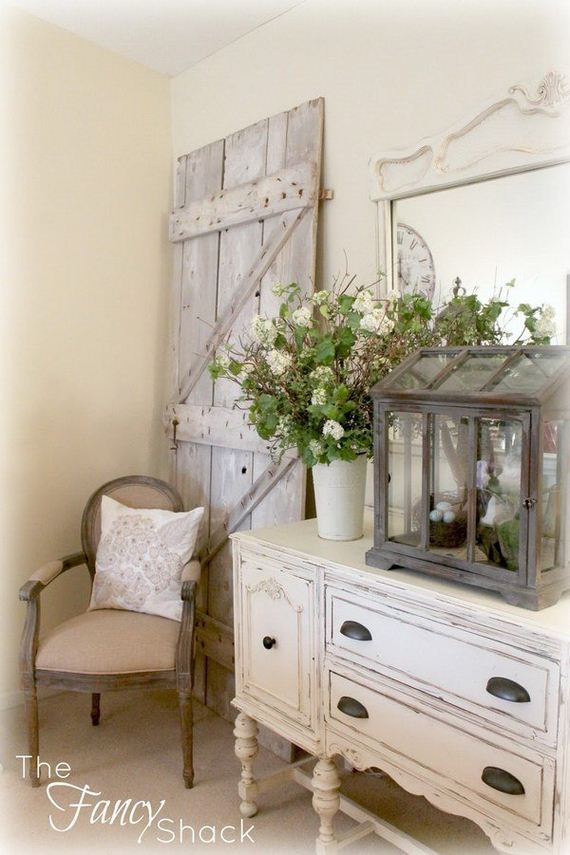 An old barn door adds a rustic touch to this modern entrance and also complements the shabby chic console. A terrarium with rustic quirks complements the flowers in the vase. Needless to say, the bright wall paint further highlights the stunning rustic decor. source.
Interesting Farmhouse Entry Decor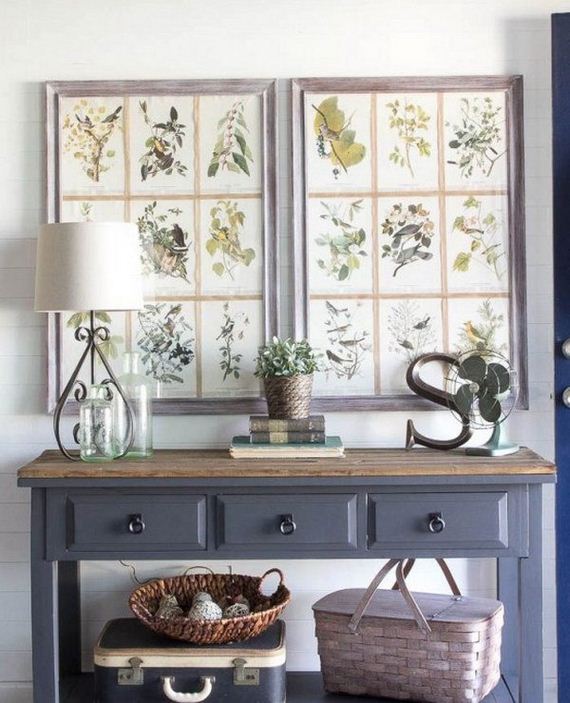 Upon entry, a grey console table anchors the wall with wicker baskets underneath for an earthy appeal. The bright paint on the wall highlights the stylish window picture frames with botanical prints and the elegant lampshade. source.
Metal Decor for Entrance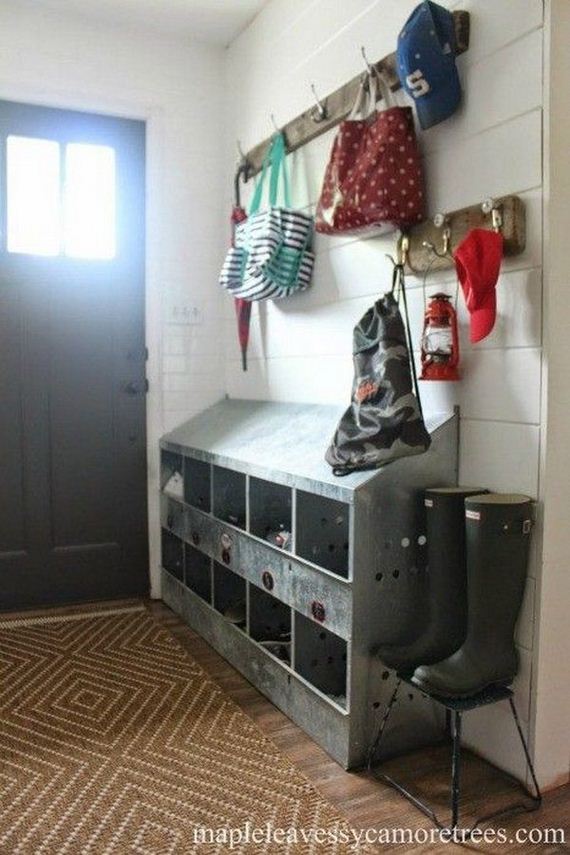 The metal chicken nesting box feels right at home in this farmhouse style entrance. The white-painted wall and grey door also complement its rustic quirks. source.
Rustic Elegance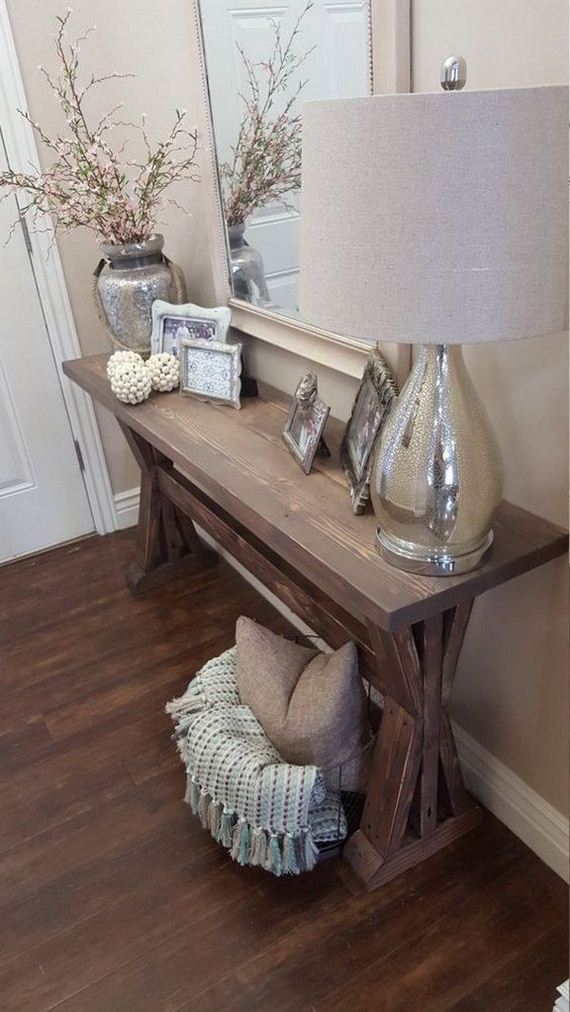 A chic pallet breakfast table displays an eclectic collection for metal decor in silver. The soft pink and grey color palette also complements the earthy tones of the floor and the table. via etsy.
Charming and Inspiring Entry Rustic Decor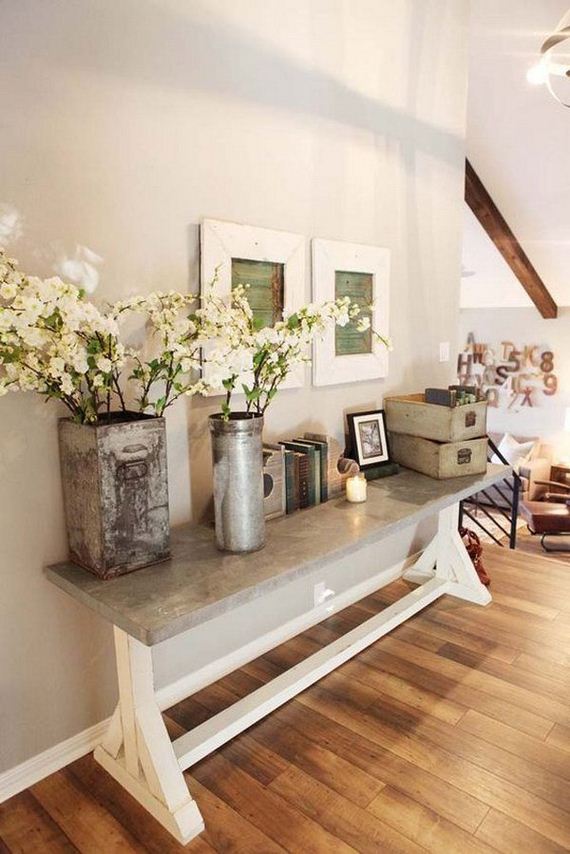 Upon entering this foyer, repurposed tin cans serving as flower vases are used to display branching flowers on a bench anchoring the wall. The soft tones of grey and white on the wall enhance the rustic appeal of this farmhouse. source.
Inviting Entry With Lantern To Prints To Millwork To Baskets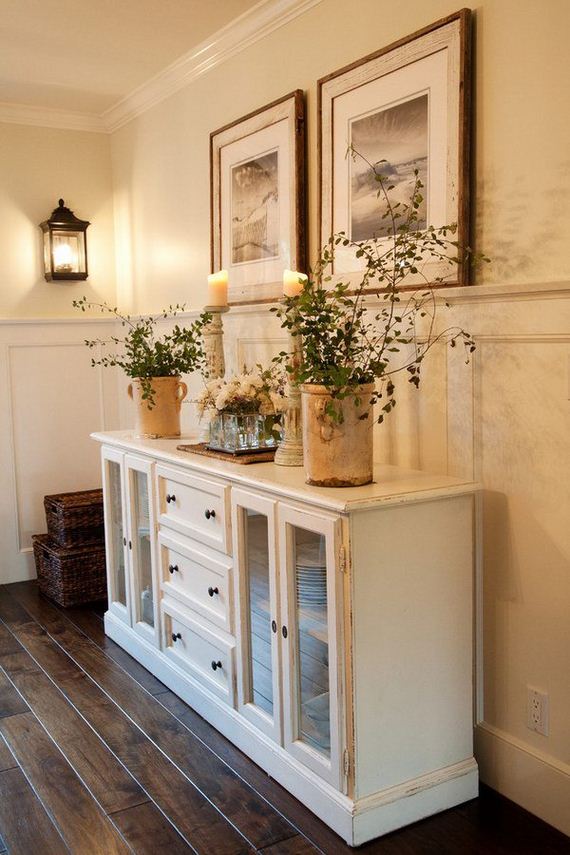 On entering, the millwork on the lower half of the wall and the handsome lantern create a warm ambience and the perfect backdrop for the white rustic console. The wicker baskets on the far end blend seamlessly with the wooden floor while the greens in the distressed vases effortlessly emanate chic glamour. source.
Minimalist-style Rustic Entrance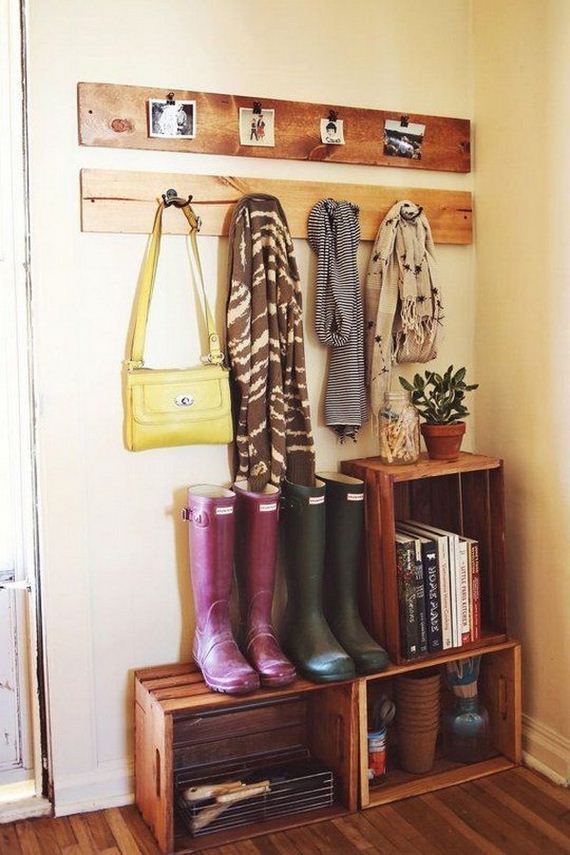 This homeowner decided to go chic with repurposed crates in the place of a console table for this entry. Besides, they provide ample space for storage of boots and even books. Best of all, the stained crates blend in well with the wooden floor. source.
Weathered Wood for Rustic Beauty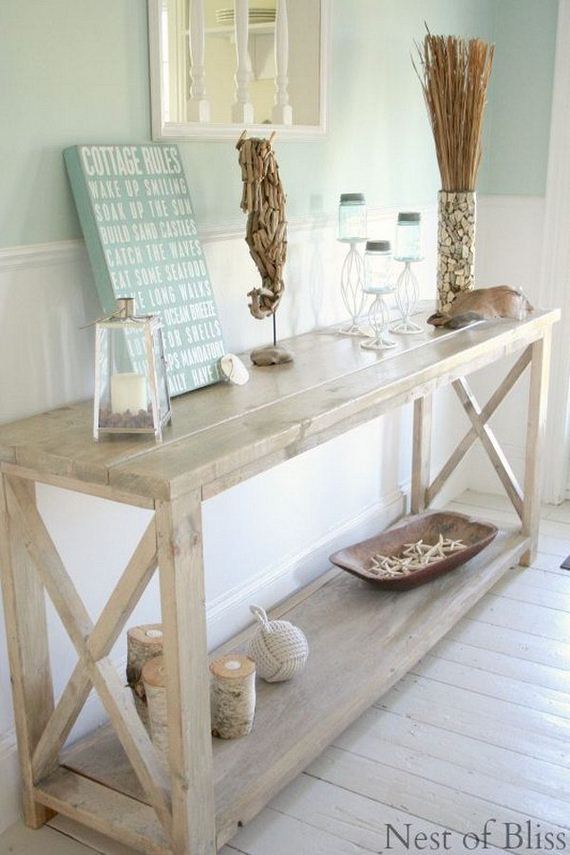 The bright color palette in this entrance offsets the charm of the weathered console table. The extensive collection of wood art also enhances the rustic appeal. source.
An Eclectic Entrance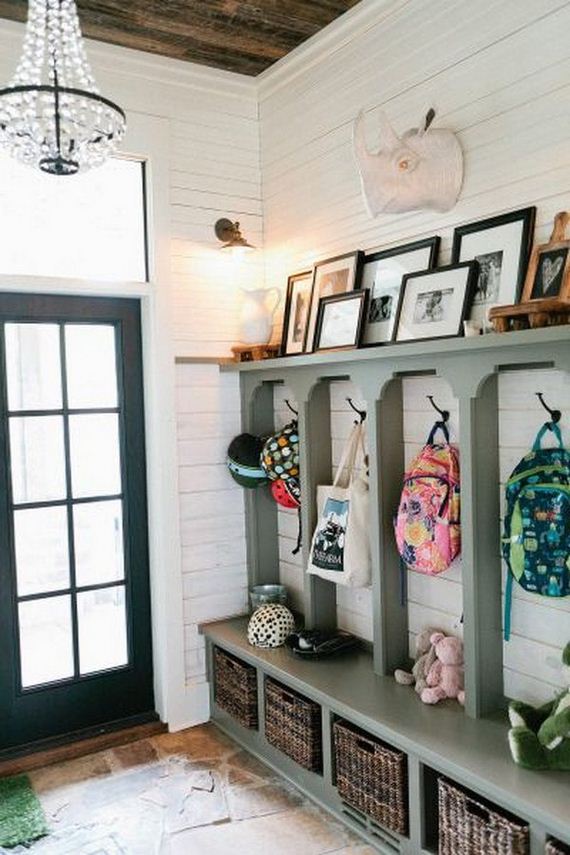 A dripping chandelier welcomes you upon entering this mudroom. Reclaimed barn wood, wicker baskets and the paper mache Haitian Rhinoceros lend a rustic flair to the room. source.
Functional Yet Stylish Farmhouse Entry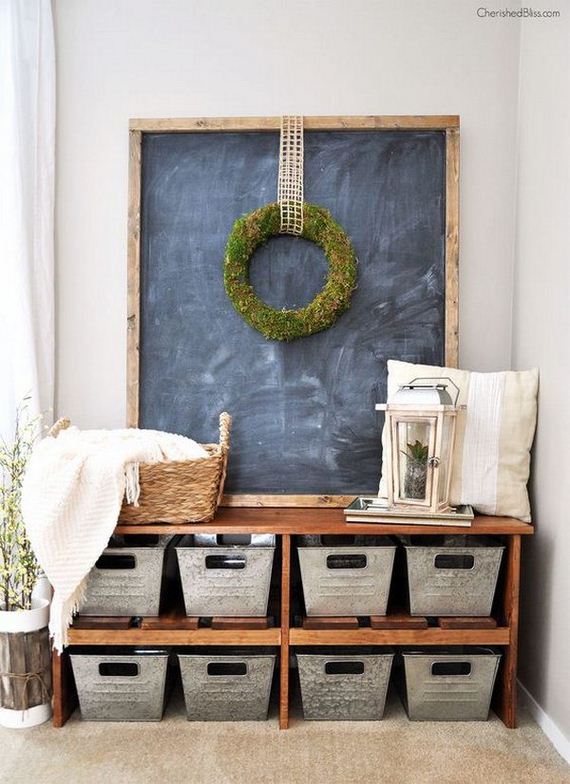 This entryway displays a variety of shabby chic decor traits. The wooden bench and galvanized bins effortlessly emanate a rustic lure. source.
Elegant Minimalist Farmhouse Entry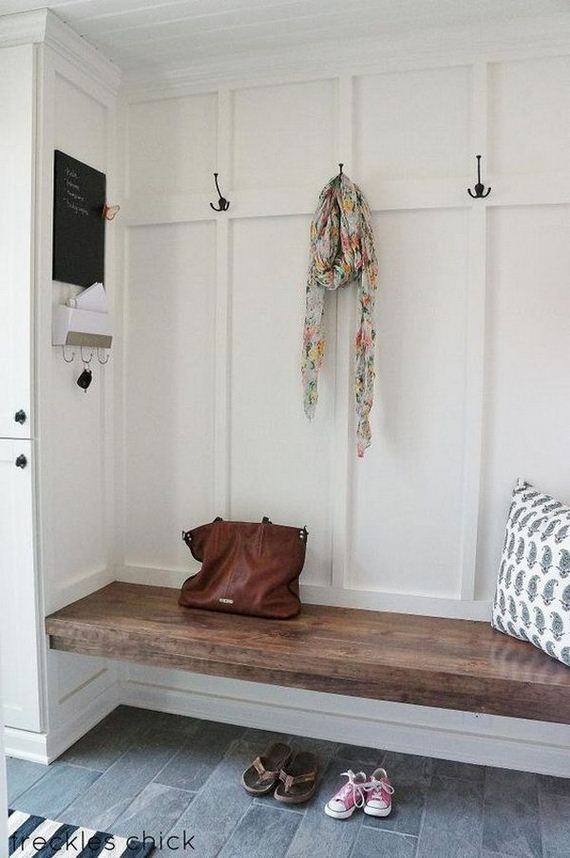 Every piece in your farmhouse entryway doesn't have to look shabby. This homeowner incorporates a simply weathered bench that effortlessly exudes rustic appeal. source.
Contemporary Decor with a Touch of Rustic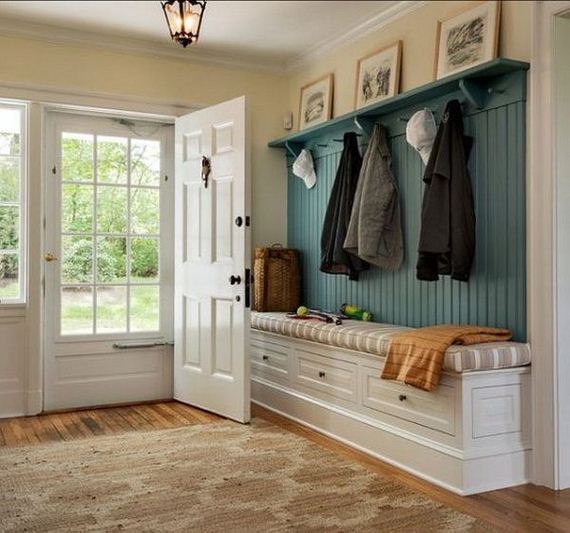 Elaborate and uncluttered, the chic decor in this entry way evoke feelings of relaxation and comfort. On entering this mudroom, you are greeted with a rustic ambiance from the lantern reflected by bright color palette.
Upcycle A Paint Can Into Farmhouse Style Flower Pot For The Entry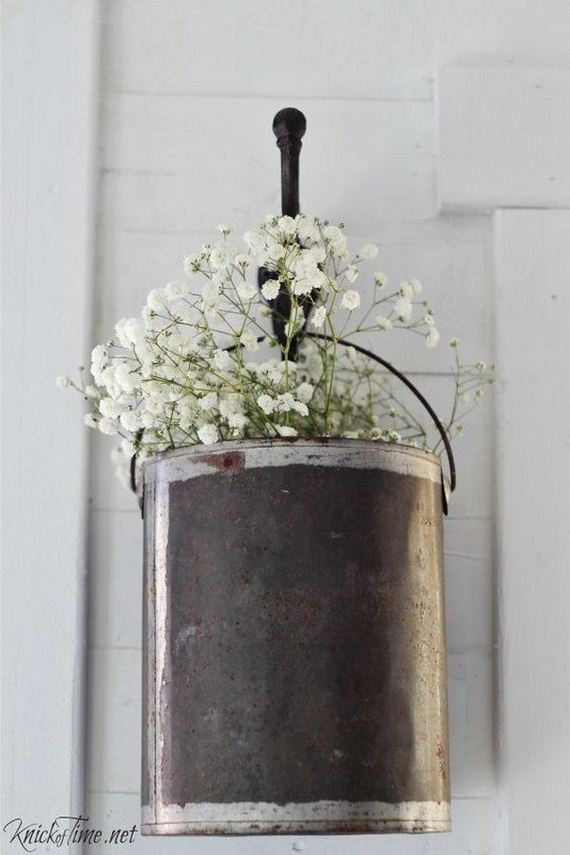 Spruce up your entry with a repurposed paint can by using it as a hanging flower holder. Nothing fancy, but the patina on the can offsets a rustic appeal. source.
Vintage Cabinet for Cottage-Style Entry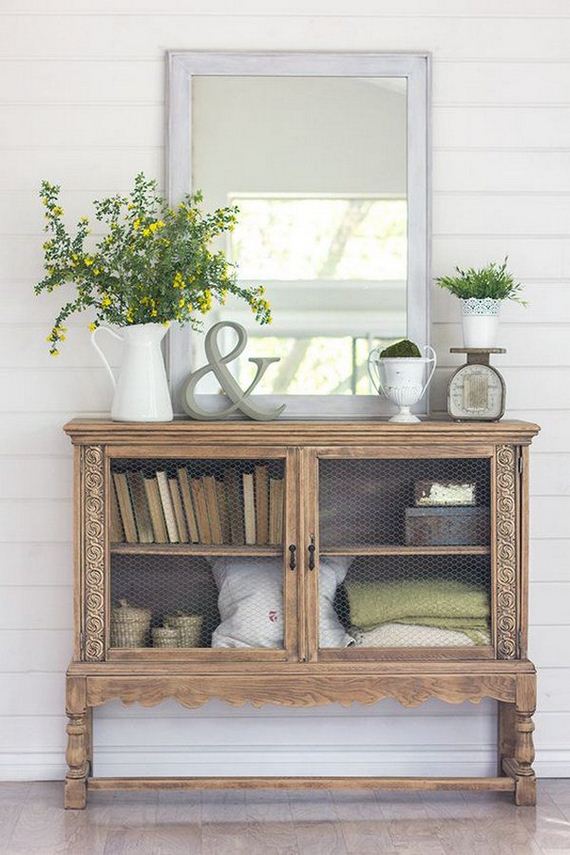 An elaborate baroque-style cabinet enhances the rustic decor in this entrance. A neutral color palette also complements the eclectic collection of shabby chic decor. source.
Repurposed Drawer Fronts for Rustic Decor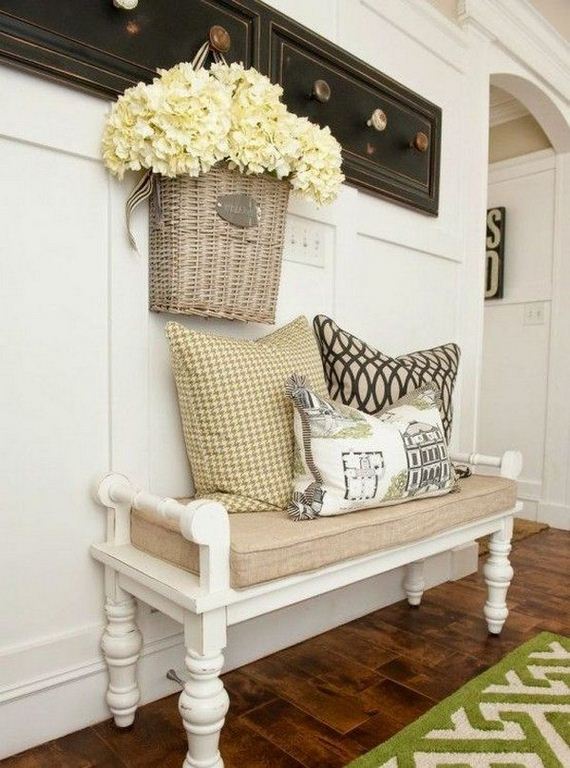 Repurposed furniture items such as these drawer knobs make lovely statement pieces for the entry way. The natural wood floor and the wicker basket also add to the rustic charm.
Beautifully Distressed Furniture for Entry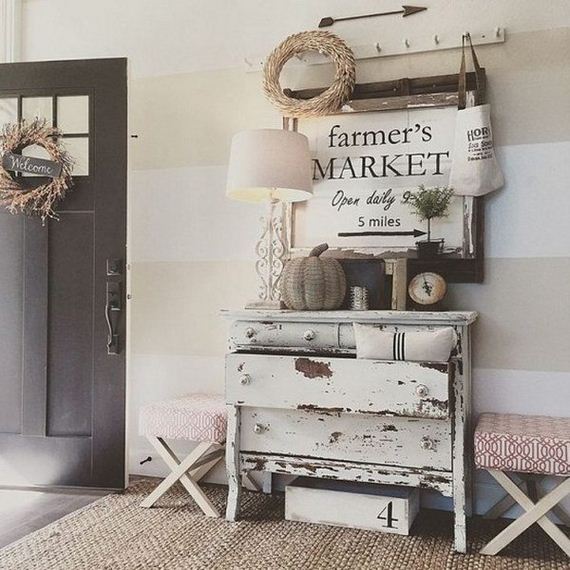 The fibered rug and elegant lamp stand work complement this beautifully distressed chest of drawers. Plus, the chunky horizontal stripes on the wall just look lovely. source.
Mix Rustic With Formal for Entryway Decor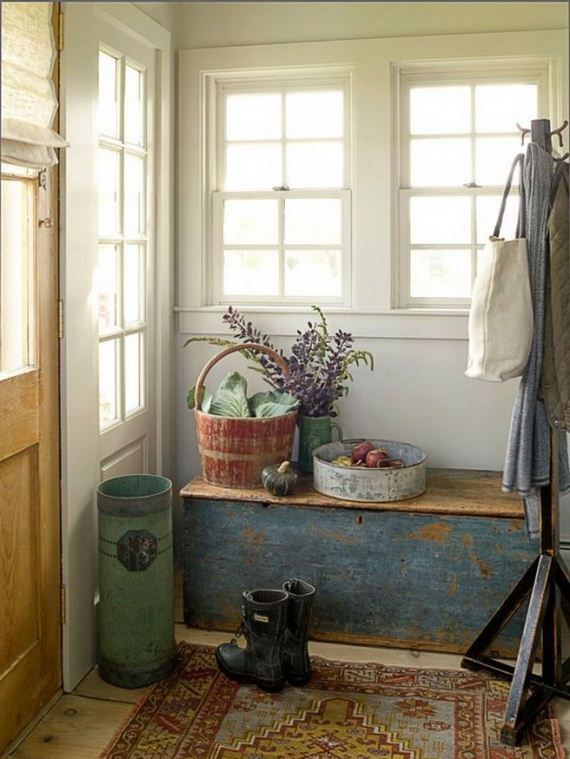 To create a visual juxtaposition in your entrance, pair shabby chic decor items with formal pieces; this entry way features plenty of assorted colors and shabby chic decor with white painted walls to tone things down. source.
Sophisticated Farmhouse Style Decor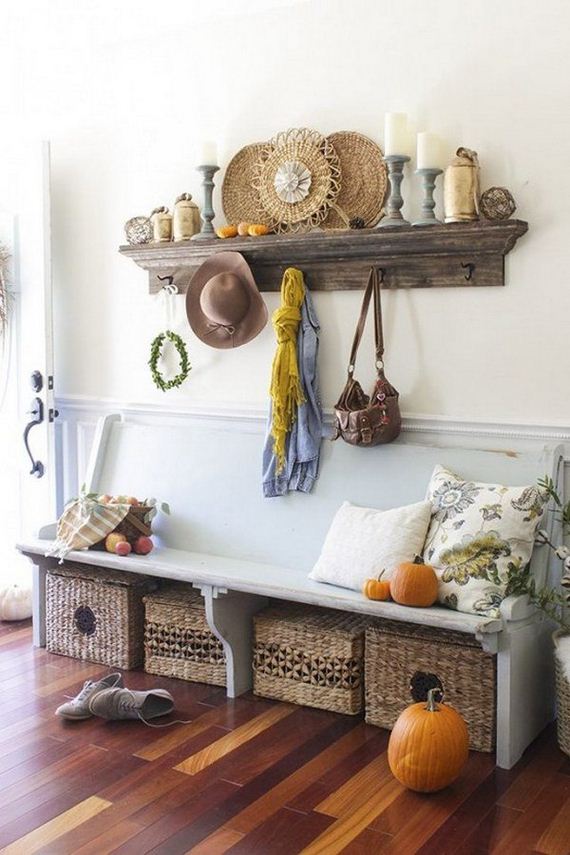 This entry welcomes you to a stunning variety of natural textures paired with just the right touch of contemporary decor. source.
Casual Elegance with Rustic Decor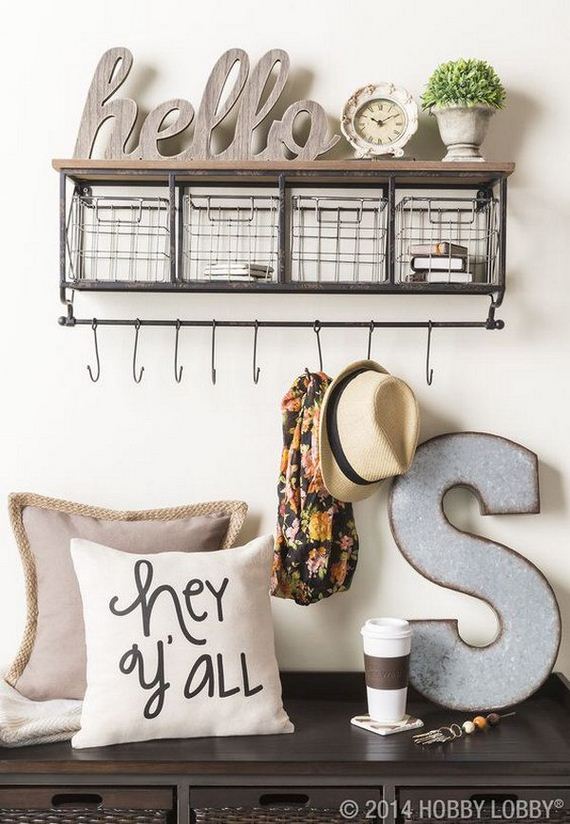 When it comes to rustic decor, perfect imperfections are the name of the game. The two beautiful pillows paired with the distressed black metal and woods shelf, evoke feelings of appealing authenticity. source.
Simple Rustic Entry Way Decor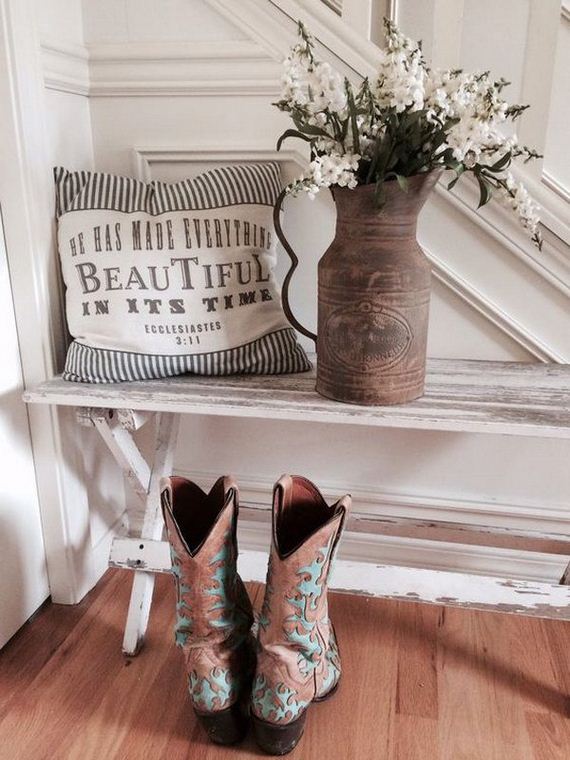 Clean lines, minimal clutter with a few distressed details best describes this entry way. The printed pillow also adds an authentic appeal. source.
Contemporary Fused with Rustic for Entry Decor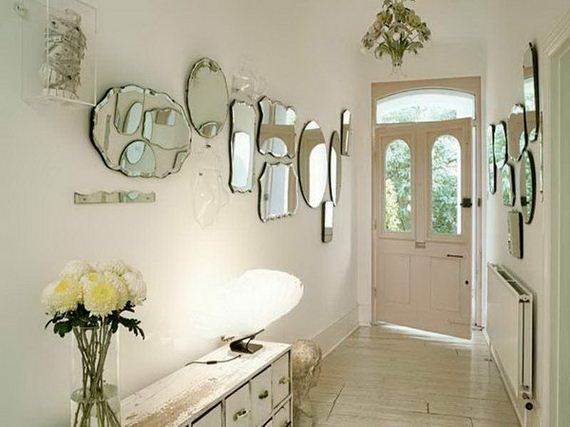 An eclectic collection of vintage style mirrors adds interest to this entryway while creating the illusion of space. Also, the distressed console lends a bit of an unexpected vintage flair to the contemporary decor.
Vintage Farmhouse Decor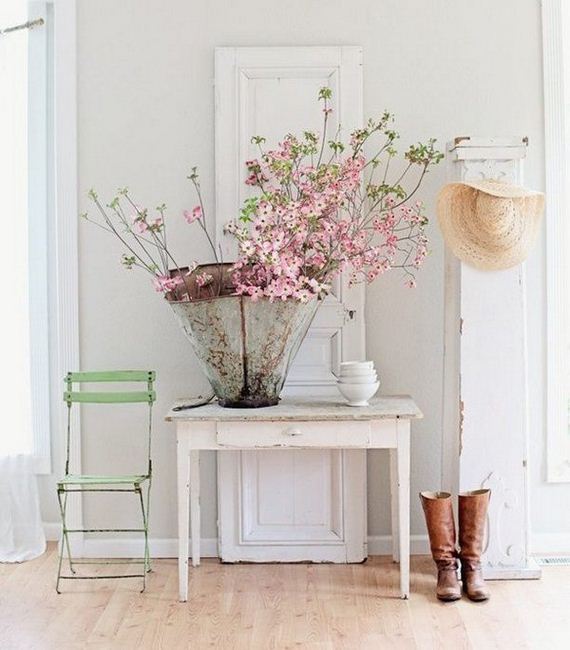 One of the trademarks of rustic Decor is using furniture in spaces they are not traditionally meant for. An old wooden door paired with a distressed console table makes a great piece for a cottage-style entry. The beautiful flowers in the repurposed bucket create a look of casual elegance. source.
---
---