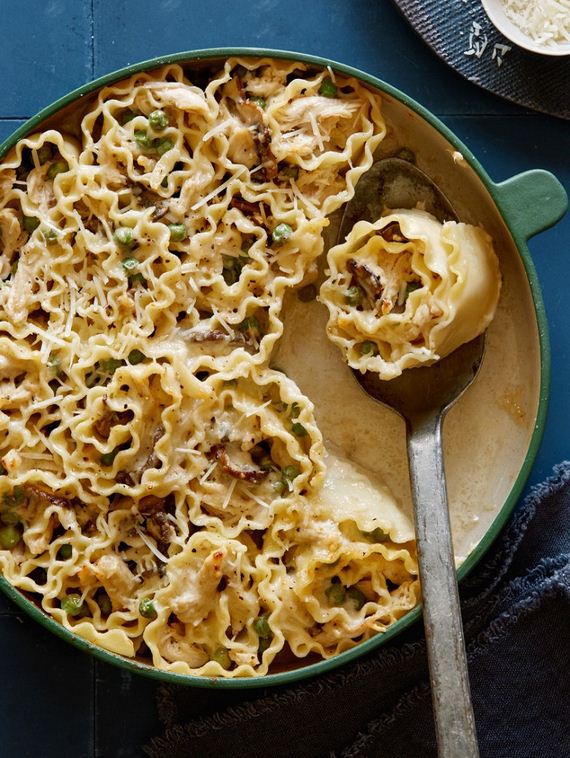 Amazing Meals for Alfredo Sauce Fans
Amazing Meals for Alfredo Sauce Fans
---
One of the most popular sauces that ever came out of the Italian cuisine is definitely the Alfredo sauce. You can easily prepare it at home and use it many different recipes – from pasta to chicken meals! If you haven't tried it so far, then you definitely should – it is made out of butter, heavy cream, garlic, Parmesan cheese and parsley, although the sauce can be modified for vegans as well.
Bellow you will find our ten recipes than include the famous Alfredo sauce. There is something for everyone's taste and we hope that these recipes will make it to your table!
1. Potatoes in Alfredo Sauce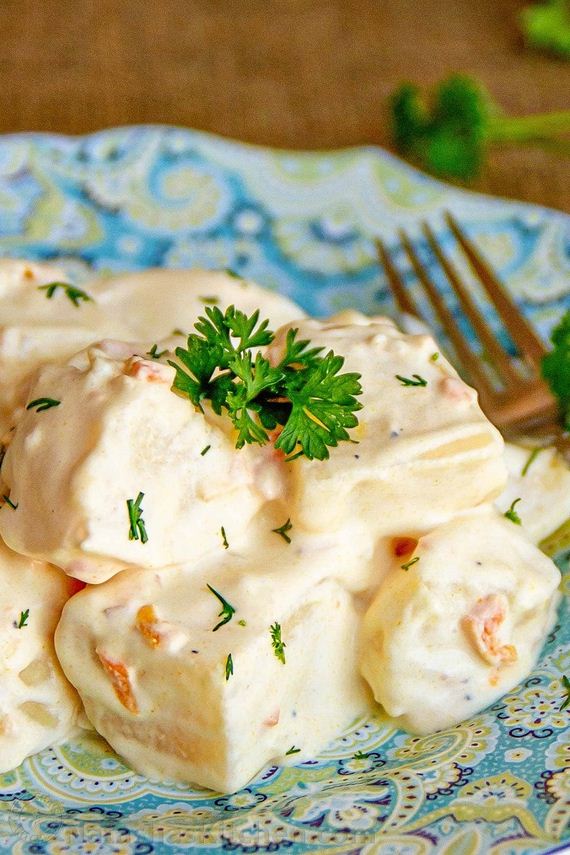 No matter if this will be the side or main dish, the Alfredo potatoes can be a great twist if you're tired of eating the sauce with pasta only. Ideal for lunch or dinner, for this recipe you need the following ingredients: 5 lb Yukon potatoes (13 medium to large potatoes), 2 cups heavy cream, 1 medium onion, 1 large carrot, 1 can Alfredo Sauce (15 oz), 1 tbsp salt + more to taste, 3 tbsp butter and 1 tbsp canola oil. You can also use 1 bay leaf and 2 pierced garlic cloves, but this is optional.
2. Over-Baked Eggplant with Alfredo Sauce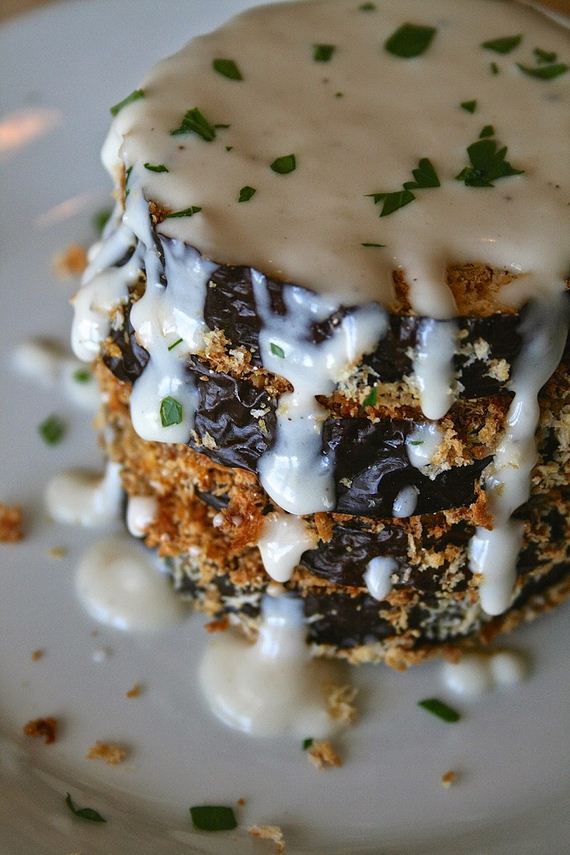 via jessicaerinjarrell.blogspot.mk
Being a good source of dietary fiber, vitamin B1 and copper, the eggplants are the kind of food you need to eat often. They are low in calories, healthy and plus they taste great, especially when you combine them with the delicious Alfredo sauce. For this recipe, you will need 1 large eggplant sliced into rounds, 2-3 lightly beaten eggs, 1 cup panko, 1/4 cup cornmeal, 2 tbsp butter and 2 tbsp flour. Served the baked eggplants rounds drizzled with the sauce immediately.
3. Broccoli, Mushroom and Leek Chicken Alfredo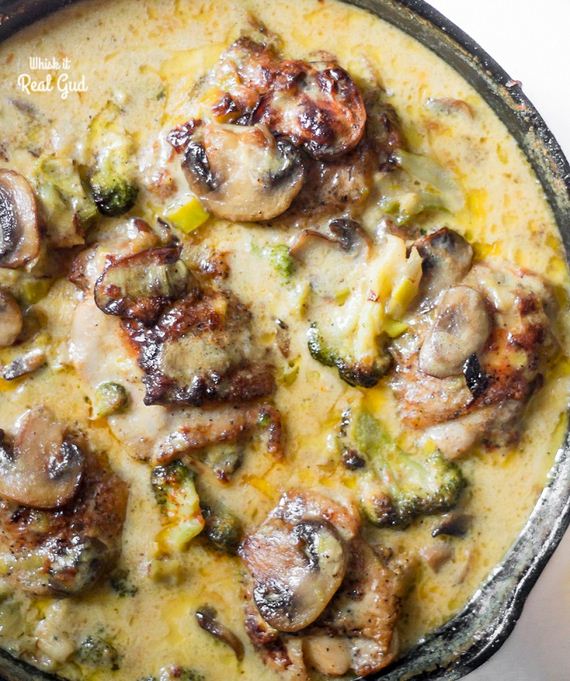 Chicken, vegetables and Alfredo sauce – this is the kind of food combination you would love to have for lunch or dinner! This creamy meal is offering not only a tasty mix of different ingredients, but they are also healthy as well – the broccoli provides us with dietary fiber, the mushrooms and the chicken with protein, and the leeks with vitamin K – just to name few of the benefits. With adding seasonings, such as smoked paprika, garlic and celery salt, this would be your new favorite dish!
4. Garlic Alfredo Pizza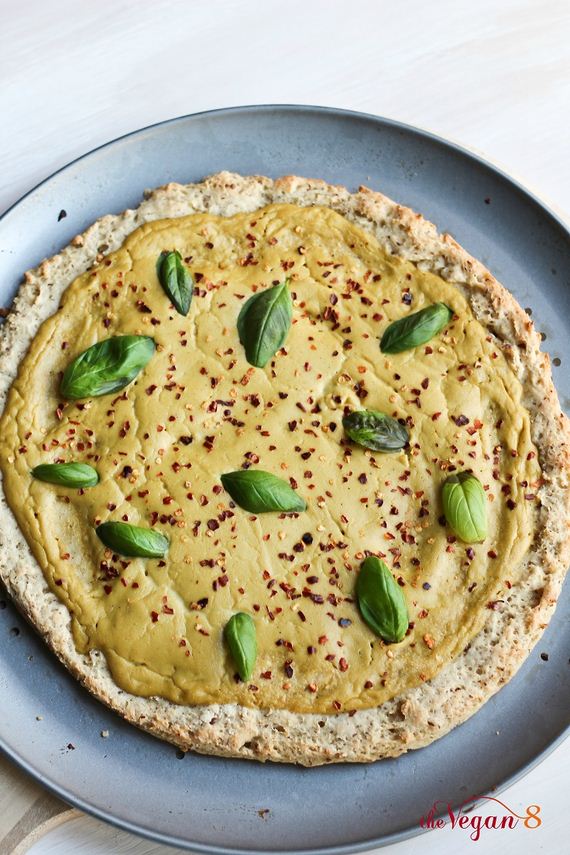 via thevegan8.com
Even though the original Alfredo sauce recipe includes dairy products, you can make a vegan version out of it – even better, you can make a vegan Alfredo pizza! For this recipe, you need 1 medium white onion, 1 1/2-2 cups low sodium vegetable broth, 1/2 teaspoon fine sea salt, 1/4 teaspoon ground black pepper, 3-4 large garlic cloves, 1/2 heaping cup raw whole cashews, 1 tablespoon lemon juice and 1/4 cup + 1 tablespoon nutritional yeast. You can prepare the sauce a day earlier, so that it would intensify and get thicker.
5. BBQ Chicken Pizza with Alfredo Sauce and Bacon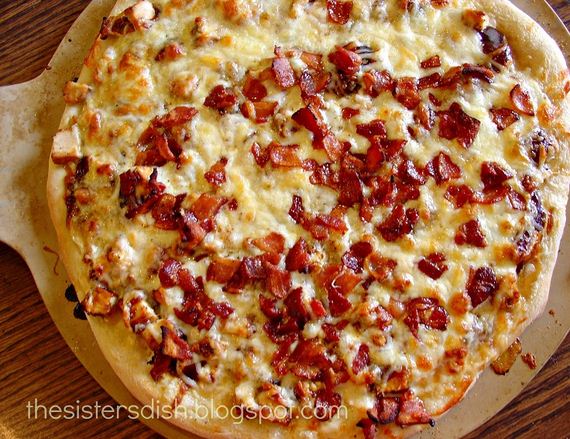 via thesistersdish.blogspot.mk
Or, if you're definitely not a vegan and quite the contrary, here's a pizza that you would love: it contains bacon, chicken, lots of cheese and Alfredo sauce. It sounds so delicious, right? No matter if it's for lunch or dinner, or even leftovers for breakfast, this is something that every pizza fan should try. Here are the ingredients you need: pizza dough, Alfredo sauce, 1/4 of a pound of both grated Monterrey Jack and Provolone cheese, 2 chicken breasts marinated in Italian salad dressing, BBQ sauce and bacon.
6. Shrimp & Veggie Fettuccine with Cauliflower Alfredo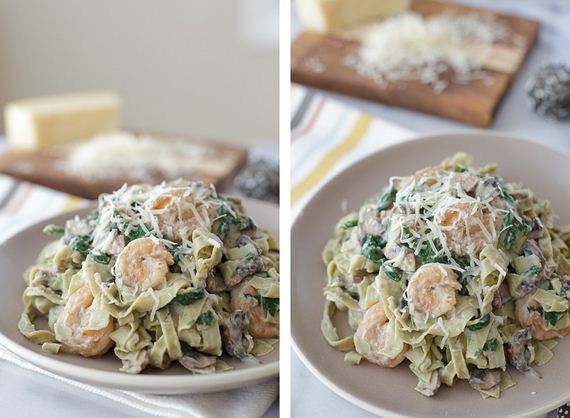 via snixykitchen.com
Besides the original Alfredo sauce recipe, there are few variations of the sauce that are also worth the try. One of these variations is the Alfredo sauce prepared with cauliflowers and it tastes just as good as the original. For this recipe, you need 4 cloves garlic, 1 teaspoon unsalted butter, 1 large head cauliflower, 1 cup vegetable broth, ¾ cup whole milk, ¼ cup freshly grated Parmesan cheese, ½ pound of shrimp, 2 cups cremini mushrooms, 4 cups spinach, salt & pepper, to taste and ¾ pound mung-bean fettuccine.
7. Cheesy Ravioli Lasagna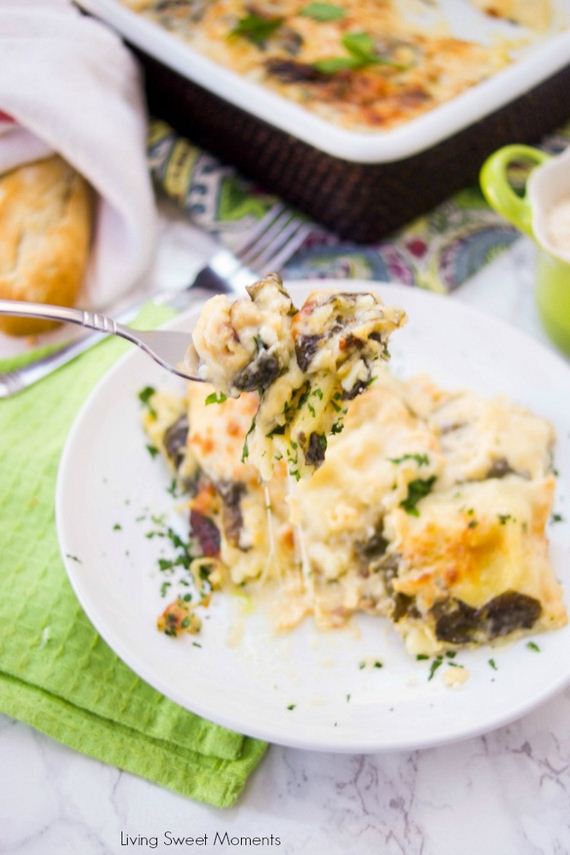 This recipe is also known as Lazy Lasagna because it's very easy to prepare! If you're a fan of cheese and pasta of any kind combined, you're going to love this recipe. Ready in less than one hour, besides the Alfredo sauce, for this lasagna recipe make sure you have these ingredients.
8. Chicken Alfredo Lasagna Roll Ups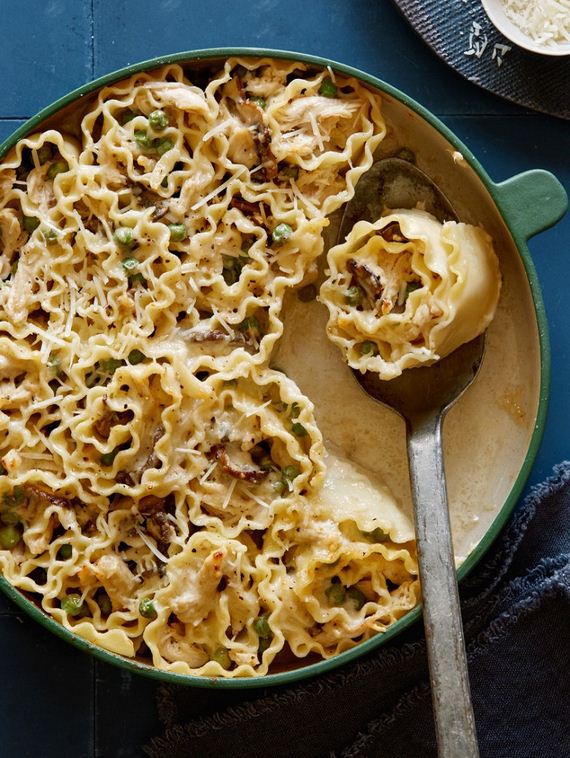 Here's another lasagna recipe that we recommend you to try it. Instead of layering the lasagna like in the original recipe, this one includes lasagna sheets with fluted edges and an Alfredo sauce for which you need the following ingredients: 2 cups shredded chicken, 1 cup freshly steamed English peas, 4 tablespoons unsalted butter, 8 ounces thinly sliced shiitake mushrooms, 3 garlic cloves, 1/4 small yellow onion, 2 1/2 cups heavy cream and 8 ounces grated Parmesan.
9. One Pot Broccoli Alfredo Pasta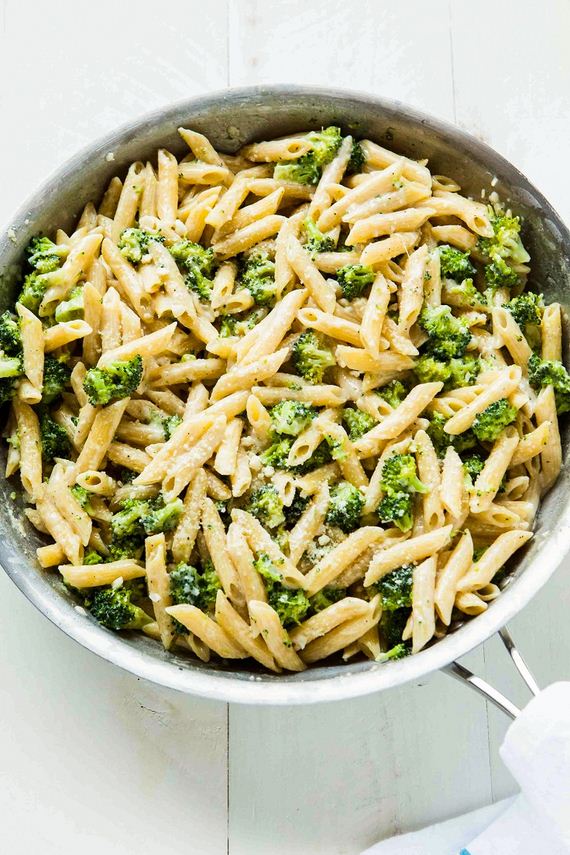 There are many pasta recipes with Alfredo sauce that you can try at restaurants and make at home. We would even say that not trying the sauce with pasta is such a pity! This one is a one-pot broccoli pasta that is ready in just 3- minutes, making it a great recipe to prepare when you're too busy. You need 1 pound penne pasta, 6 cloves garlic, 1 teaspoon salt, 1/4 teaspoon black pepper, 1 tbs olive oil,4 cups water, 1 head broccoli, 4 tbs unsalted butter, 1 cup heavy cream and 3/4 cups grated parmesan cheese.
10. Salmon Alfredo Pasta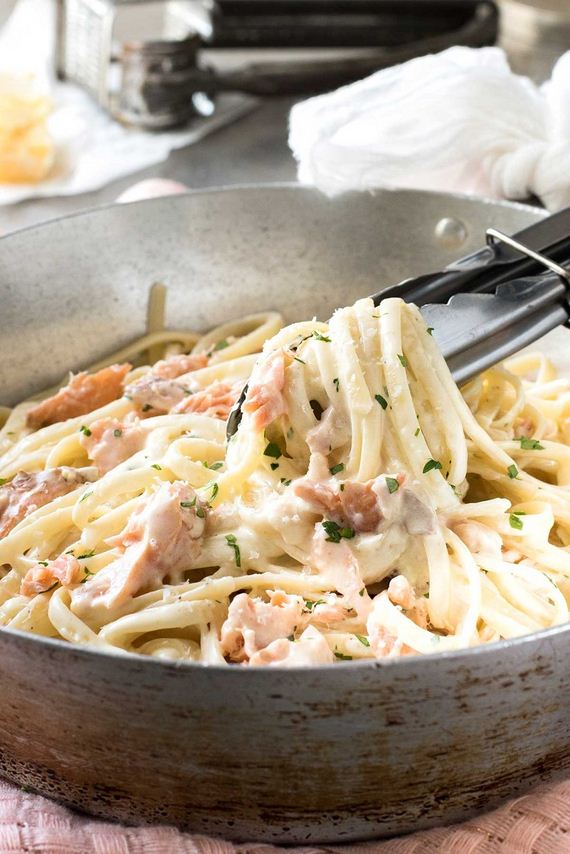 Creamy pasta with seafood is something that all pasta lovers should try. Most often you can get to recipes that use tuna, but other fish such as the salmon work perfectly fine. For this recipe you need the following ingredients: 8 oz dried fettuccine, 3 tbsp unsalted butter, 1 small shallot, ½ cup heavy cream, ¾ cup freshly grated Parmigiano Reggiano or parmesan, ¼ teaspoon salt, good grind of black pepper and 6-7 oz hot smoked salmon fillet.
---
---