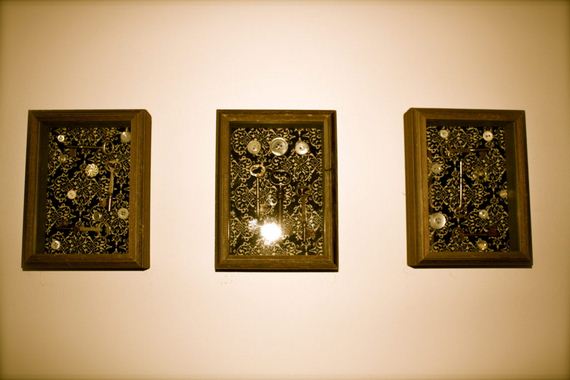 Amazing Shadow Box Ideas
Amazing Shadow Box Ideas
---
1. Vintage key shadowboxes. Lovely Living suggests scouring your own or your family's homes, thrift stores, and local rummage or farm sales to find old fashioned keys that look gorgeously decorative. Organize them in a deep-set frame or shadowbox to help establish a gorgeously vintage aesthetic!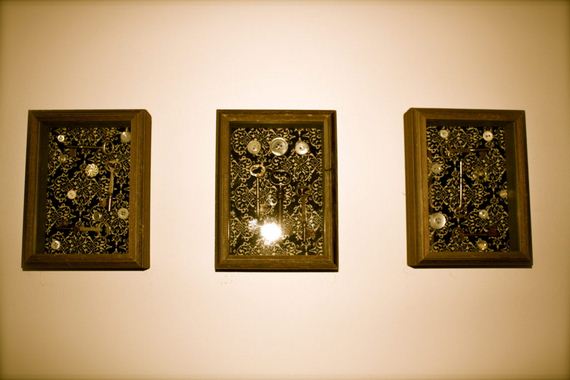 2. Fabric star and favourite quite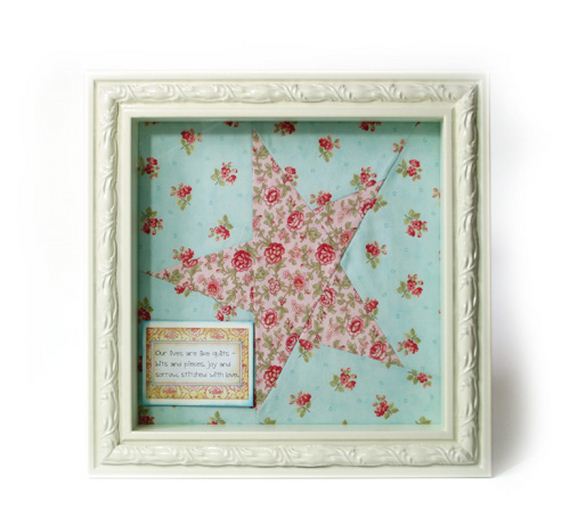 She's Smart chose to make a shadowbox featuring a mixture of fabrics and a beautifully printed quite. We think this idea would make a gorgeous graduation, birthday, or wedding gift featuring colours, shapes, and words that you know your loved one would appreciate or feel inspired by.
3. Buttons, spools, and sewing trinkets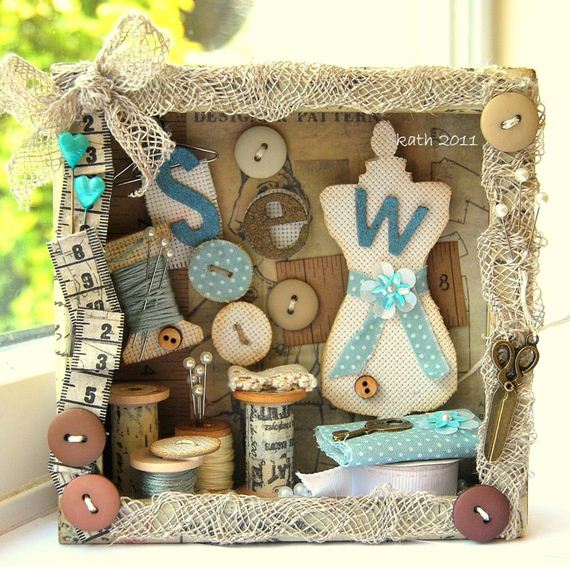 Do you know someone who adores sewing more than anything? Perhaps they're a seamstress who lives, breathes, and makes their income from sewing and clothing design, or perhaps they're just an enthusiast with a passion for their favourite hobby. Either way, show them appreciation for the work they've done for you by collecting sewing themed trinkets, stickets, and vintage spools and creating them a shadowbox! We absolutely love these textured, tactile design from All That Glitters!
4. Flowers, sheet music, and lace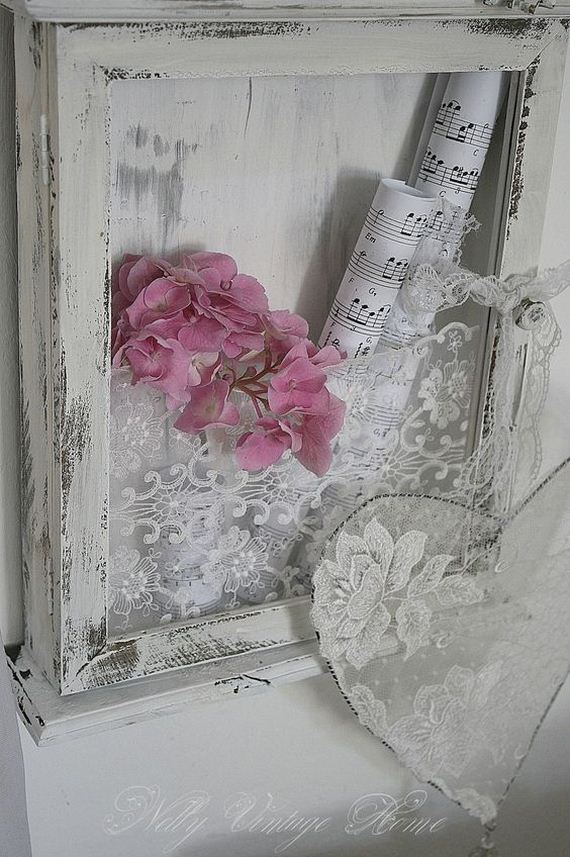 Nelly Vintage Home suggests creating a pretty, musical shadowbox using your favourite blossoms (make sure they're silk or dried, as real ones will die in a shadowbox), printed sheet music, and strips of lace. These things look especially lovely in a shadowbox that's genuinely or purposely weathered looking.
5. Vintage christening dress shadowbox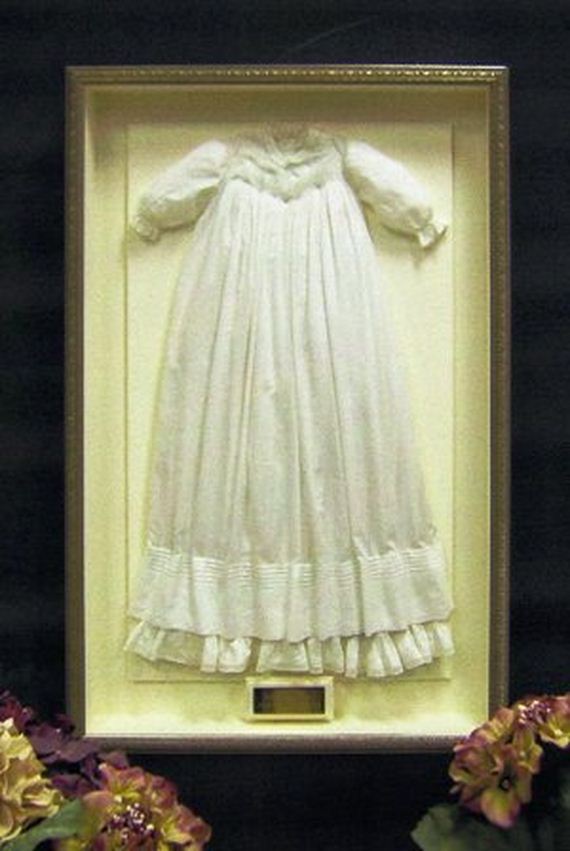 Has your family passed the same christening gown down for generations and now you're concerned about how it"s fare if you keep using it? Perhaps it'll fare just find but you think its beauty should be appreciated between uses! Here's another instance where a shadowbox is your answer. The Frame Source suggests a simple deep-set framing and an engraved plate so observers know how special the piece they're looking at is.
6. Vintage photo and baby bootie box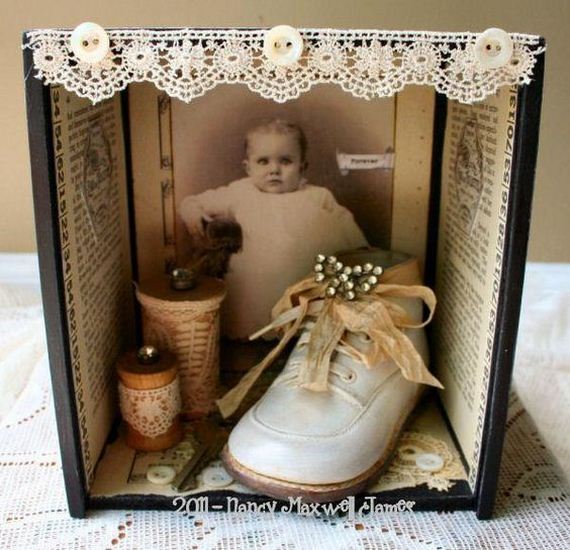 Are you lucky enough to still have not only a vintage photo of an older family member, but also one of their first pair of baby booties? This is the perfect scenario for a nostalgic vintage shadowbox! Check out how Sugar Lump Studios created this gorgeous example.
7. Hospital homecoming shadow box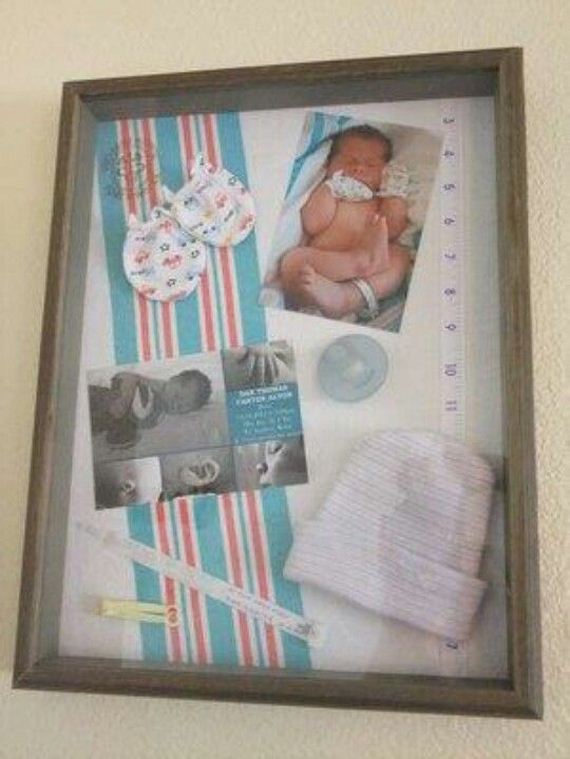 Have you kept every piece and detail from when each of your babies came home from the hospital? Preserve that moment the best you can in the same way that Mae de Guri did here; in a lovingly displayed shadowbox!
8. Tiny pocket watch shadow box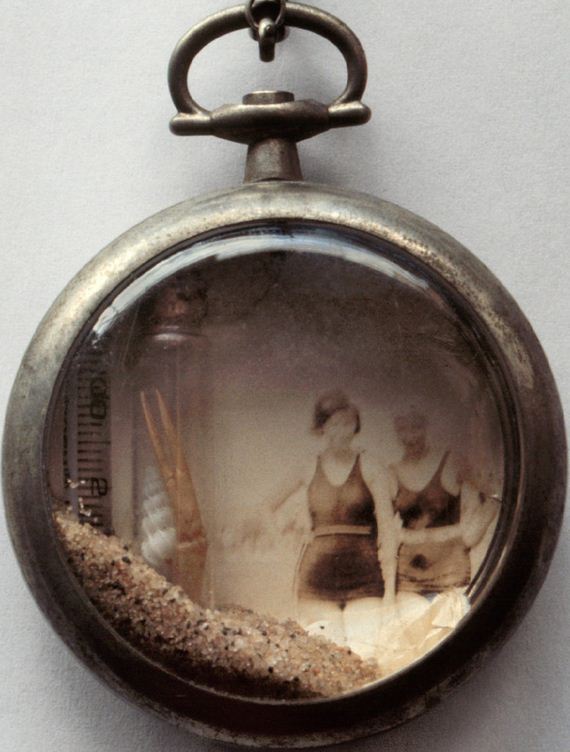 Do you love the idea of a shadowbox but you'd prefer one with a more unique twist than just a deep-set picture frame on the wall? Take some inspiration from these artistic pieces by Anne Arden McDonald, which are made inside the frames or shells of vintage pocket watches! The technique for making them is much the same, you're just working with a much smaller version of the other shadowboxes you've seen on the list.
9. Vintage collectibles shadow box

SweetPeaVintageArt has designed a shadowbox that's a little more involved than some ideas you might encounter. Besides being vintage themed, each object it contains is some type of vintage collectible. On top of that, the box itself and the doily that hangs down for a little extra decor are well preserved from previous generations too.
10. Wedding anniversary shadow box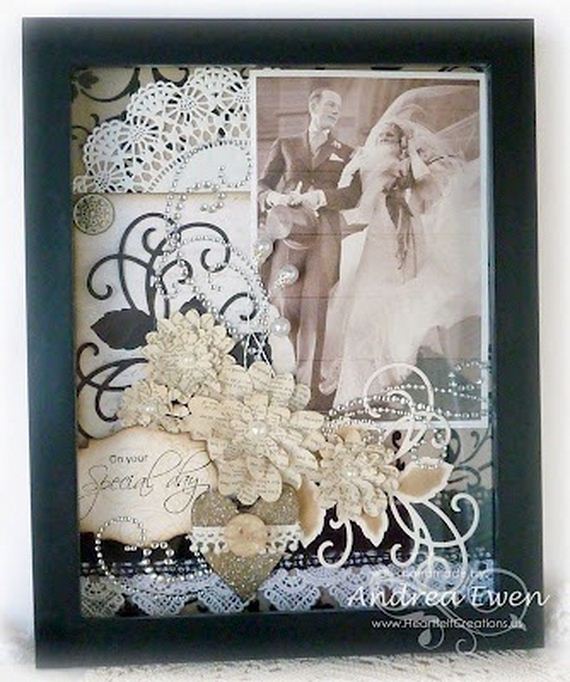 Marlene Vidal suggests making your parents, grandparents, or friends a wedding anniversary shadowbox as a nostalgic gift with a more personal touch than something bought from a store. Collect a print of one of their wedding pictures, a copy of their invitation, and some decorative pieces or cutouts together inside.
11. Floral wreath guestbook shadow box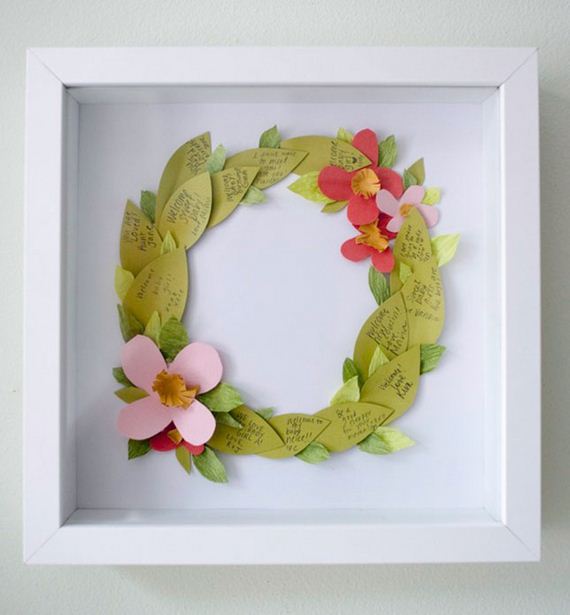 Shadowboxes are a great way to display your first greetings from family and friends when you move into a new home! During your housewarming party, set out little cards cut to look like leaves, asking visitors to write on the leaves like they would a welcome or guest book. Collect the leaves at the end of the party and arrange them inside a shadowbox to look like a wreath. We think this idea from Oh Happy Day is a much more decorative idea than your average guestbook!
12. Apartment key shadow box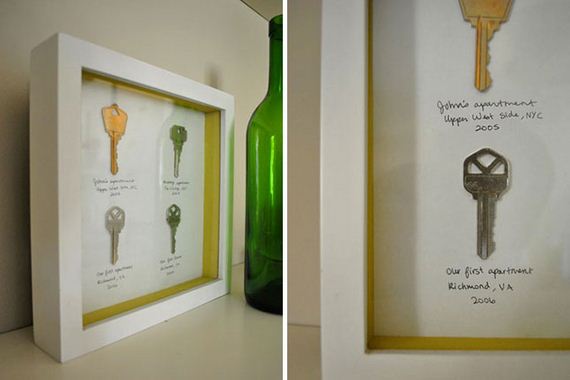 Do you like the idea of documenting it in a shadowbox each time you move into a new home, but you're not sure you'll be throwing a housewarming party? Start keeping the keys to your old homes instead! Young House Love suggests arranging your keys in a shadowbox, labeling them with the addresses and dates that you lived in that home. As time goes on, the box will start to chronicle your life in a unique way!
13. Vintage doily shadow box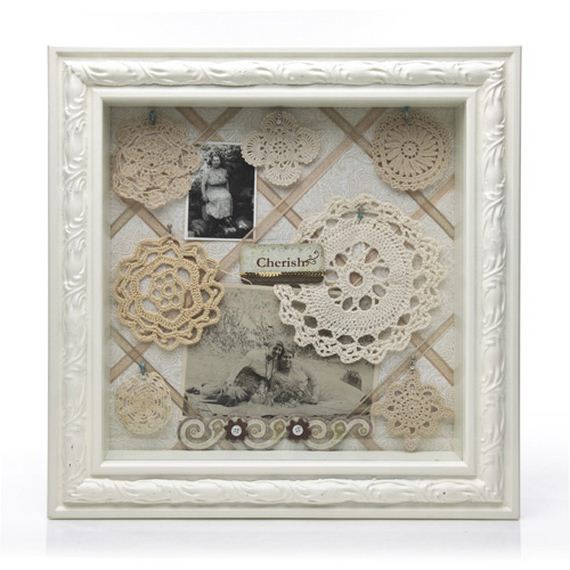 Do you love collecting vintage handmade doilies of all shapes and sizes? One of our favourite ways to display these pieces of art is in a shadowbox, just like She's Smart did here! This lets people look at how gorgeous the pieces you've found are, but it still keeps them safe and well protected.
14. Vintage recipe and mixing spoon shadow box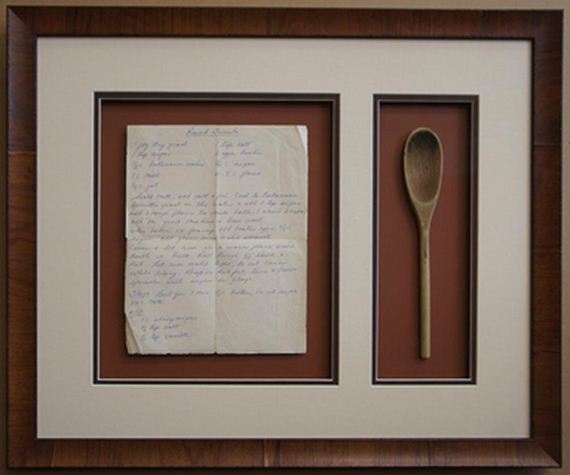 Does your family have a secret recipe that has been passed down for generations and become infamous in your local area? This idea from Pinterest preserves that recipe in a unique and decorative way that people will love looking at! Take the oldest hand written version of the recipe that you can track down and pair it inside a shadowbox with a vintage wooden spoon or other cooking tool that would be used when making the recipe. Now it's a delicious heirloom and a piece of art!
15. Brooch mural shadow box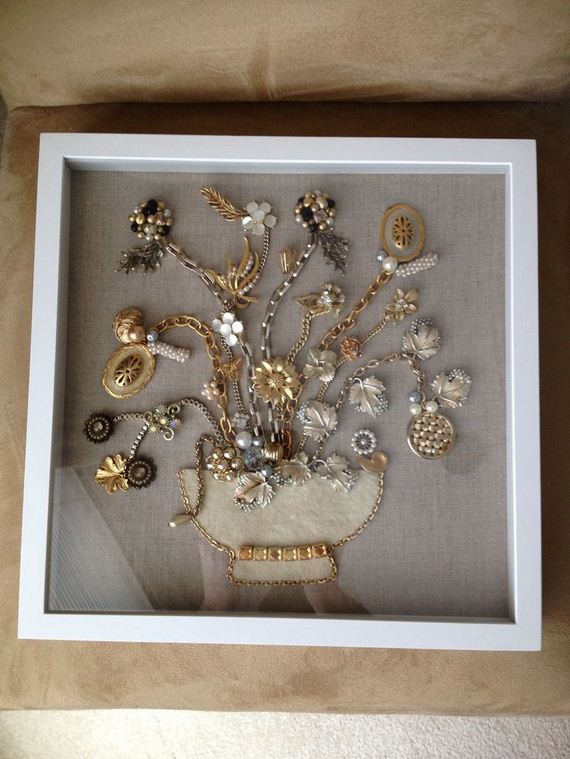 Have you been handed down countless piece of gorgeous vintage costume jewelry from your grandmother or aunts? You might wear some of it, but not everything you're given will still be in fashion. Some of it might even be broken. You can still preserve these pieces and make great use of them by creating a mural inside a shadowbox to show them off as home decor! We love this little jewelry tree from Pinterest.
---
---