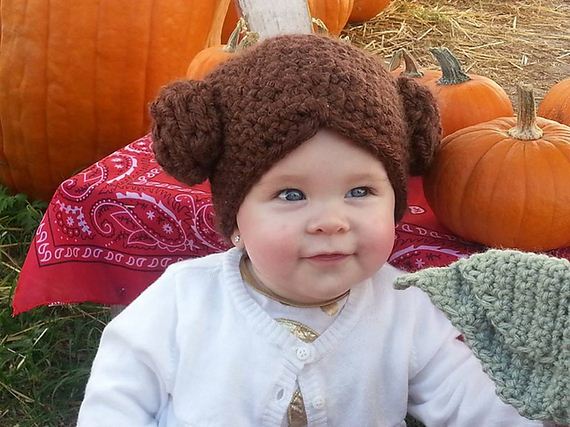 Amazing Star Wars Crochet Patterns
Amazing Star Wars Crochet Patterns
---
Check out these 15 awesome crochet patterns that are absolutely perfect for Star Wars lovers of any age.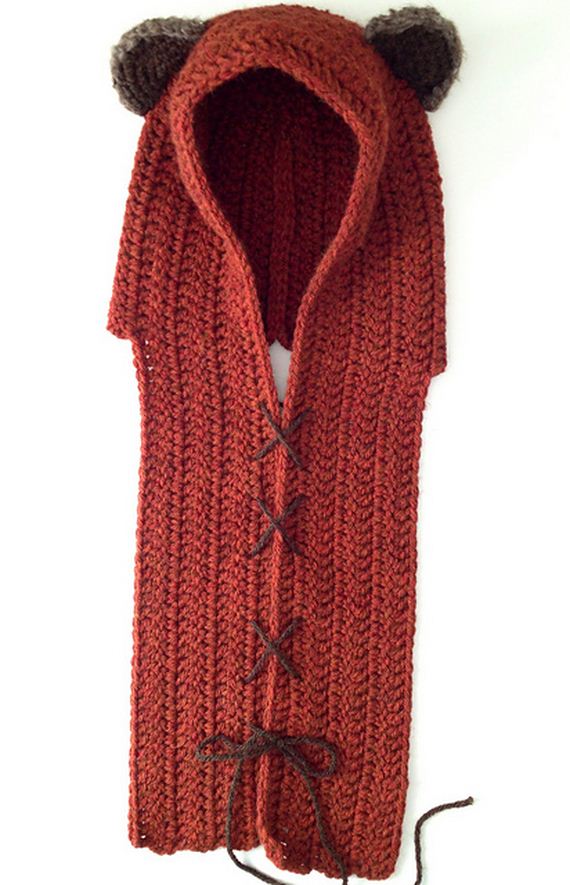 Okay, we admit it; we were total suckers for the ewoks. In fact, most people we know fell completely in love with these little creatures the minute they saw them. Adults and kids alike, then, will enjoy this hilarious little ewok hood, complete with ears! Lace it like a tunic, just like in the picture, or leave the long parts free to be wrapped like a scarf for extra warmth.
2. Star Wards Droid Beanies by Jen Spears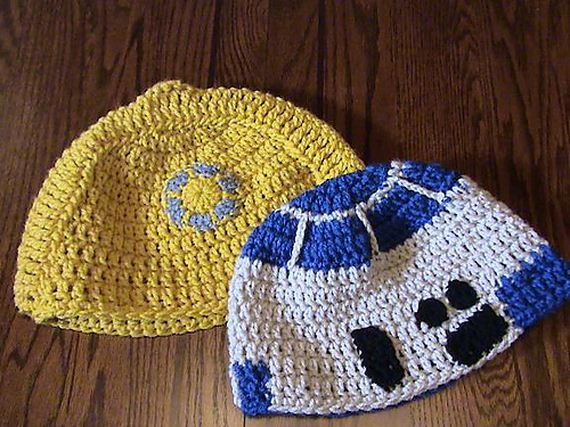 Whether you're more cautious and intellectual like C3PO or cheeky and confident like R2D2, this dual pattern has a hat design for you! You can make these in adult or children sizes, but we're particularly fond of the idea of dressing your kids in these hats, with the older, taller one as C3PO and the shorter one as R2D2, just like in the movies.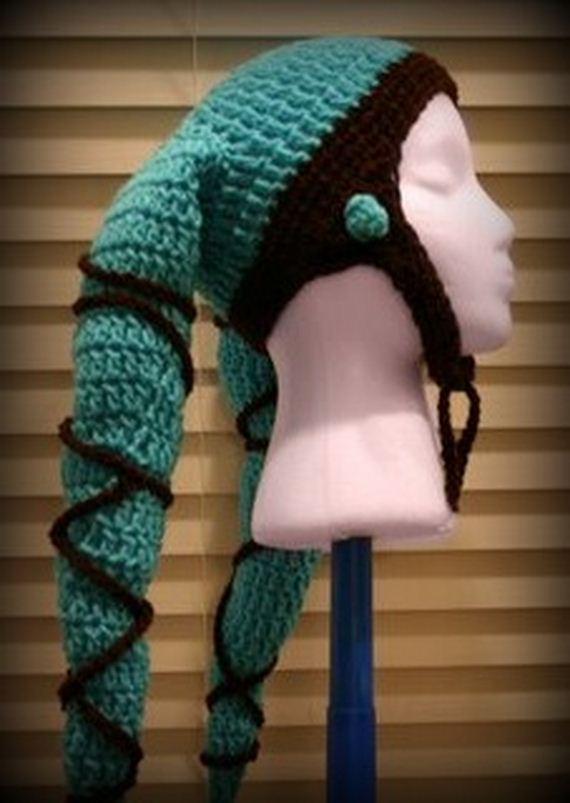 Ladies can get in on the Star Wars hat game too! We're completely in love with this Twi'lek hat design that will simultaneously keep you warm and make you look like an awesome character. This pattern really uses all of the coolest parts of crocheting; detail and structure abound.
4. Princess Leia hat by Sarah Jean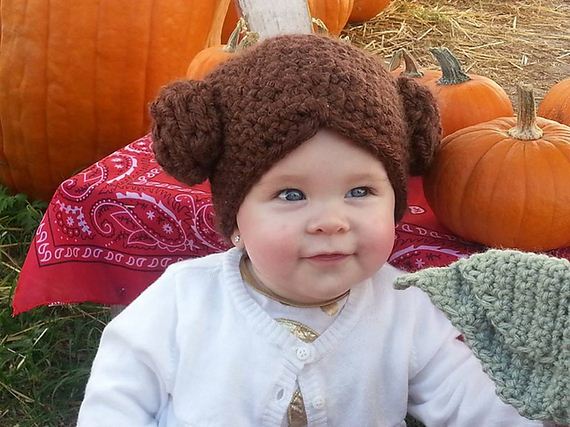 Whether you're looking for a super easy toddler's Halloween costume that will also keep Baby warm, or whether you're just the kind of fun parent who will take any opportunity to dress your kid up nice and silly, we're pretty sure you'll adore this little Princess Leia toque. We're also pretty sure her signature double bun hairstyle has never looked so cute!
5. Baby light saber by Lulu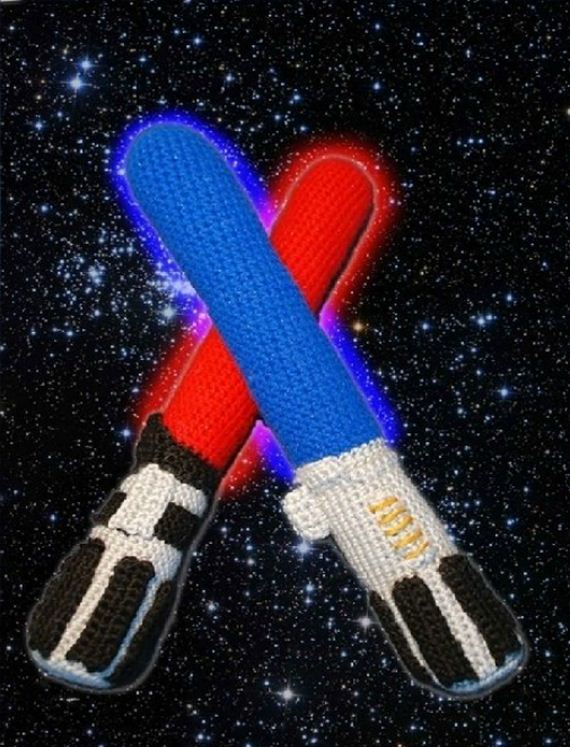 Do you have young kids who have been recreating all of the light saber battle scenes from the movies ever since you first showed them Star Wars a few weeks ago? There are lots of light saber toys out there, but they're mostly made of hard plastic that little kids can easily hurt themselves with. Until they're old enough to play carefully with those, make them these hilarious crocheted versions instead!
6. X-wing chart for scarves by Emily Mitchell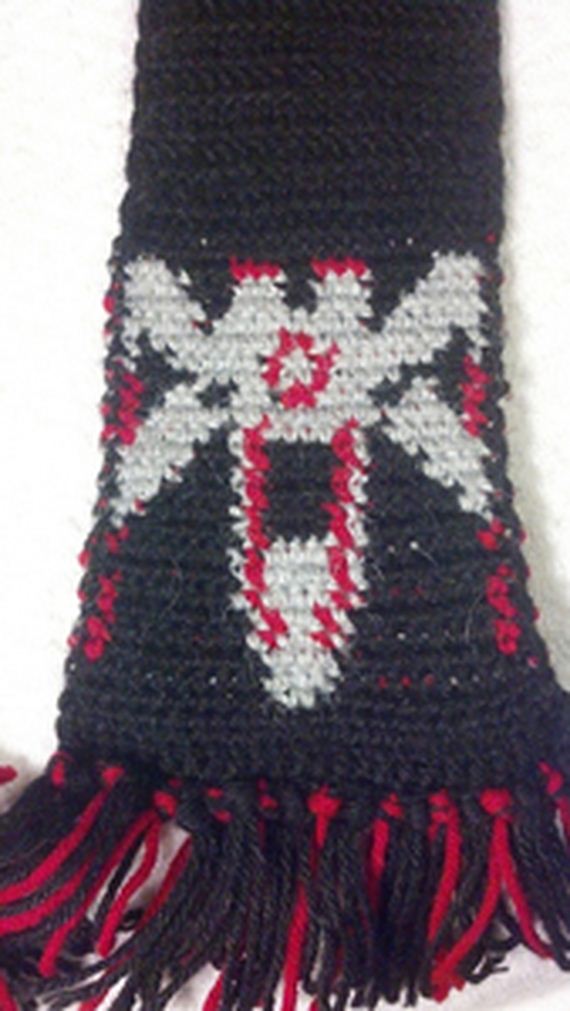 Does your little one dream of flying a rocket fast space craft? Do your kids spend half of their play time tearing around the house as fast as they can, making lazer sounds and calling each other "pilot"? Then this X-wing stitching design is perfect for them! The chart shows you how to make the basic pattern in just about any style of crocheted scarf.
7. Adult Yoda hat by Stitch 11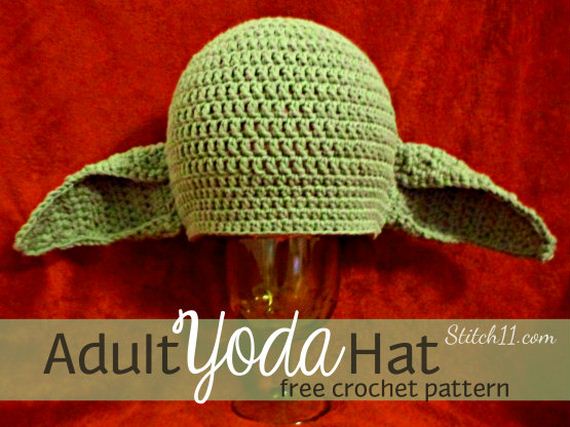 We've already shown you a few hilarious crocheted Star Wars hat designs for kids, but why should the little ones have all the fun? Here's a hilarious adult hat that will make you or your partner look just like Yoda. Whether you plan to wear them as an outdoor costume next Halloween and you just want to get an early start or whether you're into the idea of looking especially wise all winter, this hat will make for great pictures either way.
8. Star Wars Imperial square by Mallory Walleck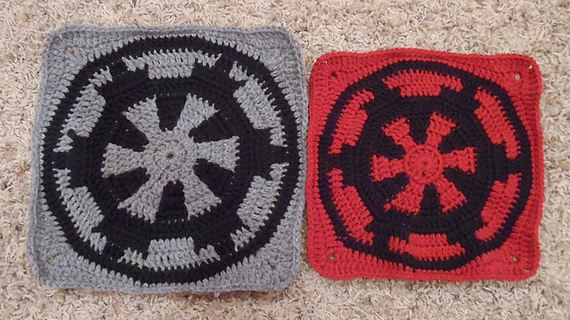 Sometimes all you need is a little hint of Star Wars related themes in your home to show off your fandom, and sometimes you'd rather have a lot, just for fun. Well, this crochet pattern shows you how to do a technique that's useful to you either way! You might make one simple Imperials square and use it as a coaster, or make many in different background colours and then crochet them together for a granny square blanket.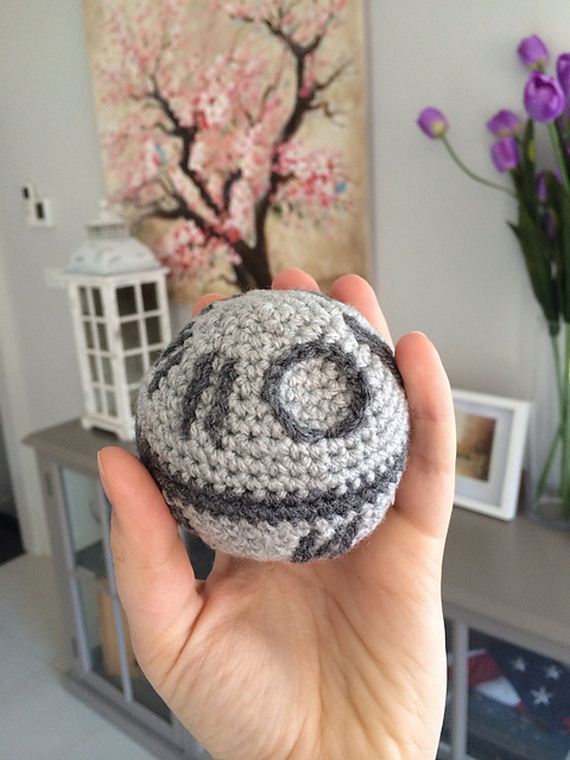 Have you been trying to practice your 3D crochet skills by making little toys and figurines? Then you'll be happy to know that we've found a way for you to merge that with your love for all things Star Wars! This Death Star plushie somehow manages to be both accurate and adorable, if a militarized spaceship can ever be described using such a word.
10. AT-AT walker by Nancy J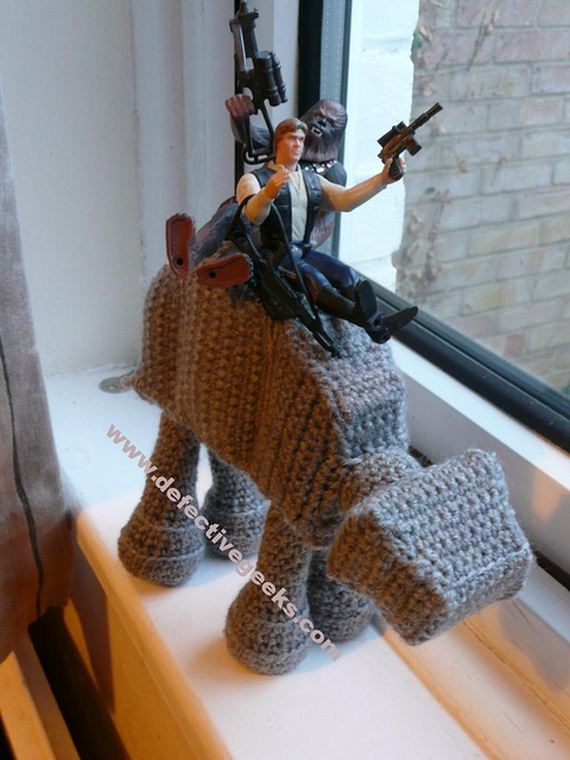 Was the Death Star easy enough thanks to its rounded shape and now you're ready for something a little more angular and with a few more parts? Perhaps you'd like to practice crocheting things that actually stand independently rather than just being plush? Then try making your very own AT-AT walker! We're still giggling over how Han and Chewy riding on top.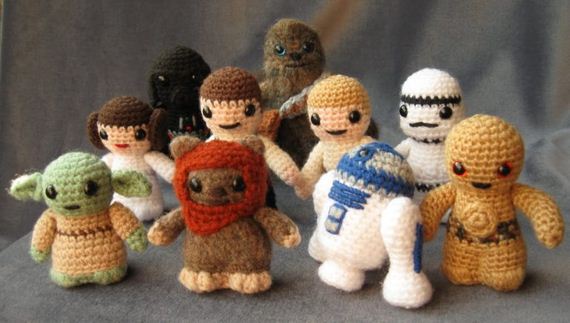 For those crochet enthusiasts who adore amigurumi patterns most, we've got you covered too! We're more than a little bit in love with these extra cartoonish figurines and we think they'd make perfect gifts for very young Star Wars fans who love the movies but still prefer plush toys to hard plastic ones. You'll especially love making these if you're also a felter and are keen on combining your two skills!
12. Baby Yoda mat by The Whoot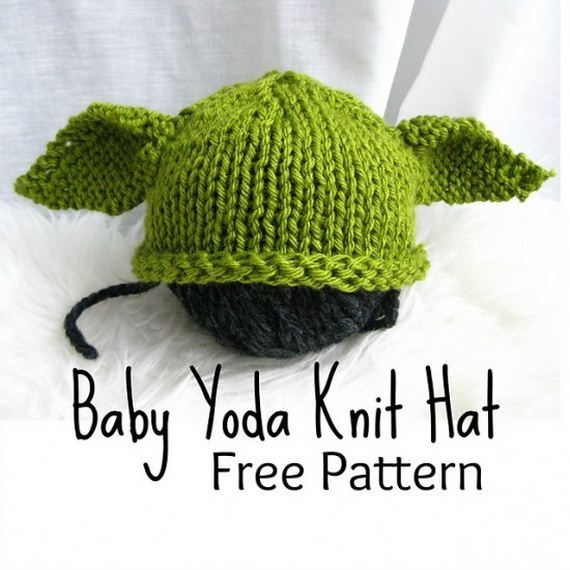 Did you love the adult Yoda hat so much that you were immediately keen on making a matching version for your little one? Then this baby Yoda hat is exactly what you need! It's a simpler design made for a smaller head. The thought of a parent and baby wearing matching Yoda hats together in a picture is practically enough to melt our hearts.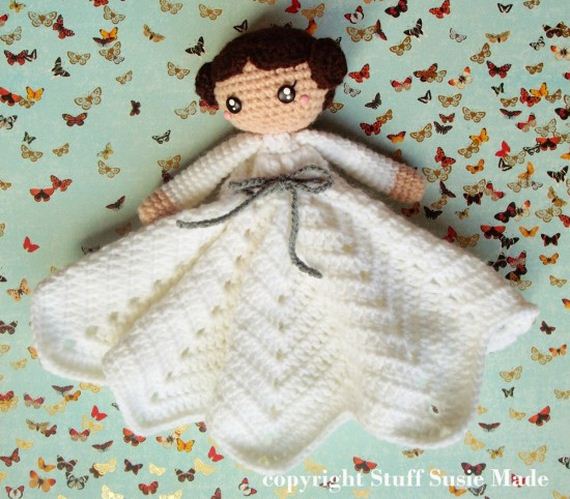 Does your young daughter look up to Princess Leia more than any other movie character because Leia gets to be a princess and and tough warrior? Then a Leia plushie is the perfect gift for her and this crocheted version puts your DIY skills to good use! We like this design because the doll has the accurate Leia hair, but the exaggerated skirt makes her both decorative and nice for snuggling.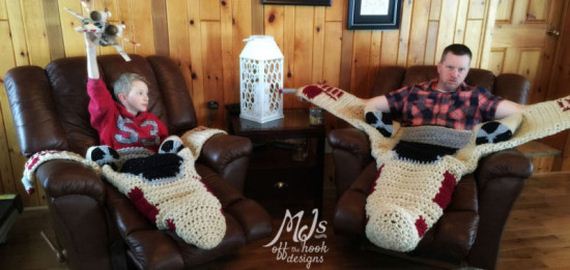 Have you seen those adorable mermaid tail blankets for little girls trending all over the Internet? Well, here's an awesome Star Wars themed version for the boys in your life! Instead of looking like a fish tail, this sleeping bag style blanket looks like an X-wing fighter and you'll look like the pilot sitting in the top when you slide your legs inside.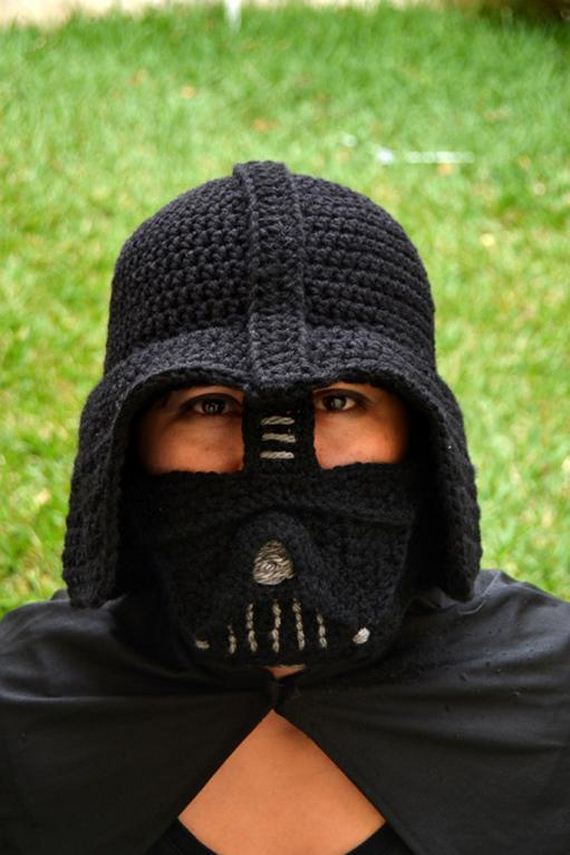 Well, we've shown you crocheted hat patterns for just about every other character in the Star Wars franchise, so it only makes sense that Darth Vader finally makes an appearance! Like the others, this would make a great project to start now so that you have it ready to go in lots of time for Halloween next year, but it would also just be an awesome balaclava to keep your child's face warm on the playground at school (while making him look completely awesome at the same time).
---
---