Amazing Ways To Use Mason Jars In The Garden
Amazing Ways To Use Mason Jars In The Garden
---
This collection of ideas offers a whole range of ways in which you can upcycle your jars into something useful, beautiful or both! Your backyard will never be the same again!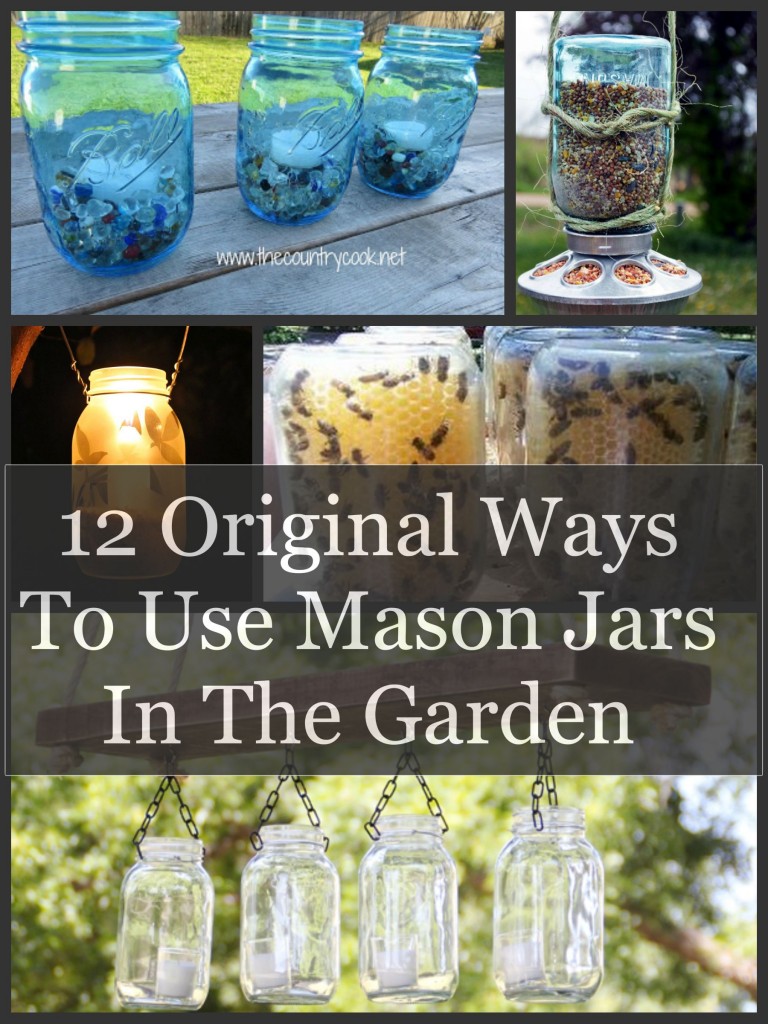 Attracting beautiful butterflies to your garden is easy with this DIY butterfly feeder. Made from a mason jar, some twine, and a piece of sponge, it's easy to put together and you'll soon notice an influx of the colorful insects in your yard!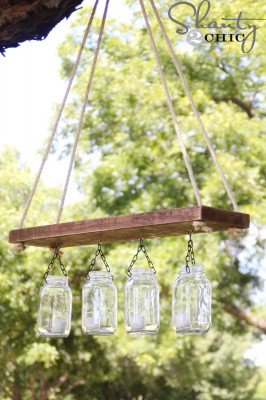 This amazing tutorial will show you how to make an outdoor chandelier for just $10. The rustic lighting fixture is pretty without costing a pretty penny because you can use crafting materials from around the house! Pop it on the porch or hang it from the deck and enjoy relaxing outside well into the evening.
If you use seed packets to identify which plants are which in your garden then you'll know all too well that when the rain comes, the seed packets get destroyed! A simple way to prevent that from happening is to use mason jar protectors…it doesn't get much easier but boy is it effective!
Most of us have experienced the unpleasant feeling of being bitten by a mosquito but don't let that ruin your time outside. These citronella candles are an inexpensive way to keep bugs at bay. They only require five dollar-store materials and you can have them prepped and ready to use in just a few moments.
Light up the night with these stunning frosted garden lanterns! The project is a great way to add a warming glow to your outside space and, because they're frosted with an ornate leaf pattern, the lights will cast twinkling shapes onto your yard.
Creating an oil lamp is a surprisingly safe and simple craft  that you can do yourself at home. Not only do they look great but they're perfect for having on hand in case of a power cut!
People are often skeptical as to whether or not mason jar make good planters, and the answer is – yes they do! They're clear, so you can see when the plant roots need watering but the trick is to include stones and charcoal on the bottom to help to create "drainage" on the inside of the jar. Check out the full video tutorial over at budgetsavvydiva.com.
Beehives don't have to come in boring old boxes and this mason jar beehive is a fantastic opportunity to watch nature in all its glory! The bees will go about their work inside the glass meaning you can see them in action and it's an impressive sight to behold. Then, you can reap the benefits and enjoy some delicious, organic honey!
A mason jar, a solar lid and some glass gems are all you need to create this homemade luminary. It's the greenest and most stylish way to light up your yard using the power of the sun.
Is there anything a mason jar can't do? They're great for crafting and now you can invite a few feathered guests into your garden by making this brilliant feeder that the birds can feast from.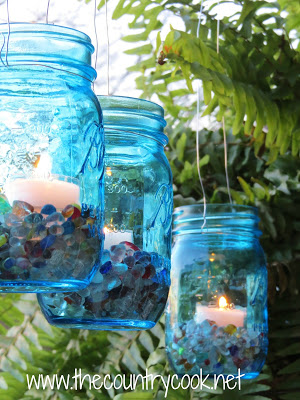 Finding the right color mason jar to suit your needs can be tricky (if you thought they only came in the one color then think again!) but this handy post has found some that are tinted blue! The colored jars make stunning lanterns that are quick and easy to throw together, adding a cozy atmosphere to your garden.
Inspired by something similar she saw at Pottery Barn, Alicia over at thriftyandchic.com, created her own hanging mason jar candles and the results are brilliant. You could attach them to some brackets on the wall or you could hang them from the branches of your favorite tree, they'll be a talking point among friends and family either way!
---
---