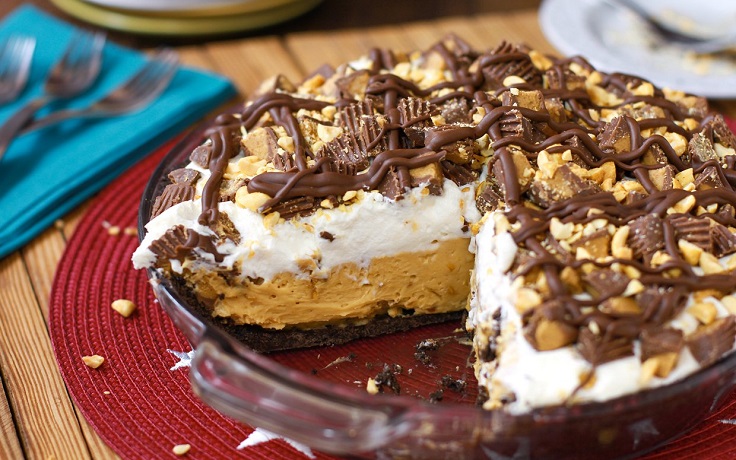 Awesome Recipes of Creamy and Decadent No Bake Pies
Awesome Recipes of Creamy and Decadent No Bake Pies
---
In this article we are presenting you ten recipes of no bake pies and most of them are ready in less than 30 minutes. From creamy and rich chocolate peanut butter to light, refreshing and fruity pies, no matter which one you're going to choose – every each of these no bake pies is going to be the right choice.
1. Salted Caramel Pecan Chocolate Pie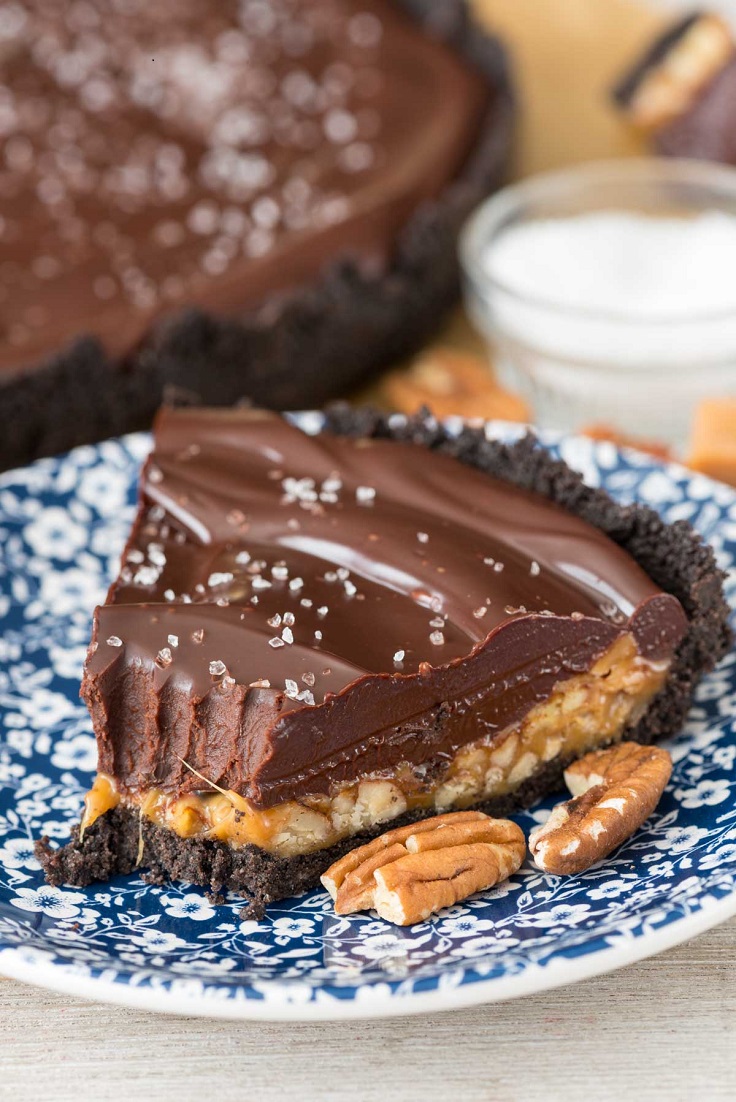 What's better than a no bake pie that has a Oreo crust, a salted caramel layer and a chocolate ganache? Nothing, right? If you agree with us, then preparing this pie is the real deal for you! It's a super easy recipe that is ready in 45 minutes. It requires less than 10 ingredients, and those are Oreo cookies, unsalted butter, caramel squares, heavy whipping cream, kosher Salt, pecans, chocolate chips and sea salt for finishing.
2. Paleo Pumpkin Pie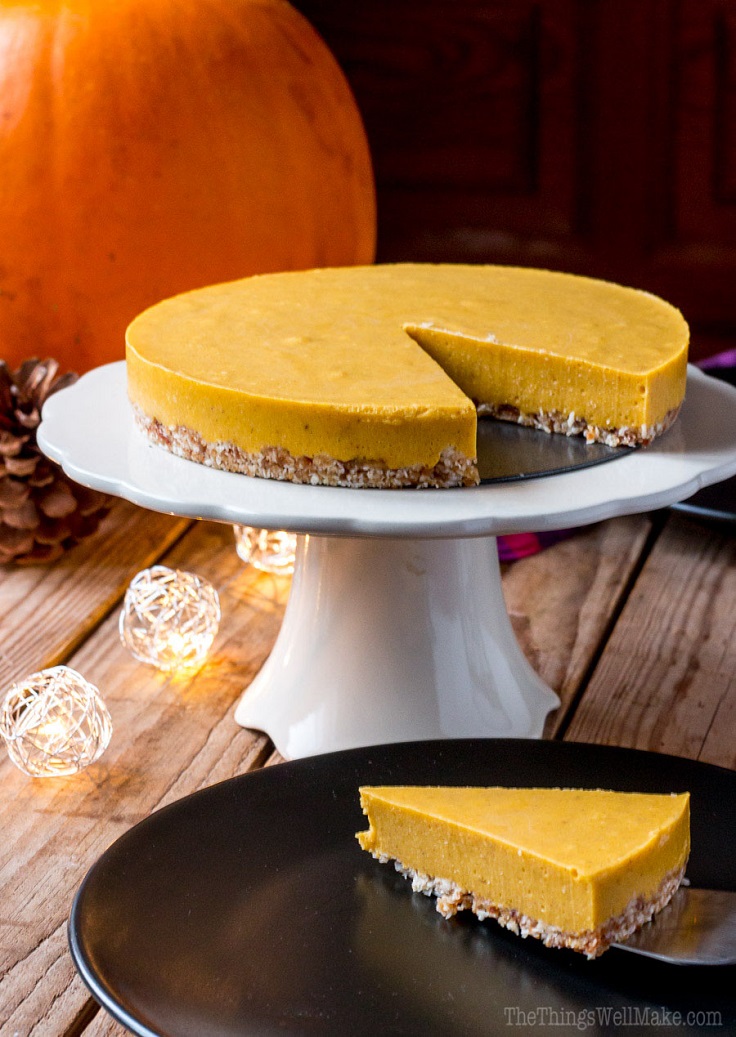 The paleo lifestyle is limited when it comes to desserts and sweets, but there are still recipes that you can make that will forget about the paleo part. This dairy-free, gluten-free and grain-free pie has a crust made of dates, almond flour and shredded coconut, while for the filling you need coconut milk, nutmeg, honey, gelatin, pumpkin puree, cinnamon and ground cloves – it's like all the Autumn ingredients in one recipe!
3. Berry Cream Pie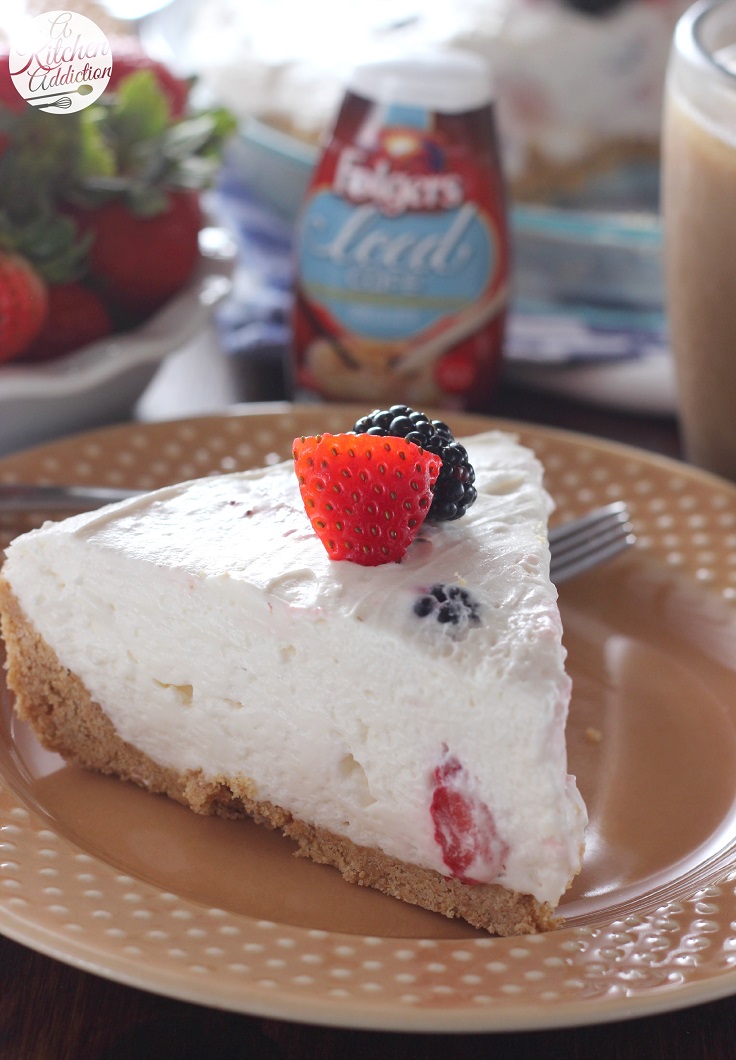 Berry cream pies are one of those rare desserts that give away some serious summer vibes! They are refreshing and light and will satisfy your sweet tooth's cravings without making you feel full or guilty after eating. This berry pie requires just six ingredients for the filling – whipping cream, blackberries, strawberries, vanilla extract, confectioner's sugar and cream cheese.
4. Chocolate Coconut Cream Pudding Pie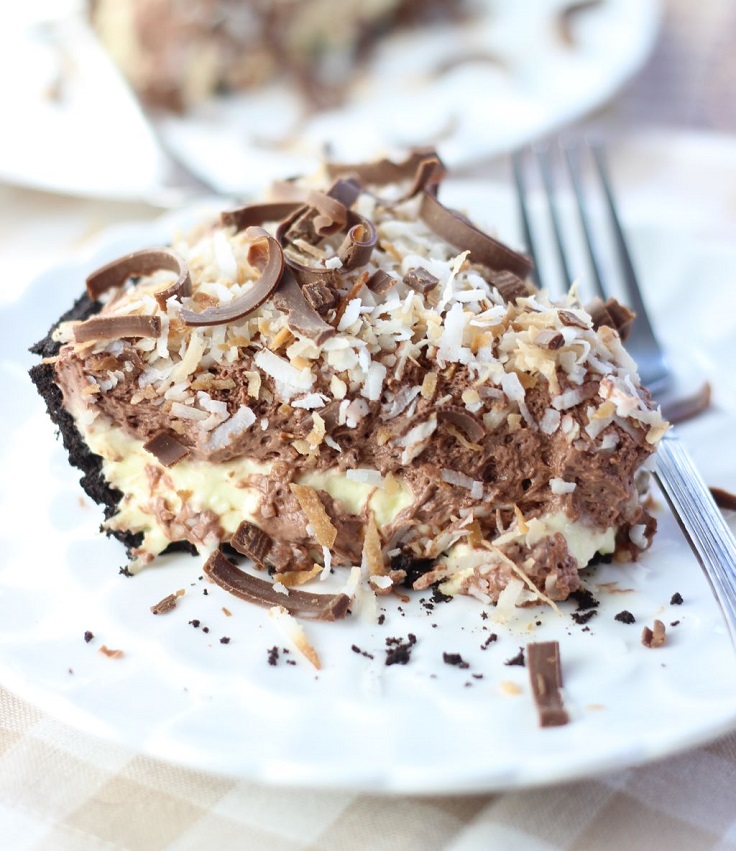 This creamy, coconut pie is very easy to prepare and is also budget-friendly. You need just few ingredients to prepare it, so make sure to get everything you need before you start cooking. It has the most amazing cookie crust, a big, creamy layer of both chocolate and coconut puddings and a rich topping of even more shredded coconut and chocolate shavings.
5. Banoffee Pie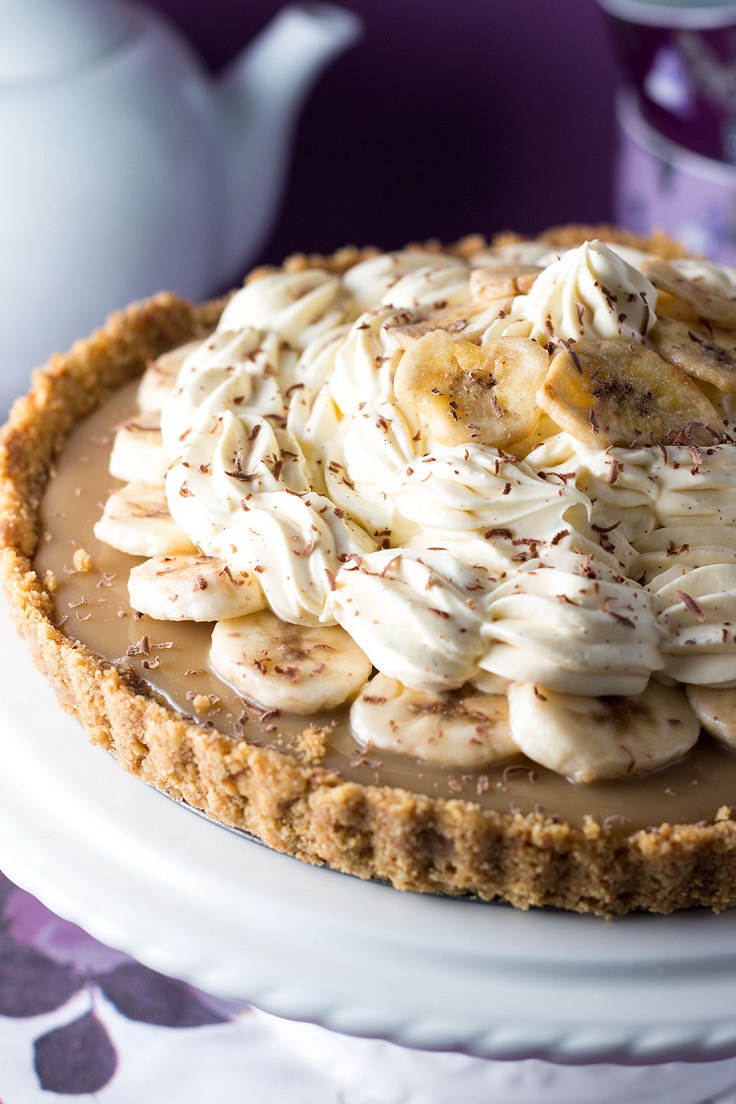 Ready in less than 30 minutes, this pie is ideal for those who are huge fans of bananas. The pie's first layer is amazing – it's made of caramel, dark brown soft sugar, sweetened milk and butter. When you place this between a crust of crackers and butter and topping made of bananas and whipped cream, you're getting a dessert that is going to be eaten right away.
6. S'more Pie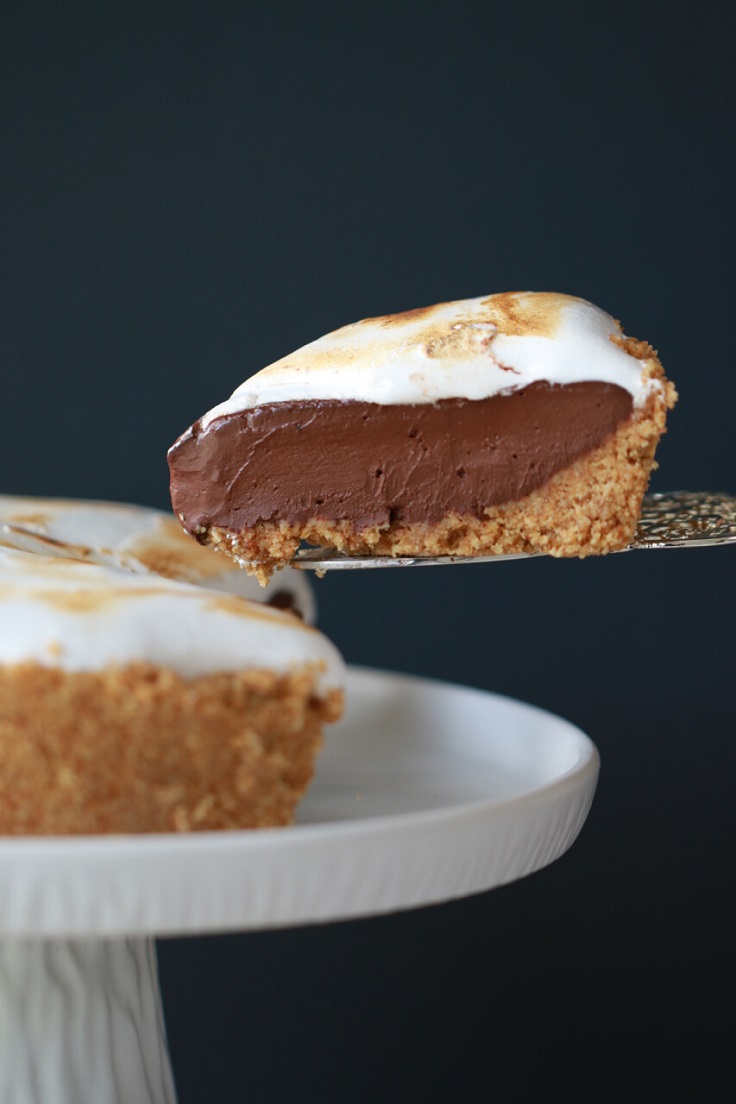 One of the best recipes for chocolate lovers is the good old S'mores. It's the perfect combination of chocolate, graham crackers and marshmallows. Once you put these three into the making of a dessert, you can be sure that the outcome is going to be really delicious. To prepare this pie, you need cookie crumbs, butter, bittersweet chocolate, cornstarch, salt, vanilla extract, full fat milk and marshmallows.
7. Snickers Pie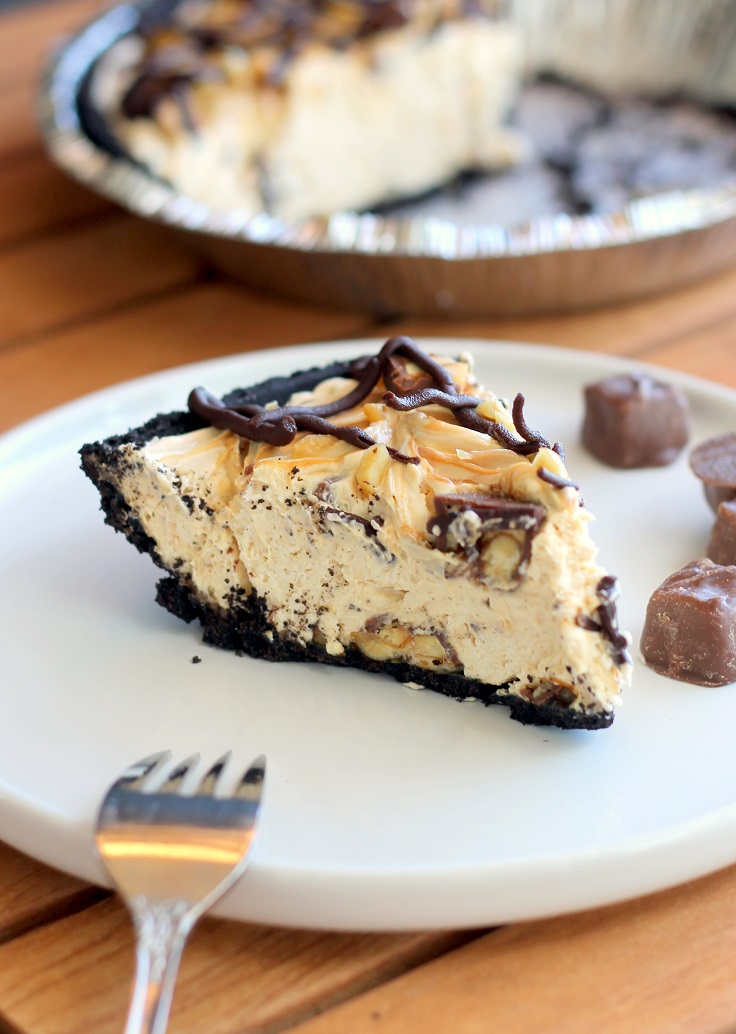 via bakerita.com
This decadent Snickers pie is ready in just 10 minutes – we're sure you are going to love this recipe in those moments when you'll want a dessert as soon as possible! The Snickers pie is made just of few ingredients that you are going to love – it has an Oreo cookie crust, a layer of Dulce de Lece with chopped Snickers bars and a topping of even more Snickers bars, chocolate drizzle and peanuts.
8. Blueberry Lemon Cream Pie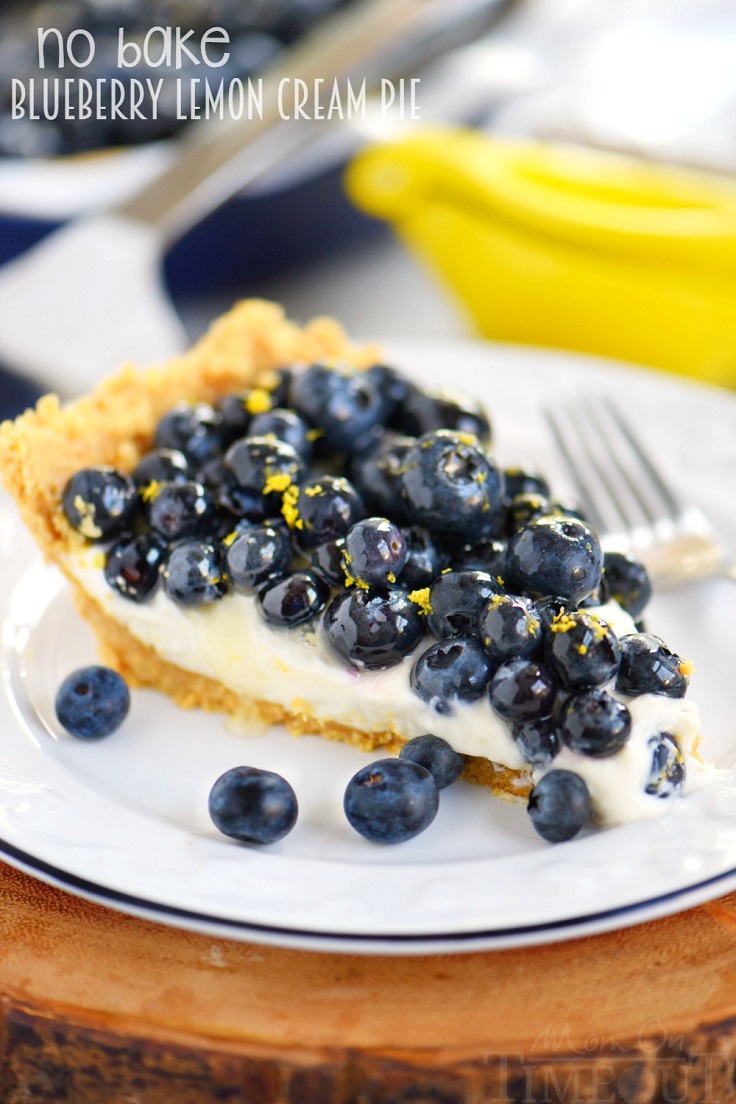 via momontimeout.com
Let's get back to the fruity, light and refreshing desserts, especially if they're ready in 20 minutes like this pie. Considering the fact how healthy the blueberries are, including them in your desserts can make the whole experience way less guilty, and still satisfy the sweet cravings! This pie has a graham crackers crust, a cream cheese filling and a blueberry topping.
9. Cherry Almond Mousse Pie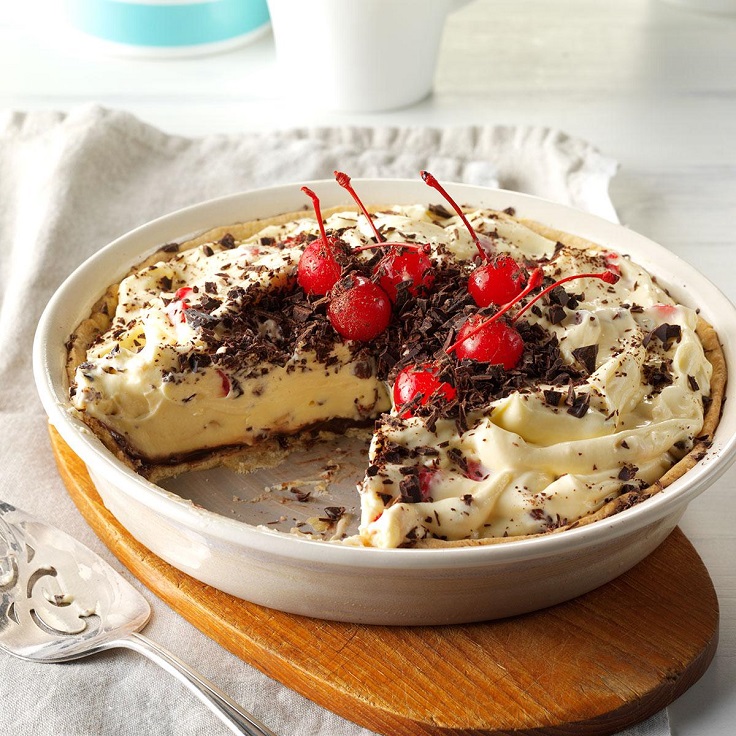 via tasteofhome.com
Who would refuse a piece of pie made of chocolate crust, a layer of creamy vanilla mousse with chopped almonds and a topping of maraschino cherries? This pie is delicious just as much as it looks so good. It's ready in 25 minutes and you get 10 servings of this recipes. If this isn't chocolate-y enough, you can add chocolate shavings on top.
10. Reese's Peanut Butter Cup Pie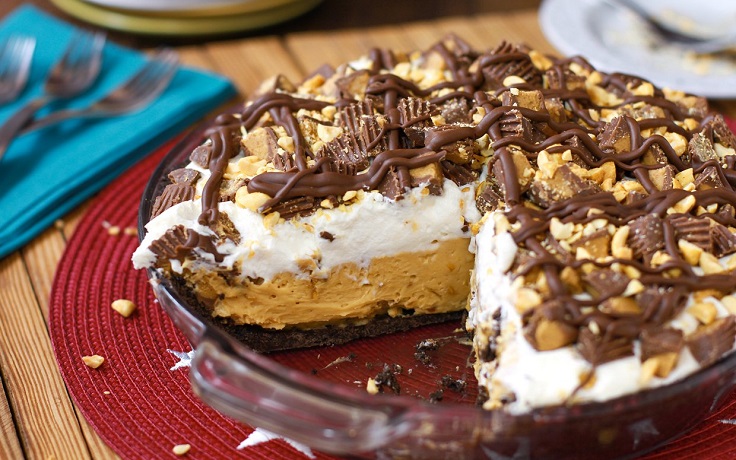 Perfect for those who adore peanut butter and peanuts in general, this pie offers a sweet experience like no other pie – it's creamy, it's chocolate and it has plenty of peanut's flavor. Not to mention how perfect is the topping – the famous Reese's chocolate peanut butter cups, more peanuts and even more chocolate drizzling! This heavy dessert contains tons of calories, but we can indulge in at least one piece of it, right?
---
---