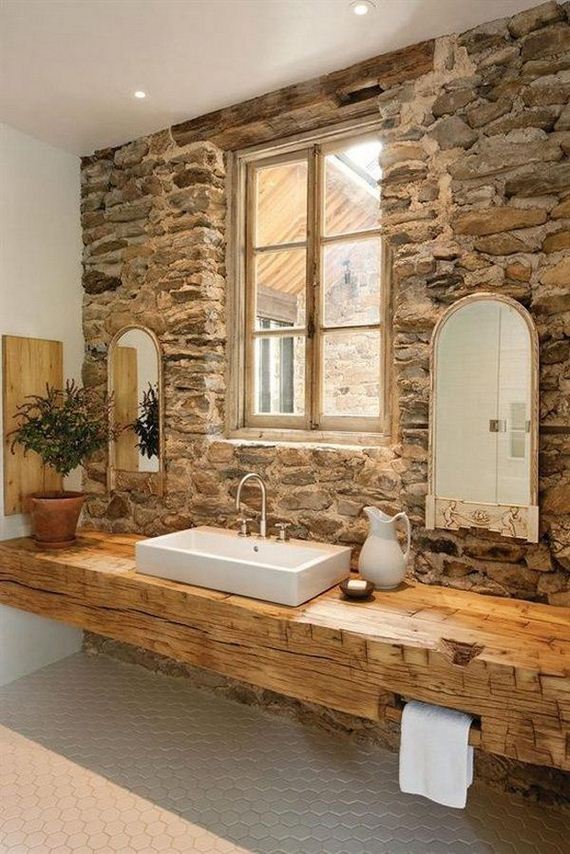 Awesome Rustic Farmhouse Bathroom Ideas
Awesome Rustic Farmhouse Bathroom Ideas
---
Here are some gorgeously rustic bathroom ideas for you to admire and take inspiration from.
Stylish Small Bathroom With Brick Wall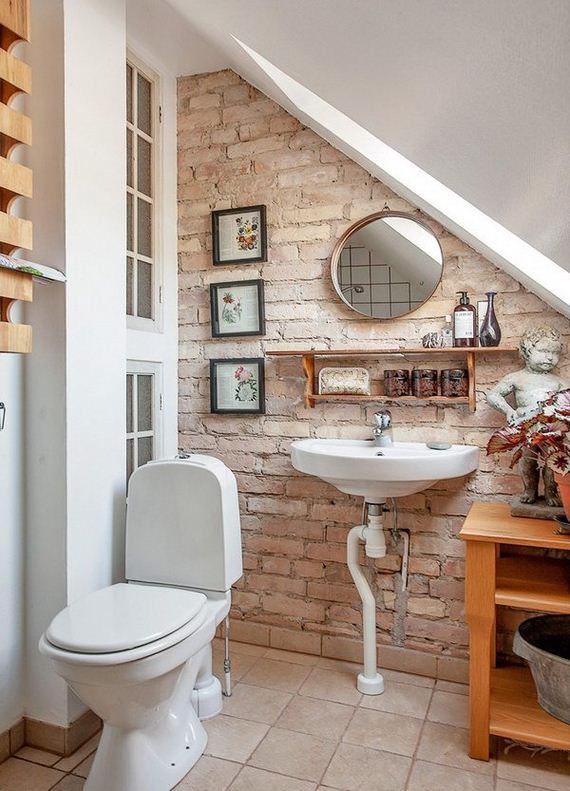 Brick and white are quintessential rustic, and they really work in the bathroom environment, as you can see here. Little touches of wood and big, panel windows complete the prairie look. Via decoholic.
Rustic Bathroom With Wire Towel Basket Over The Toilet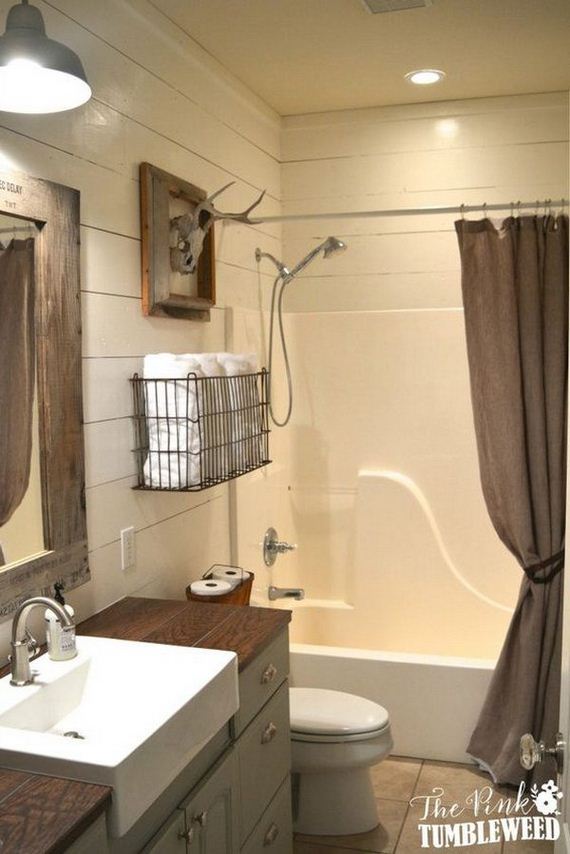 Rustic Mirror With Frame Built Out Of Old Ammo Boxes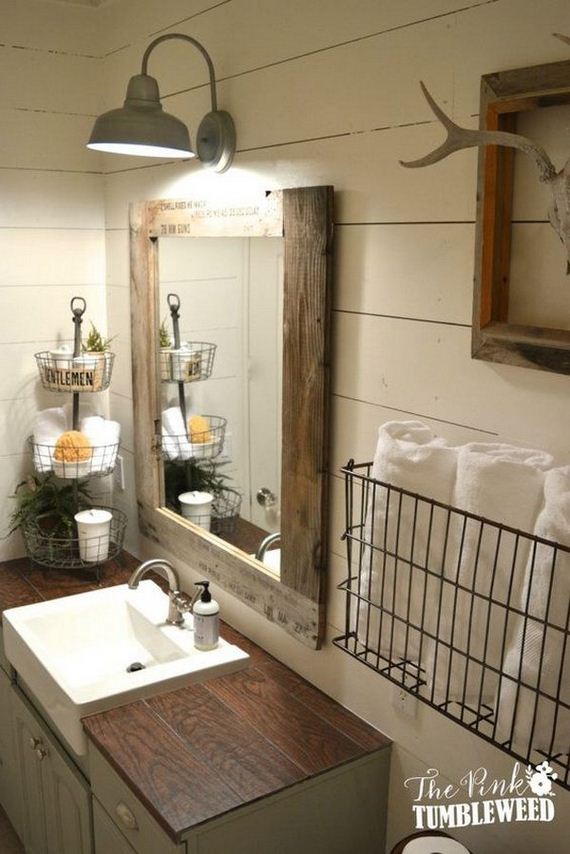 This little rustic bathroom is a DIY dream, if not particularly beautiful. The mirror frame made out of ammo boxes is definitely original and it really fits the setting. source.
Rustic Bathroom With Awesome Details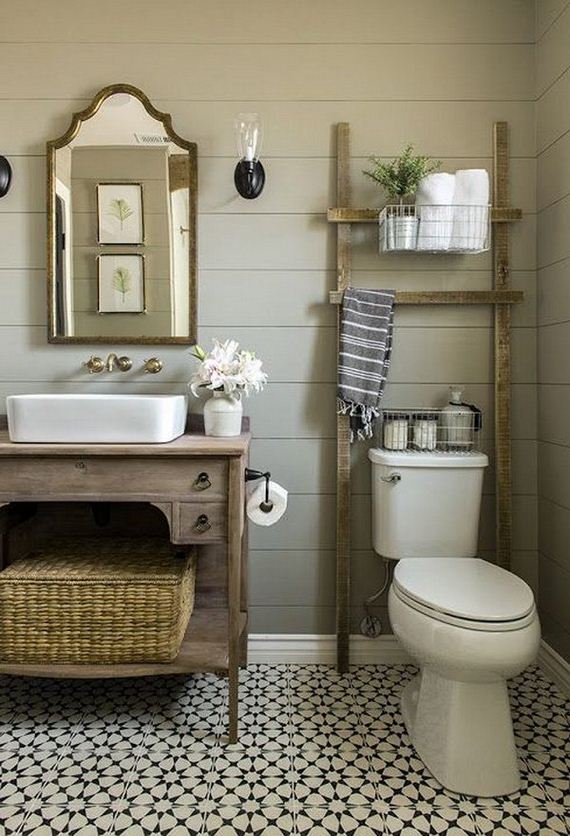 This is a perfect of example of a bathroom that doesn't need to be big or luxurious to be classy and elegant. Little touches like the vanity and mirror, as well as the patterned floor, bring this little rustic dream to life. .
Rustic Wood Valance And Tub Caddy For Bathroom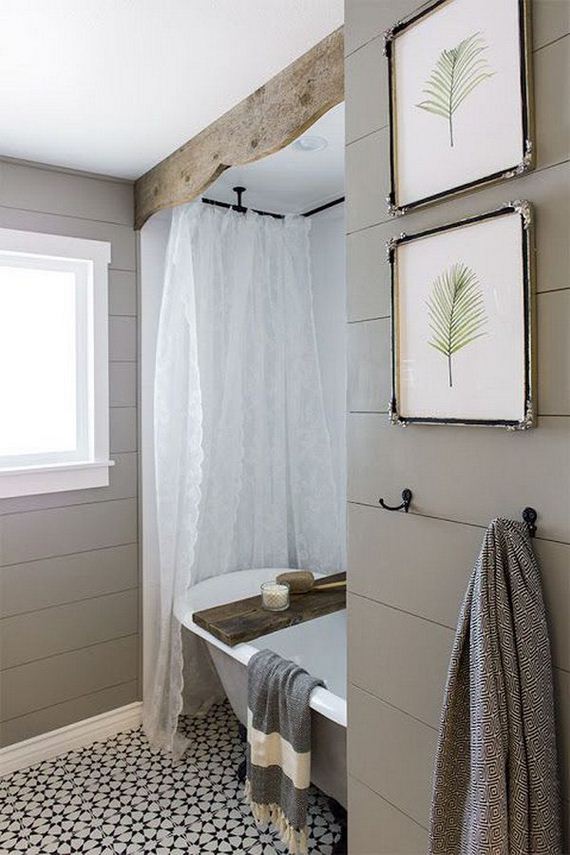 This Vintage Buffet-Turned-Vanity Adds Style To Your Bathroom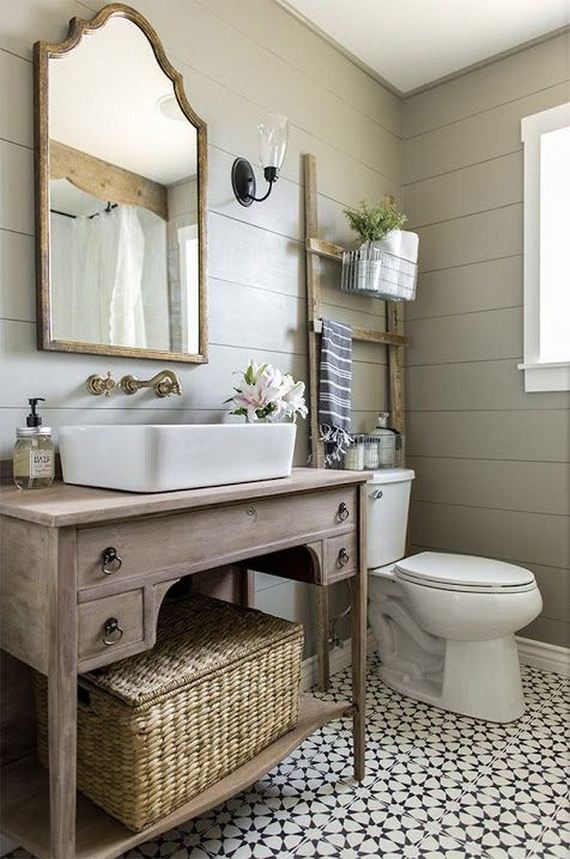 This Hanging Shelves Feel Perfect In Your Bathroom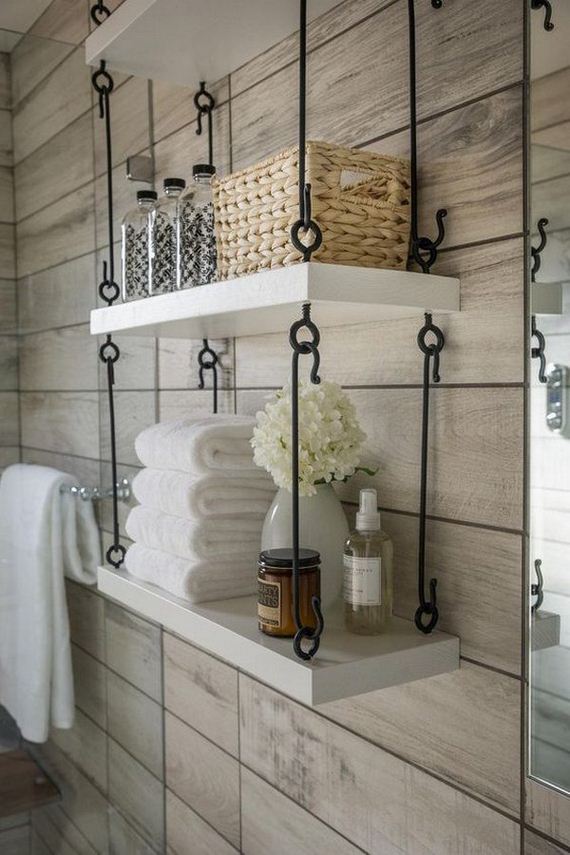 Hanging shelves have a truly organic and rustic look, and they help conserve space, so they are a great choice for your bathroom, especially if you happen to have a small one..
Glass Shower For Rustic Bathroom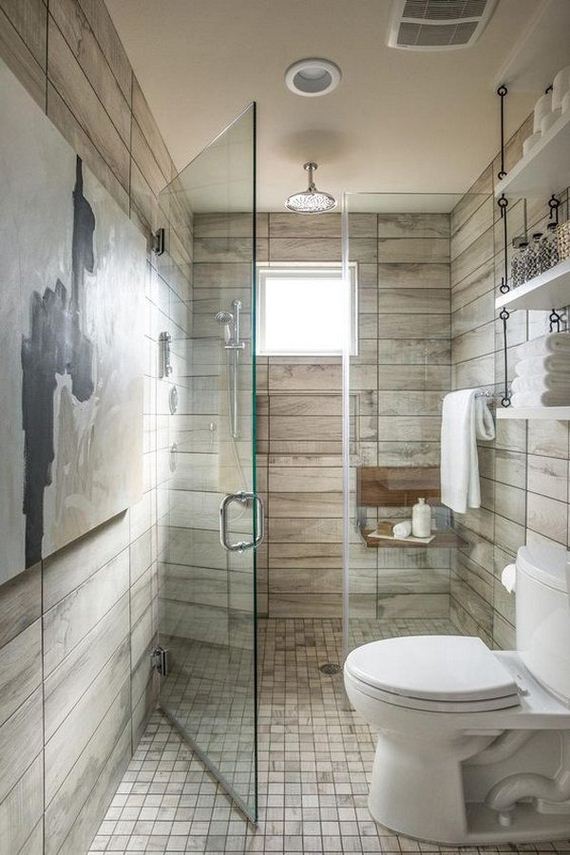 Whoever said the delight of a glass shower wouldn't work in a rustic bathroom clearly didn't see this one. In fact, not only does it not disrupt the atmosphere created by the walls and floors, but it complements them in its simplicity. source.
Vintage Rustic Bathroom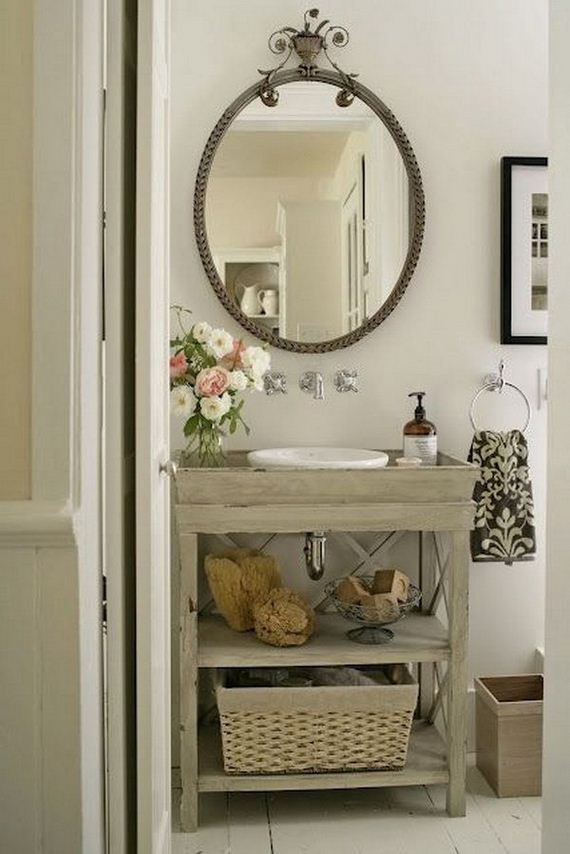 Vintage and rustic really go well together, and this is a great example of how vintage pieces can create the rustic atmosphere without being overly obvious.
Easy DIY Floating Shelves For Rustic Bathroom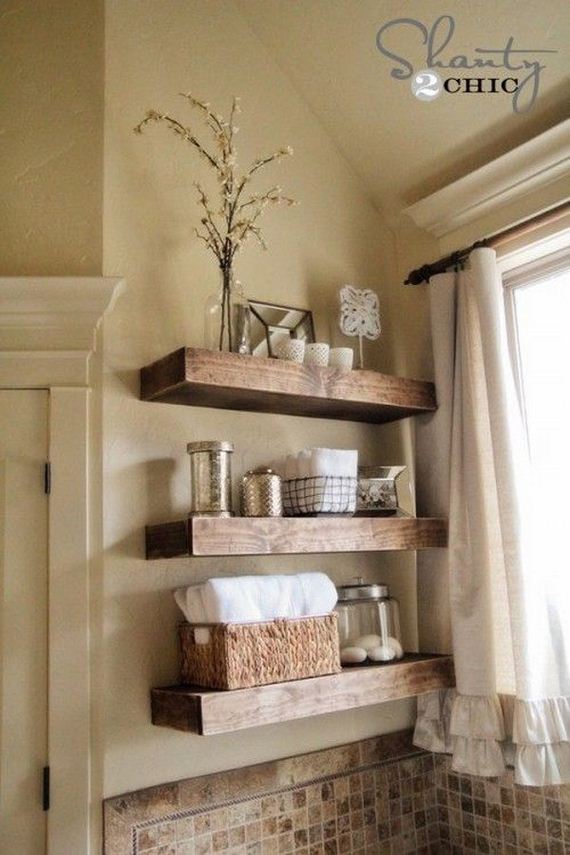 These floating shelves are simple, but gorgeously effective, and they not only look great in the bathroom, but they also provide easily accessible storage while saving and enhancing the available space. source.
Old Galvanized Wash Tub For Bathroom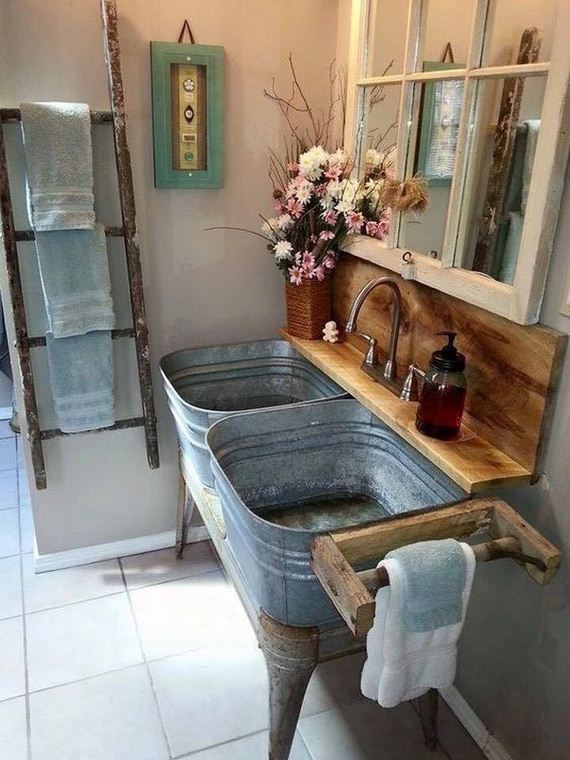 Vintage Chic Bathroom with DIY Plank Wall and Open Shelving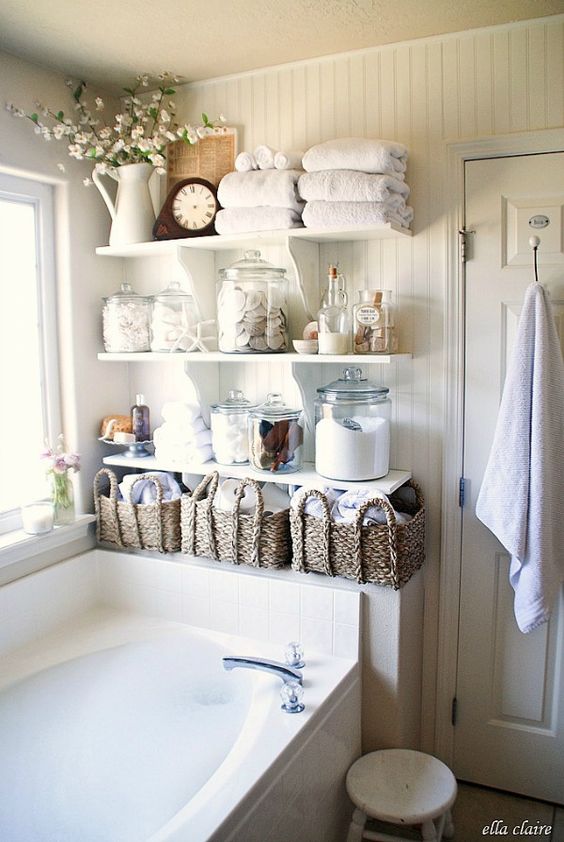 Get the tutorial via decoist.
Ladder Towel Rack And Woven Baskets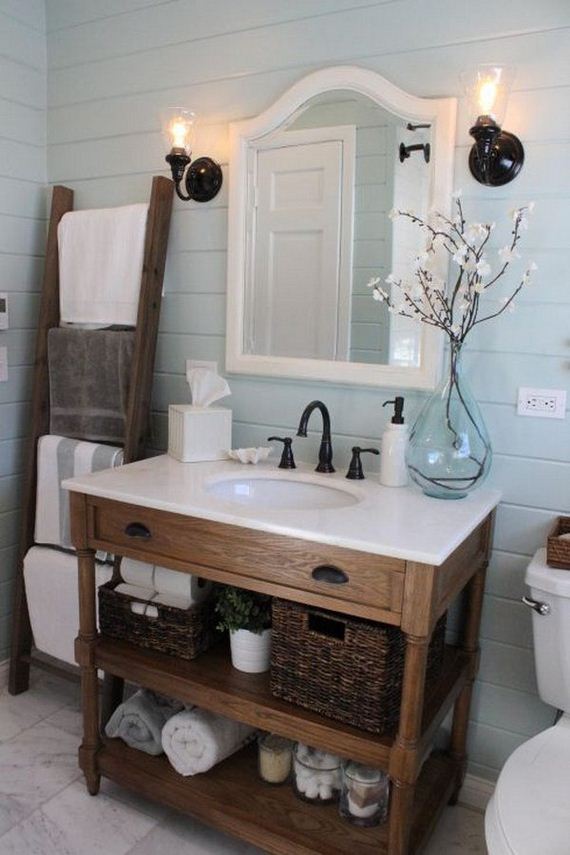 This bathroom is a little prairie dream, and the little accents like the woven baskets, torch lamps, vanity mirror and ladder towel rack only add to the rustic appeal of the setting. source.
DIY Wood Valance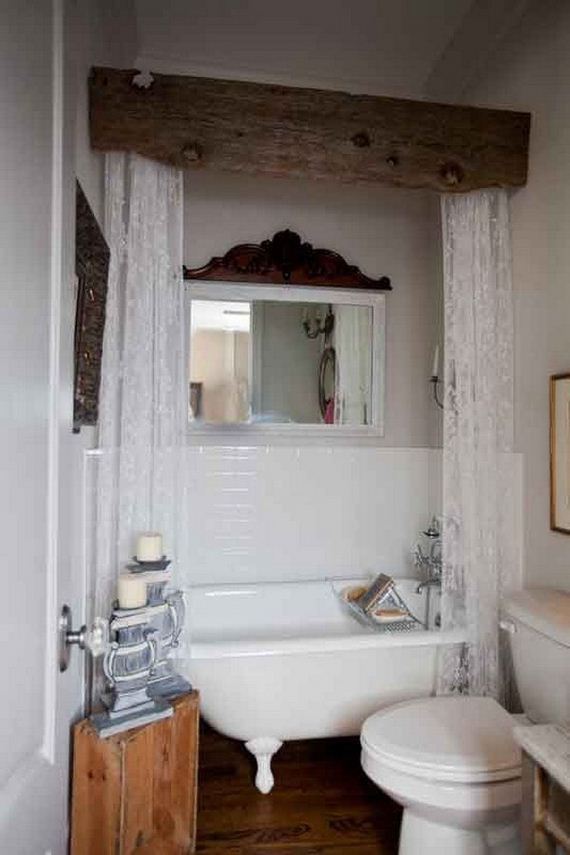 DIY Weathered Wood Plank Wall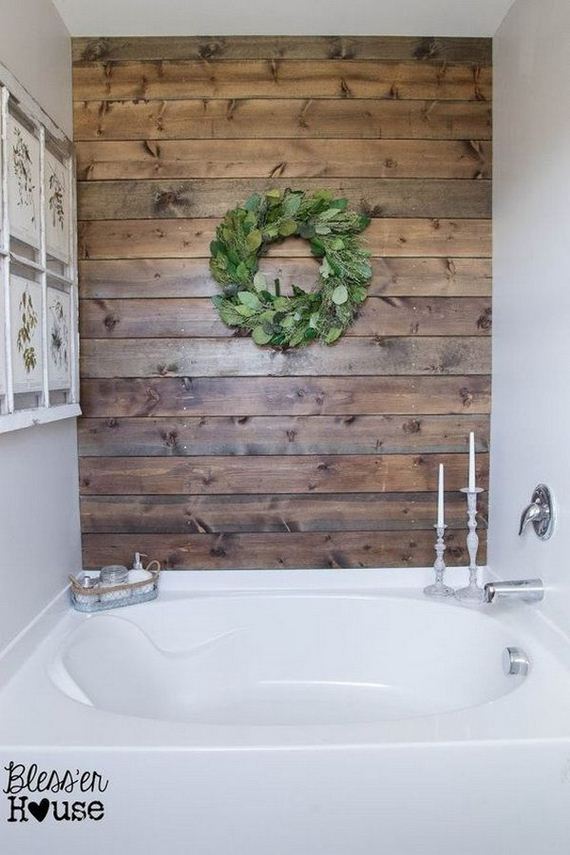 This wooden DIY wall is not only beautiful, but also really unique. It looks beautiful in a bathroom setting, but you could also easily see it in other environments. source.
Simple Fresh Rustic Bathroom With Brick Floor, Shiplap Walls, Farm Sink And Wood Ceiling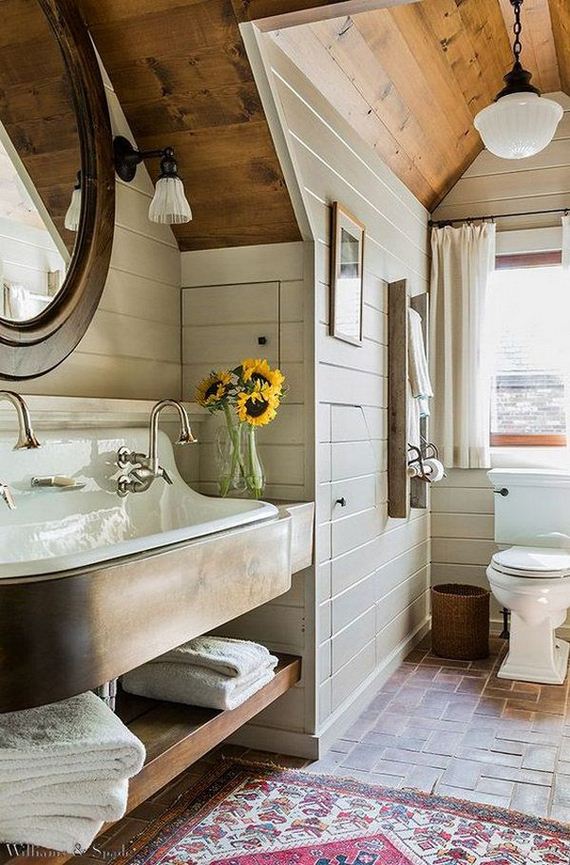 Rustic can also be simple and really well done – that is the lesson to be taken from this project. There are several elements of interest here, but the wood ceiling is undoubtedly the star of the show. source.
Rustic Chic Bathroom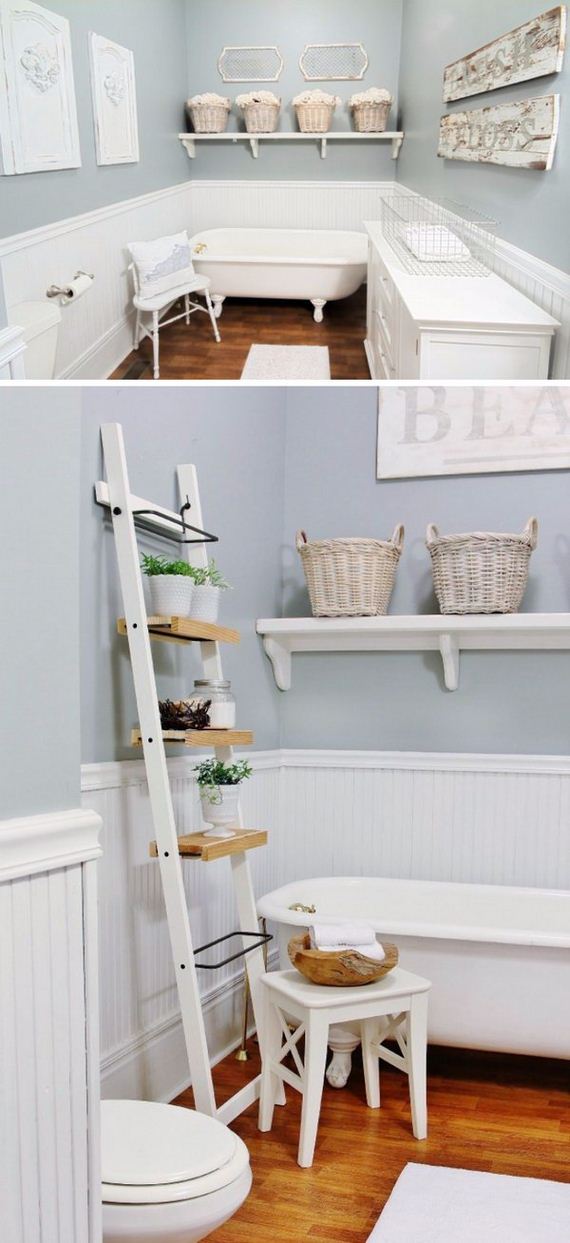 This bathroom is so chic you almost miss the rustic elements. However, it is things like the ladder on the wall and the standalone bath that give this room its unique charm. source.
Farmhouse Bathroom With Chandelier Over Tub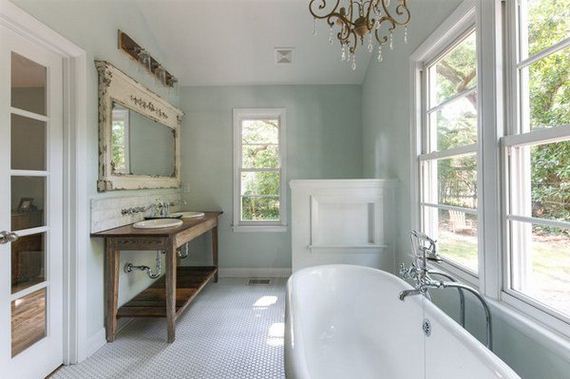 It doesn't have to be that way, but farmhouse is the true form of rustic style. This one is big and spacious, but it retains all of the essential rustic touches, with the added charm of the vintage chandelier, which lights up the bath in a very unique and special way. source.
Rustic Batroom with Faux Stone Wall


This bathroom is truly rustic, and the faux stone wall is the perfect setting for this decoration of dark and somber hues. source.
Rustic Pendant Lamps and the Uniquely Shaped Mirror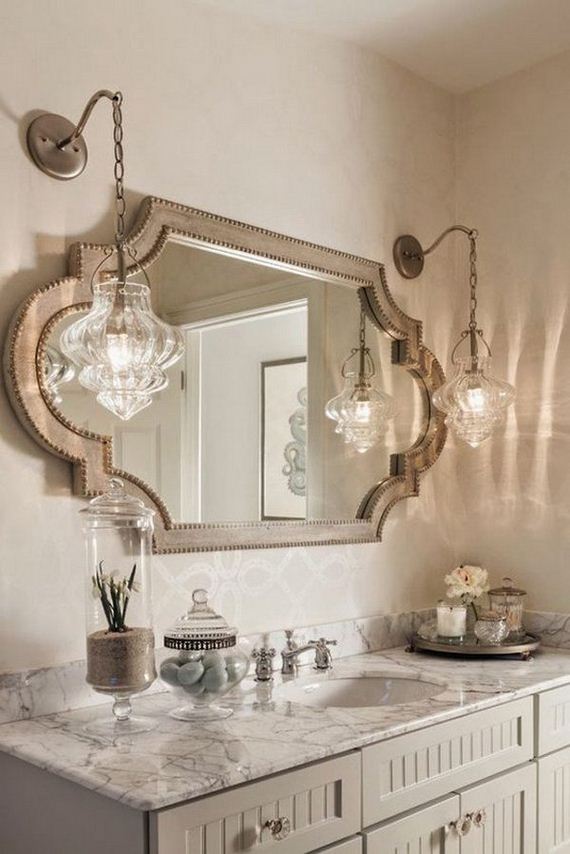 This rustic bathroom decor is all about the little touches. The unusually shaped mirror is certainly the center piece, and rightfully so, but it is beautifully framed by the pendant lights and brought to life by the simple, neutral furniture underneath. source.
Fantastic French Rustic Bathroom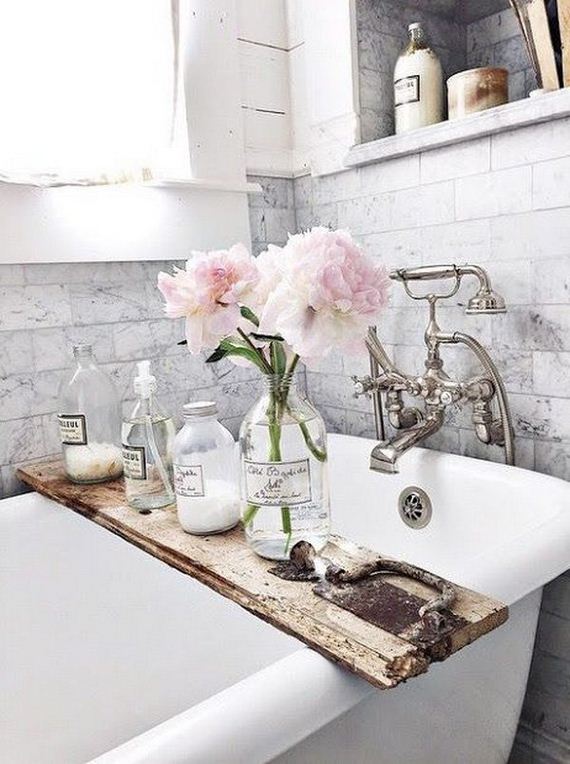 Reclaimed Wood Bathroom Countertop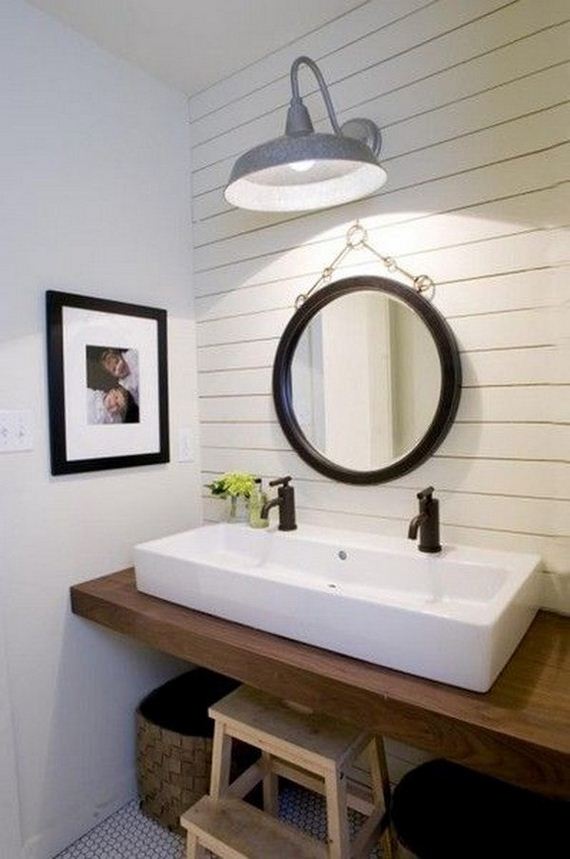 This bathroom countertop is really simple but effective. The reclaimed wood looks great in here, and it is a great choice because it is cost-effective and environmentally friendly.
Repurposed Rustic Style Bathroom Vanity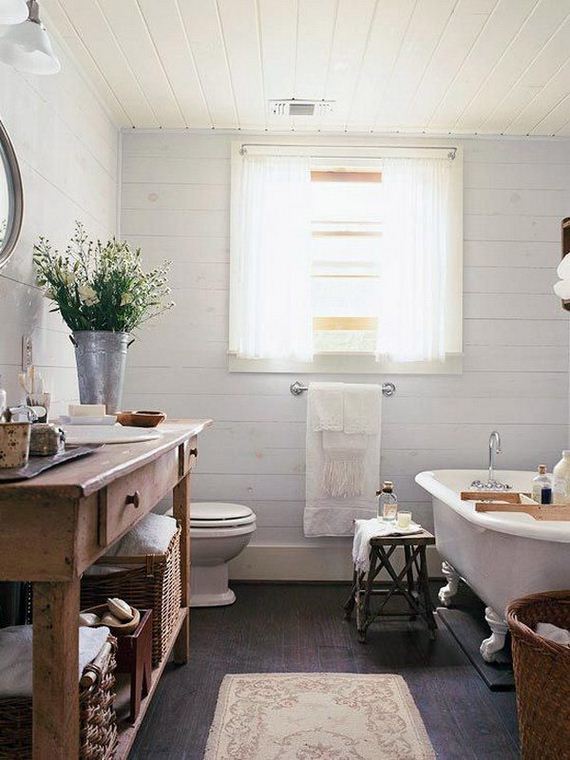 The bathroom vanity has likely lived many lives, but it has also found a true home in this rustic bathroom setting, where it looks truly great.
Awesome Bathroom With Rustic Accents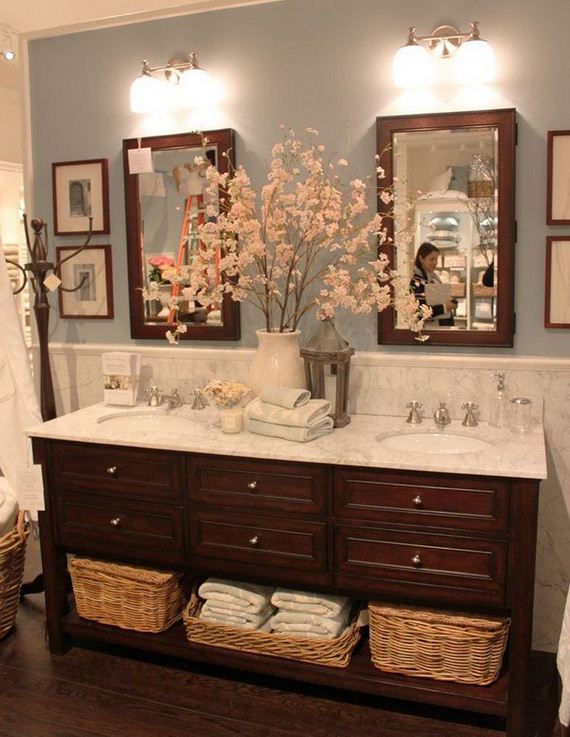 Wooden framed mirrors, pictures and a solid, classic counter – this is what you think of when you hear the words "rustic bathroom", and it looks just beautiful. source.
Antique Window Mirror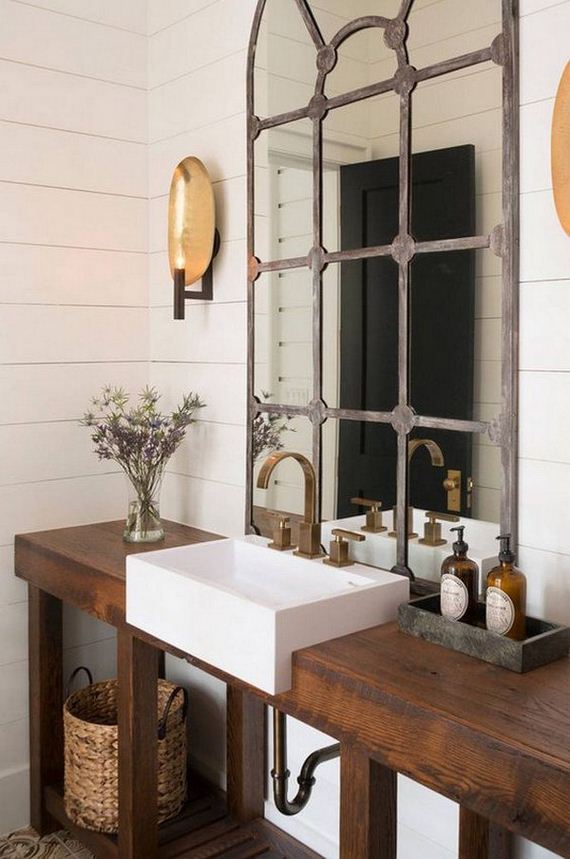 Rustic powder room with wooden washstand made of reclaimed oak, shiplap walls and brass sconces. source.
Calm & Relaxing Bathroom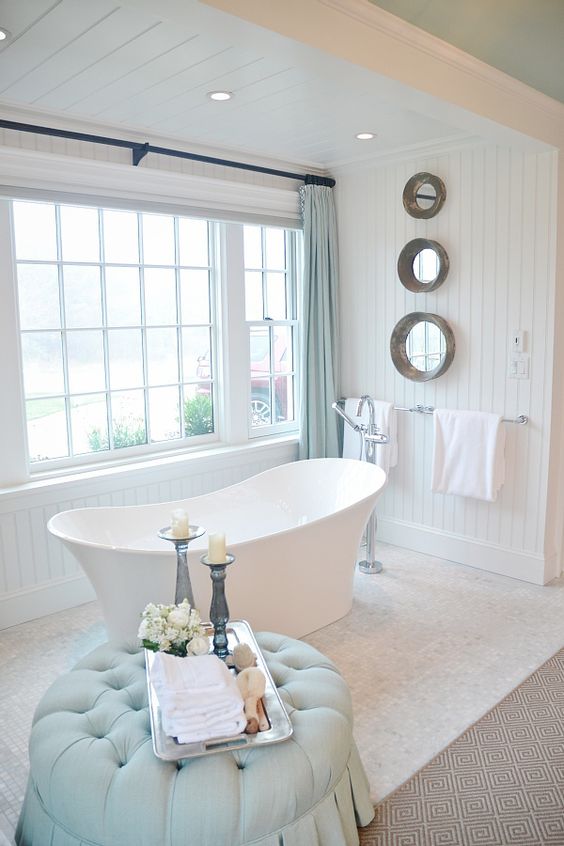 source.
Rustic Industrial Bathroom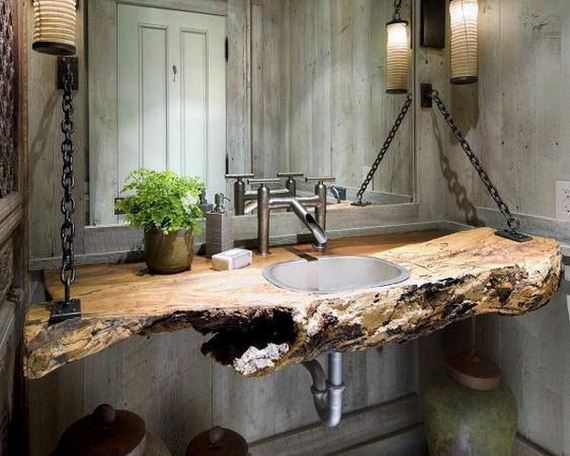 Rustic Bathroom With Vintage Mirror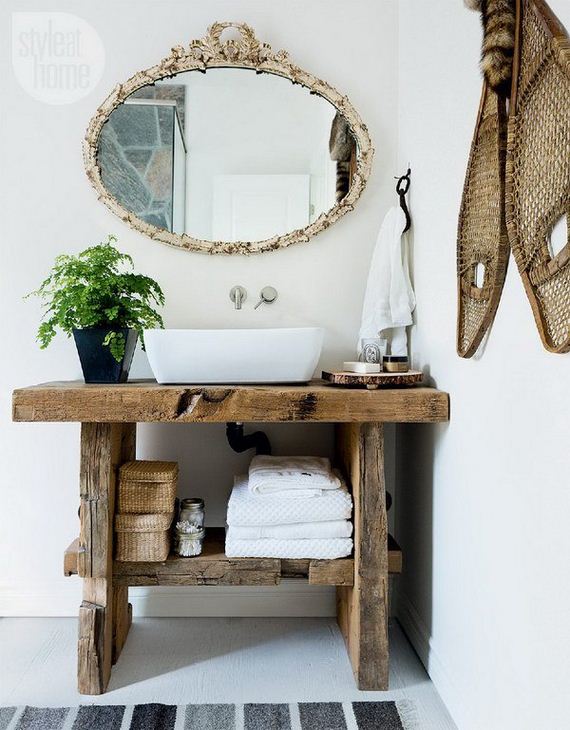 This vintage mirror adds a much needed touch of shabby chic to this otherwise simple and rustic bathroom – and it works very nicely too. source.
Romantic Rustic Bathroom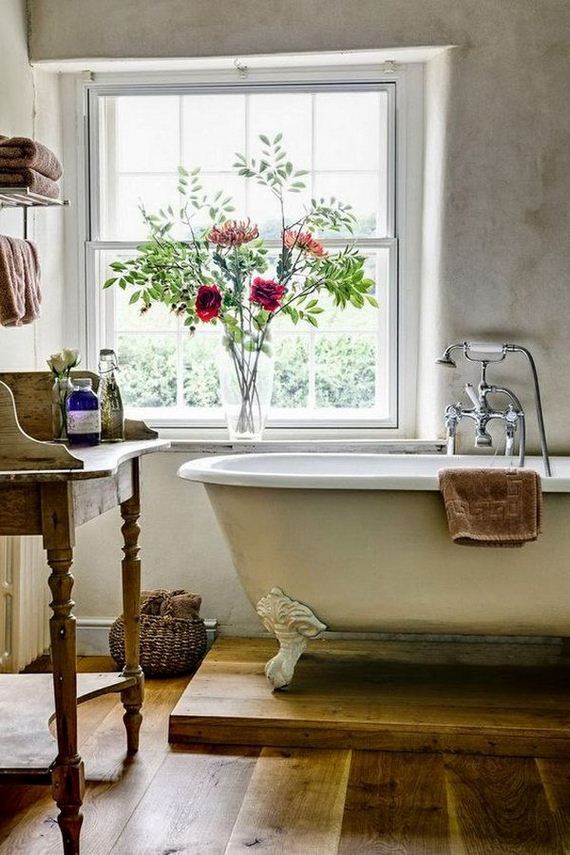 Romantic is yet another interpretation of rustic and it looks lovely here, as it adds a slight touch of trendy shabby chic decor. source.
DIY Rustic Mason Jar Rack Used As Makeup Organizers
Using mason jars as make up organizers isn't a new idea, but it is definitely a good one for a girly girl who wants to have her beauty bits displayed and easy to access in a rustic bathroom setting. source.
DIY Rustic Faux Floating Shelves

Easy DIY Storage Ladder

This storage ladder is a really original idea that adds a fun and rustic touch to the bathroom using repurposed materials – and it really works. Get the tutorial via cleanandscentsible.
DIY Toilet Paper Holder Shelf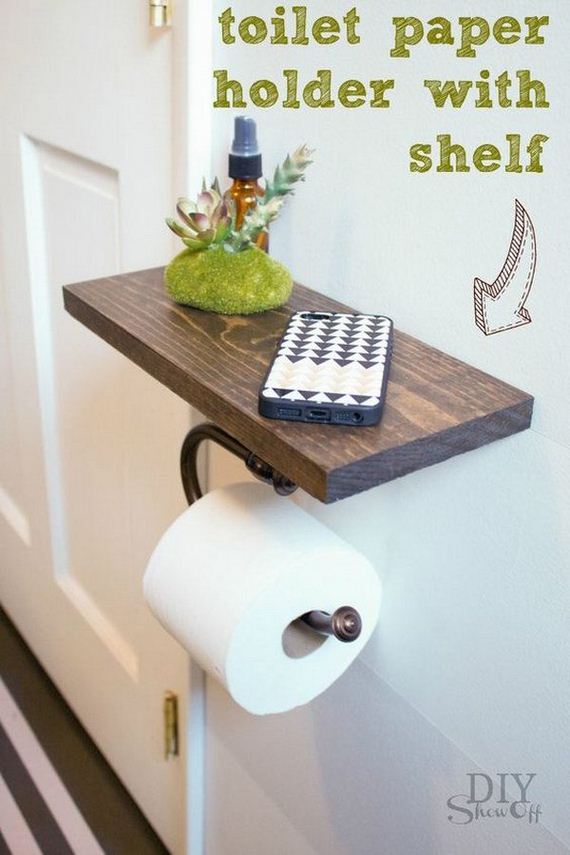 If you've never thought of toilet paper holders as interesting, this one might change your mind. Aside from being unique, it also has the added benefit of the shelf, which allows you to set anything you need to put down when you go to the toilet. Get the tutorial via diyshowoff.
Tiny Rustic Bathroom Organization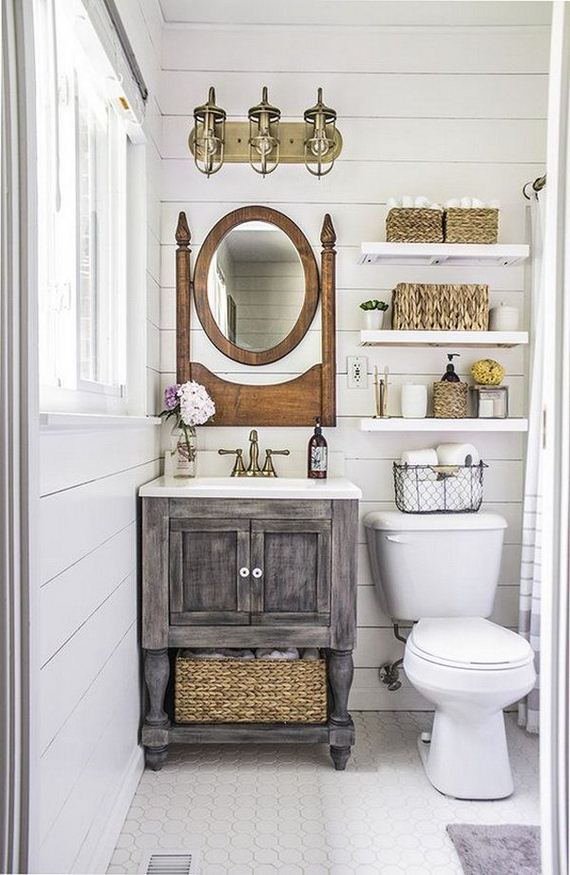 This bathroom organization is beautifully rustic and vintage, and it looks great among the light and airy walls with its distressed charm. source.
Rustic And Romantic French Bathroom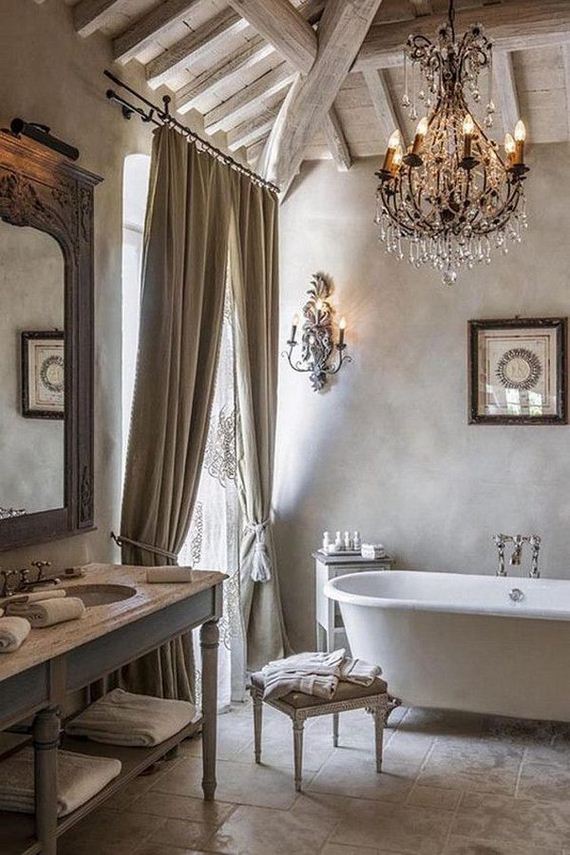 French country is always great inspiration, and that is what you see here. The chandelier hanging from the ceiling, in particular, is a really beautiful touch. source.
Vintage Rustic Bathroom With Claw Foot Bathtub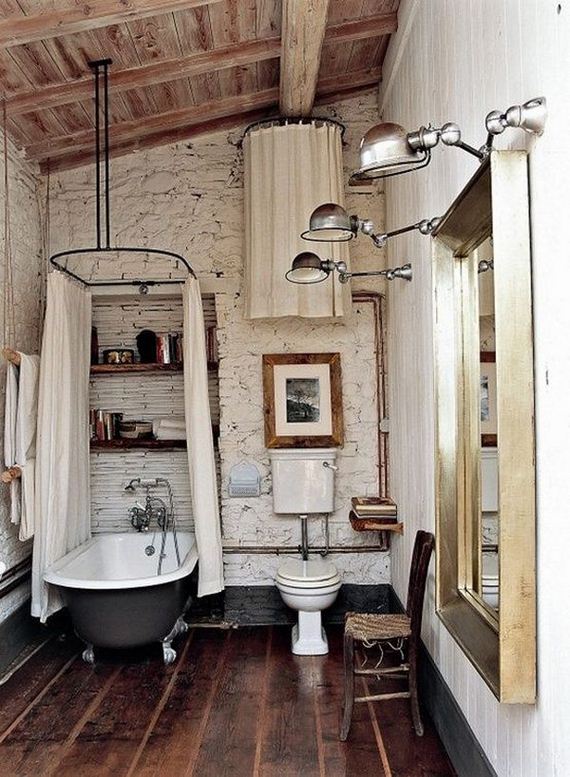 Rustic bathroom with Sewing Drawer Turned Flower Seeds Sign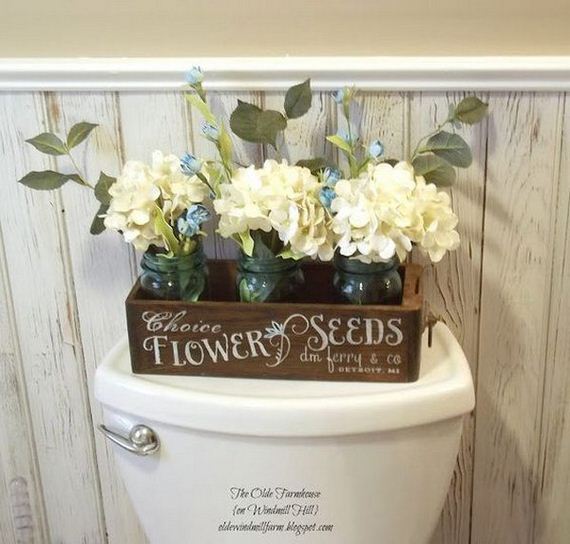 Rustic Bathroom With DIY Plank Ceiling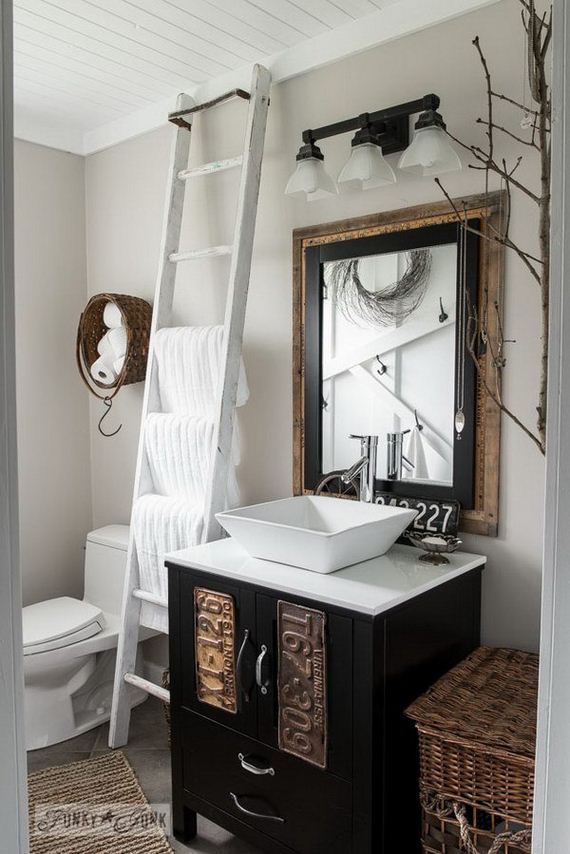 Get the tutorial via funkyjunkinteriors.
Rustic Farmhouse Bathroom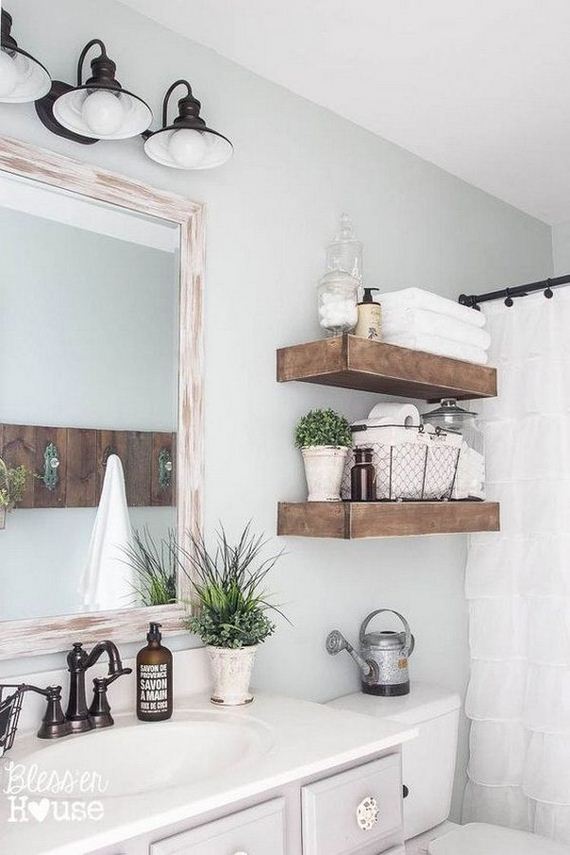 This farmhouse bathroom looks beautiful with its wooden accents, which break up the light and elegant decor without disrupting it or looking out of place. source.
Modern Rustic Bathroom Design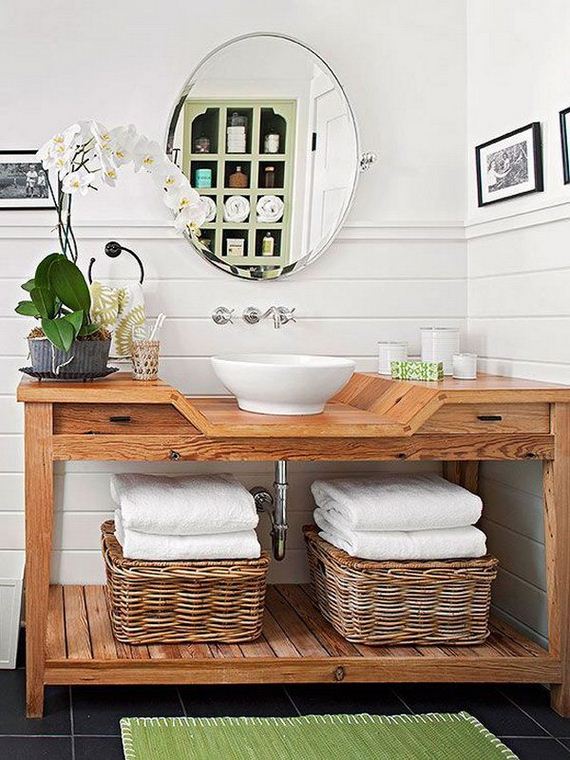 This bathroom truly shows that rustic can also be modern as the two styles meet seamlessly. The wooden counter and woven baskets look beautiful against the mostly bare walls, and the exposed sinks give it a really unique twist. source.
Rustic Bathroom Design With Wooden Floor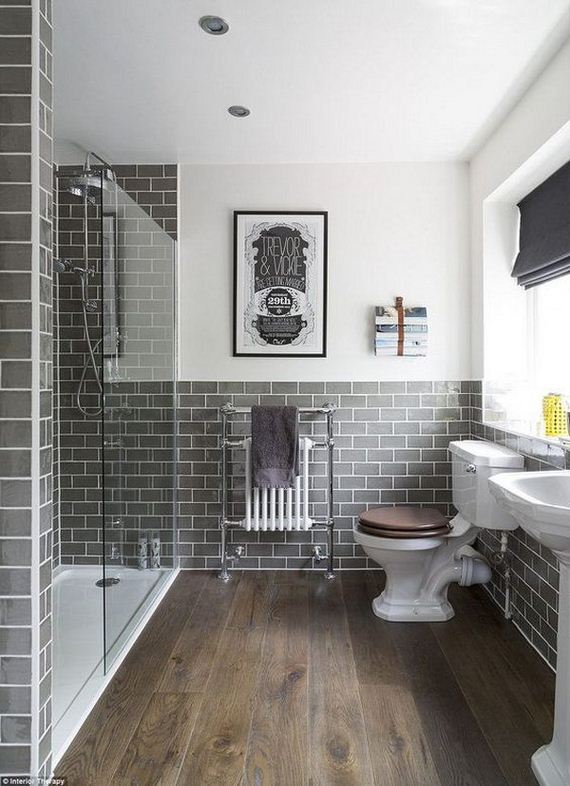 Barn Wood Flooring And Ceiling, Exposed Brick Wall, Round Bathtub In A Great Rustic Bathroom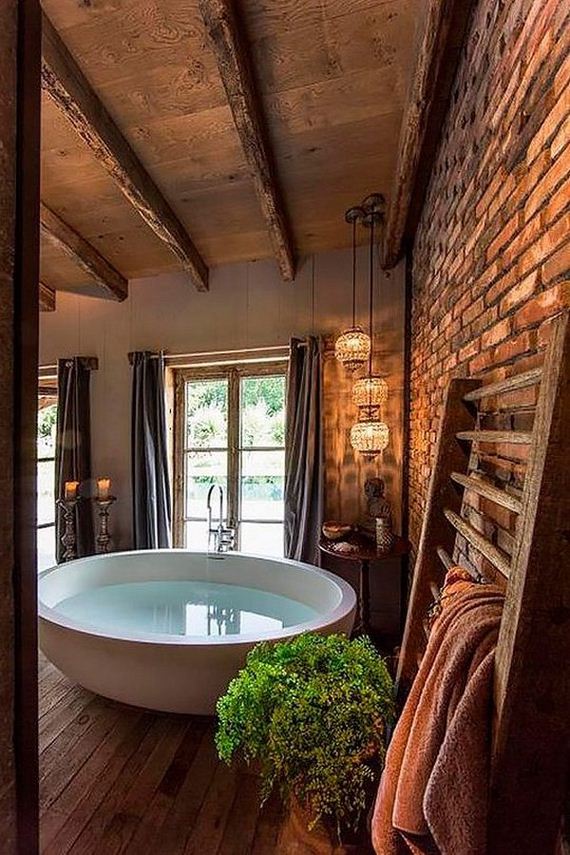 The bathroom is a rustic dream with its wooden ceilings and floors, complemented by the exposed brick wall. The round bath in the middle of the room adds a unique and somewhat modern touch. source.
Rustic Bathroom With Wood Shelving, White Subway Tile, Mosaic Floor Tile And Glass Shower Tub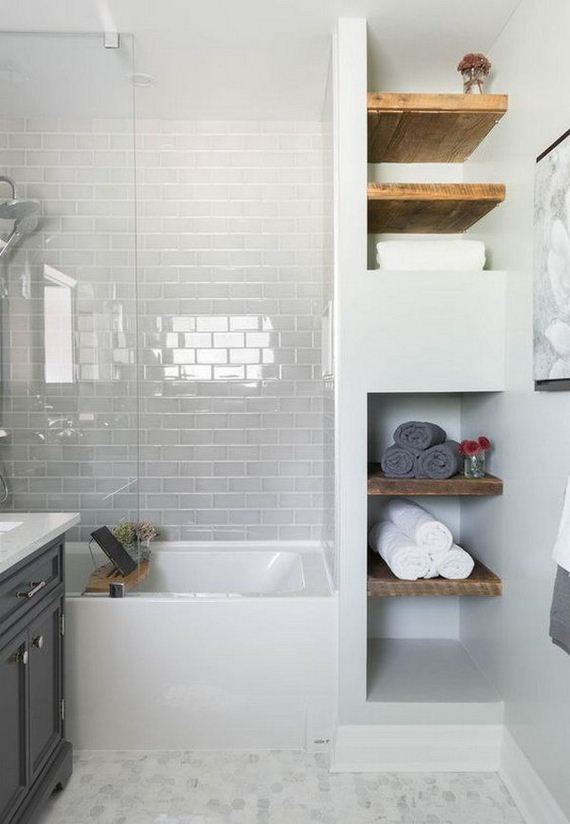 Luxury Rustic Bathroom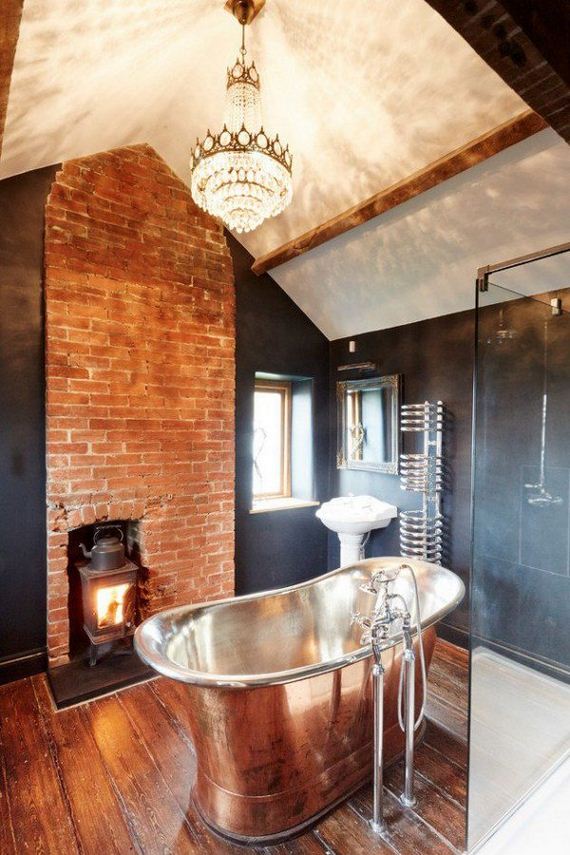 This bathroom is pure rustic luxury with the metallic tub and ornate chandelier. The exposed brick walls add a little bit more of that cozy cabin atmosphere which makes this room so beautiful. source.
Small Rustic Bathroom Decoration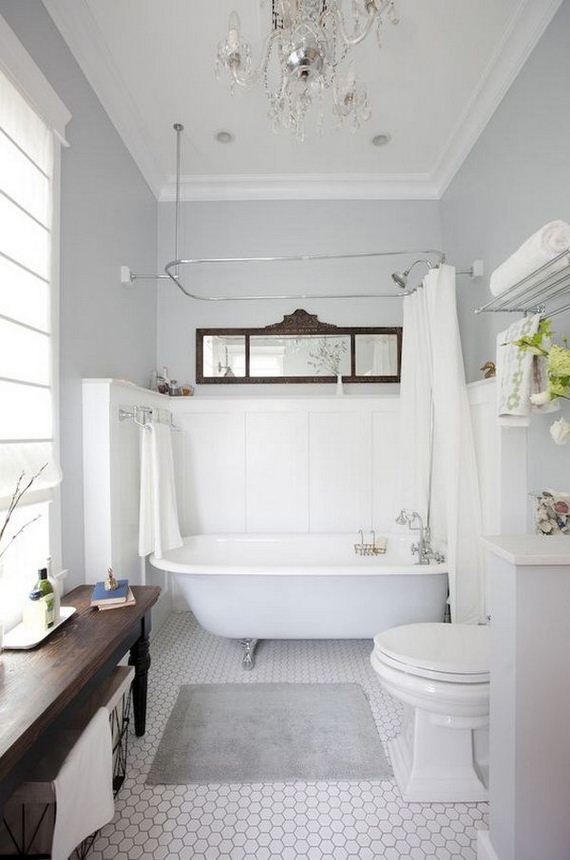 Via jillianharris.
Rustic Bathrooms With Stone Walls And Wooden Wall Mounted Vanity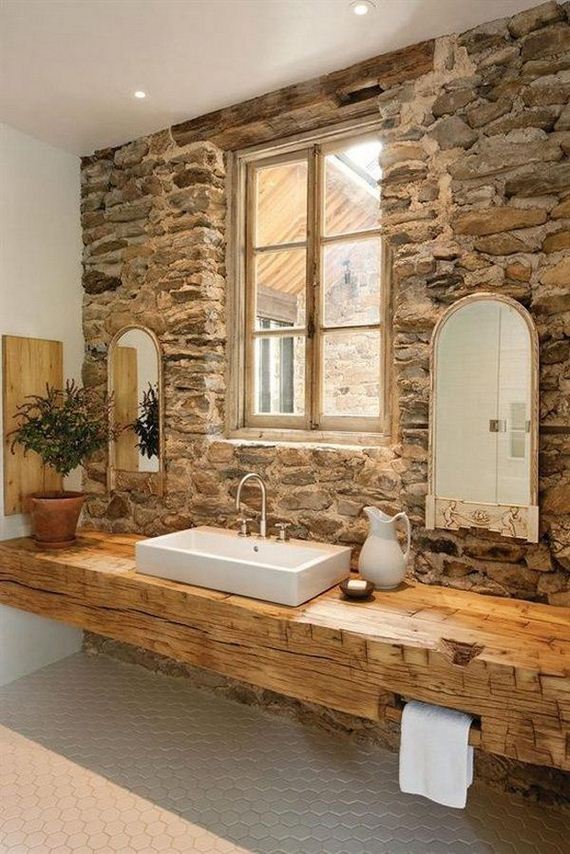 This may almost be a little too much with the stone wall, which makes a big statement in its own right, and the wooden vanity. However, they work nicely together in this rustic setting.
Barnwood Bathroom Decor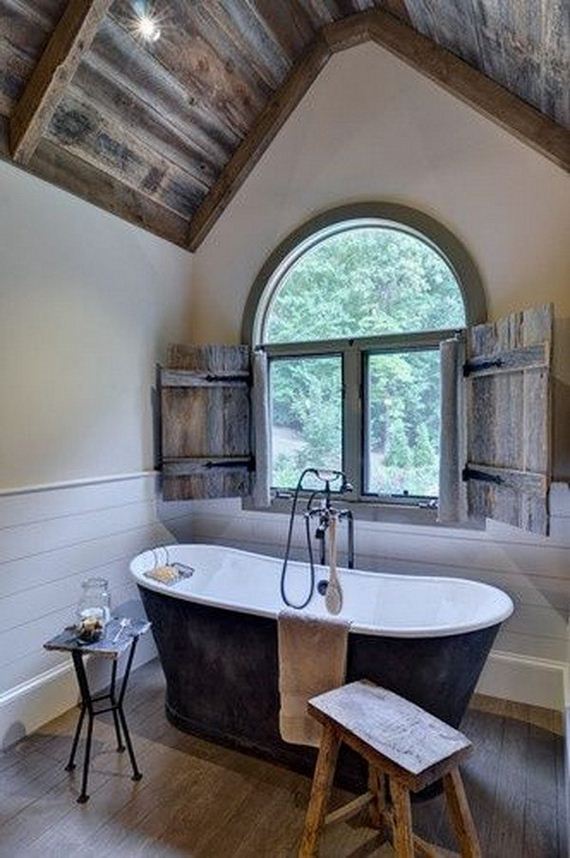 This bathroom is truly rustic and unique, and it takes you back in time with the barnwood decor and the big window above the standalone bath. source.
---
---