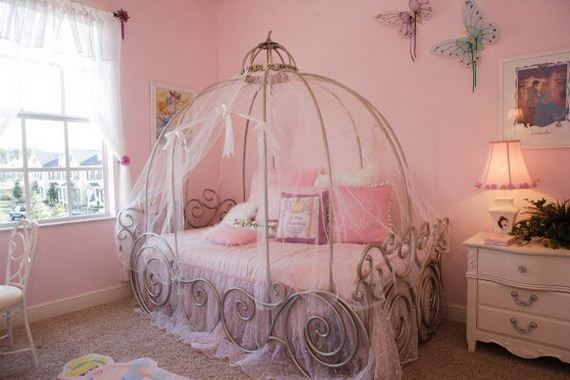 Awsome Princess Bedroom Tutorials
Awsome Princess Bedroom Tutorials
---
Castle Style Princess Bedroom. You're a princess — start sleeping like one.
Every princess needs her castle, and this pastel rainbow creation is a perfect example of how to properly install one in the bedroom. There is everything here – towers with cones at the top, sentry stations, and even a balcony, all of which help bring the fantasy to life. source.
Or A Frugal DIY Version From iKea Kura Bed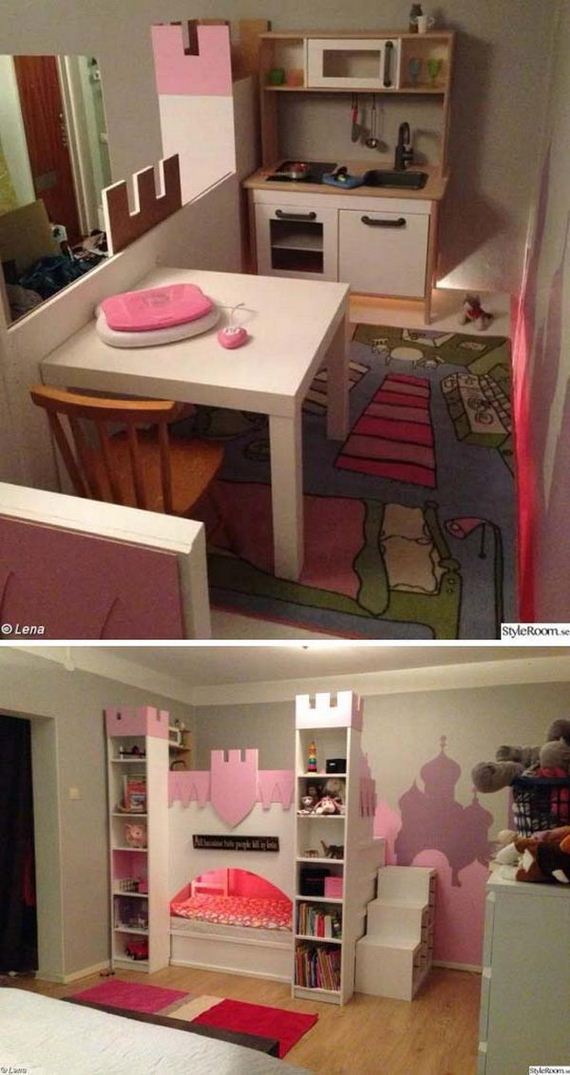 If you're going to bring a Princess Bedroom to life on a budget, this is a great way to go. This little pink kingdom was put together with a simple bed, plywood to add the castle wall furniture toppers and some creative wall painting. via ikeahackers.
Or Princess Cinderella Carriage Bed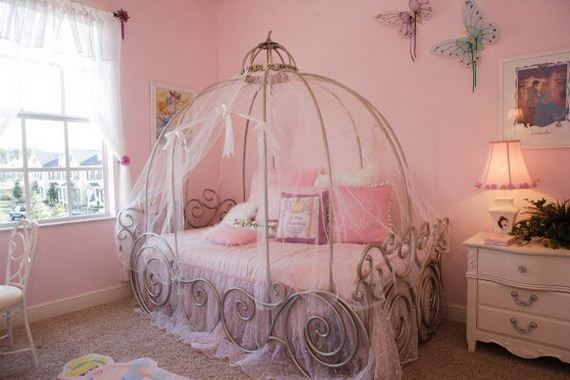 This is an incredibly unique Princess bed, inspired by the story of Cinderella. The detail on the metallic semi-open pumpkin carriage is gorgeous and it serves as a perfect center piece to this girly baby pink room.
Princess Print Duvet Set
There isn't a better bed set for a Princess than this one, with a ball gown print duvet and a tiara that sits right above the little girl's head on their pillow. It's a perfect fit. snurkbeddengoed.
DIY No Sew Tutu Bedskirt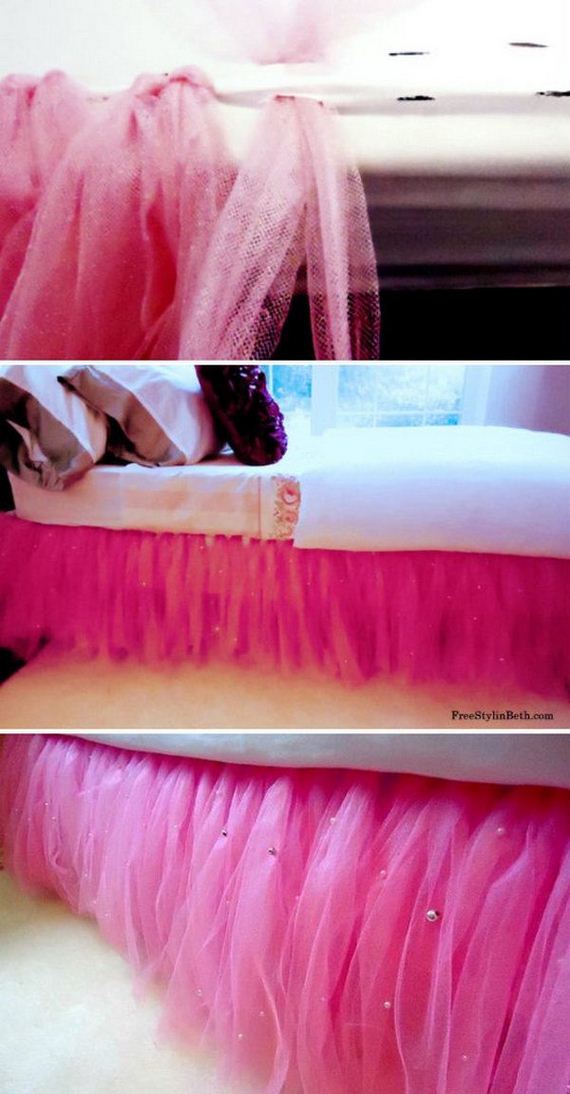 Everyone knows that both princesses and fairies have tutu skirts, so why not adapt the idea to your little girl's bed? It's as easy as creating pleats in sparkly tulle and then securing them to the sides of the bed with fabric glue. handimania.
DIY Old Papasan Turned Canopy
Canopies are another staple in every princess's room and this pink and white detailed one looks just gorgeous, even though it was converted from an old Papasan. realitydaydream.
DIY Curtain Valance From Puffy Decorative Runner Wrap
Another awesome DIY project, this gorgeous pink curtain valance looks incredibly cute and feminine, just like every piece of a princess bedroom should be. source.
Tutu Chair
If you can have a tutu bed, you can also easily make a tutu chair. These chairs were fitted with pastel colored pleated fabric glued to the underside of their seats in order to add color and an extra girly touch to their decoration. source.
DIY Pink Rose Lamp
This beautifully detailed light pink rose lamp was not bought at any high-end decoration shop but rather a DIY project made from a simple white lamp and several big fabric roses. The result is simply elegant and feminine. source.
DIY Ruffle Pillow Tutorial
Now this pillow isn't nearly quite as simple. In fact, it is probably a lot of work to make and either glue or sew all these pink ruffles. It makes for a gorgeously detailed decorative throw pillow though. thegirlinspired.
Princess Dress Up Station
A simple closet or wardrobe just won't do for a princess. This beautiful dress up station is the perfect balance of decorative and functional, with hangers for the girl's dresses, a shelf for shoes and accessories and a must-have Princess sign on the top, complete with a crown design. thewellstyledchild.
DIY Fabric Swag Ceiling
Every inch of a little princess's room has to be decked out to perfection, and the ceiling is no exception to that rule. The fabric that hangs draped here is a great match for the decoration and an even better background for the beautiful chandelier that hangs in its center. frostedpetticoatblog.
Gorgeous Canopy Ceiling Tutorial
It's already been said – you just can't not decorate the ceiling of a princess's room. A canopy is a classic that never goes out of style, and installing it in the ceiling adds that magical touch while also making optimal use of the space available. addisonswonderland.
Flower Petal Canopy Tutorial
This isn't just any other pink canopy – it's a layered, flower petal canopy. It's quite a beautiful and special piece that is not overly difficult to make, so you should definitely turn up your sleeves and get to it. themodesthomestead.
DIY Tutu Bow Holder
This tulle dress form of sorts is a great way to hold and display all of your little girl's hair bows and such. The tulle easily holds its shape and has a great texture for the bows to hold on to, plus it can become quite decorative – it's a bow skirt after all. momdot.
Butterfly Chandelier Mobile DIY Tutorial
This chandelier mobile will look like something straight out of a movie, with all of the purple butterflies glowing and floating above the bed, turning the room into a truly magic scene when all the other lights are off. oopseydaisyblog.
Canopy Bed Crown With Starry String Lights
Another truly special canopy bed that is only fit for a princess or queen. This one has the see through fabric, which is decorated with star fairy lights, hanging from a crown holder. projectnursery.
Canopy Bed with String lights
This canopy is more traditional with its lacy holder, but it also has string lights hanging down the fabric to subtly light up the room at night. popsugar.
DIY Dress-Up Armoire
This simple dress-up armoire holds the little princess's most special clothing and accessories, and it truly stands out in its bright purple hue. aboutfamilycrafts.
Tie Back Curtains Using Princess Tiaras
A little detail that makes all the difference. These tiaras help tie the pink curtains back in style while adding a touch of decorative glamour to this princess's bedroom. sprinklesomefun.
DIY Tooth Fairy Door
Every princess needs a fairy on her side, even if it is the tooth fairy. This little pink door, which hides a beautiful sky with clouds, adds a fun, decorative element to the room while also letting some magic in. source.
DIY Tooth Fairy Door For Little Girl
This tiny peachy pink door is a portal into the magic world where tooth fairies roam freely. It is easy to make and small enough that it can bring magic dust into any nook and cranny of the room. source.
DIY Blooming Monogram
This monogram is another easy decoration DIY that you can make in no time and use in many ways. It's as easy to make as getting a hollow letter block with the little girl's initial and then fill the open space with fabric or paper roses. You can use it to decorate the walls or set it on top of furniture. lulus.
Pink & Gold Princess Bedroom Wall Decor
This monogram wall décor is a great for a shabby chic princess bedroom. It is made from a metallic picture or mirror frame with a solid colored center and complete with a 3D rose monogram, much like the one from the previous idea. karaspartyideas.
Princess Door Curtain
This Little Princess door sign and curtain makes it pretty obvious whose room you're looking at. Everything is pink, from the doodle-style sign to the sparkly curtain, which is perfect for a whimsical little girl's room. futurahomedecorating.
Pink Crystal Chandelier
Crystals are never the best idea around kids, but you can make an exception for a little princess's room, surely. This pink chandelier is really beautiful and the princess of the realm will never really outgrow it.
Glitter Light Switch Plates
Every princess bedroom needs a touch of glitter, and since lights are a lot like glitter, it makes all good sense to make switches shine bright. These may not be easy to come by, but the good news is you can make them yourself. faithfullyfree.
Glitter Wall Paint
If a little shine isn't enough for you or your little girl, then you should totally make a pink glittery wall like you see here. Don't worry, you won't need to handle the stuff – there are glitter paints available for projects like this. eatcraftparent.
Bird's Nest For Toy Storage
No princess will simply have her toys in a regular bin, so you need to make it special. A pink bird's nest is a cute and cool functional and decorative idea that is not too difficult to bring to life. source.
DIY Toy Canopy Storage
This is a great idea if you want to have a canopy, but not on the bed. This toy canopy is a different way to store your girl's toys while keeping them free from dust and other dirtiness. homeyhomedesign.
DIY Dresser Mirror Curtain With A Pretty Necklace
This dresser area is all about Disney's Aladdin with its rich purple and gold tones as well as little statue and hanging decorations. Using pretty gold necklaces as curtain ties will add a different touch, enhance the theme and obviously keep the mirror visible. homeliteracyblueprint.
Pink & Gold Sparkle Sequin Garland Curtain
This pink and gold curtain is perfect for a grown-up princess's room as it is romantic because of its lace tie, elegant with its soft colors and yet still magic thanks to the gold accents running through it. source.
DIY Ballet Barre and How to Hang a Heavy Mirror
Being a ballerina is almost as much of dream for little girls as being a princess. This dream can easily be achieved, as it isn't very difficult at all to hang a ballet barre and matching big mirror in your princess's room. blesserhouse.
Dancing Ballerina Canvas Wall Art
Ballerinas are pretty to look at and little girls simply love them, so having a painting or mural of dancers is a great idea for a little princess's room. You don't need to be able to design or paint yourself, because these are fairly easy to come by, even as digital prints, nowadays. source.
Princess Wall Art
This sparkly dress wall art is quite easy to make, as you only need is a dress – or different pieces of it, like in the example – and a matching canvas. All you do is assemble and hang up – it will always look super cute and original. source.
Pearl Crown Art
This art piece is very impressive, and with good reason. If you can't find one that is already made, all you need is a frame, pearls of different sizes, a template and lots of patience. It's worth it in the end though. source.
Framed Monogram Wall Art
Soft colors, detailed frame and glittery letters – this piece is everything a little princess's room is about, and she'll certainly love it. source.
DIY Princess Silhouette Artwork
These pink and white silhouette artworks are really beautiful and they will look amazing in any girl's room. They are also easy to find and print yourself, which is always great.
Princess Beaded Carriage Table Lamp
We've already seen this design as a bed, but it's more practical as a table lamp. This little gold carriage is the stuff fairytales are made of, and it's definitely something girls will grow with and cherish. Via potterybarnkids.
Fairy Dust In A Jar
Fairy dust is nothing more than glitter in a jar, but with the right story and presentation it can be a great decorative piece that keeps anxiety and nightmares away. source.
Lovely Light Switch Cover
Most people have probably never thought of light switches as pretty, but this baby pink one certainly is. What a difference does a little lacy fabric make! thelittleumbrella.
Beautiful Indoor Flower Fence
Fences always look really cute in kids' rooms. This one is decorated with several colorful fake flowers. projectnursery.
DIY No-Sew Tutu Skirt Table
Tutu furniture is always a must in a princess bedroom. This table is really easy to make with some pleated fabric and ribbon. sassysanctuary.
Princess Vanity Case
This little case is any princess's dream. Everything inside is gold and pink, from the vanity, to the stools, the framed mirror and even the lights. Beautiful! albinwonderland.
Adorable Shag Rag Rug
This baby pink rug looks really cute, fluffy and comfortable to walk and sit on, which is perfect for a little girl's room. The best part is that you can easily make one yourself. See more beautiful photos of this adorable baby girl's room from projectnursery. and See how to make your own shag rag rug via myloveofstyle.
Elegant Tutu Chandelier
This silver chandelier is really elegant and beautiful by itself, but the see through, angelical tutu skirt is really what makes it perfect for a princess bedroom. facesbyfarah.
Glitter Ballerina Wall Decal
Decals are always beautiful and appropriate for children and teenagers' rooms. A glittery ballerina is a perfect choice for a little princess's wall. source.
DIY Floral Mirror
Pastel pink flowers always look fantastic in any little girl's room. In this case, they also make a great frame for this otherwise simple oval mirror. sheknows.
DIY Pink Ombre Painted Dresser
Pastel colors are always a top choice for a child's room, and they can look amazing on furniture as well as the walls. The blue and baby pink look quite beautiful alongside each other in this dresser. projectnursery.
DIY Princess Hair Brush
What makes a princess hair brush different than a normal one? It has lots of shiny stones and pearls to match her tiara, of course! This is easy to make, but you need to use strong glue or it will easily fall apart. bydawnnicole.
Princess Couch And Layering Curtains
This little princess's seating area is really unique with its light purple color scheme. The draped curtains, secured by a bow, make a little canopy above the sofa where the stuffed animals sit.
Feather Boa On Old Framed Mirror For Princess Dress Up Area
This old mirror got a full makeover, complete with hot pink feathers, which make it perfect for a glamorous girl's room. asparkleofgenius.
Thrift Store Princess Mirror Makeover
This old mirror got a full paint makeover, complete with bright pastel colors and swirly designs, which make it perfect for a princess to do her hair in front of. source.
---
---